The older I get, the more I value one-on-one time above all else. Whether it be with my husband, children or a dear friend, I would much rather share an evening getting real than chit chatting with a huge group of people. Don't get me wrong, I love a good party but nothing beats quality time where a true connection forms. So I am kicking off my Q & A series with a Girls' Night In! So come as you are. Grab a cocktail or a hot cocoa and let's get real.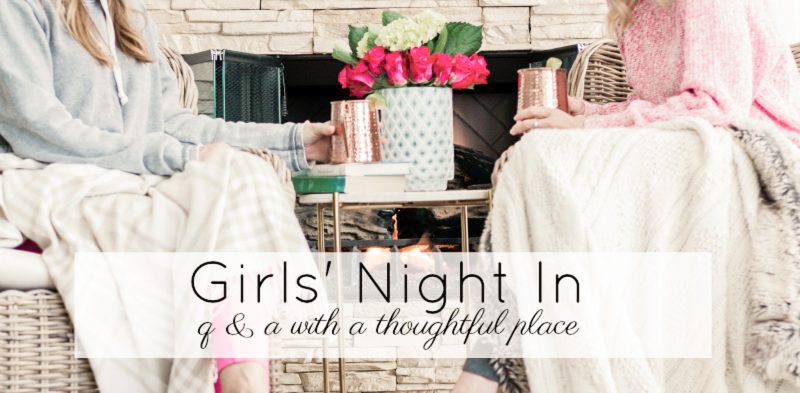 I was blown away by the number of questions you all asked. Far too many for one post so I will try to answer four or five each time (some answers are longer than others).
MY PAST LIFE
Kaitlin: I would love a Q & A post! I would love to know more about your background. You have mentioned you used to be a teacher. Did you stop teaching to stay home with your kids? What made you decide to do blogging full-time and how exactly did you get into blogging? Thanks!
Courtney: Great question. It seems like a different life time ago, but yes, I taught elementary school for almost ten years. I loved everything about fifth grade and was so lucky to teach at a school that became my second family. Some of my fondest memories are a result of spending hours upon hours lesson planning, helping with the talent show, rapping for my students (all in the name of science) and greeting my students every morning outside of the classroom. I had the most incredible mentor anyone could ask for and a staff and principal that truly were family. I poured my heart and soul into teaching.
When I became pregnant with our daughter, I went into labor at 24 weeks. That is a story for another time. She is our miracle baby. Strict bedrest on my side until 38 weeks allowed me to carry our baby to full term. Having to walk away from my classroom was heart breaking. I returned the following year to teach two days a week and stay home with Riley the rest. When Grady came along my husband and I made the decision that I would hang up my teaching hat and stay home with the children. I formed some incredible bonds with so many of my students and their families. In fact, my husband and I just ran into a former student and his family the other day while out on a date night. They have remained in our lives and we love them dearly.
I started blogging when my children were two and four. I stumbled upon a blog called "Just a Girl" when my neighbor (now dear friend) recommended we do a craft project for Christmas gifts. I was so inspired and was looking for a creative outlet. A couple of months later I started A Thoughtful Place. My mom and a handful of friends were my audience. How it all evolved is a much longer story which I will share soon.
DECORATING
Lauren: I guess one of the things I love most about your home (and your previous home) is that while you have kept decor simple (minimal?), it has big impact. Hope that makes sense. I am at a point where I would like to have a bit more "free space". But, I find when I start taking things away our rooms appear a bit cold, empty. Or like in our kitchen, things I would like to put away to clear counter space are needed everyday. Hope I am making sense with all this. Any tips and advice on the topic of editing while still keeping a room warm?
Courtney: Oh, Lauren. I love you! Lauren and I go way back to when this blogging train first started! This is a great question and one that I have thought about for over a week. I think my biggest advice would be to pay attention to scale and pattern. I strongly believe that a mix of bold patterns helps to create a big impact.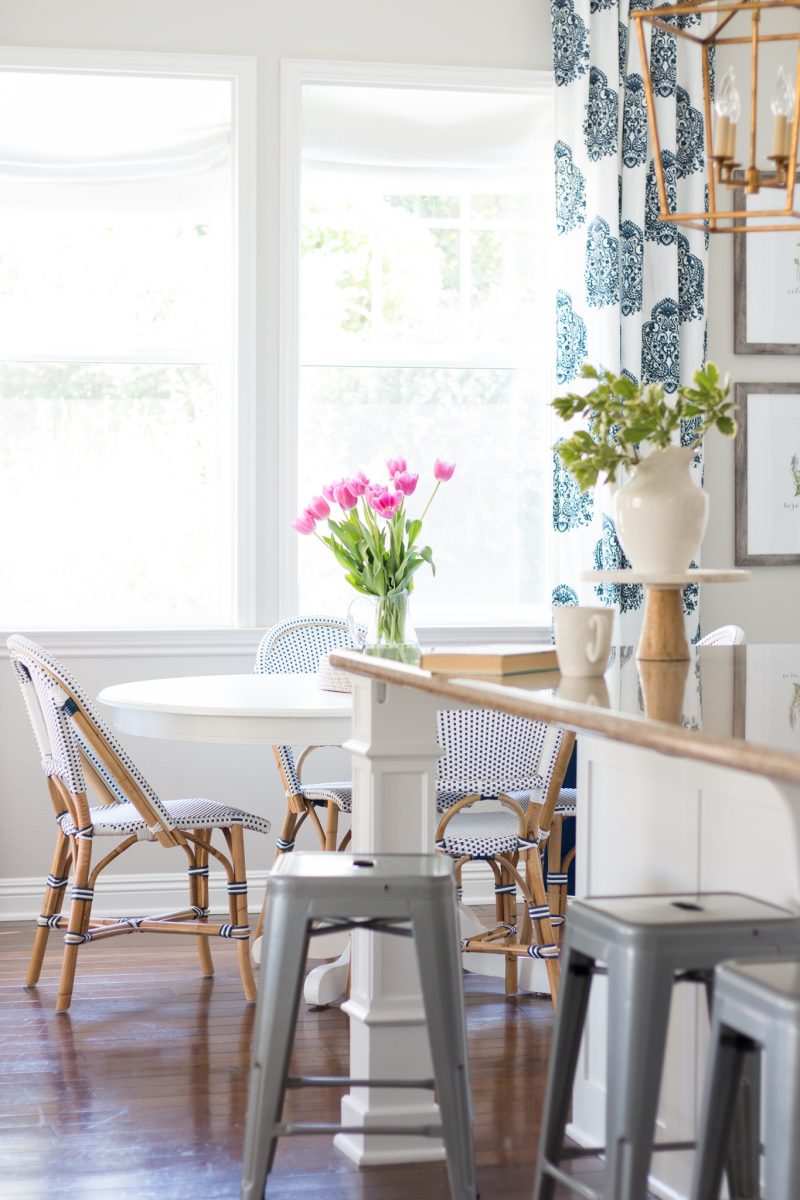 For example, in our breakfast nook we hung drapes with a bold blue and white pattern. I have never been afraid to commit to color or pattern. Mixing the scale of the patterns (large with the drapes and small with the chairs) creates an interesting look without being too busy. Or so I think!
As for our kitchen counters, we only keep out what we use daily or multiple times a day. I have my large pot on the stove top, our coffee maker and coffee grinder, cutting boars, knives and cooking utensils. We don't have a huge amount of counter space so we like to keep it as clutter free as possible.