Are you ready for some chocolate goodness? On Father's Day my husband requested this Flourless Chocolate Cake so my daughter and I got to work. Don't tell him but it's actually super simple to make. That's just between you and me.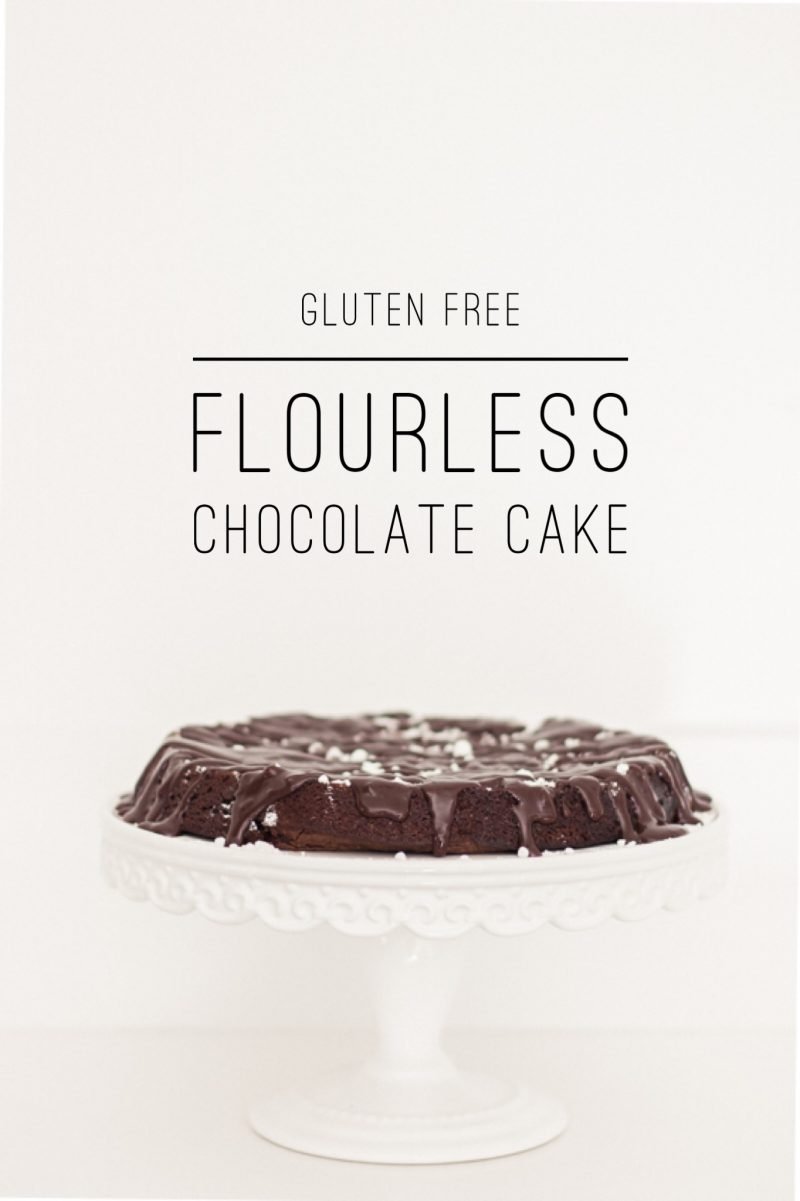 This is a fantastic dessert to take to someone's home. It can set out for sometime before it's served. In fact it's best if the glaze sets for several hours. I love that my husband actually asked for this. Normally he is so easy-going so he just says, "Whatever you want!" Which of course is so kind but knowing you are baking something someone is craving is so much better.
DESSERT TIME
After the cake comes out of the oven, let it cool for five minutes and then turn it upside down on your serving platter. You can sprinkle it with powdered sugar and be done (especially if you are dairy-free) or add a decadent chocolate glaze to the top. See recipe below.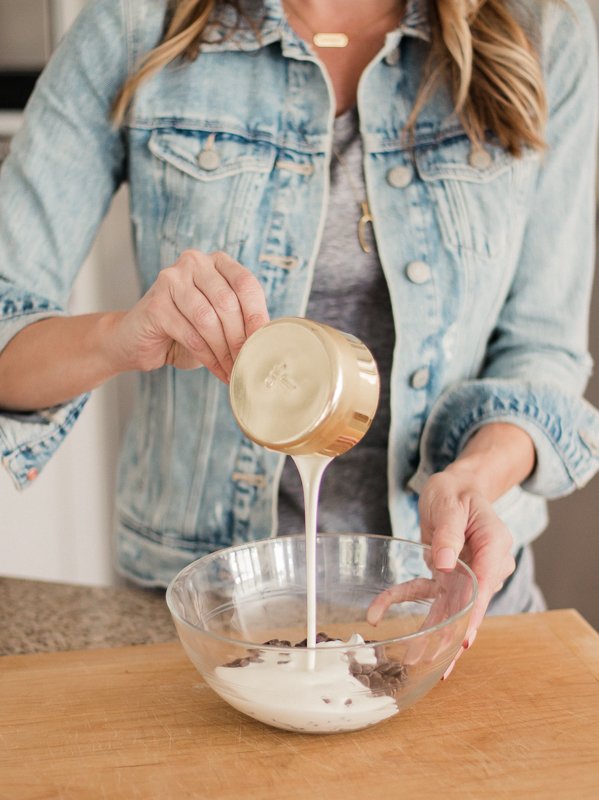 dress | jean jacket | gold measuring cups
I wish I had known how easy it easy to make a decadent chocolate glaze earlier. I will be doing this again soon to drizzle over fresh fruit. It's so scrumptious. Just whipping cream and chocolate chips. That's it.
SIMPLY SWEET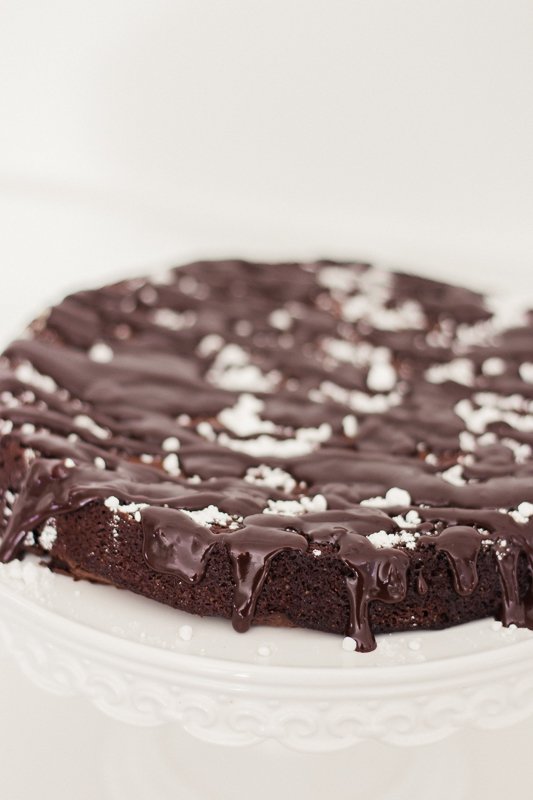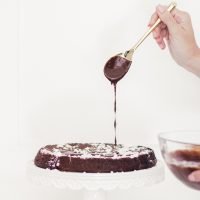 GLUTEN FREE FLOURLESS CHOCOLATE CAKE
Ingredients
Cake
1

cup

semisweet or bittersweet chocolate chips

1/2

cup

unsalted butter

3/4

cup

granulated sugar

1/4

teaspoon

salt

1 to 2

teaspoons

espresso powder

optional

1

teaspoon

vanilla extract

optional

3

large eggs

1/2

cup

unsweetened cocoa powder
Glaze
1/2

cup

heavy cream

1

cup

semisweet or bittersweet chocolate chips
Instructions
Preheat the oven to 375°F. Lightly grease a metal 8" round cake pan; cut a piece of parchment to fit, grease it, and lay it in the bottom of the pan.

To make the cake: Put the chocolate and butter in a microwave-safe bowl, and heat until the butter is melted and the chips are soft. Stir until the chips melt, reheating briefly if necessary. You can also do this over a burner set at very low heat. Transfer the melted chocolate/butter to a mixing bowl.

Stir in the sugar, salt, espresso powder, and vanilla. Espresso enhances chocolate's flavor much as vanilla does; using 1 teaspoon will simply enhance the flavor, while 2 teaspoons will lend a hint of mocha to the cake.

Add the eggs, beating briefly until smooth. Add the cocoa powder, and mix just to combine.

Spoon the batter into the prepared pan.

Bake the cake for 25 minutes; the top will have formed a thin crust, and it should register at least 200°F on an instant-read thermometer inserted into its center.

Remove it from the oven, and cool it in the pan for 5 minutes.

Loosen the edges of the pan with a table knife and turn it out onto a serving plate. The top will now be on the bottom; that's fine. Also, the edges may crumble a bit, which is also fine. Allow the cake to cool completely. Sprinkle with powdered sugar and then glaze.

To make the glaze: Combine the chocolate and cream in a microwave-safe bowl, and heat until the cream is very hot, but not simmering. Remove from the microwave, and stir until the chocolate melts and the mixture is completely smooth.

Using a spoon, drizzle glaze over the cooled cake.

Yield: 8" cake, 8 to 12 servings.
DECADENT DRIZZLE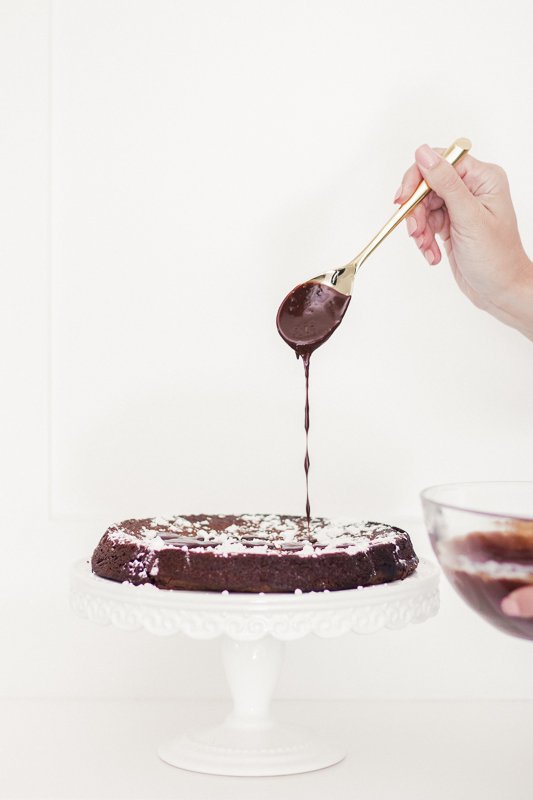 I prefer to dust the cake with a generous helping of powdered sugar and then drizzle the glaze all over the cake. I think it makes a pretty statement rather than one thick layer of glaze. But the nice thing is you can really do anything and it will still taste delicious. This cake pairs so well with fresh raspberries or strawberries.
I hope you'll be able to make this for a special occasion. It was a big hit over here. If you are looking for another sweet treat option, the Salted Caramel Chocolate Chip Bars never disappoint.
I will continue to add more recipes to the blog collection as I discover them. Always feel free to leave your favorites in the comments below.