s p r i n g   h o t   l i s t

Krista Salmon is the amazing author of Kiki's List. She is a stylish wife and mom who knows great design. She has a fantastic eye for color in all things home and fashion.  I am so happy to have gotten to know her recently. She is running a great series this week all about what's hot for spring. If you hop on over to her blog today, you will find me hanging out giving a run down of some fun spring finds I would love to call my own. Here is a sneaky peak: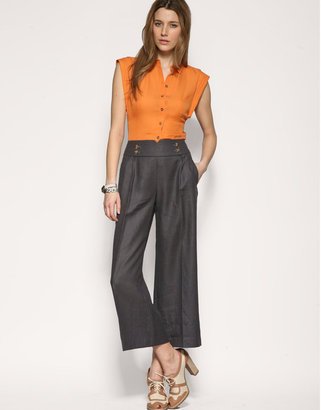 The color orange and cropped pants . . . I have my eye on these for Spring for sure! Will you be sporting these this Spring? g e t t i n g   n o w h e r e ? On another note, PUH-LEASE tell me there is someone else out there who has made zero progress on a project that you are trying to complete. I feel like a hamster on it's wheel. I have made drapery purchases . . . . and returned them. I have put chandeliers in my online and shopping cart . . . and emptied them. I have even purchased two new lamps . . . and taken them back. Needless to say, nothing has changed in my dining room.  I am in need of some divine dining inspiration! I just want to know that I am not alone! Please, somebody come forward and let me know you are stuck in the middle of the no progress zone. Let's commiserate together.