Today's post is near and dear to my heart because I worked on a space that is used by our friends and family. One of the reasons we fell in love with this house is because of the dedicated guest room. It's been wonderful to have and we love nothing more than when it's in use. The closet, while a really nice size, had become a bit of a dumping ground (as closets often do). I decided to clear it out and give it a makeover. I'm really happy with how it turned out and thankful to Walmart who partnered with my on this project.
THE BEFORE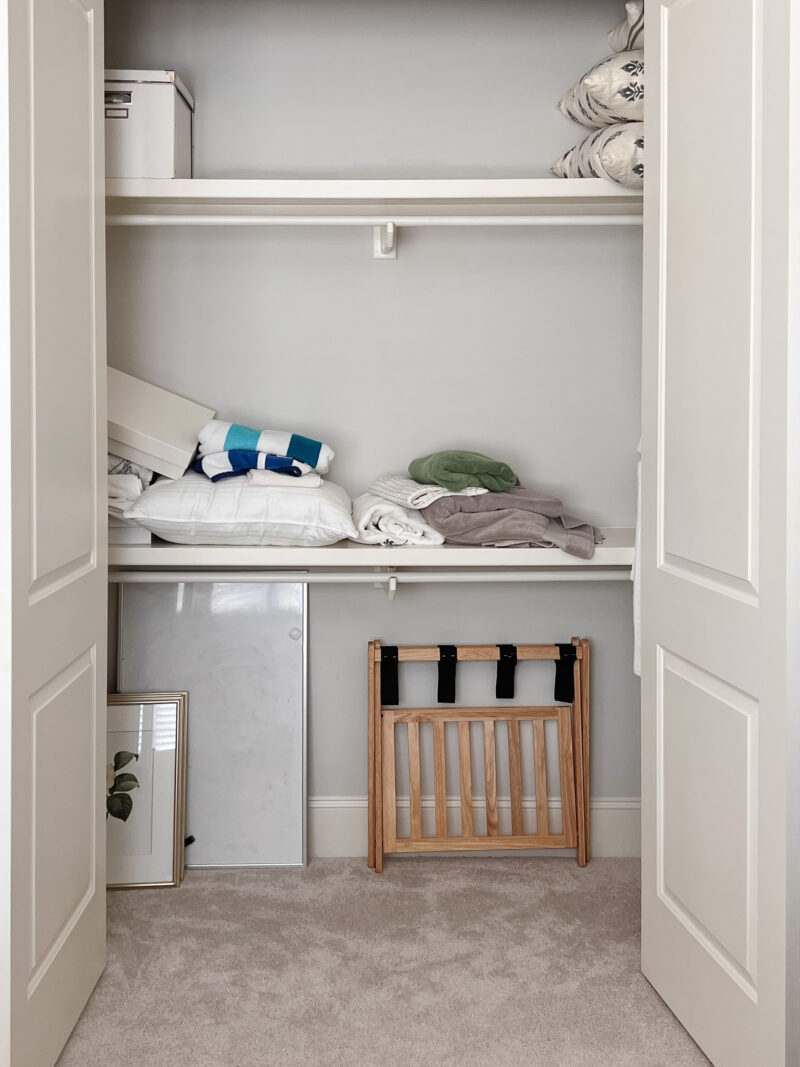 It certainly wasn't a mess but not exactly welcoming for guests. The luggage rack was something we bought a while back and it has been wonderful. When it is open the bottom rack is great for shoes. I cleared everything out and either reorganized it or found a better home for it.
THE MAKEOVER GOODIES
I kept it all very simple with a few new baskets (they come as a set of two), fresh hangers and a bold peel and stick wallpaper. I had hangers in here but they magically disappeared. Imagine that (I'm sure my 17 year old knows where they are).
WALLPAPER PROGRESS & SURPRISE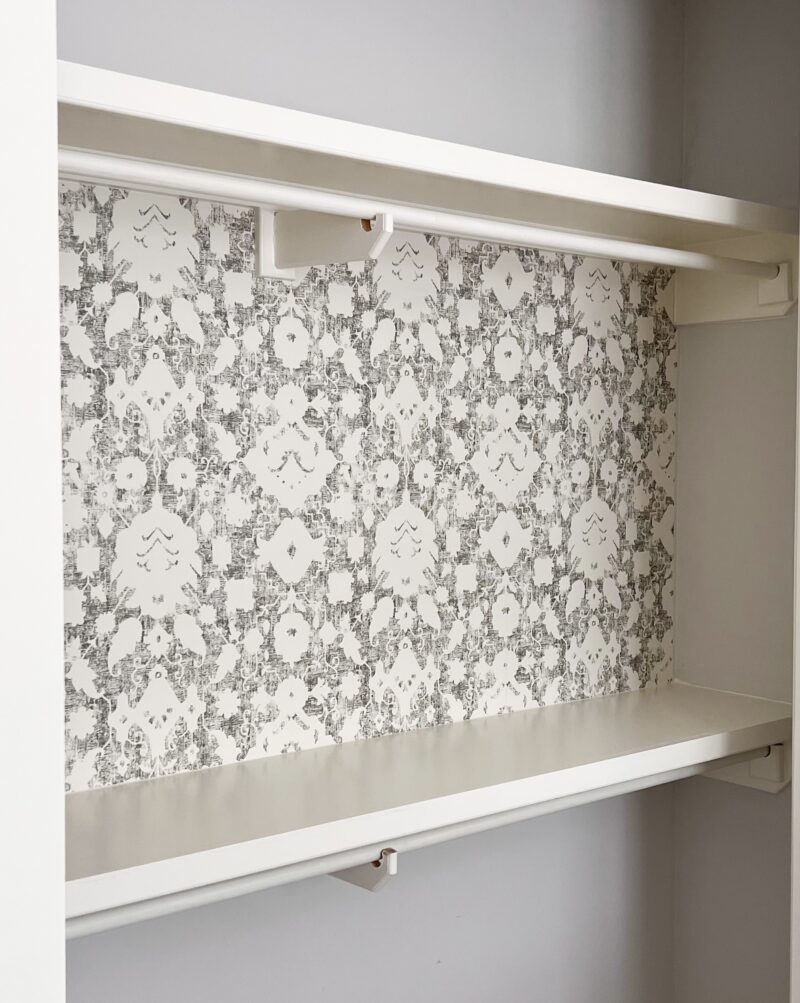 Originally I was only planning to wallpaper this section. But low and behold as soon as the paper went up it was obvious we hadn't painted the inside of the closet. It was still a lavender leaning gray and I wasn't sure how I felt about it. While it's actually really pretty with the paper, I ultimately decided to paper the lower portion as well. I'm so happy I did because I love the result.
THE FINISHED CLOSET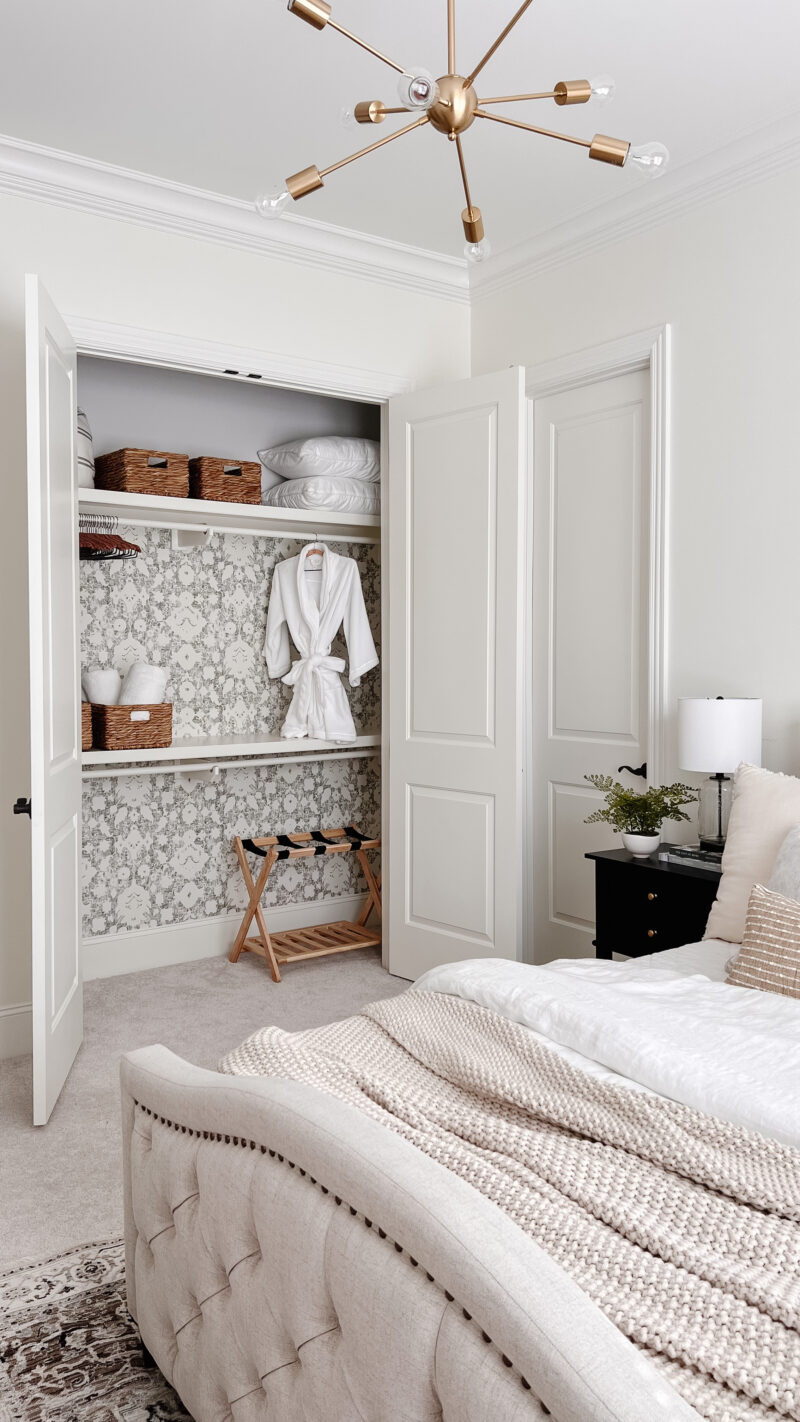 It's like a whole new space! I am tempted to keep the doors of the closet open in here. I really like how the wallpaper plays off of the baseboards. If you watch my stories you may have seen how I hung the wallpaper upside down (to be perfectly honest, I don't think there really is a right direction). I think the pattern looks great either way. Just be sure to test out how you like it best if you decide to use the same one.
THE DETAILS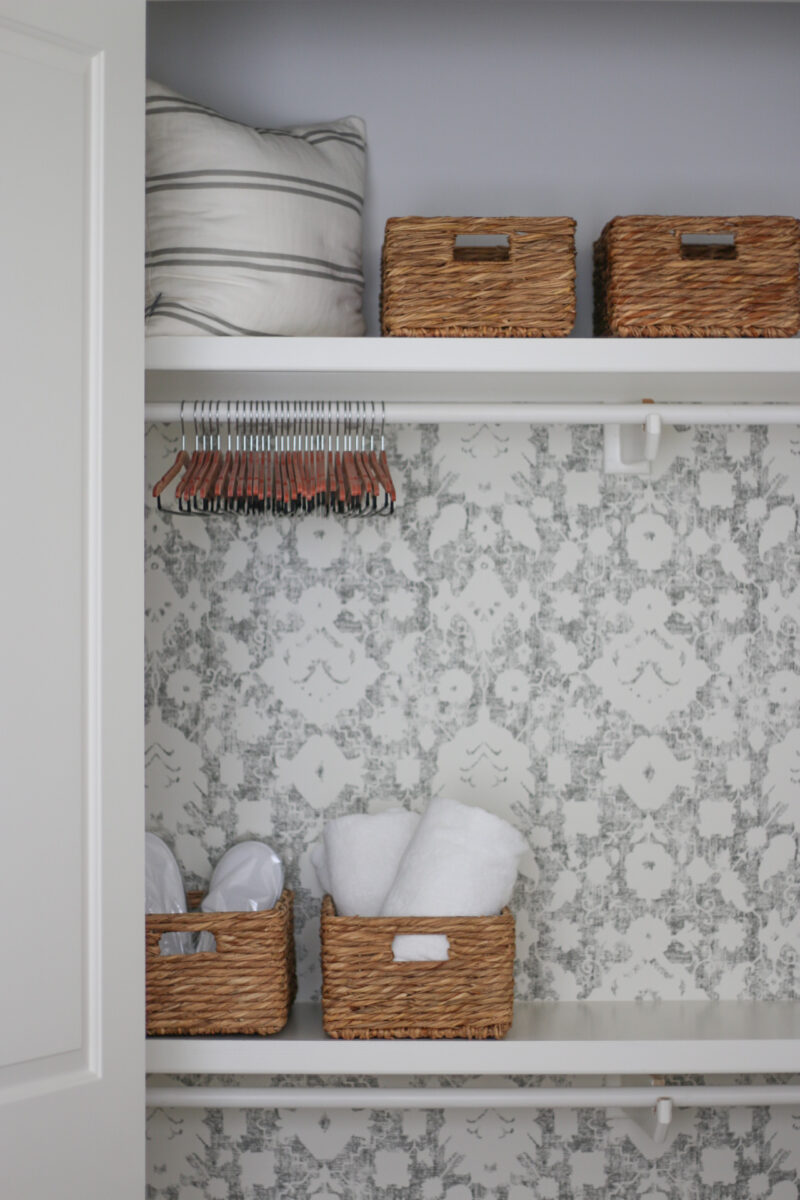 These baskets that I ordered on Walmart are great. They come in a pack of two and are a really nice size for extra towels and slippers. They would fit an extra set of sheets, too. The hangers are from the Home Edit and come in a pack of 30.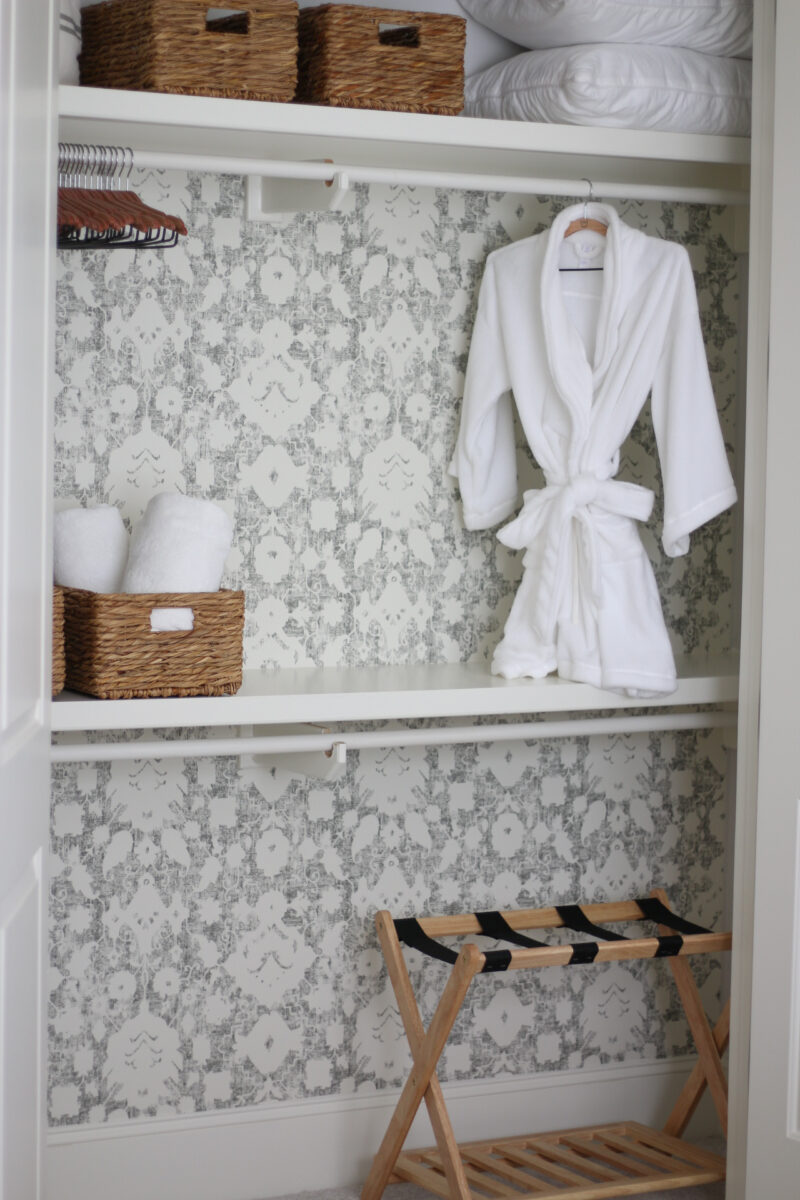 There is more than enough hanging space so I plan to place a set of drawers next to the luggage rack. I'll be sure to share that update when I do.
*The trim and doors are Alabaster by Sherwin Williams.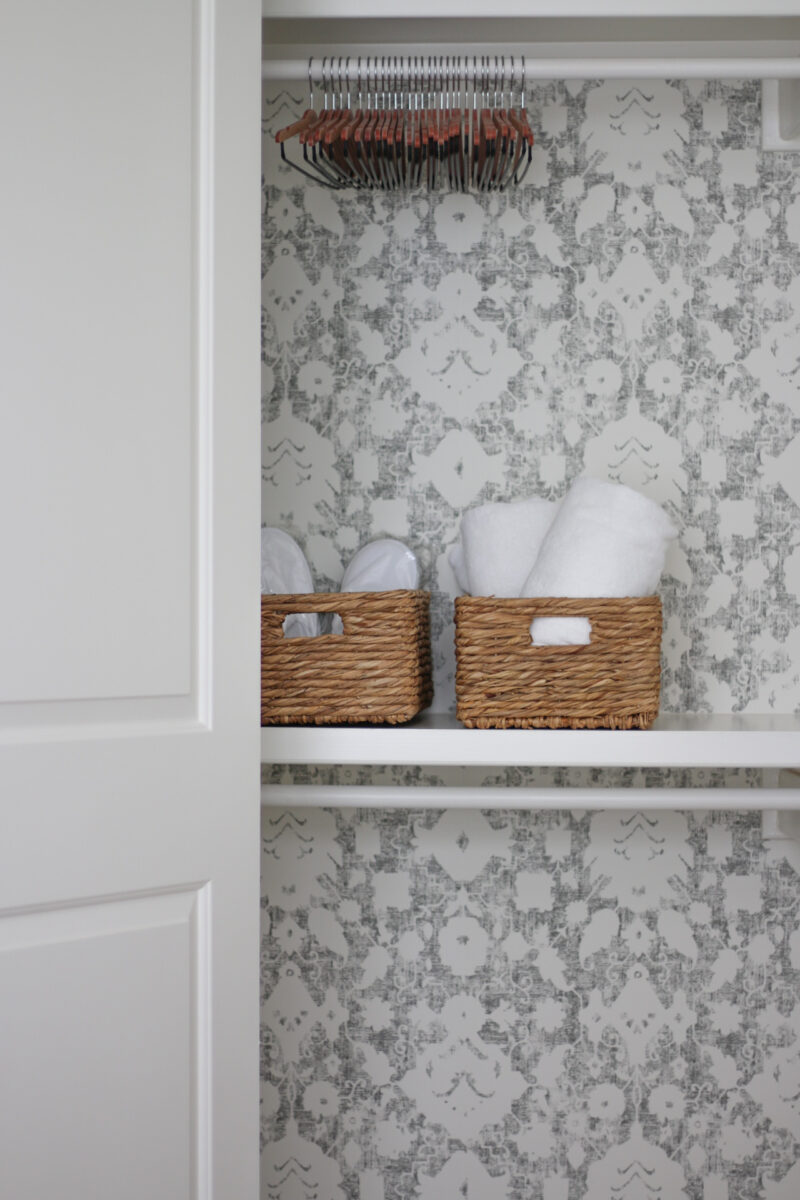 This is by far the easiest peel and stick wallpaper I have worked with (and I've use my fair share). I will share my tips in an upcoming post but the biggest help comes from a credit card. Always take your time as you peel away the backing and use a credit card to smooth the paper as you go. It instantly gets rid of bubbles and wrinkles.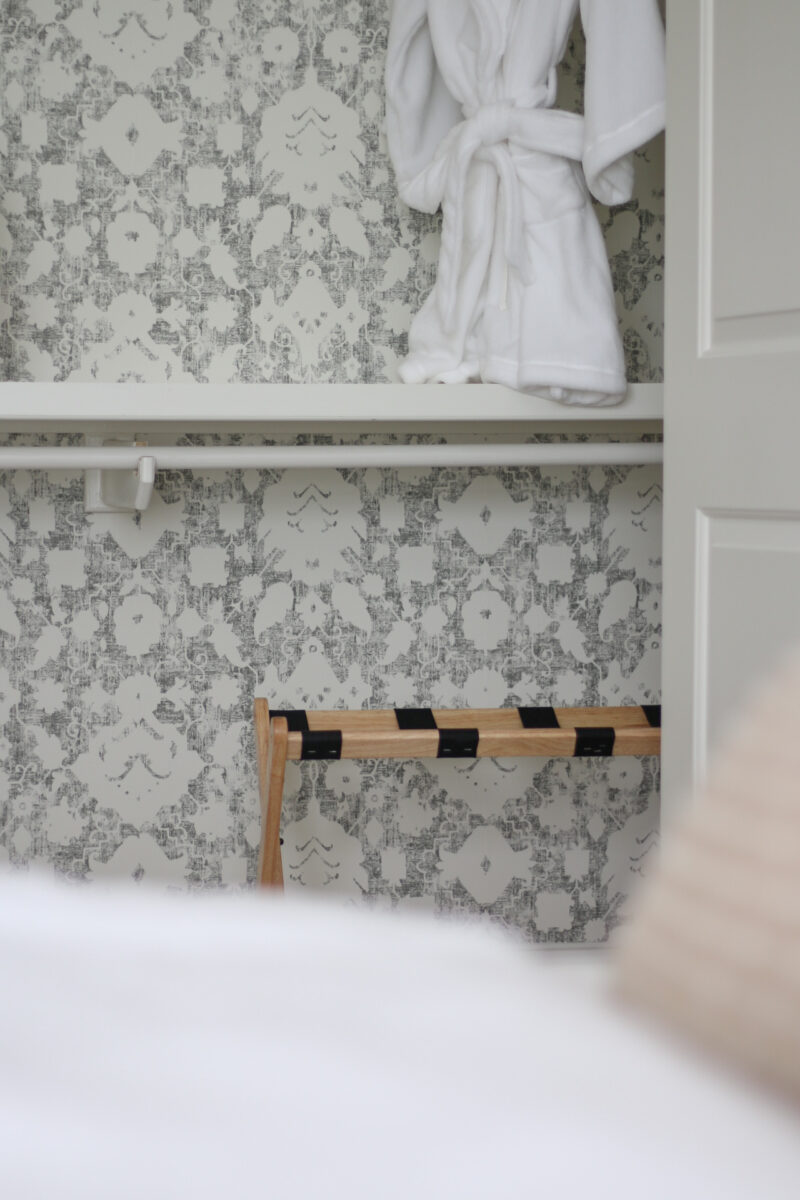 It doesn't take much to create a little bit of magic in a small space. This closet makes me so happy. Hope our guests feel the same way. If you have any questions about installing peel and stick drop them below and I will answer them in an upcoming post. I rounded up what we used plus a few more darling wallpaper patterns.