Welcome. Be our guest, be our guest! I've been crazy excited to show you this room. After moving into our home, we immediately had house guests so this room was a priority. I have continued to work on it over the last few weeks and was excited to partner with World Market on the final details of this space. I believe in creating a really welcoming place for guests so they feel comfortable and at home. Little touches can make a space feel charming and luxurious while not costing a ton of money. Here is our guest room reveal as well as tips for creating a welcoming space.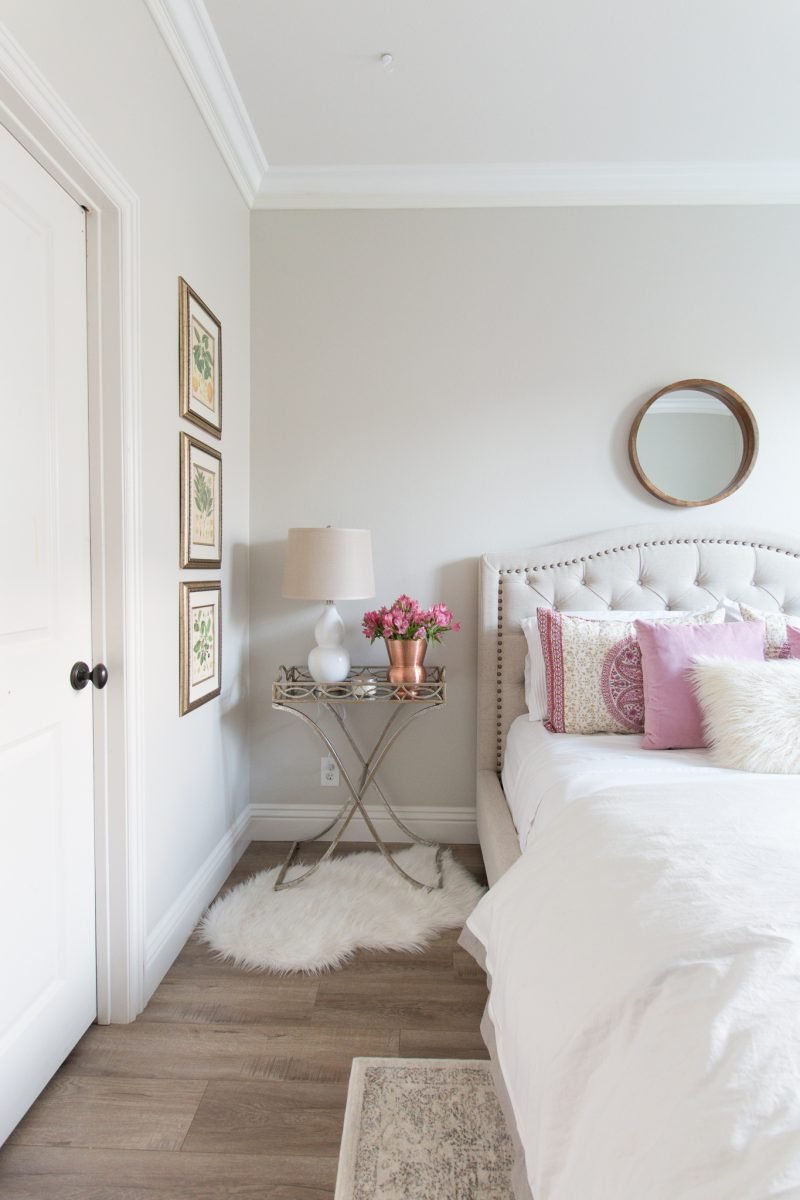 lead with neutral colors
A guest room should be calming and peaceful. I don't shy away from color, but I do think a neutral guest room (much like a luxurious hotel room) is appreciated by most. I kept the major pieces in the room, as well as the paint color, neutral. The paint color is Pale Oak by Benjamin Moore. We were able to reuse many pieces from our previous home which allowed us to save money. Can you shop your own home for things you could use?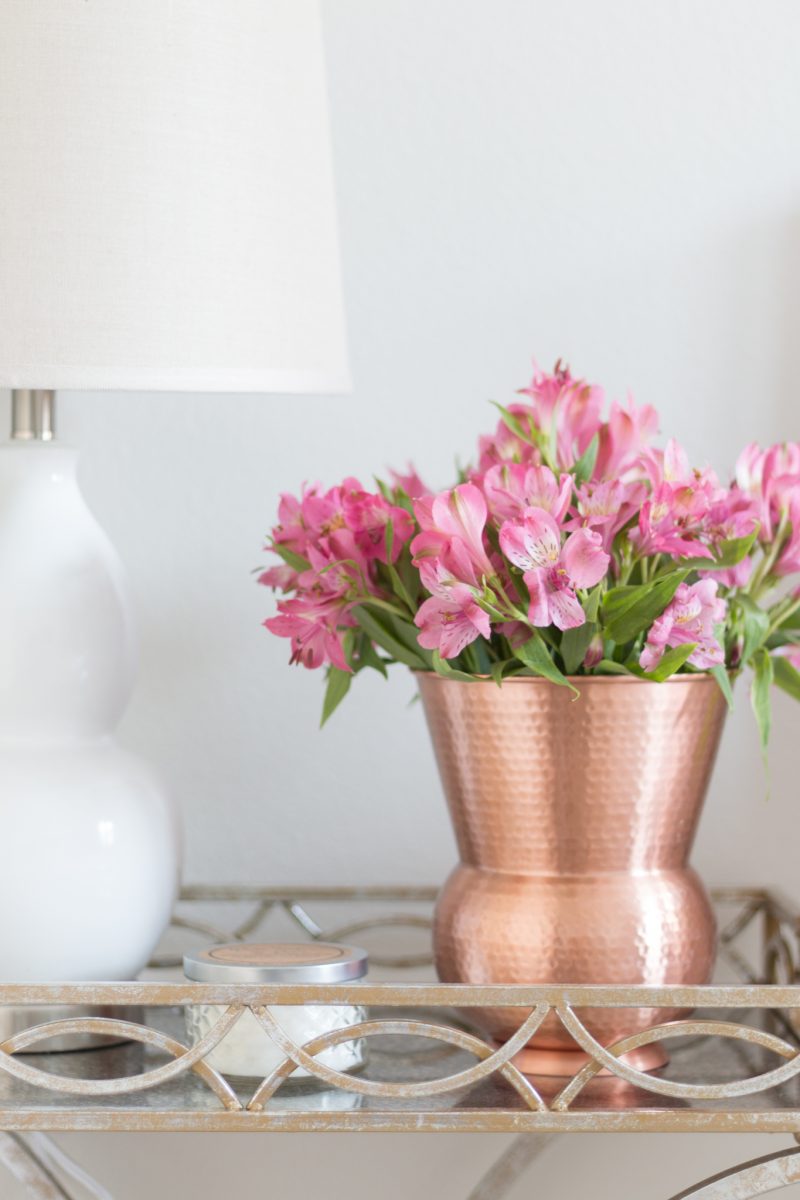 think outside the box
I decided to use this barcart on either side of the bed for a couple of reasons. The bed itself is quite solid and I knew dressers would look to heavy next to it. With an empty closet and a dresser at the foot of the bed, guests don't need more drawers so I chose an option that added a bit of glam as well as a few curves. These even fold up! What?! The tray comes off and it could be used either for serving or on top of the bed to welcome guests with flowers and goodies. I appreciate the shimmer they add to this room and they are something you don't see all the time.
add personal touches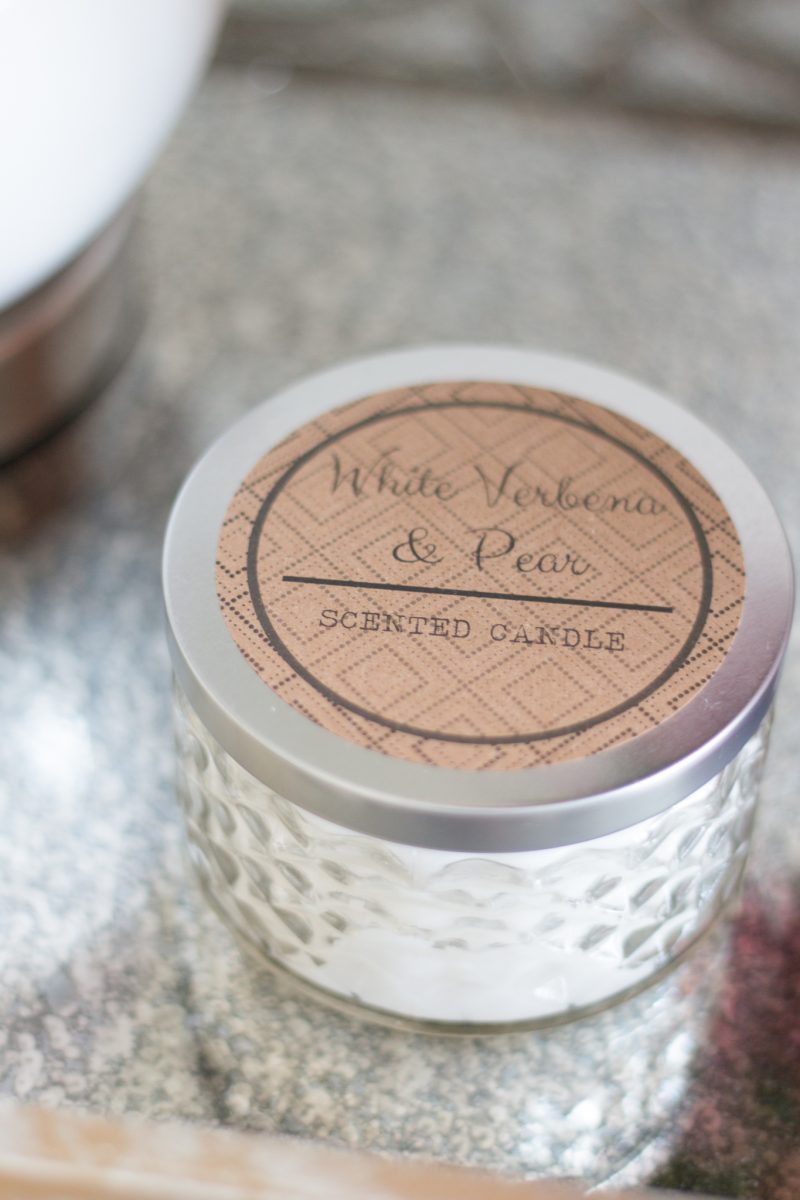 Does your guest have a favorite scent?  A candle or a lovely smelling lotion can make your guests feel welcome.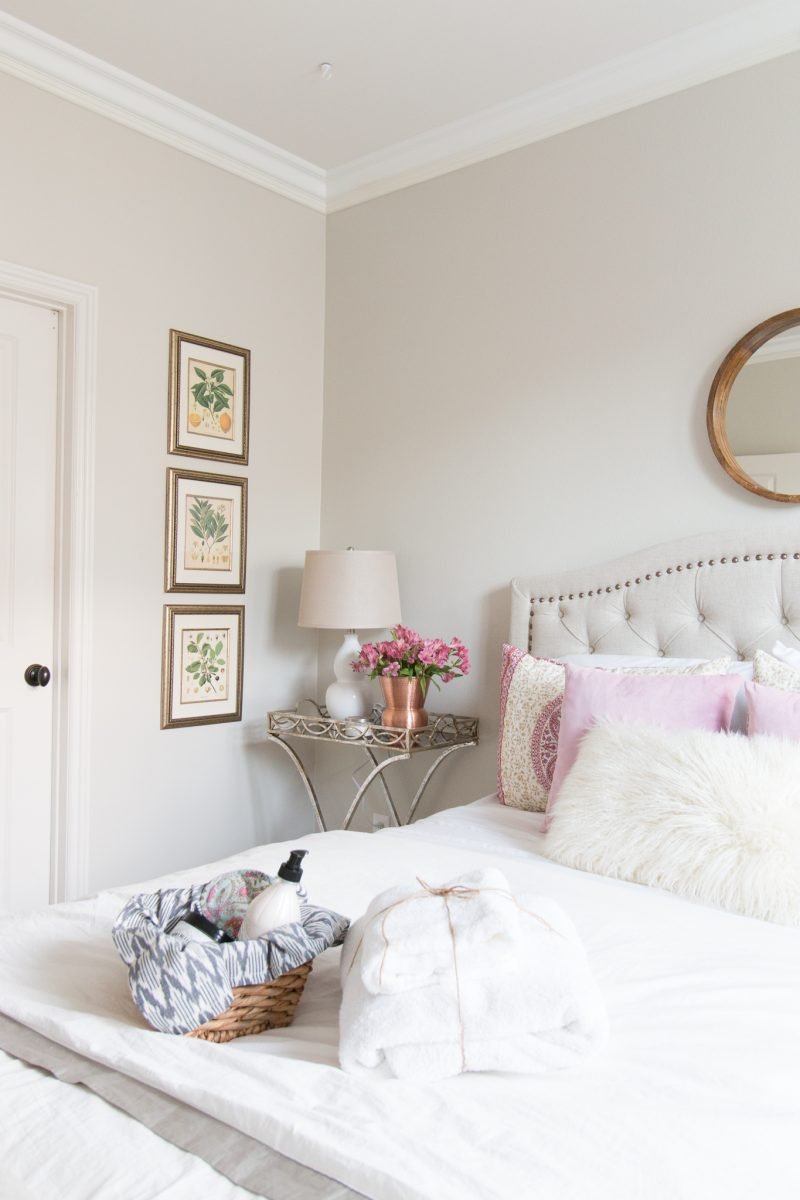 I added this printed napkin (on sale)  to the basket of goodies. It includes a sleep mask, lotions, and body butter.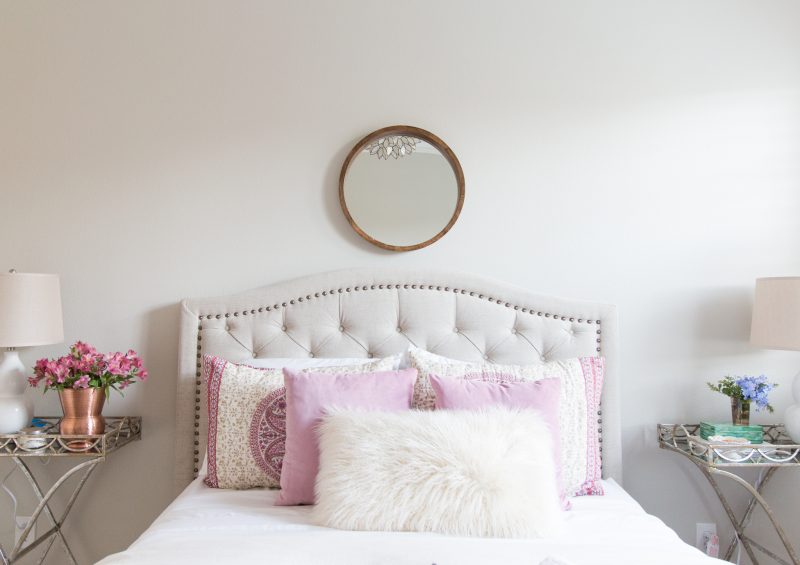 Shop This Room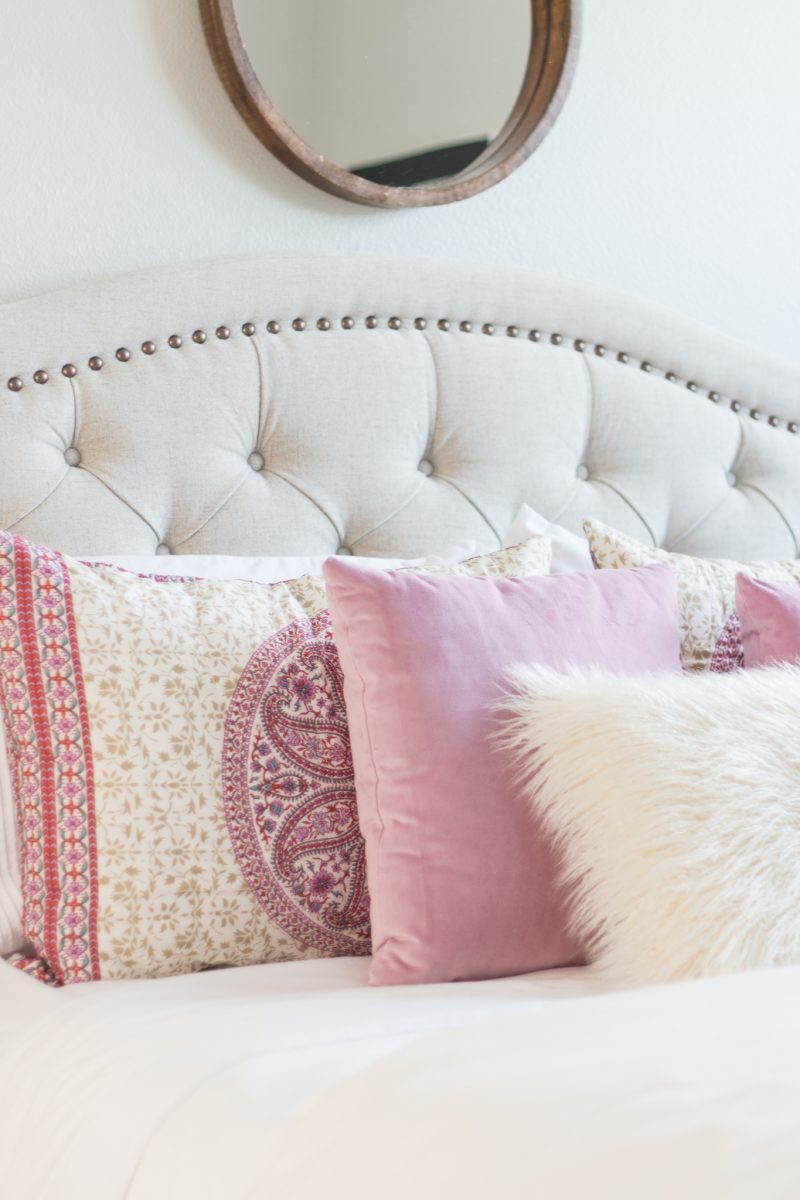 choose a punch of color
Although the overall look of this room is quite neutral, I think it's always good to add in a dose of color. When it's the last element you add, it often means it will be easy to change or switch up, too. I am smitten with the Lilac Mist Velvet pillow and let it lead the way for adding color in this room.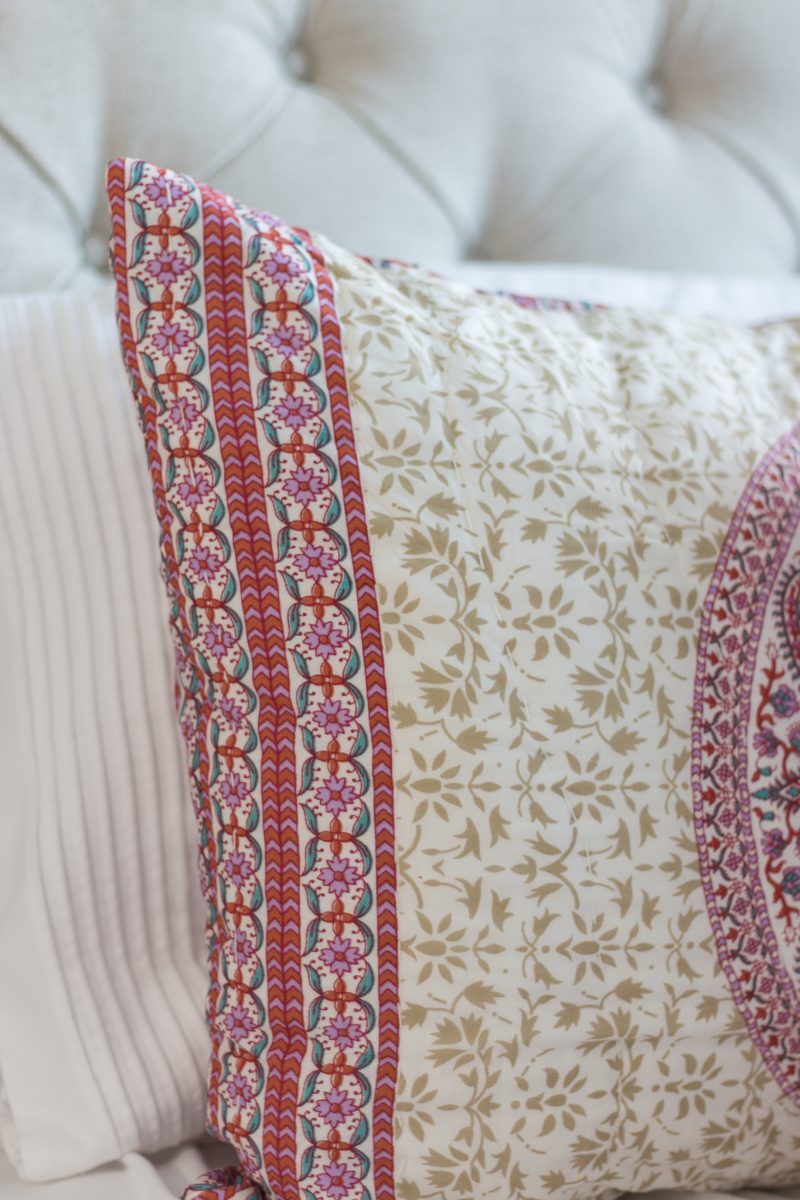 I am head over heels for the pattern and color of these shams. They add just enough color and pattern while allowing the room to stay neutral and calm. I can envision switching these out at Christmas time for some holiday pillows which would be fun.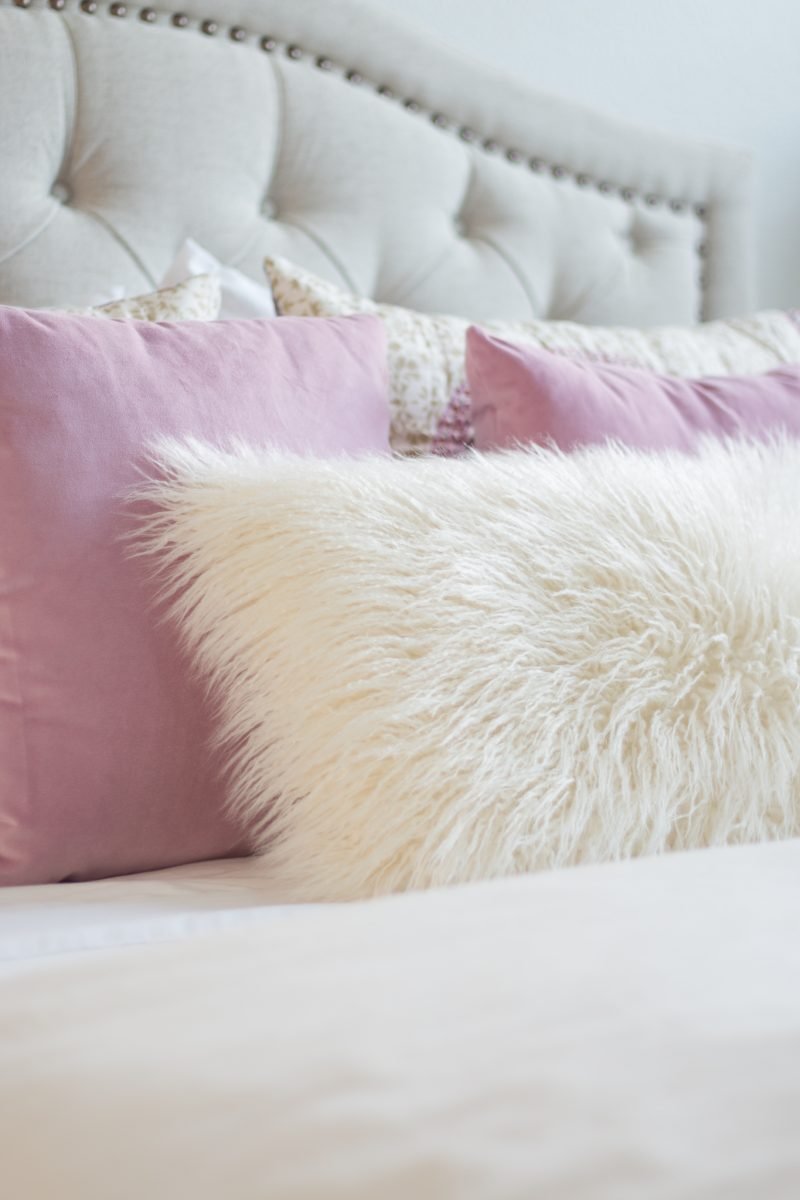 add fresh flowers
Flowers are the easiest way to make a room look luxurious. Thanks to places like Trader Joes, it's easy to add inexpensive blooms to a space.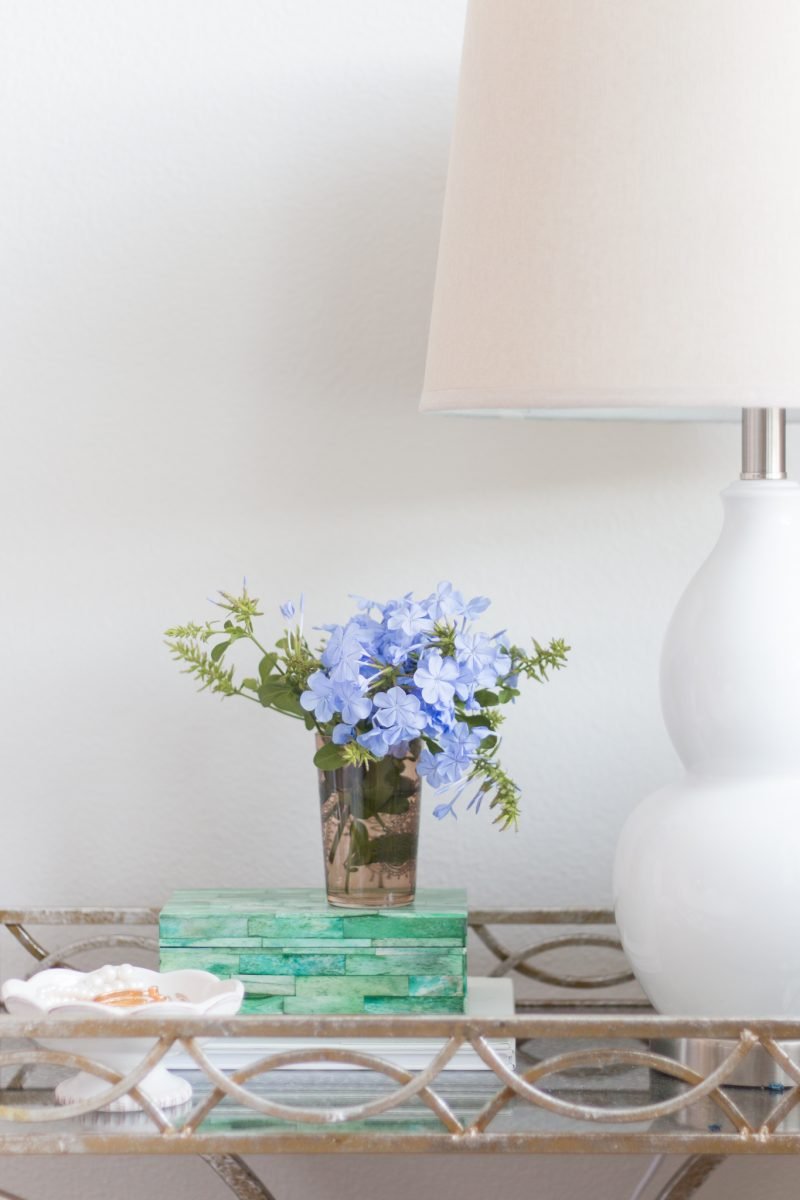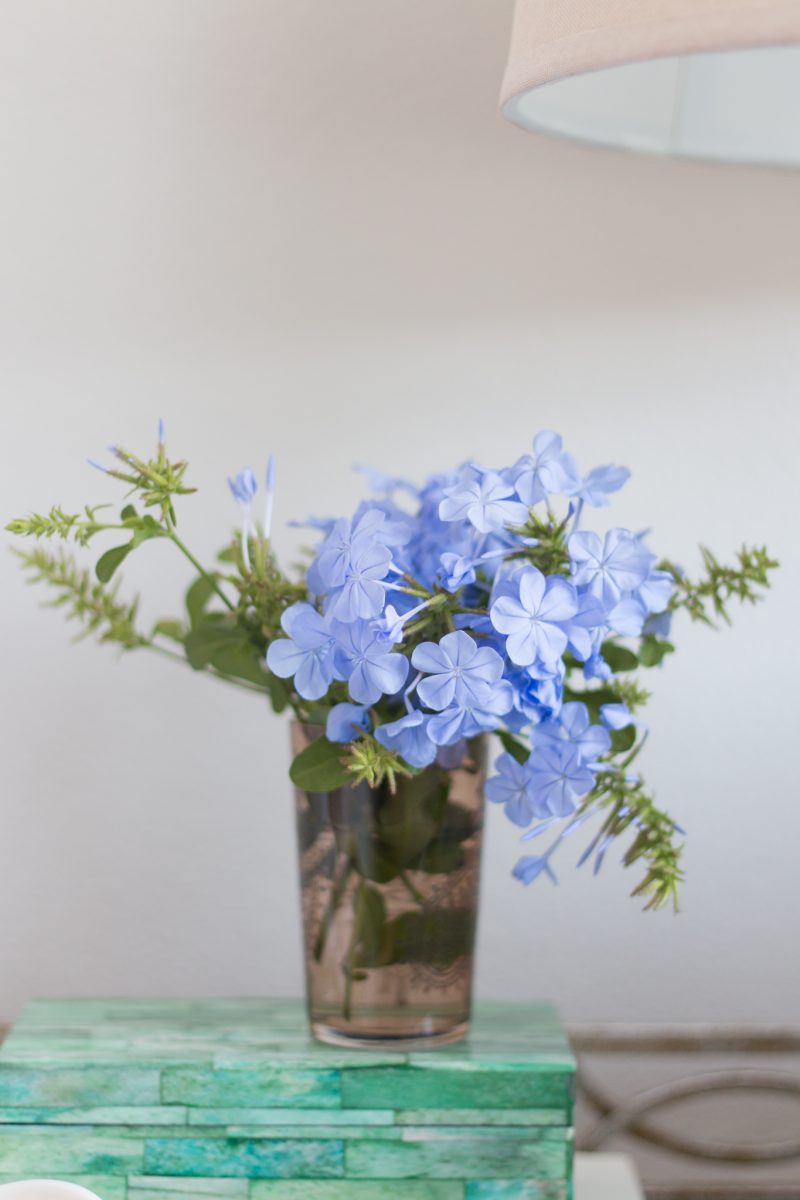 This little tea glass is from the Nomad Tour and are perfect for clippings from the yard. I love the copper vase seen below and the beauty it adds to the guest room. The copper piece is actually a utensil holder and would look gorgeous on a kitchen counter, too.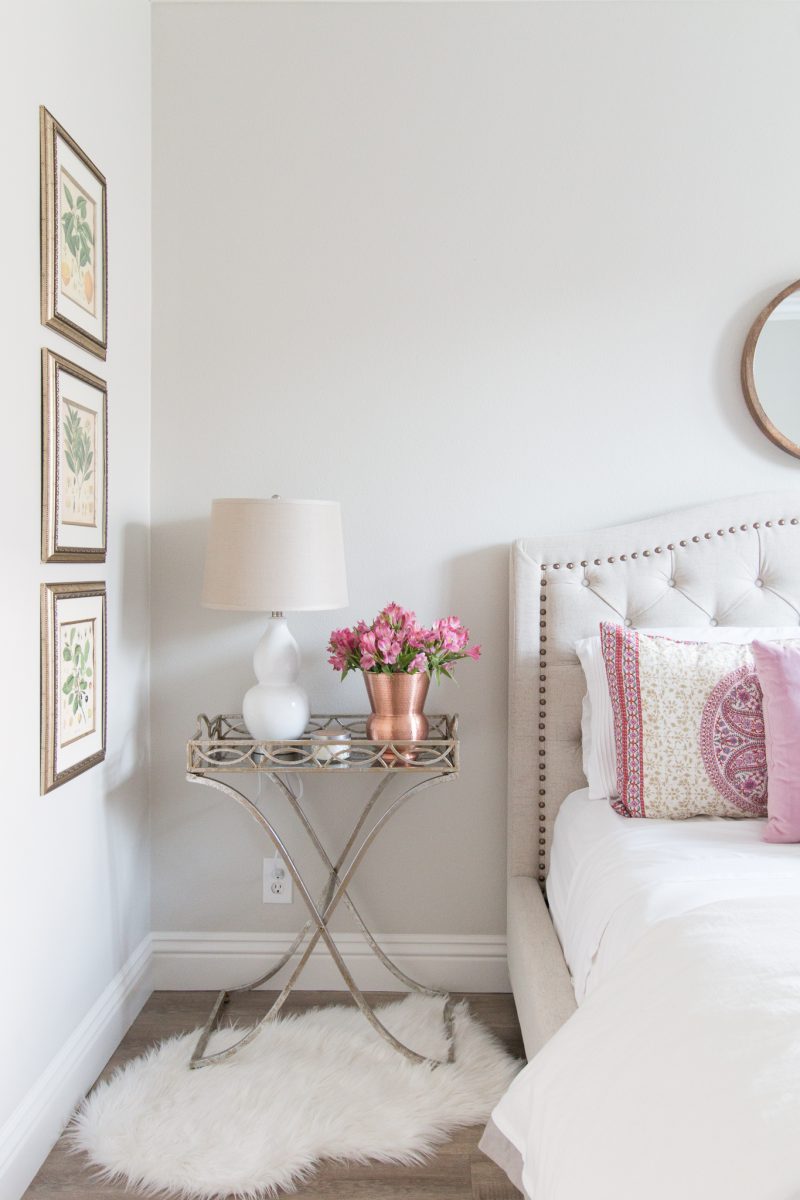 Click on any image above to shop the details of this room.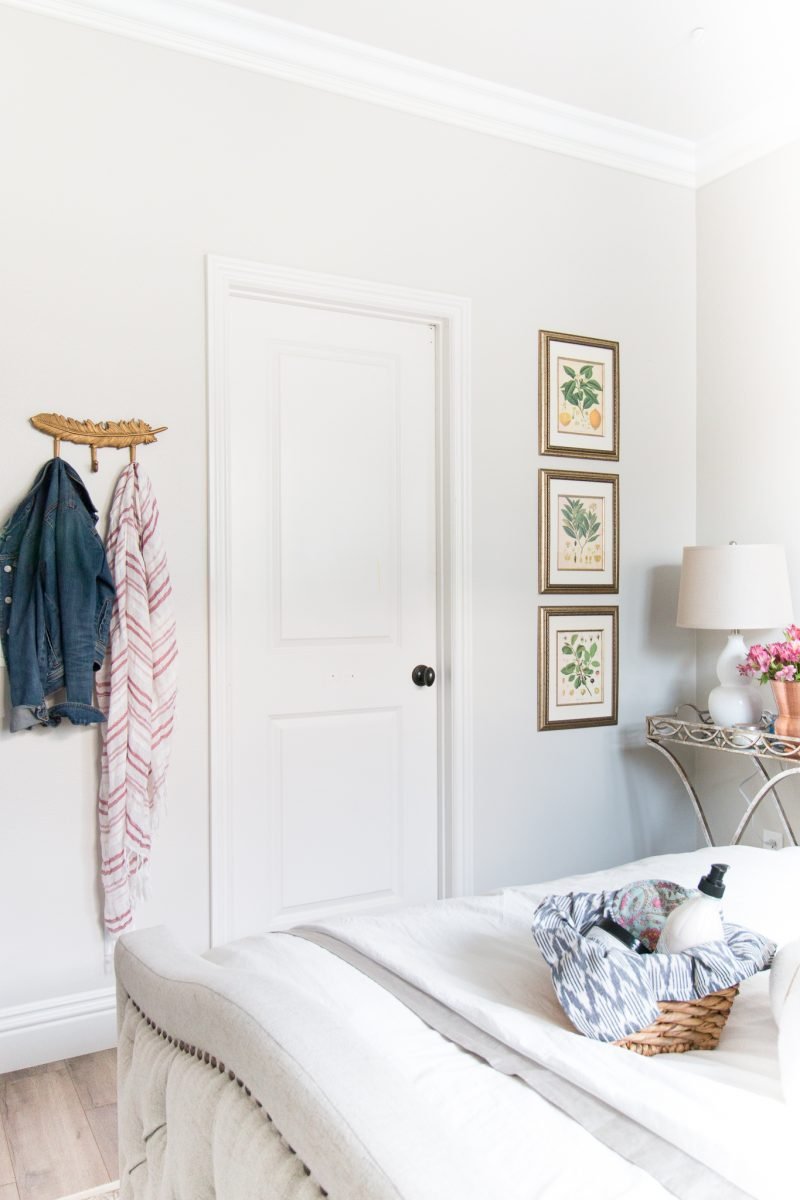 keep guests organized
It's always nice to think of what guests may need. They might like to hang a bathrobe, a jacket or a scarf. Maybe they would like a place to keep their handbag. A set of hooks makes it so much easier and allows them to keep things off of the bed or floor.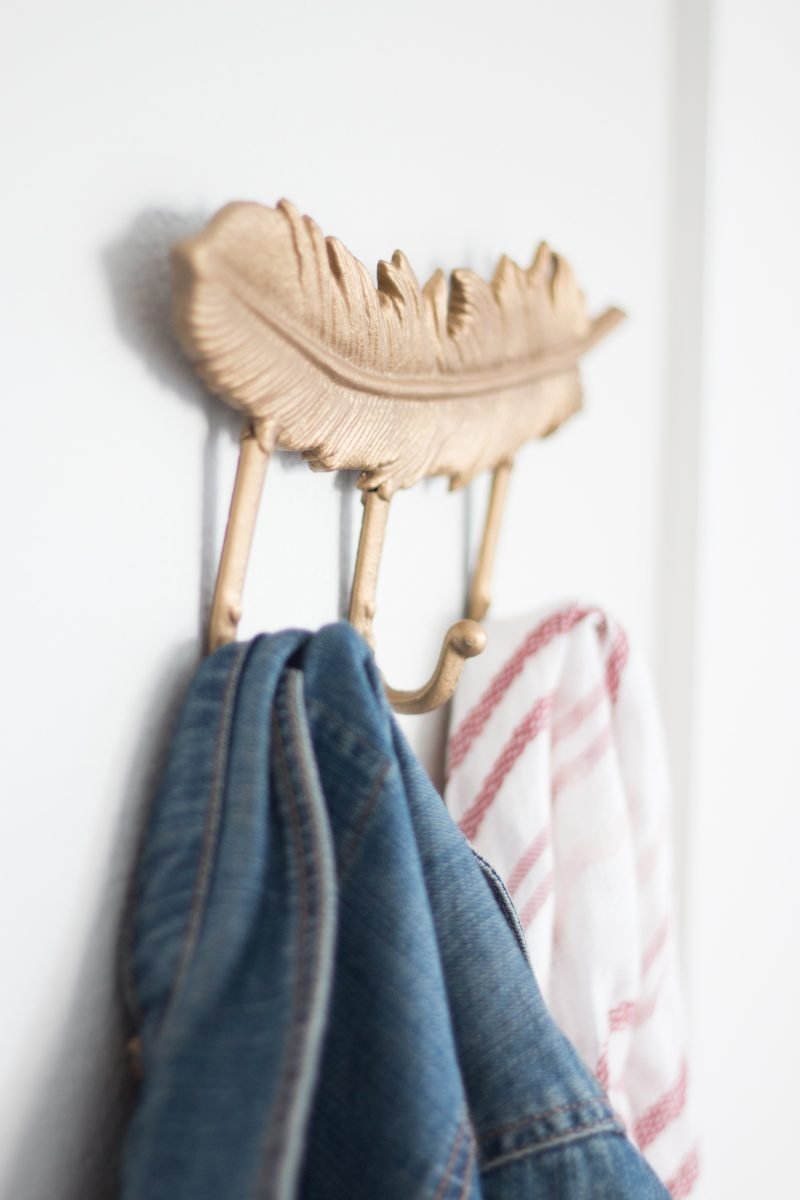 This feather hook had me at hello. So sweet and a fun touch of brass to the room.
Introduce Unique Lighting
Lighting is always a fun way to incorporate personality into a room. Do you have a light you can switch out for something fun and different?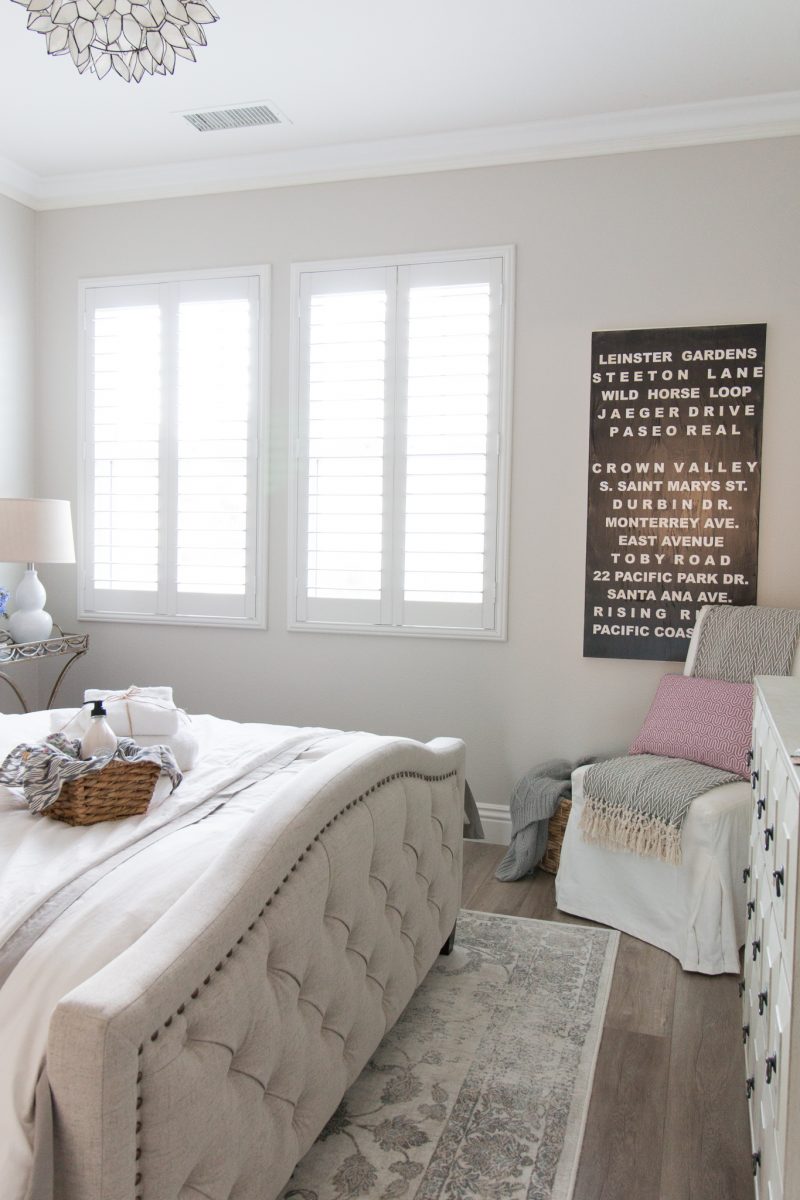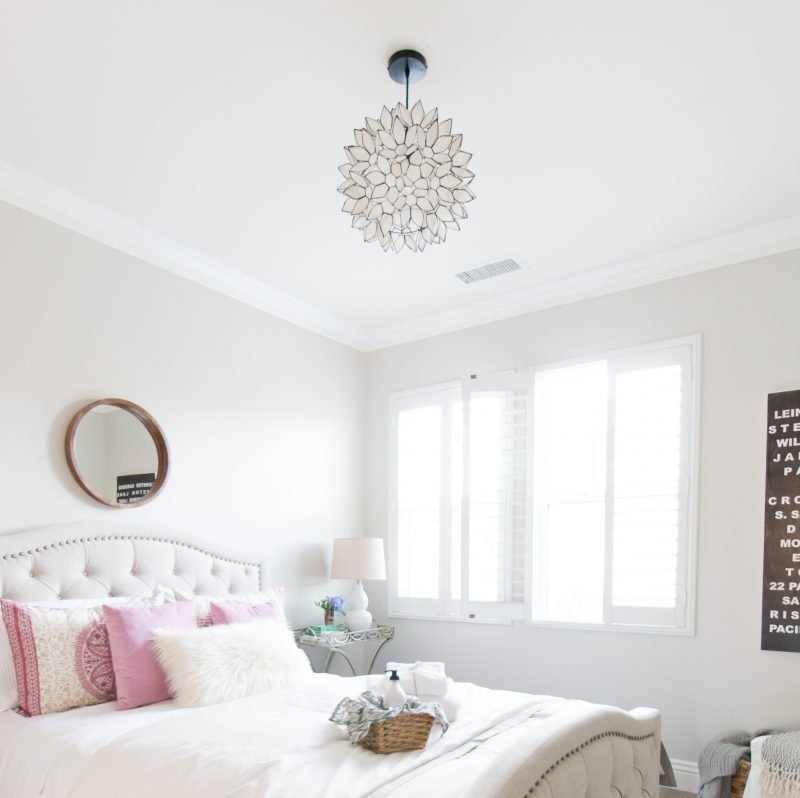 The chandelier adds a bit of whimsy and casts the most beautiful light at night. The hanging kit does not come with it so be sure to buy that separately or you will only have the shade. The artwork in the room are pieces we have had for years. I made both the subway sign as well as the botanical prints on the wall (printed for free). The white chair also came from our previous home. The dresser and rug were HomeGoods finds and the bed is from Costco. This bed and this one are very similar
UPDATE: The light can no longer be hard wired. The only kit sold is a swag kit which needs to be plugged in. Disappointing and I will let you know if that changes.
mix textures
Don't be afraid to mix finishes and textures. The pillows, the wood mirror, the metallic barcarts and the faux fur all work together to create a more interesting space.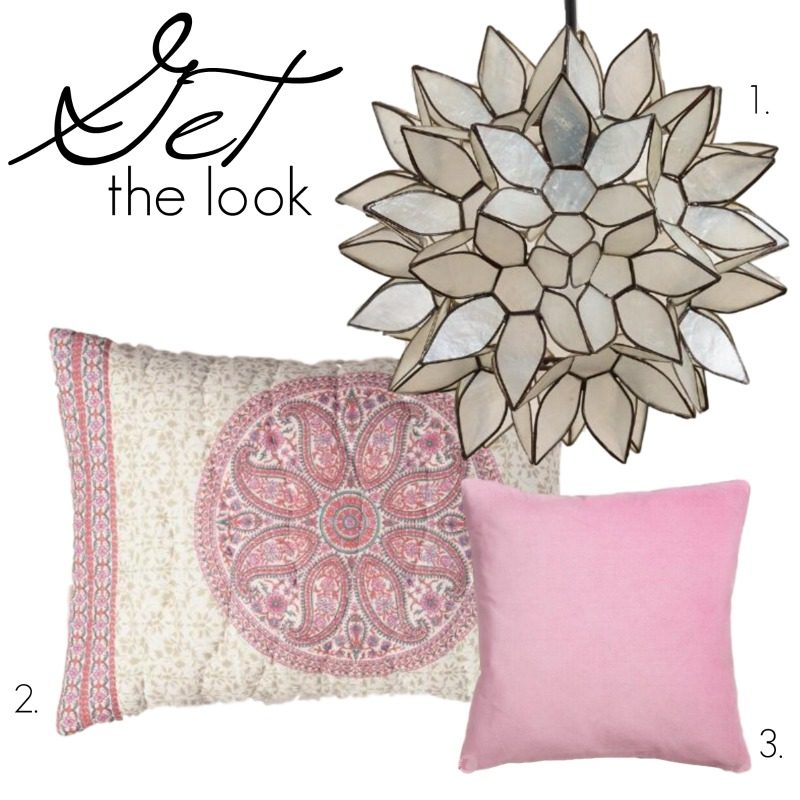 ONE || Chandelier:  This pendant is a fun way to add unique charm. I like that it has a little bit of black detail on it which is picked up in the nailheads on the bed and the subway art on the wall.
TWO || Shams:  These are just straight up cute. I love the traditional, quilted vibe they bring to the room. I think it creates a cozy look.
THREE || Velvet Pillows:  These come in many colors and are an easy way to introduce a new color to a room.
Here's hoping we have many friends and family drop in so they can use this room. My daughter is first in line! She asked if she could stay in the guest room. I guess I will take that as a compliment.
*Affiliate links used.