Good morning. I hope you all had a wonderful holiday weekend with the people you love. Our boys were traveling for hockey so it's so nice to have them back. The house is far too quiet when they are gone. As for decorating this house, it's a slow and steady process. Rather than wait and show you finished spaces (could be years from now) I thought it would be fun to share the baby steps and the thought process behind those little milestones. Right now I'm still working on the guest room and have ordered a couple of pieces to help pull the room together.
PREVIOUSLY SHARED PHOTOS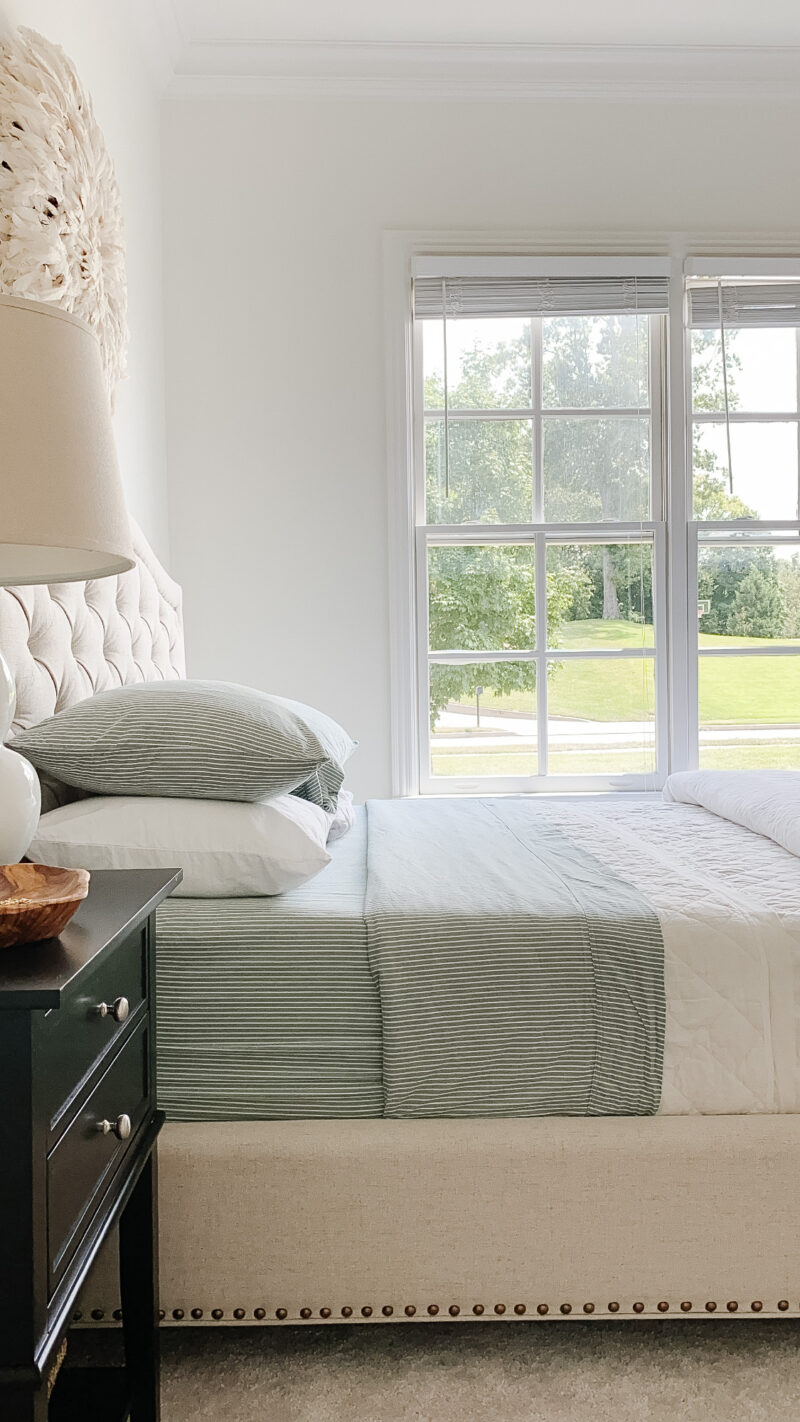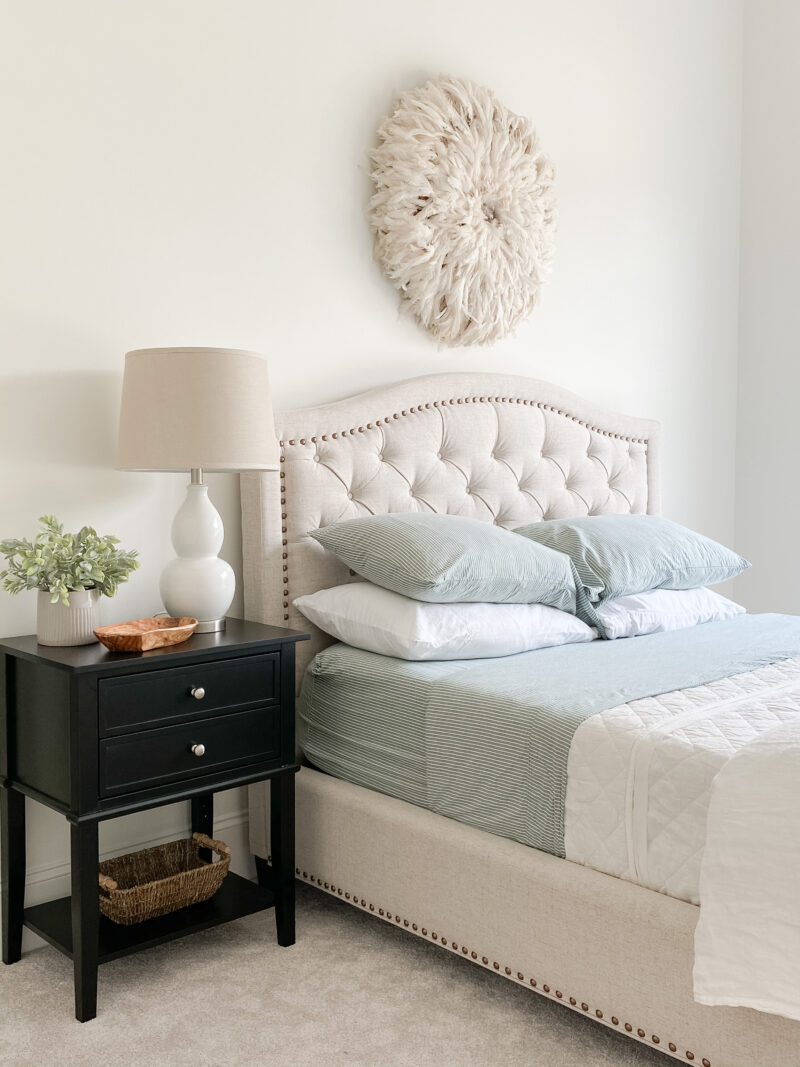 This is how it looked the last time I checked in with you. We love the green striped sheets and the nightstands are a great size and scale for this room. Not loving the white lamps and they were borrowed from our bedroom just to give me an idea of what I want in here.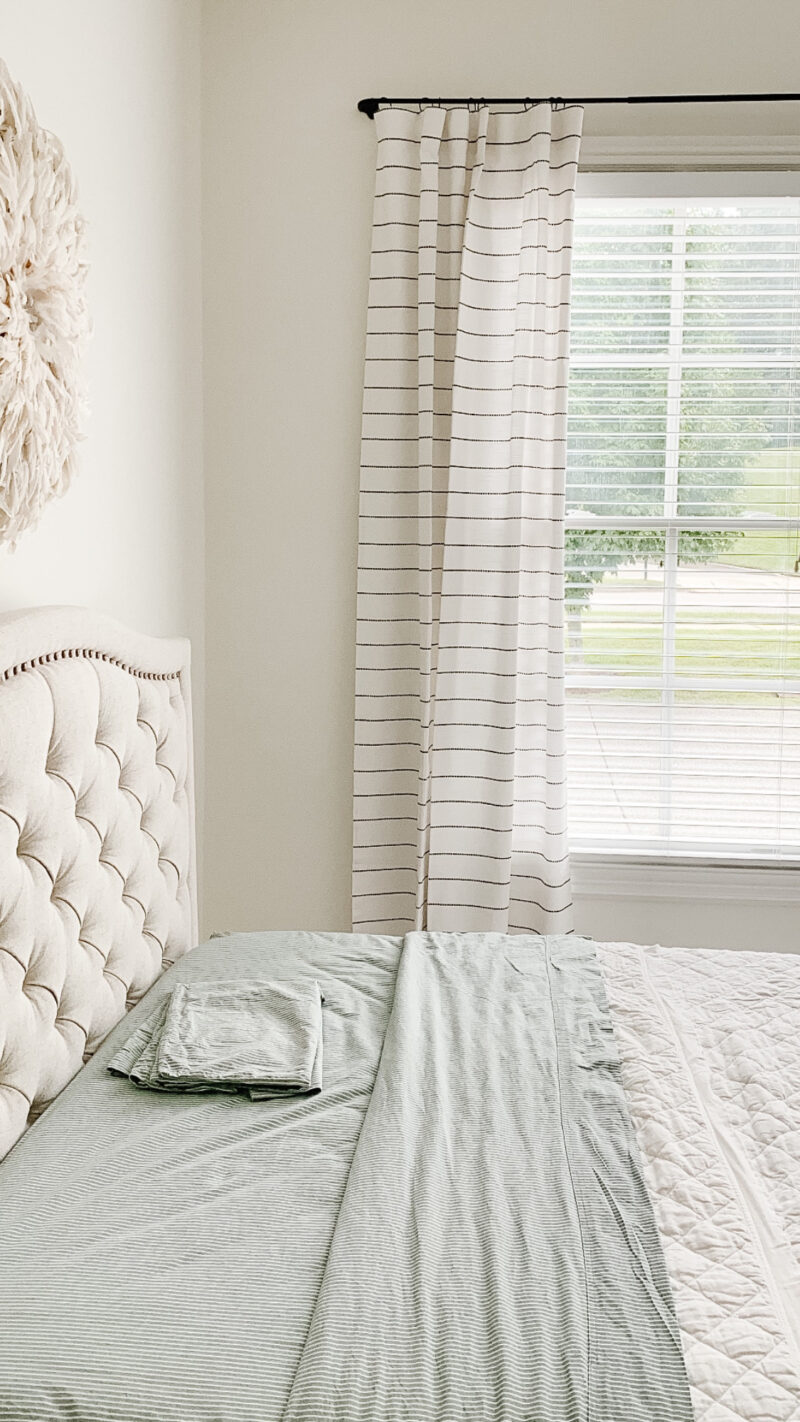 We did hang the Tonic Living drapes. I love the stripes and the subtle addition of more black in the room. The drapery rod is from here.
NEW ADDITIONS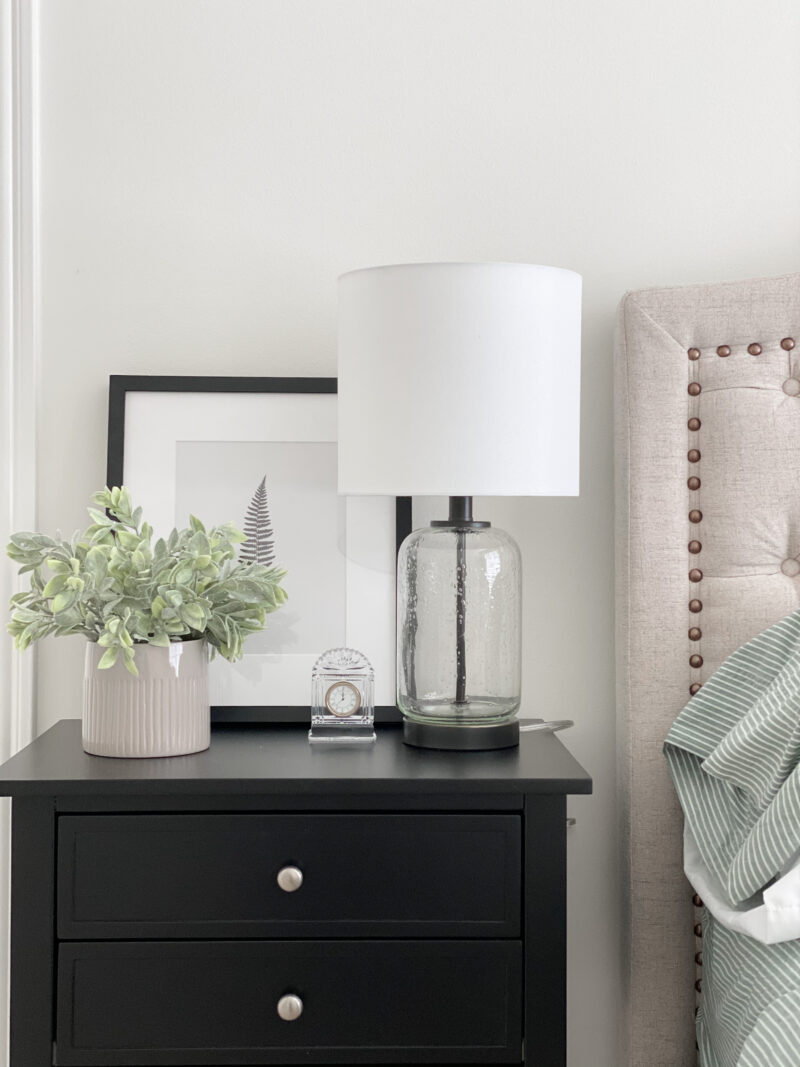 I stumbled upon two of these lamps at HomeGoods and love them for this room. They have USB outlets which makes charging phones for our guests so easy. I also like that they tie in the darker colors. I'm just playing around with accessories I have in the house. That is what I do to figure out the look I want. The sweet little clock belonged to my mom.
BRING IN A NEUTRAL RUG
The room needs pattern so I ordered this rug (currently on sale) to give it just that. I did a 5′ x 7′ size so it doesn't overwhelm the room. I kept it to a very neutral rug (tans, blacks, creams) so I can swap out the throw pillows and sheets anytime I want. It just gives me more flexibility and the reviews are great.
This light just arrived and I am excited to swap out the fan for this fun shape. I am toying with painting the rods black but we shall see. I just need to convince my husband to hang it for me!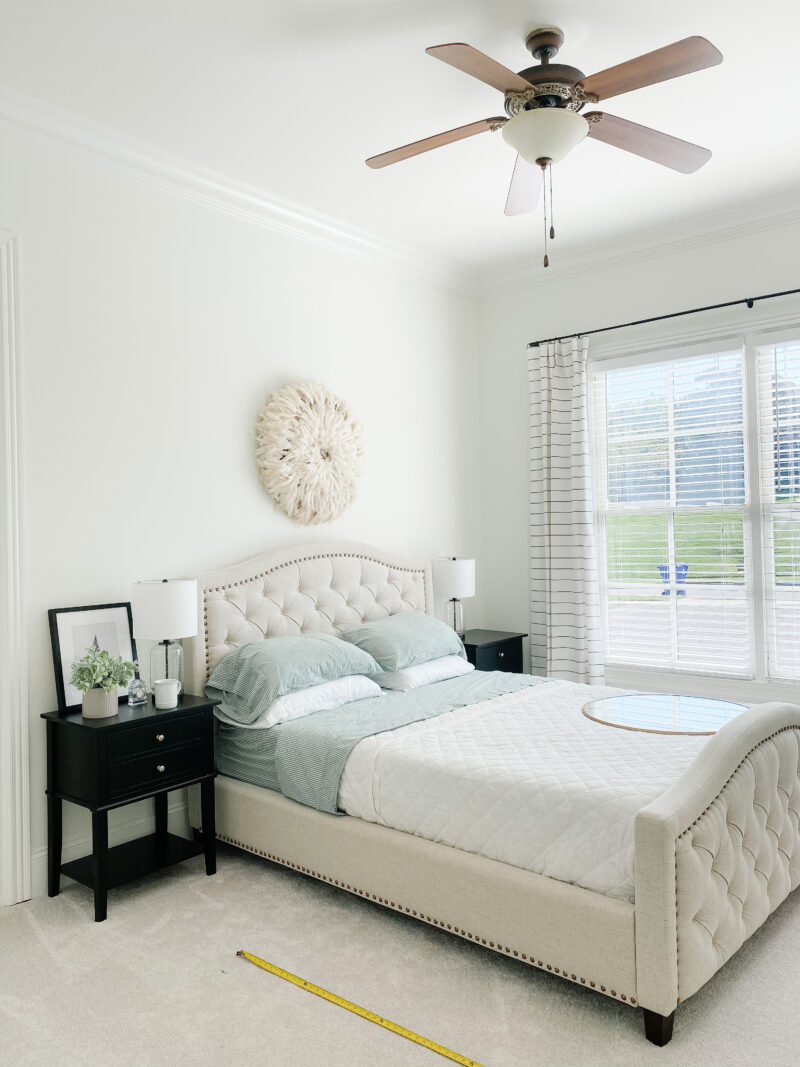 Hopefully we can swap out the fan this week. Ignore the mirror on the bed. That is going in my daughter's room. Whenever I order a rug for a space, I always mark it off with a measuring tape or two to get a good idea of how it will look.
GORGEOUS PILLOWS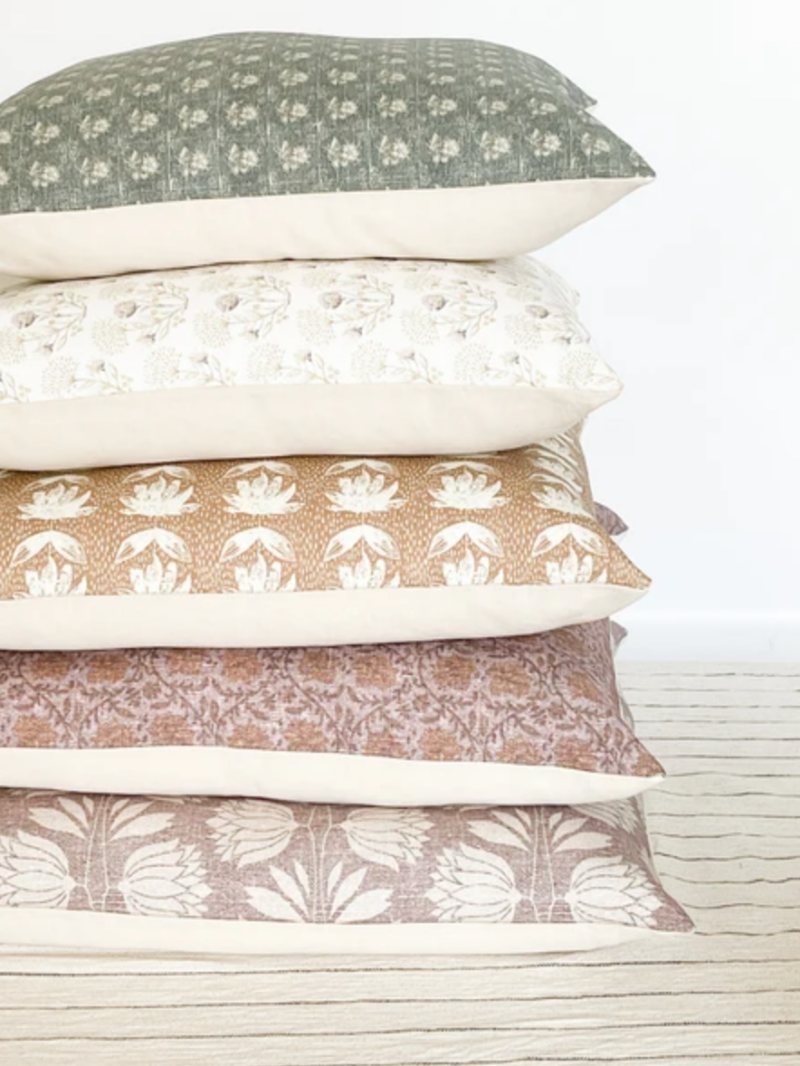 Have you seen these pillows from Jolie Marche? I am in love with every single one. I think I may try to figure a pretty combination for the bed.
So that's a little peek into where the room is headed. I will share photos once the rug and light are in the room. Make it a great day, my friends.