Good morning! I finally made a dent in my Christmas shopping last night. I am not sure why I have been dragging my feet but I checked so much off of my list last night and had a blast doing it. Came across darling finds and many sales. So today I am sharing a little bit for everyone with this installment of Holiday Shopping Gift Guide and Sales. Hope it's helpful.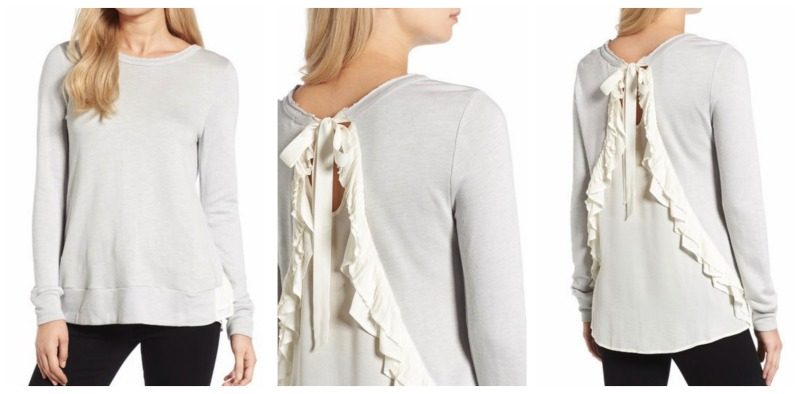 Well isn't this just the cutest? I have more ruffly (word?) goodness below but this stopped me in my tracks. This is the heather gray version and it also comes in ivory. I LOVE this top. Great gift idea.
I am a huge fan of Free People and when I saw this in store I went nuts. It's really really cute and being price matched. I would wear a slim tank or bralette under it but it's super flattering and soft. I did buy this last night as a gift for someone special. It was really hard not to buy two. Just sayin'.

One of my go-to gifts is a nice bracelet. They are timeless and you don't have to worry about fit. Of course a classic scarf is also a great gift idea. Can't go wrong.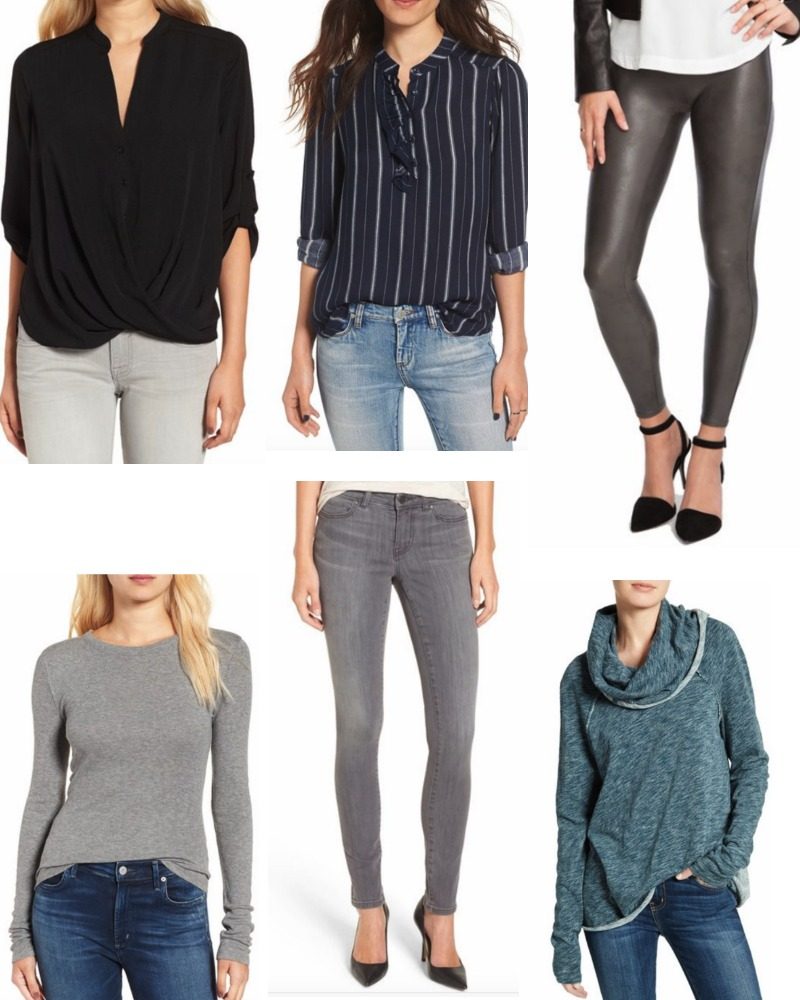 Shop These Pieces

These are all great basics that are on sale. I was just chatting with a girlfriend about how you really do need some great staples in your closet that you can than dress up with accessories or shoes. Those faux leggings and gray jeans have received fantastic reviews. The gray t-shirt comes ($15) in other colors and is a nice basic. If I am not in my robe around the house, I am in a pair of soft pajama pants and that gray t-shirt. I don't think the navy ruffle blouse in on sale, but it's soooooo cute.

Click any image for details
I absolutely love anything with a ruffle. Especially when paired with distressed denim or leggings. There is something about the combination. But so many of these would be beautiful with a pretty skirt for the holidays. Really pretty!
THINGS YOUR MAN MIGHT LIKE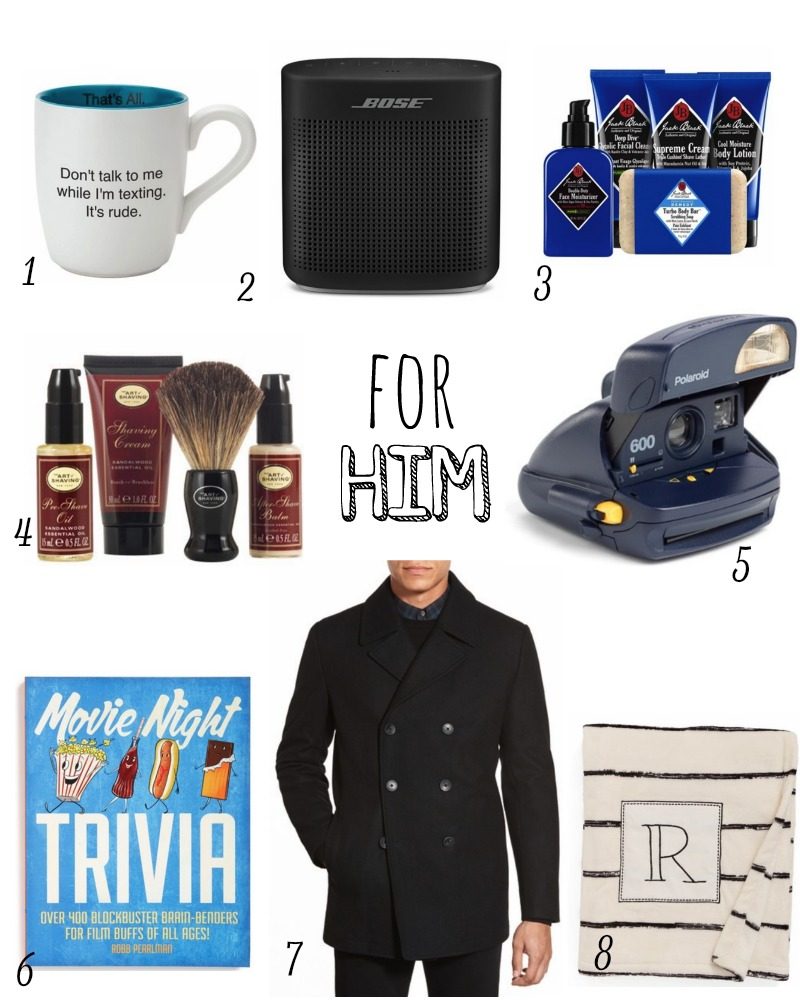 ONE | This just made me laugh. That is all.
TWO | We adore our portable speaker and use it daily. Great gift.
THEE | This was one of the top selling gifts from my guides last year.
FOUR | What man couldn't use this. I just love that brush.
FIVE | Such a throwback. A friend of ours brought this to a party and it was so much fun.
SIX | Does your man like random movie trivia? If so, this is great.
SEVEN | Classic. Timeless. Great choice and it's on sale.
EIGHT | Monogrammed anything is great in my book.
MORE FUN GIFT IDEAS
ONE |  This is genius. Those bristles can cause major major risks when found in food. NO bristles!!!
TWO | We have so much fun with table tennis. If you don't have space or even want a huge table, this is perfect. And you can pack it away. Fun gift for the whole family.
THEE | These are a wonderful gift for the man who likes to cook.
FOUR | Chic and fun for the cocktail lover.
FIVE | I am in love with this. My grandfather had map highball glasses so these take me back.
SIX | Santa, I would love one of these phone sanitizer gadgets in our home. Thank you!!!! Hint, hint.
TRIED AND TRUE

ONE | TWO | THREE | FOUR | FIVE | SIX
I also picked up two of the eyeshadow primers and the linen cloths last night for two of my girlfriends. We like to exchange our favorites and these are high on my list.
PAJAMA PARTY

Shop the Pajama Party

When in doubt, give cozy pajamas!!!! My robe is honestly my favorite item in my closet right now. These pajama pants take a close second.
TOY FAVORITES

ONE | TWO | THREE | FOUR | FIVE | SIX | SEVEN
The snowballs and hockey game were sold out for a bit and are back. Santa has his eye on those. And hands down one of our favorite gifts ever is Simon. It has stood the test of time and I honestly think it's a fantastic game for brain development. Memorizing rhythm and patterns is great for growing minds.
SALES AROUND TOWN

Did you know certain stores are doing a "Deal of the Day!" I grabbed a really cozy blanket for a gift while shopping online last night for 50% off! These soft pillow covers are today's deal. But check each day. Such great prices.
Pottery Barn is offering 20% off of your total purchase and free shipping. Use code: DELIGHT.
Joss & Main: offering free shipping all weekend.
Serena & Lily: Free shipping & 20% off much of their bedding.
Anthropologie:  30% off of all clothing. Including sale. This turtleneck top is darling.
Loft: 40% off of everything. Bought this for a gift. LOVE.
West Elm:  Everything is on sale and free shipping!
SHOPPING GUIDES
Just click on this gift below to see more gift ideas.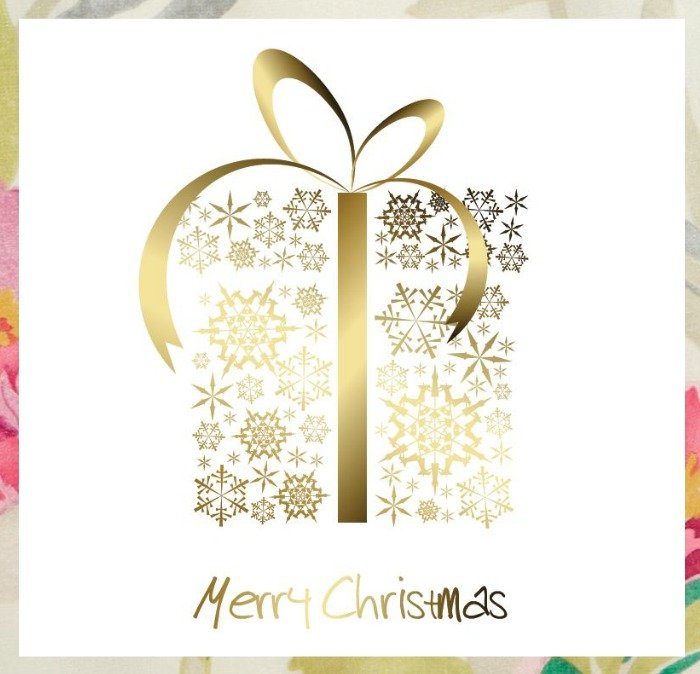 Have a wonderful weekend! Hope you are able to enjoy some family time and take in the glory of the season.
*Affiliate links used