I'm so excited to be sharing my first holiday shopping guide of the season. I thought about what really brings joy to me this time of year and it's hands-down, the children. It's no exaggeration when I say that putting this guide together brought tears to my eyes. I carefully picked out each one and so many of these toys bring back such amazing memories. When choosing kids' toys, I believe in longevity. Toys that stand the test of time, teach, inspire or foster a little one's imagination are the best. All of these do that and our family has had many of these exact toys in our home for years and years.
HOURS OF FUN
ONE: Melissa & Doug are one of my very favorite brands for children. We have this set and the kids still play with it. Playing restaurant never gets old around here and the quality is so great that the products last forever.
TWO: Same thing holds true for the fruit and vegetables. Such good quality and fun for the kids to play with.
THREE: This cracks me up! I had not seen this one before. While I don't want my children drinking coffee, it's so fun to imagine this as part of their kitchen or restaurant setup to serve guests (and their tired mommy!).
FOUR: Who doesn't love serving up pizza? We have a similar set and I've enjoyed many slices through the years.
FIVE: Maybe if your children are exposed to baking supplies they will become much better bakers than I did! LOL.
GREAT GIFT IDEAS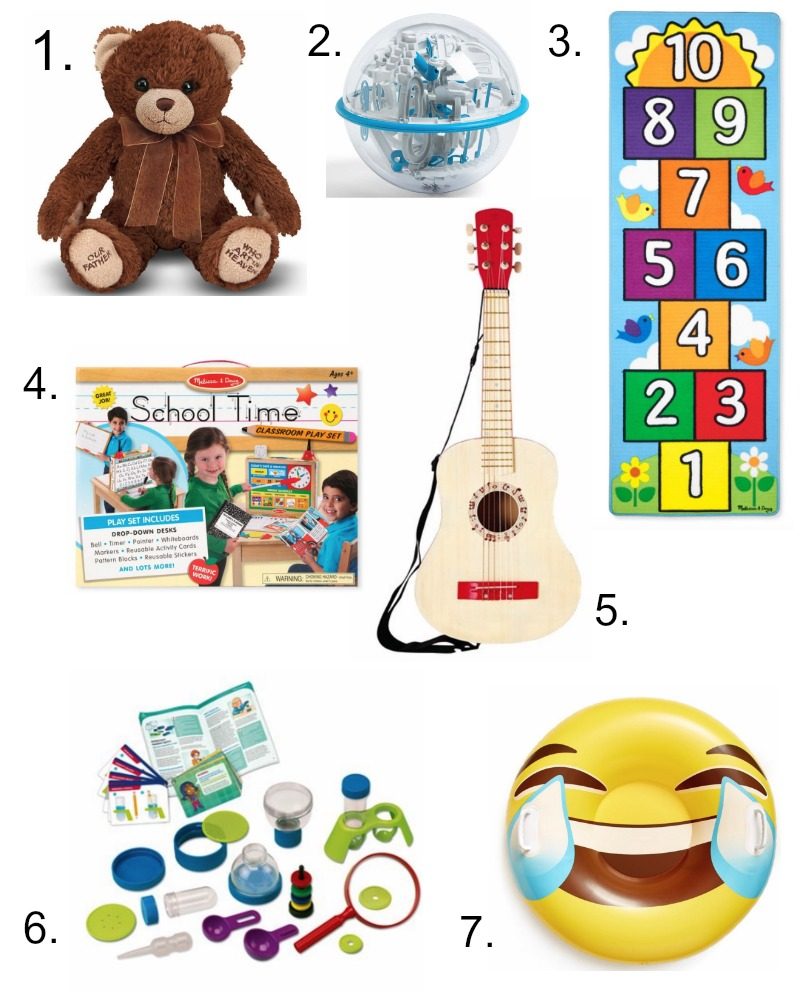 ONE: I fell in love with this. When you place the paws together, the bear recite's The Lord's Prayer. So sweet.
TWO: My kids received one of these Perplexus toys a few years back and I highly recommend. Great for their problem solving skills and concentration.
THREE: Yes!!! This was another one I used to set up in the kitchen on rainy days or any day. We would take it outside on the sidewalk, too. Just don't let it get wet overnight like I did. Keep it dry! (learned the hard way).
FOUR: Don't you have memories of playing "School" when you were young. Every time our kids have friends over, they tend to gravitate towards this.
FIVE: What can I say? Huge advocate of children learning to play an instrument and the sooner they are exposed the better.
SIX: As a former science teacher this is speaking my language. I firmly believe that all children love science when they are allowed to just explore their environment and have the right tools to create their own experiments.
SEVEN: Well this snow toy just cracked me up. That is all.
TIME TO PLAY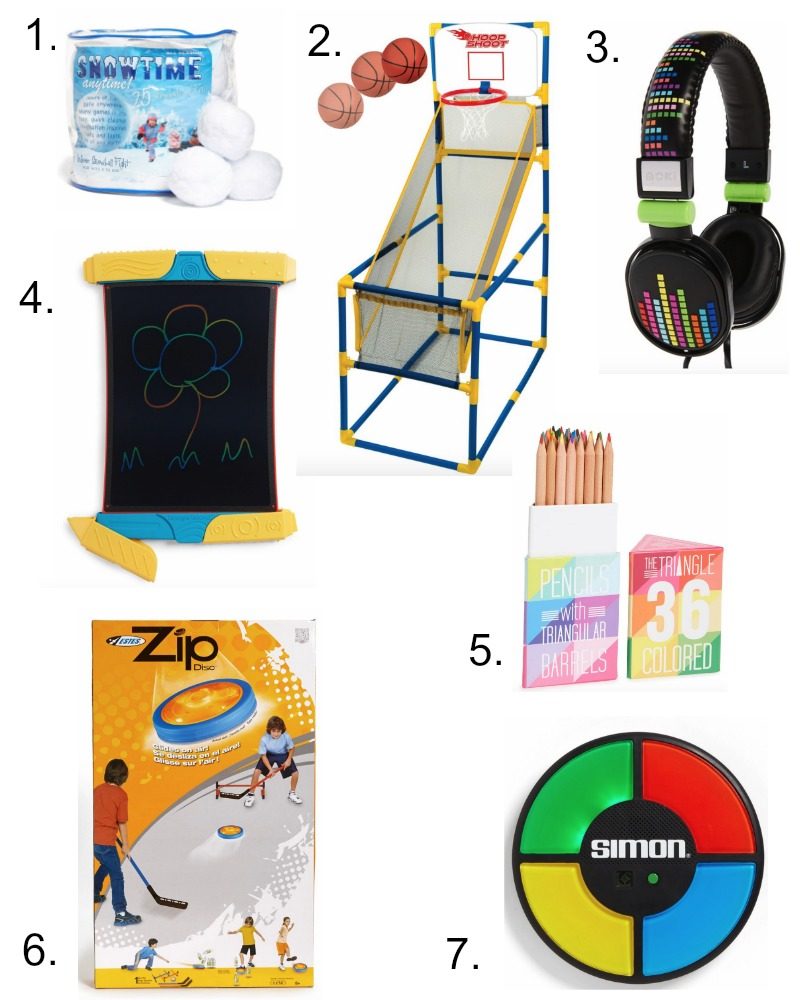 ONE: Speaking of snow. Too cute. I also read long ago that having something soft for children to throw is a really good technique for getting their aggression out. Especially on rainy days.  Just a thought.
TWO: I always wanted one of these as a child. Great price point. Hours of fun.
THREE: These come in a ton of different designs and colors and are volume limiting headphones to save the ears.
FOUR: Highly recommend. Both of my children were given a similar board from Santa last year and have used them not only for drawing but for making to-do lists. Nice way for them to start habits like that.
FIVE: Art forever and always. All kiddos need a great set of colored pencils.
SIX: This is finding it's way to our tree this year. My son is obssesed with hockey and this floats. Can't wait to see it. More exercise than an air hockey table, too. Although we do love those! (I notice this is selling out quickly. I found another set here.
SEVEN: This may be one of my top picks of all time. My son STILL plays with this and I firmly feel that it has helped with his musical ability and memorization. I can't believe how much they have grown since the photo below.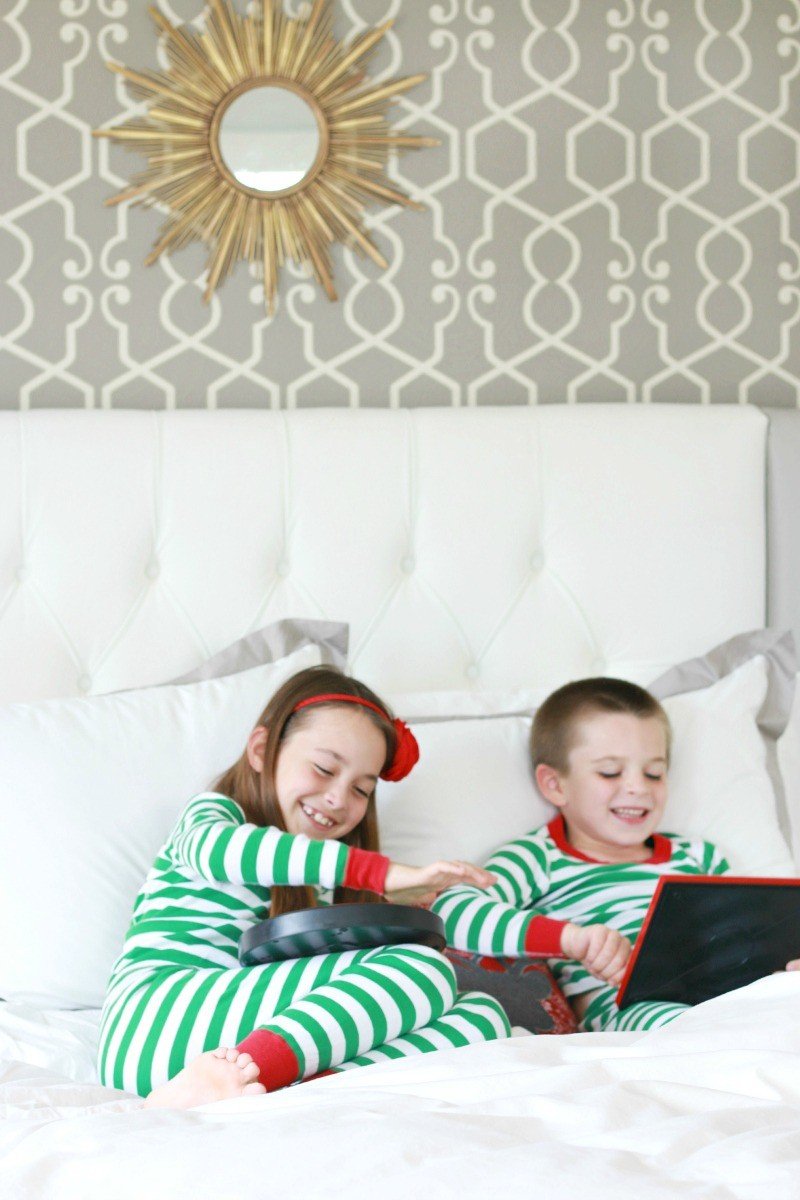 TIME FOR CREATIVITY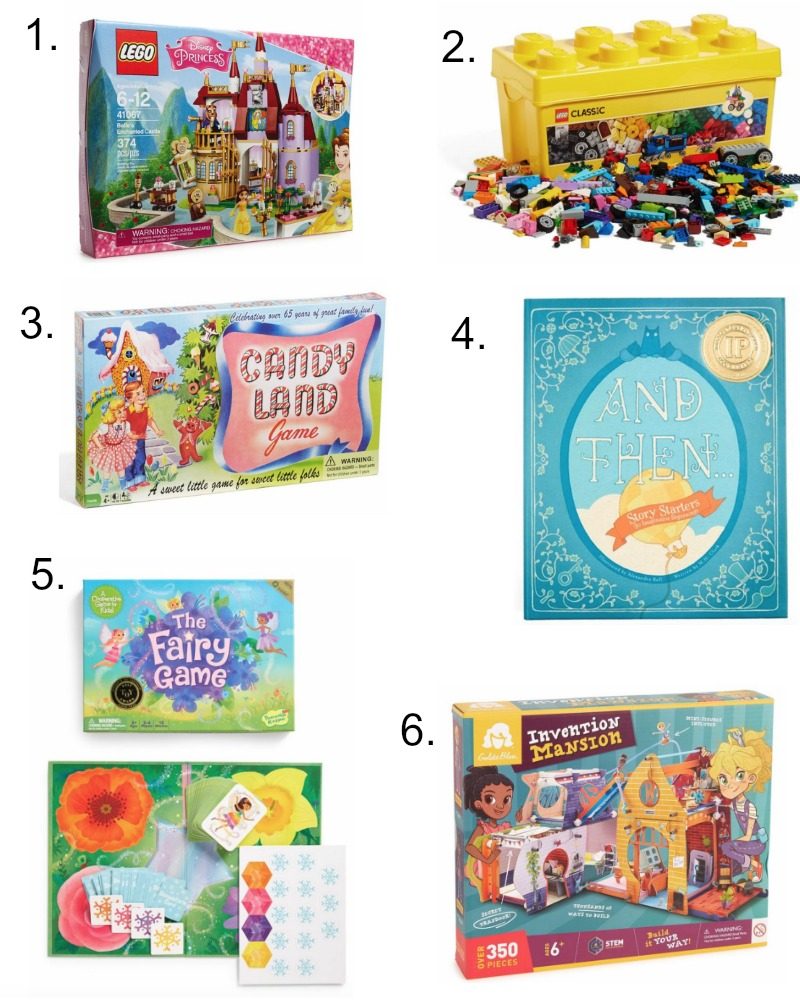 ONE: Lego sets reign supreme in our home. My children LOVE them and they are so great for fine motor skills.
TWO: This was given to the kids by their uncle and it's still a set they play with. If your children are just getting into Legos this would be an amazing gift.
THREE: Never gets old. This anniversary edition is darling.
FOUR: And then. . . One of my majors in college was English. I adore writing and think all children have the ability to become great writers. These are prompts that encourage children to finish the story. LOVE THIS!
FIVE: Cooperative board games rock. That is all.
SIX: Invention Mansion. I'm in. I love any toy that encourages children to invent, problem solve and build.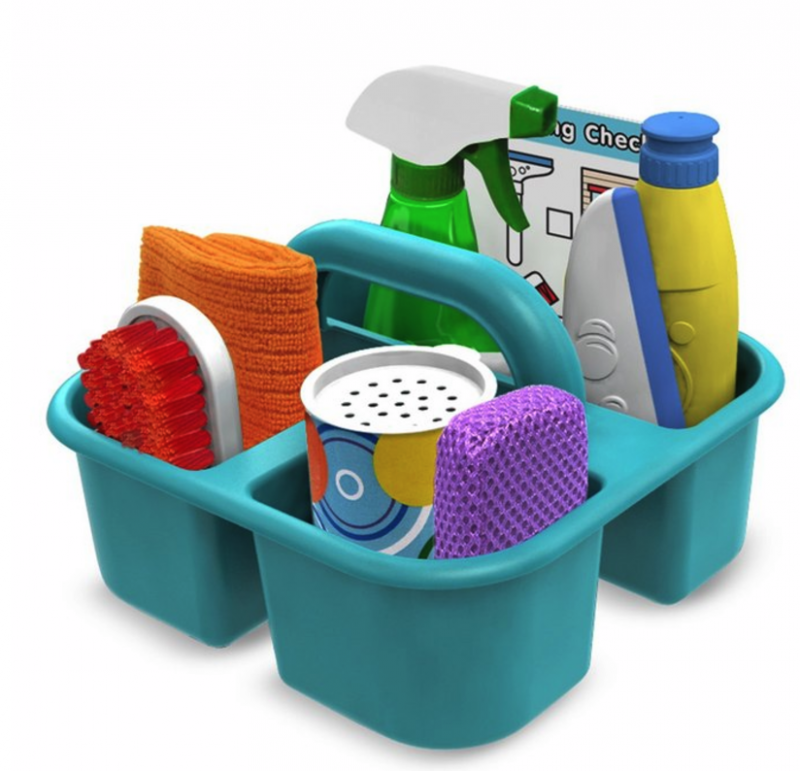 Last but not least, this made me so happy. My children clean their bathrooms every Saturday and they have plastic totes just like this. I am all about teaching children to pitch in and help around the house. Just too cute. It looks like there is even a check off list. This lets you keep your cleaning supplies up and out of harms way when they are little and yet they can still be mommy's helper around the house. We have to teach them young, my friends!!!
I'll be back with some toy ideas for the younger crew as well as teens but these really are such tried and true toys that still inspire creativity around our home. Keep an eye our for my gift guide image on my sidebar. If you click on it, it will take you to any of these holiday guides I create. Hope that helps if you forget about something and want to take another look.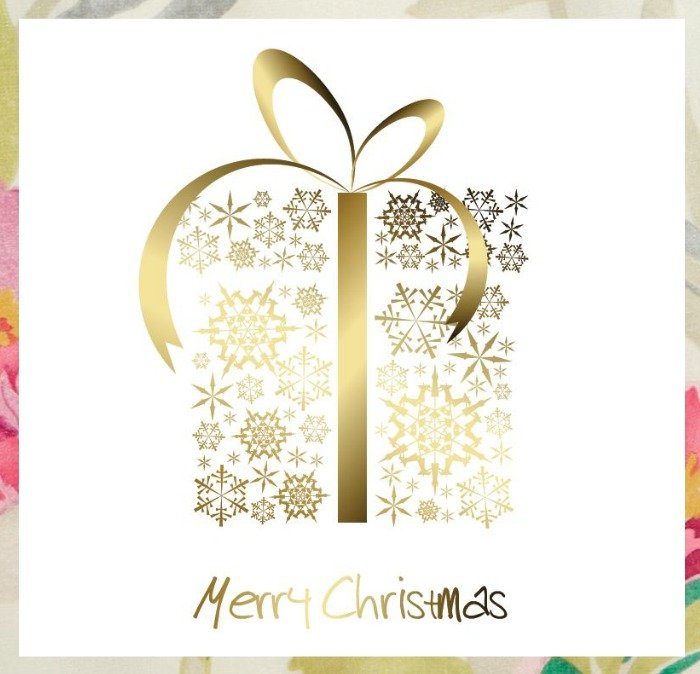 Enjoy your weekend, my friends. We just got back from a quick getaway and are ready to deck the halls around here. Can't wait to show you what we are up to.
*affiliate links used.