I am in my happy place when I am sewing. I honestly love it. There is something about creating something out of just fabric that makes me really happy. Our great room has 10′ high ceilings and I wasn't finding anything store-bought that would work. Having them made was definitely an option but seemed a bit silly when I knew that I would have hidden tab panels made. I like the more casual feel of them (versus French pleat) and I also knew they wouldn't be very difficult to make and that would save my hundreds of dollars. I came up with a super simple way to make them and thought it could benefit any of you who sew.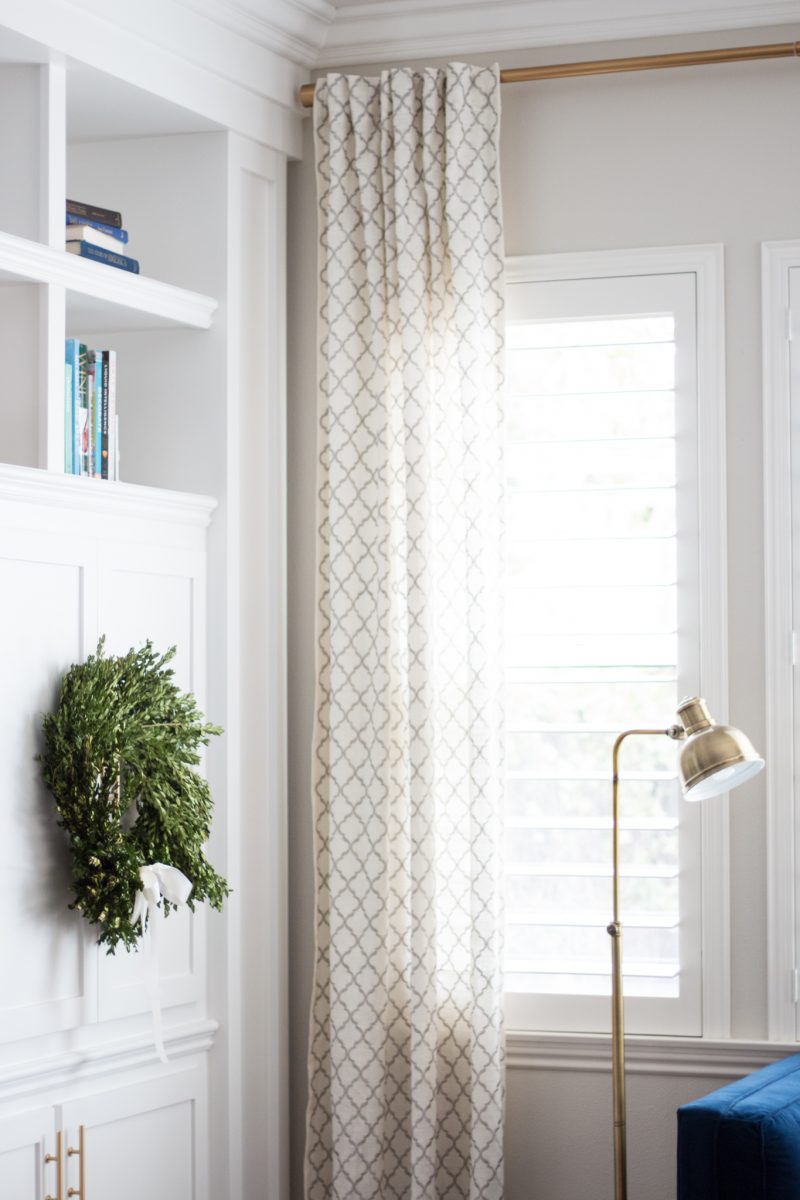 THE SECRET TO HIDDEN TABS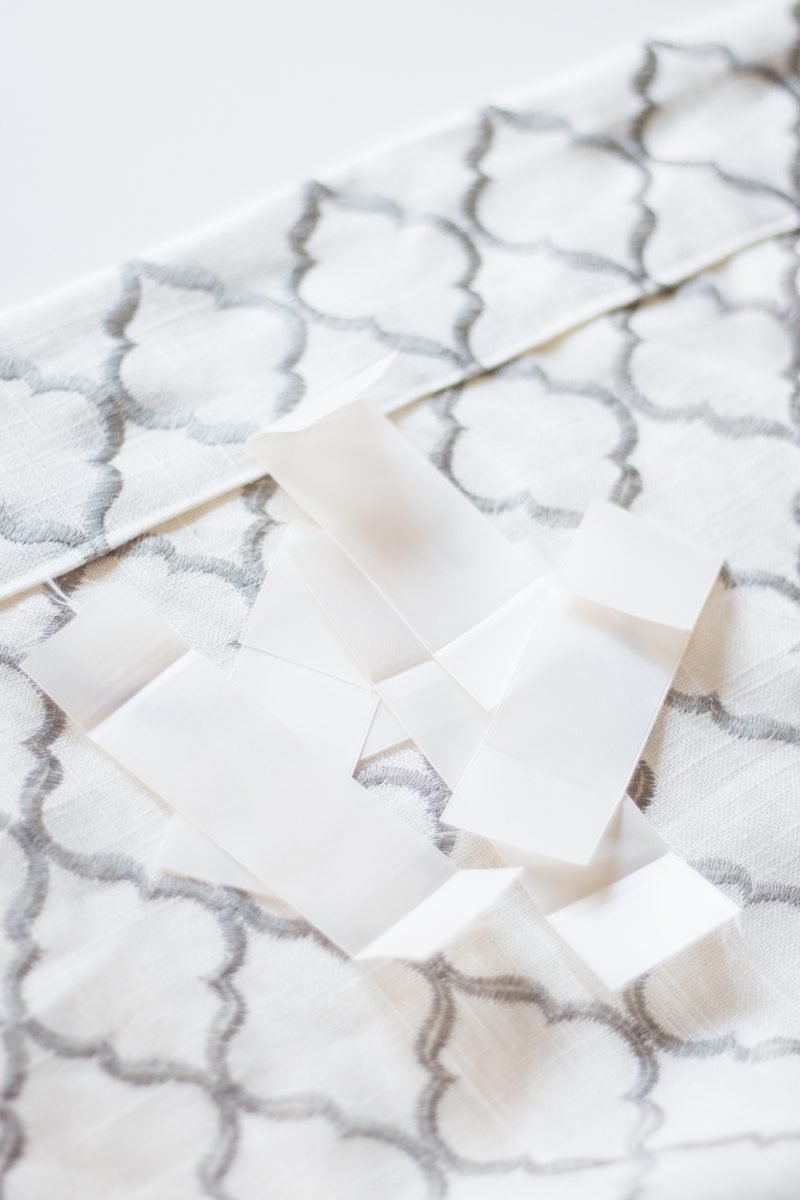 I used a linen fabric and sewed the panels as you normally would. I created a 5″ hem at the top and then hemmed the long ends of each panel.
TIP: I never hem my drapery panels until they are hanging on the rod! More about that later.
I used satin ribbon to create the hidden tabs and it worked like a charm!!! It would have taken hours longer to sew and hem each tab. With the ribbon, I didn't need to worry about sewing the sides.
I cut ribbon lengths (2 inches longer than my top hem) and ironed the allowance to make the ribbon lay much nicer. You'll see that I eyeballed my ribbon lengths but you can be more accurate with yours! I was learning as I went.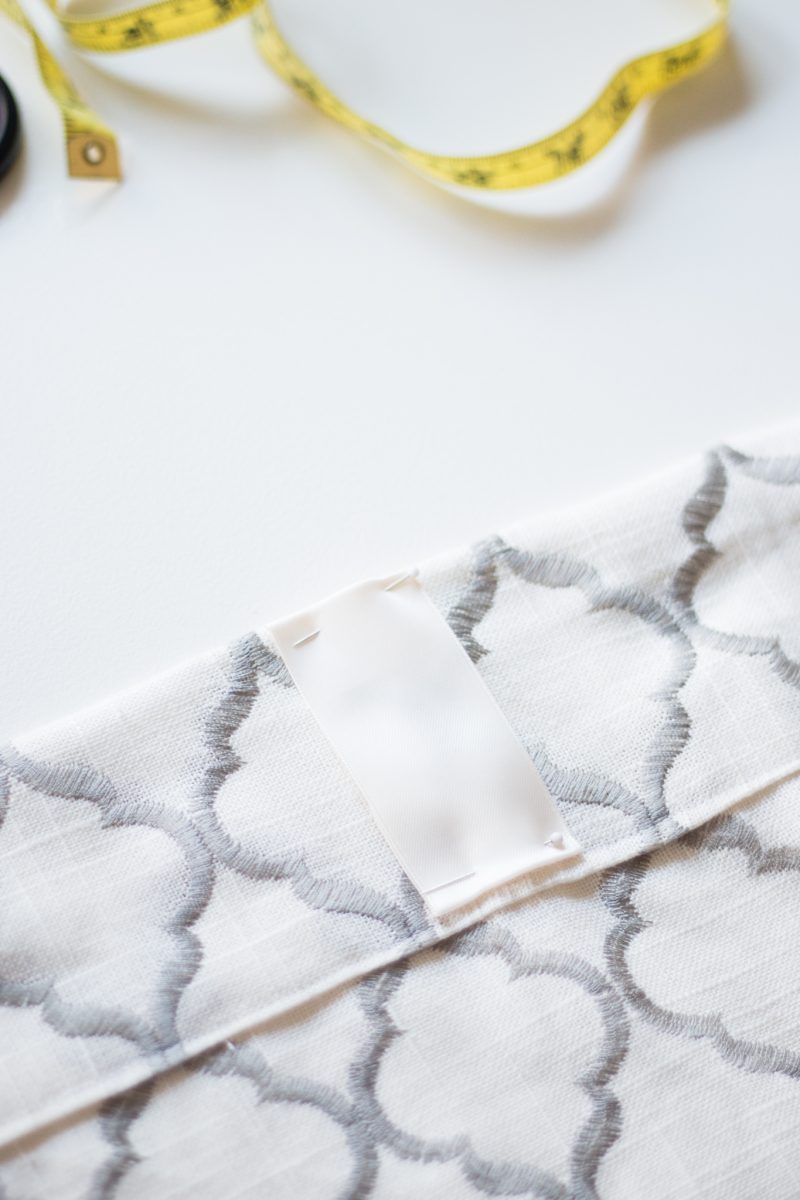 The important thing is that you pin each ribbon directly at the top of your curtain. You want them hanging evenly. The bottom of each tab is not as important. Just know your rod dimension to know it will fit through your tabs. I created 7 tabs across each panel. Just space them out evenly. Begin with pinning a tab on each end of your panel. Then do the math to space them out so they are even.
TAKE YOUR TIME
Carefully stitch each ribbon tab at the top and bottom. This takes a bit of time but is worth it.
Have a pair of scissors nearby as you will have a ton of threads to cut. Trimming all of your threads keeps them looking professional.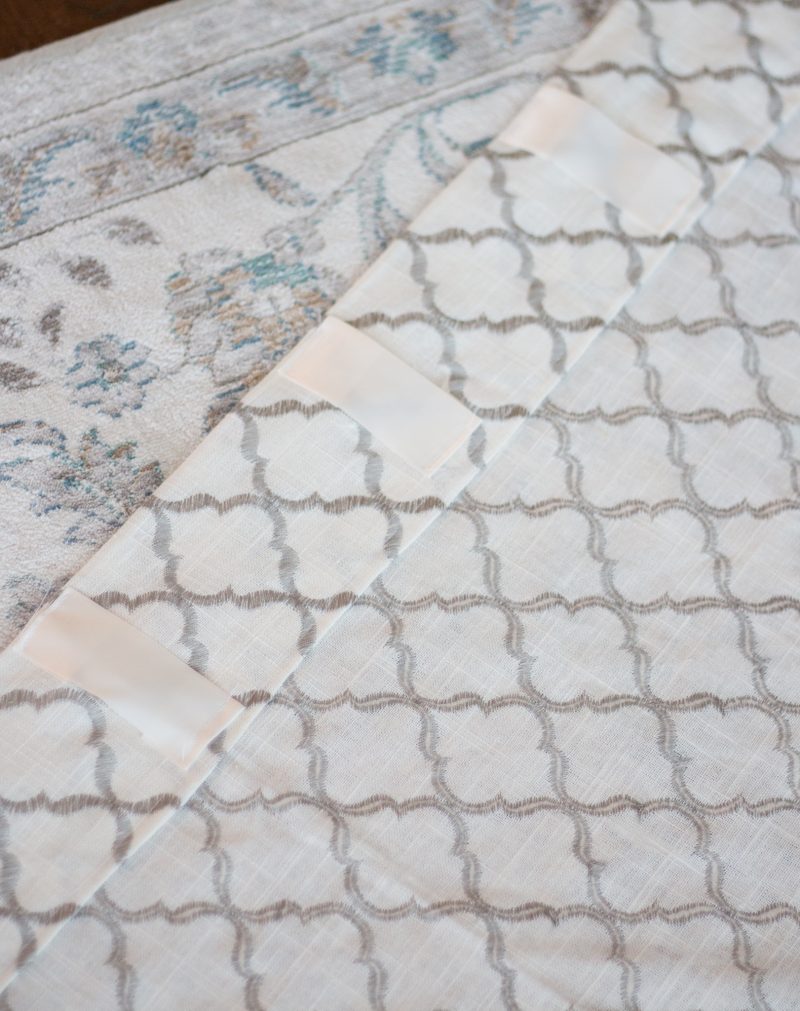 Here is an example of one panel with the tabs evenly spaced apart.
Again, be sure each tab is sewn in the same distance from the top of your panel.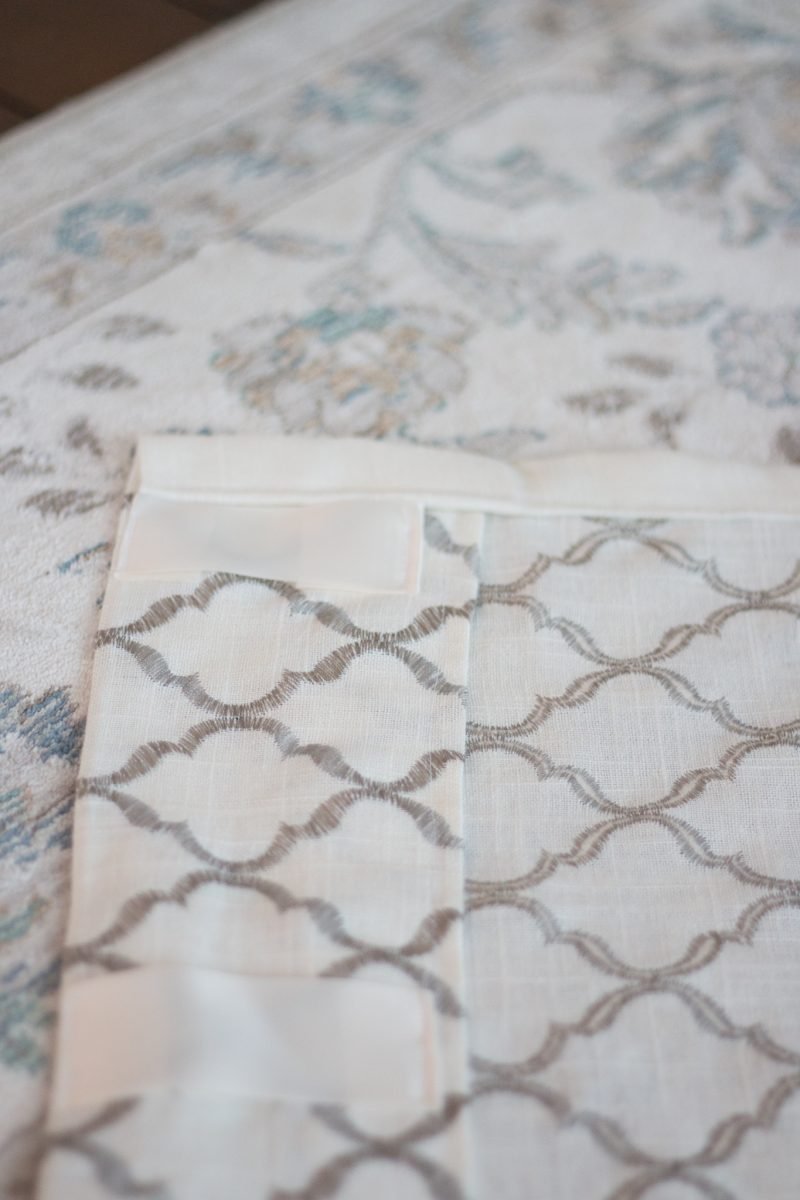 Here is the finished product! I am so thrilled with how they turned out. They fall just like my store bought drapes do in our eating area. The only cost to these panels was the fabric. I will show you more of the entire spaces as it comes together.
Hope this helps in case your looking to create your own hidden tab drapery panels.
THE PERFECT LENGTH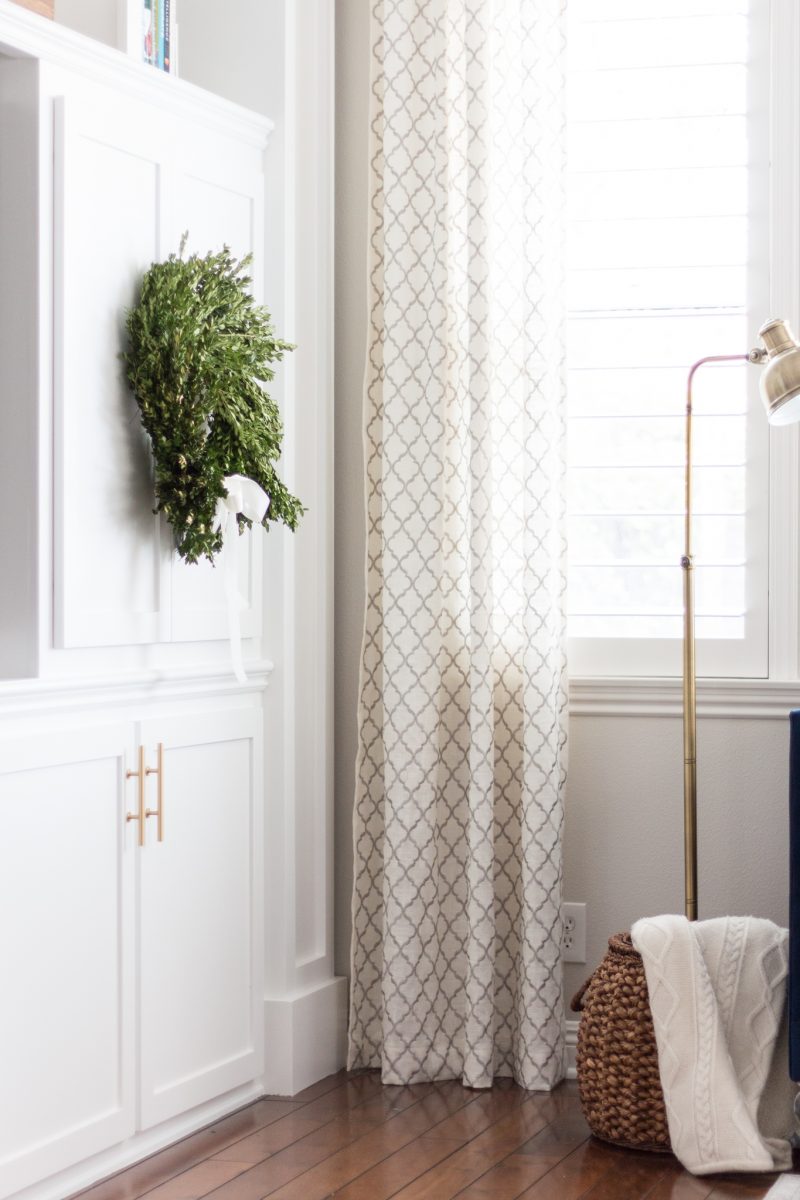 HOT TIP: Oh, and about the hemming! I've learned while making six separate panels and hanging three separate drapery rods that I LOVE hemming them after they are hung. It may sound nuts but it takes the pressure of the rod being in the exact spot it needs to be and you can get them perfect. I like them to just kiss the floor so I pin them after they are hung. I place the sewing machine on top of my ironing board right under the panel. It may seem odd but it works so well and I get a perfect hem each time.
Also, our brass rods are on sale right now. We absolutely love them and have used them throughout the downstairs.