I've been looking forward to today's post for quite some time. Not too long ago, I blogged about trying to instill values we hold dear, in our children. It's a constant conversation in this house and we do not claim to have any answers. Many times we feel like we get it right and so many other times we feel like we are failing. Whether it's teaching them hard work and honesty, or gratitude and service, it's a constant attempt and we just hope and pray some of it sticks. A certain song really resonated with all of us and it now hangs on our wall. Can't wait to show you.
Humble & Kind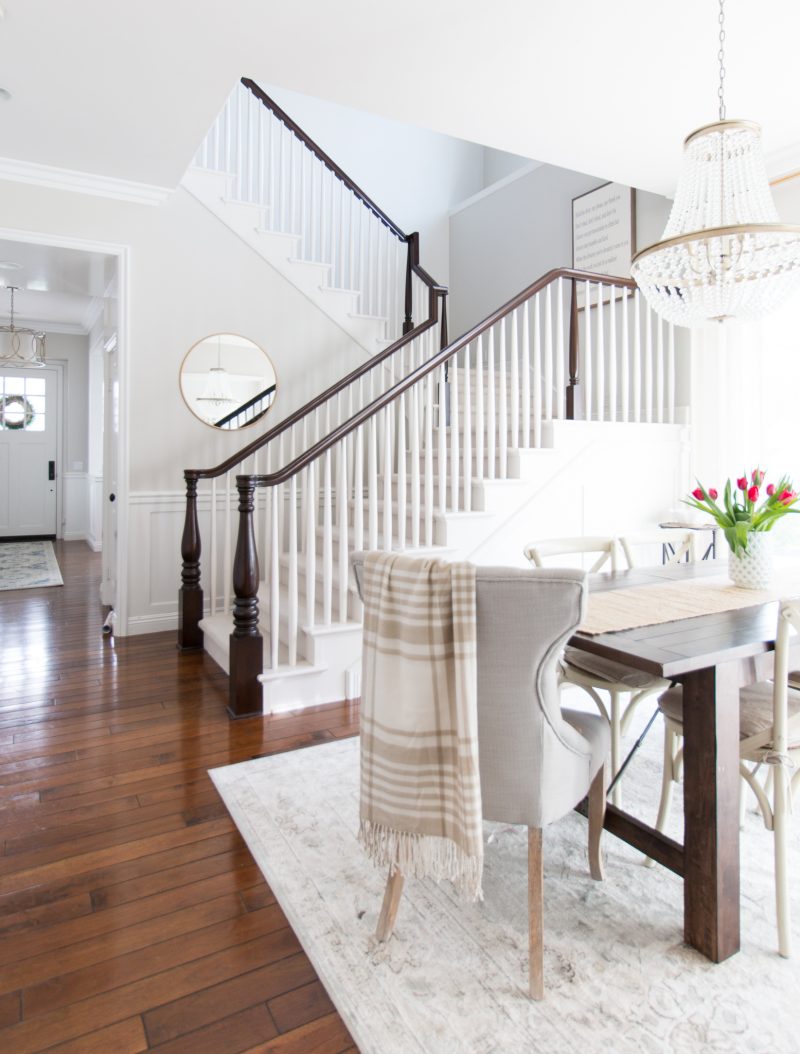 x-back chairs (on sale) | table | similar tufted chair
THE HISTORY
Every year we travel to Big Bear with two other families. There are eight children altogether and they have known each other since they were babies. I have been friends with the adults in the group since before marriage. Needless to say we go way back and they are truly some of the best people I know. I feel so lucky that my children have such great influences in their lives. This past summer, the kids had all gone to bed and the six adults were sipping wine and listening to music out on the back patio under the stars. We talk for hours on these trips about raising children, how we were raised, and heed advice from one another. It was on that trip that one of our friend's played the song, "Humble and Kind," for us. I had not heard it before. Every single word resonated with me. Have you heard it? It was originally written as a prayer from a mother to her children. It's simple and gorgeous and everything we want for our kiddos. Tim McGraw went on to record it and I love everything about it.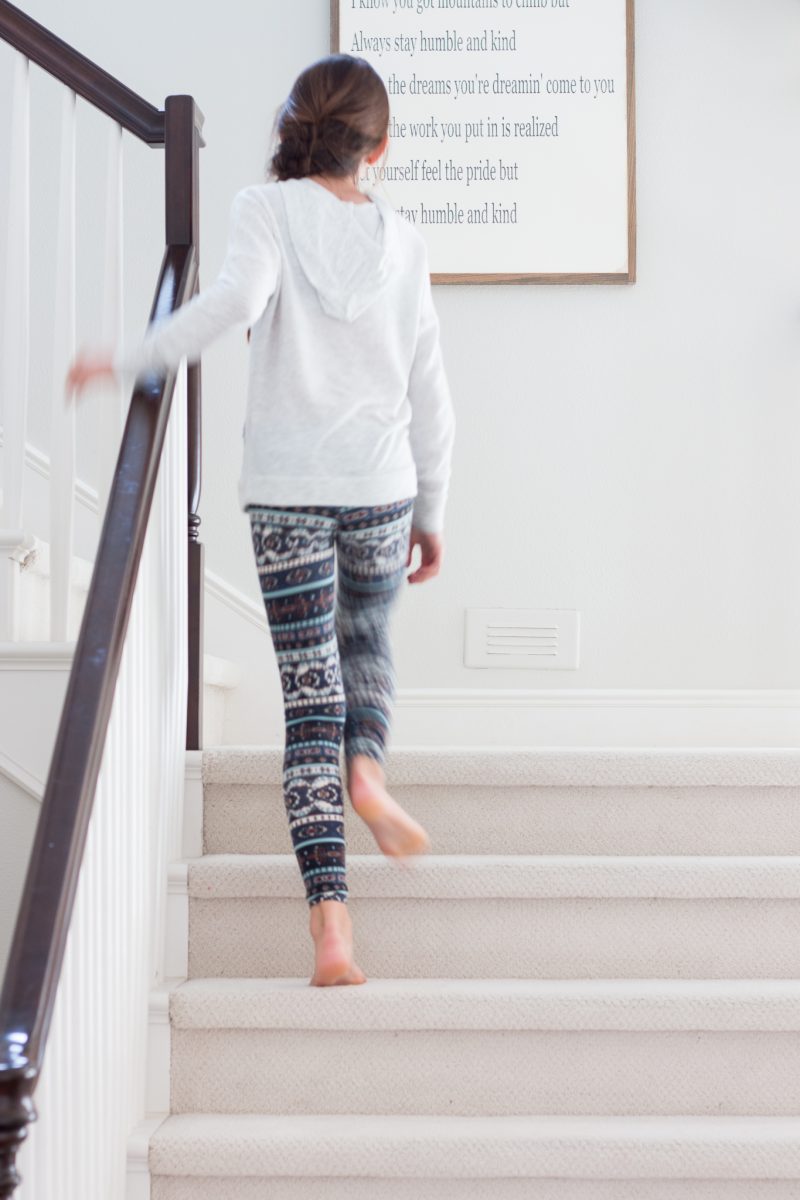 GRATITUDE
I knew I wanted this special prayer hanging in our home. When Tara and Andy said they would create this sign for us I pretty much lost it.  Just so so special for us to have in our home. The Humble and Kind sign is now in their shop in case the lyrics speak to you and your family, too. We've hung it in a spot where all four of us see it every single time we head upstairs. Some of you may remember the hidden messages we wrote on our stairs. It's also visible from our dining room and has already sparked so many interesting and worthwhile conversations while entertaining. We can't thank Tara and Andy enough.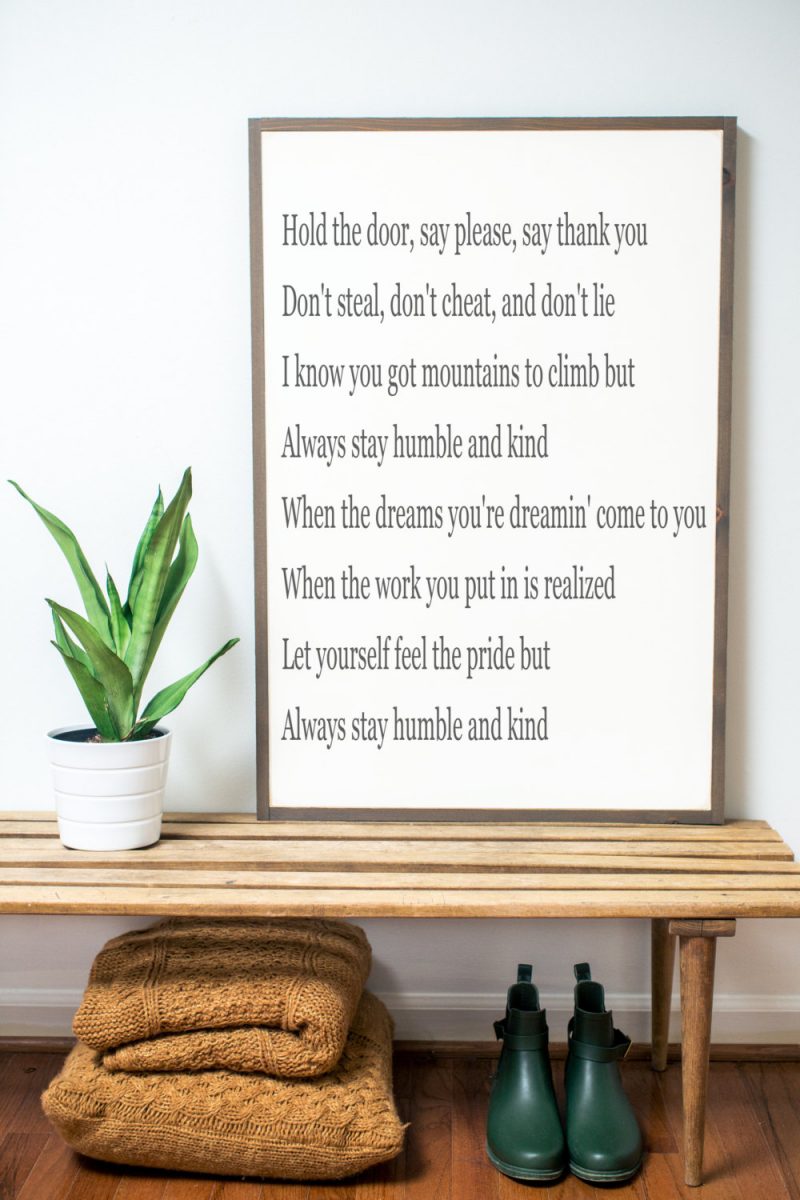 The words are just so simple and true. We want nothing more than for our children to reach for the stars and accomplish all of their dreams. "When the work you put in is realized let yourself feel the pride, but always stay humble and kind." If you have never heard this song by Tim McGraw it's really worth listening to. I always think of our friends sitting under the stars overlooking Big Bear lake listening to this song for the first time.
You can see we have a ton of blank wall space going up our stairs, but this was the most important piece of art for us to hang. A bit of a family anthem and love seeing it every single day. If you have a moment, head over to Between You and Me Signs. I promise you'll be impressed. You'll also see the "O Holy Night" sign which we hung in our living room during the Christmas season.
Thank you again, Tara and Andy. We are all in this parenting thing together and I love being able to share these beautiful lyrics with anyone who walks into our home. Have a good day, my friends.