Yesterday, I shared my plans to transform my daughter's room. We are both really excited. In doing so, we are parting with her beautiful white bookcase. It will be residing in a new spot in our home. I think I may be a bit nuts in taking it out of her room, but it is what it is. With the new layout, it won't fit and so we are on the search for book storage. And to be perfectly honest, it was a bit of a, how do I say this, junk collector! My daughter likes to decorate like her mama and the bookcase was a constant source of inspiration for her. So in the end, a more streamlined approach to keeping her books will help all involved. Especially my blood pressure! Here are a few that are beckoning to me.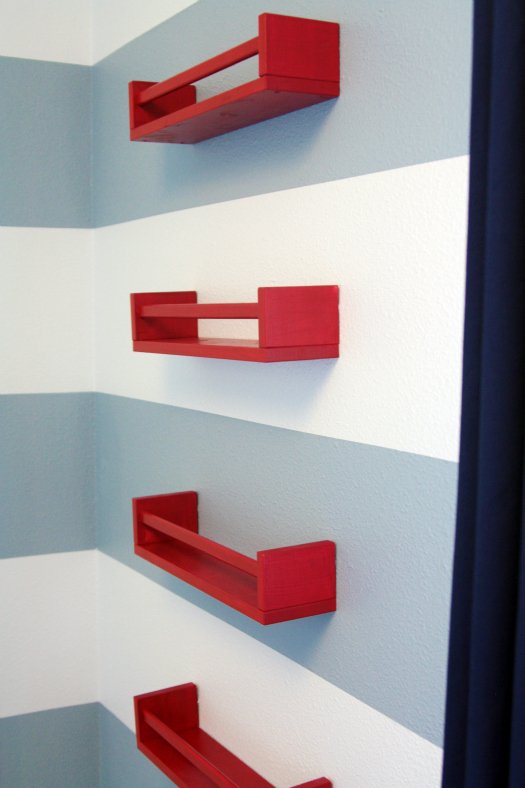 This approach is from my friend Jen over at I Heart Organizing. I really love this. These are $4 racks from Ikea. I love that they do not take up a ton of real estate. My daughter goes through books faster than I can keep up with, so it might be nice to have a system like this where we can see what she has and they are easy to grab.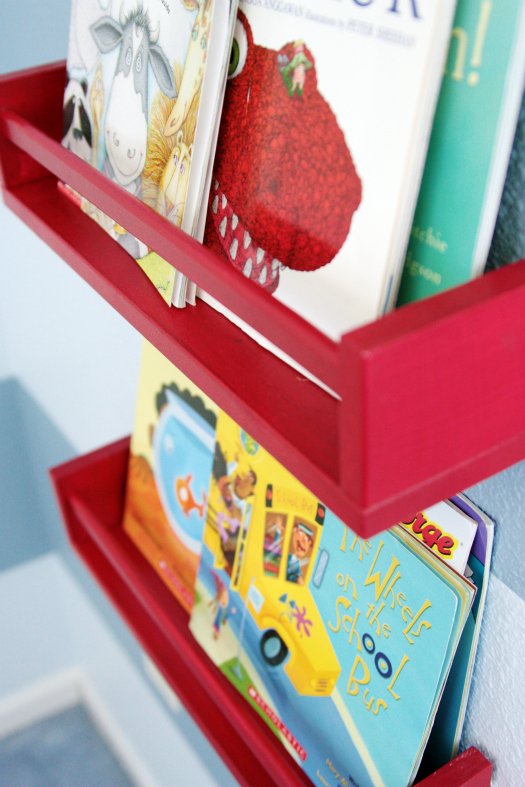 I Heart Organizing  
by Melanie These fabric book slings are just too cute. And not only do I see book storage, but I also see another opportunity to add some fabric to the room. Always a plus!
daffodil design Similar to Jen's approach, these picture ledges are also great for the books. I love the white against the pale gray, too.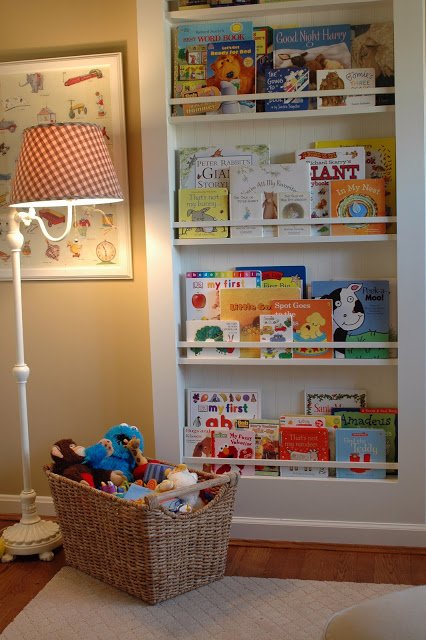 nine + sixteen This built in approach is pretty dreamy. I wonder what it would take to convince my hubby to bust this out over the weekend. Hmm. Something tells me I may be staring at a blank face. We shall see. So it's brainstorming time. We spent all afternoon yesterday, going through everything she owns in her room. Seriously. We went through every book, toy, doll, crayon, pencil, and piece of junk. It was so refreshing to really go through and see what she wanted to keep and what she didn't. We are happy to pass on many books and toys to children who could use them more than she can now. I only cried once. It was when she decided to donate most of her dress up clothes. Ughhh. Painful. "Mom, I'm just not that age anymore." Oh, dear. We kept a few key pieces but truth be told she doesn't even fit them anymore. So next up is selecting one of these options for books. I'll keep you posted.