I love Tuesdays around here because I get to share another date night style. This week's "It's a Date" is all about the casual white on white look. If you're at a loss for what to wear, pairing whites with a little dose of contrast or color is super easy. I happen to love these white jeans so any chance I have to wear them is great. This week I  traded in heels for flats so we could do some serious walking around. Take a look.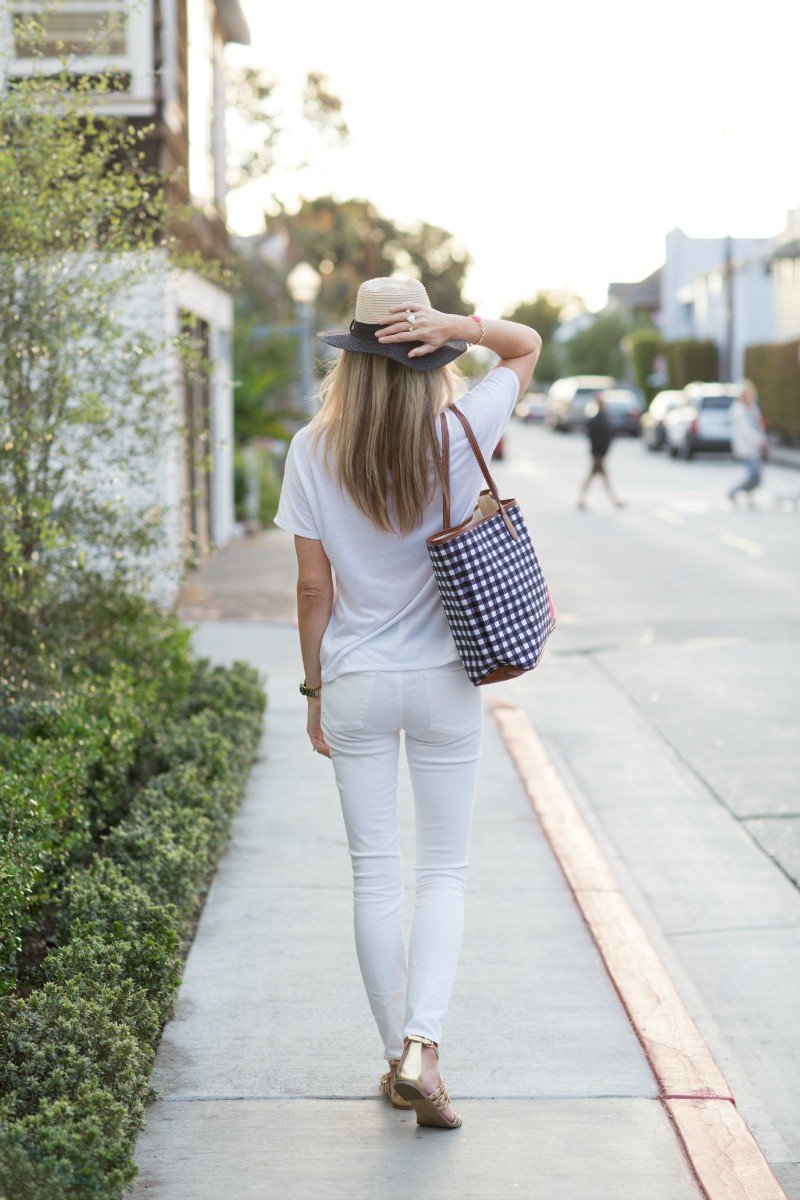 Do you have a pair of white jeans you love? They are so versatile for summer and I wear them with everything. I am wearing a size 25. Pairing them with a white t-shirt creates a clean look and then you can accessorize any way you want. I am in love with my Barrington Bag. Truly. This week we headed to Balboa Island and did and walked the charming neighborhood. We could walk along the water and look at houses all day long. Of course we like to pretend and pick out which home we would want to magically buy. Do you do that?  The tote was perfect to take as we tossed in some waters and a towel in case we wanted to relax and sit on the beach for a bit.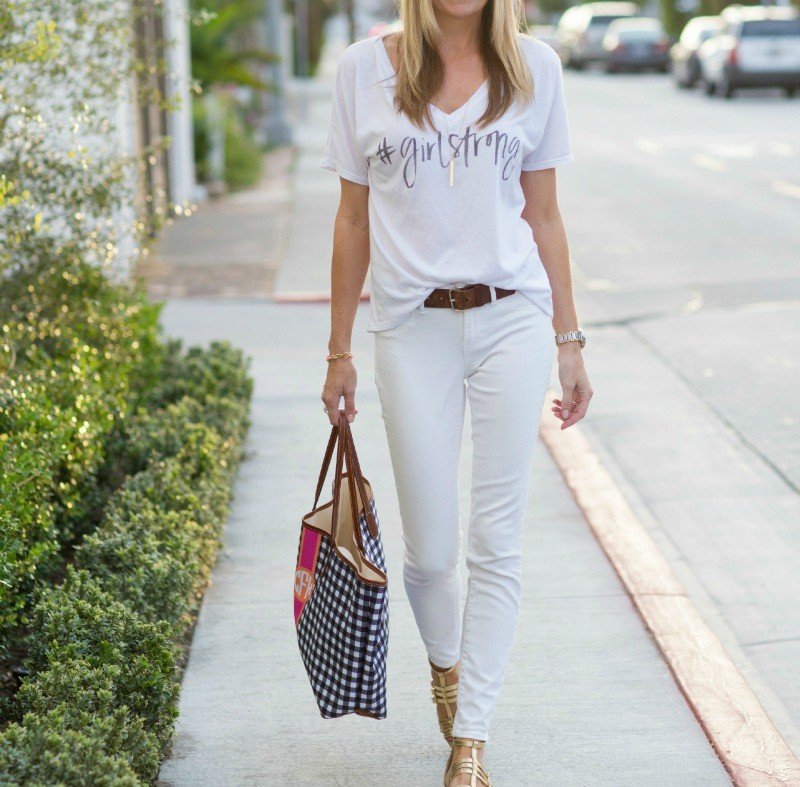 jeans | sandals | white t | tote bag | necklace | sunglasses | hat | similar hat
Do you have a fun town near you where you can just walk around and enjoy? There is something about being in the fresh air that is so nice. And this spot brings back great memories for us from our dating years so there are always a ton of funny stories that flood back. Mostly of the stupid things we did when we were younger. . . but moving on.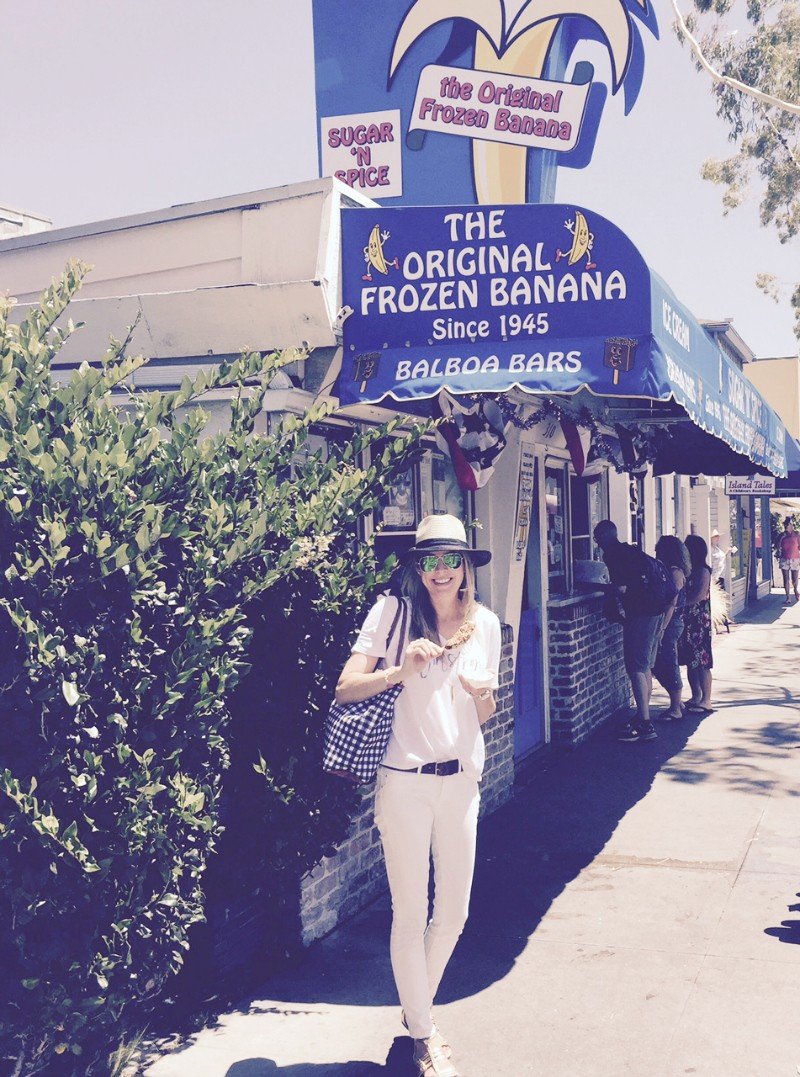 Date Night Hot Spot: Balboa Island is a huge favorite of ours. We love to walk up and down the rows of gorgeous homes and pop into the little shops. When we head down to Balboa we go early so stores are still open. And you can't possibly go to Balboa Island and not have a frozen banana. My favorite. After hanging out for a couple hours we headed to CDM and had dinner at The Crow Bar. We highly recommend it. Fun atmosphere and great food. We recommend the Roast Chicken Wedge Salad and The Crow Burger. Yummmmm!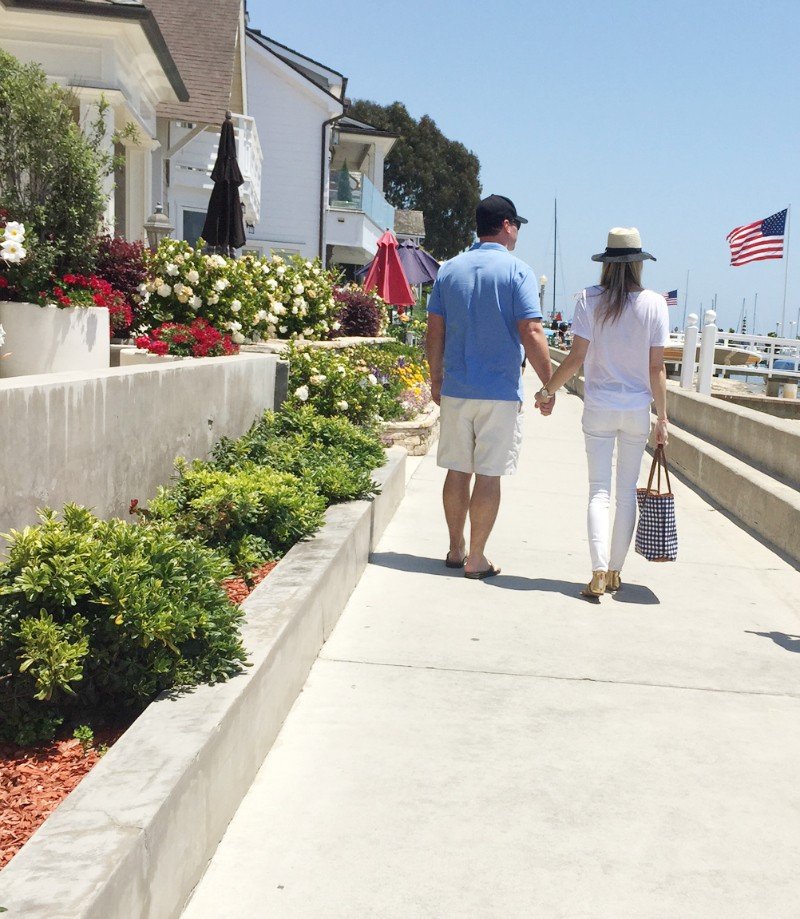 Date Night Question of the Week: Ryan and I both have people in our lives facing some pretty tough battles. It makes you really rethink the craziness of life. This week's question was, "What is one small change you can make to really take in each and every day?" Notice we said small as we know that major changes don't happen over night. It was thought provoking and we both batted around a few ideas before landing on one. Anxious to carry it out.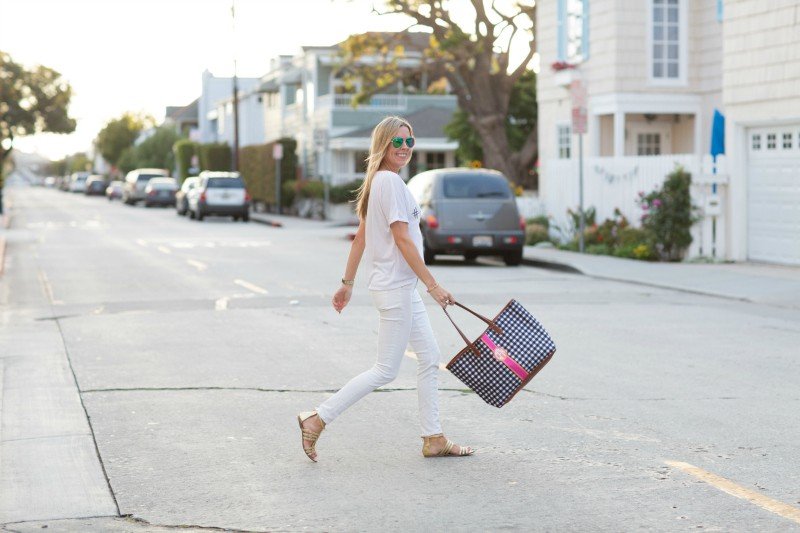 white jeans | sandals | white tee | tote bag | necklace | sunglasses
Date Night Style: Shop The Look

More graphic tees below. I wear them at least twice a week.
Graphic T-Shirts

More Fresh White Finds

And since we are on the topic of fresh white for summer, I rounded up a few dress options and jeans. I LOVE that white maxi. Really different and cute. Are you a big fan of white for summer?
As always, thank you for popping in. I appreciate it more than you know. And I try really hard to respond to every comment within the post as soon as possible.
Get caught up on the "It's a Date" series here! 
outfit photos by Taylor Cole 
affiliate links used