It's been too long since we've shared an "It's a Date" post with you. As most of you know, our date nights are a major part of our life and relationship together. We love exploring new places, eating great food and just spending time with one another. Even carving out dedicated date nights at home is important to us. More than anything, these dates allow us to just take a breath and check in with one another and our relationship. Most recently we went to one of our favorite local spots.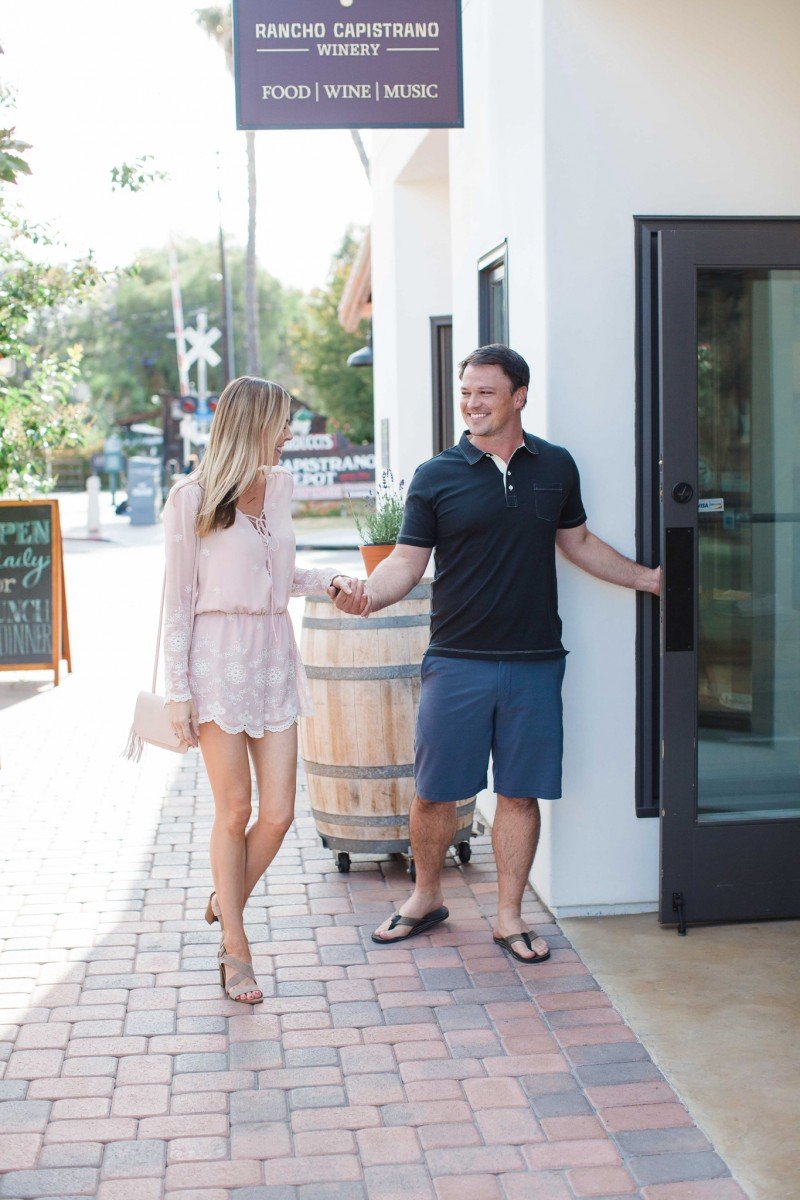 Date Night Hot Spot: Rancho Capistrano Winery
If you are local this is such a great date night spot. Not only does this family owned winery have great food and wine, but the Rancho Capistrano Winery has live music and a ton of outdoor seating. The patio has charming lights and a really comfortable atmosphere. And the inside is just as chic and stylish. The fried brussel sprouts are out of this world. Sooooo good.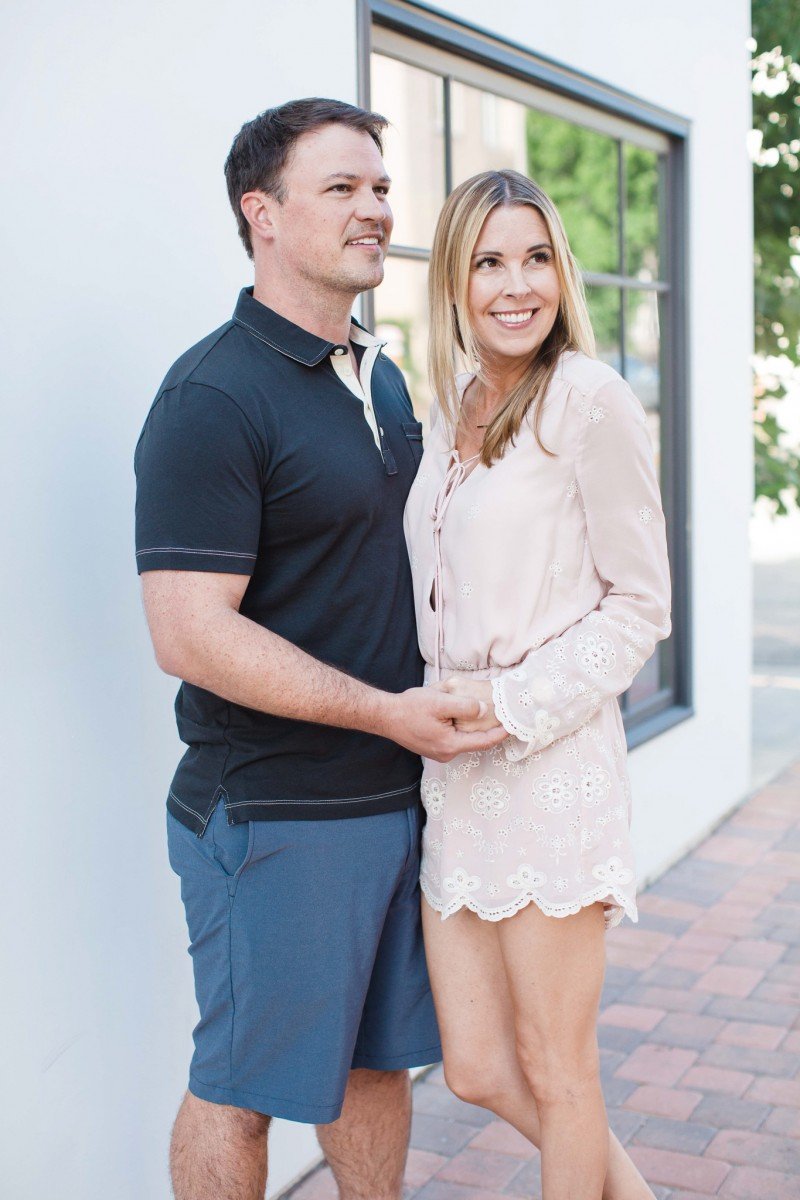 We were laughing over on Instagram about whether someone follows us on date nights to snap photos! Nothing like causing a scene, right? While we don't do that, we have gotten smart and realized that if we want both of us in the photos we can have Taylor shoot them very quickly and then we enjoy our date together. It literally takes her five minutes. And hopefully it will be fun for our children to look back years from now and see that Mommy and Daddy really did love spending time together and see all the place we used to frequent.
And summer date nights around here often include rompers or sundresses. I have been wearing this one and this floral one quite a bit. This exact pale pink one is sold out but I linked cute ones below. And if you don't like showing too much off, a romper with long sleeves is the way to go. I also just added this $34 striped dress to the date night rotation.
Cute Summer Rompers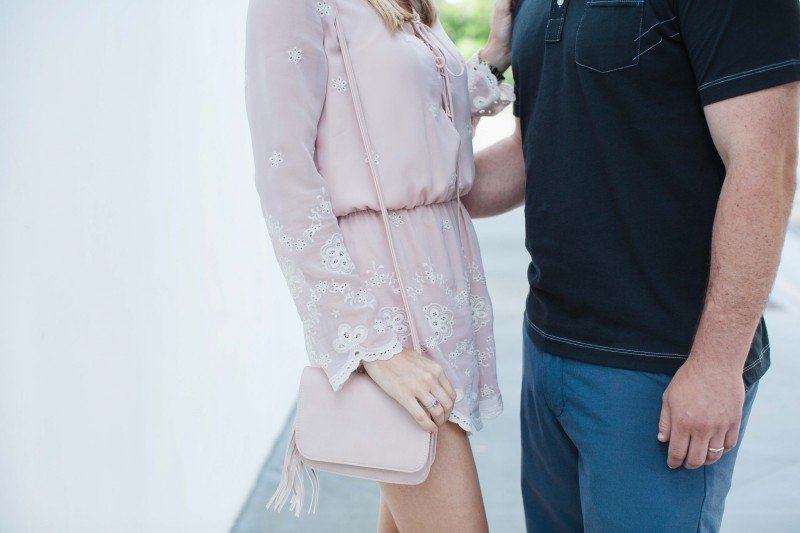 So one of the secret weapons to my husband's wardrobe lately are the trim fit polos from Nordstrom. I've shared the trim fit button down with you before and we finally realized the same thing goes for polos (you could say we are a bit slow to warm up over here). My handsome husband is not a small guy but he is fit and in shape and when he would buy a shirt to fit his broad shoulders it made him look huge. The trim fit shirts remove that extra fabric from the torso area and are so much more flattering.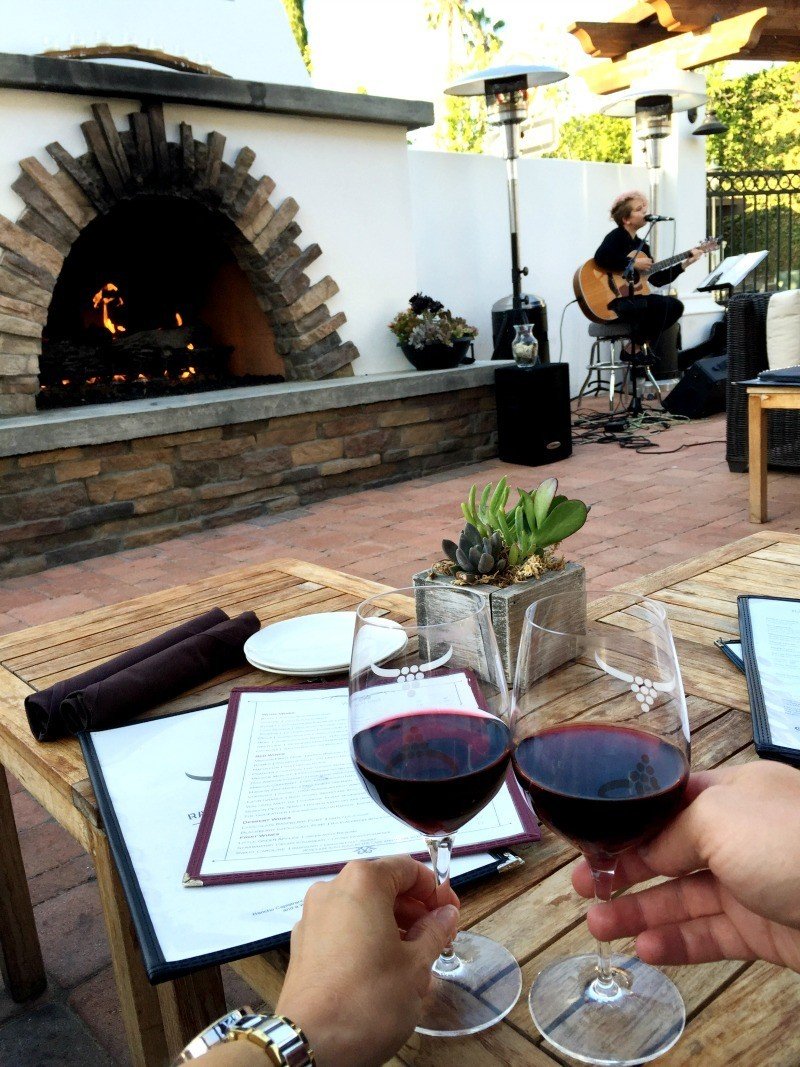 Question of the Week: This week the question we talked about on our date was posed by my husband. He asked, "What's one thing you are most proud of right and one thing you wish could be different about life right now." This was interesting. As women, I don't think we give ourselves enough credit for what is going right at any given time. I can give you a list of what isn't going right and what I wish I were doing better. . . but it was refreshing to actually sit and think about the things I am proud of. It was fun to listen to his answers as well. Always nice to dive a little deeper and it's crazy that after 12 years of marriage we are still learning new things about one another. I love that.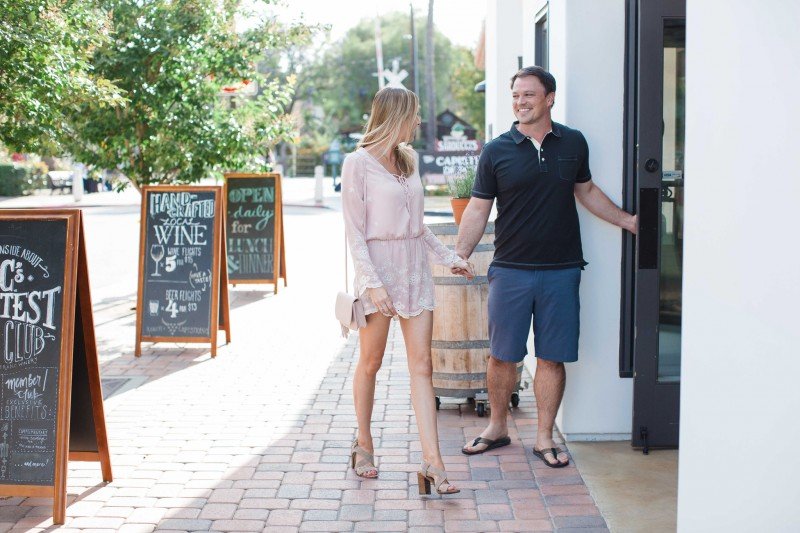 The second secret weapon are the golf shorts and the hybrid short. Actually a fun story about how these golf shorts came to be. Over the last year or so, my husband has slowly gotten rid of all of his shorts and replaced them with the hybrid ones. When I was shopping at Nordstrom for his birthday I found these and loved them. I assumed they were hybrid as they have that soft lightweight feel to them. Lo and behold they are technically golf shorts and he LOVES them. Highly recommend. So his wardrobe now consists of golf shorts and hybrid shorts for the summer. He appreciates that they stay cool and are such a great fabric. The true hybrid shorts can be worn in the water, dry quickly and can be worn out and about, too because they don't look like board shorts. Sort of genius. I was cracking up the other day because we had a neighborhood party on Memorial Day and when I walked up to my hubby, all of the guys were talking about hybrid shorts. Guys dig 'em.
Golf and Hybrid Shorts for Him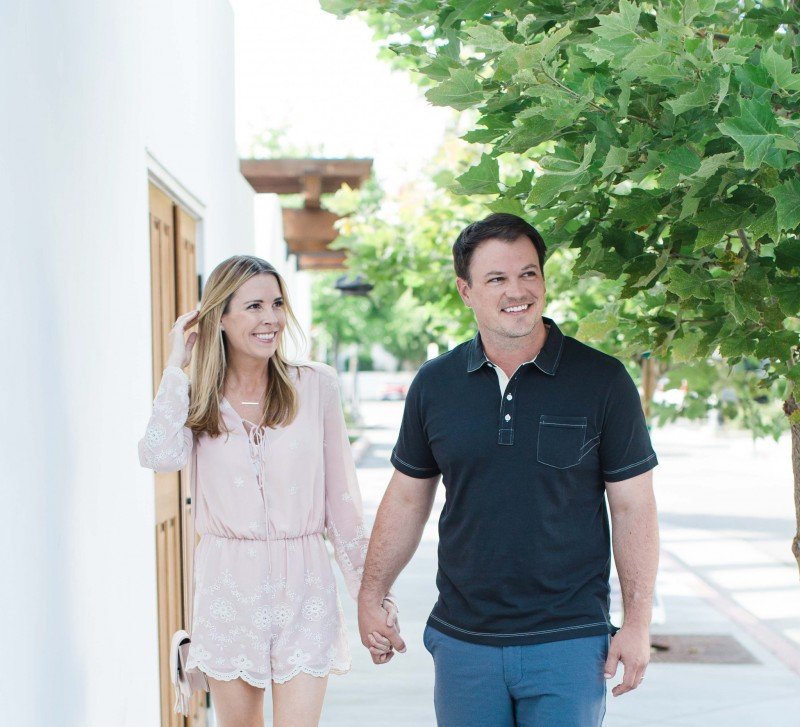 similar romper | shorts | trim fit shirt | flip flops | my heels | necklace
If you are local and can suggest other great date night spots we should try I would love that! It's always nice to hear about new places.
And if you are still looking for Father's Day gift ideas, these shorts and polos could do the trick. And the Rainbow sandals are always a hit over here. Pretty sure they are the only thing my husband wears in the summer time.
Have a great day, my friends. We are doing a bit of cleaning around here and then heading to the pool.
*Photos by Taylor Cole. Proud to partner with Nordstrom on this post. Affiliate links used.