I am so exited to be getting emails that some of you already made the Asparagus Summer Salad and loved it. I will have to tell my friend, Shelley. It really is a great recipe. Today I am sharing the latest "It's a Date" look from a casual night out we had. I wore a tank I found from the Nordstrom sale.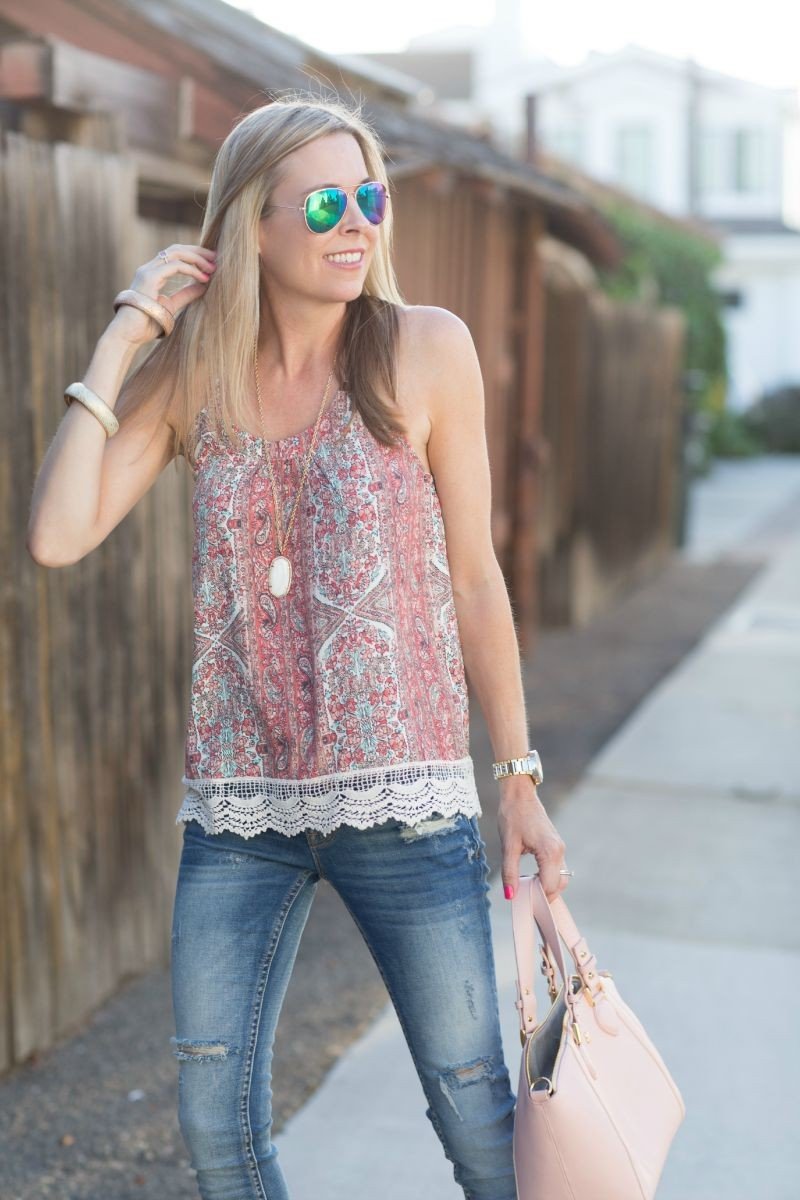 I was happy that they had cute summer looks for these warmer months. And this one can easily transition into Fall with a cute cardigan or blazer.
I think it was the detail on this top that caught my eye. My daughter was shopping with me when I found this and she loved it, too. Especially the back.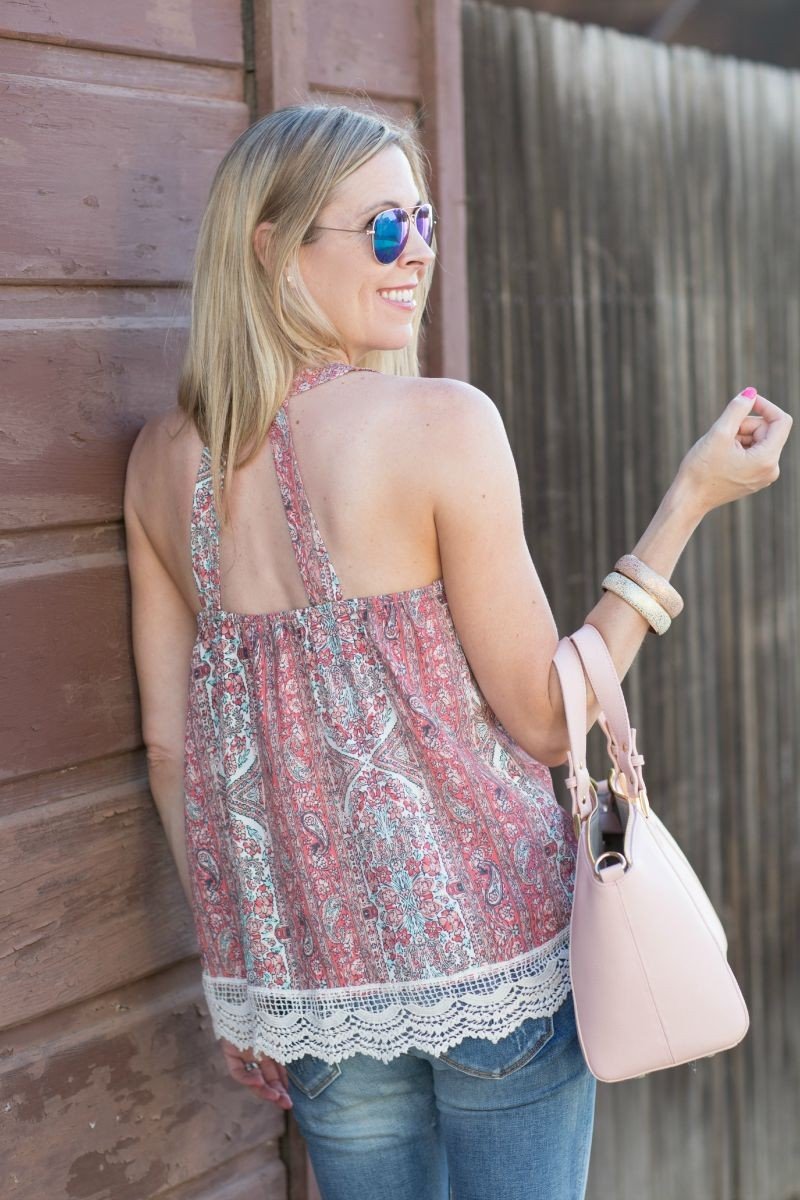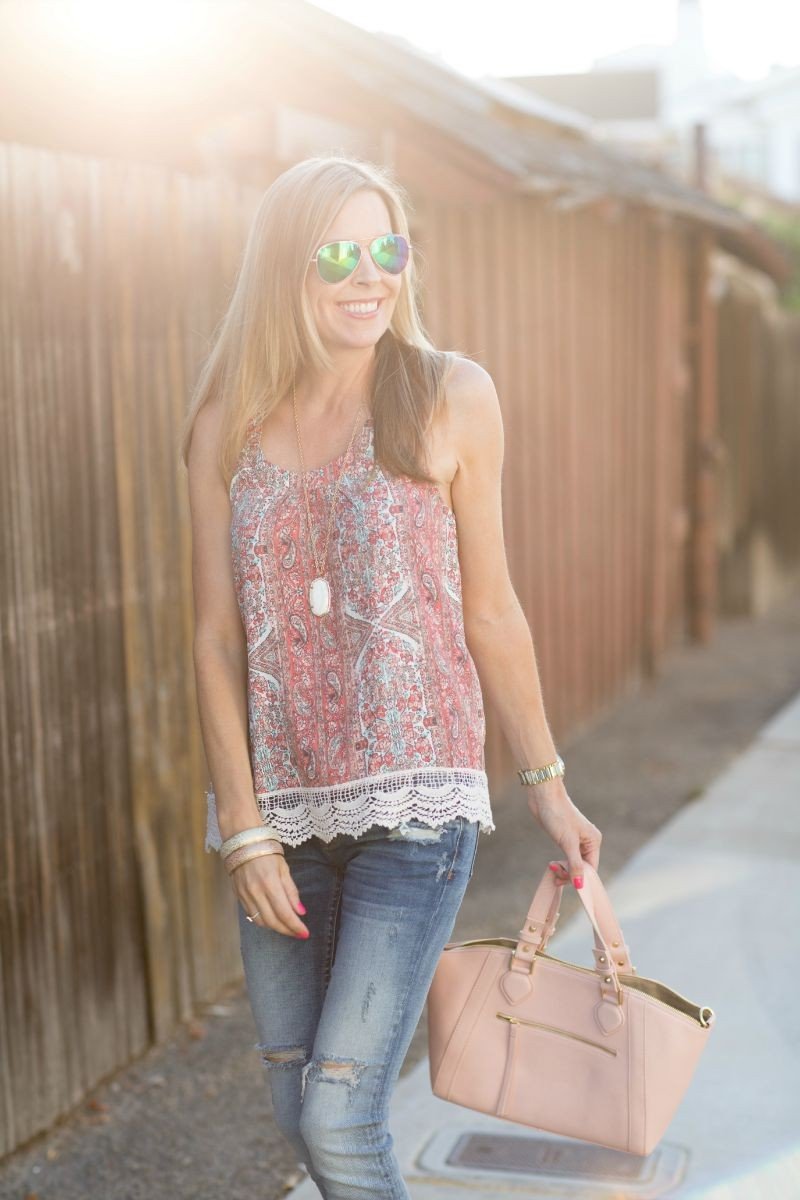 Date Night Hot Spot: We kept this date very short and sweet. Literally! We only had a couple of hours as we were getting ready to go out of town. We went to the Irvine Spectrum and grabbed diner at T.L.T. Have any of you been there? It got it's start as a food truck and gained so much popularity that they created a brick and mortar location. It's really really great. Here's a look at part of the menu.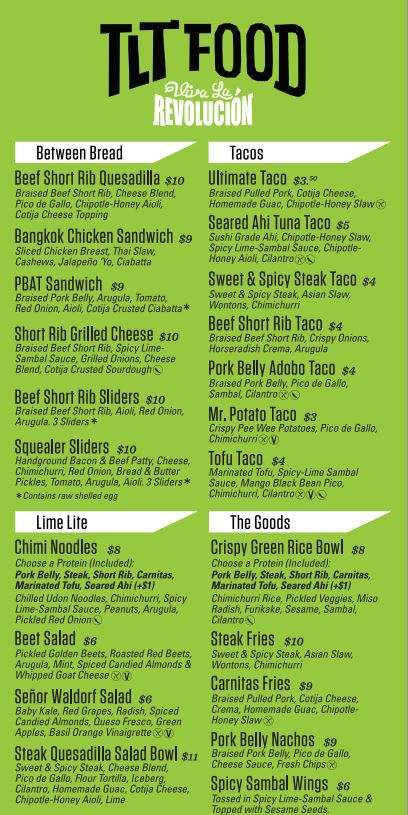 Most of the dishes are spicy so be aware of that. I highly recommend the Ahi Taco and the Pulled Pork Tacos. Very casual, order at the counter type of spot and super yummy. They also offer an awesome weekend brunch which we have not done yet.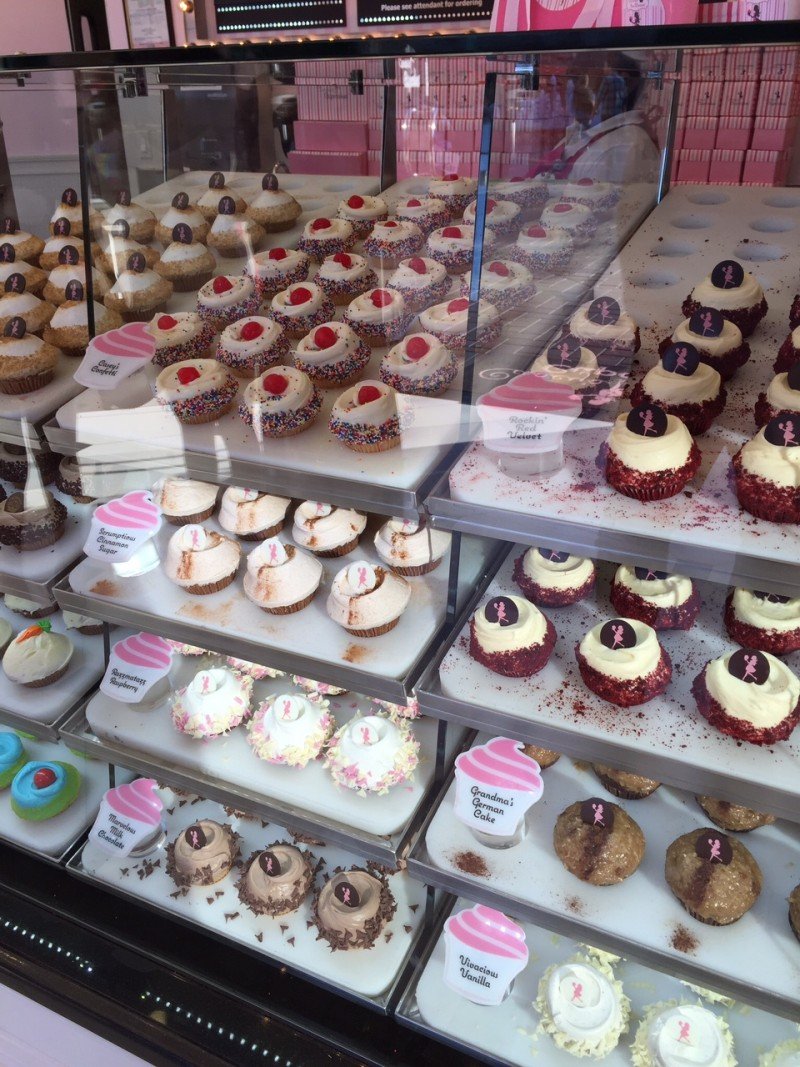 After dinner, we just walked around and enjoyed the evening. And then we hit up the local cupcake store for a sweet treat. Just too scrumptious to pass up. Do any of you watch Cupcake Wars? It's a favorite of my children and the owner of this store, Casey's Cupcakes,  was actually on that show.
Date Night Question of the Week: This week's question was more about parenting. Maybe it was the cupcakes we had, but our children were definitely on our mind. The question was, "Are we allowing our children to be the best version of themselves?" It's a theme that has always been important to us and although you can say you wish that for the kiddos, it doesn't always happen. Without going into much detail, we did realize that sometimes our own expectations get in the way of allowing our sweet children to pave their own way. And I am even just talking with little things. . . it's always a balance of trying to guide versus steer. It was actually a really great conversation that transitioned into talking about our own paths and whether we were doing what we want to be doing. Good stuff, my friends.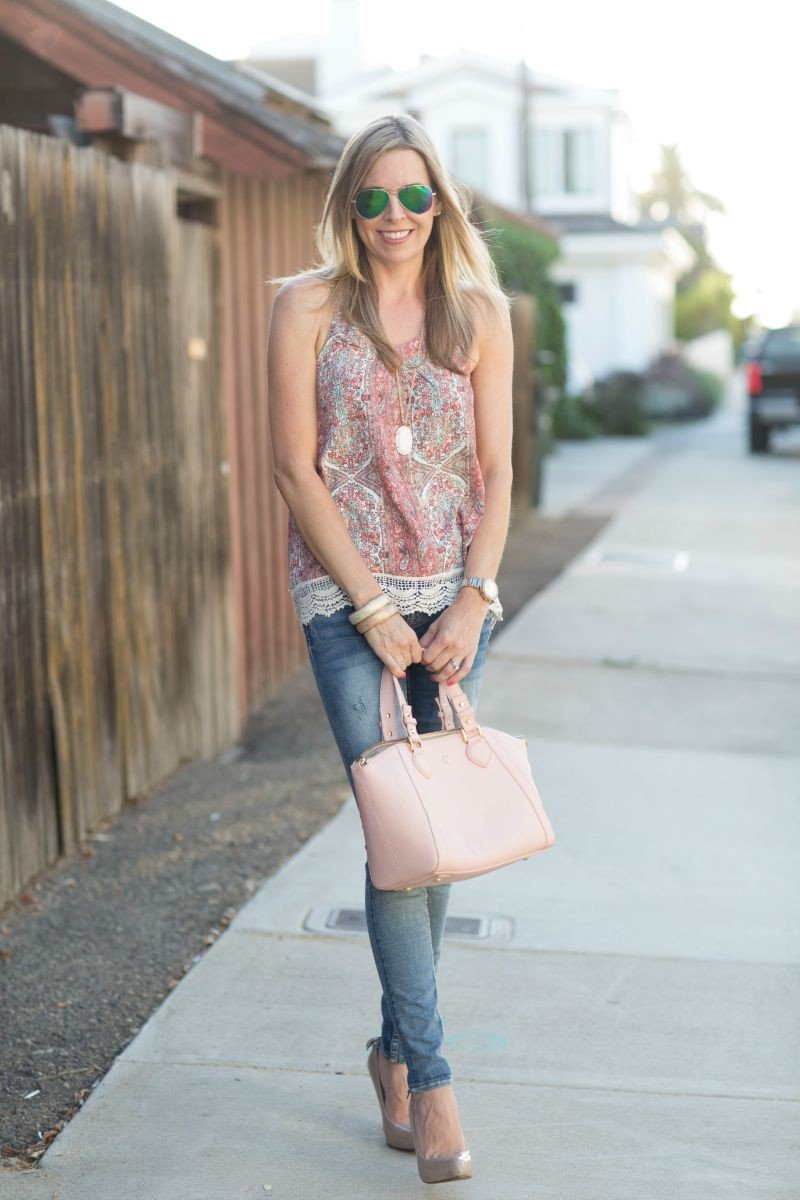 tank | jeans | similar nude heels | necklace  | sunglasses | handbag | watch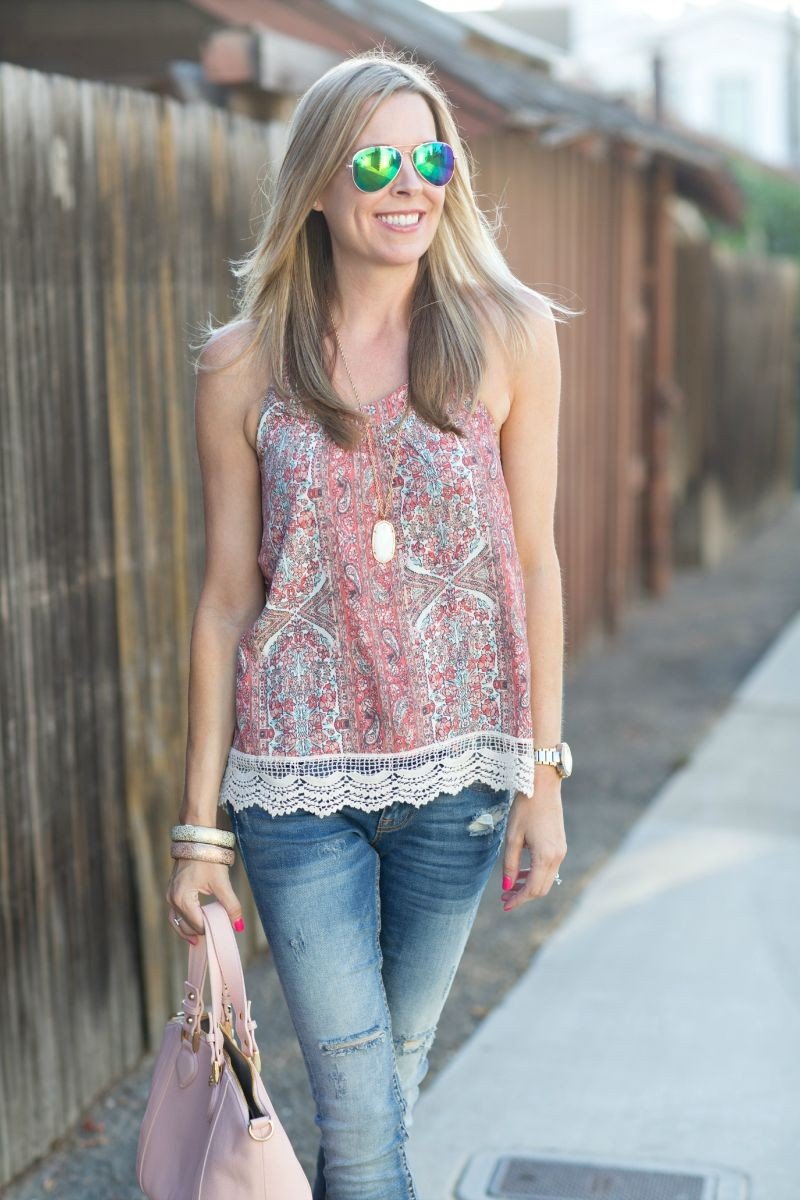 Date Night Style: Shop The Look

I am wearing a medium in this top and it comes in a really cute black color as well as white floral. And for $21.90 you can't go wrong. And if you follow on Instagram, you may have seen that the clutch I carried with this dress this weekend is on sale. Such a cute purse. It is comfortable to carry and holds a good amount which is always key.
Last night I was talking with my niece who is headed off to college in just a month. She doesn't have a single piece of clothing for the cold climates so I thought it would be fun to round up some of the cute sale finds for the fall and winter months. She is excited for this new chapter and anxious to get shopping! Have you seen this one with elbow patches? Um! Hello, darling.
Sale Finds to Keep You Warm

And I will be updating this Sale Finds page today, too. Hoping it's been helpful as you navigate the Nordie's sale. Enjoy your day, my friends. We are saying goodbye to Grandma and Grandpa which is always so hard. Blessed to have spent so much time with them these past couple of weeks.
Missed other date night posts? Get caught up here with "It's a Date!"