Motherhood mixed with summertime equals a lot of casual looks. It has to be easy to wear and comfy. Today I am sharing one of the lines I discovered a couple of years back. I think I first started wearing Caslon when I stumbled upon a really cute white summer dress. The line is  great mix of basics with both classic lines and styles. Today we are keeping it casual!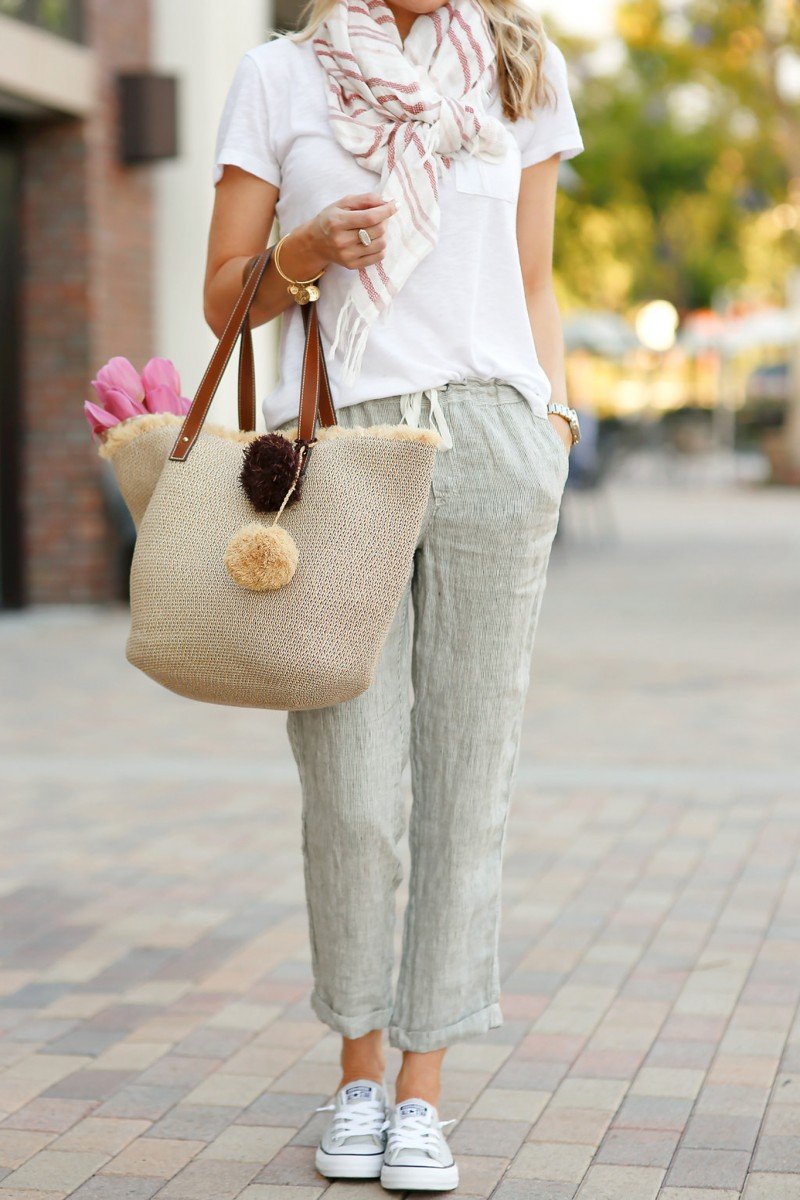 I am sort of obsessed with these cropped linen pants now. They are so comfy and I have gotten so many compliments on them. I love that they just have that relaxed, summer vibe. And the pocket tee is the perfect fit. It's just the right weight where it falls really nicely. I am wearing an xs in both ( I am 5'7″ and a size 2). I think this lines runs a tad big so keep that in mind if you decide to add something to your wardrobe. The scarf is a really nice weight and you because of that you can wear it so many ways. It is not an infinity scarf but lends itself nicely to styling it that way.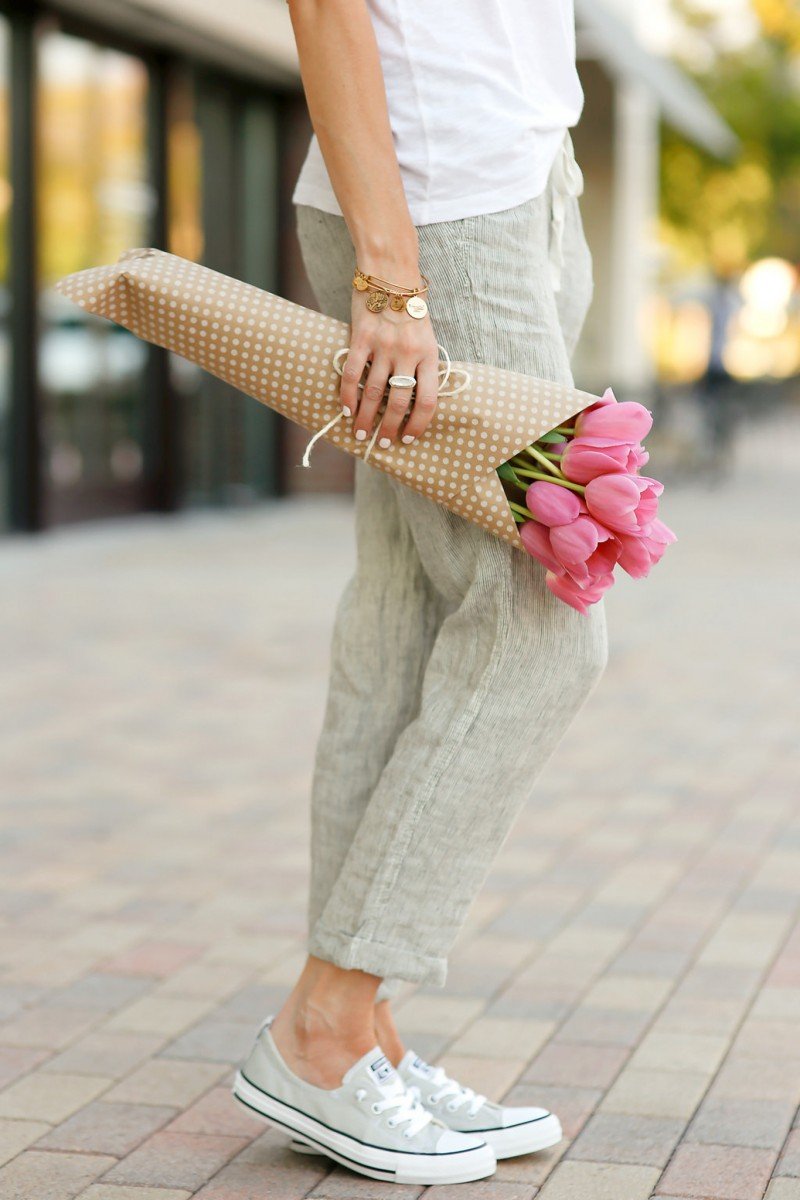 pants | ring | bracelet | shoes | shirt
I am pretty excited to have new Converse. It's been years since my last pair and they had seen better days. These are really comfortable. I went 1/2 size down and am glad that I did (even though reviews said not to).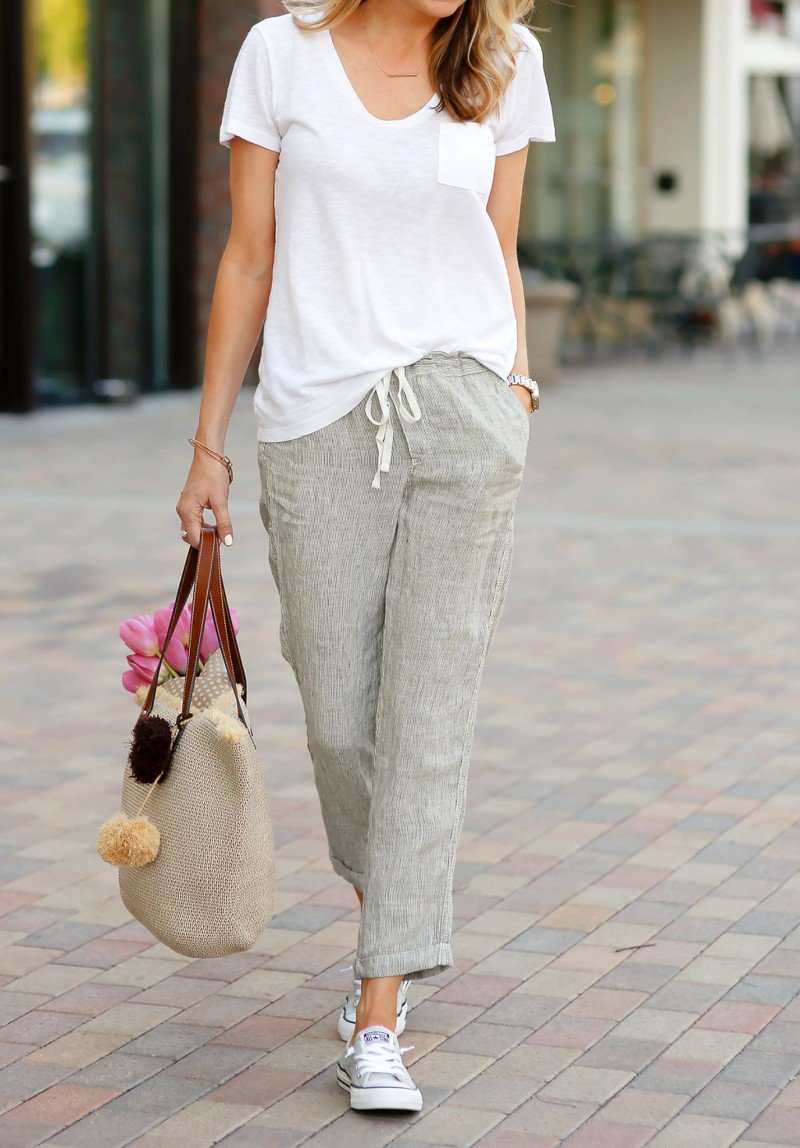 This tote is fun for summer, too. I love the poms on it and the cute frayed edge. It's all in the details.
Shop This Look

I love the long maxi dresses that tie at the waist. They have received great reviews and are linked below. Also a big fan of the racerback tank. That has always been my favorite cut. A typical racerback bra works great with those.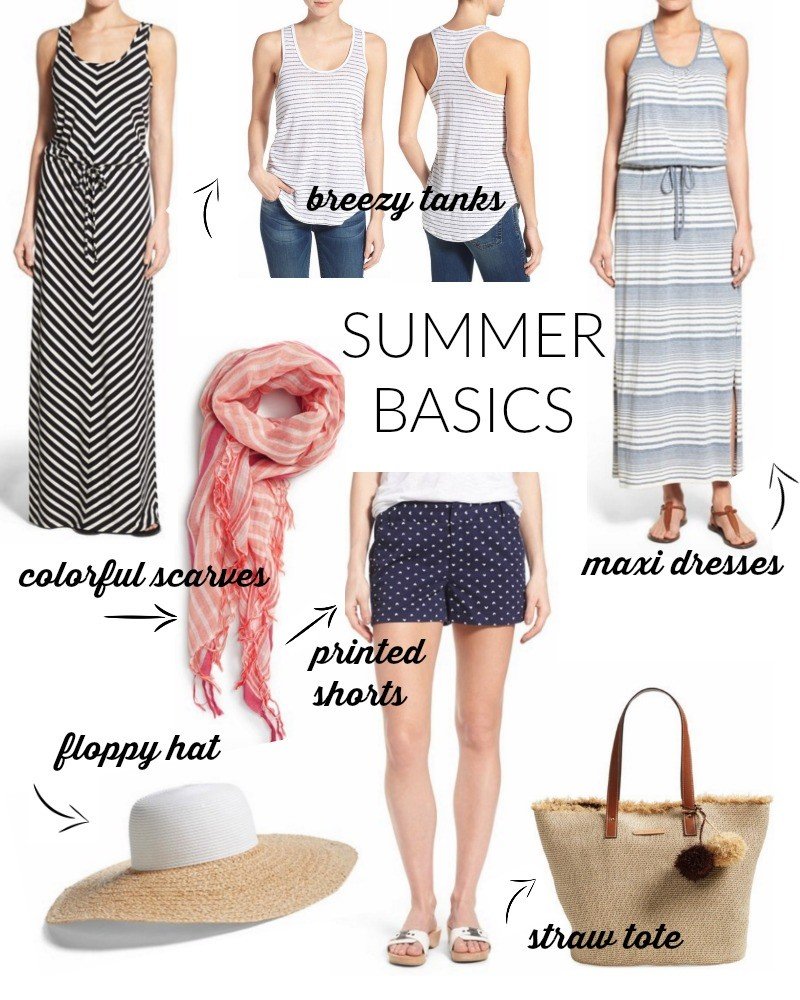 Shop These Cute Looks

The tote is neutral enough to wear with anything. In fact I have paired it with casual looks as well as dresses. I'll show you how I styled it with a dress soon. It is fully lined and has an interior pocket as well as a magnetic closure. It also holds it's shape really well even when it isn't full. It's not your average toss away straw tote. And that floppy hat just went on sale.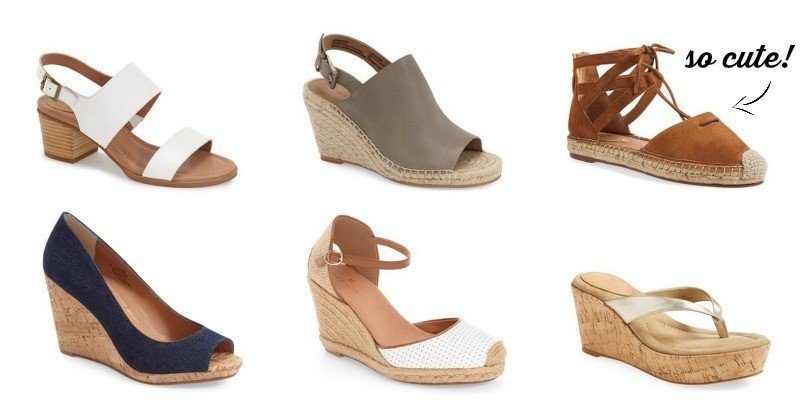 Shop These Styles

While I have always worn Caslon clothes, I didn't realize they also have a cute line of shoes. I have my eye on the lace-up espadrilles and the around the ankle wedges.  Really cute for summer.
This skirt is really soft and received great reviews as far as washing and drying, too. That is always key. Aint nobody got time for special washing instructions! It comes in black and a pretty gray. Just remember it runs big. Looks great with just a plain white t.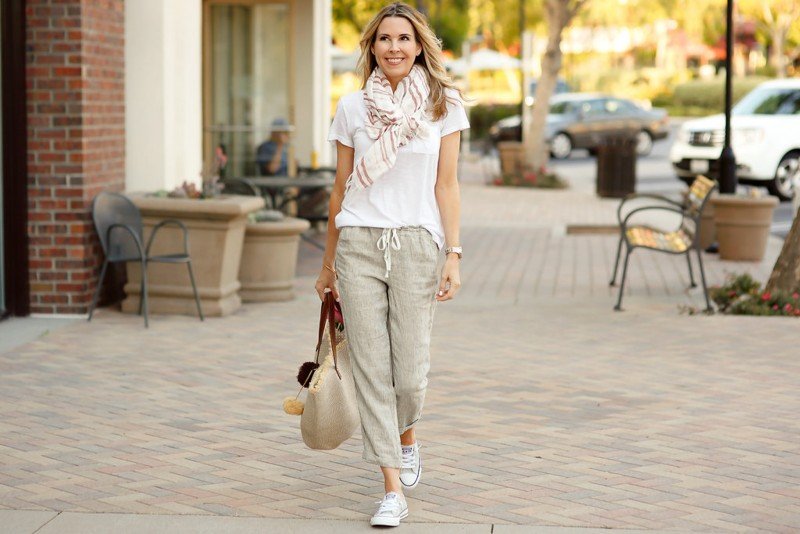 Do you gravitate towards casual and comfy for summer?  Listen, I love a great dress and date night just as much as the next girl, but day-to-day it has to be easy enough to taxi the kiddos, run errands, and handle anything else that comes my way.
Enjoy your day all.  We are hoping to sneak in a casual date night this evening. It may only be a couple of hours with our schedule today but we will take what we can get.
*Thank you to Gabi Wells for the photos and to Nordstrom for partnering with me on this post. Affiliate links used.