Good morning! I hope you all had a wonderful long weekend. My husband and I finally got away for a quick trip to Las Vegas. It's been hard trying to schedule a weekend away over the last two years so it was long overdue. I thought it would be fun to share a bit of what we like to do in the form of a Las Vegas Getaway Guide.
WHERE TO STAY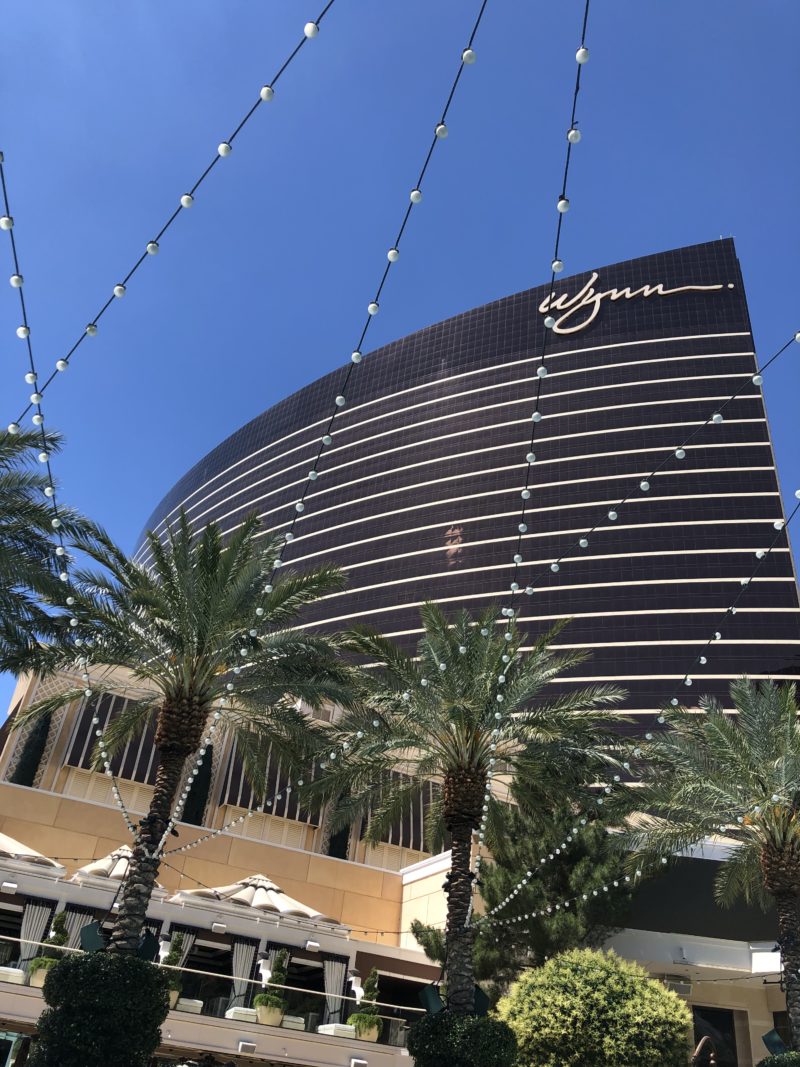 There are so many fantastic hotels in Las Vegas so you can't really go wrong. We started staying at the Encore (next to the Wynn) years ago and have stuck with it. The rooms are gorgeous and the service is top notch. You can sign up for "Wynn Insider" deals and they periodically send you great room rates. More great places to stay are listed below.
Cosmopolitan
Mandalay Bay
Delano
Aria
Venetian
Mirage – great with kids
TRAVEL TO TOUR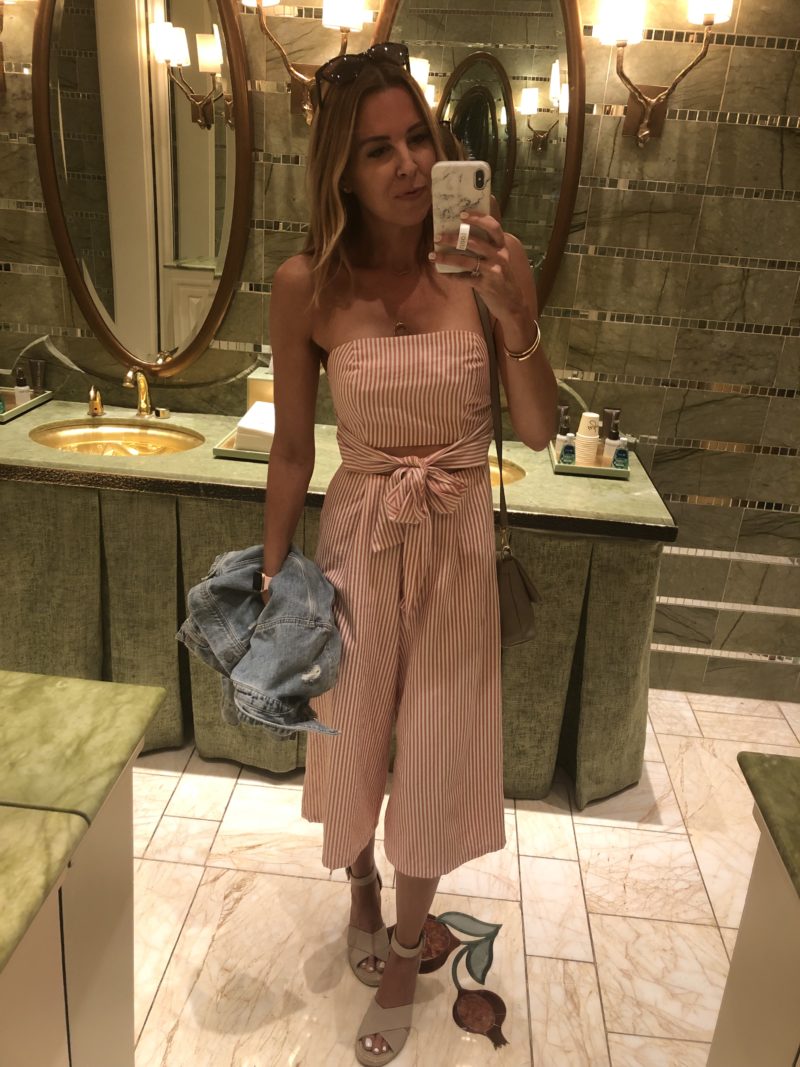 Travel to tour! What does that mean? Well one of my pro tips is to that your room may or may not be ready when you arrive so be sure you wear something you are comfortable walking around in. We were insanely busy up until the very minute we headed to the airport so I grabbed oldie but goodies from the closet. This jumpsuit is no longer available (this is similar) but I paired it with my comfy wedges. We headed out for a fun day.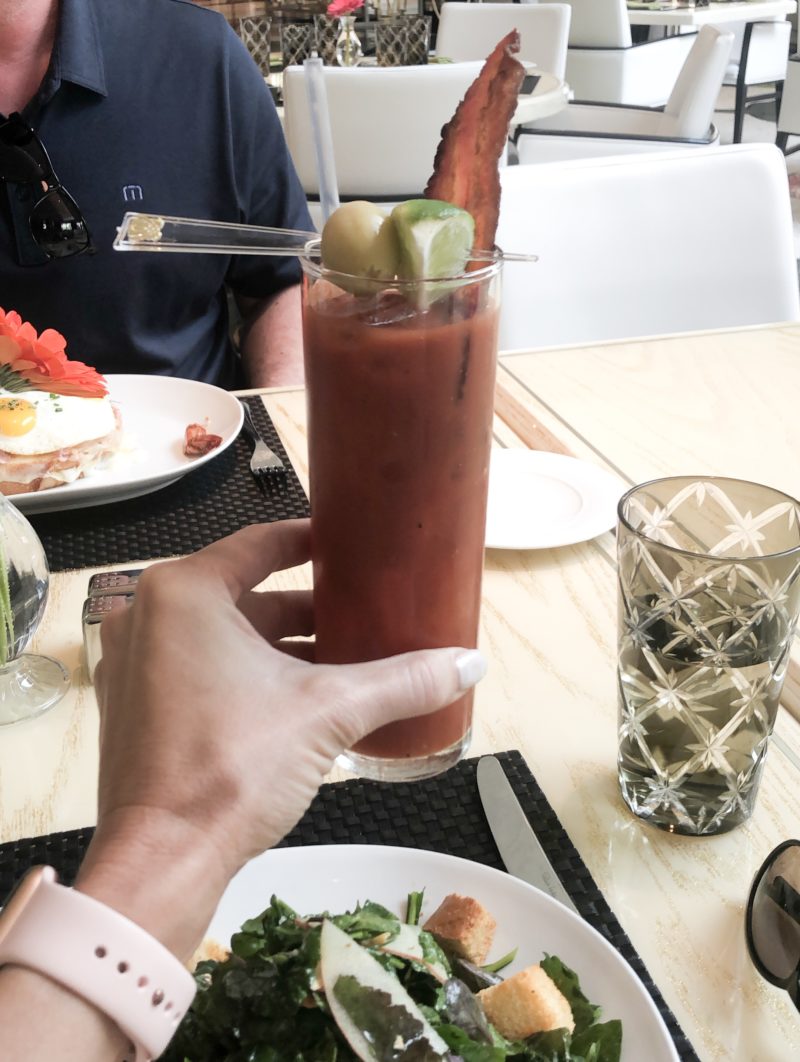 First up was brunch at the Encore. The restaurant adjacent to the pool is great. I loved my Kale salad and the Bacon Bloody Mary is crazy good.
THINGS TO DO
Shopping – amazing stores everywhere
Dining – there is something for everyone. Use your hotel concierge to direct you to what you might enjoy. They are a great resource.
Shows – so many great concerts and shows happening all the time
Live Music – ask around for the bars with live music. So fun.
Bellagio Fountains – set to music and the show is every 15 minutes at night. Fun for the kids to see, too.
High Roller – much like the London Eye
Topgolf – really fun with a large group.
Sundance Helicopters will take you wine tasting
Neon Museum
Gambling
Without question there is a lot to do in Las Vegas. Shopping, great restaurants, people watching, and shows seem to top everyone's lists. We lean towards having zero plans and letting the day unfold. But I want to share some of our favorite spots to hit up.
THE VENETIAN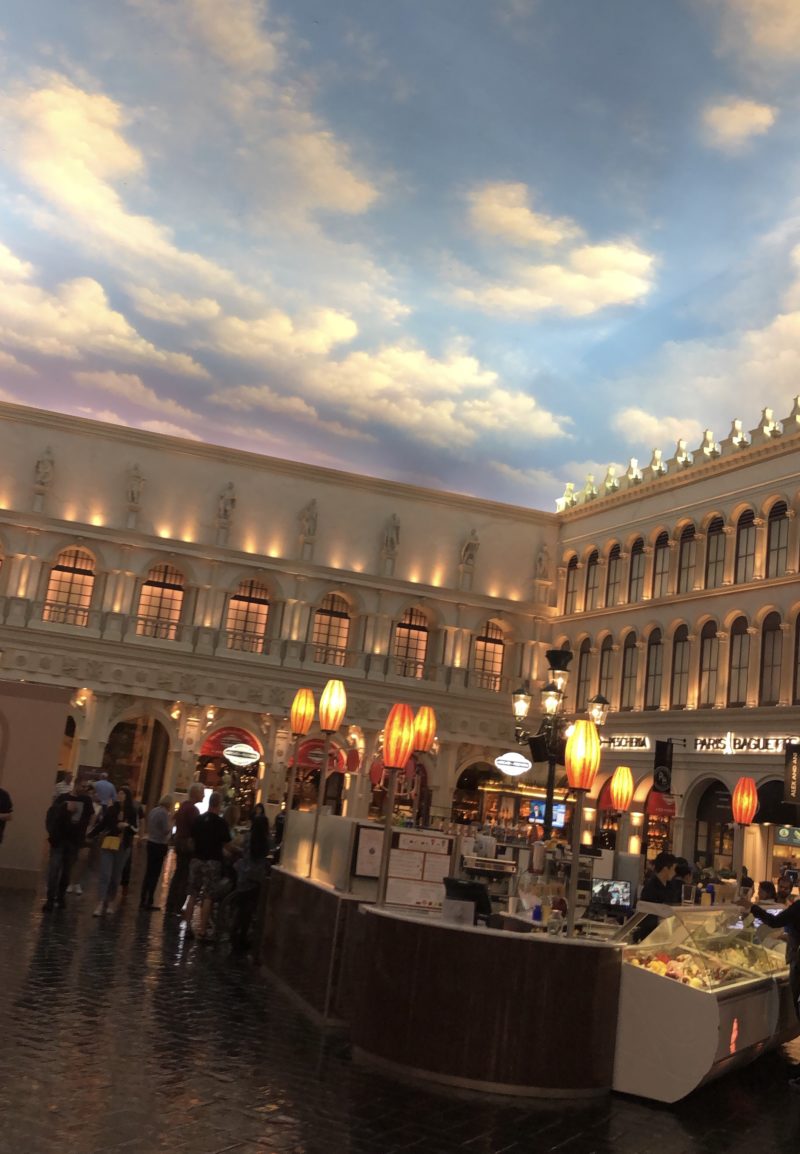 Wandering around the Venetian is really fun. The ceiling looks like it opens up to the sky and there are even gondola rides available. I love the ice cream spot. A nice place to get a cup of coffee and just walk around.
This hotel also boasts the artwork of Laura Kimpton. The letters spell LOVE and span 36 feet.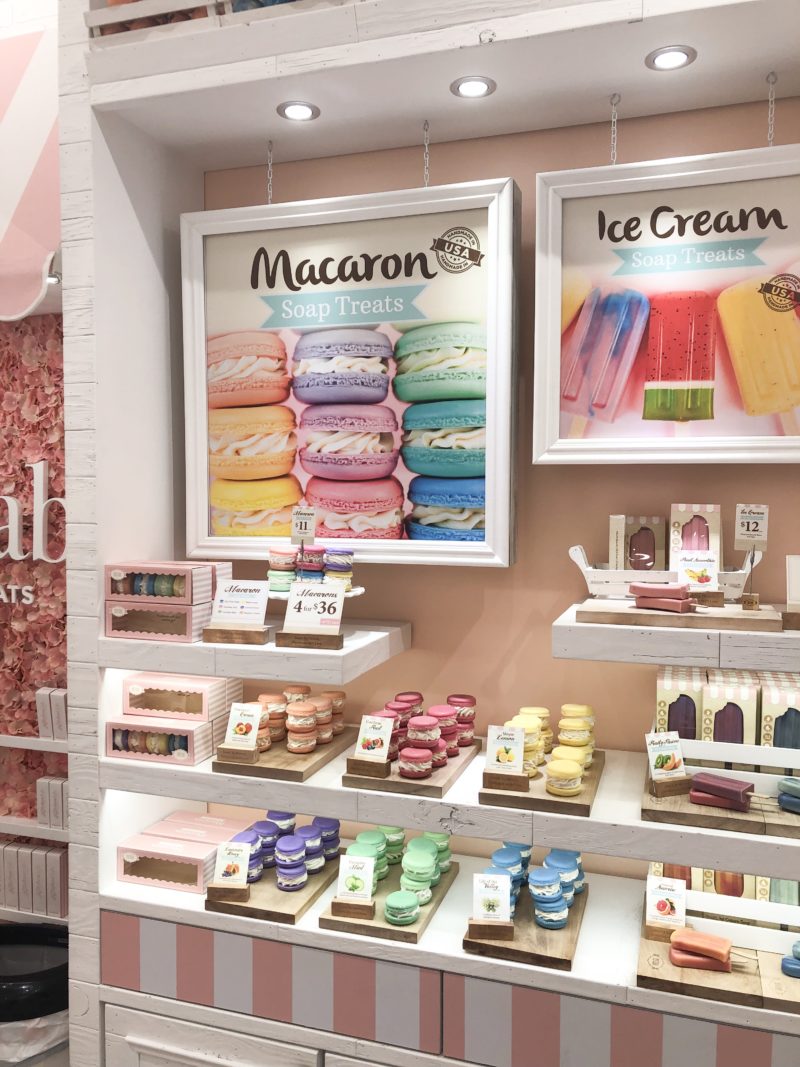 I can never resist this soap store. While they look like sweets, they are all paraben free soaps and they are adorable!!!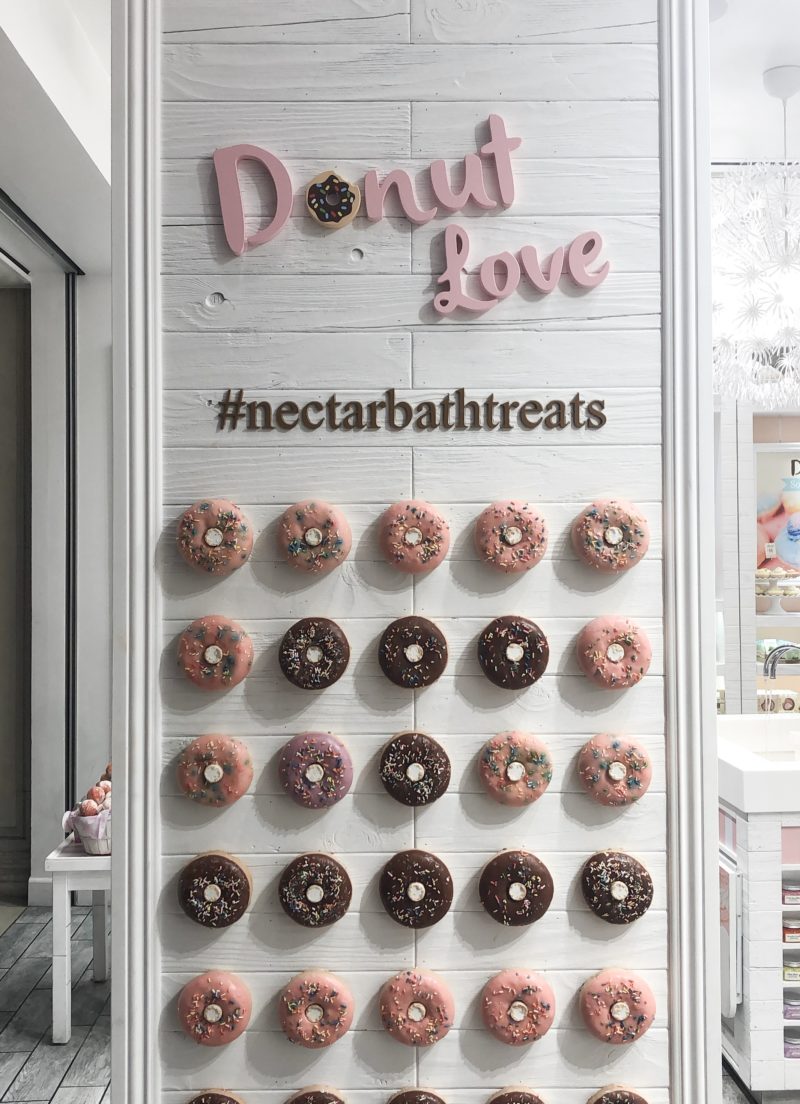 PLACES TO SIP & EAT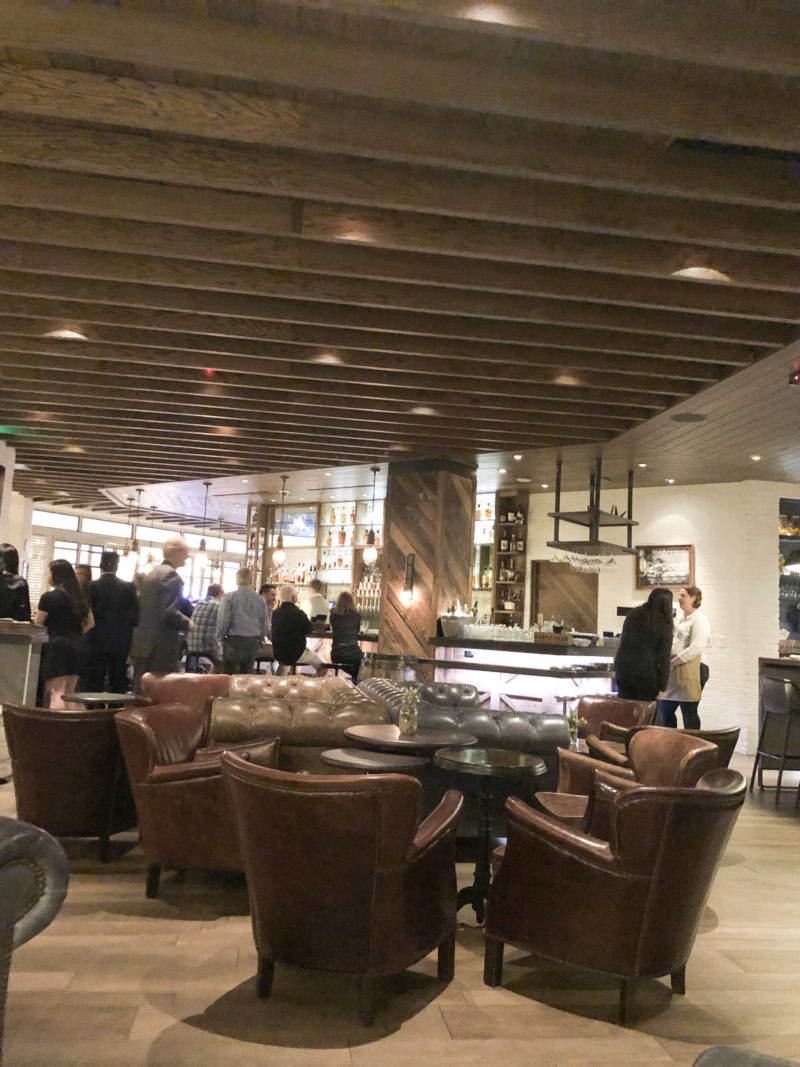 One of our favorite things to do is hit up great restaurants or bars to just enjoy one another and people watching. Life is so crazy and to have a moment to exhale and talk without interruption is really priceless. Yardbird (at the Venetian) is one of our favorite spots to do just that. The food is phenomenal but we also just like to sit on the leather sofas and enjoy a cocktail. Here are some other great spots.
STK
Yardbird
Rabbit. Rose. Lie.
Beauty & Essex
Blvd & Main
Pizza Rock Las Vegas
Lakeside
Bardot Brasserie
CUT at the Venetian
Bazaar Meat – excellent food and cocktails
The Capital Grill
DATE NIGHT
Dressing up a bit and hitting the town for a yummy dinner is really our speed. My husband found a great spot called Rabbit. Rose. Lie located at the Cosmopolitan. It's a ten minute cab ride from the Encore.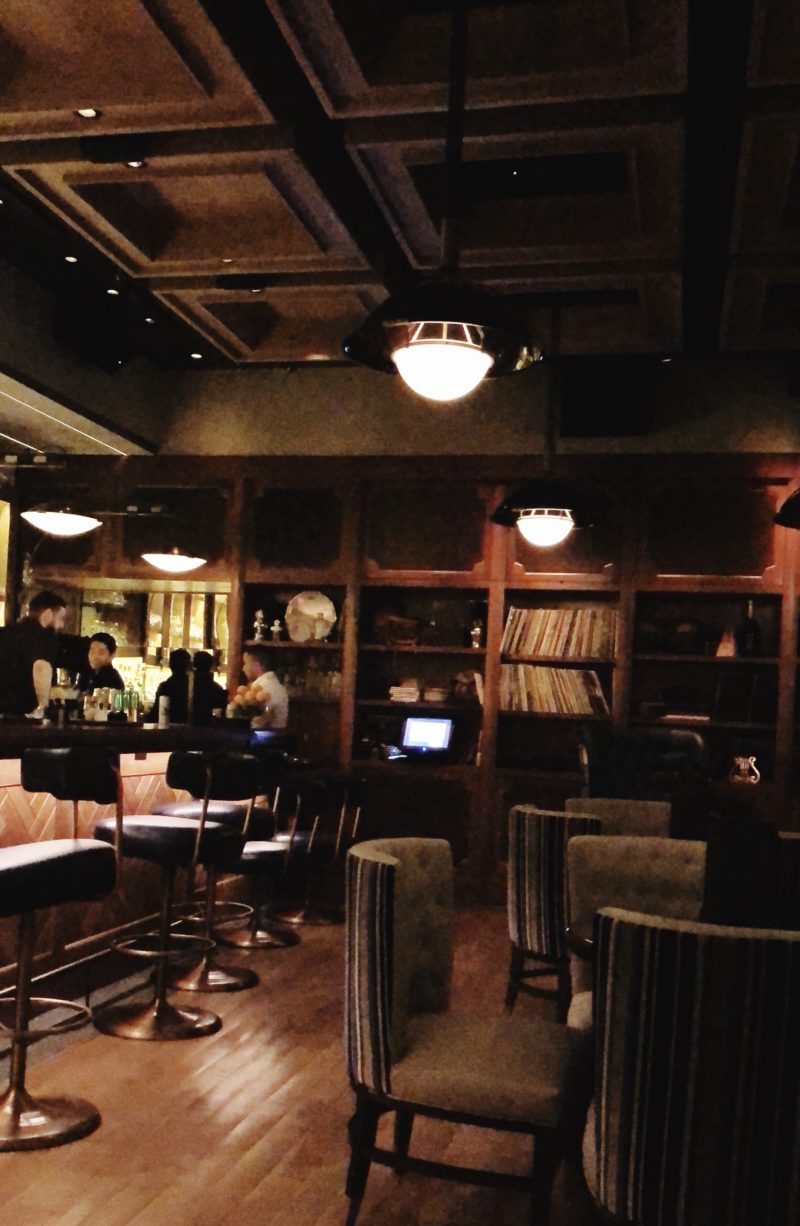 Upon arriving to Rabbit.Rose.Lie, they welcome you in to the speakeasy which is super charming. Old records playing and a really cozy vibe. Dinner was incredible and the live music made it even better. Highly recommend for a special night out. Be sure to order the shrimp cocktail!
THE CHANDELIER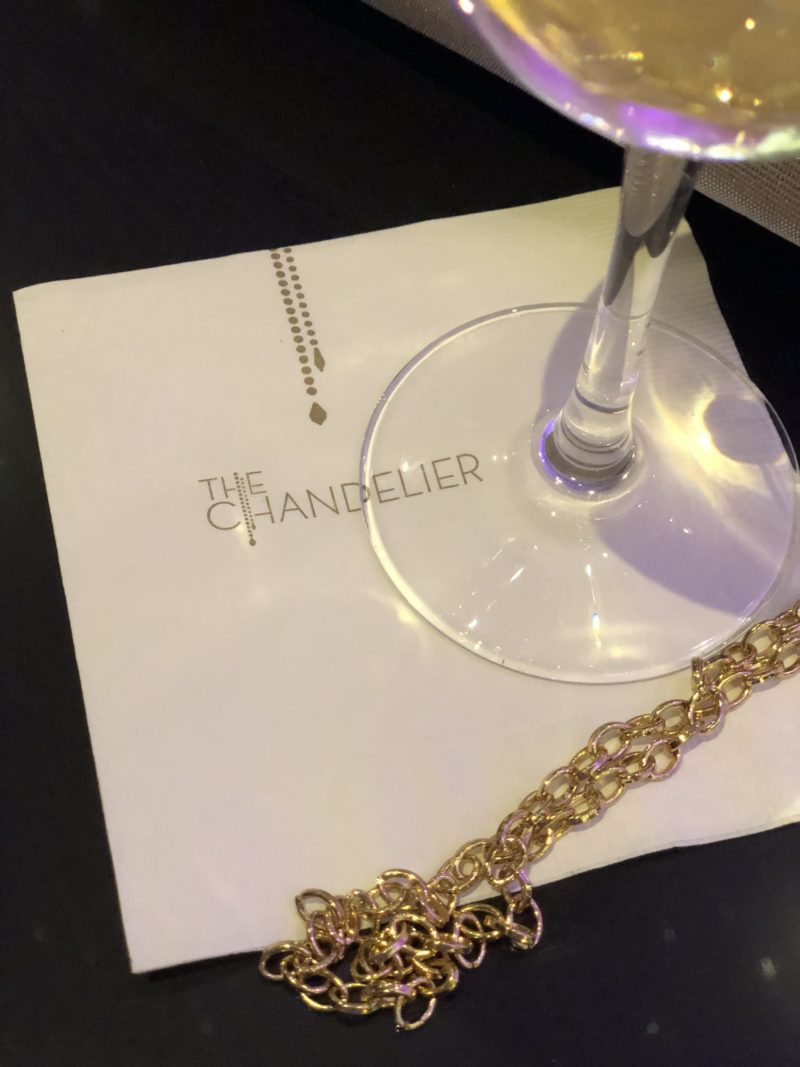 After dinner we headed to The Chandelier bar. It's located in the center of the Cosmopolitan and spans all three floors. It's an epic spot to people watch and relax.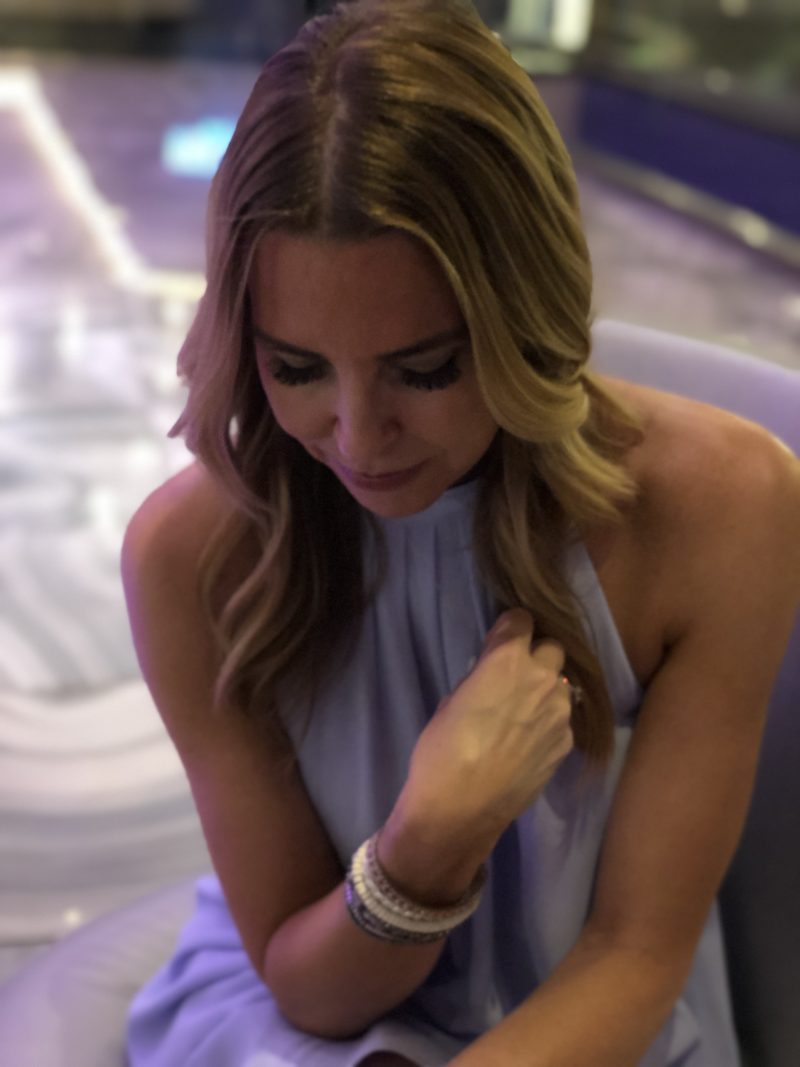 This $22 dress was something I grabbed before our trip. The color is so pretty and it's not as short as it looks on the model. It does wrinkle a bit but I will be wearing it again soon. Loved it.
POOL TIME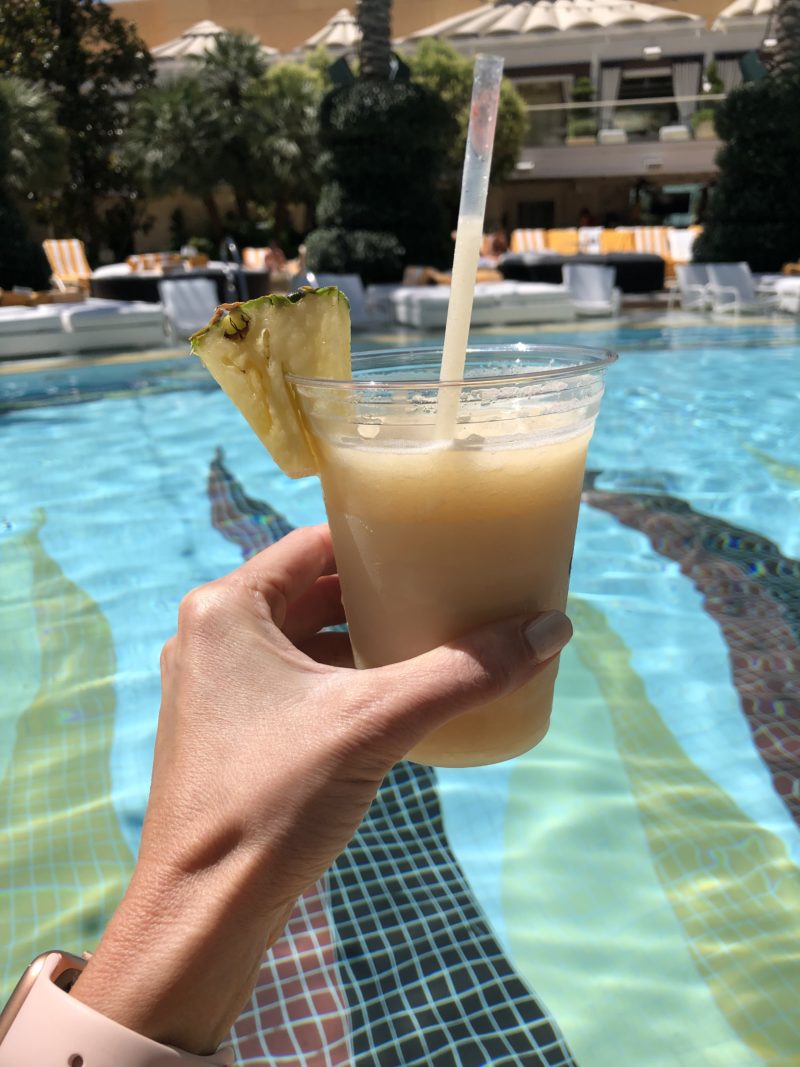 Without question, the pool is our happy place. This is 80% of why I love going to Las Vegas. We just like to relax and do nothing. It seems to erase all of the stress and worry that we all carry with us. Dreamy to be honest.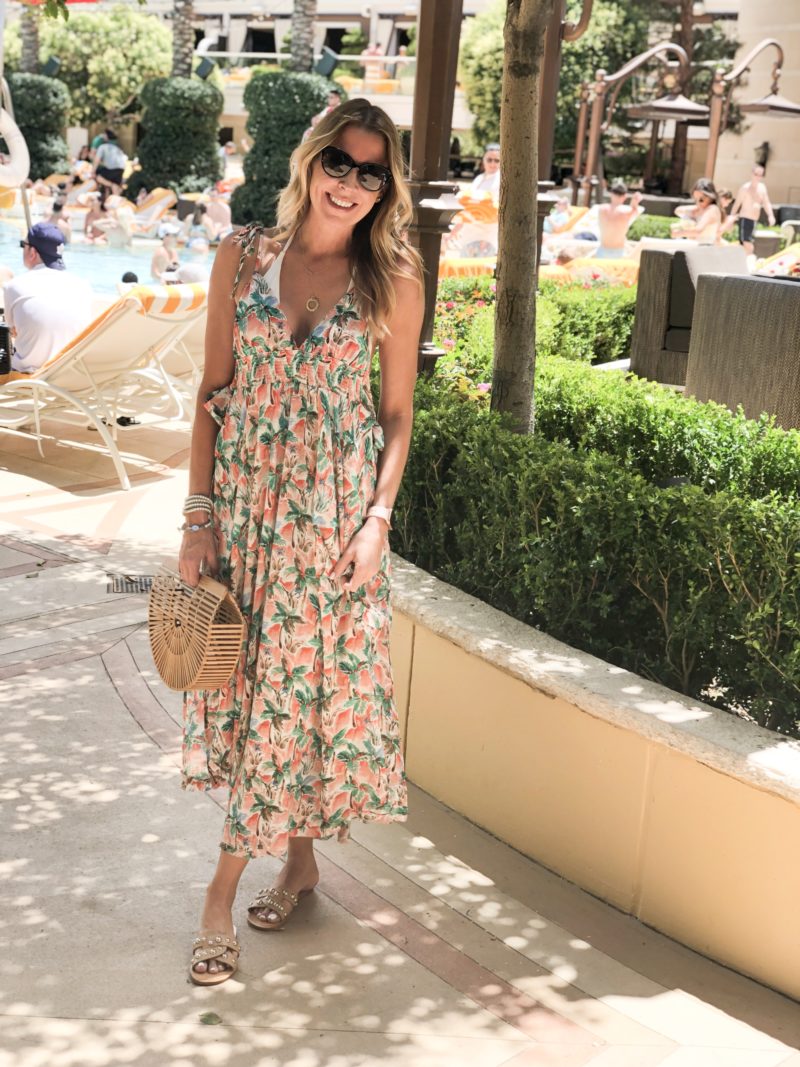 cover up (size small) | sandals | bracelet
NIGHT SPOTS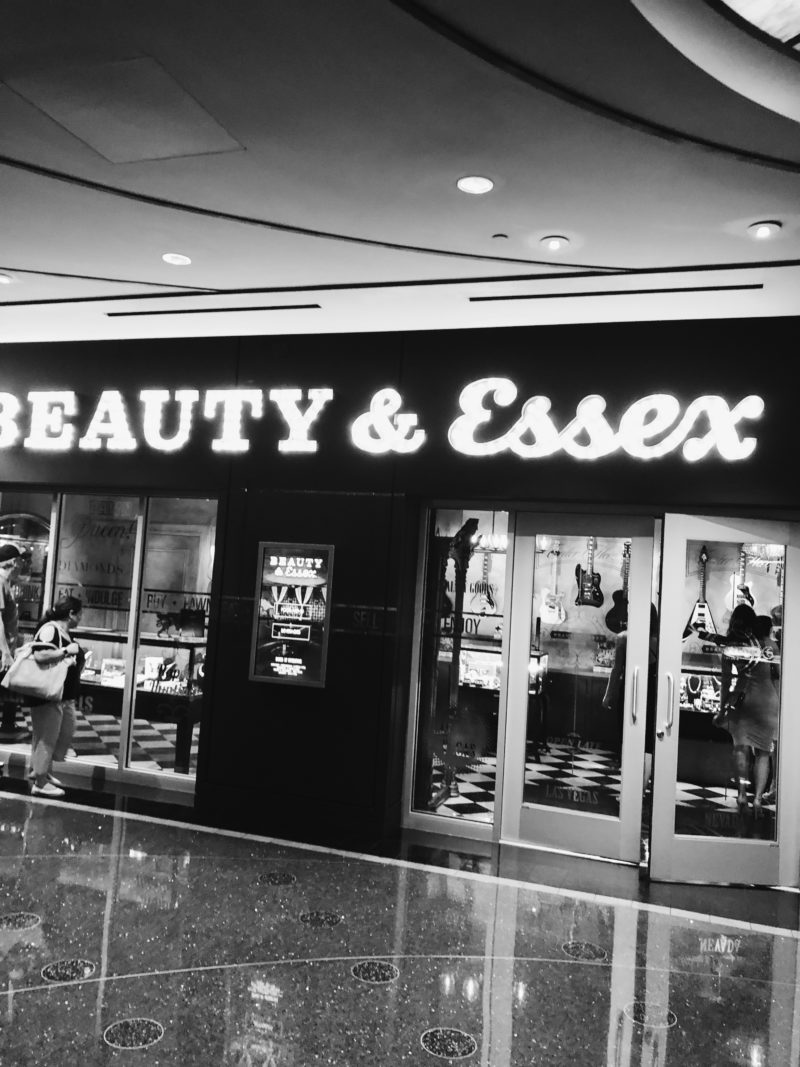 One of the reasons we like to head to the Cosmopolitan is because there are so many great spots to choose from. Beauty and Essex is located behind a pawn shop and a fun place for a drink or dinner.
LIVE MUSIC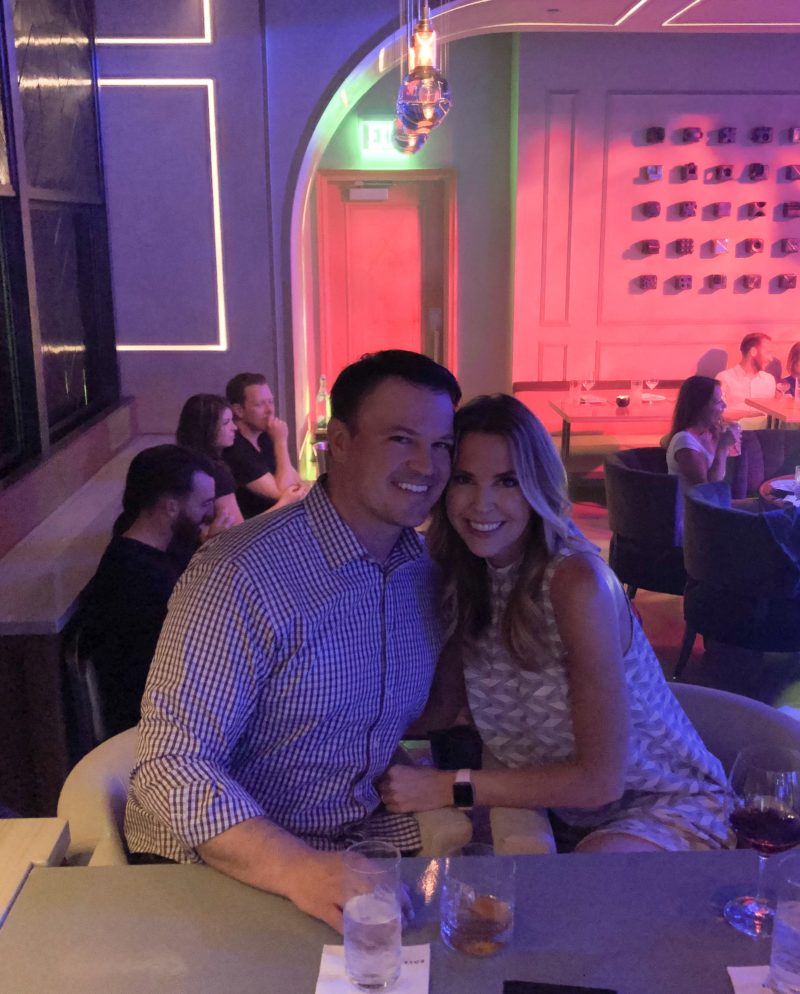 We headed back to Rabbit.Rose.Lie on our second night just to hear the music and relax.
LATE NIGHT PIZZA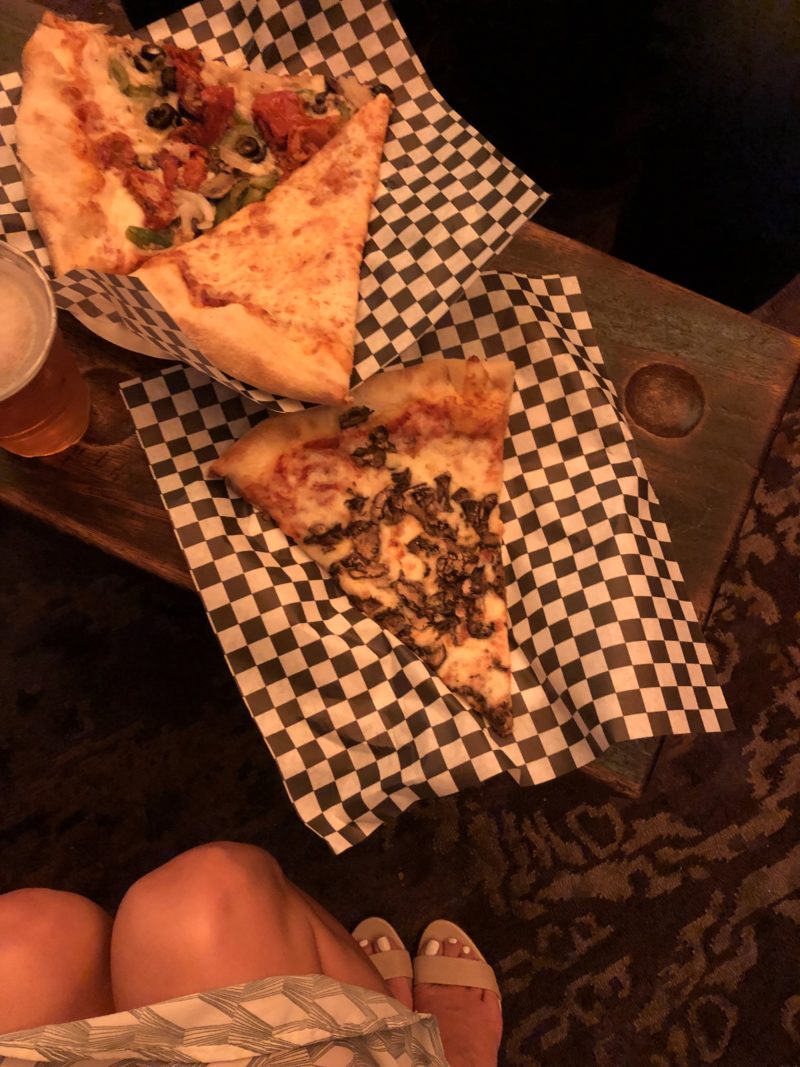 Best tip ever! Thanks to a reader of mine. She saw we were in Las Vegas and told us about the Secret Pizza place on the third floor of the Cosmopolitan. It's not labeled so a bit hard to find. But if you head down the hallway located next to Blue Ribbon, you'll find it. Pizza never tasted so good. I think this will be our new tradition.
TRAVEL DAY DRESS
So thankful for this getaway. While it may have been short, it felt like a week away because it was so relaxing. Traveling home I chose to wear this really comfy dress that doesn't wrinkle. When you go to the link you'll see options for sleeveless and short-sleeves. Highly recommend this easy to wear dress (and it's only $31).
Hope this helps if you are considering a weekend away in Las Vegas. It would be impossible to cover it all, so if you have more recommendations for our readers, feel free to leave below.