Many moons ago, we retiled our laundry room and were off to the races. Until we weren't. This space has stumped me for about four years now. We love that we have an upstairs laundry and have always appreciated the storage and the sink. Having said that, this room falls short when it comes to function and style. It's almost always a mess and I am hopeful that by thinking this space through, we can create a room that better reflects our personal style and one that functions more efficiently. Here are our laundry room plans.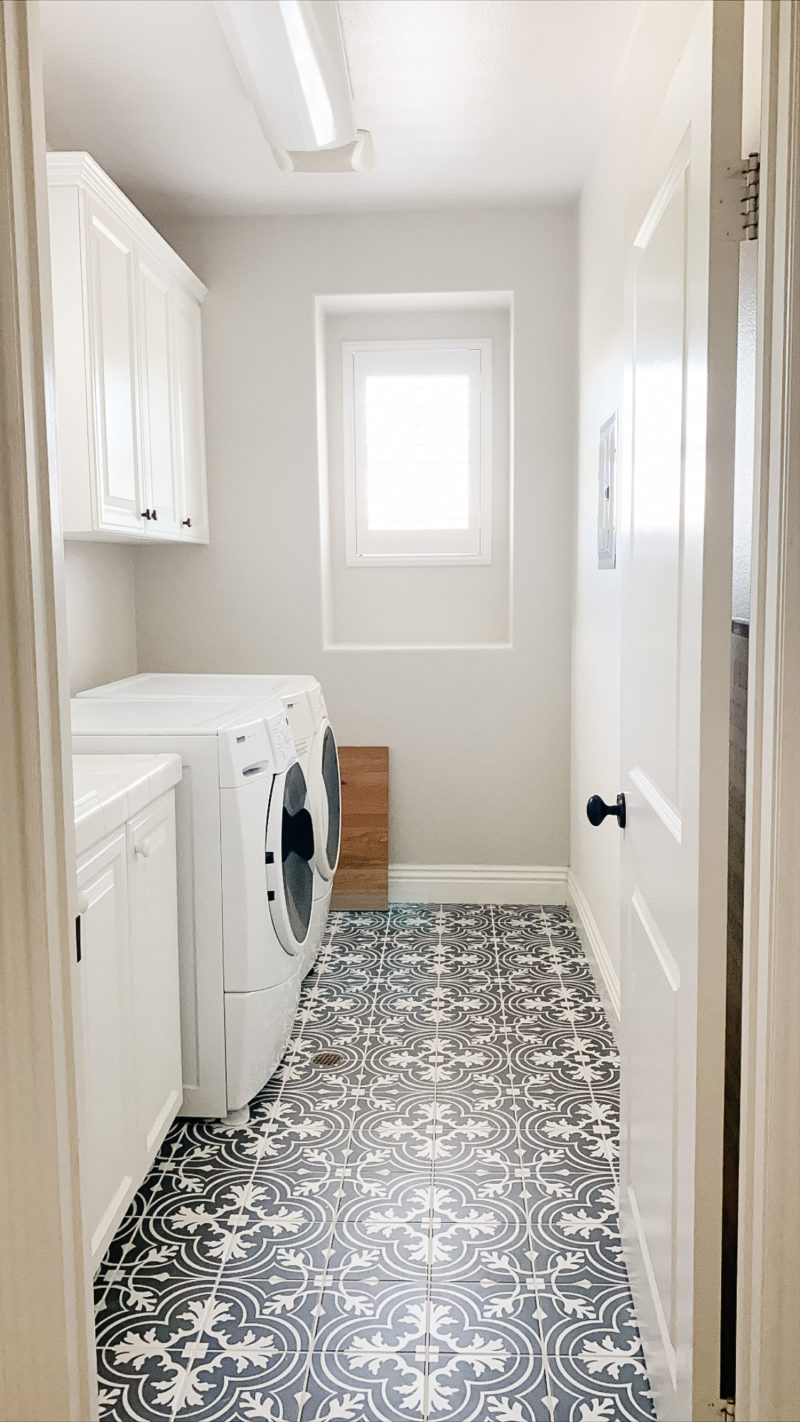 THE BEFORE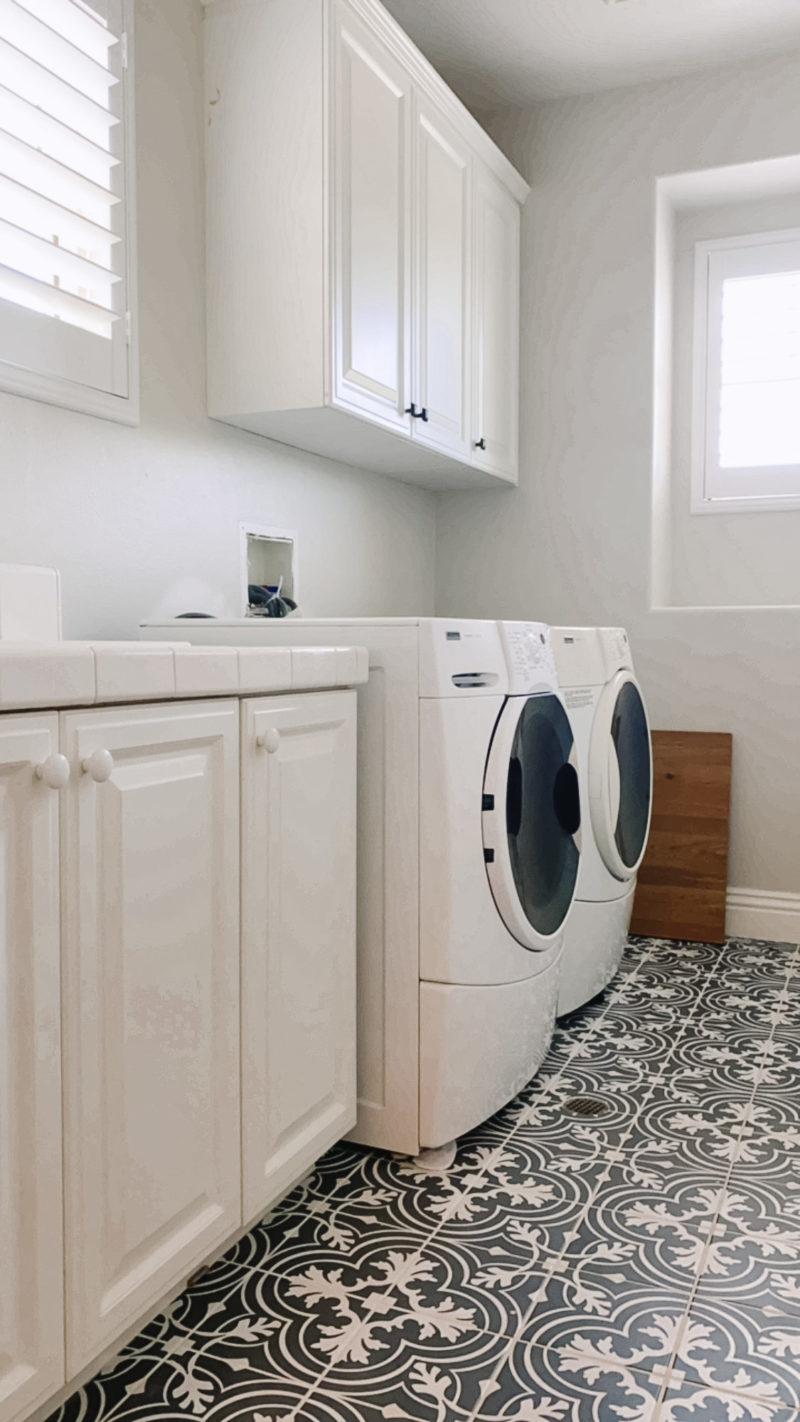 I always hesitate to call the space tight because I remember having just a washing machine and dryer in our garage and that had far less space. So there is plenty of space to work with, it's just a matter of getting creative. I have always wished for a long countertop space for folding laundry. The water lines behind the washer definitely present a problem. We have gone round and round on creative ways to cover them up but have finally decided to move them. That will allow us to design this space they way we want to.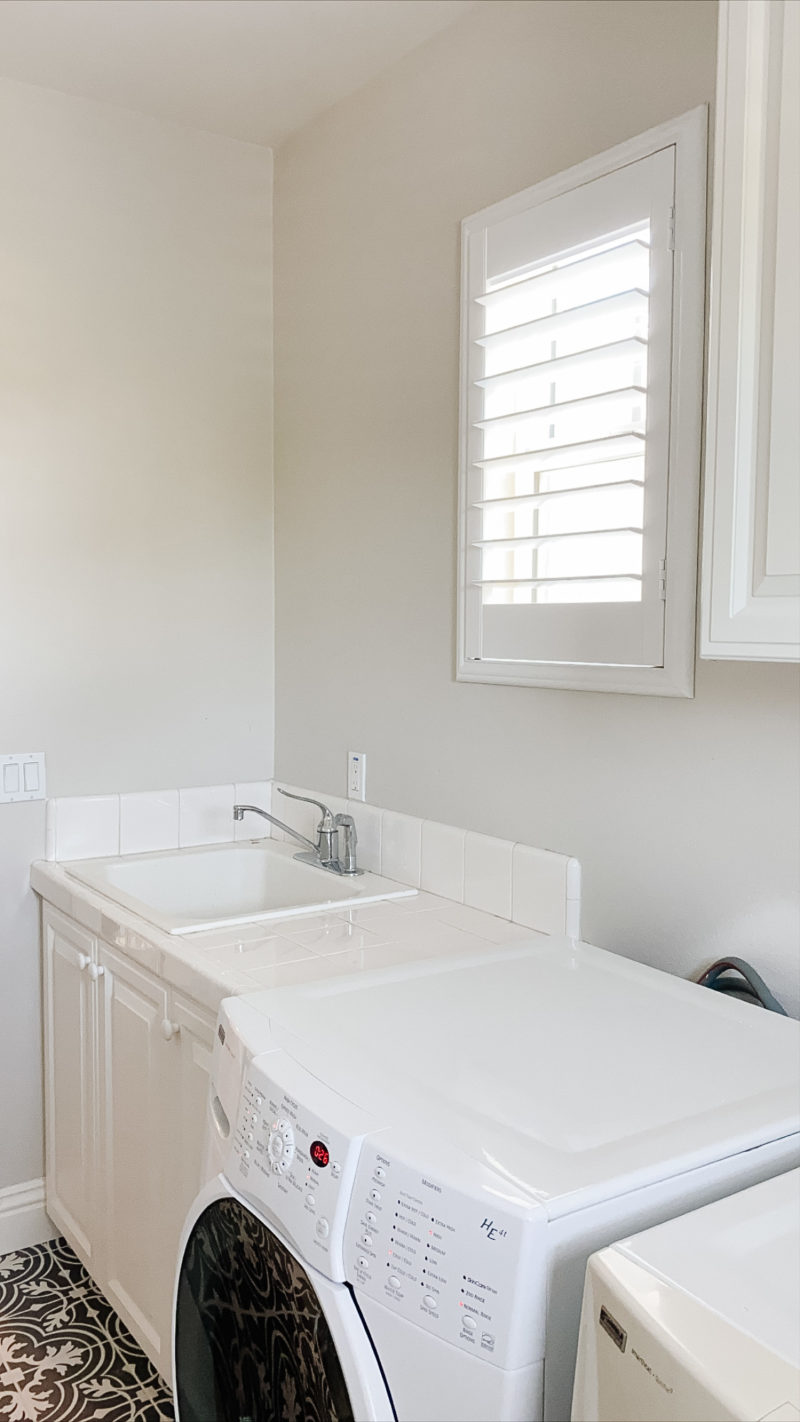 Ideally, I would be putting in an extra cabinet above the sink but these were installed by the builder years ago and are no longer made. Therefore we can't find an exact match and I have no interest in ripping them out and replacing them all. They are all in fantastic condition and should be kept. Truth be told we don't need the extra storage, but my symmetry loving brain thinks there should have been an upper cabinet next to the window. In any event, we plan to have tile on part of the wall and install a sconce above to balance out the design and give that space some character.
DESIGN PLAN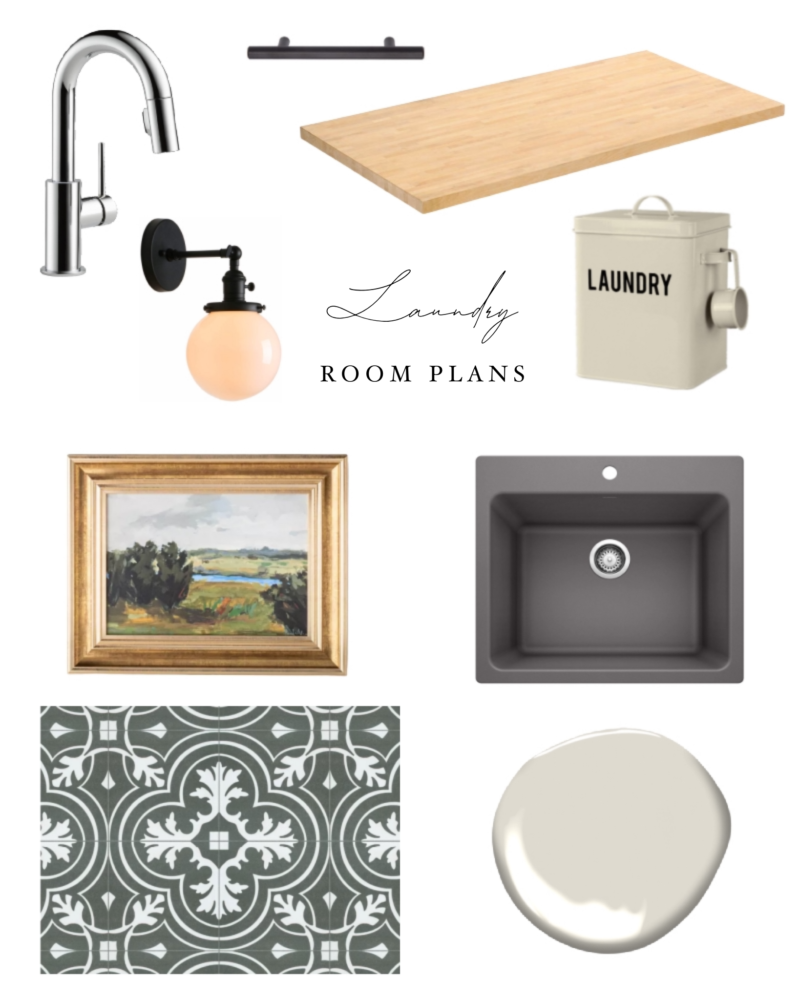 sconce | faucet | hardware | sink | butcher block | laundry tin
While we don't exactly know how we are going to make the laundry room happen (learning as we go), I do have a vision for the feel of the room. Overall I want it to be light and bright with a few darker accents. I've had my heart set on butcher block counter tops for quite some time so that was an easy choice. The room is already painted Pale Oak be Benjamin Moore and I really like the way it feels. I opted for a dark sink to tie in with the moody tile. I plan to add a few black and gold accents to keep it feeling warm and to marry it with the adjoining hallway. The laundry tin will be fun to have on the counter.
PEN TO PAPER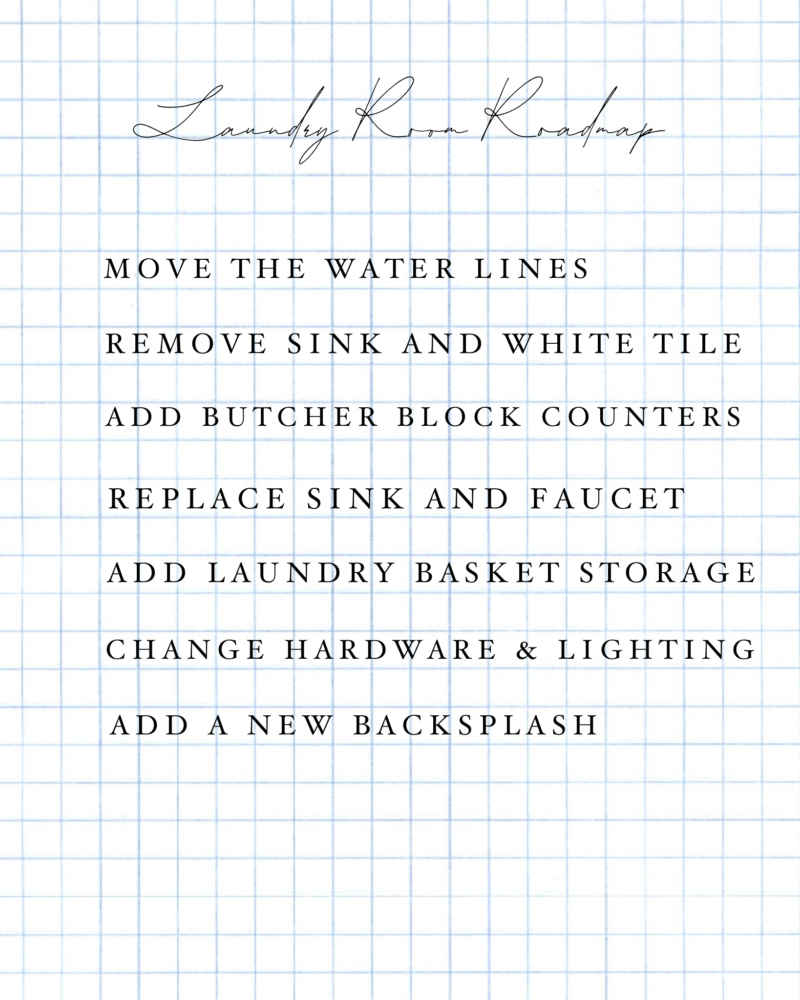 Whenever we jump into a project, we make a roadmap. It's a list of the things we want to accomplish. This helps us plan the project, budget and be sure we stick to what we originally wanted from the space. We have definitely made some progress which I have been sharing on my stories. I will add a highlight button to the top so it is all in one place.
TILE INSPIRATION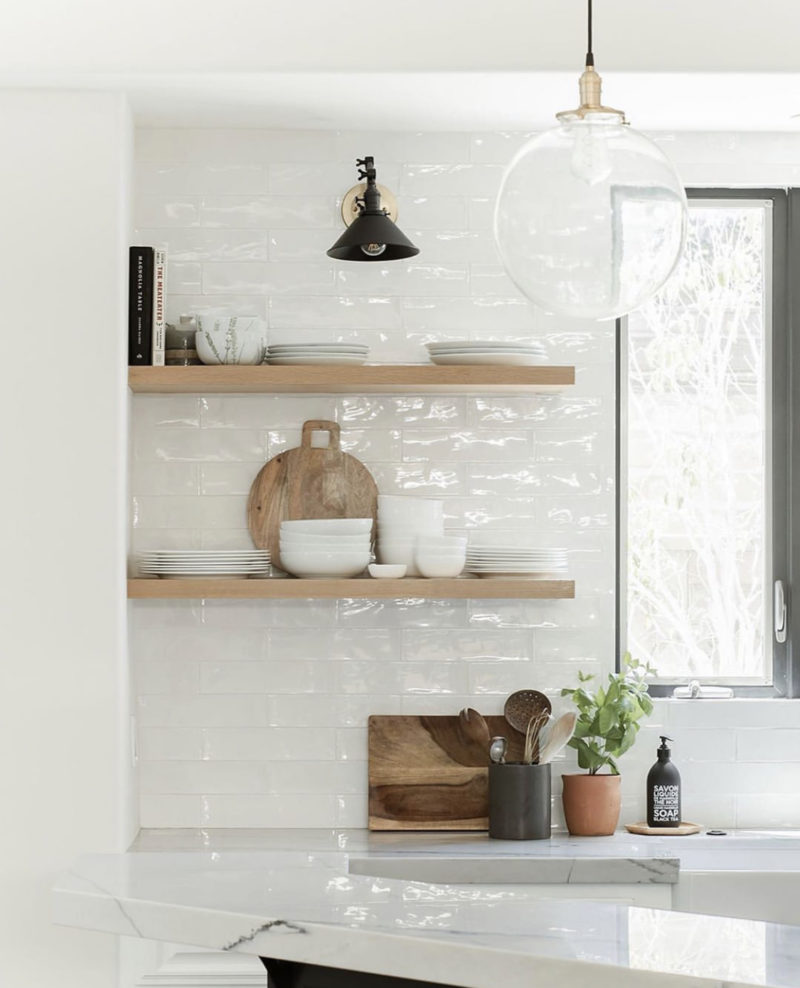 While I have picked out most of the pieces for the space, I have yet to buy the backsplash tile. I was thinking something classic like subway tile but then I saw this and fell in love. While it is still a classic subway tile, I love the shimmer and texture. Choosing a tile will be this week's project.
I will be sharing how we moved the water lines as well as how we installed the butcher block countertops in an upcoming post.
Stay safe and well, my friends. Hope this week is off to a lovely start. Thanks for following along with our little projects.