Laundry. It's a permanent part of life. I remember becoming a mom for the first time and feeling so excited to wash all of those tiny clothes. There is a part of me that very much feels that way to this day. It doesn't escape me that I am blessed to have two children and loads of laundry. I still don't have the answer to making it less of a chore. Many of my friends only do laundry once a week.  That is probably the way to go but I am a sucker for thinking I can chase the dream. . . an empty laundry basket. I think it's happened once or twice in 15 years and it may have lasted 15 minutes. Max.
OUR LAUNDRY ROOM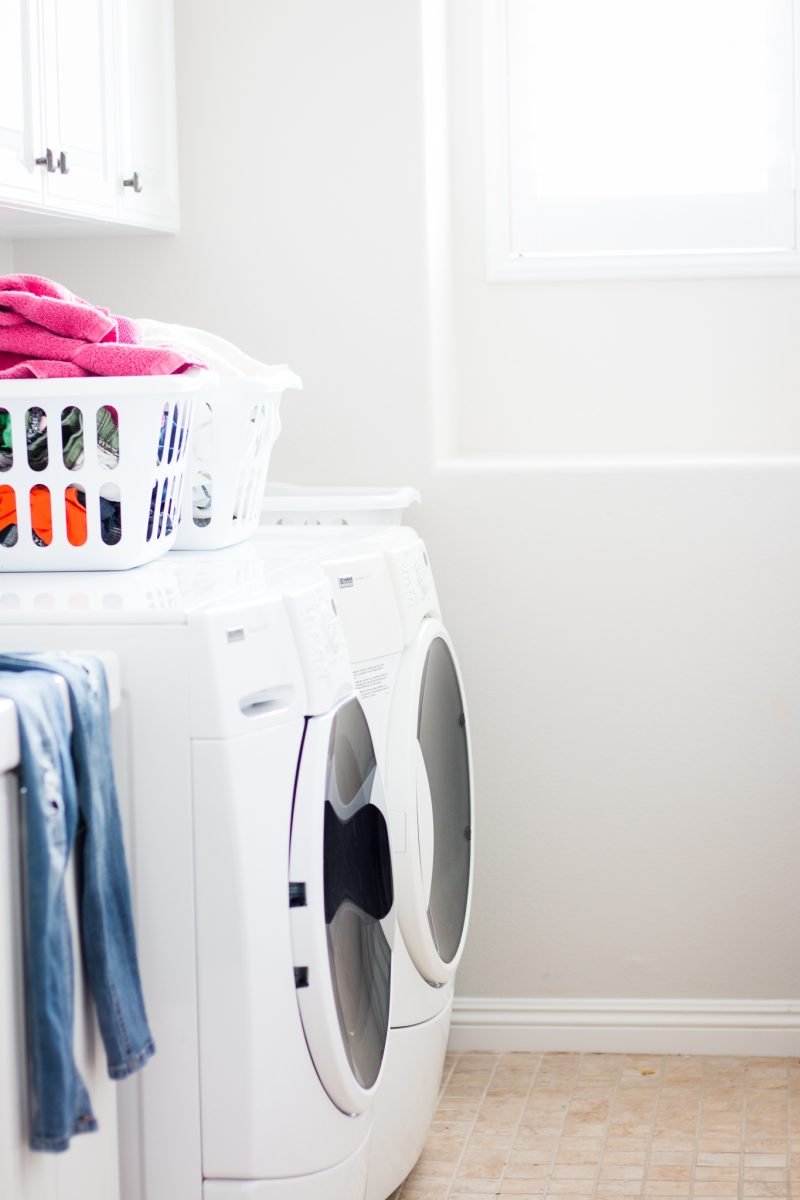 The laundry room in this house is a nice size. It also has a sink which is new for us and I very much appreciate it. So nice to be able to rinse my son's baseball uniform prior to washing. I also appreciate the two windows as it's a light and bright room.
THE POSITIVES

Truly there is nothing wrong with this room. It's a great size with plenty of storage. And it's nice and neutral. But I do joke that this is my office (just because I am in it every.single.day.) so I would love to give it more of in inviting feel. This is the type of space I can funk up a bit and it won't seem out-of-place. Bottom line, I want to make this a fun and cute spot to spend time.
PROBLEMS TO SOLVE

Hanging Clothes: you can see what I am doing now. So many of my daughter's clothes don't go in the dryer. Don't even get me started on that. But I don't have a rod so I hang them here or drape them over the dryer. Both sub-optimal options.
Place for Folding: Now that we have front loading machines (they were here when we moved in) I would love to have a counter built over them so I can fold the clothes as soon as they come out of the dryer. If I do that now, things fall between the machines or I toss it all in the hallway and it becomes a wrinkled mess.
Organized Cabinets: The upper cabinets are actually empty and the ones under the sink are a bit of a mess. I would love to make the most of the storage and use it to my advantage. I haven't thought this through yet but will soon.
Lighting: While the natural light is awesome, the long fluorescent light isn't doing this room any favors. I would love to swap it out for something more stylish. While I would love a chandelier, the cabinets prevent me from having one so I will need to get creative.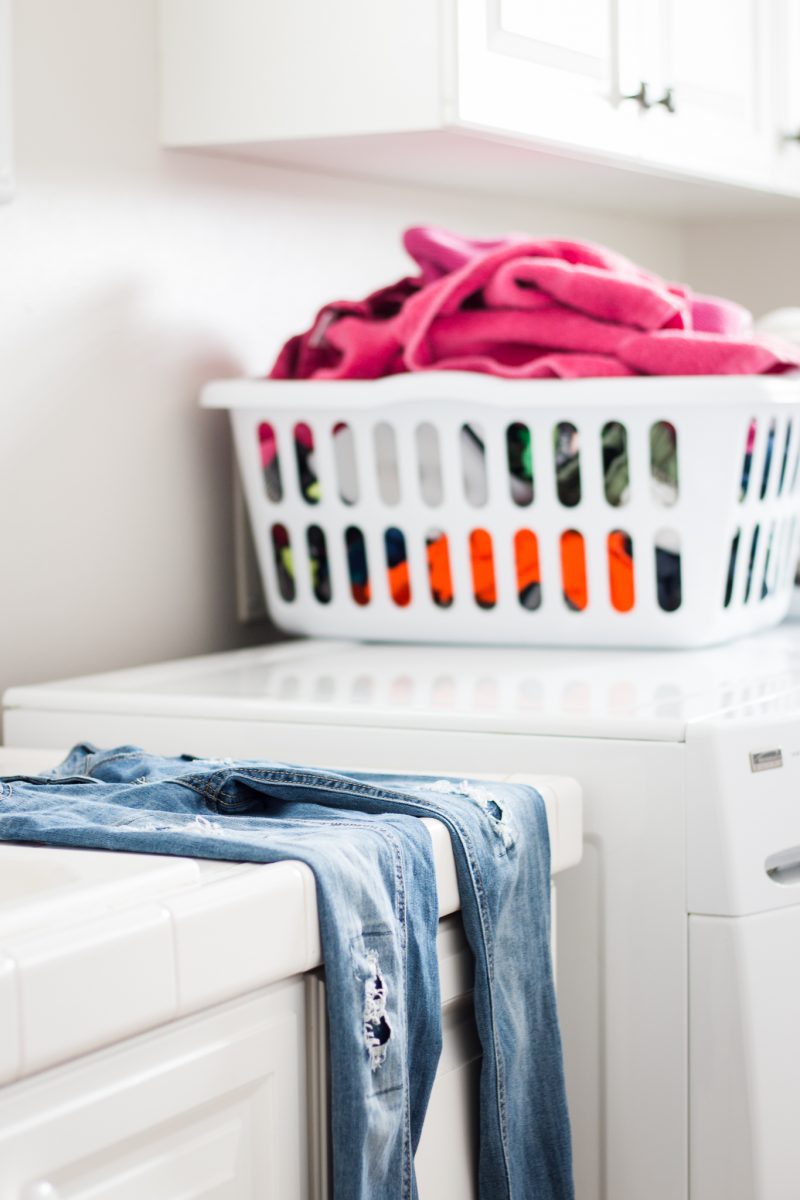 THE INSPIRATION
I fell madly in love with this laundry room by Dear Lillie. I mean what's not to love? The second I saw it I knew I wanted that tile.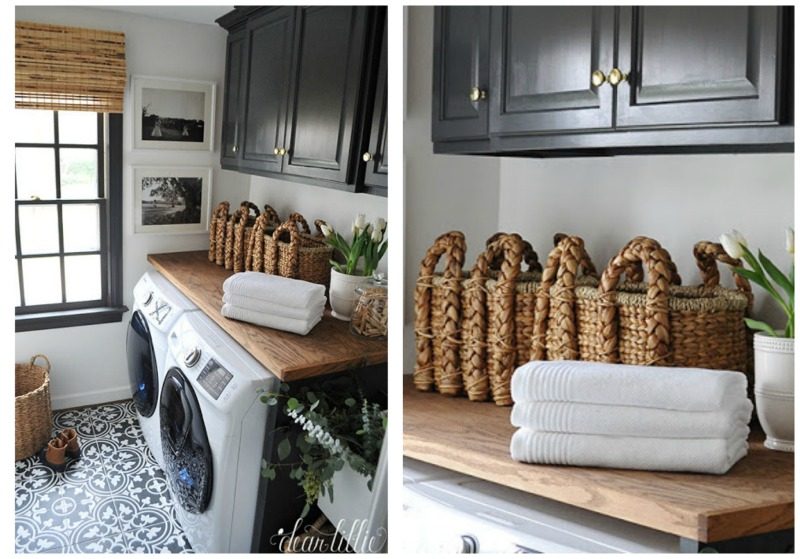 The combination of the warm wood tones, the funky tile and the black cabinets all work so beautifully together.
THE PLAN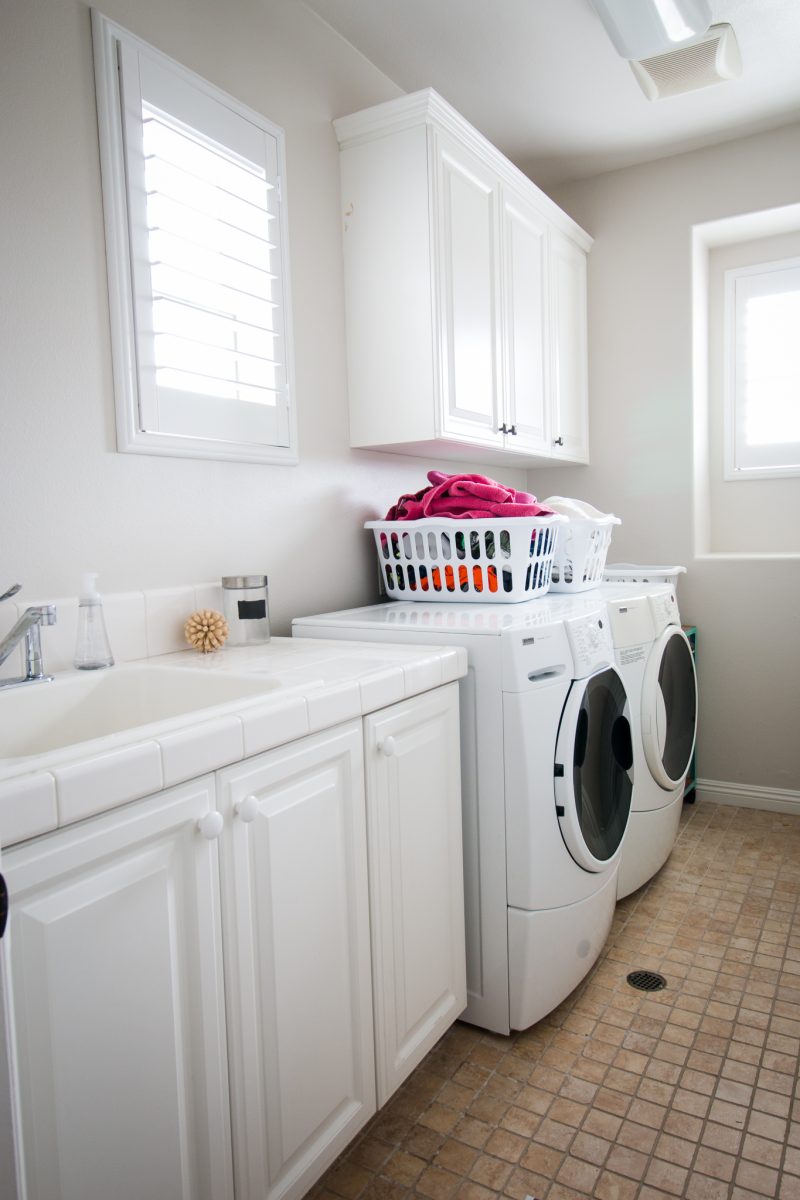 While my husband knows how to tile and did the bathroom below, we are going to have someone come out and do this floor. The reason being is that it slopes gently towards the drain and we what to preserve the integrity of that design in case of a leak or flood. We will feel better having an experienced tile person do that. The good news is that it's not too large so it shouldn't be too costly. And it will allow me to sleep better at night. I may paint the cabinets although they are that melamine which may not take paint. I need to do my homework on that. Do any of you know?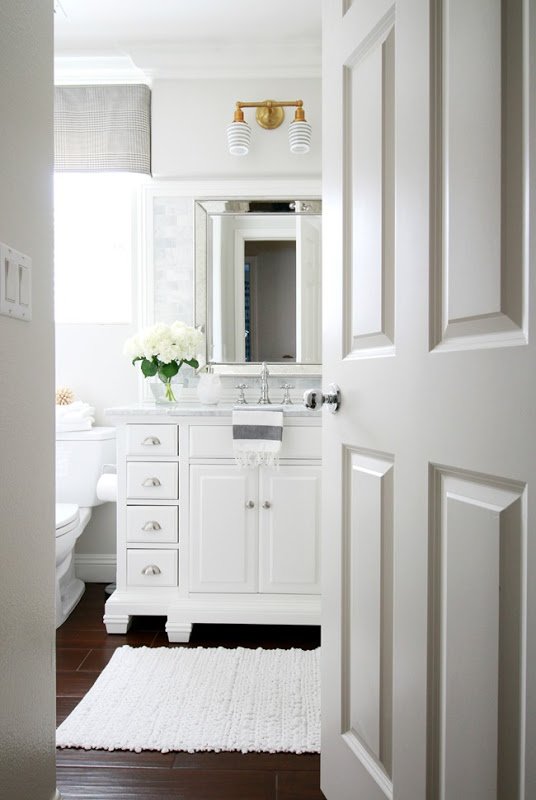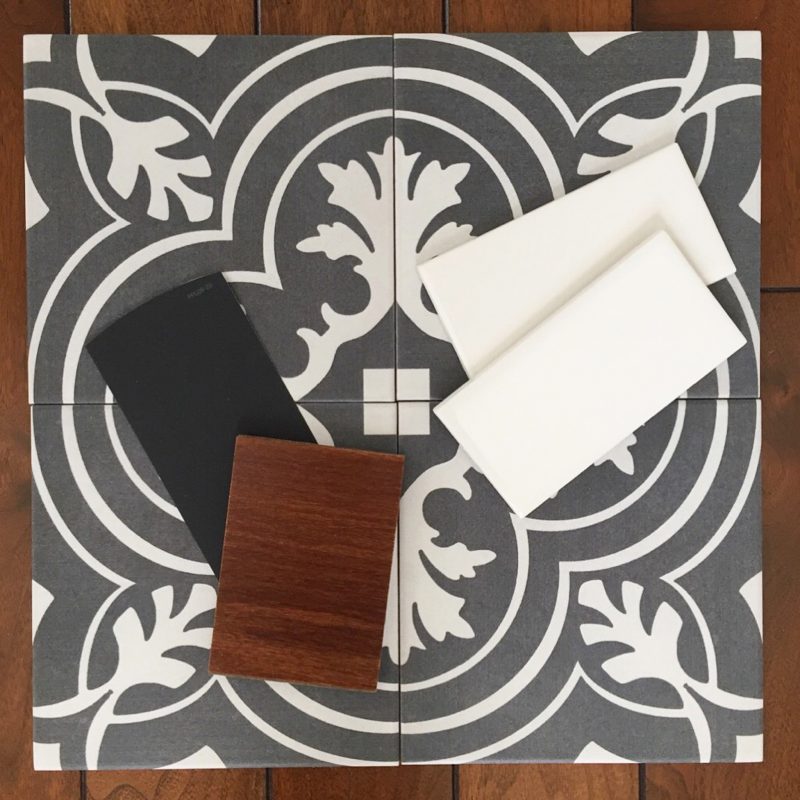 Here is what I have pulled together so far. We plan to do a dark wood top over the machines and hopefully paint the cabinets black. I would also like to tile the wall behind the machines. That's where the subway tile comes in. The tile is actually ceramic rather than the cement tile you see. It will hold up beautifully and I won't have to worry about chipping.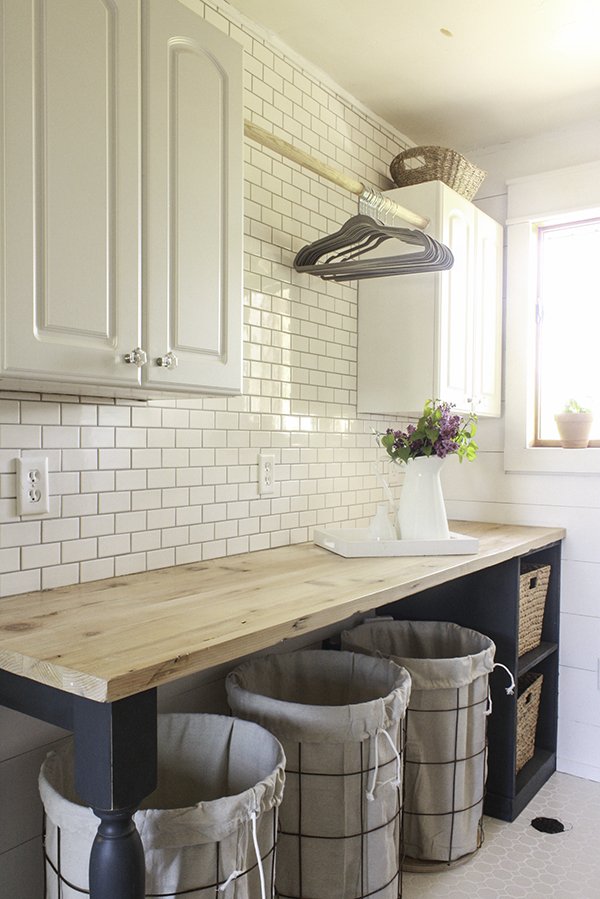 This is my inspiration for tiling the wall. I just love the clean and classic look. Adding a cabinet over our sink would allow us to place a rod in between the cabinets like you see here.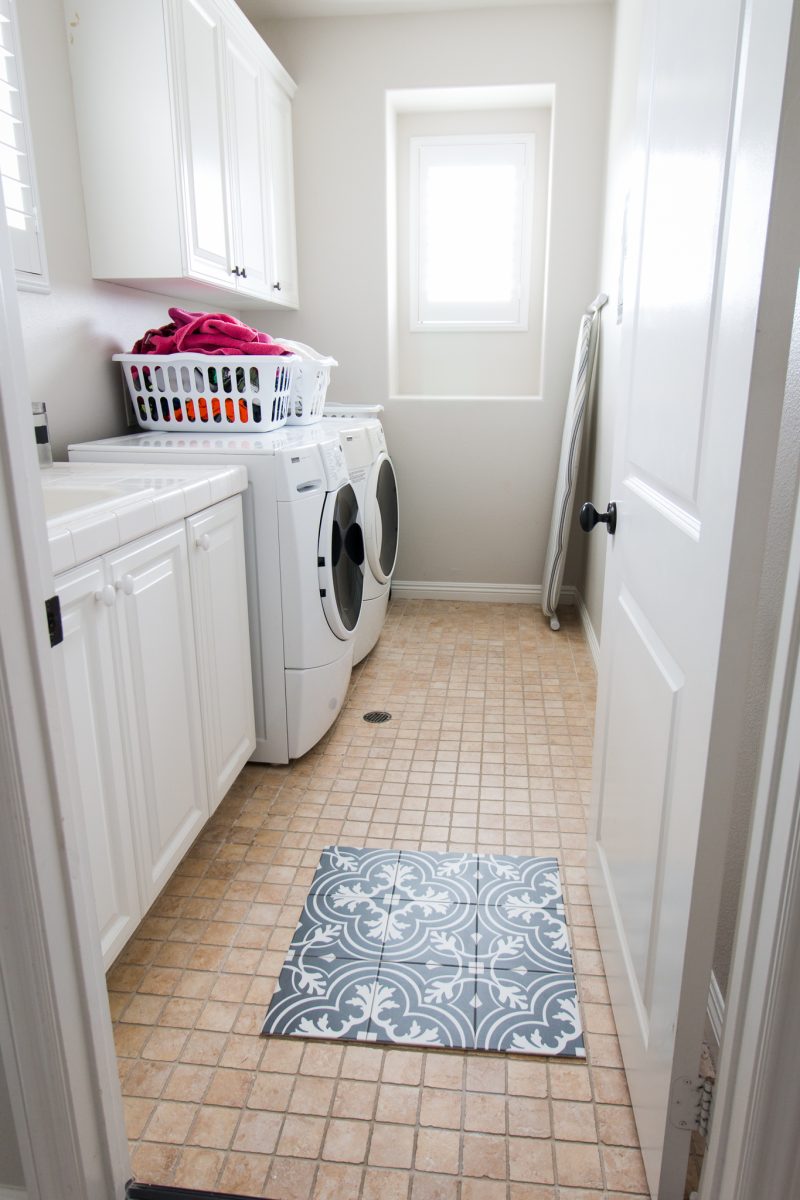 Here is a little peek at what the tile looks like. I can hardly wait. I am also toying with painting the door to the laundry room black for some contrast.
We are in no rush with this and life is a bit hectic right now so don't be surprised if it takes us a while to be back with an update. Slow and steady is our speed over here these days.
Have a great day, sweet friends. I will be back tomorrow with a tour of the HGTV Smart Home. Can't wait to show you and share what I thought.