At long last, we are so excited to share our competed laundry room with you. I thought I might never say that. This space has truly come a long way. It was a lovely light and bright spot to begin with but it fell short when it came to storage for laundry baskets, space for folding laundry, hanging space and a dose of our personal style. Those aspects were always most important to us and it took us a good amount of time to figure out a design that could incorporate all four of those. Without further ado, welcome to our laundry room.
OUR NEW LAUNDRY ROOM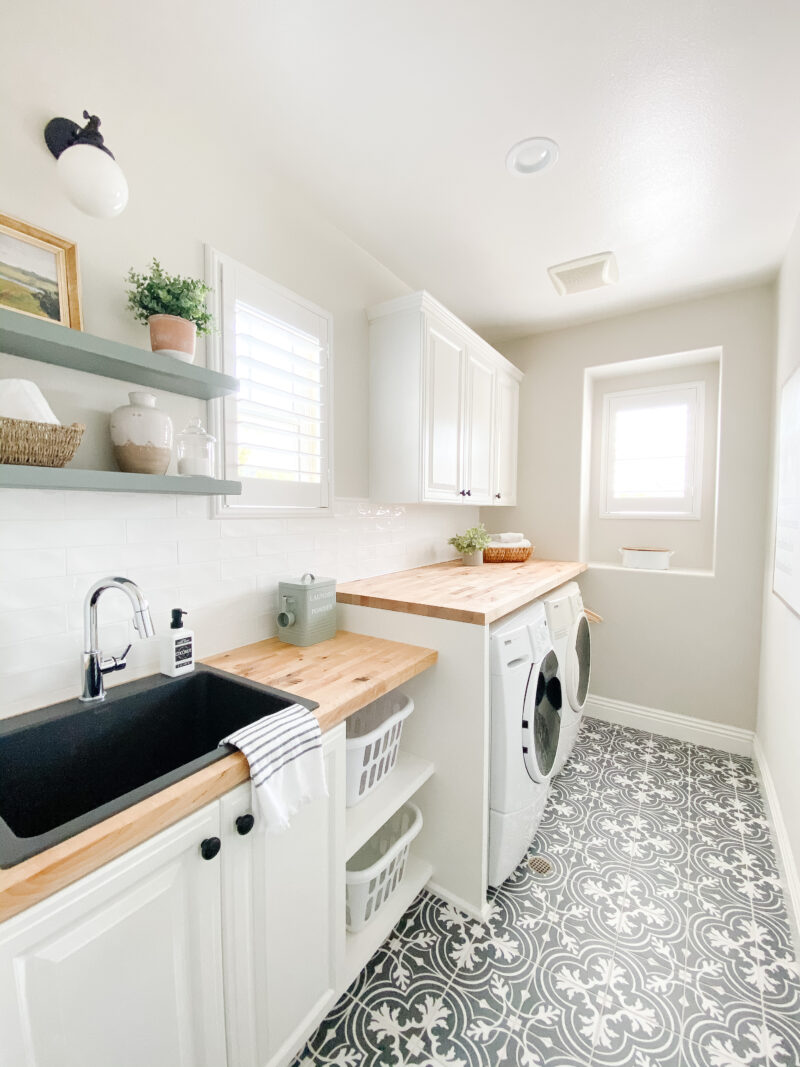 We are so pleased with how this space turned out. Look, laundry is never fun, but it sure is nice to walk in here every day. A huge thank you to my husband who did most of the heavy lifting on this project. Literally and figuratively.
We kept all of the existing cabinets and we are so happy we did. It just made sense as they offer a great deal of storage. The tricky part was figuring out how to balance both sides of the window. We could not find cabinets to match the ones the builder installed so we decided on open shelves. In the end, I think it looks much better than a cabinet would have. It was a fun place to add a dose of color and to style.
NEW COUNTERTOPS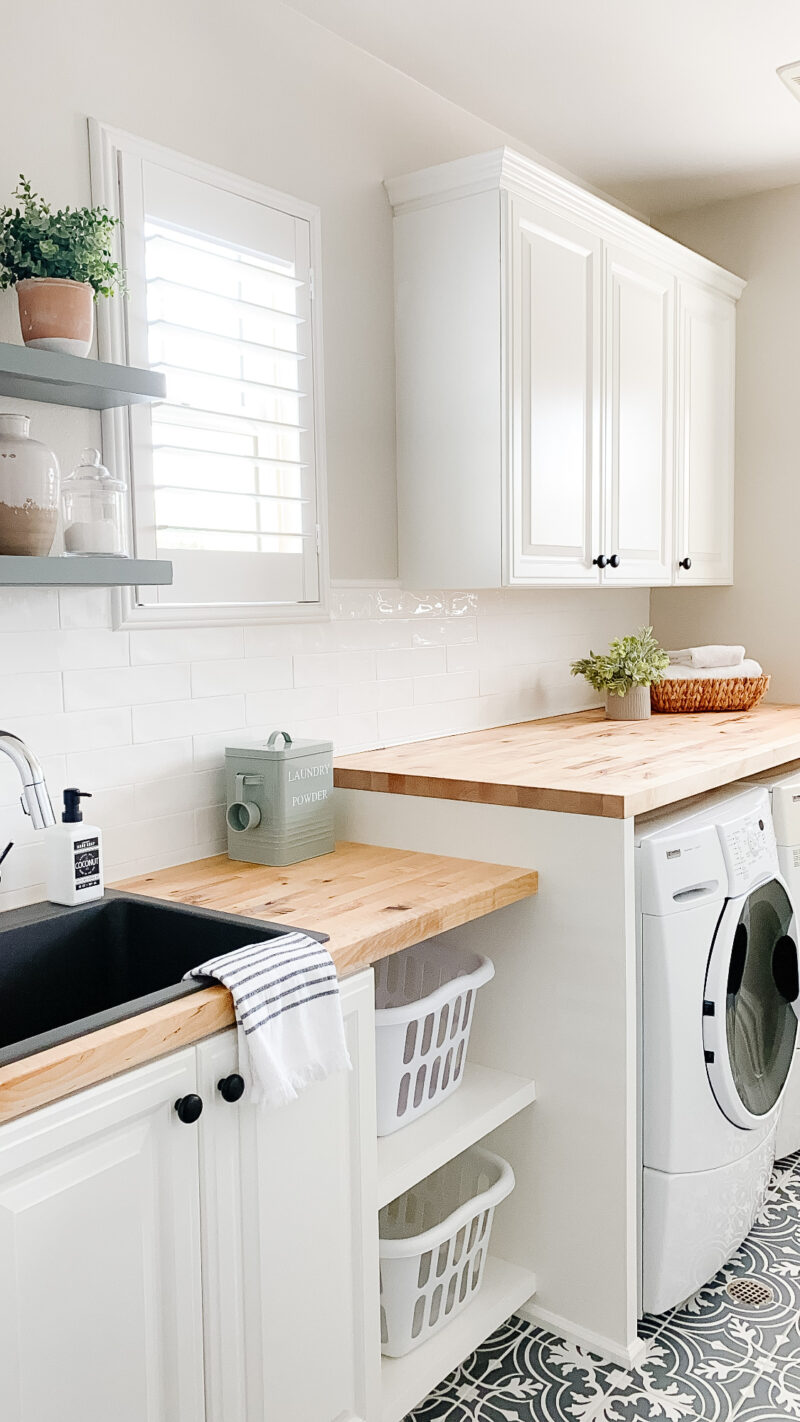 I always wanted butcher block countertops in here. They add so much warmth and now I can fold the clean clothes as soon as they come out of the dryer. We sealed them but did not add any stain. We loved the lighter tone of them.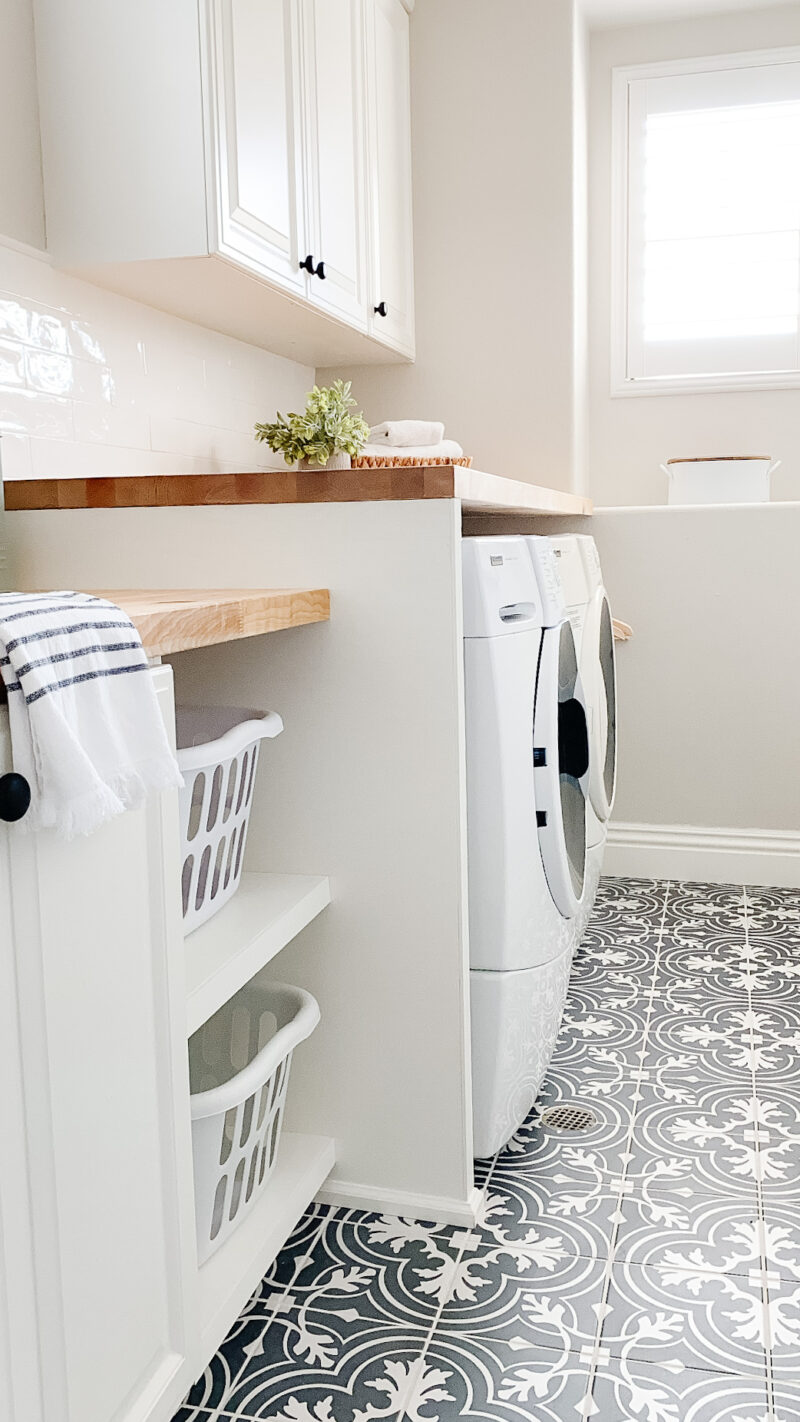 We did move the water lines (step by step post here). They were originally above the washer and dryer. That is a project you can knock out relatively quickly.
The tile floor is slanted towards the drain (by design) which made installing the large vertical board very tricky. It didn't meet the floor in the front so my husband added trim to the bottom which was a great fix.
OPEN SHELVING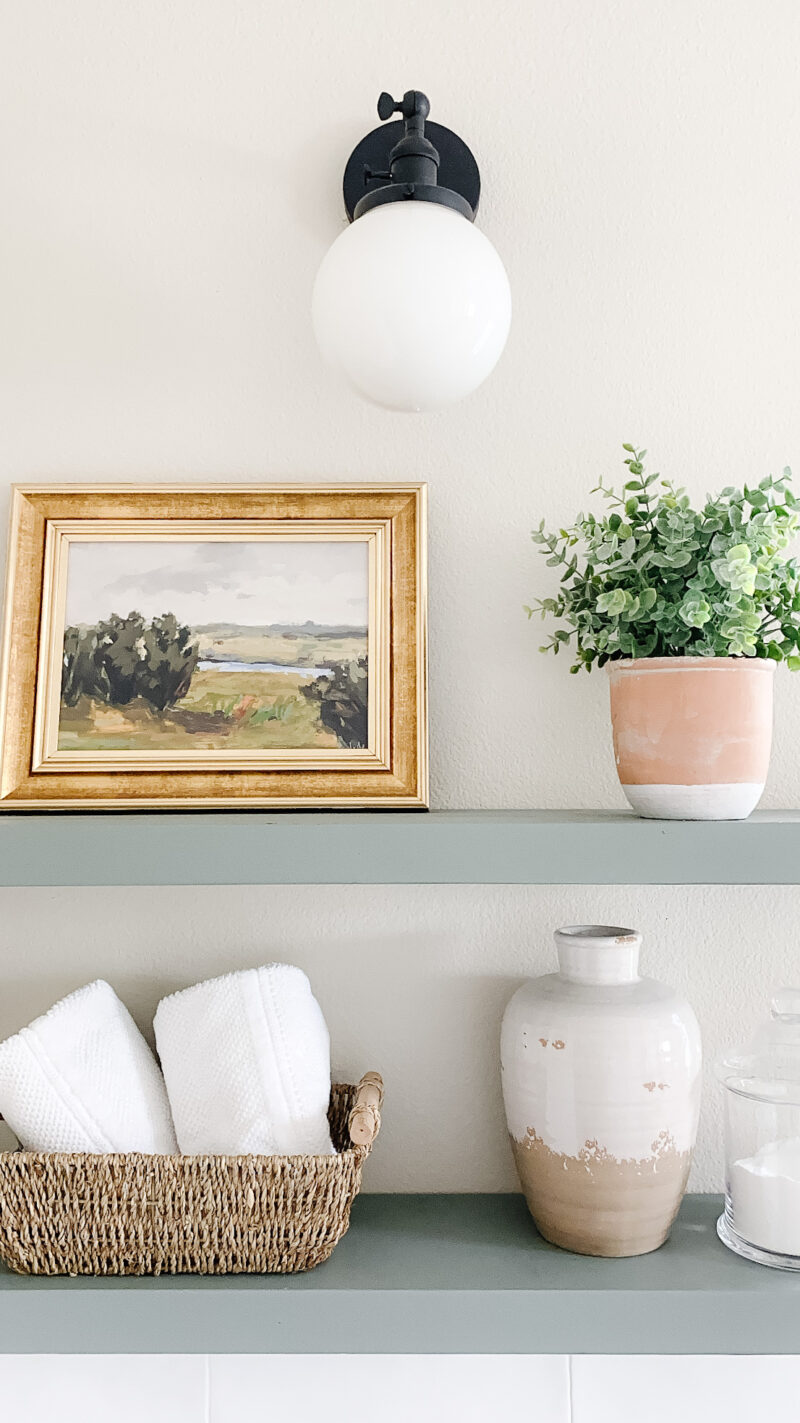 To contrast with the butcher block, I went with painting the shelves a pretty green. The shelves are actually leftover butcher block so we saved money there. These baskets have become a favorite of mine. We use them in every single bathroom and now the laundry room.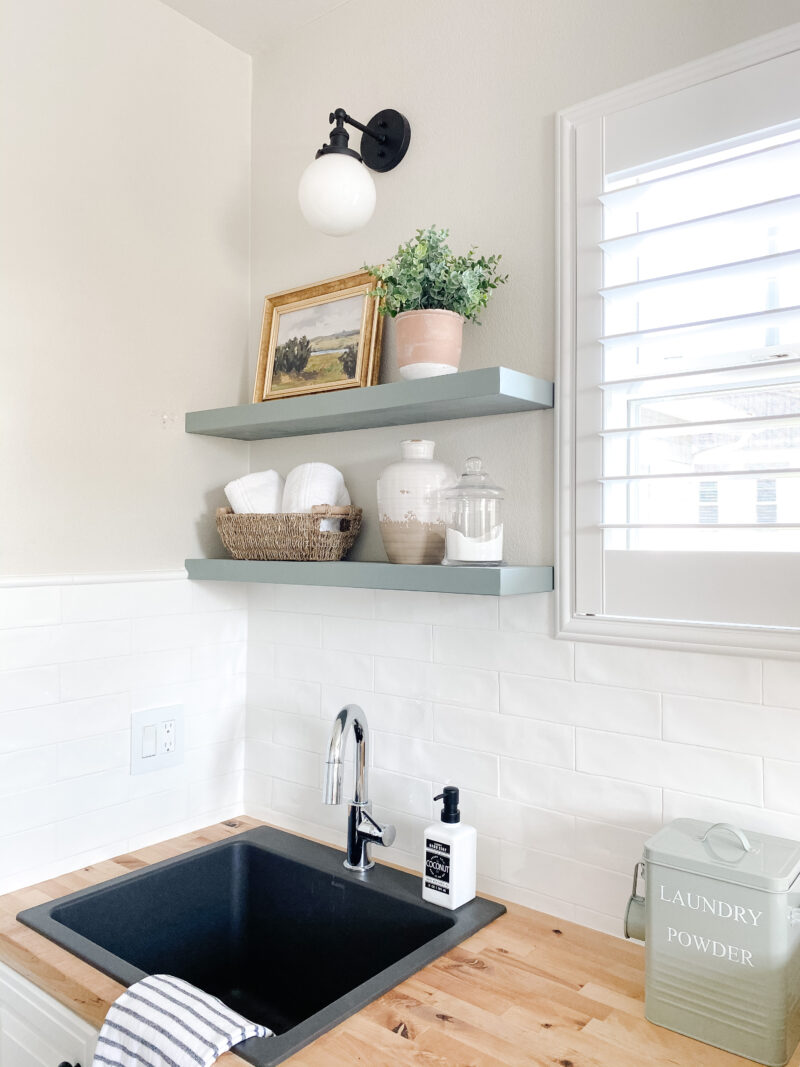 The backsplash tile was installed professionally and I love the shimmer it adds. We went with a large, deep sink and the charcoal gray is a fun way to tie in the floor tile. The prep sink faucet is just the right size for this space.
THE DETAILS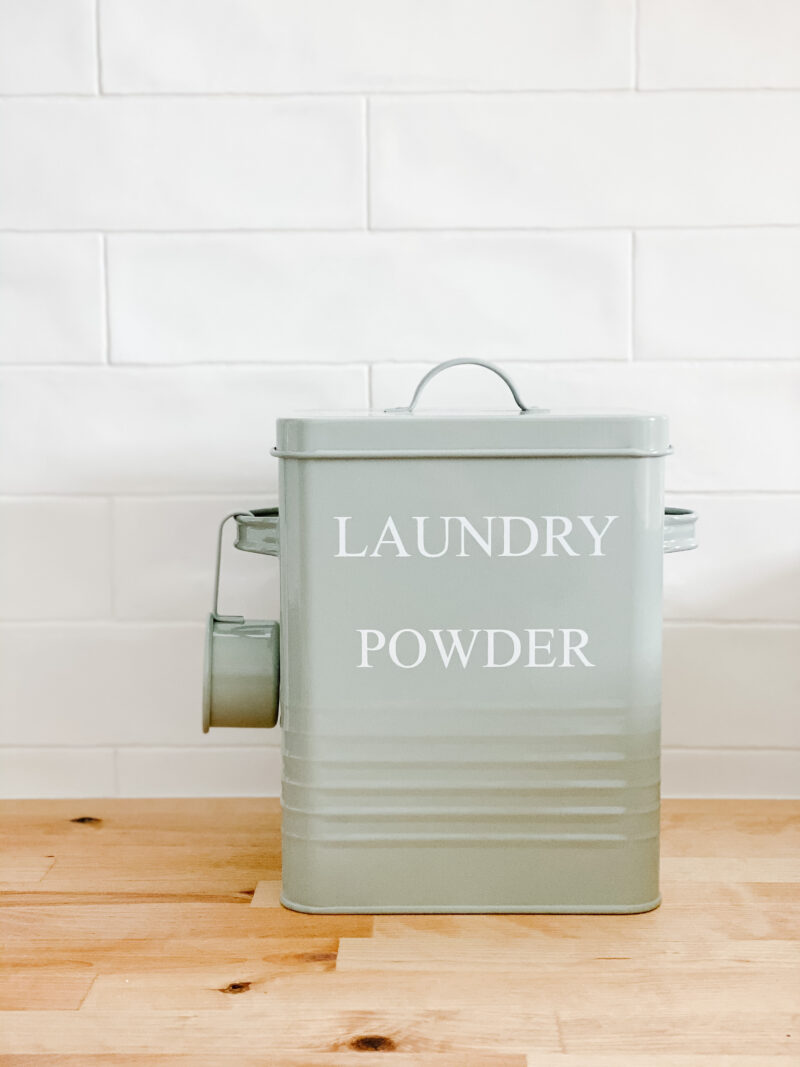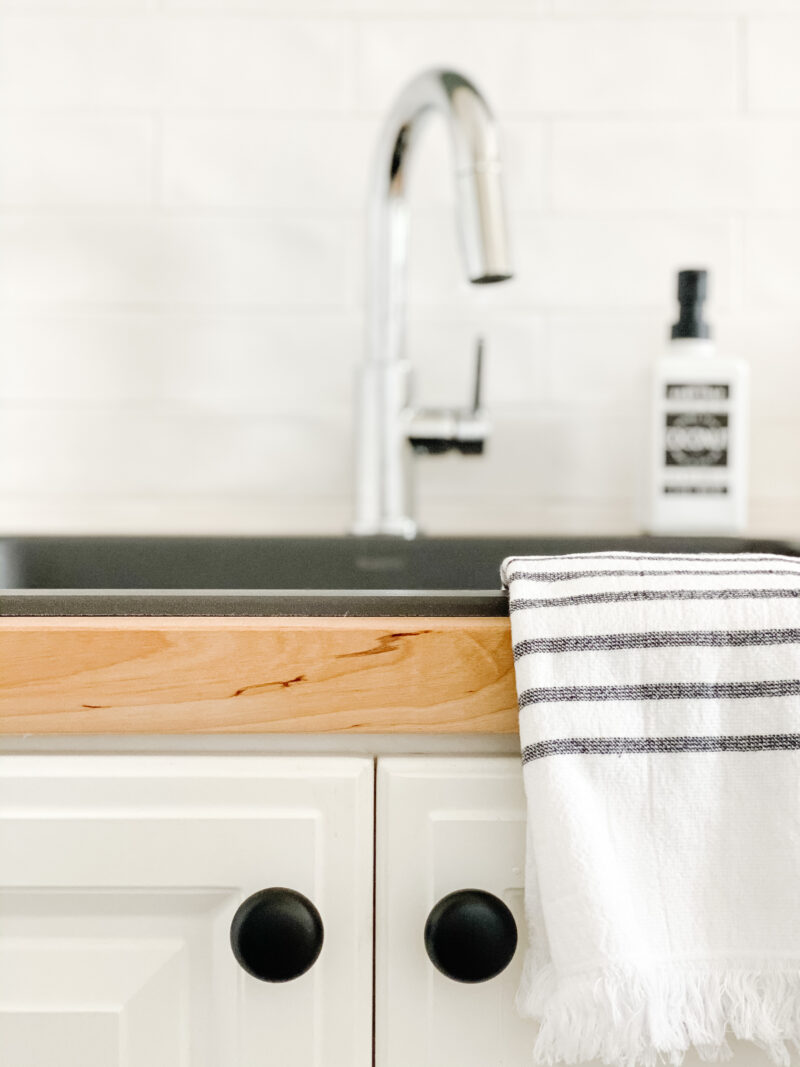 I chose to update the hardware with simple and classic matte black knobs.
RETHINKING STORAGE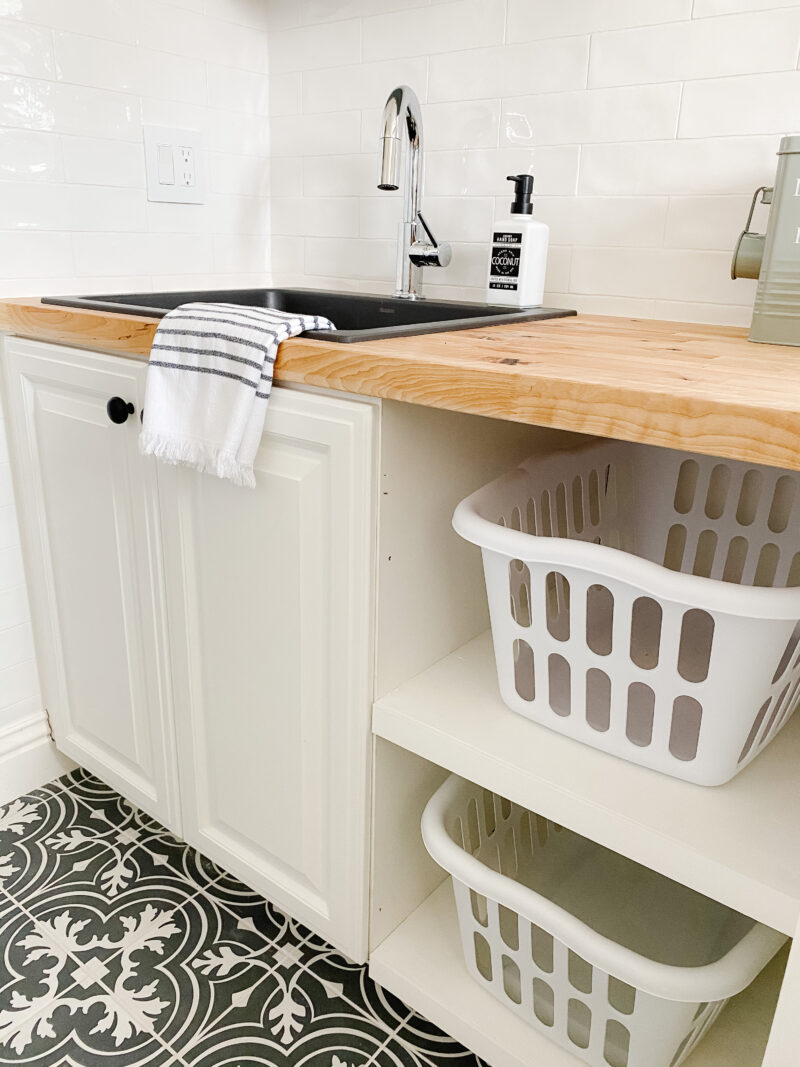 This is my very favorite part of our new laundry room. I really wanted a space to tuck the laundry baskets away. This room is narrow and we were constantly tripping on them or keeping them on top of the washer and dryer. There was a cabinet where you see the baskets that my husband removed. He built the shelves and they fit these perfectly. Every person in our family has this same basket so when they bring it in to do a load of laundry they fit right here. And now we toss our dirty dish towels in the top one each night. So much better than them bring thrown on the floor.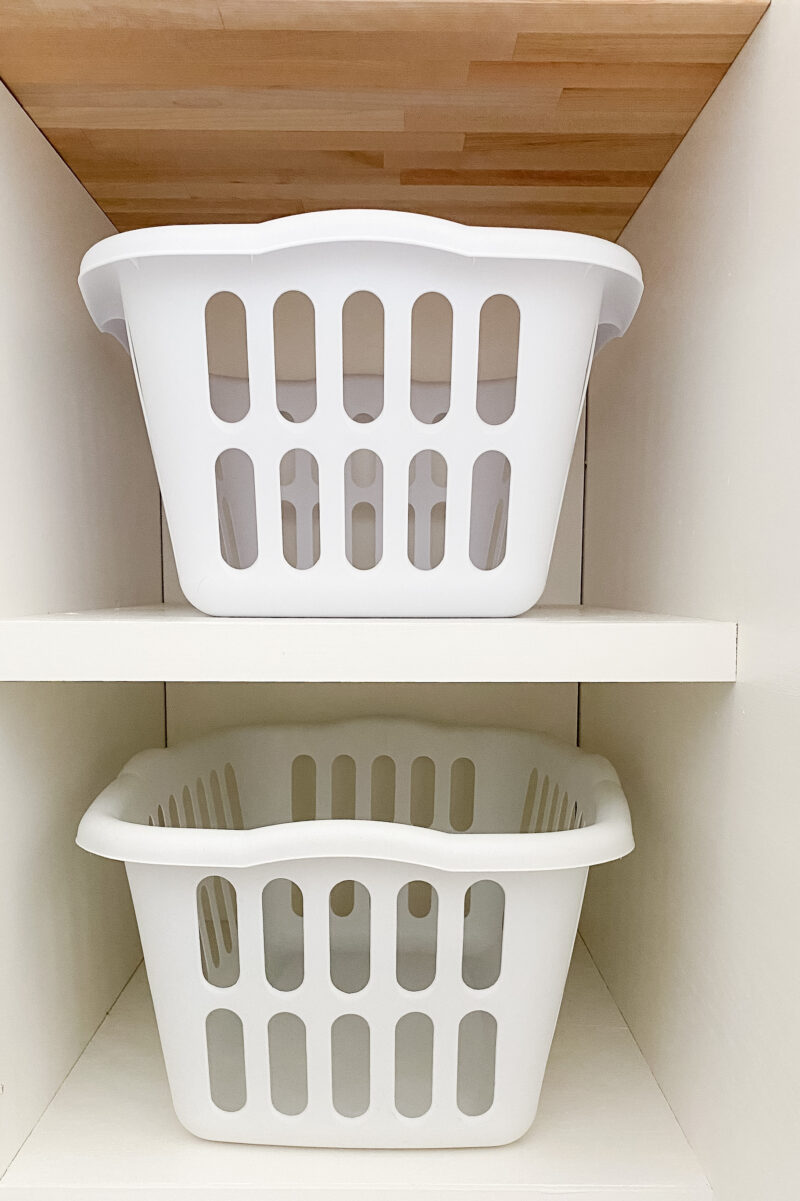 I took the cabinet door we removed into Lowe's and they were able to color match so that I could paint the news shelves. I now keep a mason jar of extra paint under the sink in case we need touch ups.
HANGING SPACE
We also wanted to incorporate a spot to hang clothes when they don't go in the dryer. It's never more than a handful of items so I didn't need a large drying rack. Instead my planned the space so that we could hang a tension rod to the left of the dryer. You can see it next to the wall.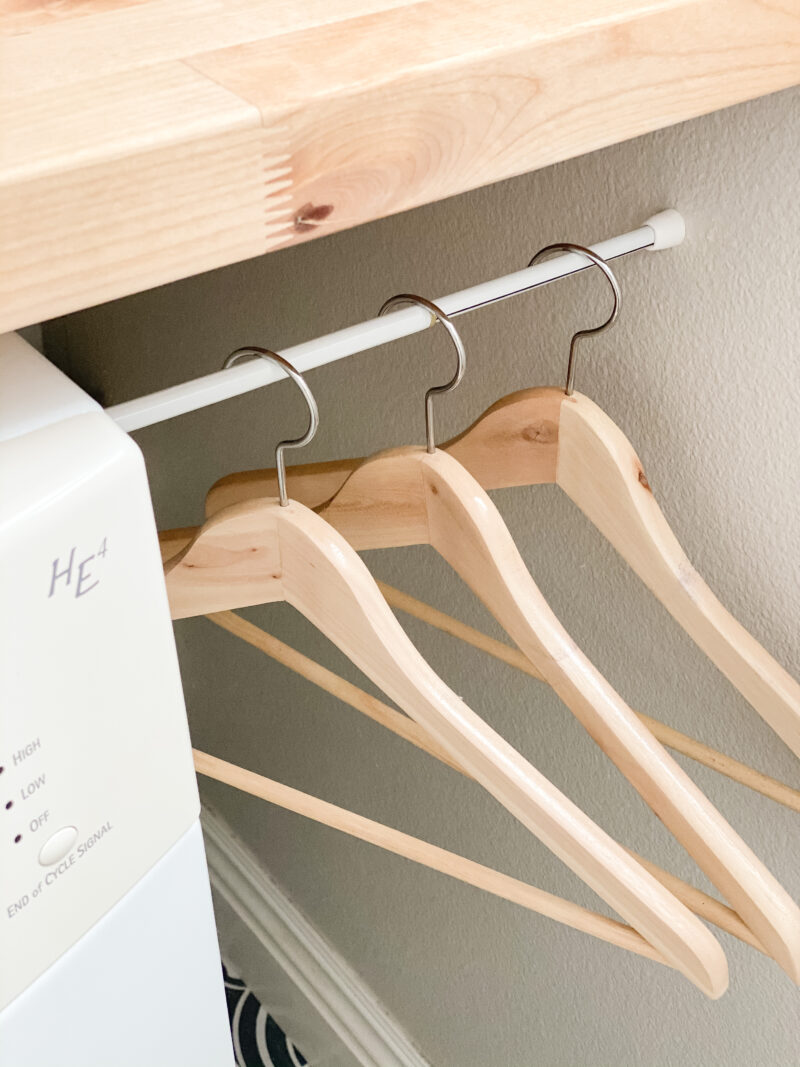 This space is actually about 15″ and we are able to hang six or seven items when necessary. So far it's worked out really well.
THE BEFORE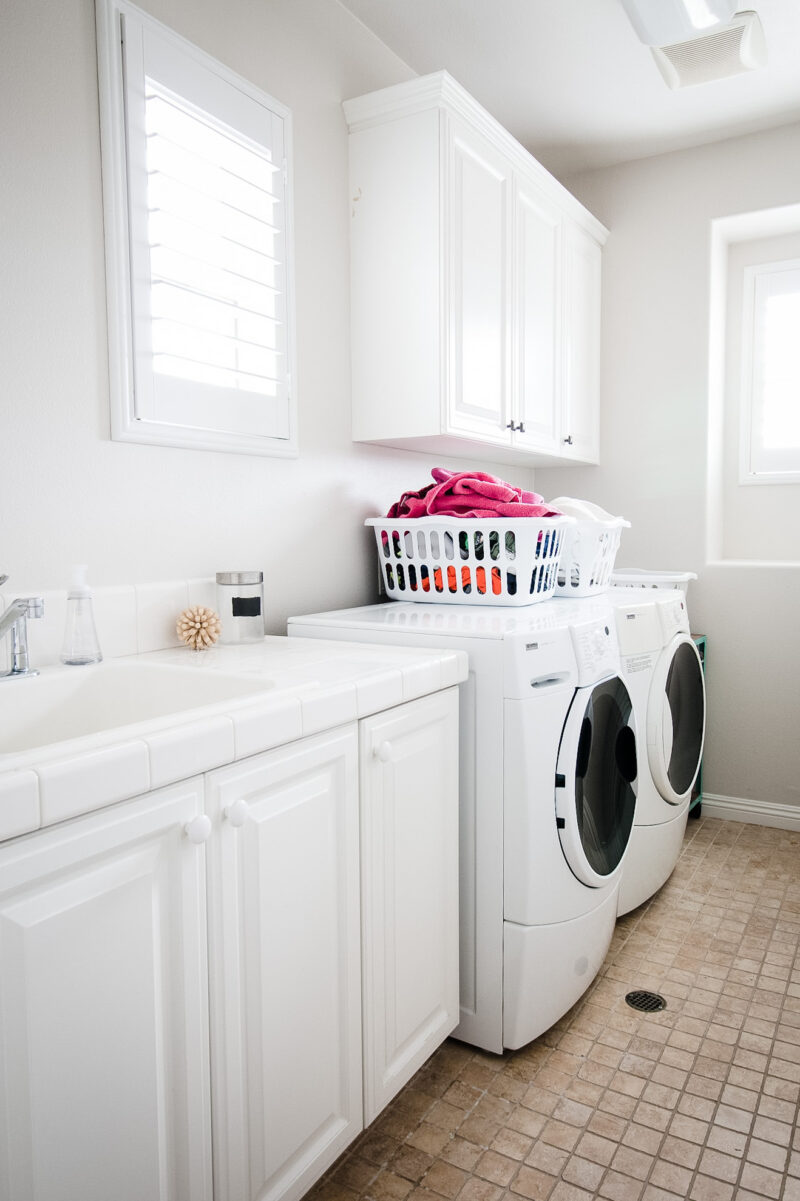 Always fun to look back at the before. This gives you a good idea of how much has changed. It was definitely a brain teaser to figure out how to work with what we had while still accomplishing our goals. In the end, I am really happy we took our time and created a room we love.
THE AFTER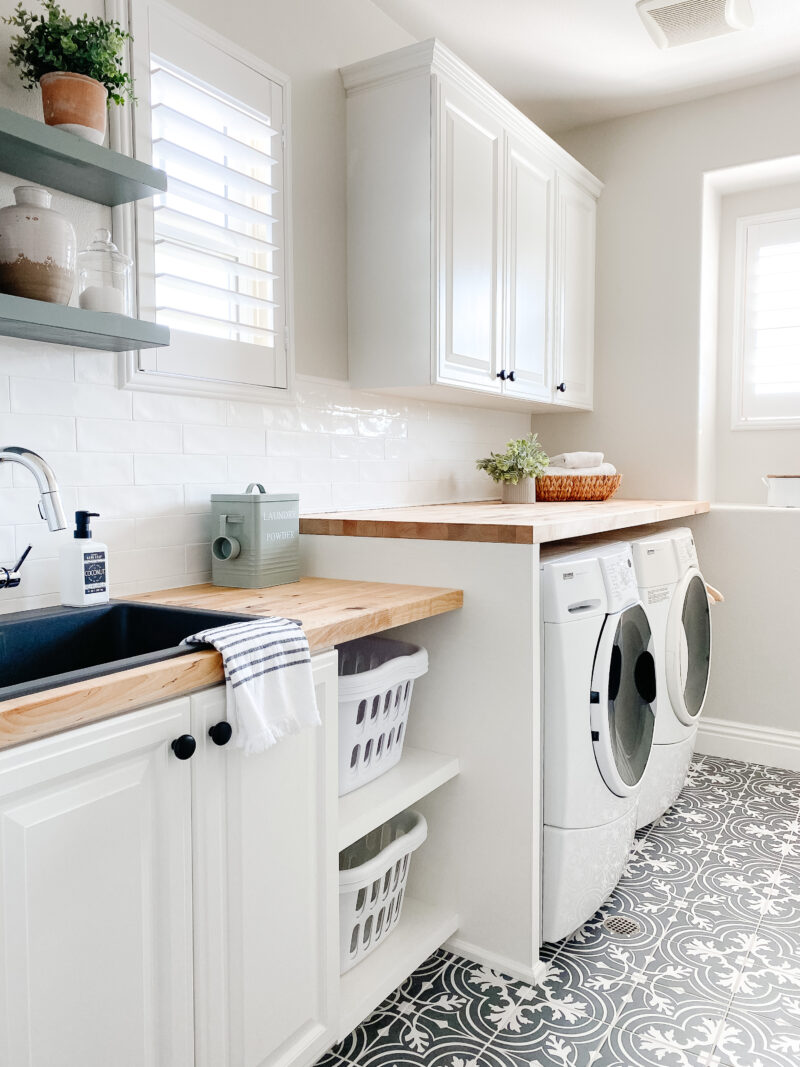 One last look at the after. We are really excited with how this space turned out. To date, this may be the project that took us the longest to figure out but the execution wasn't nearly as bad.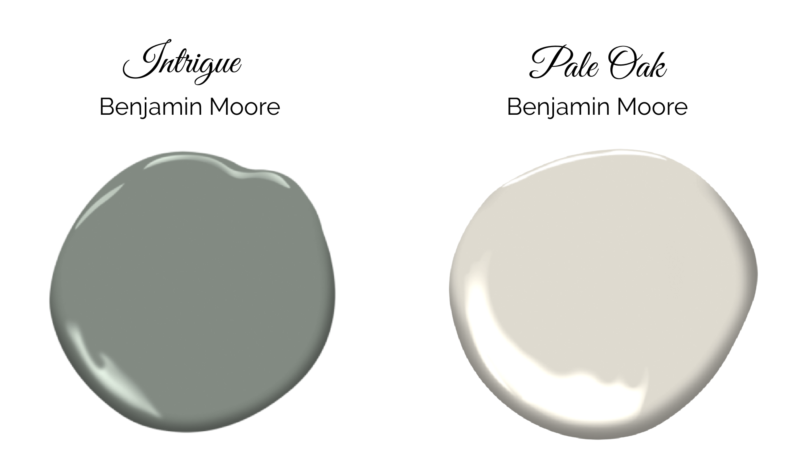 These are the two paint colors we used in here. The walls were already Pale Oak by Benjamin Moore and the shelves are Intrigue. The new laundry basket shelves are painted a custom white to match the pre-existing cabinets.
I will be back with a post on how we installed the countertops. We chose to make the butcher block removable (totally optional) so we were forced to get creative. Let me know if you have any questions in the comment section below. Thank you for following along with us on this one. We've definitely learned to take our time with each step as we tackle projects and it's proving to be a much better way to do things.