Morning. Just a quick post today to let you know that I spruced up my laundry cabinet and am sharing it over with Jen at I Heart Organizing. Who doesn't need a little glam in the laundry room, right! I will be showing you more soon as I am wrapping up a couple of DIY projects in there. Here is a sneak peek.
Yes. I may have gone all gold on my bleach bottle. Don't judge! Check out more photos and fun details with Jen.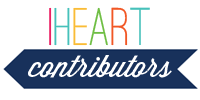 Also a big thank you to Style Me Pretty for pinning my gold edged frames! You made my day!!!! You can follow Style Me Pretty on Pinterest here.
have a great day