Let's get organized! I am kicking off a new series as I make my way through our home. While we have unpacked 90% of our boxes (please don't check the garage), we are still trying to organize everything. It takes a minute or two to figure out where things should go. The messes just come with the territory and I think it takes time to get it all worked out. Today I am opening up our hall closet and sharing ten pretty options to organize your own things.
THE BEFORE
First and foremost, I am very grateful to have this closet right off of our kitchen area. In our last home we built a pantry and that is where I kept most of my vases and table decor. We also had a sideboard that I loved. At first we were going to use this as pantry overflow (think Costco sized boxes of goodies) but more and more it became obvious that this should be where I keep my extra decor and table linens. I unwrapped all of the breakable items and pretty much tossed everything else on the floor and shelves. Then it was off to find baskets. Always be sure to measure you shelves before heading out to the store. There were a couple that I loved but they were too deep for the space.
SIMPLE IVORY BASKETS
I found these baskets on a recent trip to Target and thought they were perfect for this space. I like the ivory color and the $10 price tag. They are the perfect size for dinner napkins and some of the other pieces I wanted to tuck away. The fun part is sitting on the floor and sorting it all. That helped me see how things should be grouped and what labels I should create.
TIME FOR LABELS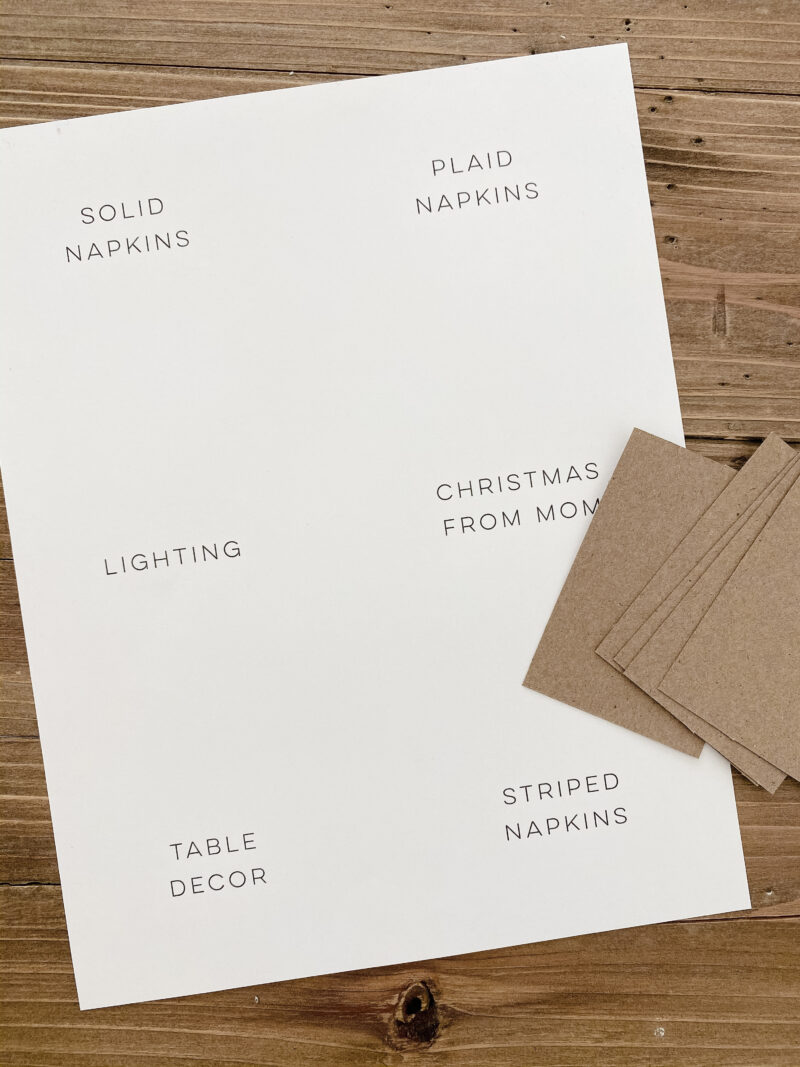 I used what I had on hand to make a few labels. My favorite category is "Christmas from Mom." I have a few breakable Christmas decorations that my parents used to put out and I didn't want them packed away with the rest of the holiday decor. I don't want anything happening to them so they are in one of these bins for safe keeping.
FAVORITE PAPER TRIMMER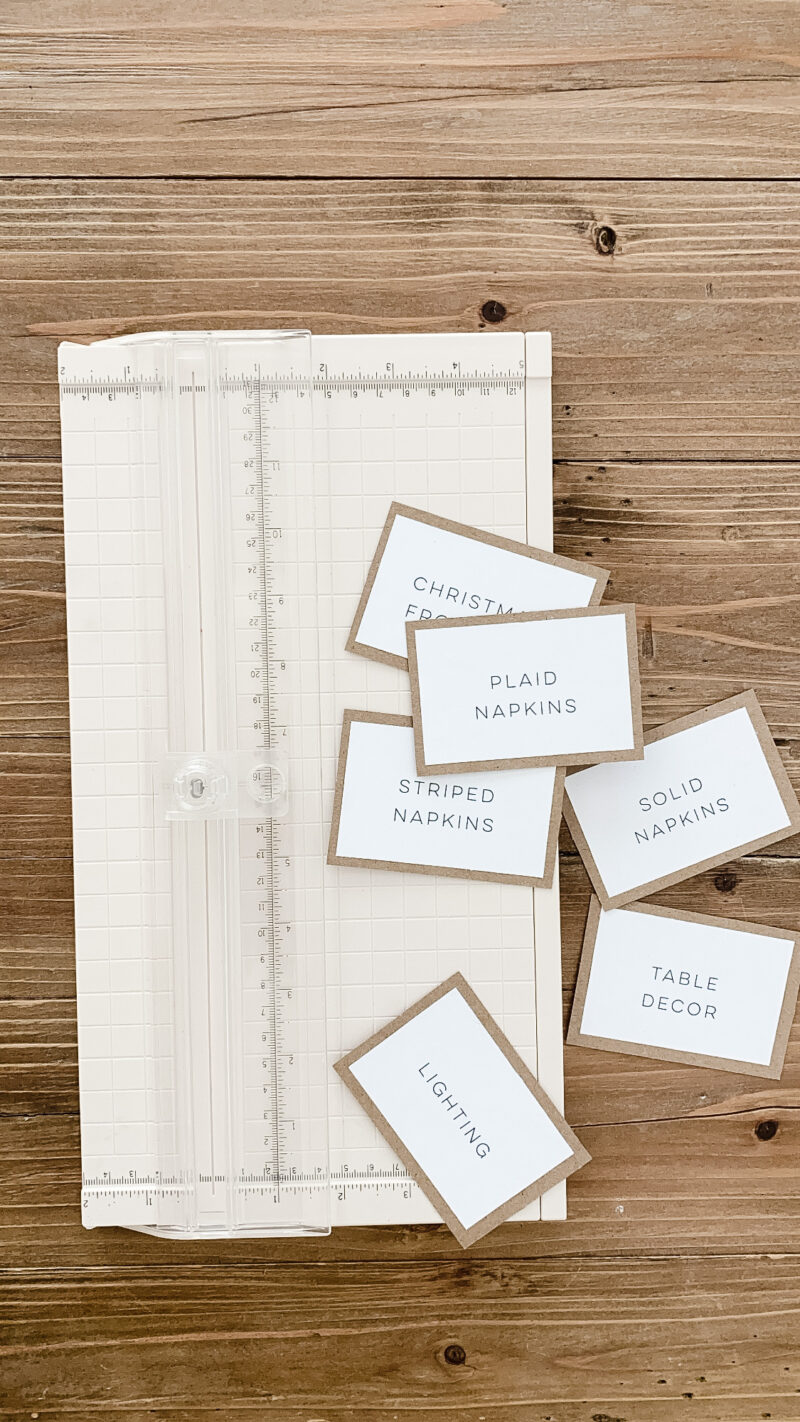 I have had this paper cutter for years and it always comes in handy. That and an old school purple glue stick. Done and done. I just attached the labels to the baskets with rolled masking tape. I will let you know how that holds up. You could always punch a hole in the label and tie it around each handle.
MUCH MORE ORGANIZED
Here is the newly organized closet. It's wonderful to have it all unpacked. It feels so good to open the door and easily see what I have. One basket holds all of my battery operated candles and twinkle lights. Another has table decor such as napkin rings and place cards. The other four ivory baskets hold our dinner napkins. I only kept my favorites and it feels great to have them organized and labeled. The basket on the floor holds extra stems and a silver punch bowl from my aunt. The shelves are lined with the non-adhesive plastic shelf liner from Costco. It just rests on the shelf but keeps the paint from getting marked up. And because it's clear, you don't even notice it.
THE DETAILS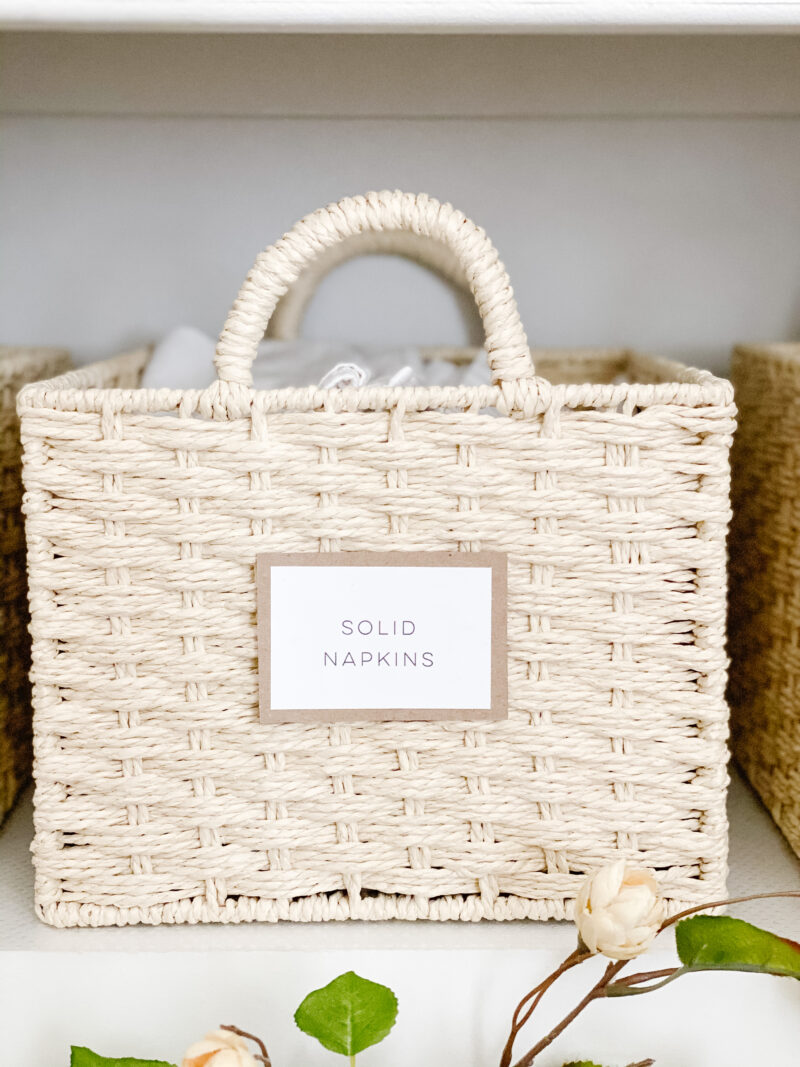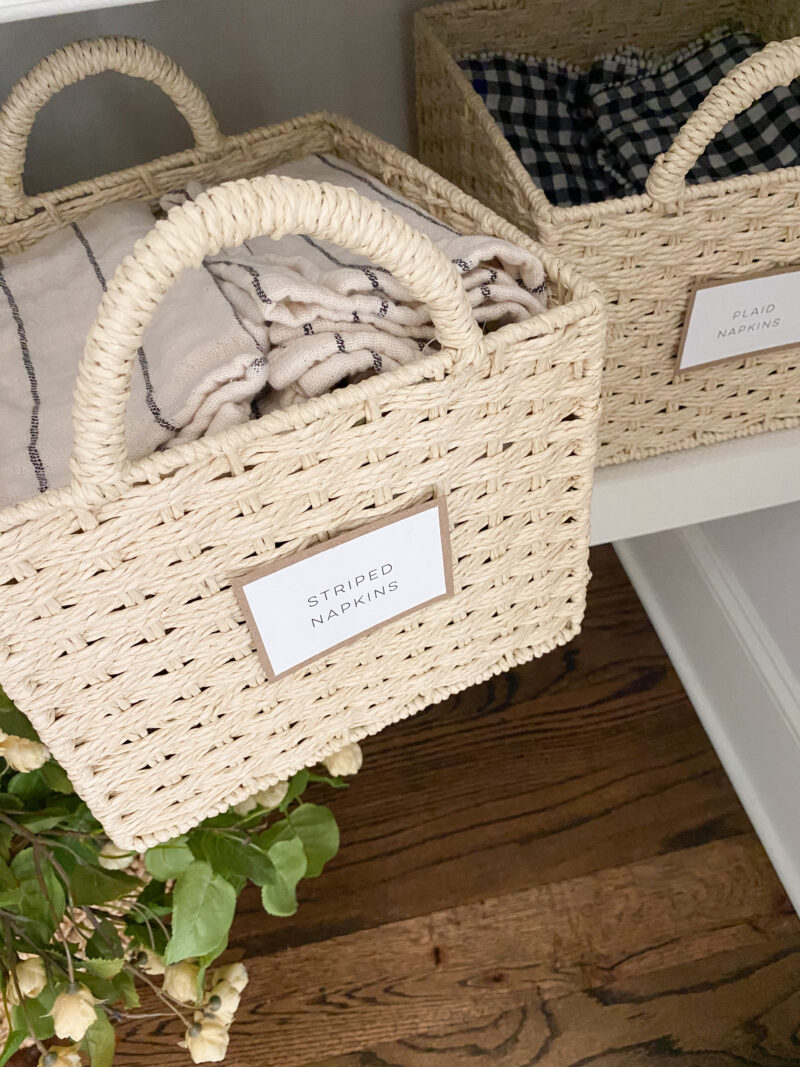 These striped napkins were my very first Tennessee purchase when we came to visit. Love that I can now use them in this home.
ONE LAST LOOK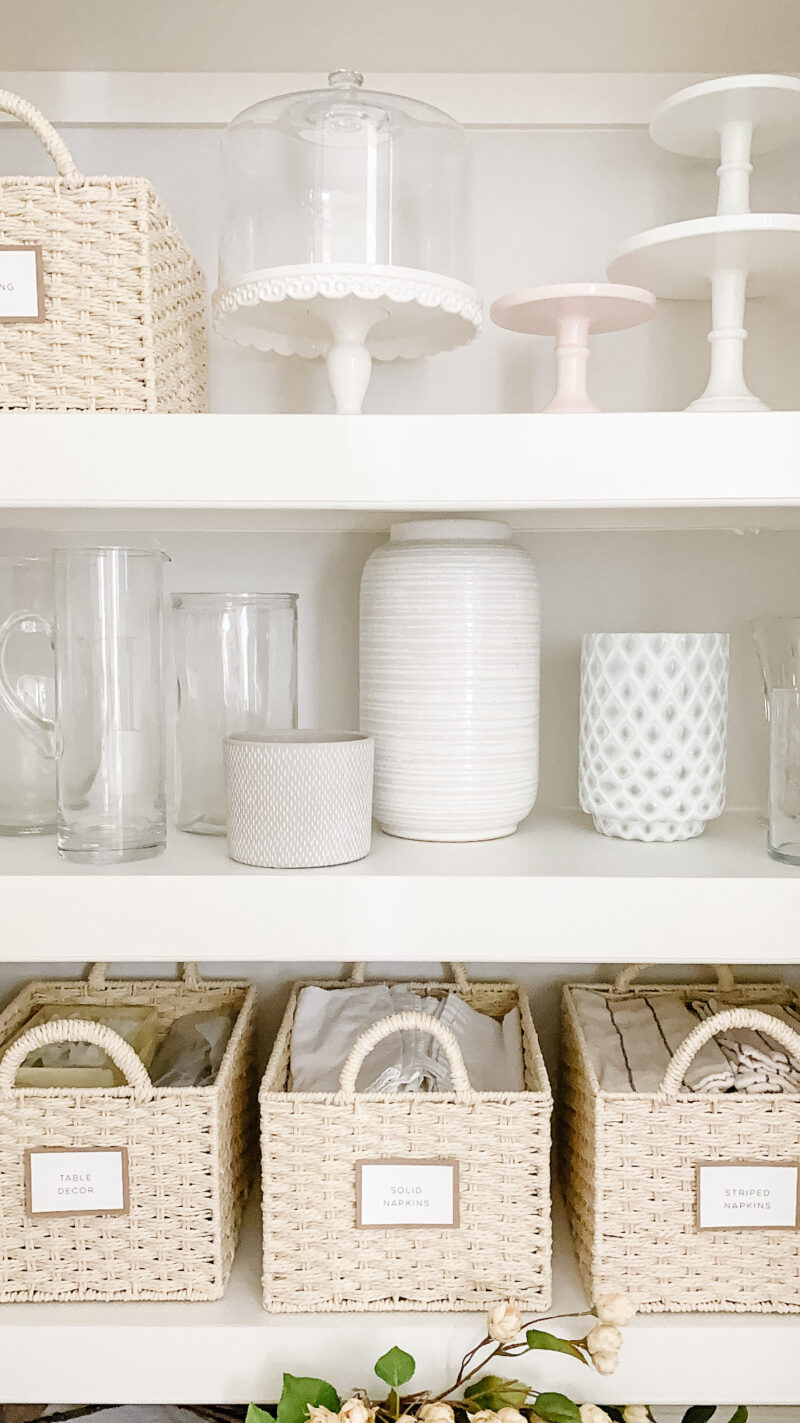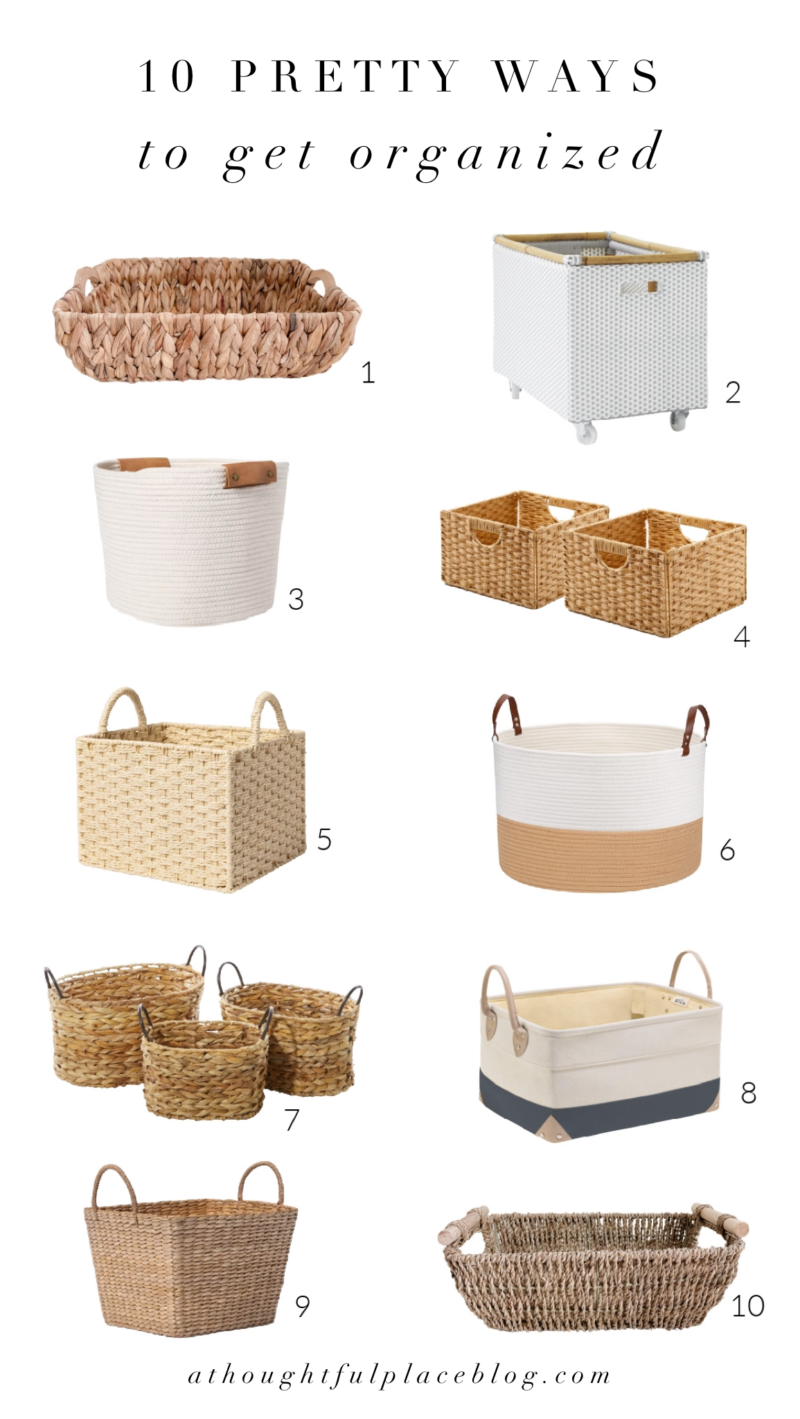 one | We love these and have them in multiple places in our home (great for magazines)
two | Well, hello darling rolling basket. Definitely a splurge but darn cute.
three | These would be great in any closet or toy room.
four | Always love a set of two and baskets with right angles.
five | These are $10 each and I like that the handles can stand up or be tiled downward.
six | Something about this basket. And it comes in other colors.
seven | A nice set of three different sizes.
eight | This is adorable. I think I need to use these somewhere. More colors available.
nine | A nice lightweight basket.
ten | We use this basket in every single bathroom for our toilet paper. Comes as a set of two.
My plan is to just make my way through our spaces one by one and I am happy to share the organization as I go. You better believe these under cabinet shelves have already been put to work in our bathrooms. We love them.