We've all known the classic draw of a little black dress (like this one) but the little white dress may have my heart. Since I was young, I have loved wearing white dresses. I recently found one that I fell for the second I saw it in store. The texture, the cut, the femininity. It's a good one, my friends. Here is my pick for the little white dress for Spring.
LITTLE WHITE DRESS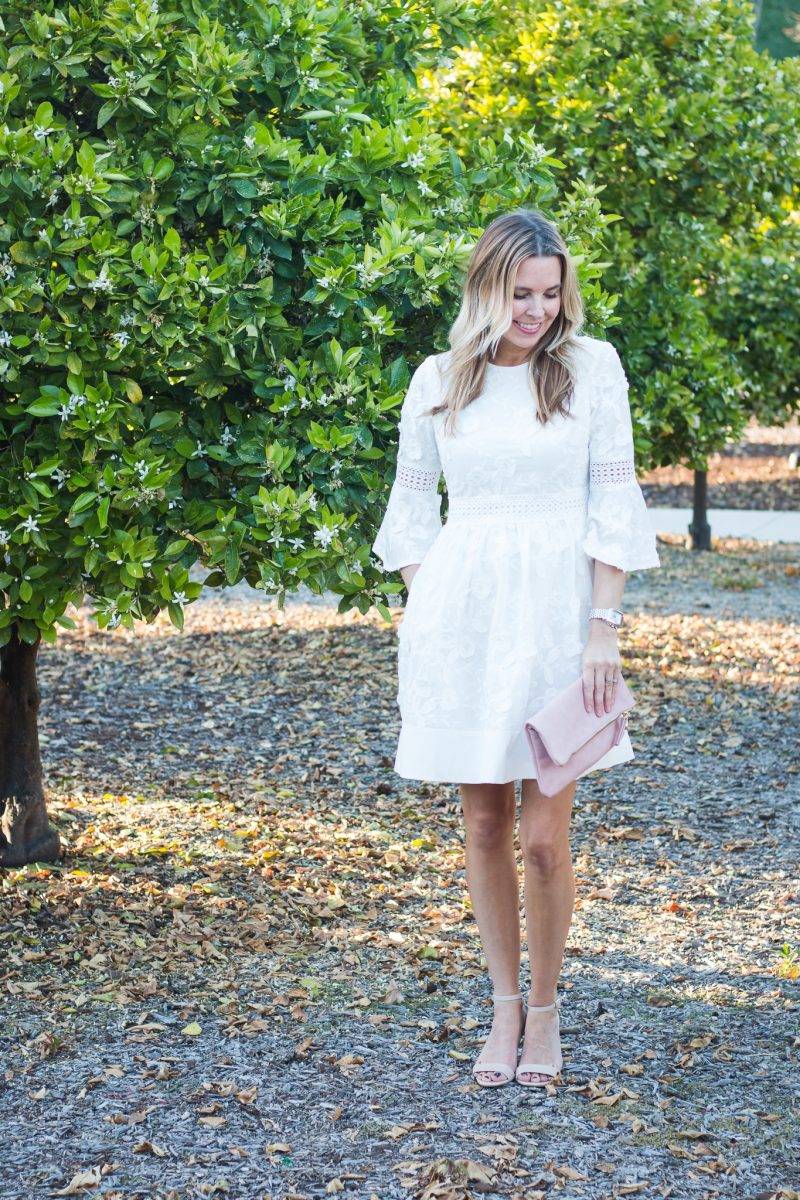 I showed you this from the dressing room but I wanted you to see it styled with heels and a handbag. I adore this dress. There is something about it. I think the texture of the flowers and the very subtle cutouts. It's just different and unique which is not always easy to find.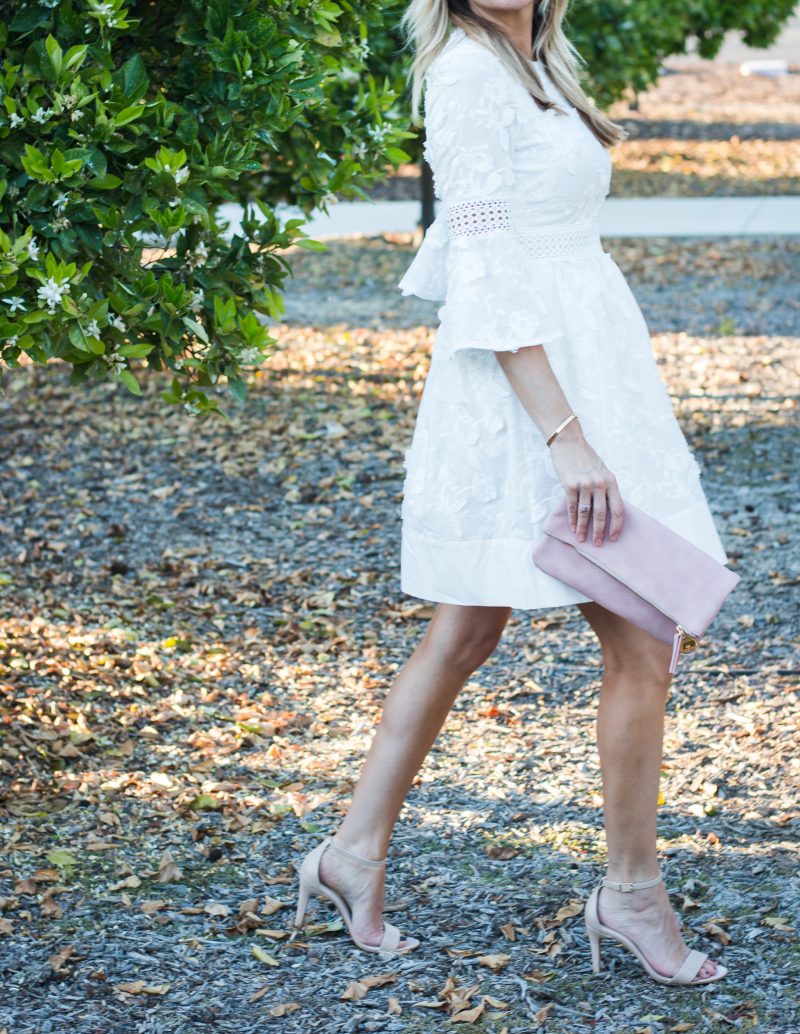 I mentioned this before, but I chose to buy this in the petite size. I am certainly not petite so I went up one size to a 6P (I'm 5'7″). What this did was raise the waistline on this dress for me. I don't love the traditional fit and flare dress on my frame so by creating a higher waist it's more flattering. However, if you love a great fit and flare, you should stick to the usual sizing on this dress. If you do go to petite, be sure to go up one size. The petite sizing makes it a bit more snug but I love the way it fits.
STYLING IT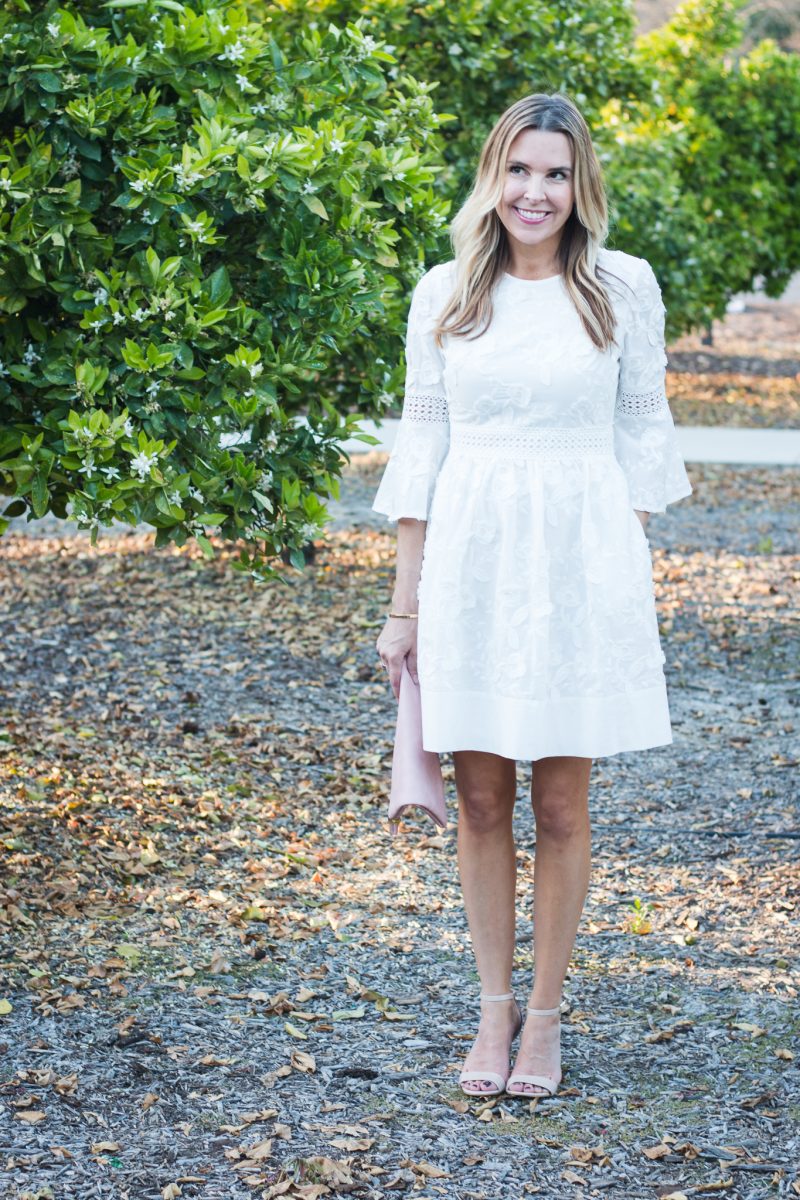 dress | similar clutch | heels | bracelet 
The dress is enough of a statement so I kept it simple with a nude heel and just one gold bracelet (this set can be worn however you wish which is why I love it). You can pair this dress withe pretty much any handbag. I would love to see it with one of the straw bags I keep seeing everywhere. So pretty. I love this one. My pale pink handbag is no longer available but I found this one which would be very cute with it. Having a strap is wonderful, too. It is 20% off right now. My Kate Spade straw clutch is on sale now and would be darling with this dress.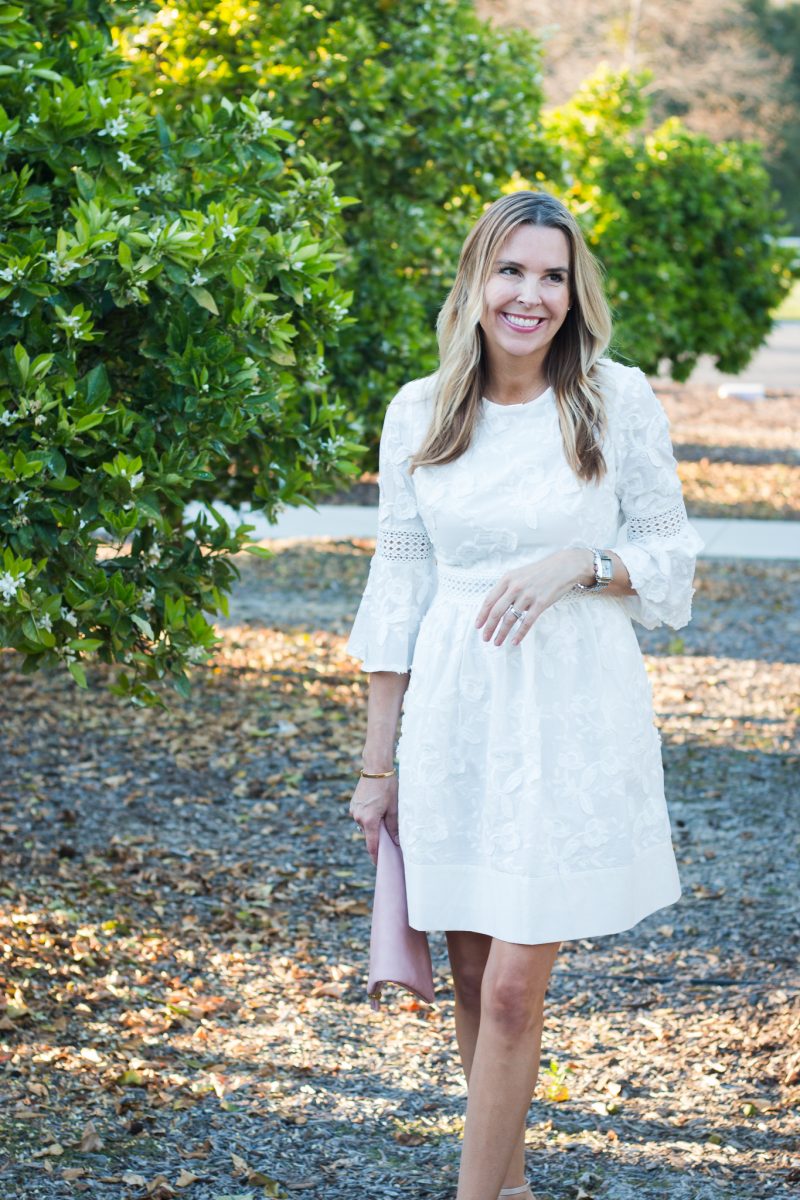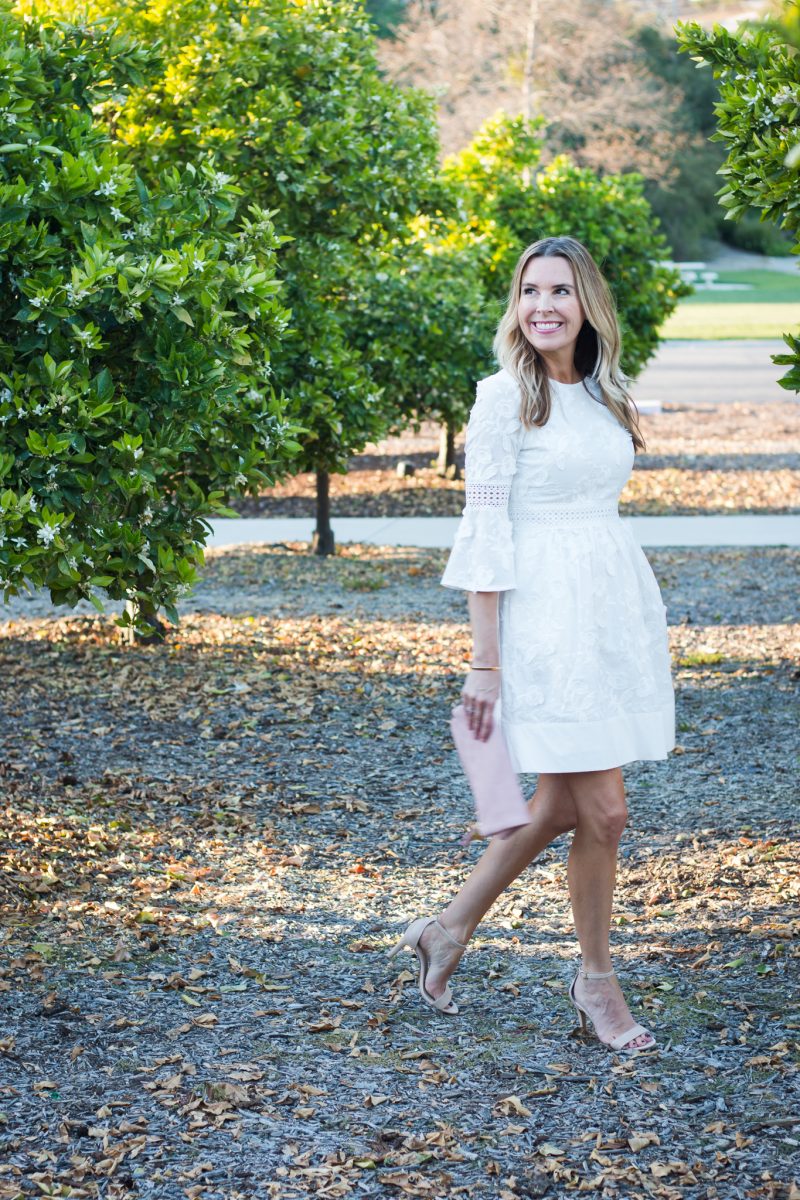 If you are looking for something a little more simple, this one has a similar feel. I like the lace detail. There really are some beautiful white dresses out there right now so I rounded up the styles that caught my eye below.
Little White Dresses

(scroll through to see more dresses)
DETAILS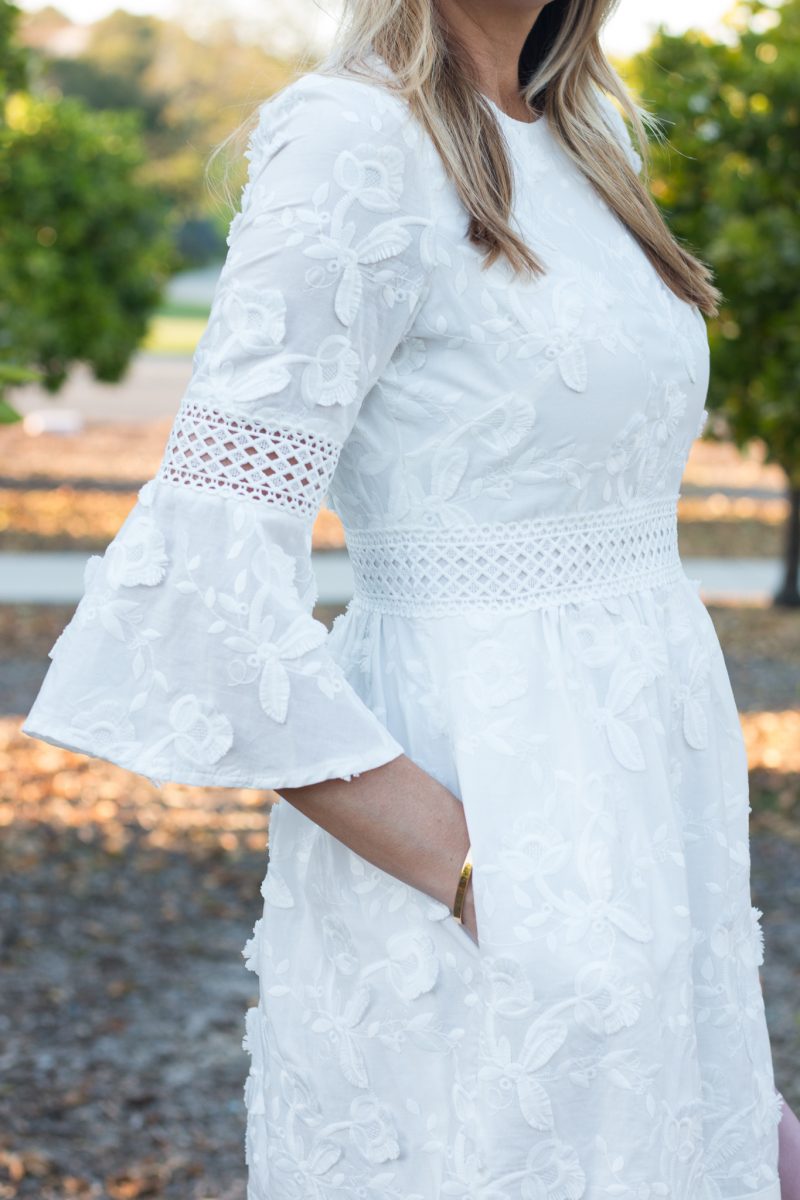 This shot lets you see all of the beautiful detail on the dress. I've only worn it to one event but received so many compliments and everyone wanted to know where it was from. Fun one to wear for sure. I do recommend having a spouse or friend help you zip it up as the pretty material is thick and it's a bit difficult to do on your own.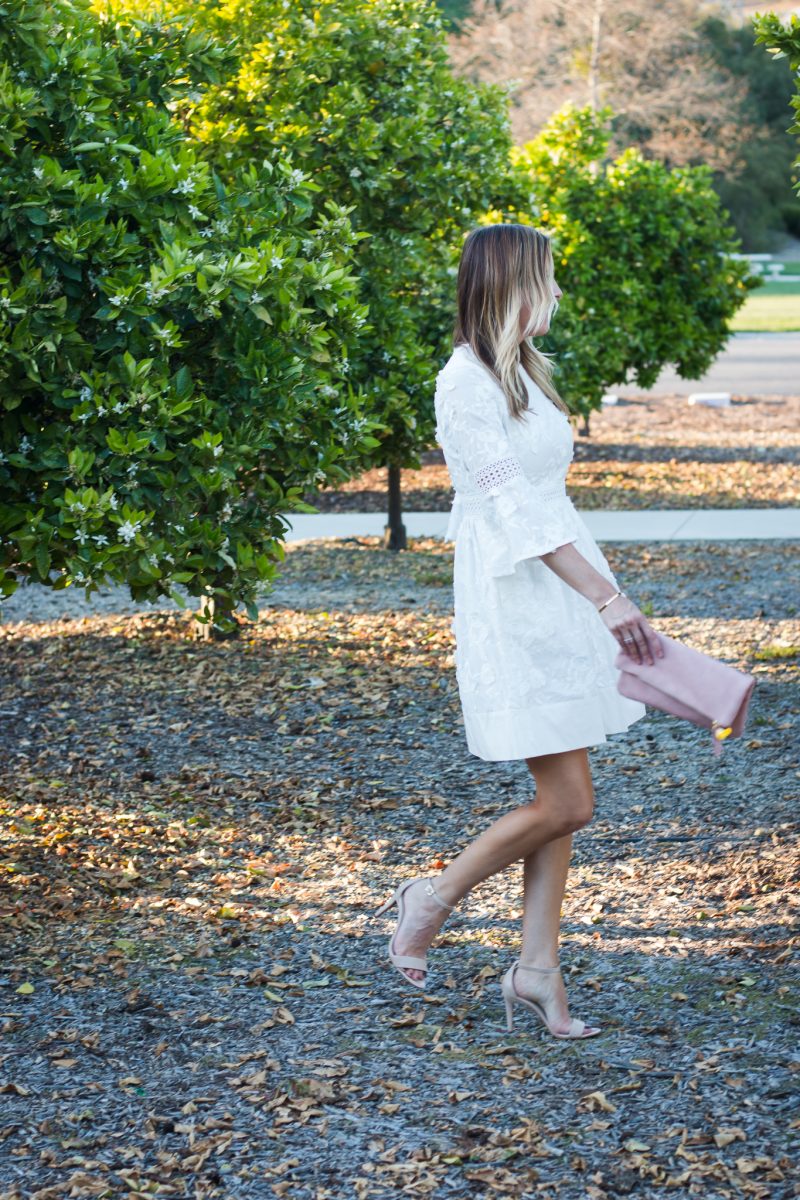 Do you have some fun places to go this Spring? Showers? Parties? We have a couple of fun events around the corner and I will be wearing this little dress.
Whether you're at work or home today I hope you have a great day. I have laundry to get caught up on as well as planning for the end of the year softball party. Time for a second cup of coffee. xo