Did you have a nice weekend? We soaked up plenty of sun and together time. We also busted out a couple of house projects I can't wait to show you. I added a new sidebar section on my blog that reads, "Style at Home." I receive many emails asking where I purchased certain things in my home. The problem is that I am big on collecting things over time so it really was a slow process. Having said that, I searched high and low so that I could put together a source list for this room. I hope it is helpful. I also deconstructed the room onto a style board so you can see how the elements came together and have shared my best tips for creating a room you love.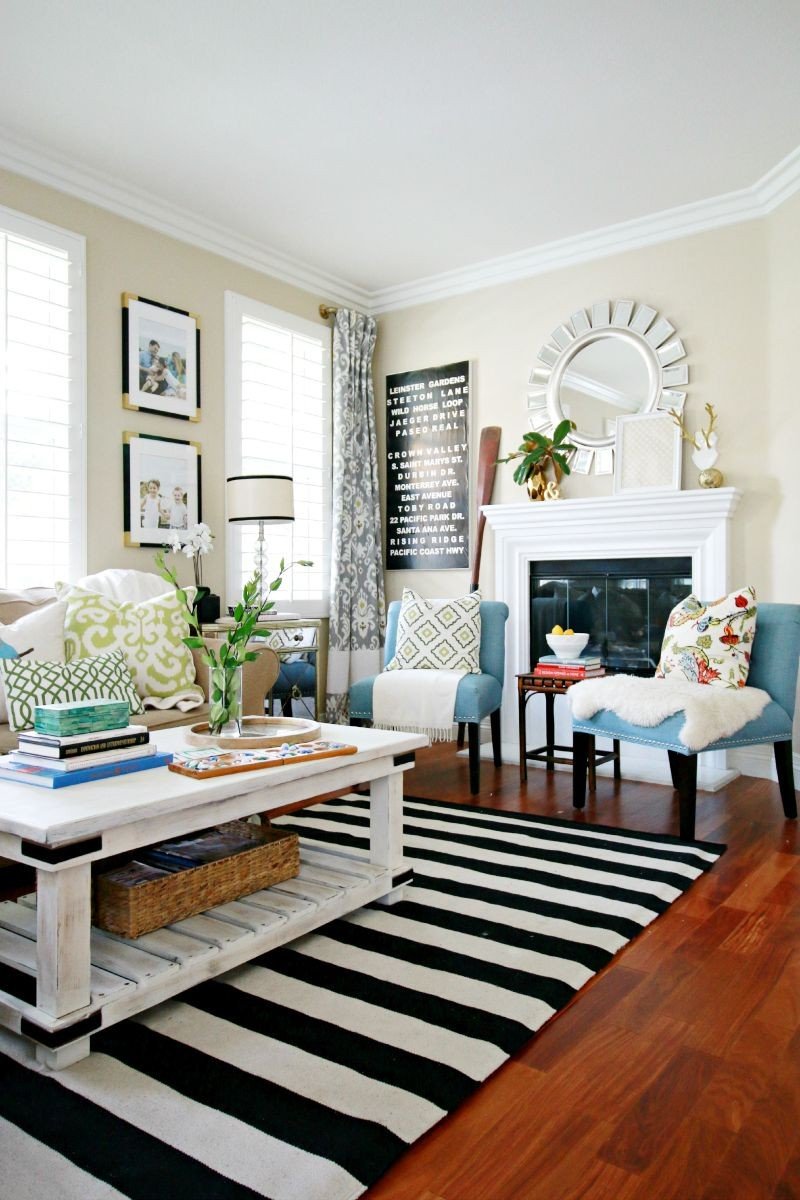 floral pillow | rug | sofa | frames | coffee table | mirror |  dresser | similar drapes
CHOOSE AN INSPIRATION PIECE
Anytime you are designing your own space, I really think you need to begin with a piece that you fall in love with. For me, this room was really built around the floral pillow. But no matter what it is, it should be something you love and carry it around with you as you plan your space.
INCORPORATE MEANING
Anytime you can infuse beautiful memories into a room it makes it that much more cozy and welcoming. There are many example of pieces that hold special meaning for us in this space. The subway sign (DIY project here) incorporates the streets my husband and I lived on growing up and throughout our adult life. The oar is a nice nod to my brother who I miss dearly. He had that oar in his last home. There is also a surveyor's box on the built ins (not shown in the photos) that belonged to my grandfather who was a contractor.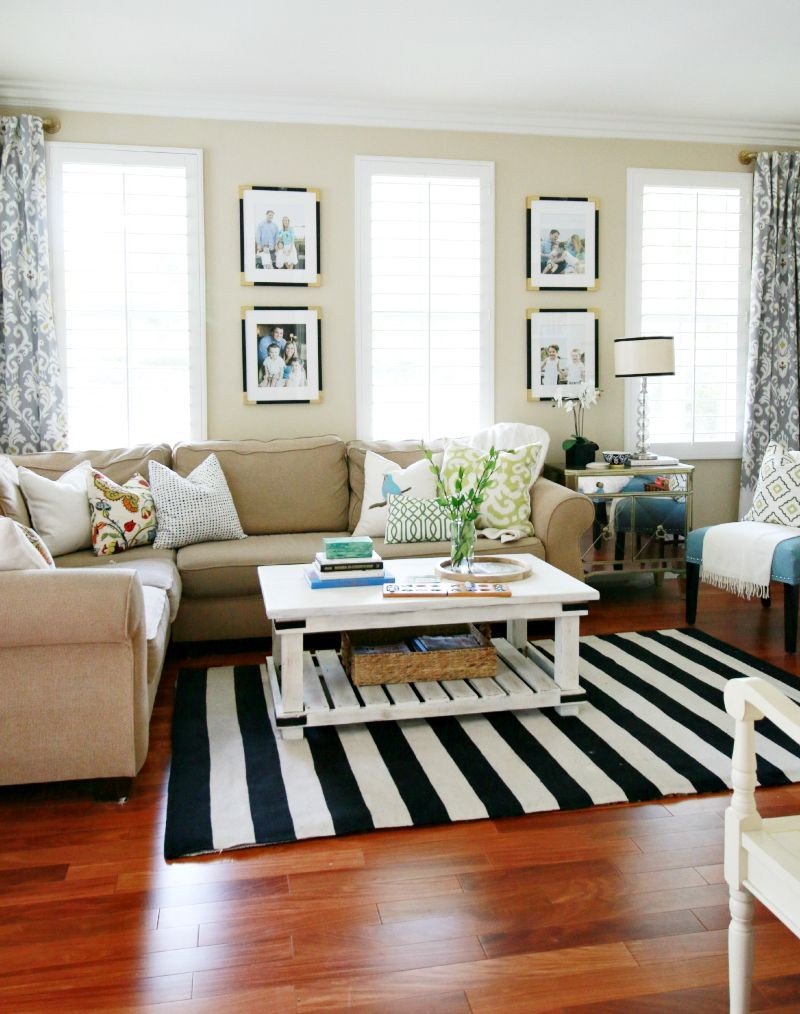 MIX IT UP
I also think it's key to keep things fun and exciting by mixing styles. If you walk into a store and purchase everything from that one store for a room it runs the risk of reading flat. While all of the pieces may be gorgeous, it will lack a collected look. For example, I am never afraid to mix rustic with modern and glam with traditional. In fact this room has some of all of that.
TAKE ON A DIY
Don't be afraid to get your hands dirty. You don't have to be a DIY pro to make a few unique touches. For instance, I took typical black frames and added gold corners (DIY here). That was before they sold gold duct tape so it's even easier now! The drapes (bought at HomeGoods) were too short so I added white panels to lengthen them (DIY here).  Very simple sewing project that only requires a straight line. You could even use hem tape if the sewing machine scares you. The lamp shade got a little enhancement with simple groisgrain ribbon. The black ribbon is wrapped around the shade and secured with a dab of hot glue. We also painted the coffee table. It is from here and came in a light brown. We liked it, but it matched our sofa. Oops! I love it in this white washed finish and works well in our space.
Our blue chairs were a HomeGoods find but I added nailhead trim to each of them to give them more detail. In all fairness, my hubby did that. . . it was just my idea. He is such a good guy for going along with my crazy ideas.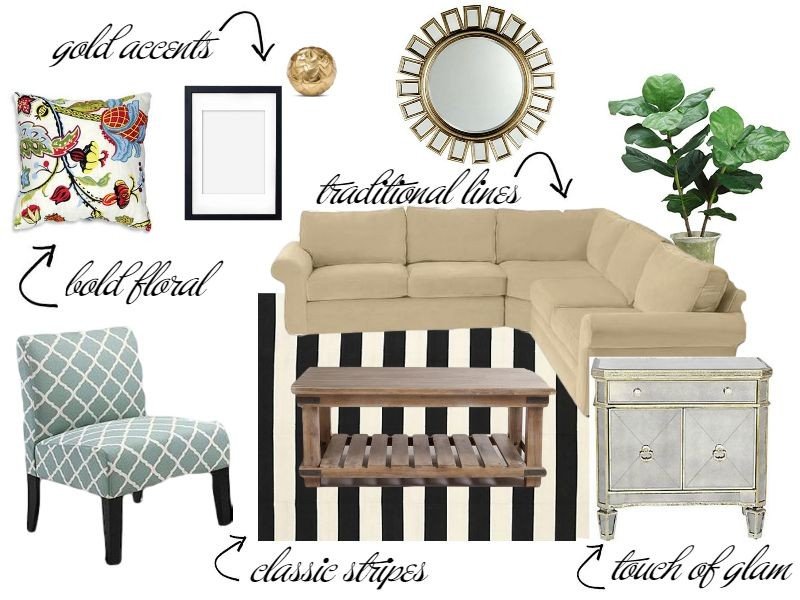 INCORPORATE GREENERY
Green is always good in a room. It's a true neutral in my book and adding life to a room is so key. The photos above show green stems cut from my yard and now we have a small fiddle leaf fig tree.
CONSIDER TRADITIONAL BASICS
Like I said before, don't be afraid to mix styles. I think that when you invest in larger pieces (sofas, chairs, tables) you may want to consider pieces that are traditional and can stand the test of time. Not your entire lifetime (furniture isn't made that well anymore) but a good amount of years so that you can change things up by swapping out the less expensive accessories. We get asked about our sofa at least twice a week. It had to be custom made from a local sofa store because of the tight space. However, we gave them this photo and told them to copy it with the dimensions we needed.
By the way, we bought our rug at HomeGoods which I can not source for you, but I recently found this one! I LOVE my black and white striped rug. I have not tired of it at all. We swapped it out for a lighter gray and white striped rug for the summer months, but the black and white number is back!
Shop This Room

I hope the source list and tips help you when you are jumping into a new space. Or maybe you are looking to update a current room. Most importantly, go with anything that makes you happy. Trends come and go and styles evolve and change. . . when you create a space you love, that is all that matters.
In unrelated news, I am thinking about buying this dress from  the Lilly Pulitzer sale because it will be so cute for fall with booties or even with tights and boots. Love a great sweater dress!
*paint color is Cochise by Dunn Edwards. Some affiliate links used.