Good morning. With the cold mornings, it's definitely time to pull out my sweaters. I stopped into Loft the other day to do a quick walk through and ended up trying on a few things. I love their sweater collection and Lou & Grey has some really cute finds as well. Here are a few Loft finds for Fall.
SOFTEST PULLOVER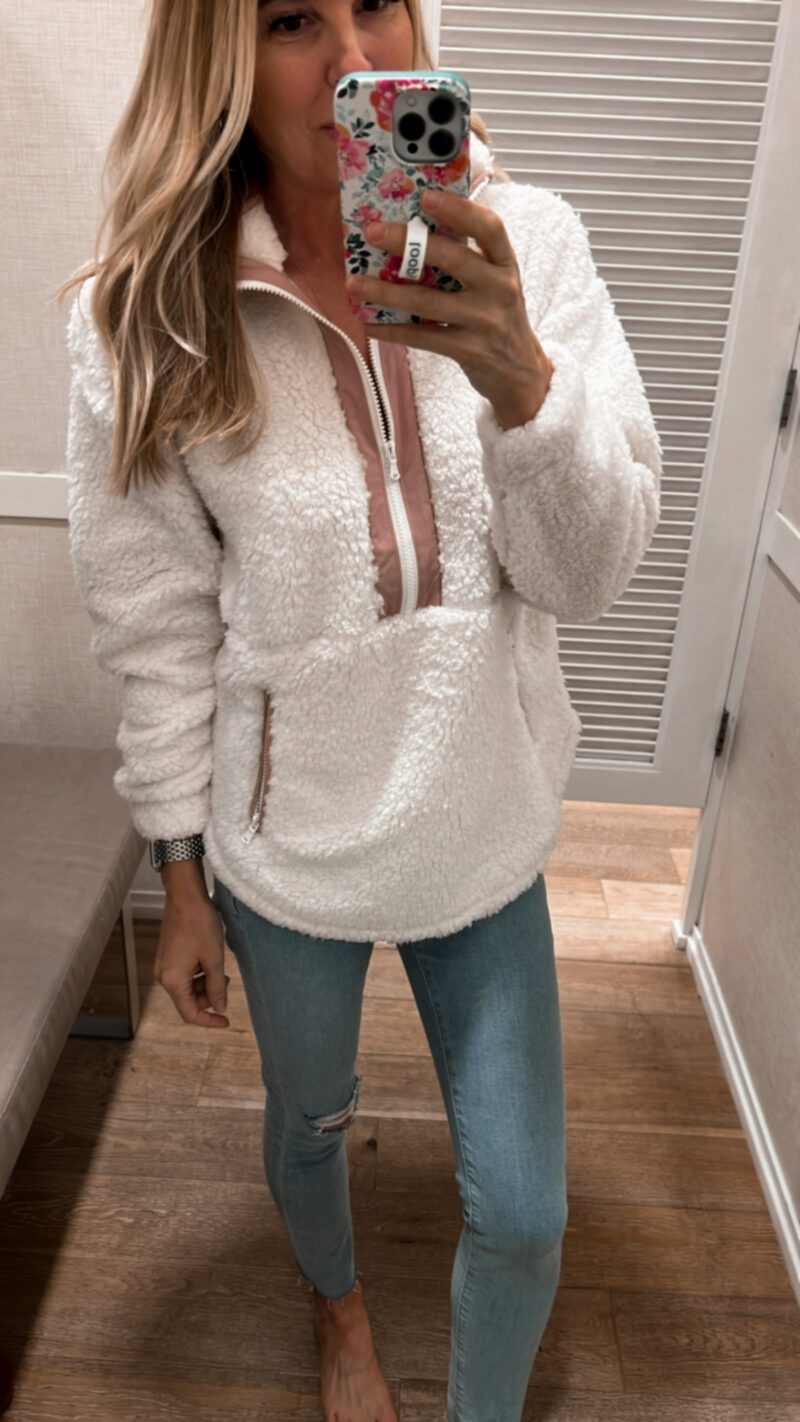 I happened to try this zip up on last and I didn't want to take it off. No exaggeration. It's made by Lou & Grey so you can rest assured it's beyond soft. This sherpa jacket gets two thumbs up from me. The cut is what really makes it darling.
HOW IT FITS: Definitely size down. This is the XS and I am normally a small. It does run big but I loved the way this size fit.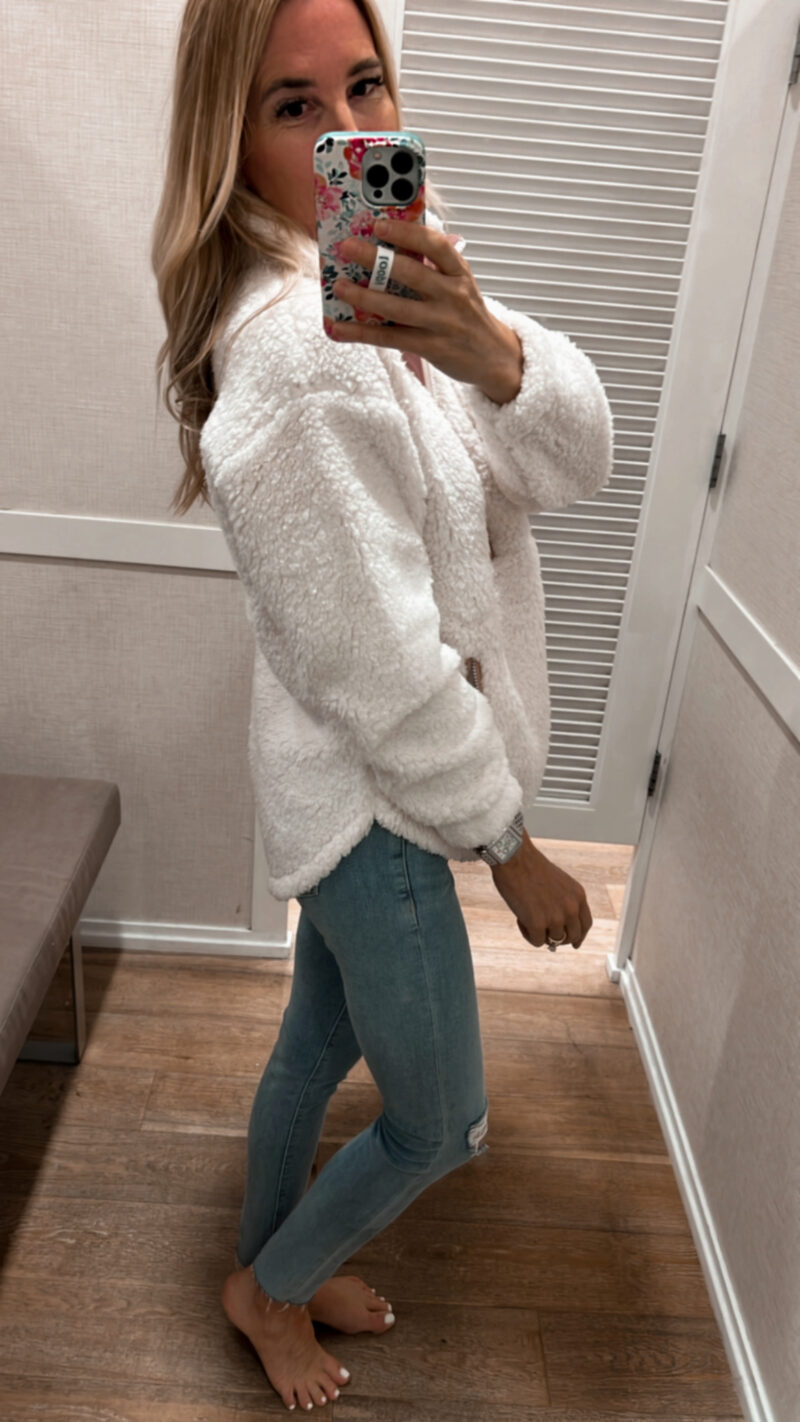 I especially love how this super soft pullover dips down further in the back. All around a great, cozy find for cooler days. It comes in one other color and is now 30% off with code: LOVEU.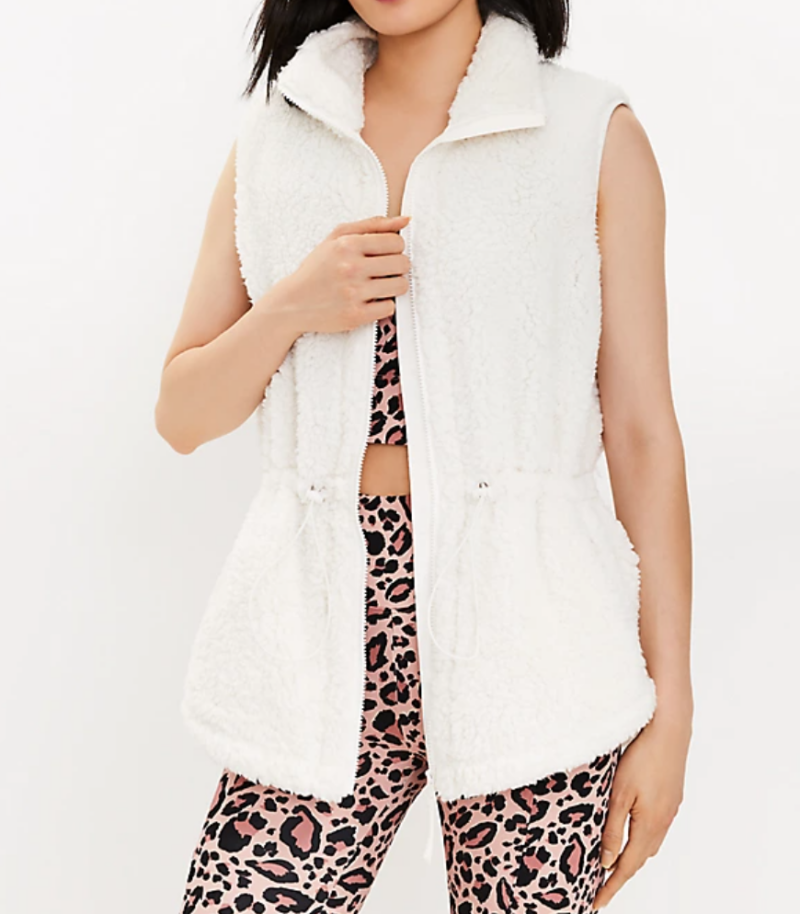 This is the sleeveless version and I really wanted to try it on but they only had one size left in the store. It's going to go quickly because it's so soft and versatile. And the length is really good. It's extremely soft and cozy.
MAD FOR PLAID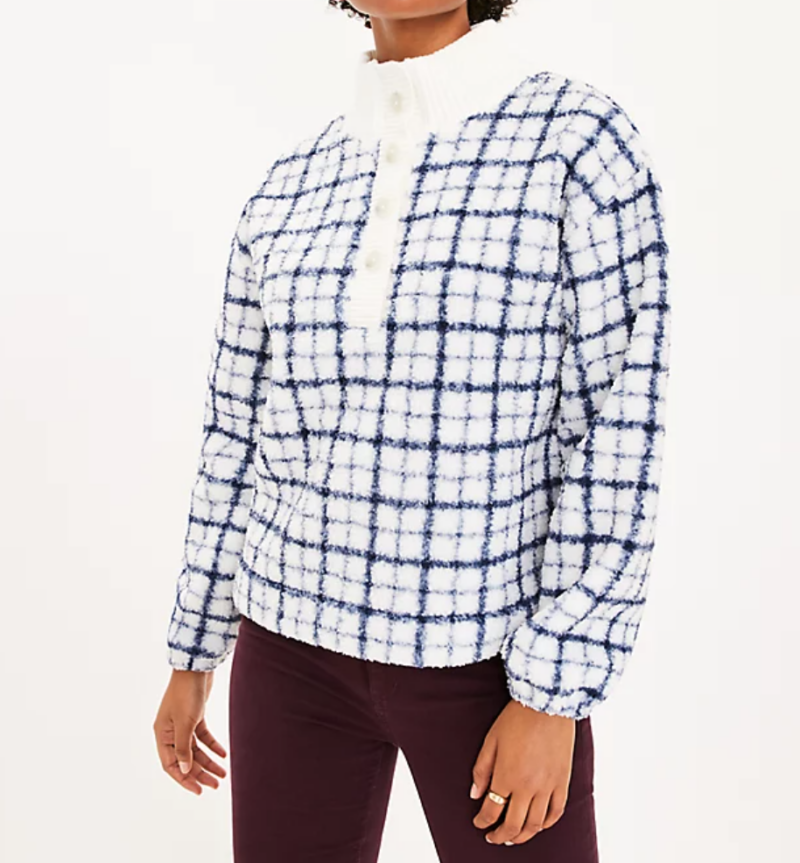 This caught my eye because of the cute plaid print. You don't always see a pattern like this and the softness is unmatched.
FEMININE STRIPES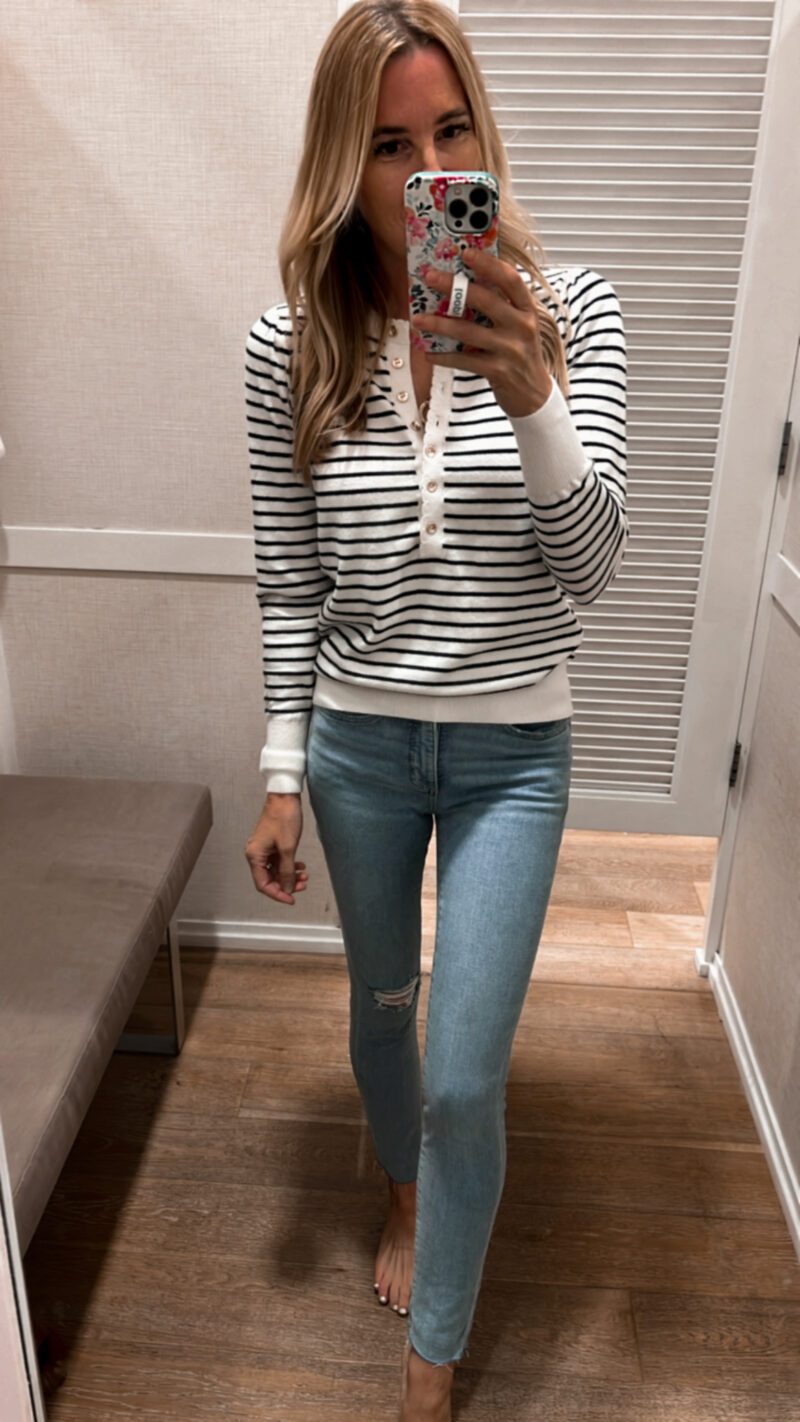 A darling striped sweater. I like that it sits at the waist and has a nice silhouette. This is the size small. These jeans are a screaming deal. I think they are 40% off with an extra 30% off. Go with your normal size. This is the 24 (they didn't have a 25 in store) but would have preferred my usual size.
A close up of this cute sweater so you can see the pretty gold buttons and scalloped detail.
SOFT GREEN SWEATER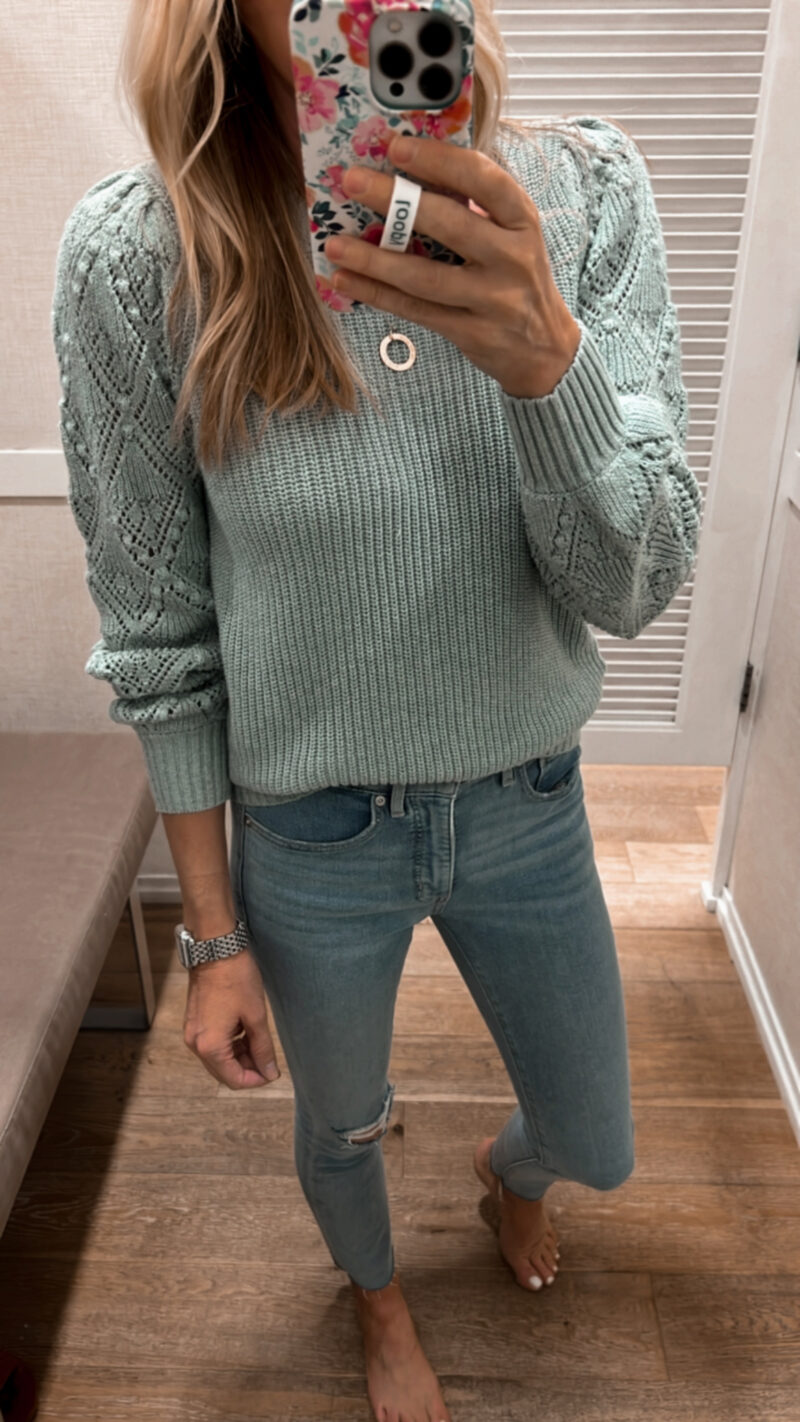 This vintage green sweater is the perfect shade of green. It's so soft and pretty. I like the slight puff to the shoulders and the pretty sleeves.
DARLING PLAID BUTTON DOWN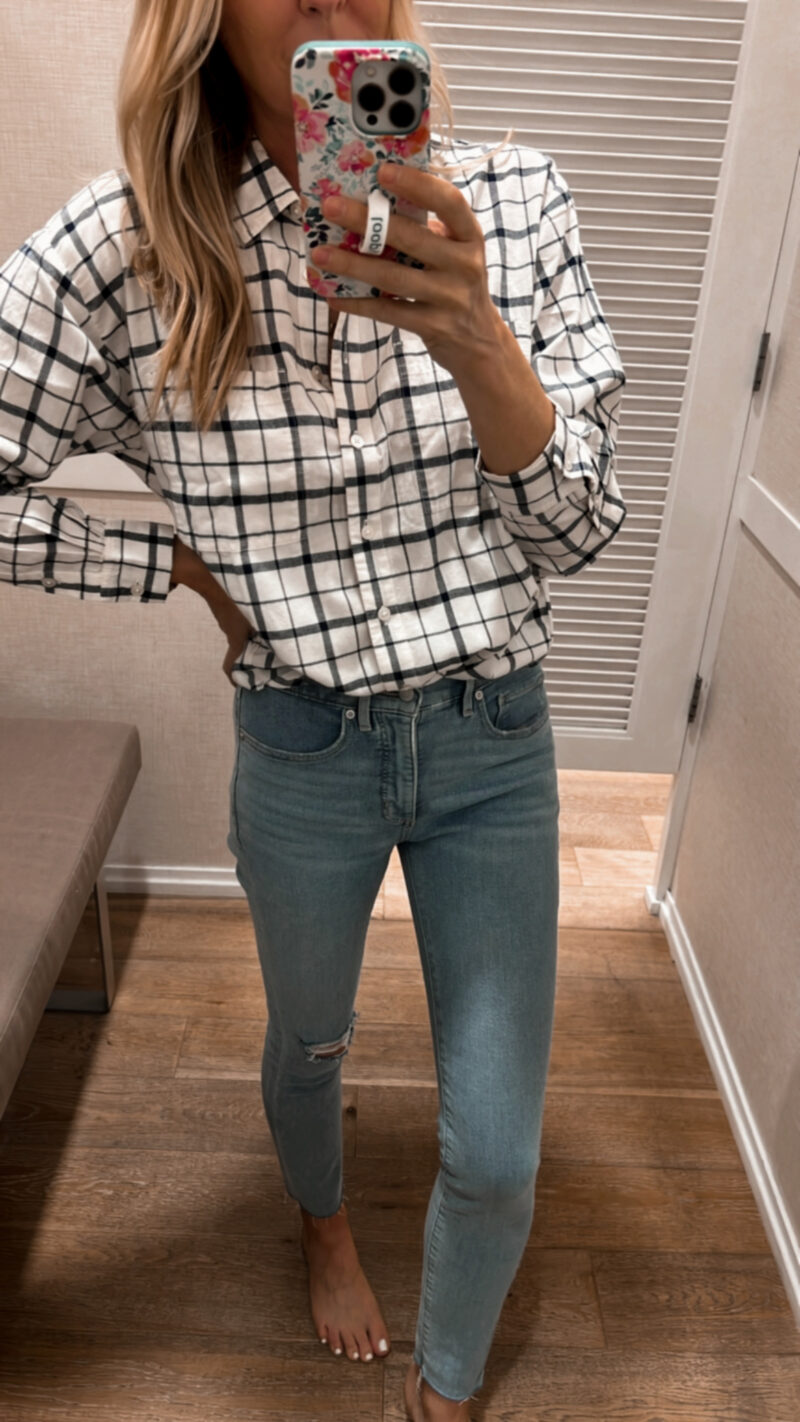 If you are looking for a cute plaid button down, this one is adorable. The blue is a bit lighter in person and a nice weight.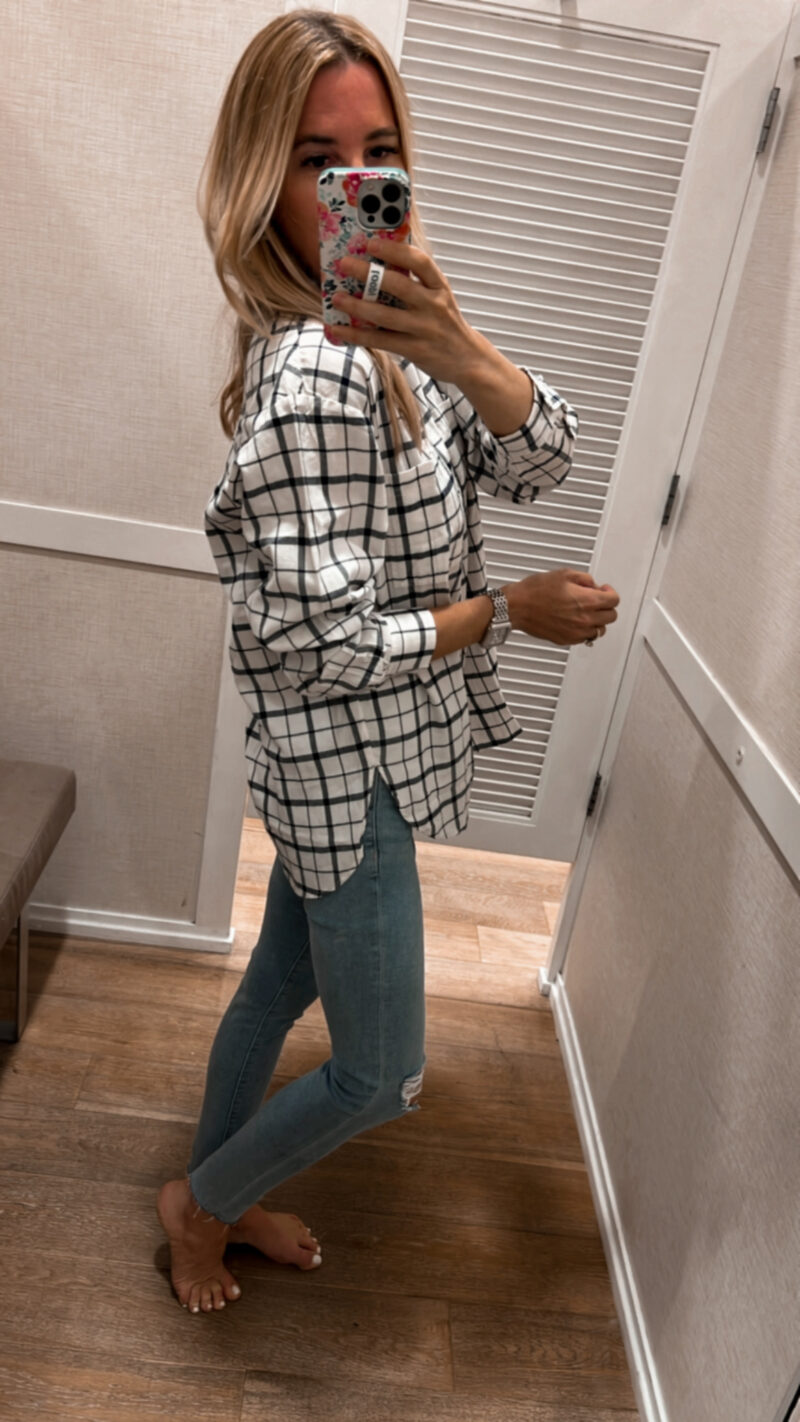 Wanted you to see the button down untucked. You could easily layer it over a t-shirt or tank. Love how long it is.
PERFECTLY PINK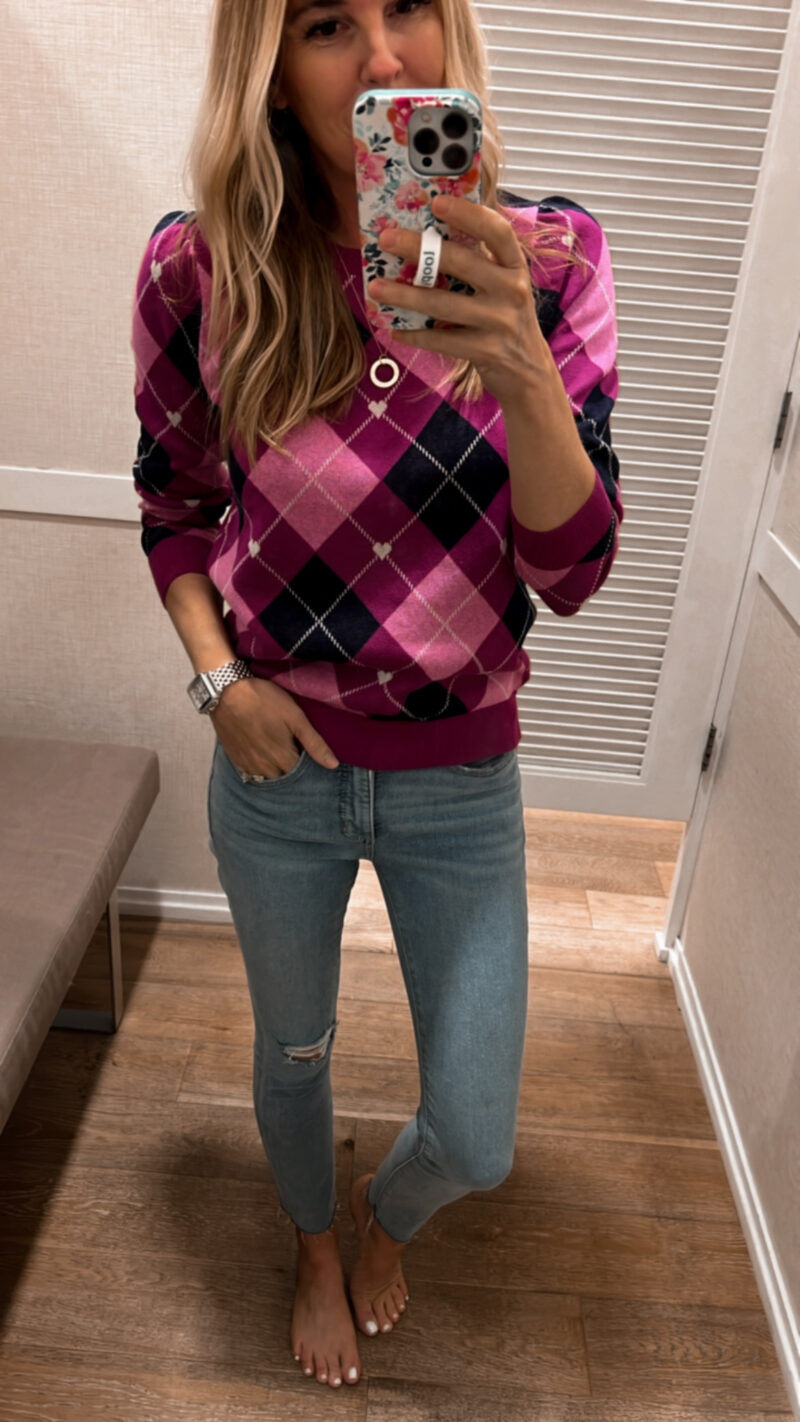 Love, love, love. This is just a happy sweater. Such sweet colors and a classic argyle print.
Definitely a fun one. This is the size small.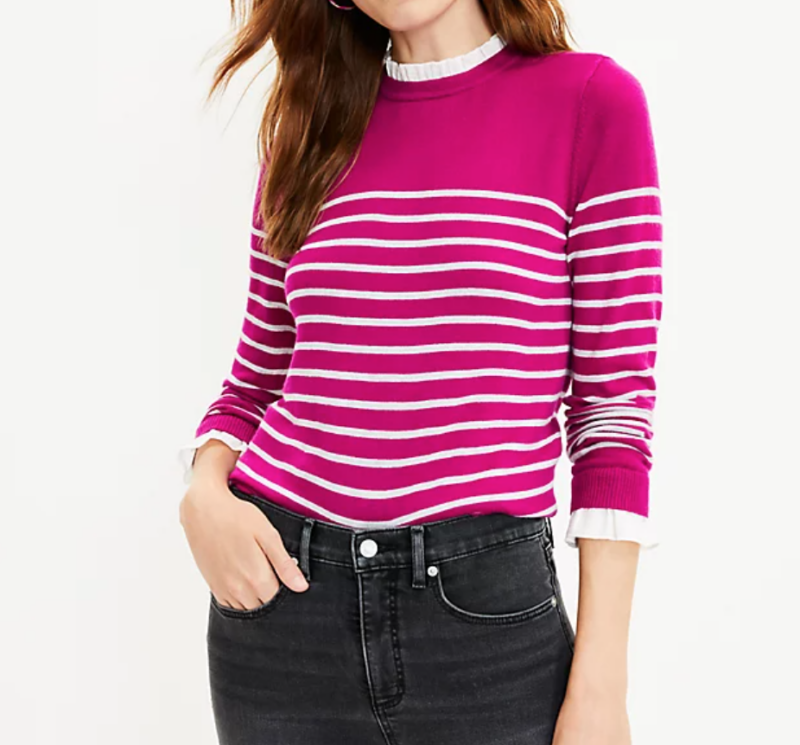 Yes to this! This is a bright, vivid pink in person and I really liked the small ruffle detail at the wrists and neckline.
GREAT FOR THE OFFICE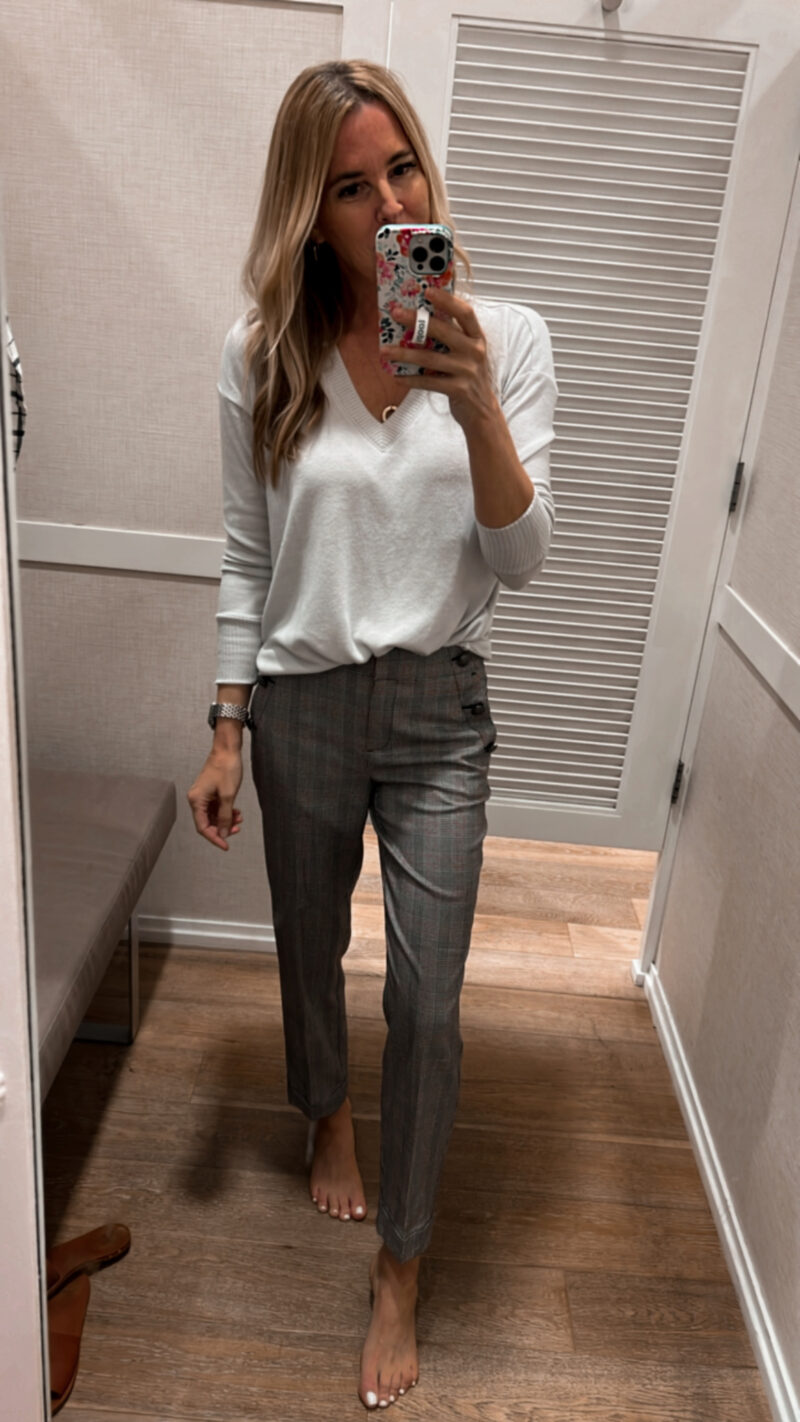 This might be one of the softest tops I have felt in a long time. It feels glorious. It comes in a handful of colors but this is the Manhattan Mist (I also loved the Pure Pearl).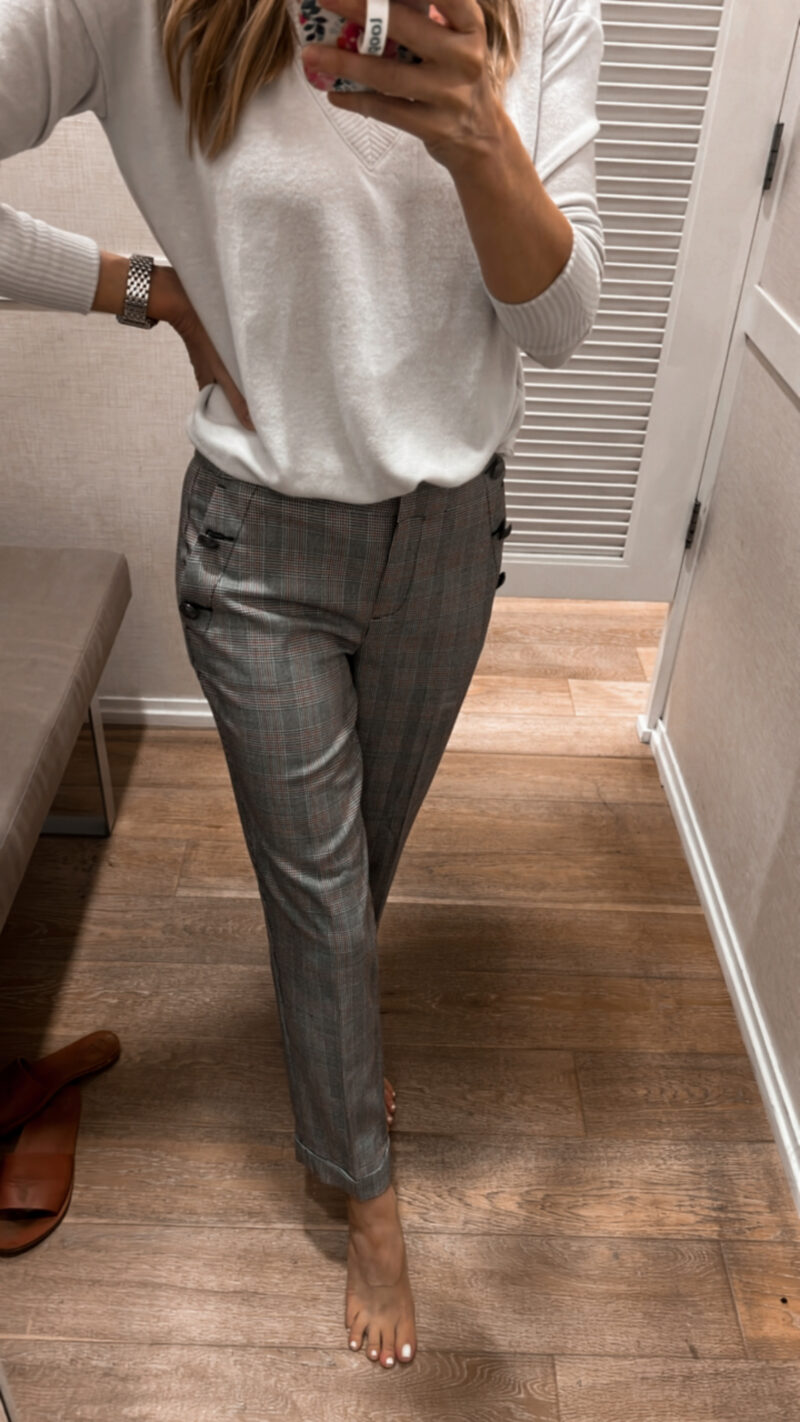 The plaid pants are really cute, especially with the button detailing. I always go down a size in pants at Loft. The print is darker than the online photo and a great plaid for the Fall season.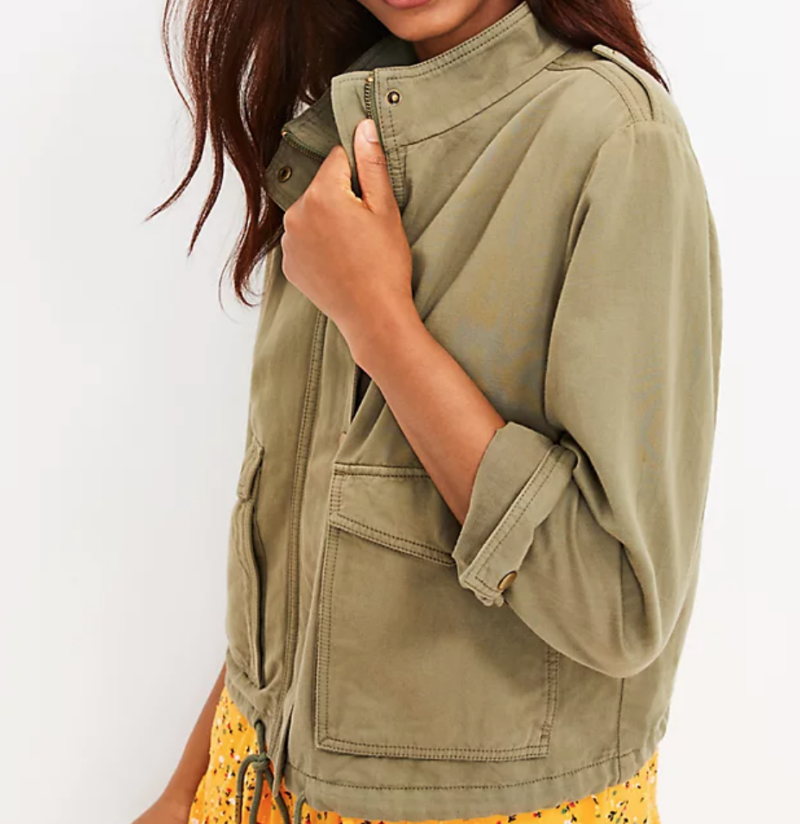 I had seen this jacket online and was so hoping to try it on for you, but no such luck as it is sold out in my store. I just think this is so darn cute. On sale, too!
FALL LOOKS FROM LOFT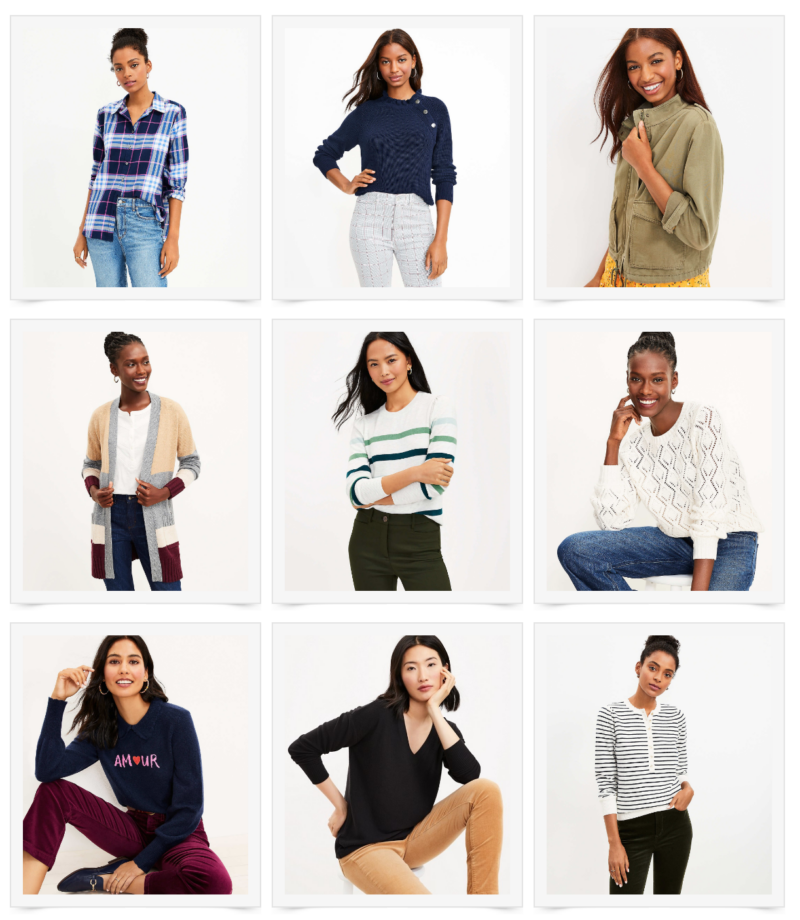 A few more darling finds for Fall. The striped cardigan is great in person and has a belt that can tie around it, too. The Amour sweater has a really cute collar detail on it.
SHOP THESE LOOKS

Are you temps beginning to cool down? I absolutely love this time of year and look forward to the cozy Fall looks. And because I haven't had the true four seasons for most of my life, I'm loving being able to completely switch up my wardrobe. Have a wonderful day.