Good morning. Not too long ago I shared that I went into Loft and fell hard for the Spring line. I definitely gravitate towards neutrals and you can see that try on session here. But today I am sharing all of the beautiful Spring colors. Use code, "YAY" for 30% off. I have to say, this try on session taught me that I need to break out of my neutral mode a little more often. Here is the Loft try on Color Edition.
LOFT SPRING COLOR EDIT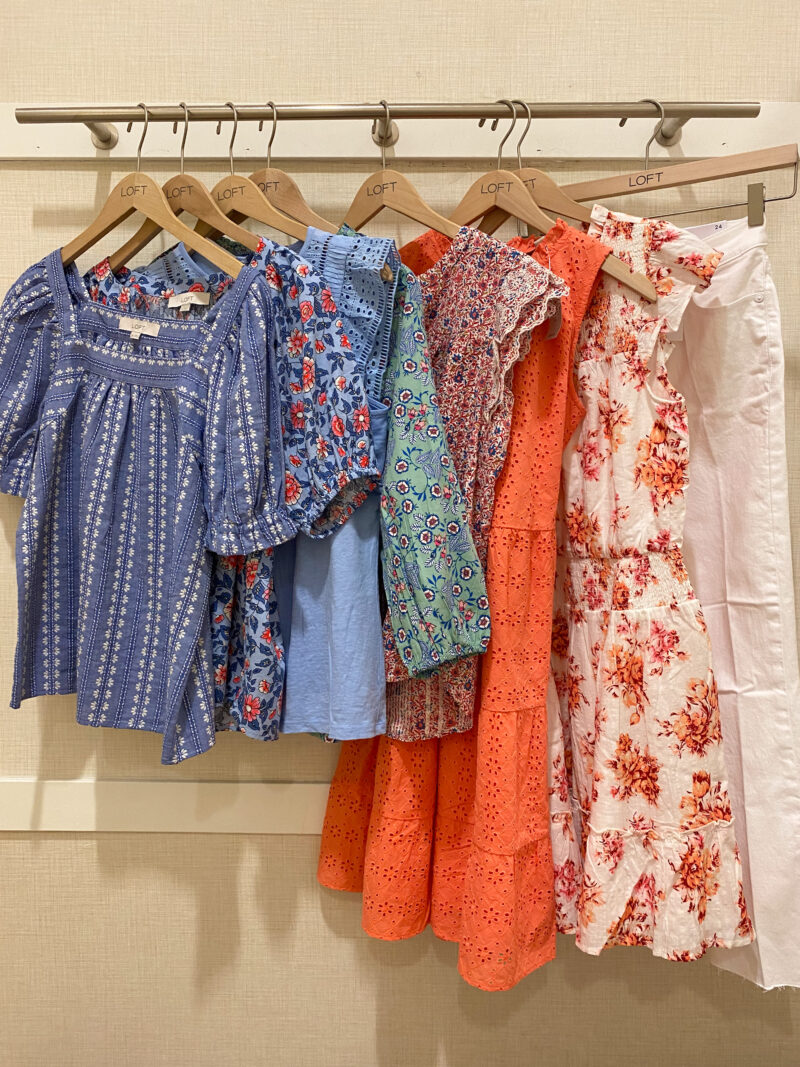 PINK SPRING TOP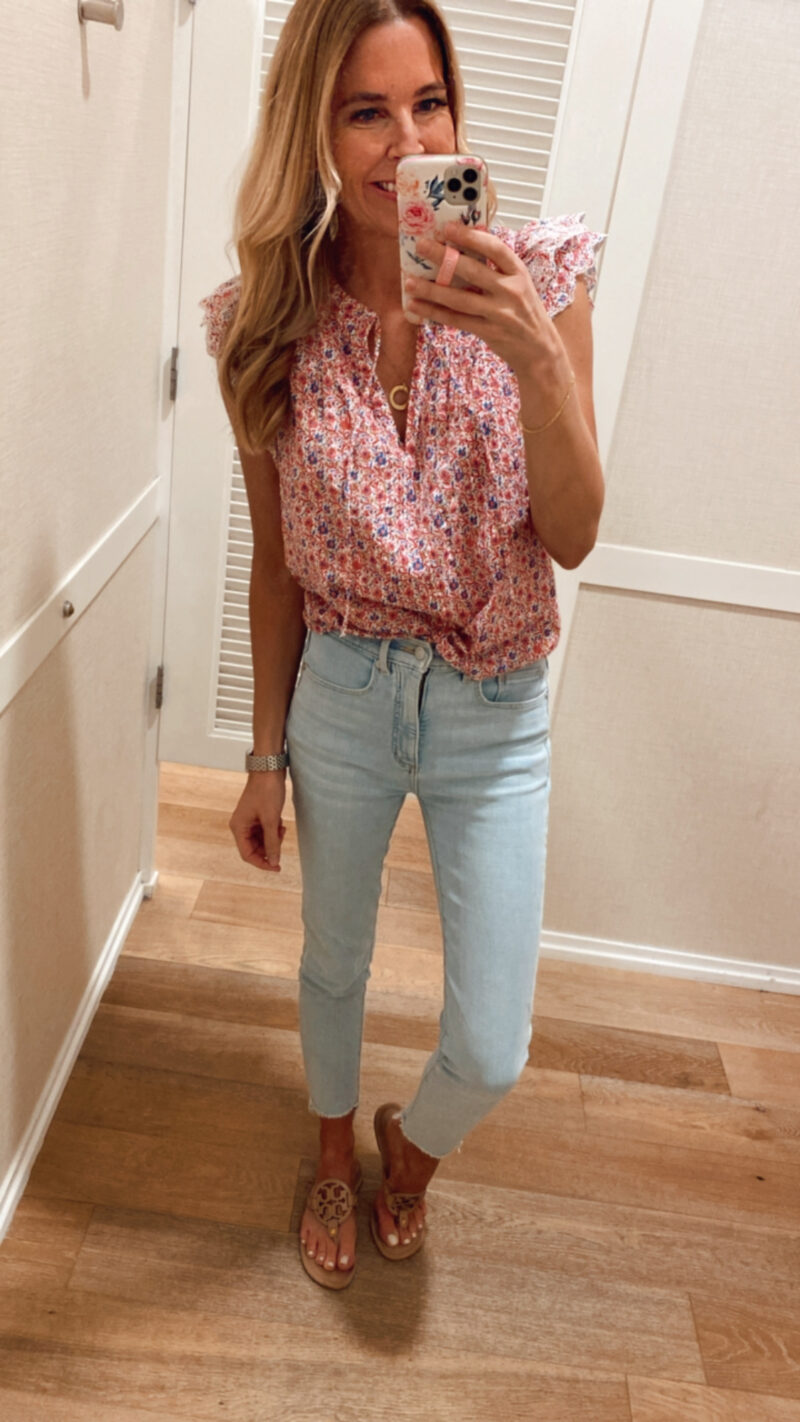 Girls, this top is a good one. It's so cute. Each sleeve has two ruffle layers, it falls nicely and is a beautiful print.
I'll show you each outfit from afar and then close up so you can see the print. Love this top. These are the jeans I bought last time I tried on and I have worn them at least 5-6 times already. Adore them ( I sized down one as they do stretch out and I like them fitted).
PRETTY BLUE TOP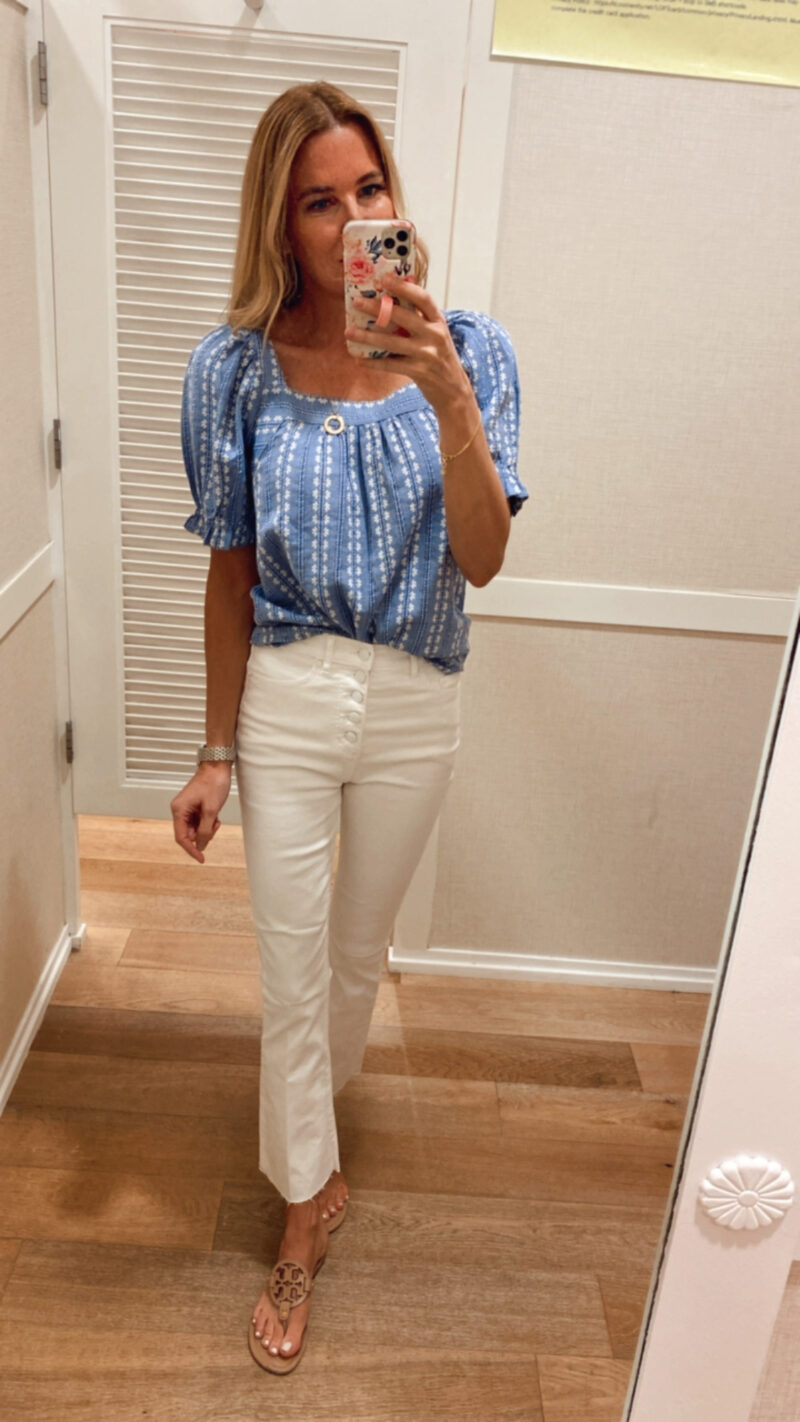 Five stars for this blouse. Love everything about it. I went down one size in this (this is XS).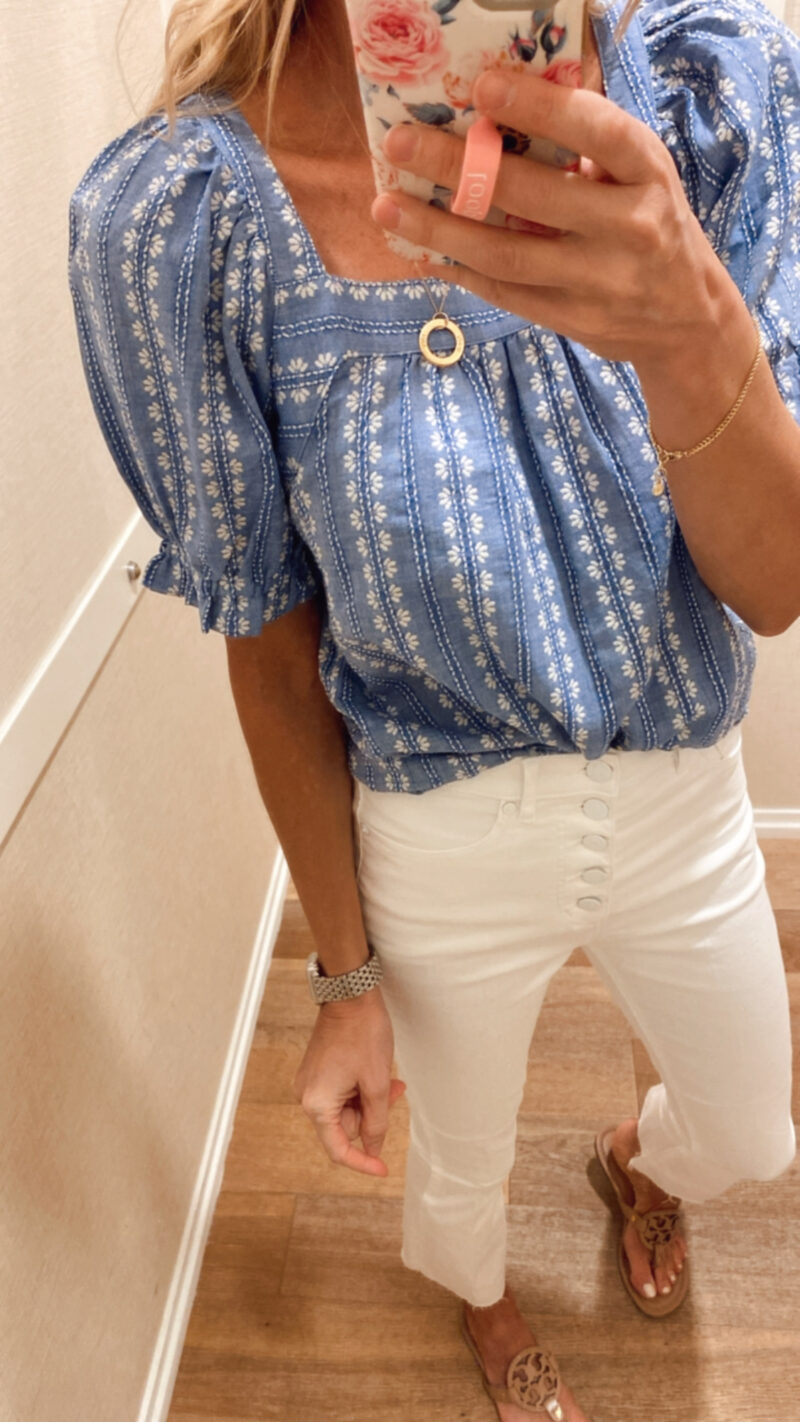 Love the weight, colors, and fit. A great top! So darling with white for Spring.
LOVE THIS ONE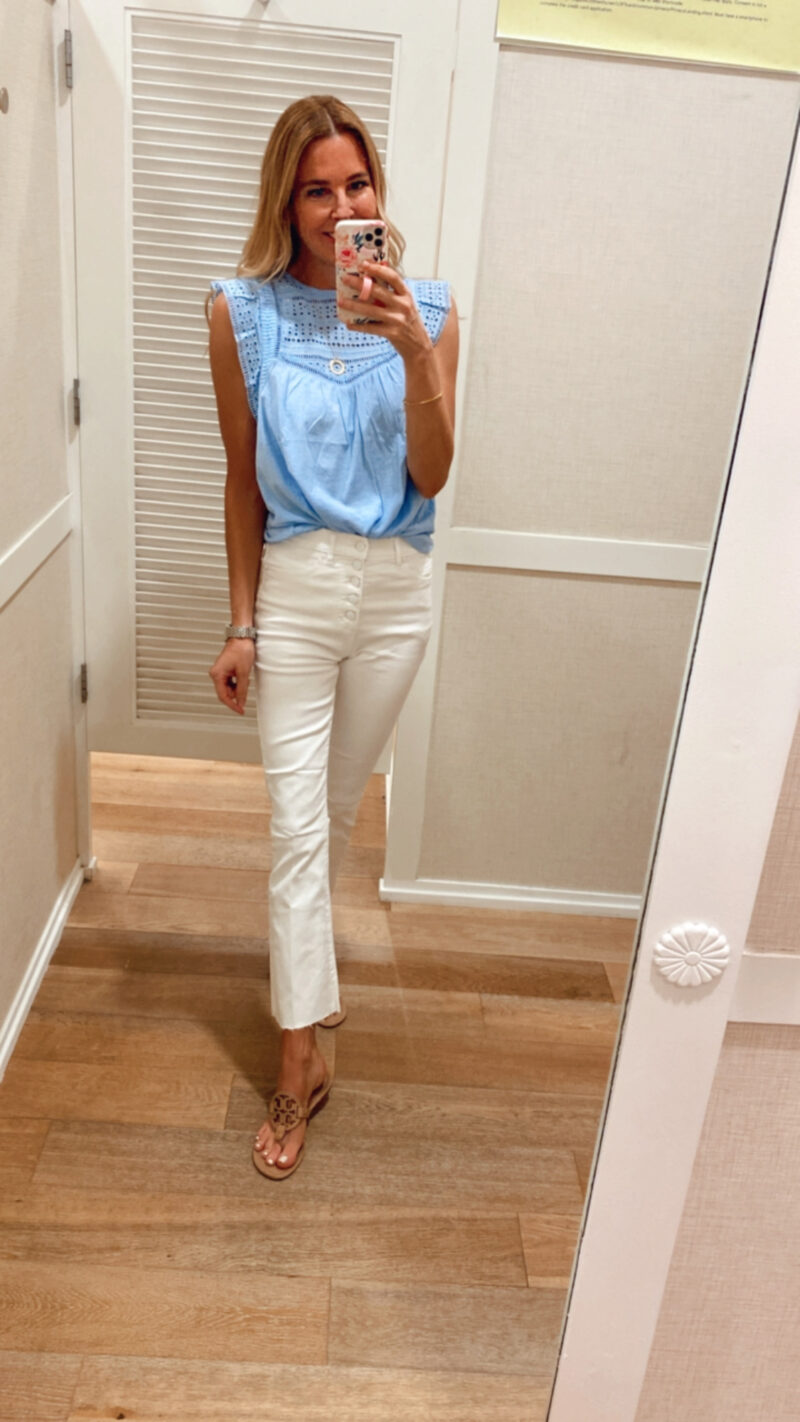 This eyelet cap sleeve top is a huge yes from me. I like everything about it. It's a flattering cut and darling look. It is also available in cream and navy.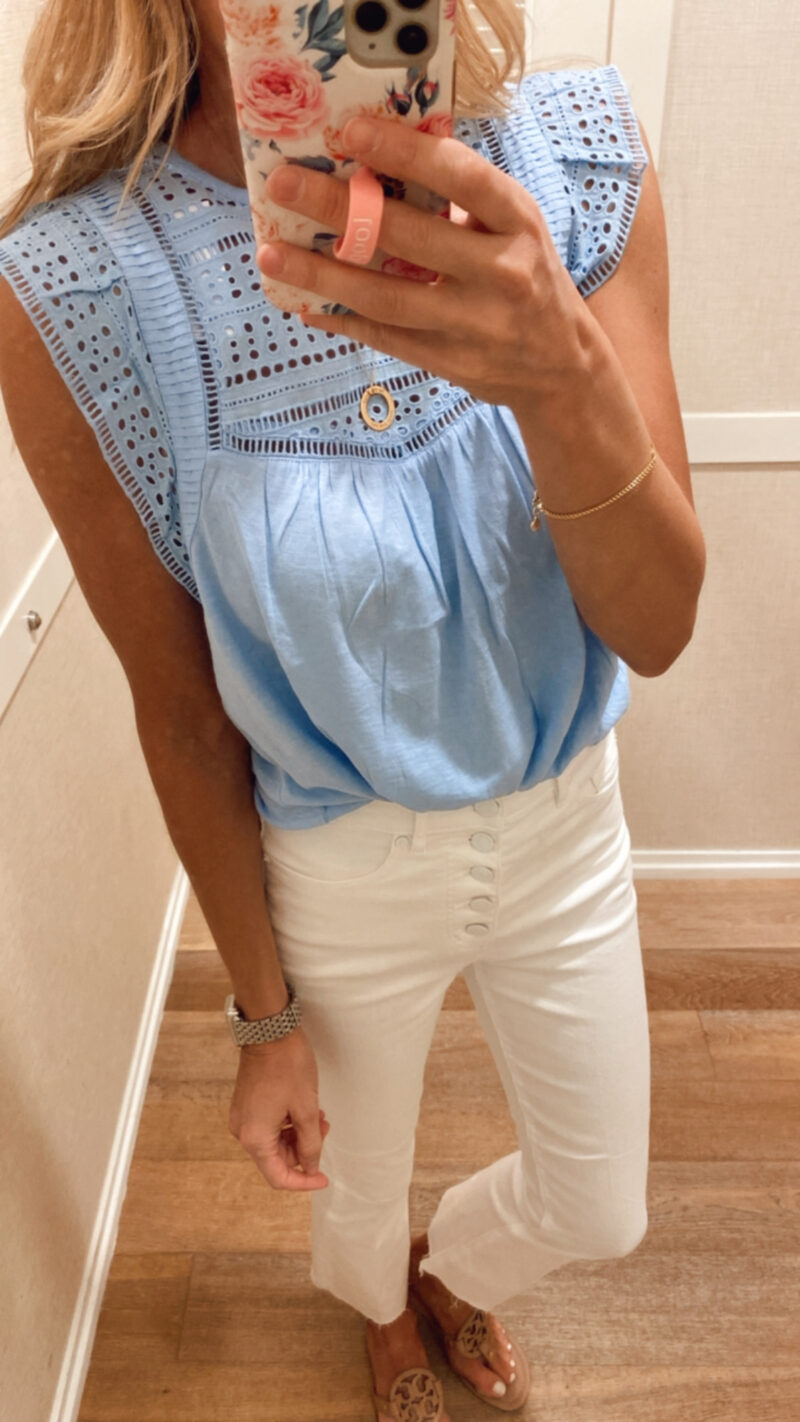 top | jeans | sandals | similar sandals
I did splurge on these sandals a couple of years ago. They have held up well and I wear them all the time. But this pair is very similar and $40.
The white jeans are darling. They are very thin so you have to be ok with that. I just really like the cut and the white buttons. They are different than anything I already have. I went down one size because sadly I don't have many curves. I did notice that they come in a curvy fit, too.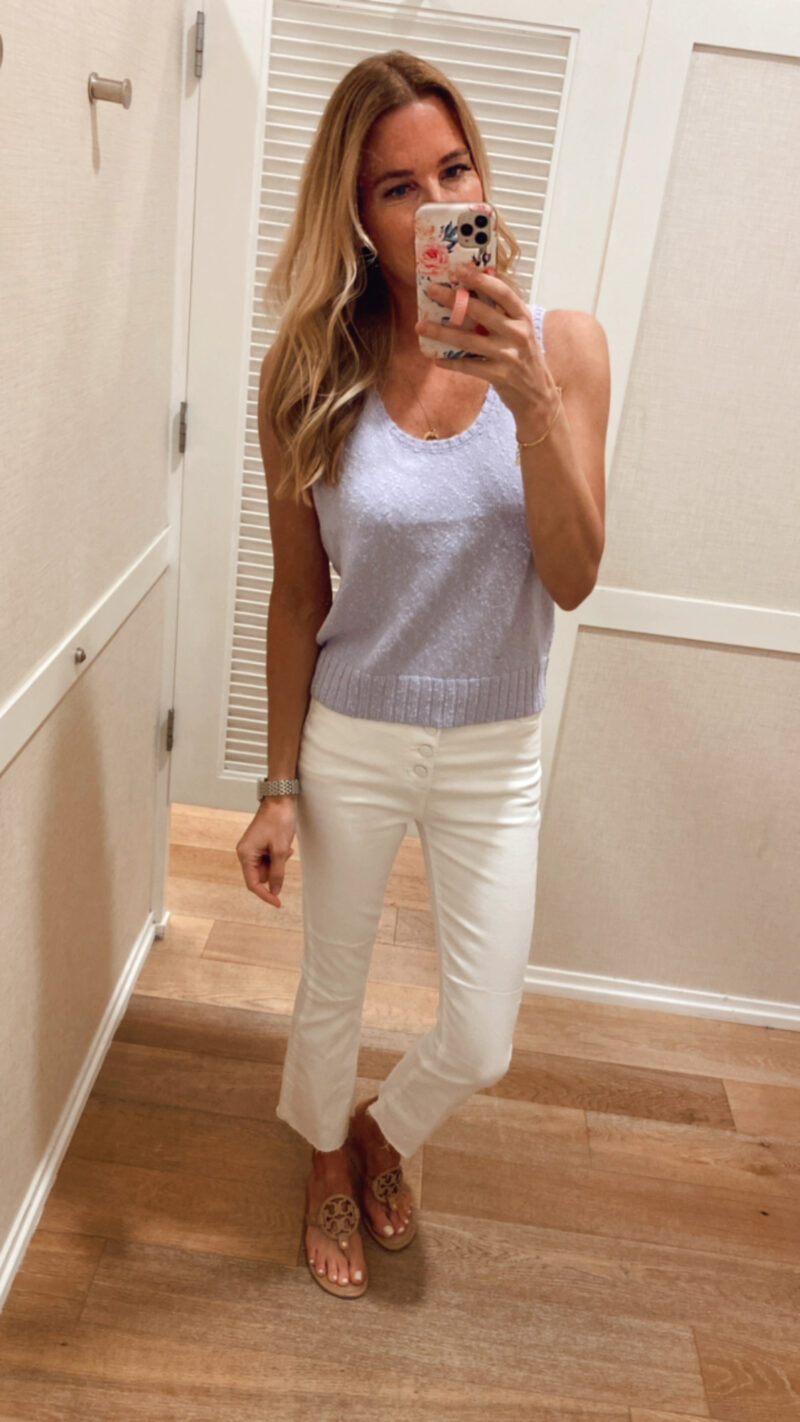 I've always loved a good sweater tank. This comes in different colors and has a boxy cut. I love wear it rests on the waist (not cropped).
PRETTY LAYERING TANK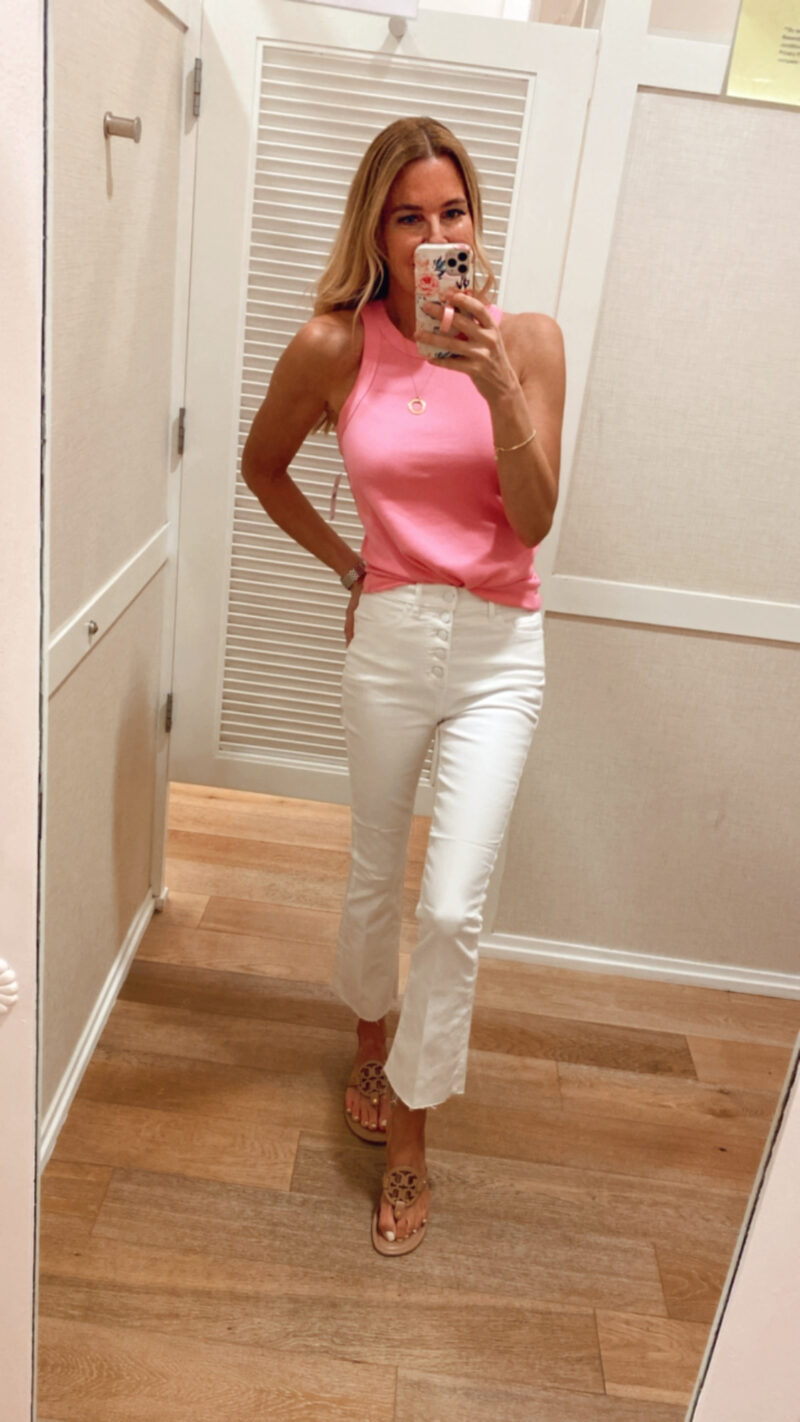 tank | jeans | sandals | similar sandals
I happened to grab this tank on my way to the dressing room and it ended up being a favorite. In fact I bought this pink tank. The pink looks like this (the website has it looking lighter). It's such a pretty and fun pop of color for Spring.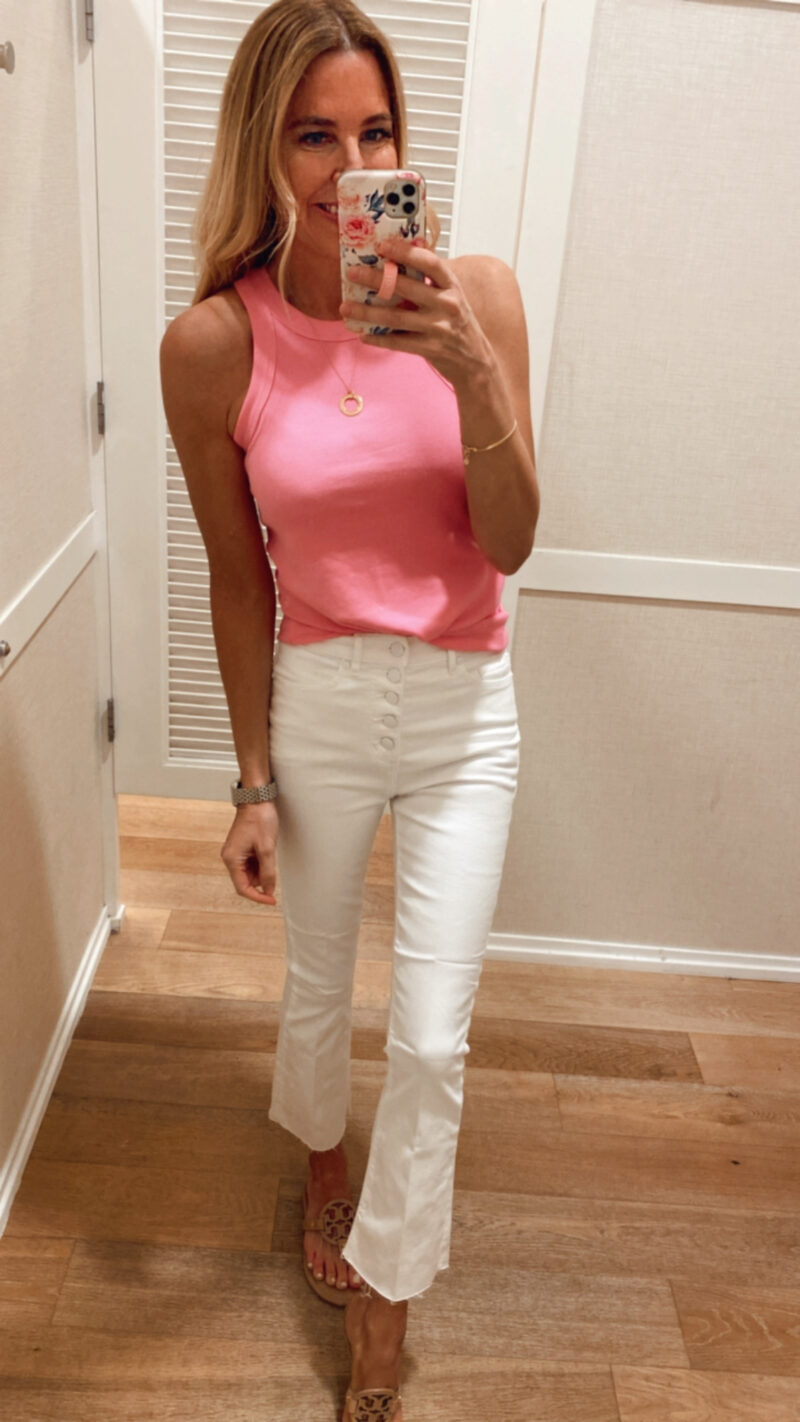 I actually sized up in this. This is the medium. My shoulders are broader than they look and I just didn't want this fitting too snuggly. If you prefer it more form fitting, stick to your normal size.
GORGEOUS FLORAL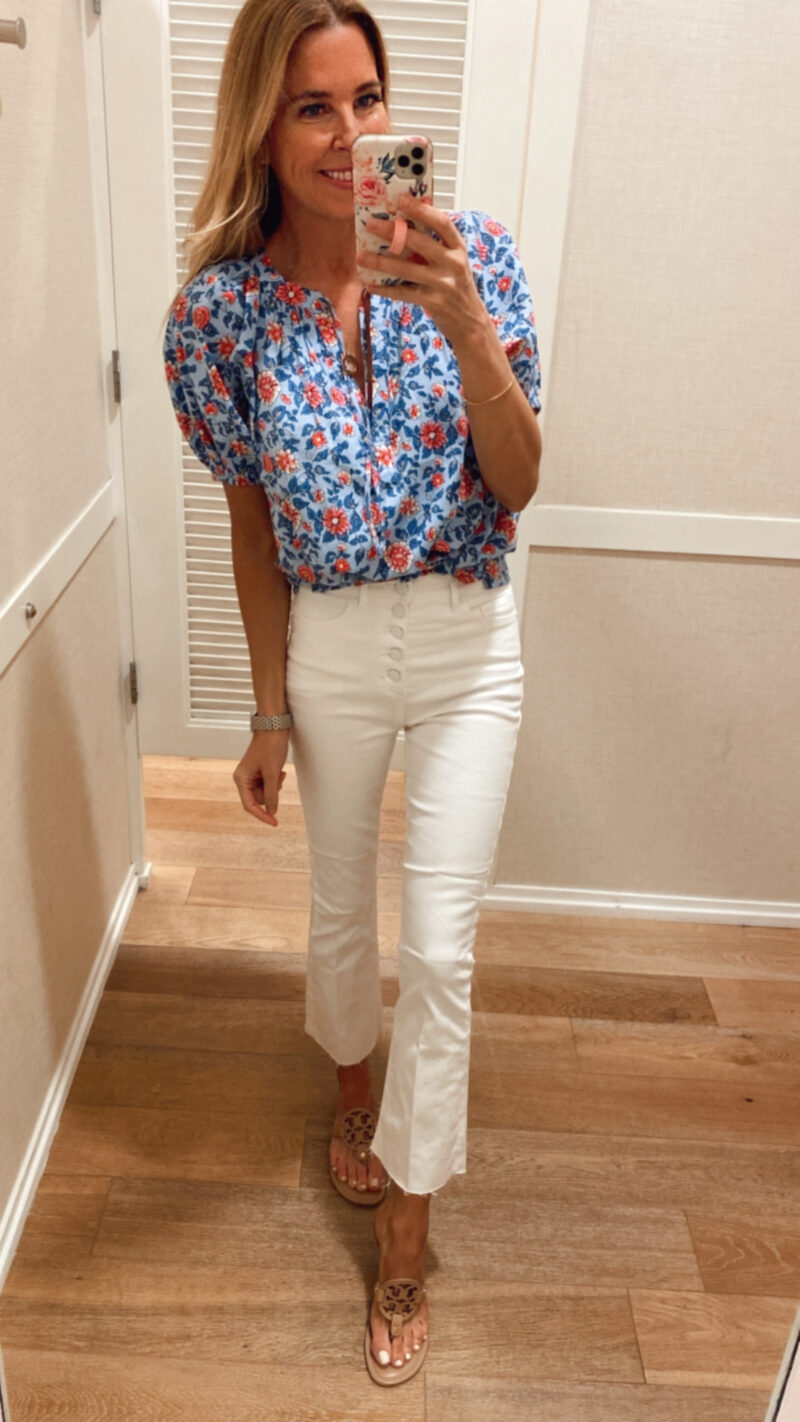 This was another top I didn't want to take off. It looks so good with white and is a flattering fit.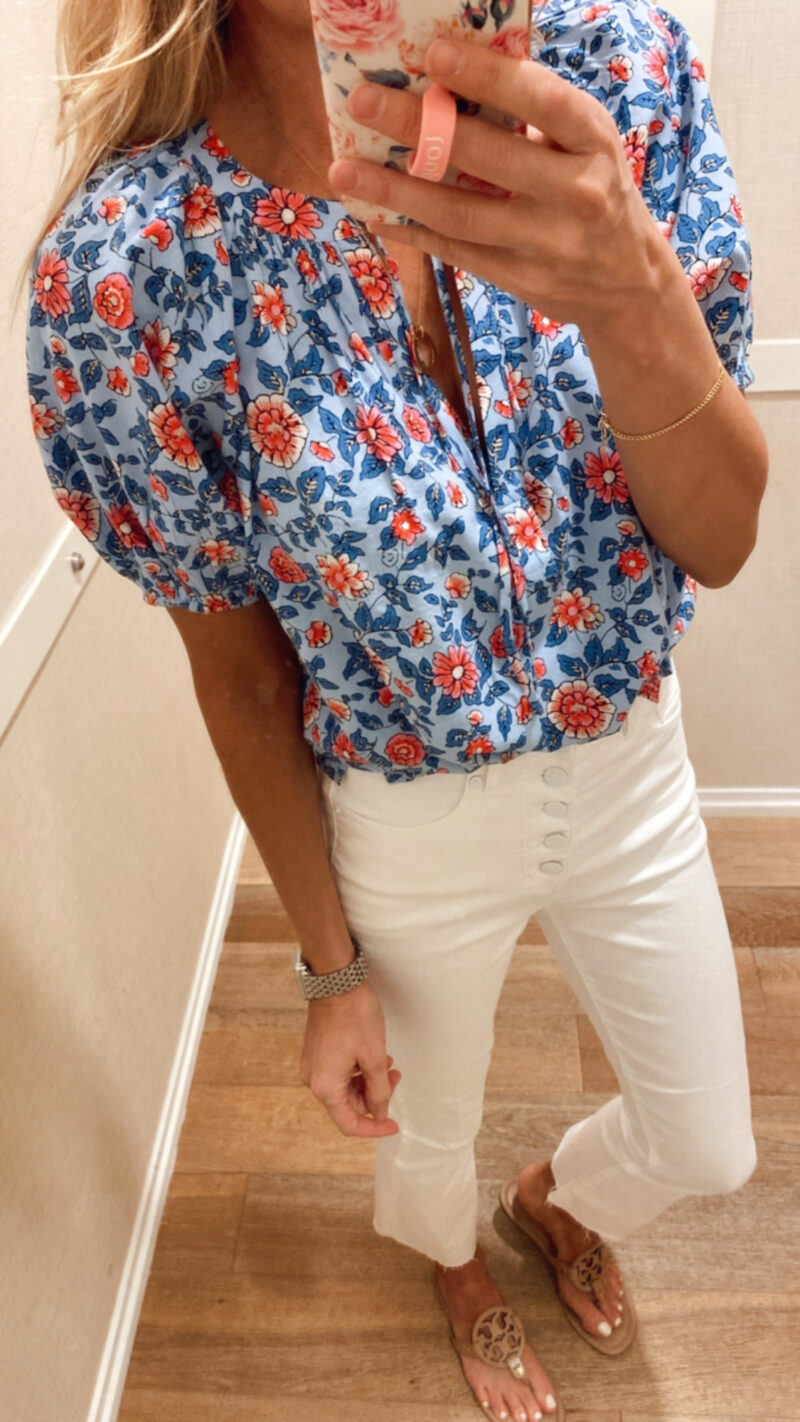 The colors are really beautiful. The blue is paired with almost a pink/watermelon color and it works so well.
A TOUCH OF MINT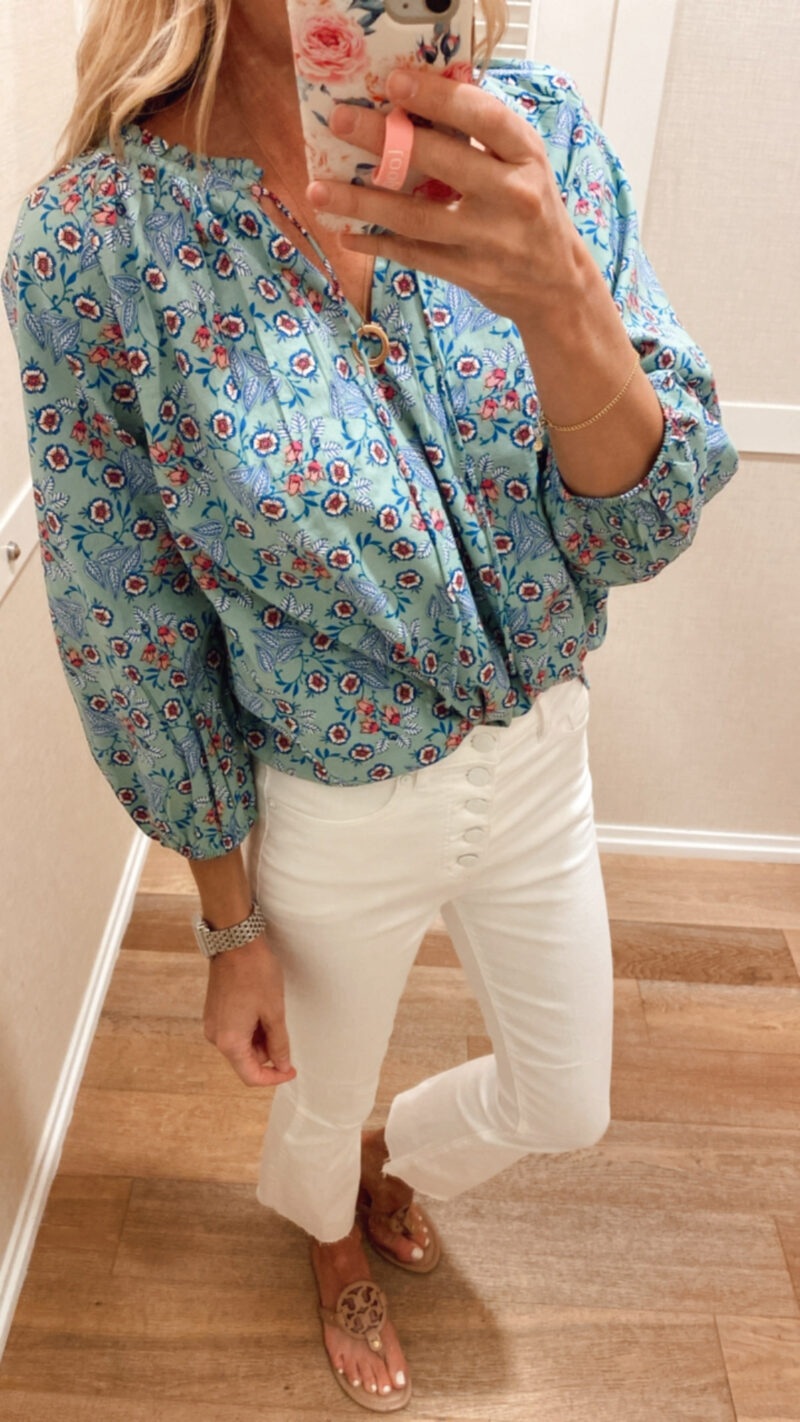 I had high hopes for this one. The color is absolutely beautiful. For me, it was just too much fabric. But truly very pretty.
BRIGHT AND CHEERY FLORAL DRESS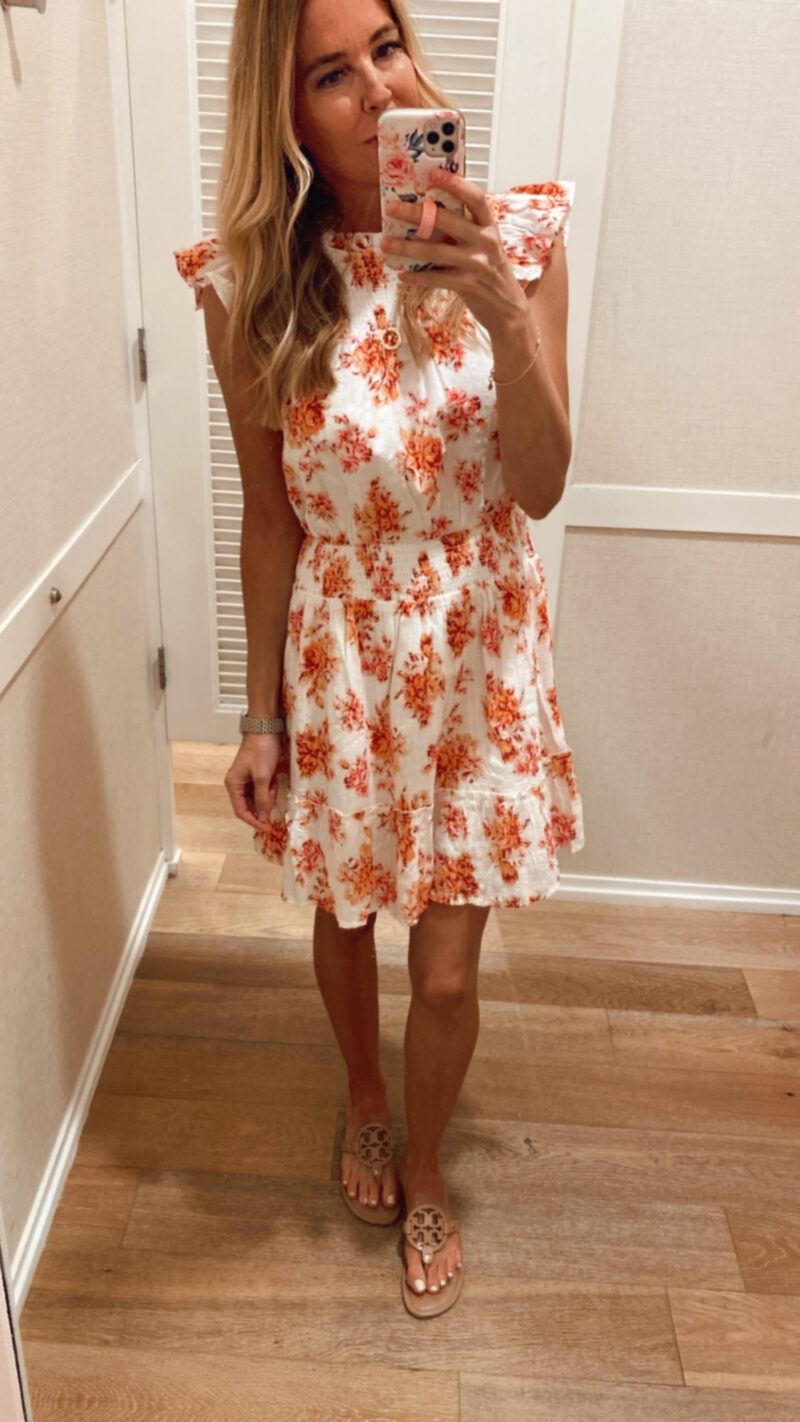 This dress (50% off) was such a pleasant surprise. In fact I bought it to wear for Easter. The length is great ( I am 5'7″) and the waist, while cinched, isn't tight at all. The sleeves are very flattering and it's a great weight.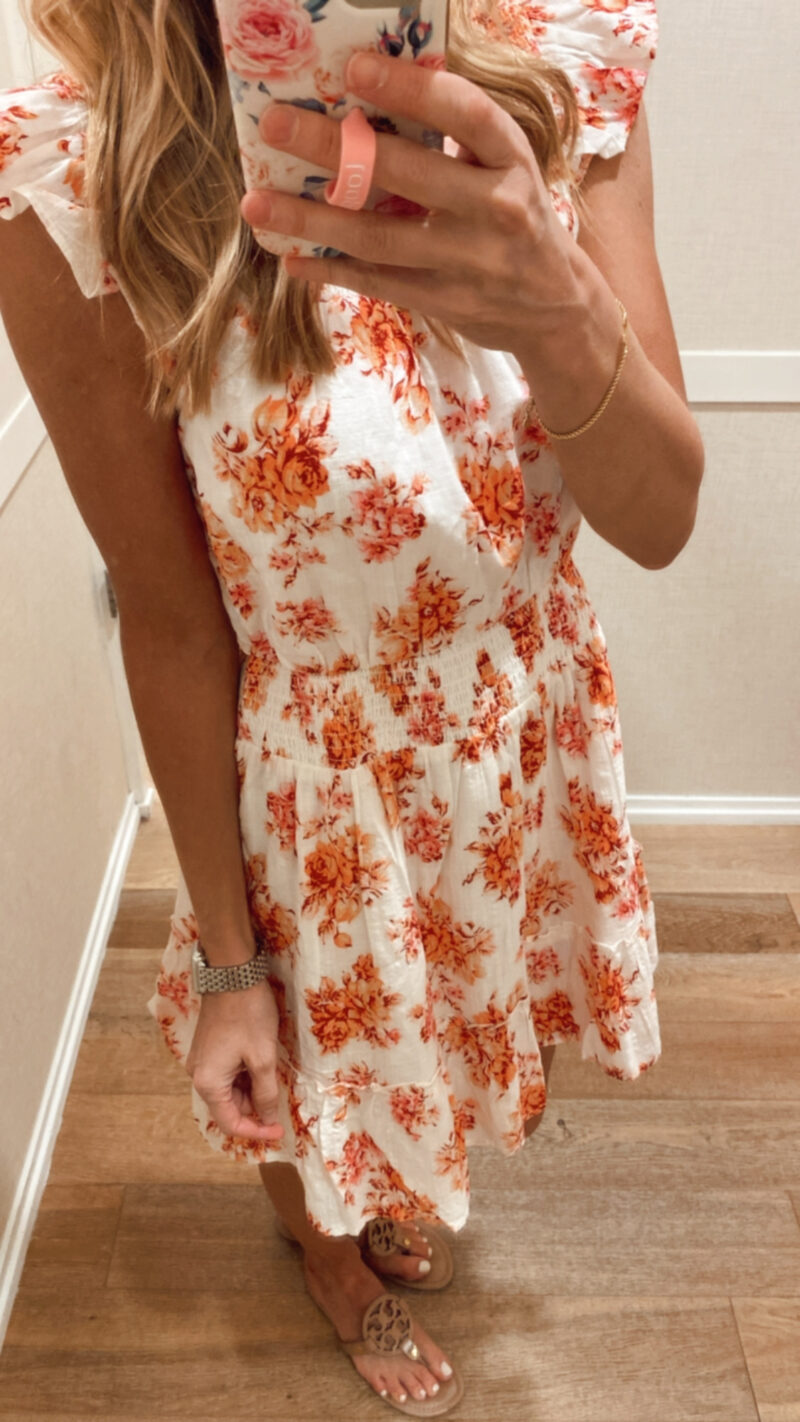 The colors in the dress definitely look pretty and vivid like this. I went to find it online for you and I was shocked at how pale the colors appear on the website. This is very true to what it looks like. I noticed it also comes in a blouse version.
MORE SPRING COLOR FROM LOFT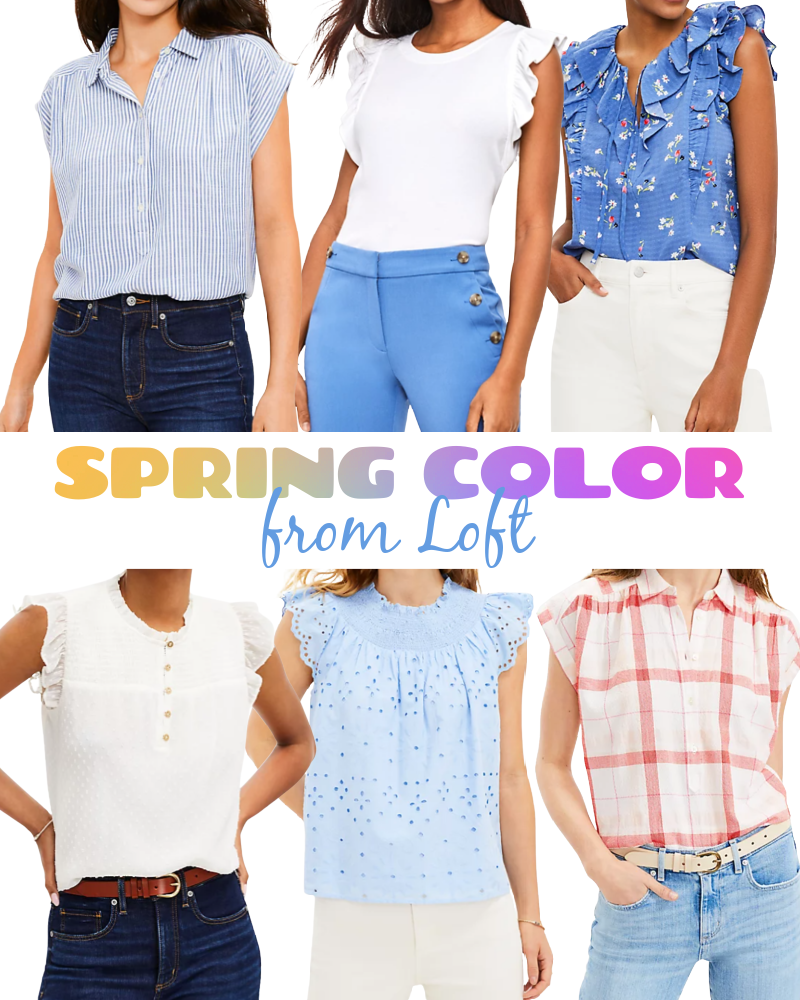 stripes | white | floral | ivory | baby blue | plaid
THE NEUTRAL EDITION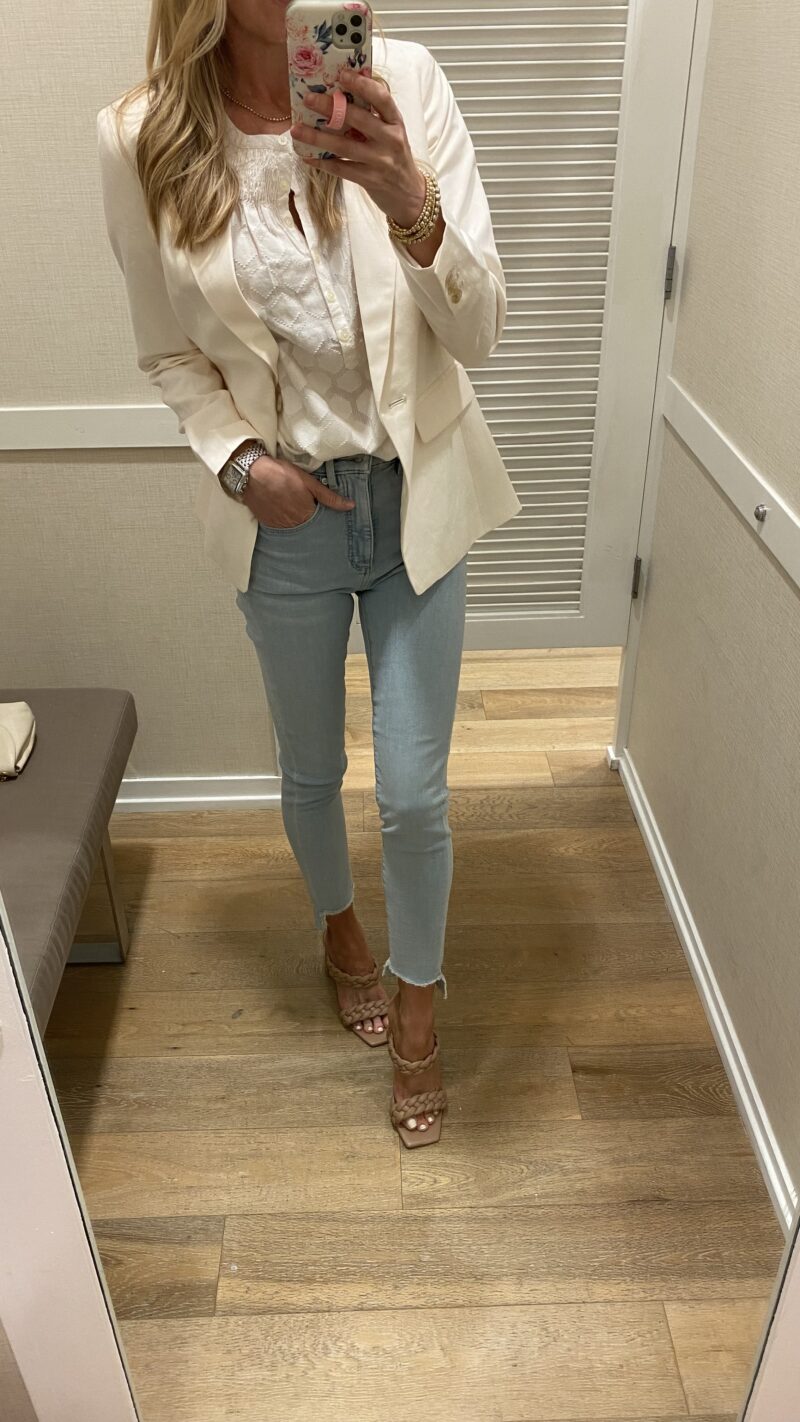 If you missed it, this try on session was all about the neutral pieces. So many great looks at Loft right now.
Thankful that my children are both off from school on this Good Friday. Wishing you and your families a really beautiful Easter weekend. As always, thank you so much for stopping by.