Happy Friday! We are continuing to celebrate my husband today (his birthday was yesterday) so it's definitely going to be a great day. I stopped by Loft to pick up the white jeans I loved. Naturally, I had to try on a few more things. Here is a round up of cute Spring finds that you don't want to miss. Most of them are 50% off today.
SPRING FINDS ON SALE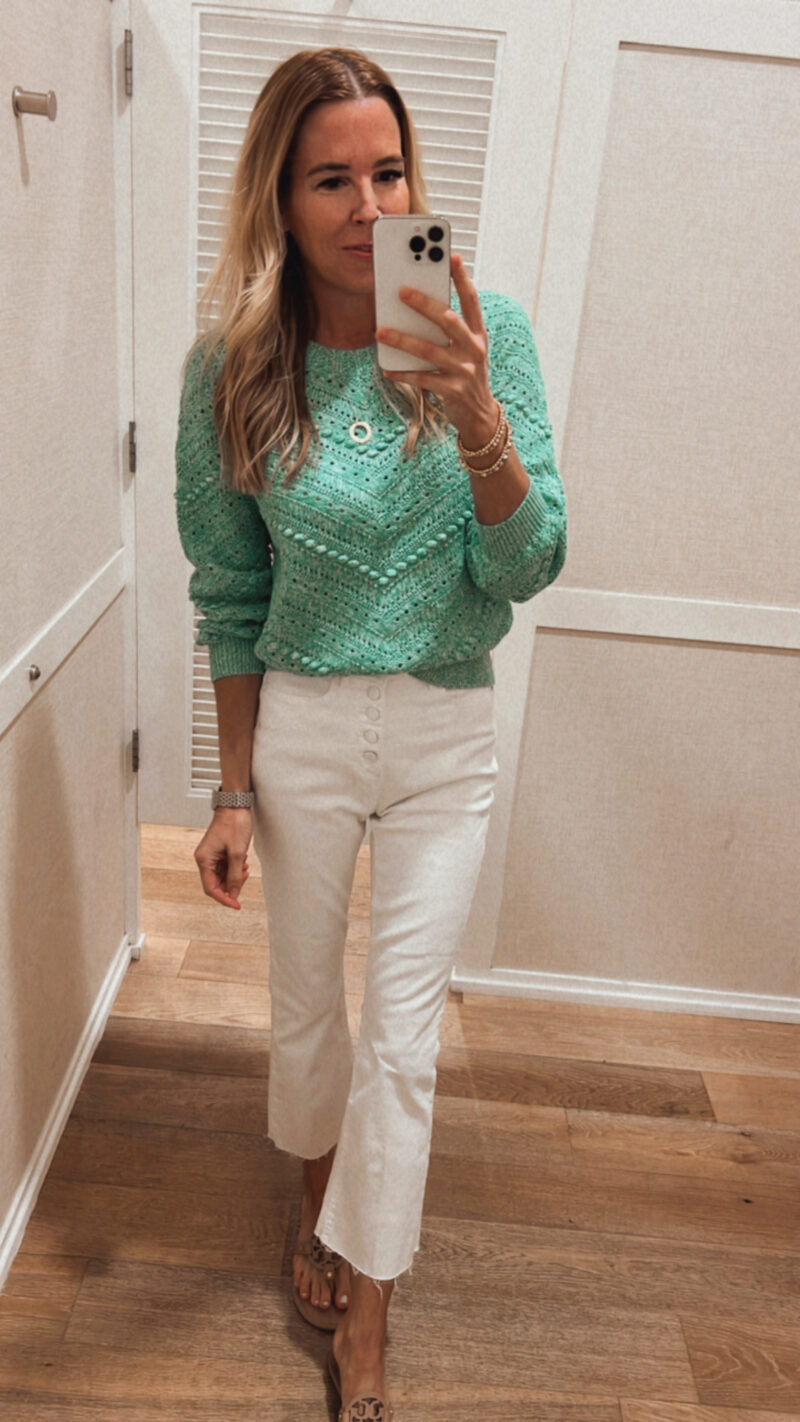 The second I saw this sweater I knew it would come home with me. It's now 50% off with code: RSVP. The colors is BEAUTIFUL. It's such a pretty, bright green and I love the style. In fact I wore this outfit to my husband's birthday celebration last night. I dressed it up a bit with these sandals. They are a dream to wear because they are so comfortable (I have the cafe color).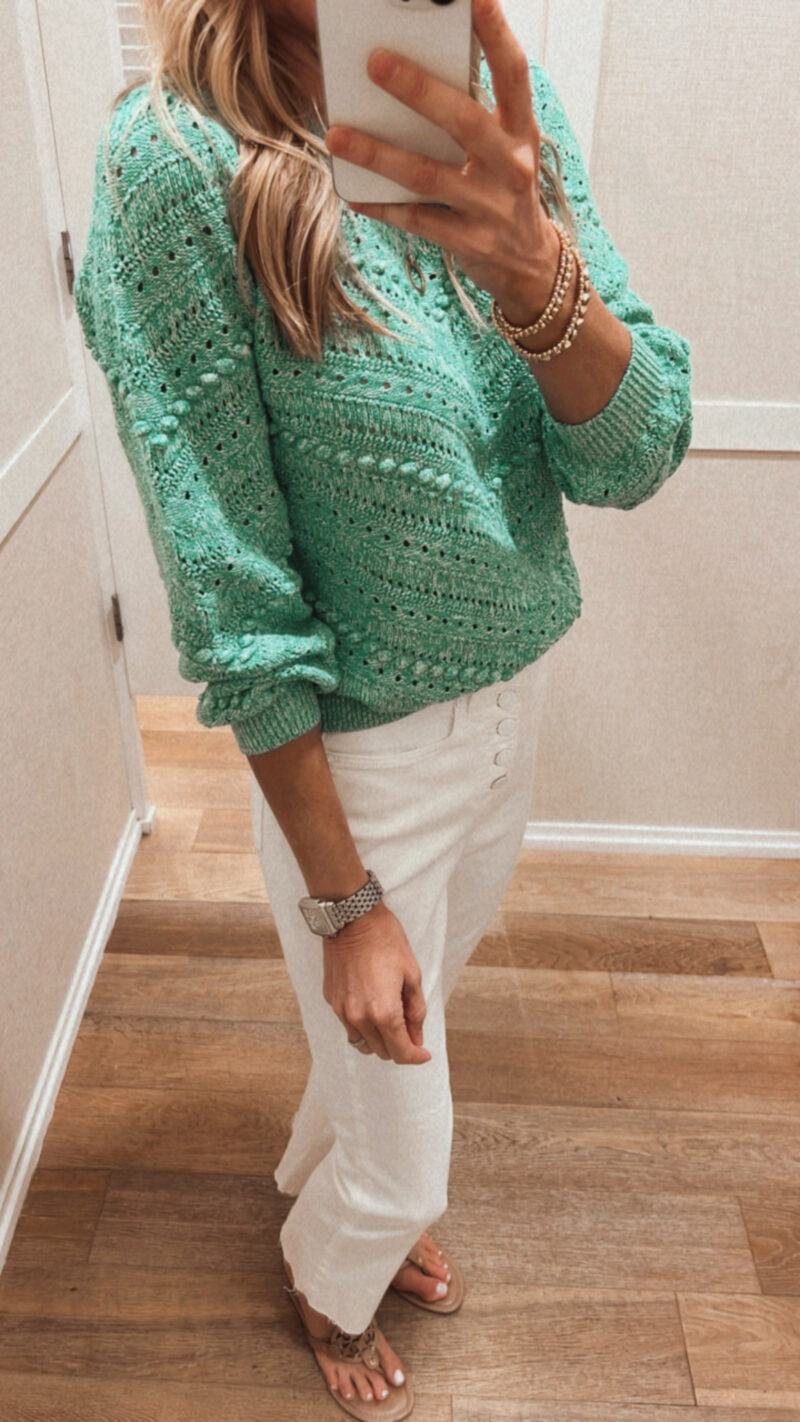 It's a nice summer sweater with the hole and weight. It comes in other colors (wearing the small).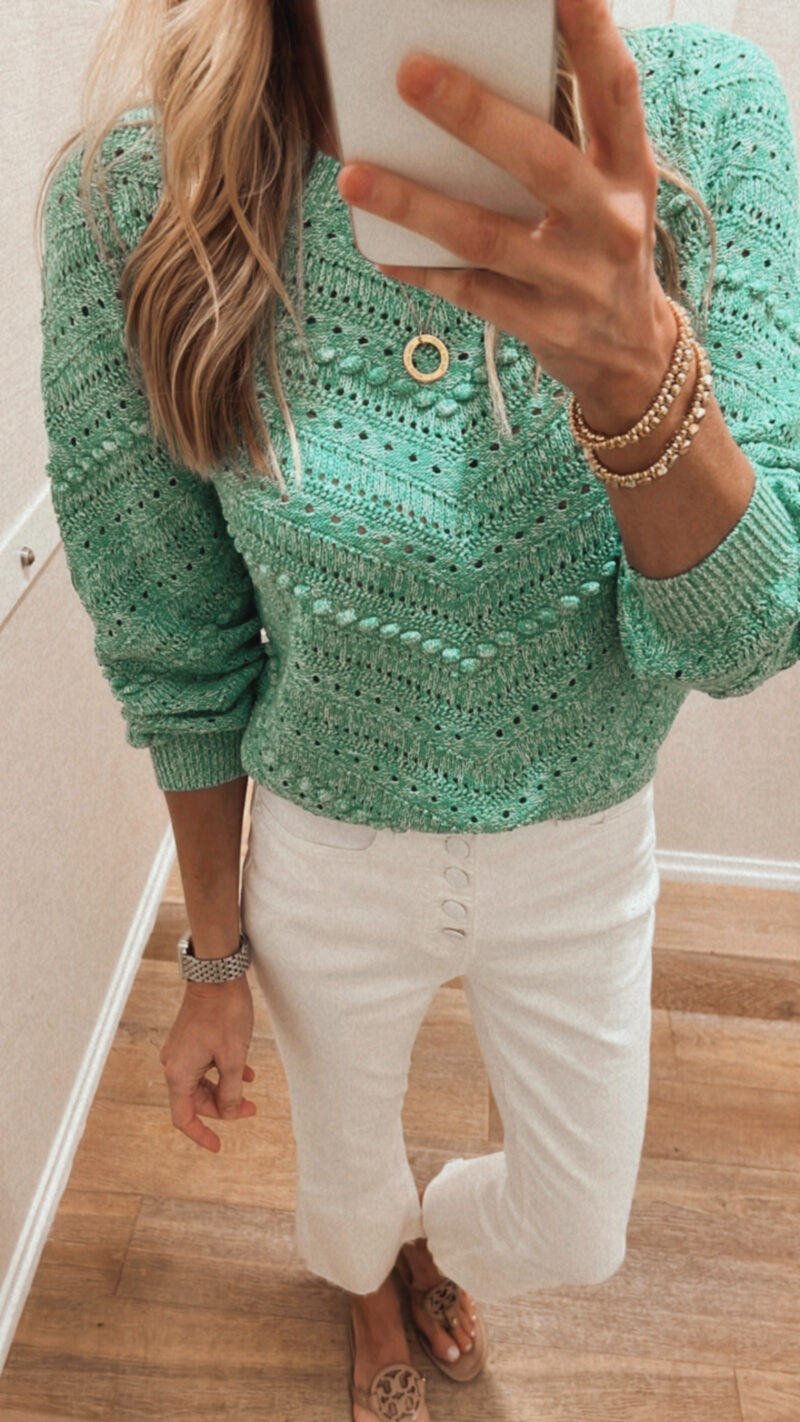 These are the white pants I tried on last time and I was bummed I didn't buy them so I went back. They are just such a cute cut and I don't have anything like them. These are the 25 (a bit of a looser fit). If you want them super snug, go down one size. If you like some room, stick to your usual size. For reference, I am 5'7″.
LOVING THE PINK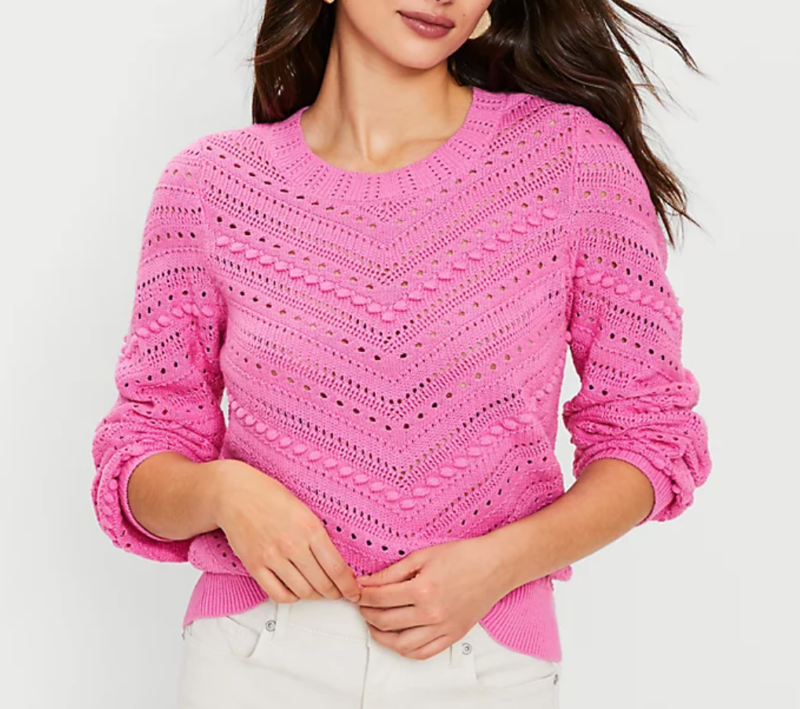 I'm ordering this hot pink one. It's marked down and will look so cute with cut offs or white pants.
CLASSIC LOOK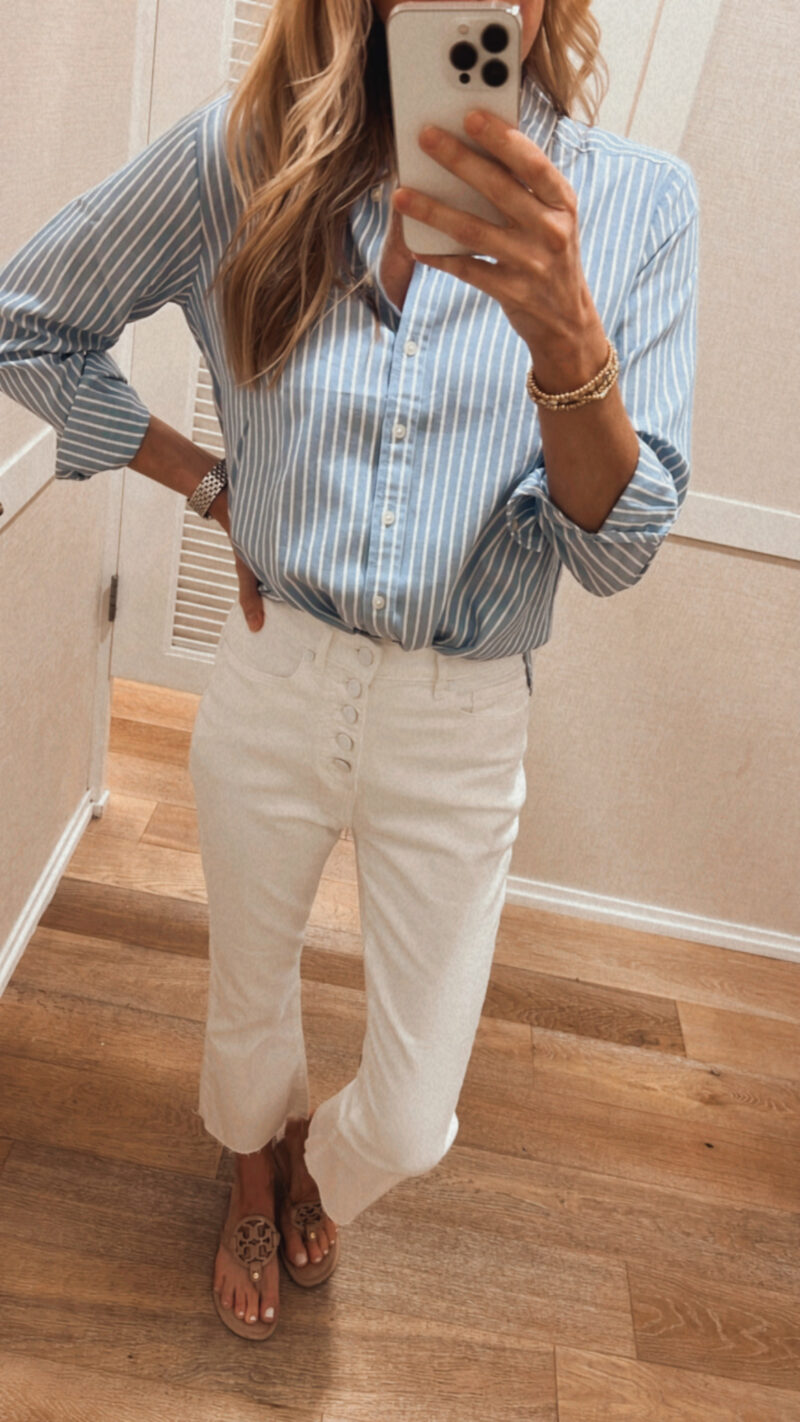 Yes, please. Classic button down with stripes (50% off) for the win. The color is a bit more vivid and gorgeous in person. I tried on the XS but think I would prefer the small. My sandals can be found here.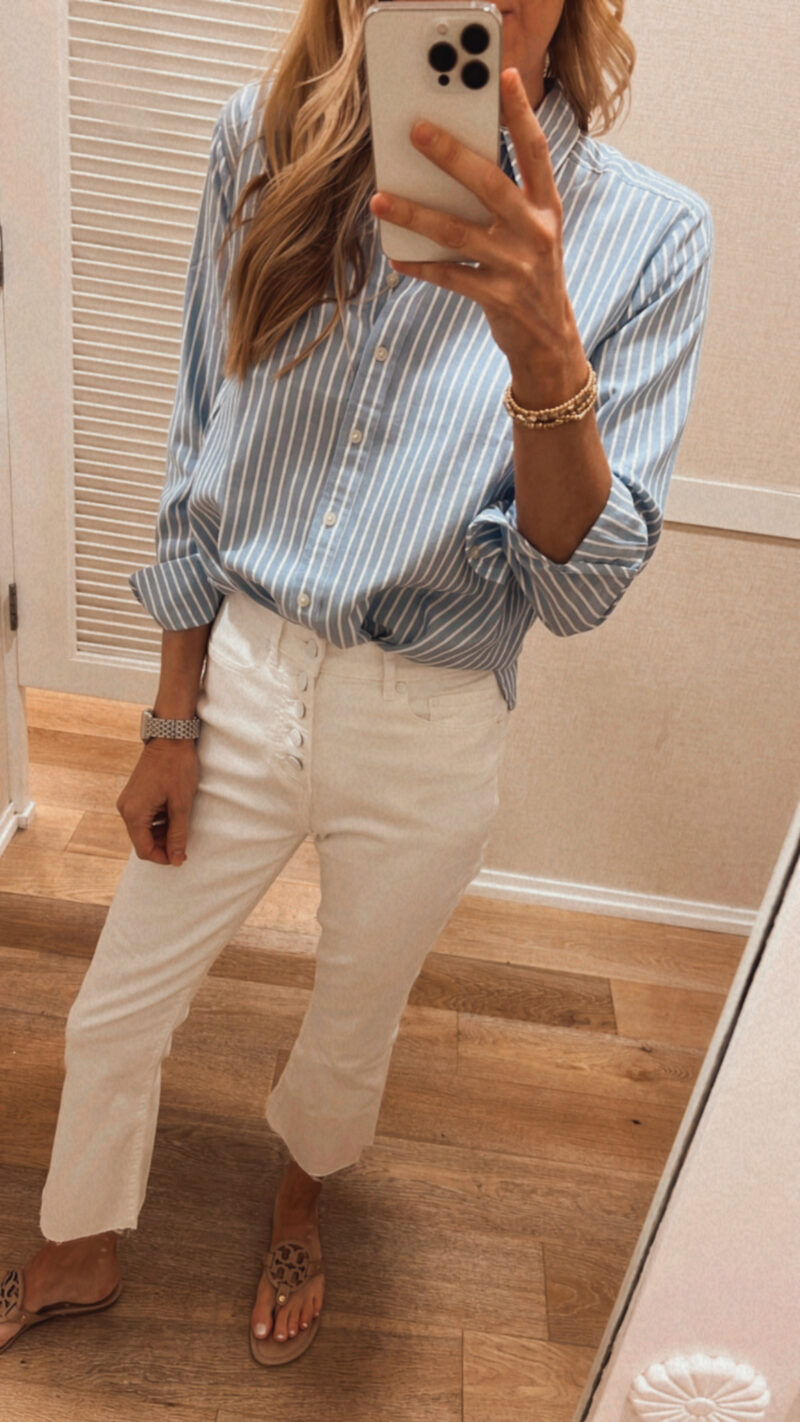 This button down would be darling with denim cut offs, too. Highly recommend this little number.
PRETTY PALE BLUE TOP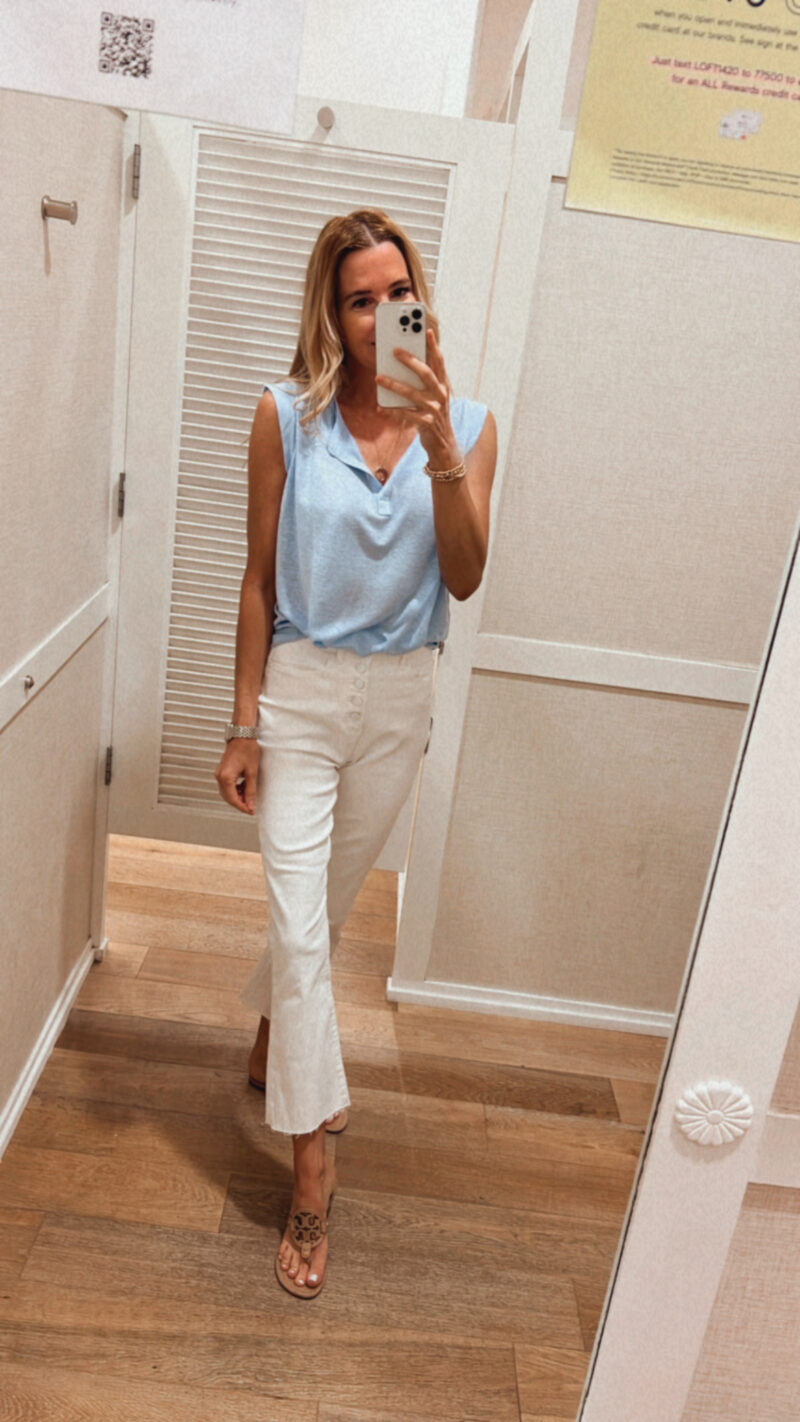 I really like the way this top drapes but the reviews are correct in that it is pretty see through. If you wear a nude bra it's totally fine, but very thin.
LOVE THIS DRESS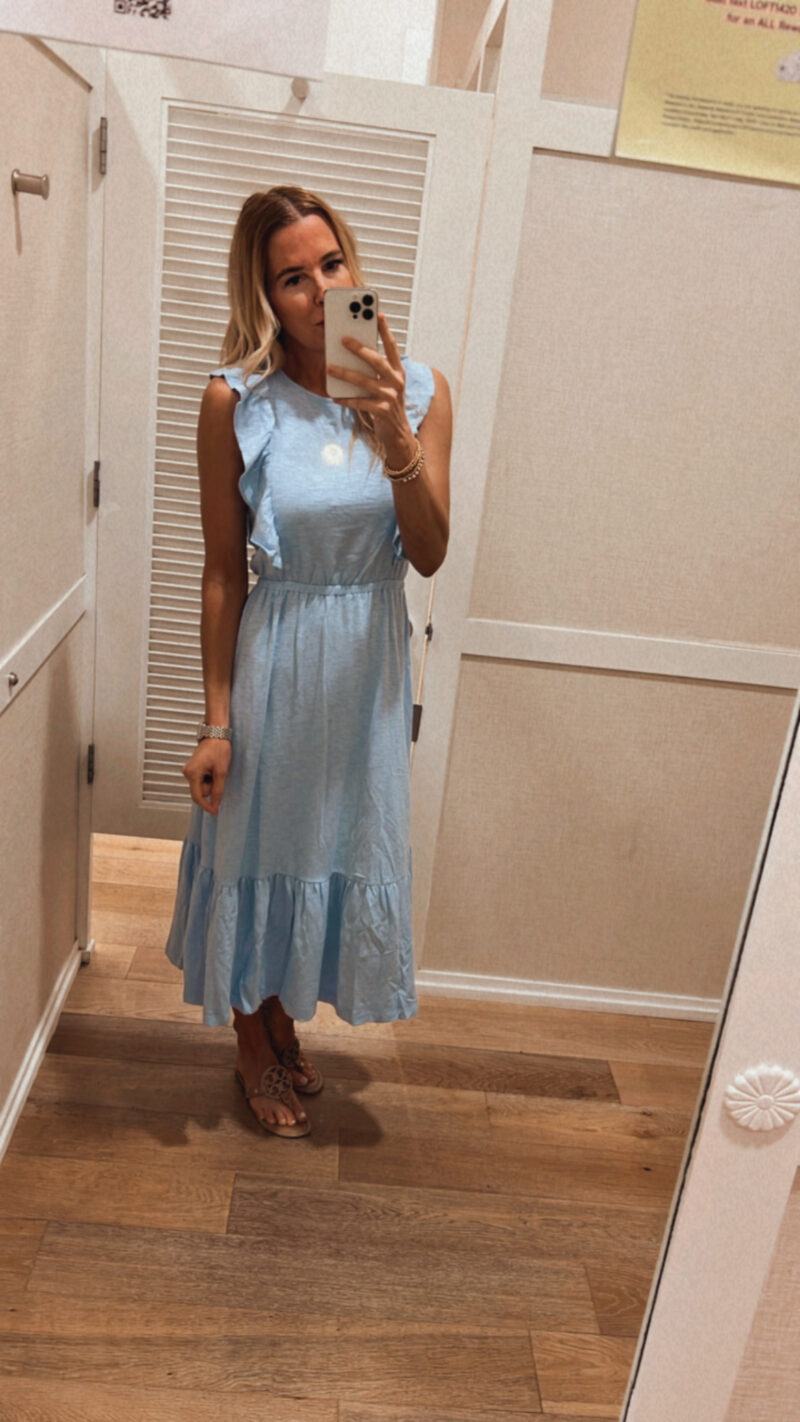 This is a good one, girls. LOVE this dress. It's a really pretty soft blue and the ruffles are darling. It's lightweight and perfect for the hot Tennessee summer. (50% off)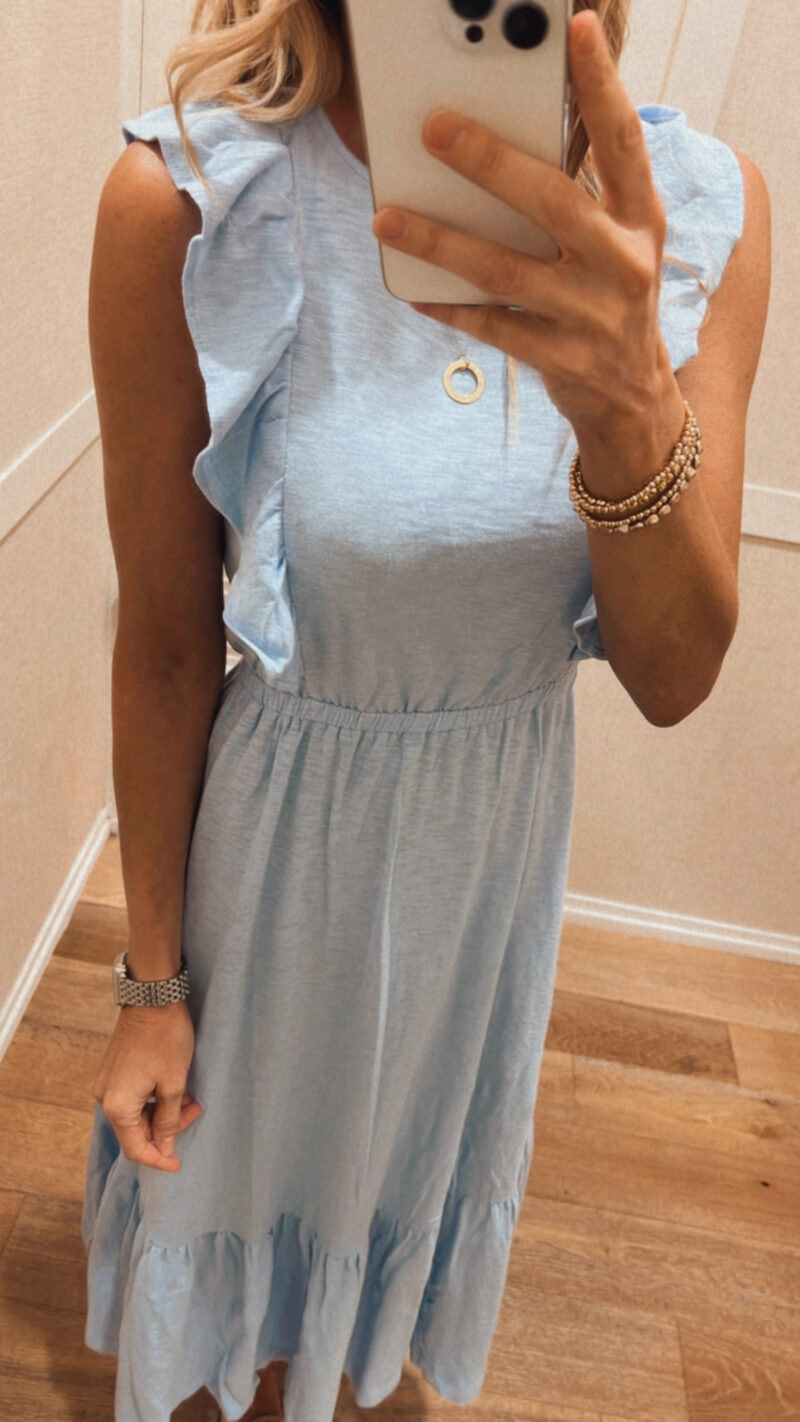 I really appreciate that the waist isn't too high. While it's darling all on its own, I think this dress would be cute over a swimsuit, too.
STRIPES FOREVER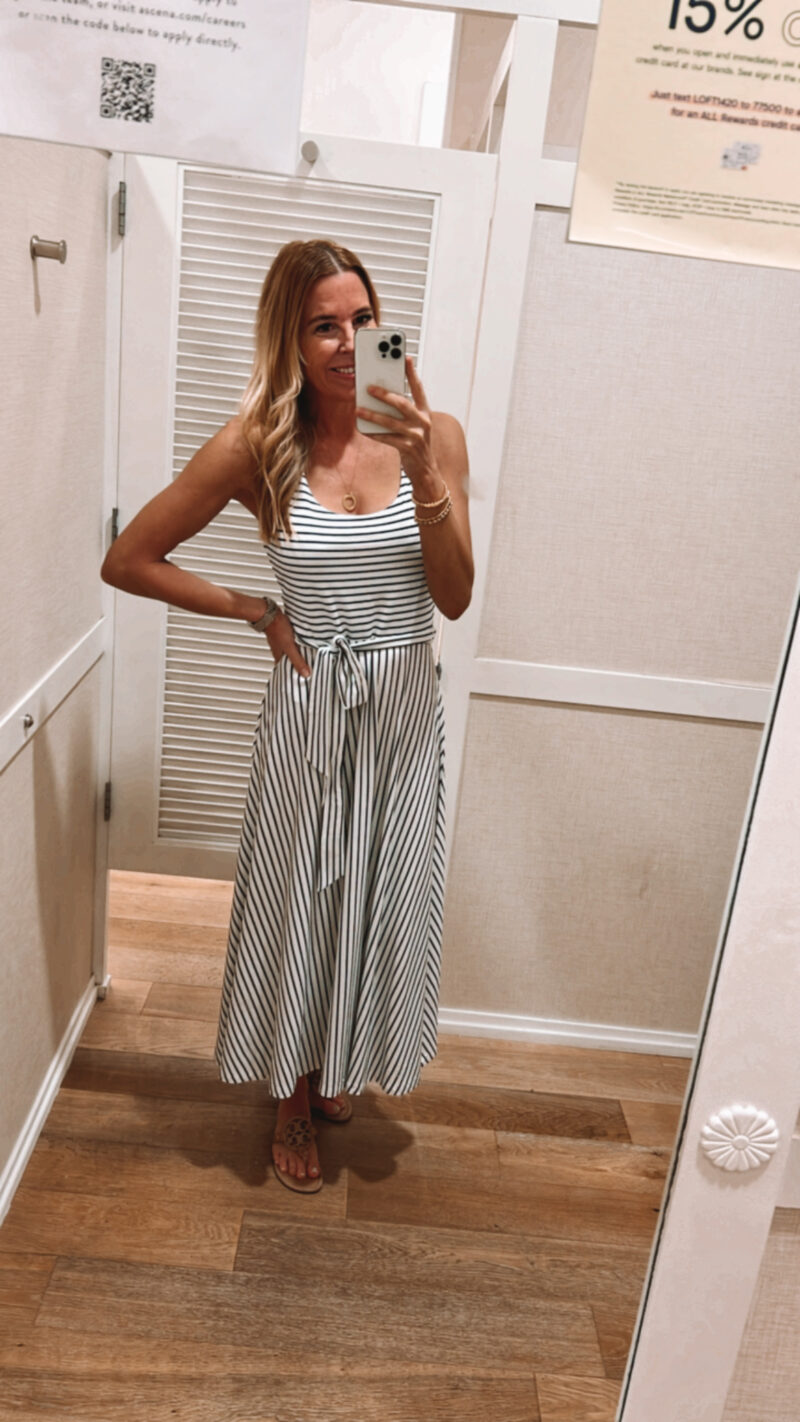 This dress gets two thumbs up from me (25% off). Very comfortable, cute cute and I love the classic stripes.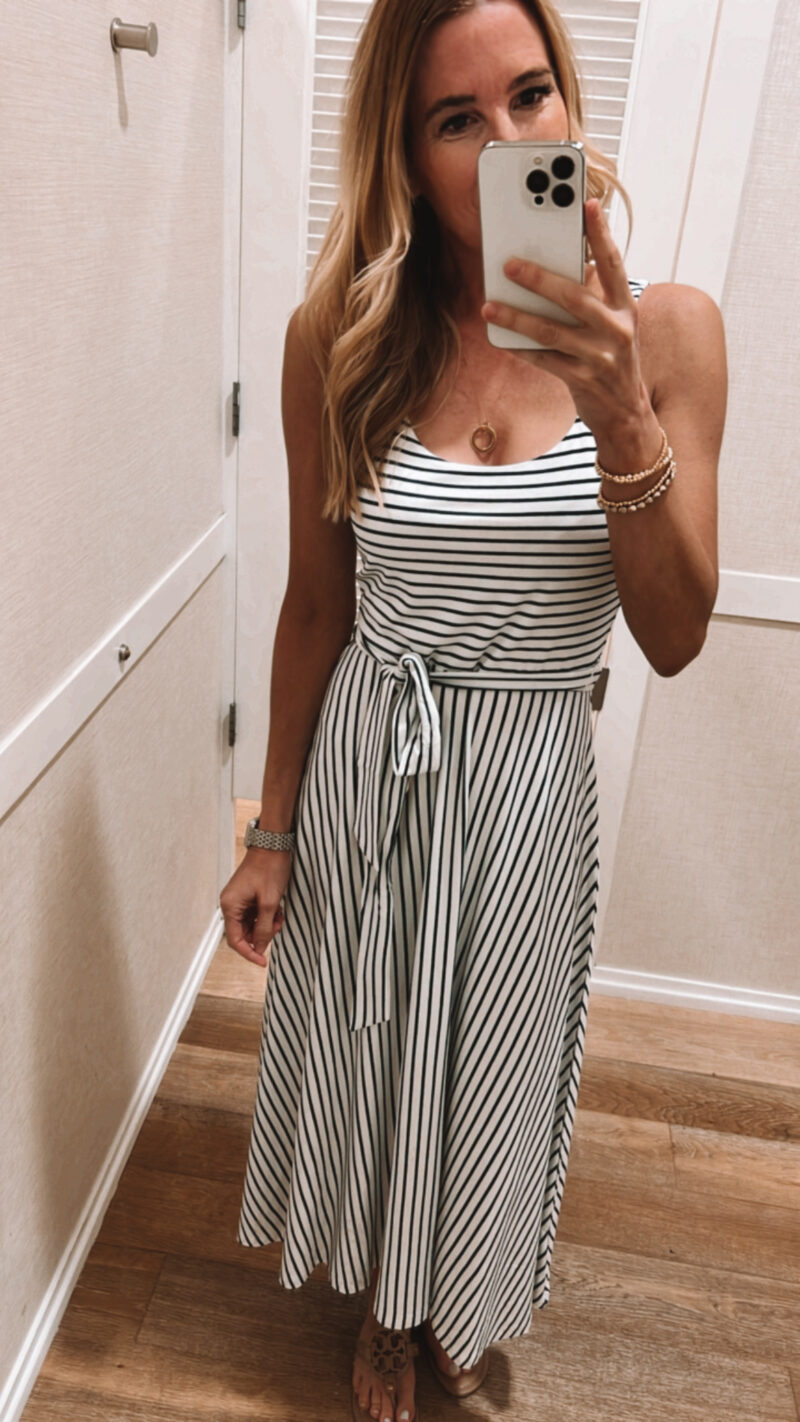 The dress is true to size (wearing the small) and you can wear a normal bra with it which makes it nice.
CUTE AND COZY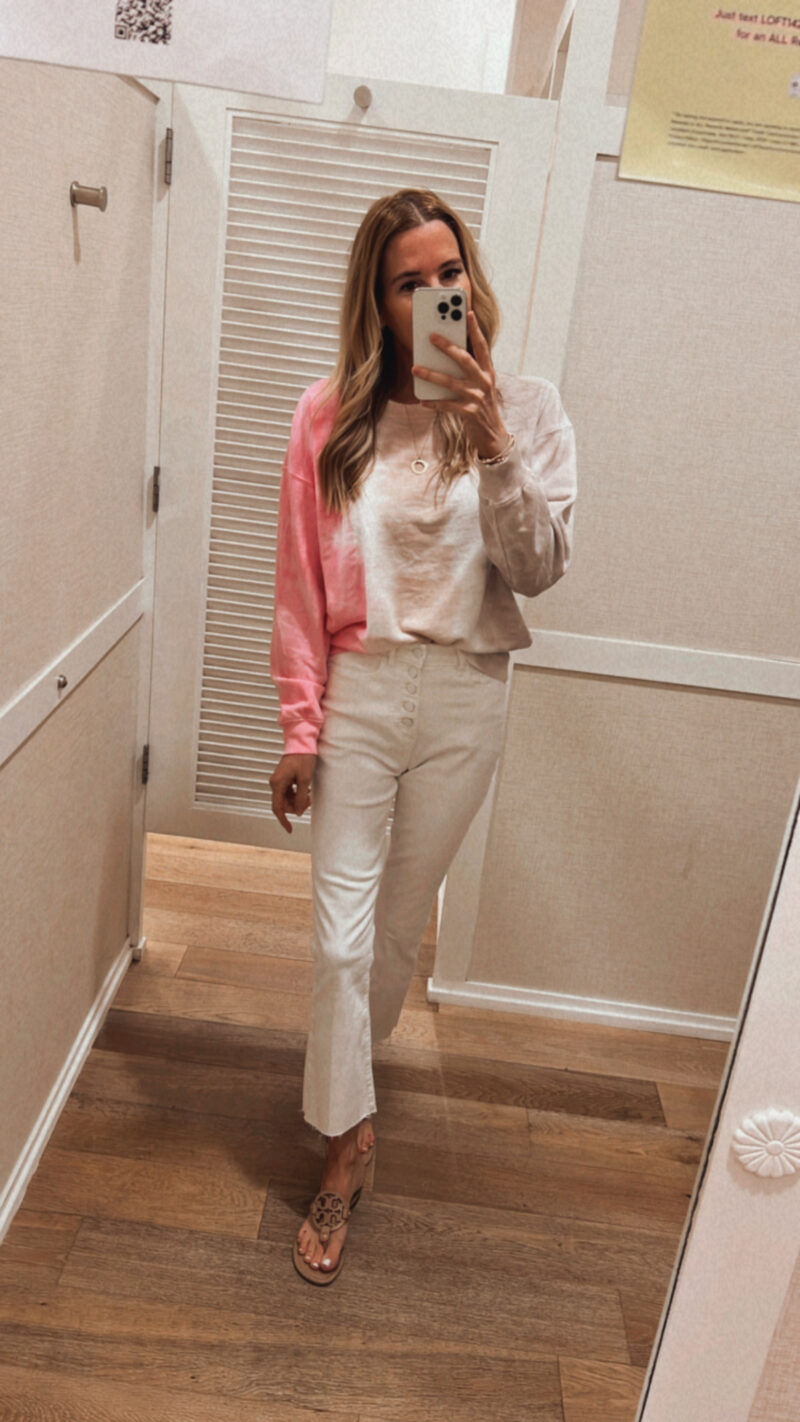 I'm a huge Lou & Grey fan and this sweatshirt (extra 40% off) is darn cute. Great colors and super soft. It feels like jammies.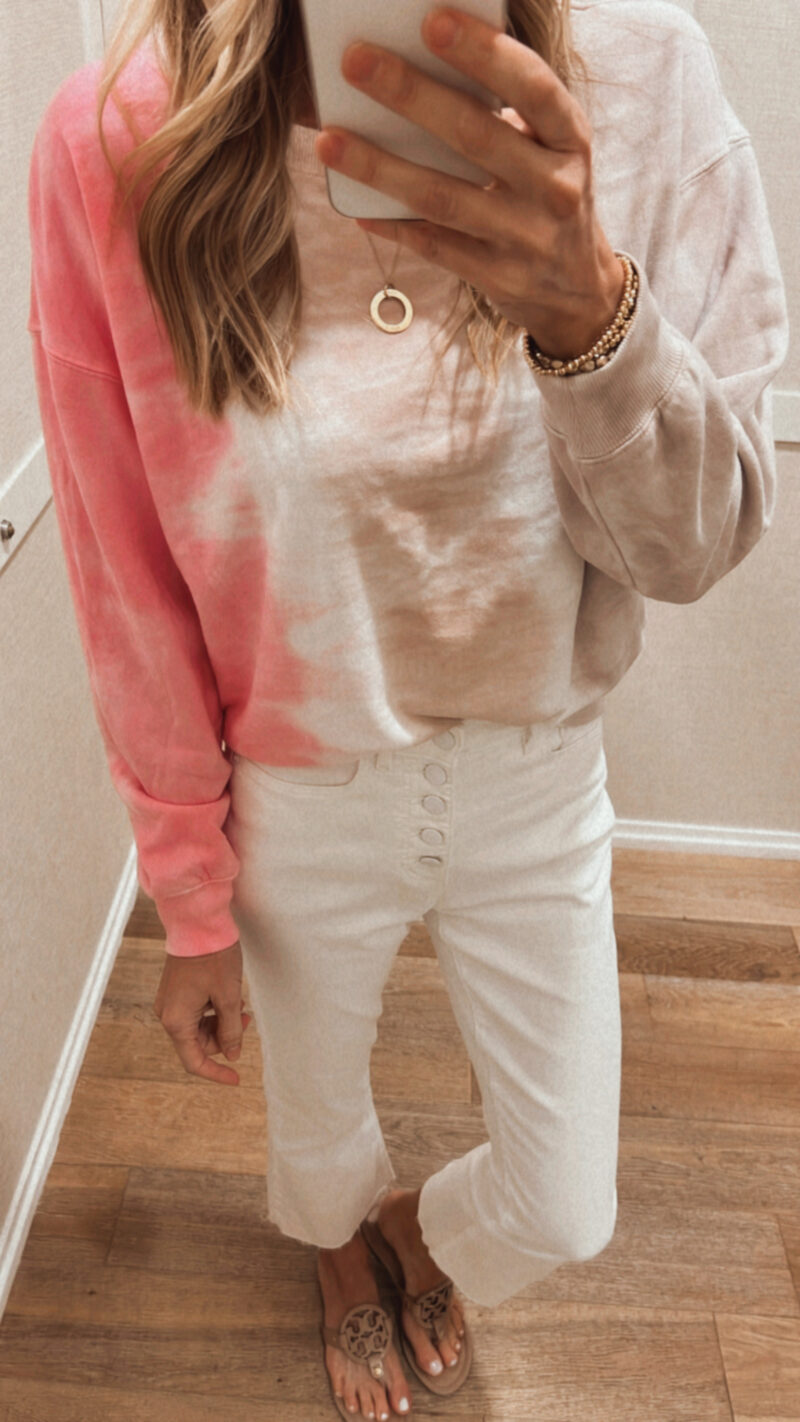 This is a very accurate depiction of the colors. A great combo of bright pink, white and tan.
DENIM JUMPSUIT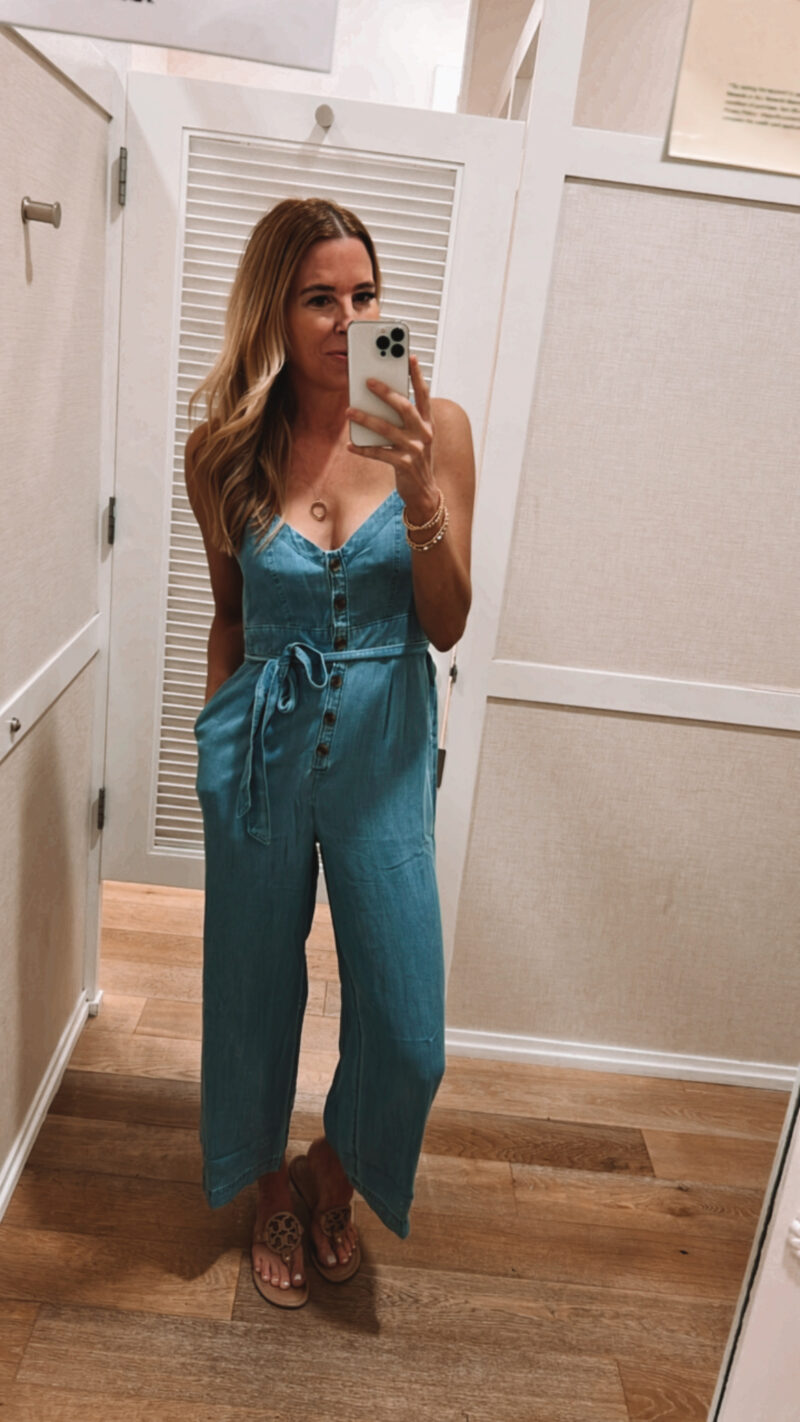 I really wanted to love this jumpsuit. It's far lighter in person. I struggled capturing the true color. While it's very cute, it didn't work well on my because of the high waisted style. Not matter how many times I try, I can't pull off a high waist and I should know that by now. If it's your thing, it's really cute. Definitely size down one. I also think it would work best if you have a short torso.
A FAVORITE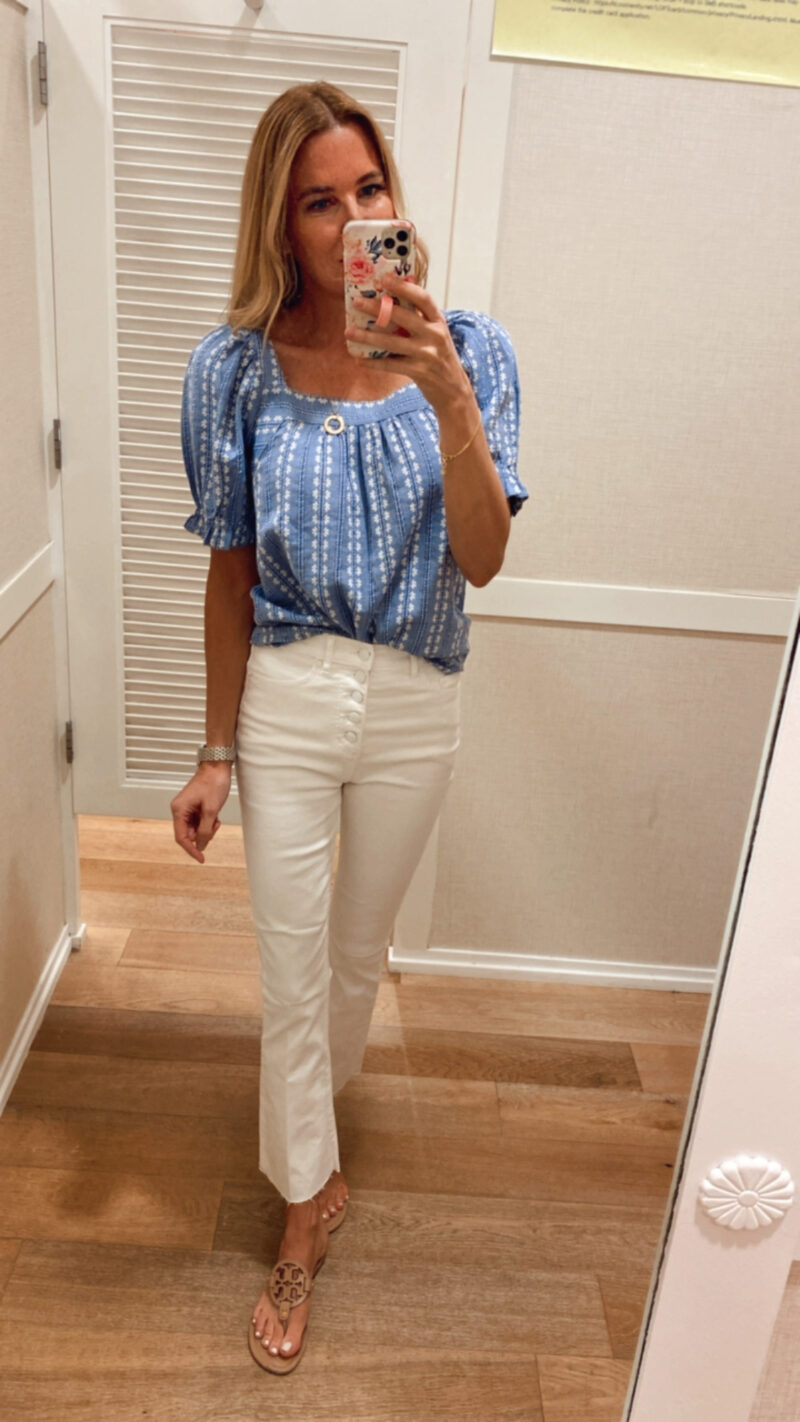 Remember this top? It's on sale for even less (extra 40% off). This is a great one, ladies. A really nice weight to it and darling cut. The sleeves are not tight on the arms at all. I am wearing an XS in this.
JEWELRY SALE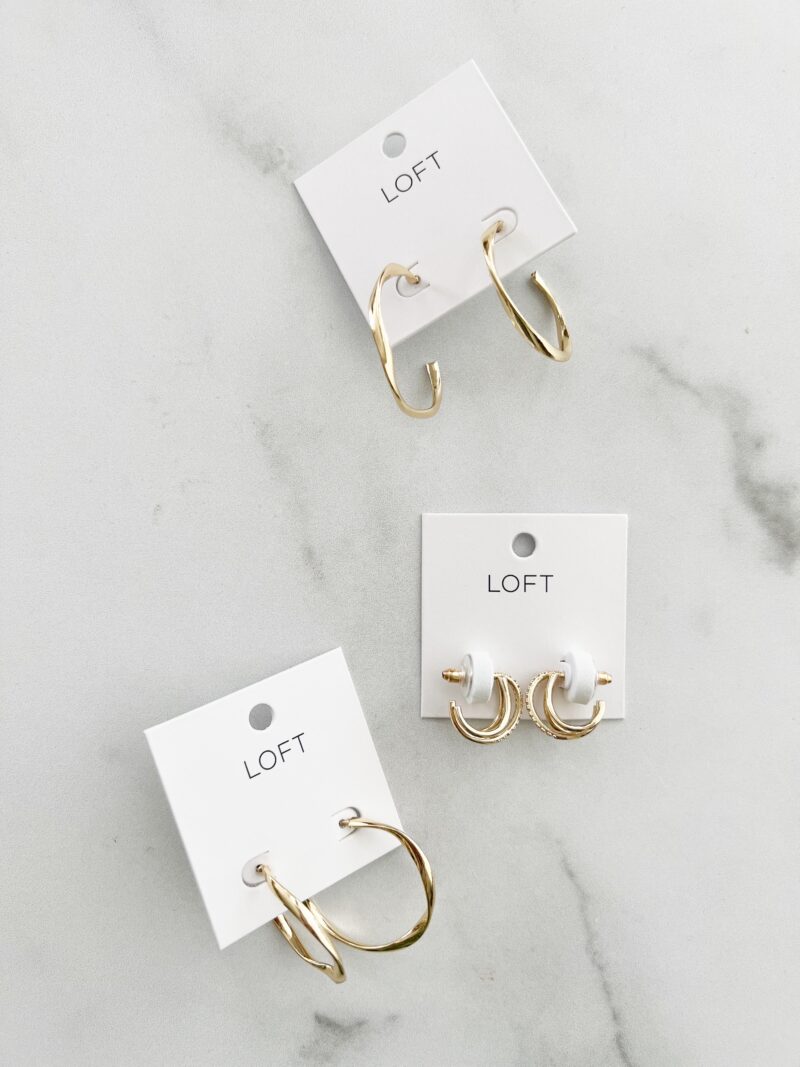 There is a fantastic sale on jewelry right now. I did buy the larger ones (on sale for $15) for myself, but then I grabbed a couple more for teacher gifts. The smaller ones have a pretty shimmer to them. Do you need any end of the year gifts or summer birthday gift ideas? What girl doesn't love a classic gold hoop?
I always tell my daughter that if you truly love a new outfit you will want to wear it immediately. Are you that way? The proof was me coming home from shopping and wearing the green and white outfit for our night out. That's a sign it will be on repeat for sure. Hope you find some fun Spring finds. Enjoy your Friday.