Good morning. I feel so very strongly about today's blog topic. I've always been active but the older I get the more I notice how I absolutely need to keep moving to feel fit, strong, and healthy. It's not just about the physical strength and largely about the emotional strength. Do you make working out a priority? After dropping the ball for far too long I will share the three components that really got my rear in gear.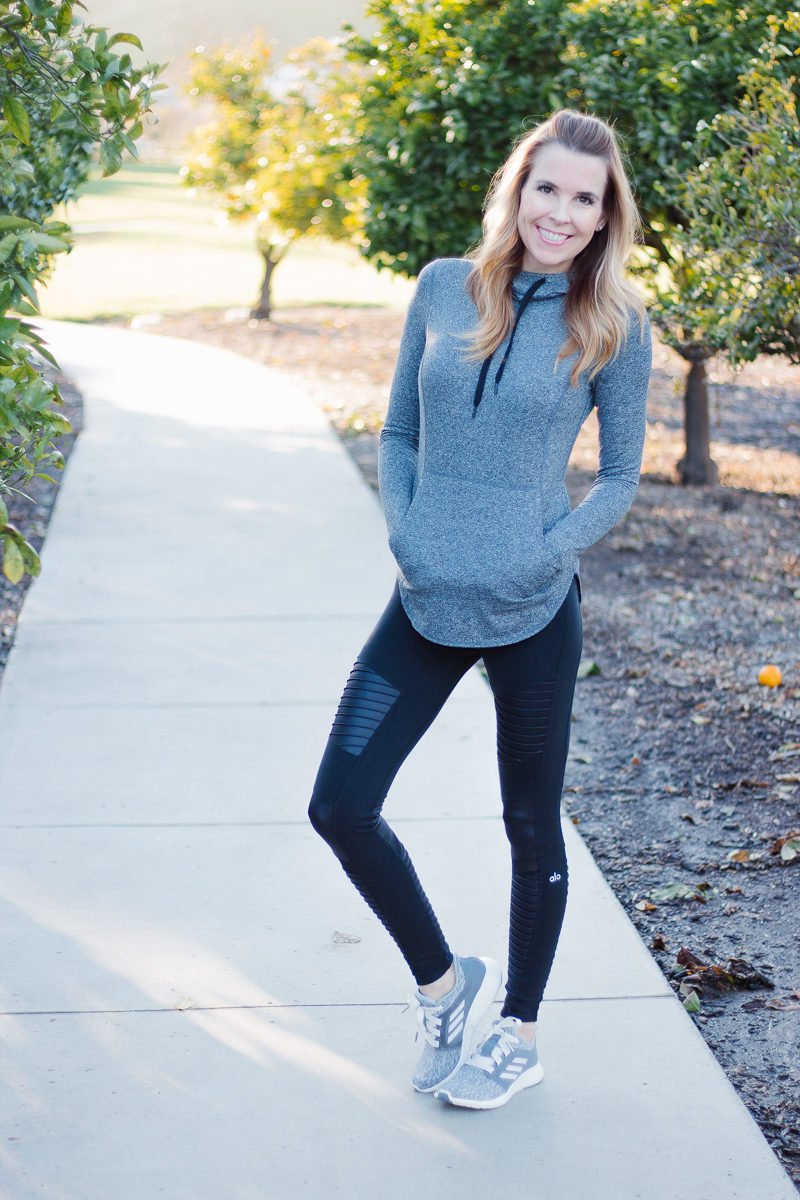 While cute workout gear has nothing to do with getting moving, it sure does make it a lot more fun. I teamed up with Nordstrom to share recent favorites that I love. I am a less is more girl so when I buy a piece of athletic wear, I am going to get a ton of use out of it.
FIND THESE THREE
But let's get down to the root of it all. It's HARD TO STAY MOTIVATED. While there is no magic wand to make you leap out of bed and hit the gym, there may be three basic elements that can change your perspective.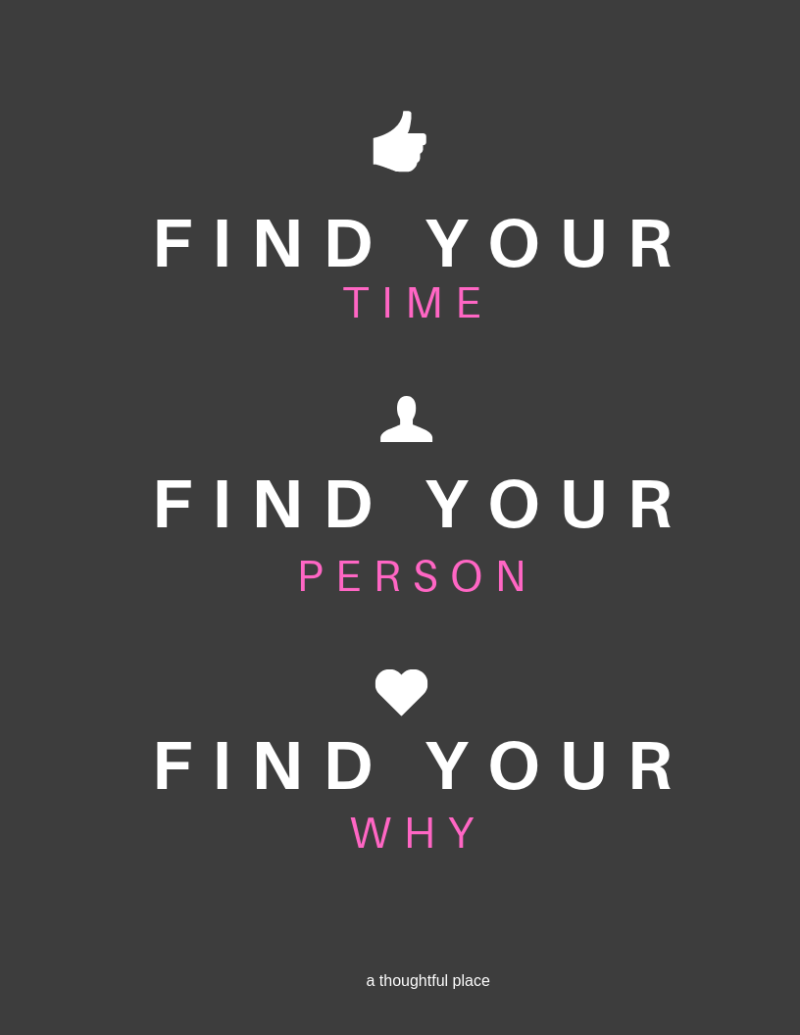 This is what changed it all for me. I have been consistently working out for 8 weeks now. I think I have skipped four days altogether and was actually bummed about that. These three components have helped me to stay on track and make my workouts a huge priority.
FIND YOUR TIME
This sounds way to simple but it's HUGE. You have to find YOUR time. The time that you are gifting to yourself. It's an investment in your future. Let's be honest, as busy women we fit in a ridiculous amount of things into one day. All my body is asking for is 30 minutes. Even 15. I can absolutely guarantee I waste at least 30 minutes scrolling Instagram. But it's not just about carving out those minutes. It's pinpointing the time in the day that works for YOU.
For me it's morning. As soon as I wake up I put on the workout gear and get it done. I feel like I have already accomplished something huge and it's still early in the day. I know it is easier for me because I work from home and have that flexibility. Maybe it's an evening routine for you. Can you sneak off to a quiet corner of the house for 30 minutes (even 20) while the kids do their reading? Whatever the case may be, it's your time and you need to find that tiny chunk to set aside. You'll be so thankful you did.
FIND YOUR PERSON
I honestly think this is a really big component of why I have stuck with my new routine. My person happens to be my husband and we keep each other motivated. If he has done his workout for the day, I'm not gonna lie. I feel that push to do mine. We all have that competitive side and want to keep up. It doesn't have to be a spouse. It could be a neighbor, a friend, a sister, anyone that is just a phone call or text away to say, "Hey! Did you work out today? I am proud of you!"
FIND YOUR WHY
This one resonates so strongly with me. Find your why. Why are you wanting to be physically and mentally strong? Why does it matter to you?I'm not talking about just wanting to look good. Although that is a fantastic start. For me I want to be around as along as I can for my husband and children. I want to know that I have the emotional toughness to face the journey with Alzheimer's that we are on with my mom. I want to stare any future ailments down and say, "Nope. Not in this body." Once I really dug deep and found my why, the excuses melted away. While they still lurk around each corner, the drive to stay motivated kicks them in the booty each time.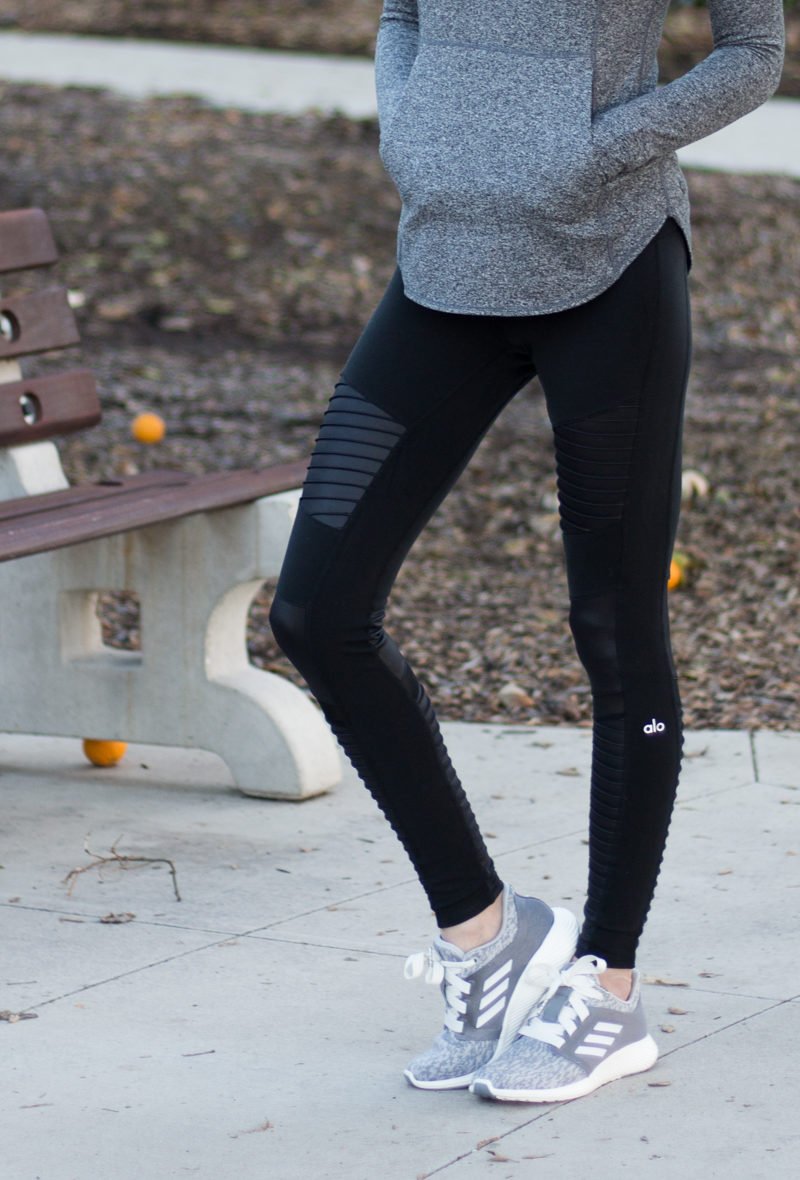 Once you find yourself in a routine, it's fun to treat yourself to athletic gear you love. For me that means moto leggings. I am sort of addicted to them. I have these that I wear even for date nights and these that I work out in all the time. Throw a cute jacket or pullover on and your good to run errands, too. The adidas are extremely comfortable and awesome for HIIT workouts (high intensity interval training).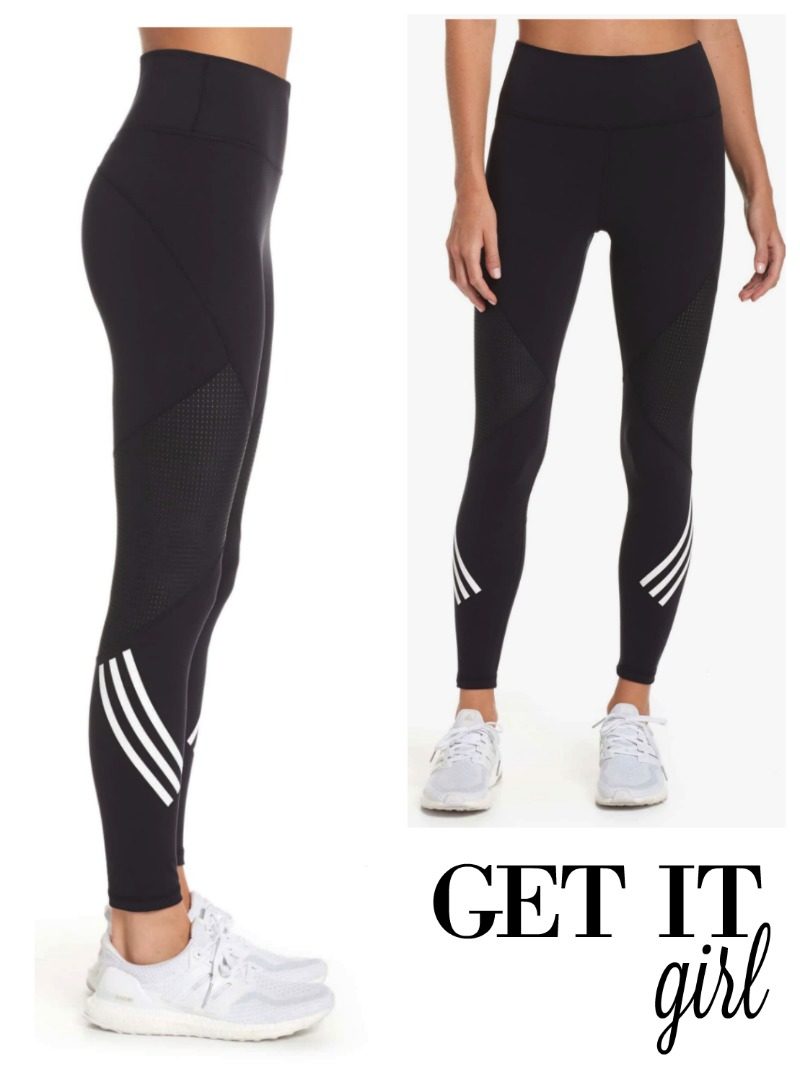 These leggings are also darling and a great price. Love the slanted stripes. A fun twist on the classic adidas style.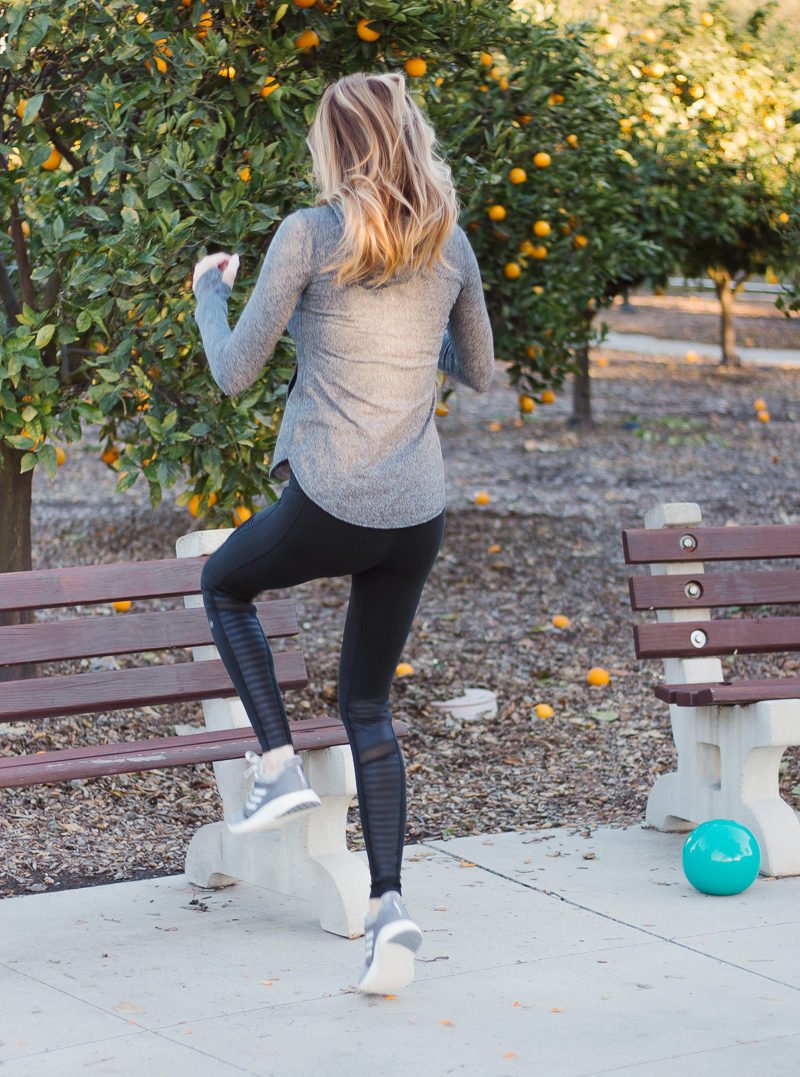 Working out in our neighborhood, I take advantage of the benches and sets of stairs. You really don't need anything fancy to get in a good workout.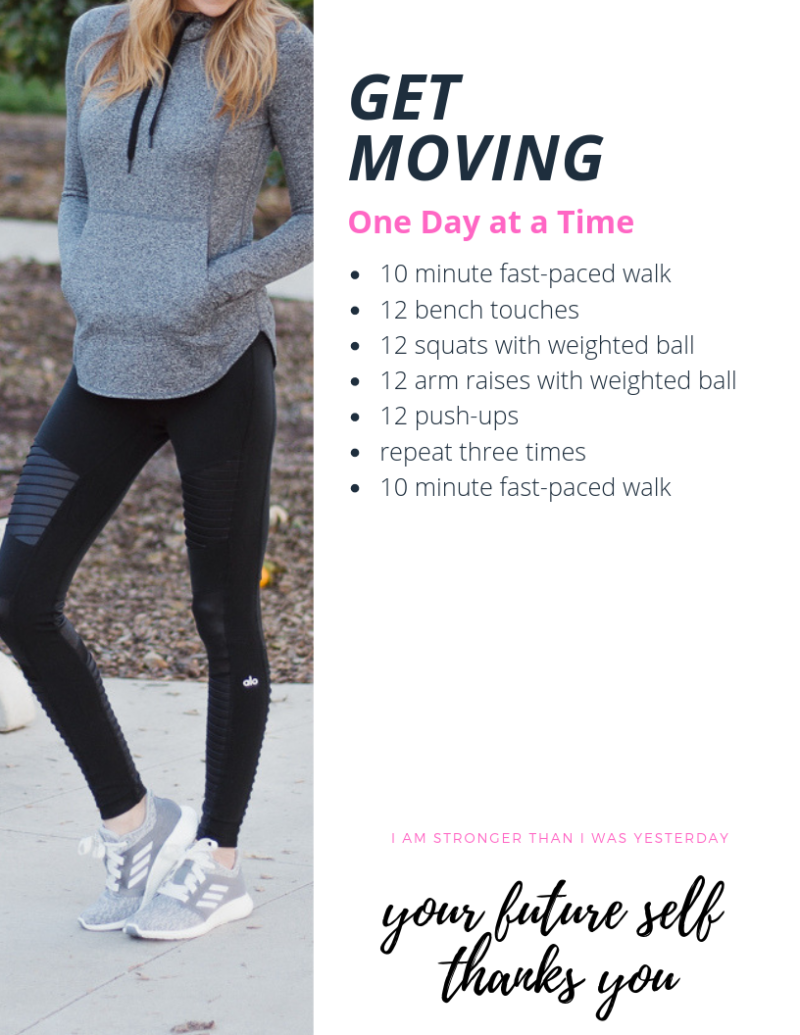 I don't belong to a gym and either workout at home or outdoors. Weather permitting, I love to go on a fast-paced walk and fit in some interval training. I've given you an example of a workout I like to do to get things moving.
This whole look is calling my name. The fleece pullover is flying off the shelves and extremely soft. It's perfect for our really cold mornings. I don't always like fitted tops, and love wearing this style.
Without question, this is one of the softest tops I own. It is incredibly cozy on the inside and silky soft on the outside. I had my eye on it forever but didn't want to spend the money. Then I felt it in-store. Sold. And worth every penny because I have been living in it. Some of you noticed I had it on for my visit with my mom on Tuesday. I sized down to an XS.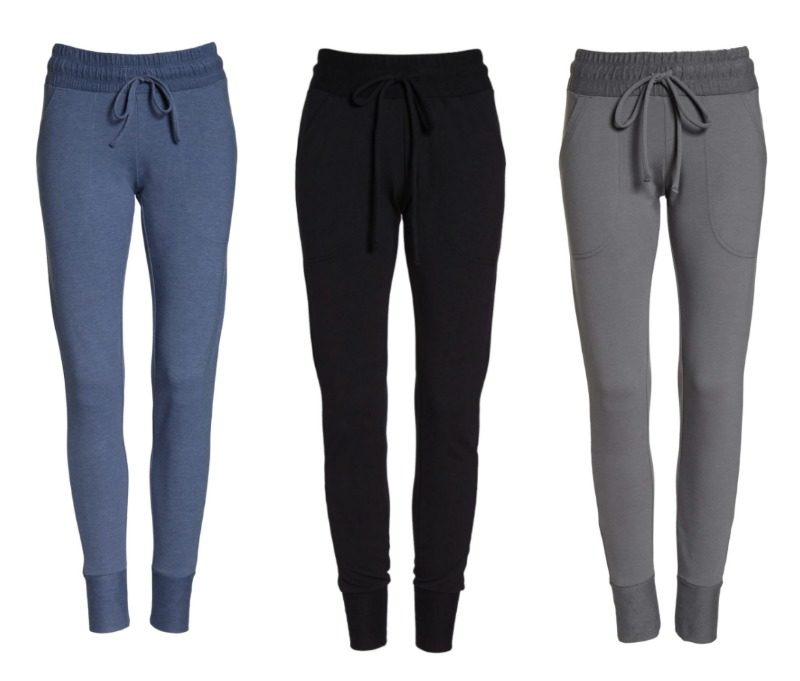 These are also darling in person. They receive great reviews and are under $50.
SHOP THESE FINDS

You can click on the photos above for details but I have to tell you about these leggings. They match my pullover and are super soft. I can picture myself wearing these on a daily basis.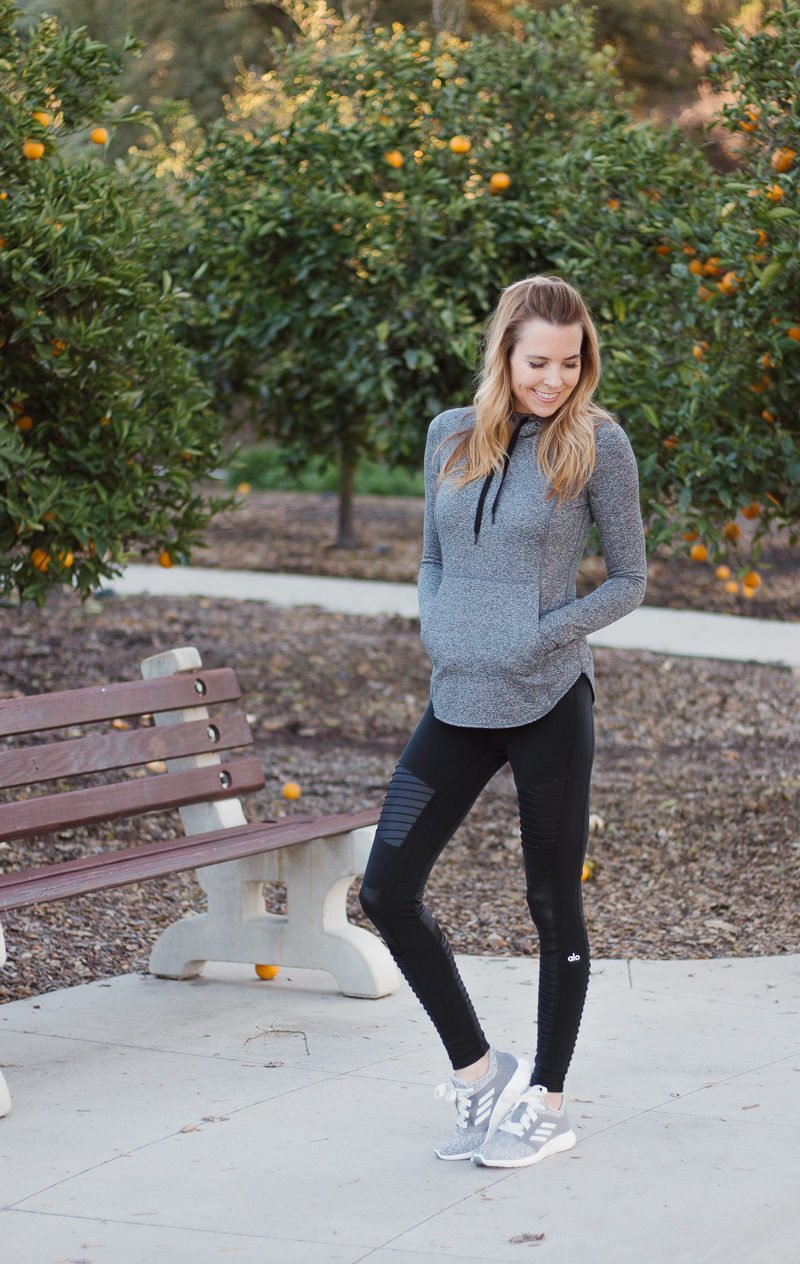 Find your time. Find your person. Find your why. And then look cute doing it. In all seriousness, I really would love to hear if you this works for you. And if you want to share your why in the comments below, we would love to hear. We HAVE to take of ourselves to be there for everyone else.
*Proud to partner with Nordstrom. Affiliate links used.