There have been a few spots in my home where I just can't seem to find a piece of furniture I am looking for. These days furniture shopping feels more like a scavenger hunt. Case in point is a seating area in our family room. I have been looking for a sizable end table for months. Either it's way more than I want to spend, too small in stature, or poor quality. That's when I start checking Facebook Marketplace for just the right piece. I recently found a solid wood table and had to have it.
OUR NEW TO US TABLE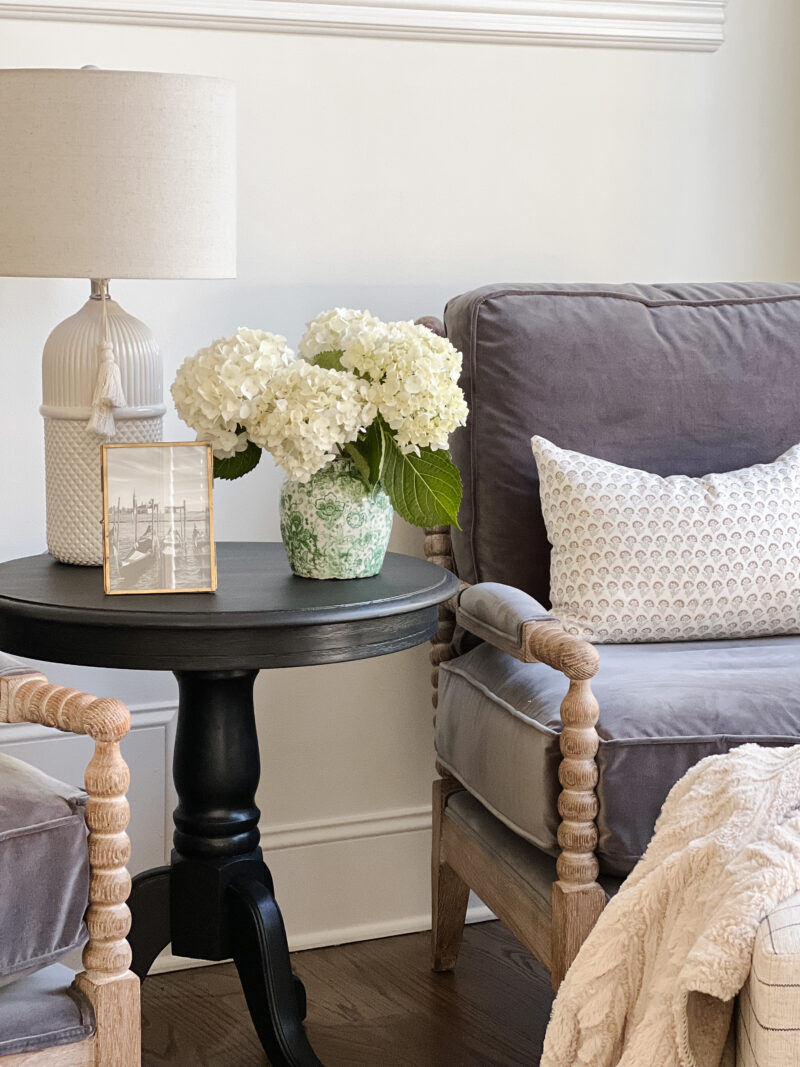 This piece is solid wood, solid construction and traditional lines. Exactly what I was looking for in all of the stores. I paid $90 for this and to me it was very worth it. Even a Target table would be more than that and not made of solid wood. When I am considering prices, that is the way I think of it. Plus many of the high end stores charge insane prices for a small accent table.
THE BEFORE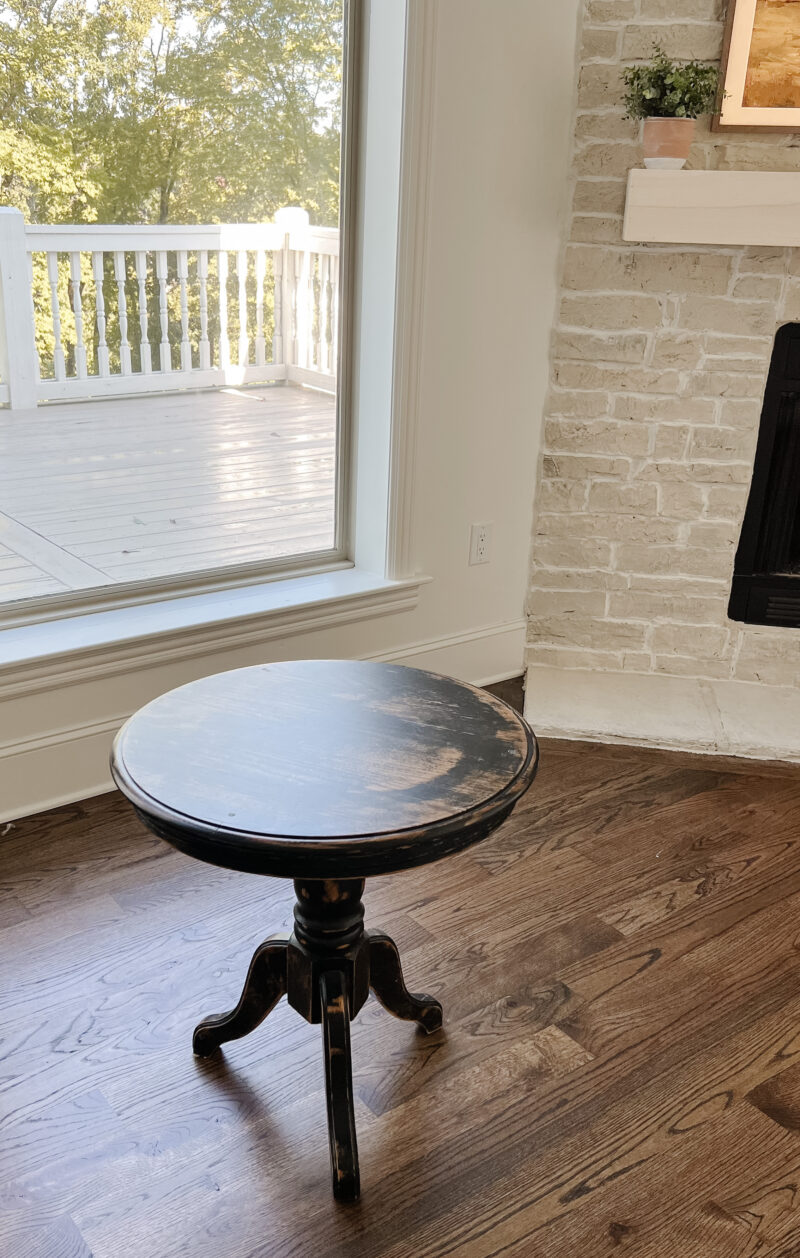 Here is what it looked like when I picked it up. A bit of a two-tone farmhouse look. While it's cute like this, it doesn't go with the rest of my space. A solid black gives it a bit of a more formal feel. I used my very favorite Mineral Fusion paint in Coal Black. I toyed with going lighter but though that the decor items and lamp would create more of a contrast on a black table.
COZY SPOT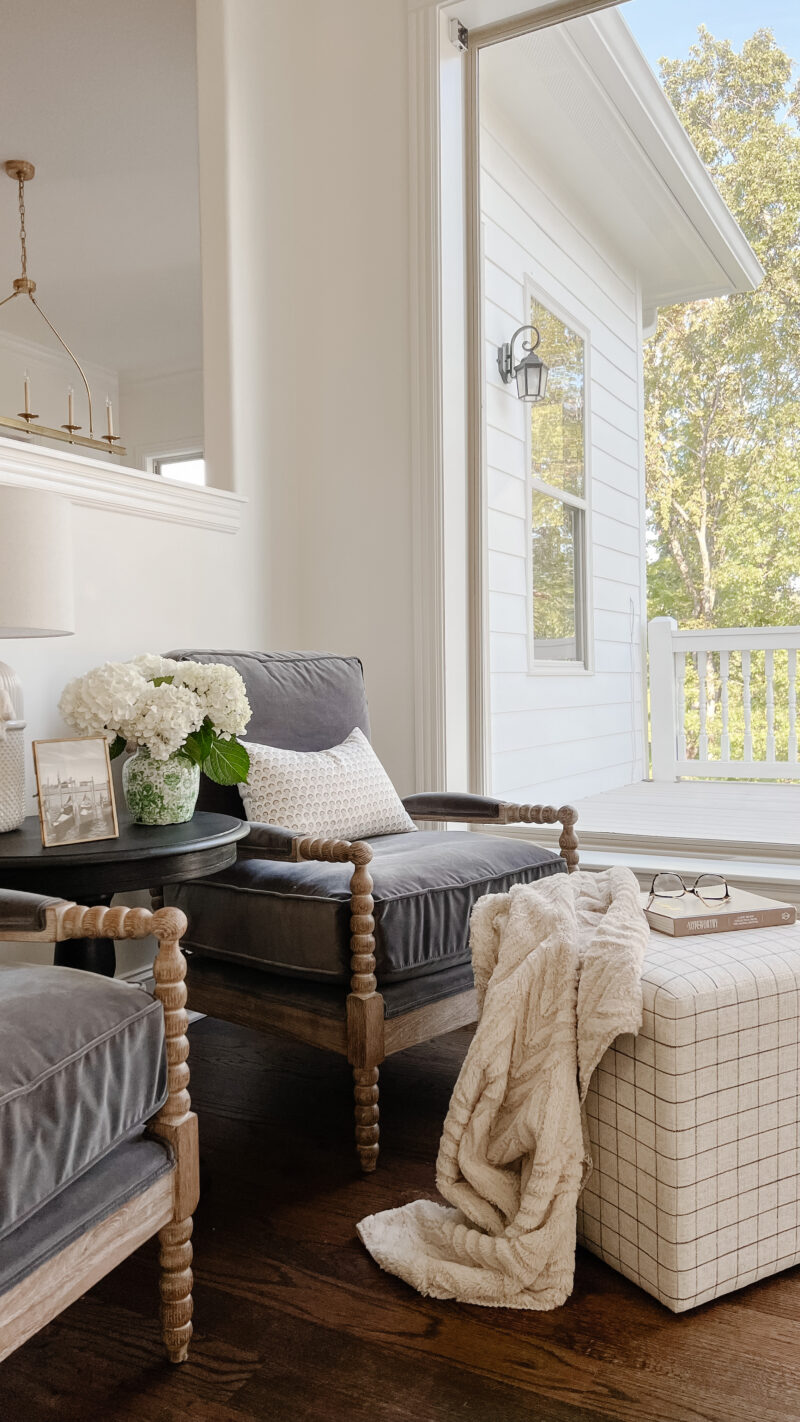 This is one of my favorite spots in our home. Our family room is a bit of a challenge when it comes to furniture layout (full tour soon) so we decided to create this seating area. You can see the tv from these chairs and still enjoy the pretty view outside. This is where I do most of my reading or meal planning. The two ottomans are either next to our coffee table or over here so we can put our feet up. So far this arrangement has worked really well. I bought these chairs locally from Sara Sells.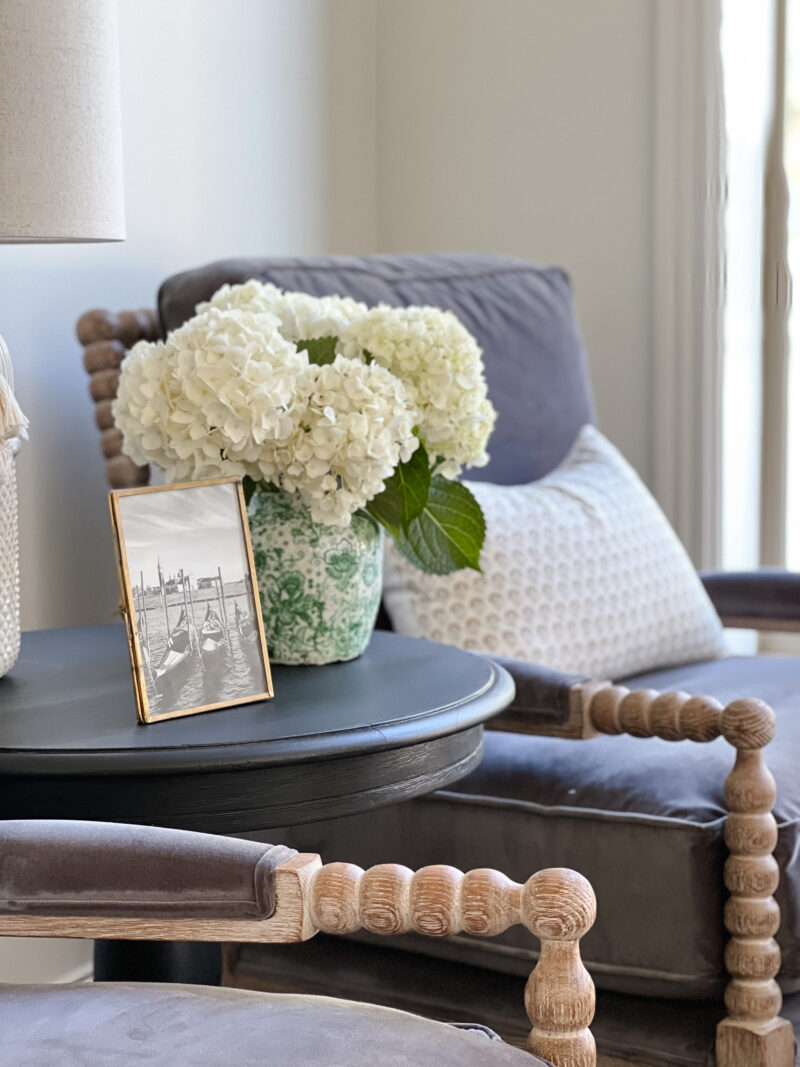 I think the black is a nice contrast with the lighter wood on the chairs. It also ties in nicely with the chandelier we have in this space.
THE BIGGER PICTURE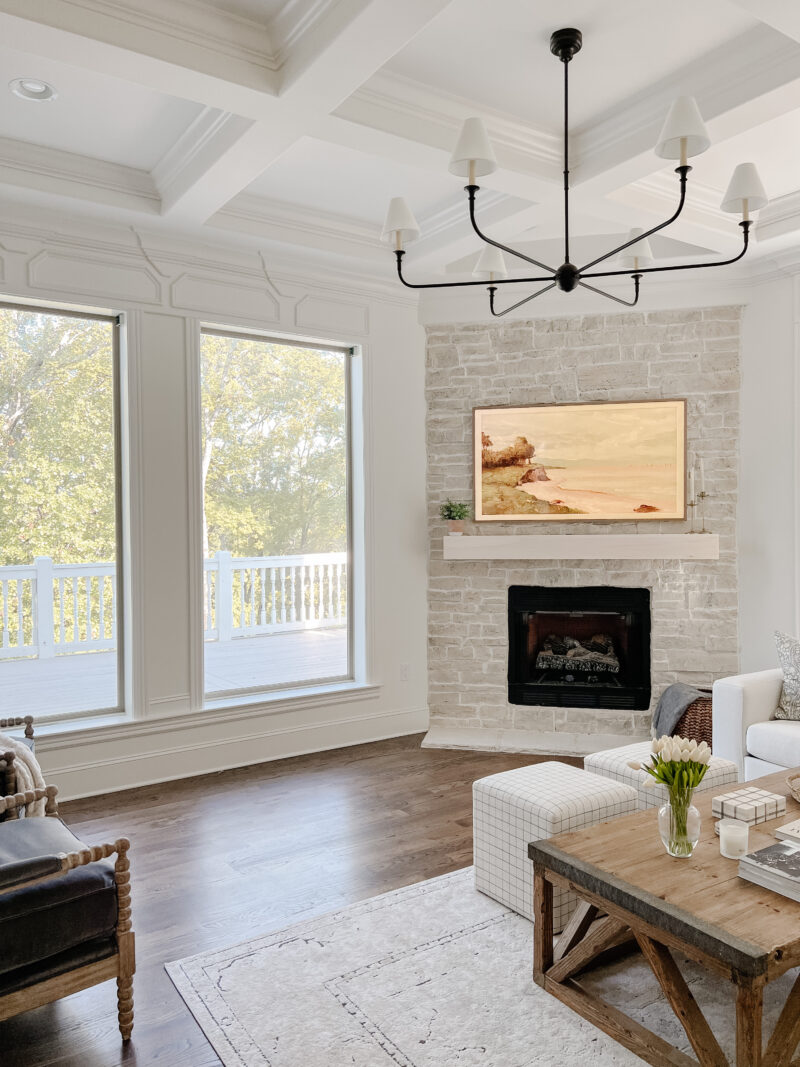 A peek at where we keep the ottomans if they are not in front of the chairs and the black chandelier we chose for this space.
*Fireplace makeover can be found here.
OUR SIDEBOARD FIND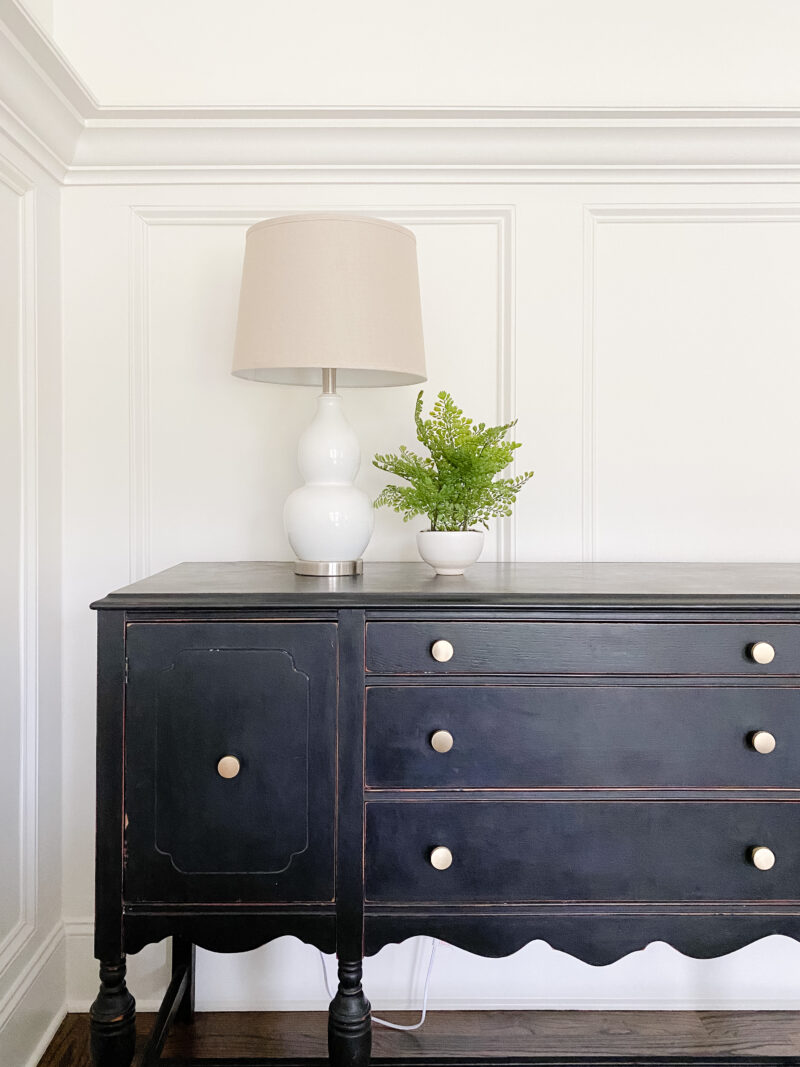 Here is another piece I found on Marketplace. I used the same Mineral Fusion paint (Coal Black). You only need a light sanding with a fine grit sandpaper prior to painting. And always be sure you clean the wood very well with just a damp towel or cheesecloth.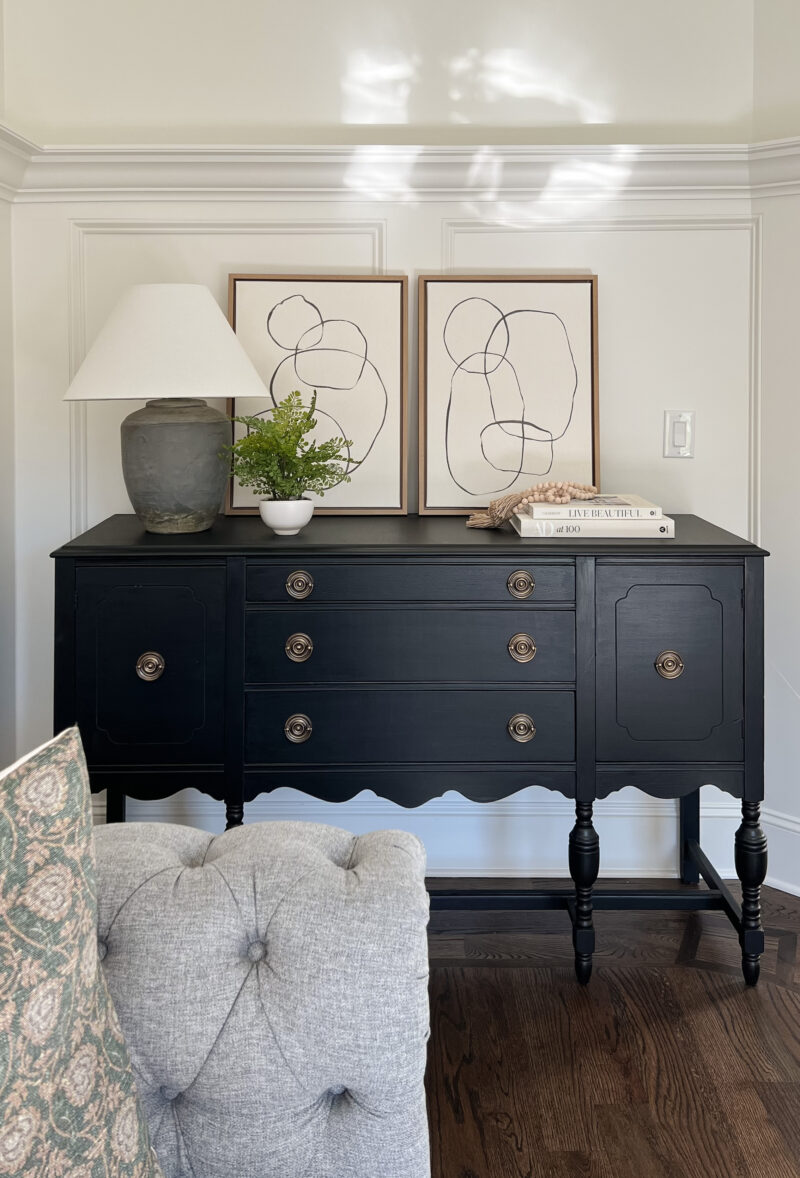 The after with new hardware and fresh paint. We used this hardware but I also love these if you are looking for an oval shape. The artwork set if from Amazon.
TIPS FOR MARKETPLACE
Use broad search terms like "table" "sideboard" "dresser"
Be sure to know the exact dimensions that will work and stick to that.
Look for solid wood as it can easily be painted
Check daily and respond immediately if you like something
Choose a safe and well lit meeting spot (always during the day)
Envision the piece you want in the space and stick to that, don't get swayed by other options available.
Always fun to stumble upon something that just feels right. And when it's cost effective it's even better. Let me know if you find something. Hope you have a wonderful day.