Good morning. I wish I could say I was up and running this morning but the sore throat and cold symptoms have won the battle. Who's got time for this? I'm hoping sleep, steam showers and the power of positive thinking kick in soon. Hope your family is staying healthy. Today I am sharing amazing Fall basics that can all be mixed and matched. Whether you want to dress it up for date night or keep it casual for carpool, I've got you covered.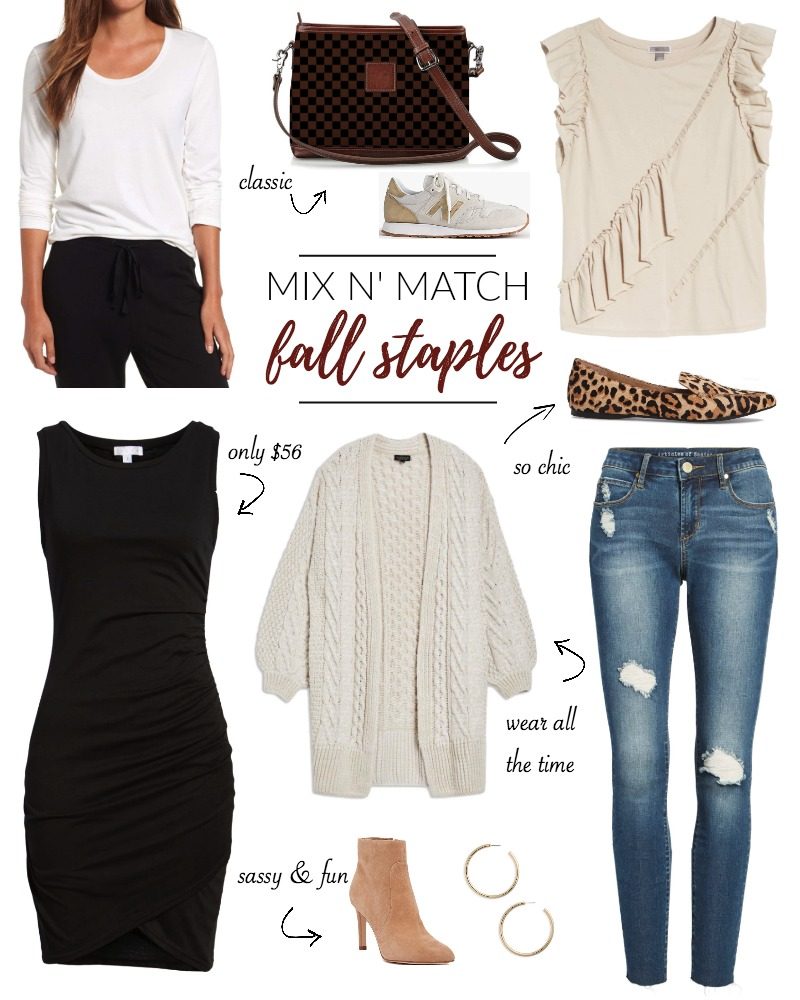 All so good, right?! Neutral, maybe, but certainly not boring. I incorporated ten items (plus a great pair of hoop earrings).
A wardrobe must. I normally keep my white long sleeve t-shirts about 2 years before I give them a refresh. A soft, well-fitted tee can be worn with so many outfits. It's great just a lone with lounge pants and comfy sneakers (my carpool uniform) or great under a cardigan with distressed jeans.
Yes to anything comfy. As long as they fit well, they look great around the house or out and about. I live in mine and have for years. No joke. My long time followers know that these are far and away my favorite. I wash and dry them no problem and they still fit great.
A crossbody bag is so practical. It's actually the style I carry most now. While this bag is still a favorite of mine, this one can be customized in any print and you can also add your own monogram. That makes it an instant classic. I chose this print for this outfit collection because it is a really good neutral for Fall.
Yes to these. I adore them and wear them all the time. They are so comfortable and go with everything. I also like that they are lightweight and not too bulky. Well worth the money.
This top reminds me of an Anthro style top. It is currently on sale and adds that feminine charm I love. Sold.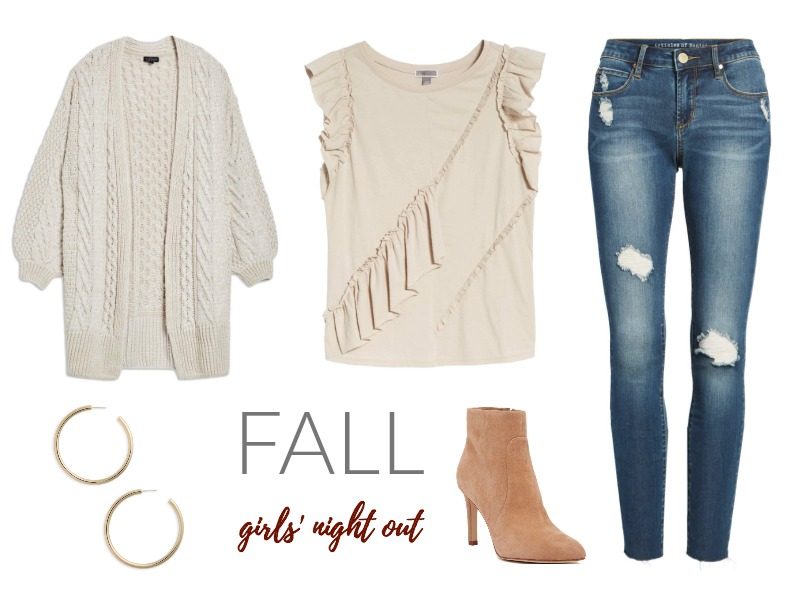 Such a fun look for a night out with friends or a date night!
When sexy and comfort combine they form this little black dress. I have this dress in two colors. No joke. So do my best girlfriends. It's the ultimate go-to dress that can be dressed up or down. And at $56 it's a complete steal. High heels, flats, booties or sneakers. . . this dress works with all of them.
Cable knit is so good for Fall and Winter. Despite this being a nice big sweater, it has a streamline profile from the side so it doesn't add too much. This color is nice and neutral but it comes in a few others as well.
Leopard flats are definitely a neutral but adds so much to any outfit. It gives it that extra energy and elevates a basic outfit from boring to chic. So good with the black dress or jeans.
Just enough distressing and only $64. Sign me up. I wear these all the time. They lend themselves to flats or booties and fit really well.
While I don't have these, I think I am ordering them today before they sell out. They are marked down to $79 which is awesome. I just think they are so sexy and fun. If they are a bit too dressy for you, these are my other favorite bootie. You know because I wear them all the time!
Funny story about gold hoops. I have just recently been wearing them a ton because my daughter bought a set of them. One pair was too big for her so she gave them to me. Score. I love them. And when I toss my hair up in a top knot it's a nice way to make an outfit look more pulled together. Add them to your lounge pants and a t-shirt and you'll look super chic.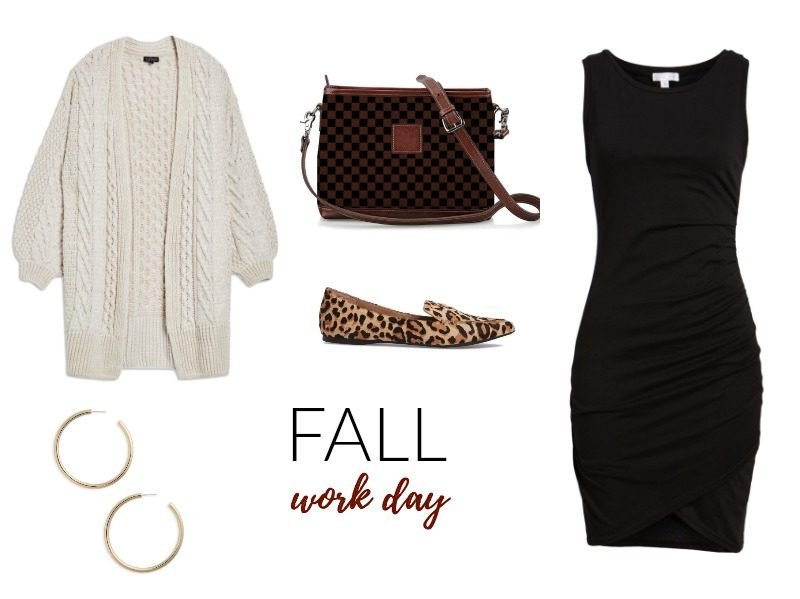 Does your Fall wardrobe need a refresh? Hopefully these items give you an idea of how you can rethink your own wardrobe and mix and match to make the most out of it.
SHOP THESE PIECES

Enjoy your day, friends. My husband is off to be with mama and I plan to sleep the day away and kick this cold to the curb.