Good morning!!! Where is everybody? The house is far too quiet for me this morning. I don't know what it was but this break was one for the record books. Not because we have a long list of things we did or places we went, but because we really didn't want it to end. There was very little bickering (pretty rare) and a whole lot of quality family time. So today feels a little off. The rain makes it even more challenging to get back into the swing of things. I suppose I'll have to actually tackle the laundry and bust out the swiffer. The weekend was a nice one so without further ado, here is our Monday Morning Wrap-Up.
MARBLE BEAUTY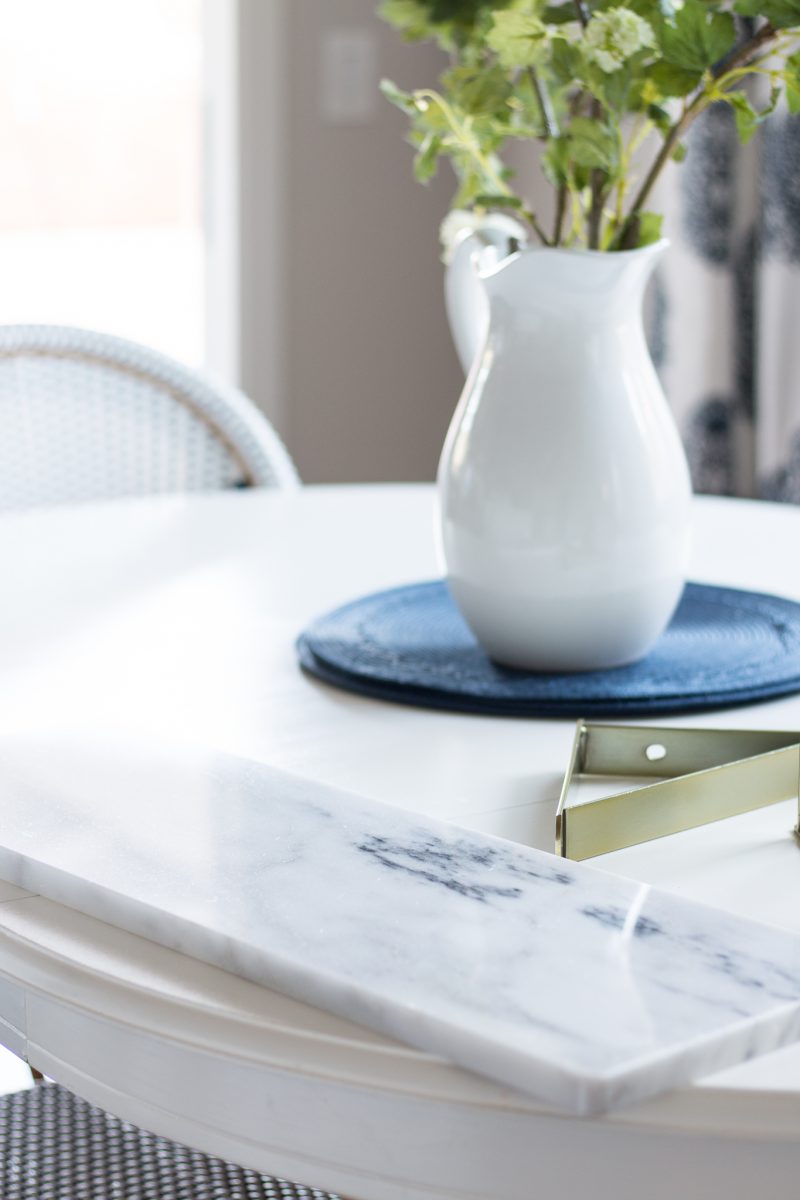 Just thought I would update you on the marble shelf that I ordered. It just arrived and will be going in our powder room. I bought it when it was on sale and I couldn't be happier with it. It's such a beautiful piece of marble. It's crazy heavy so I will be handing it off to my husband to hang. Will share once we have it on the wall. While this one is no longer on the website, this one is and is actually even better. I love the mix of wood and marble and the pretty brackets.
RUFFLES FOR THE WIN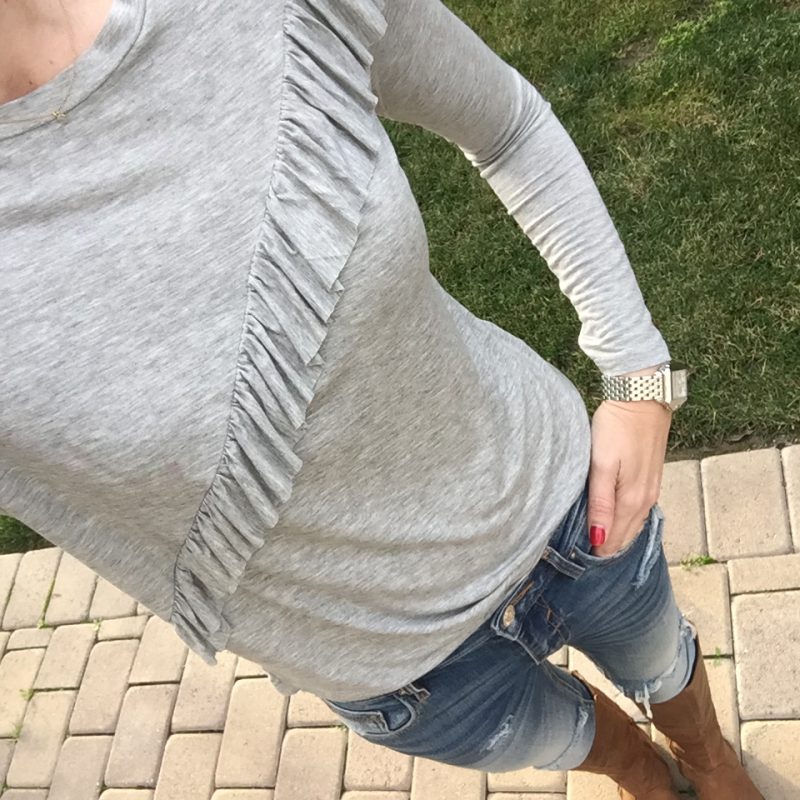 On Friday, I took my daughter to see the movie, Hidden Figures. Can not say enough great things about it. Wow. My daughter was captivated and we walked out of that theater ready to tackle the world. It's such a story worth telling and I highly recommend it. Truly a great, great movie.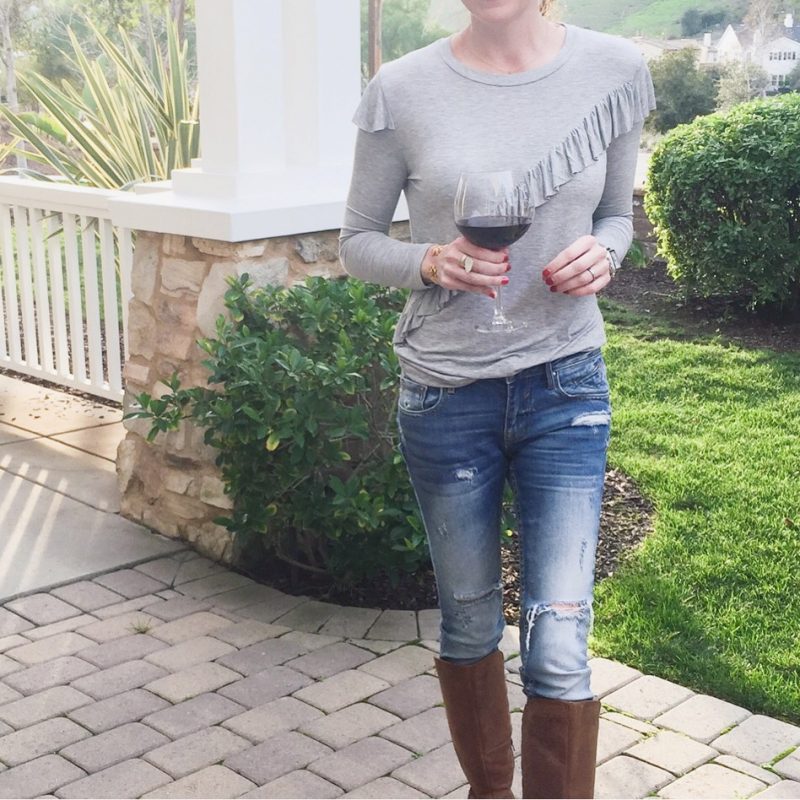 I will share this styled a couple of ways soon but it's such a great t-shirt. It's softer than soft and fits really well. I am wearing a US size 4 and really like the fit. It's one of those where you want to have two in your closet in case something happens to this one. It's that cute and soft.
ENTRYWAY PROGRESS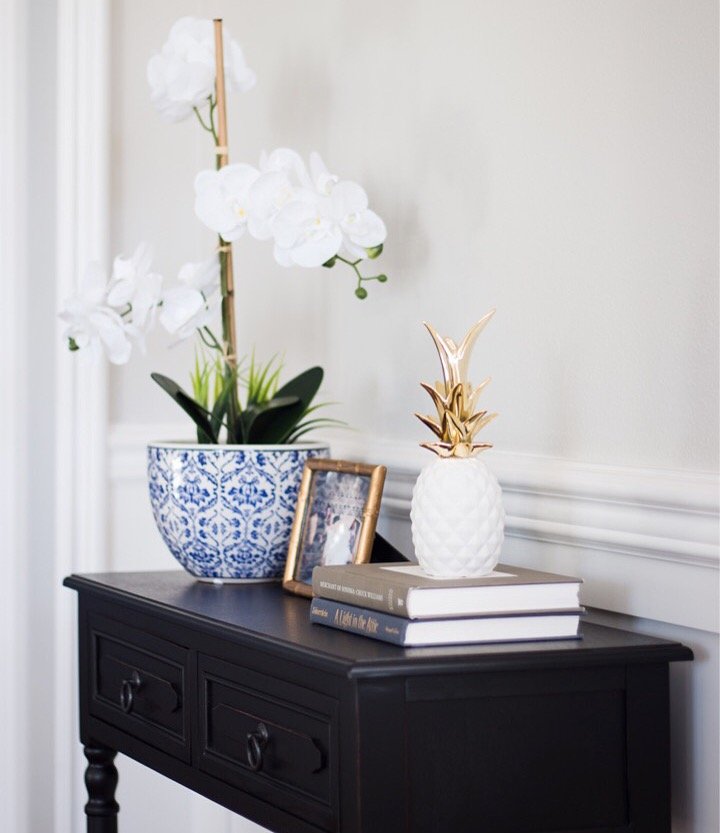 I made some progress in our entryway this weekend, too. It's starting to look like people actually live here! This pineapple arrived and my daughter has already warned me it may disappear and end up in her room. It's really pretty and quite heavy in real life. Thank you to Lulu & Georgia as they gave all the attendees of the Bloom Workshop a gift card and that is what I bought for our home. The table has a shelf below and the detail of that shelf won me over. Classic and timeless. Hoping this is a nice spot to toss keys and to switch up decor as the holidays or seasons permit.
GALLERY WALL IN THE MAKING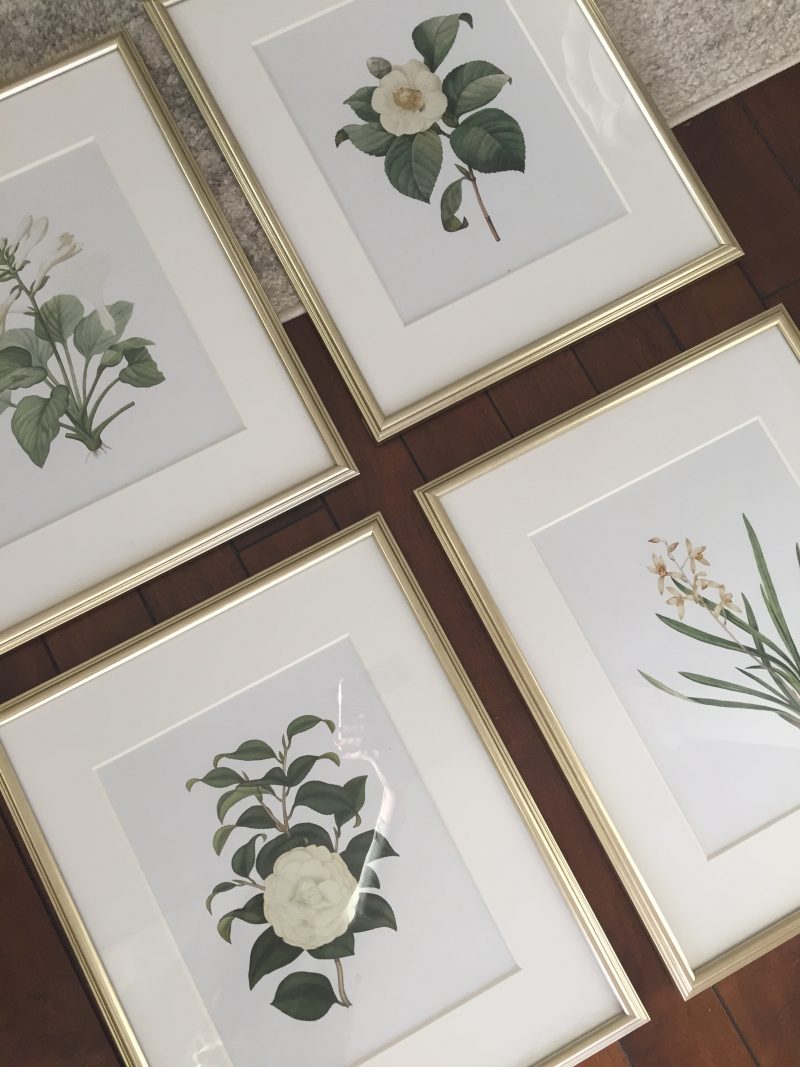 Are you on Instagram? I shared a bit of this project on my Insta Stories. Did you know you can email Staples documents to be printed? It's the best! So I purchased these downloads from Etsy for only $12. I just love them. This Etsy shop allows you to look at sets of 2, 4, or 6 so it makes it really easy if you are planning a gallery wall. They were already sized to 11 x 14. I then emailed them to Staples. They send you a code when they are ready to print. Once you are at the store, they get printed on 11 x 17 cardstock and it's crazy fast and simple. These cost $10 to print. So for a total of $22, I have pretty prints ready to go and hang in our hallway. The frames are from HomeGoods.
BRUNCH AT HOME
Our daughter rocked her softball evaluations on Sunday (she was so nervous) and my husband made delicious French toast afterwards to celebrate her being brave out there. So yummy and such a treat as we rarely make it. (Well, let's be real. I have never made it. . . I don't know how! LOL).
FRESH SQUEEZED JUICE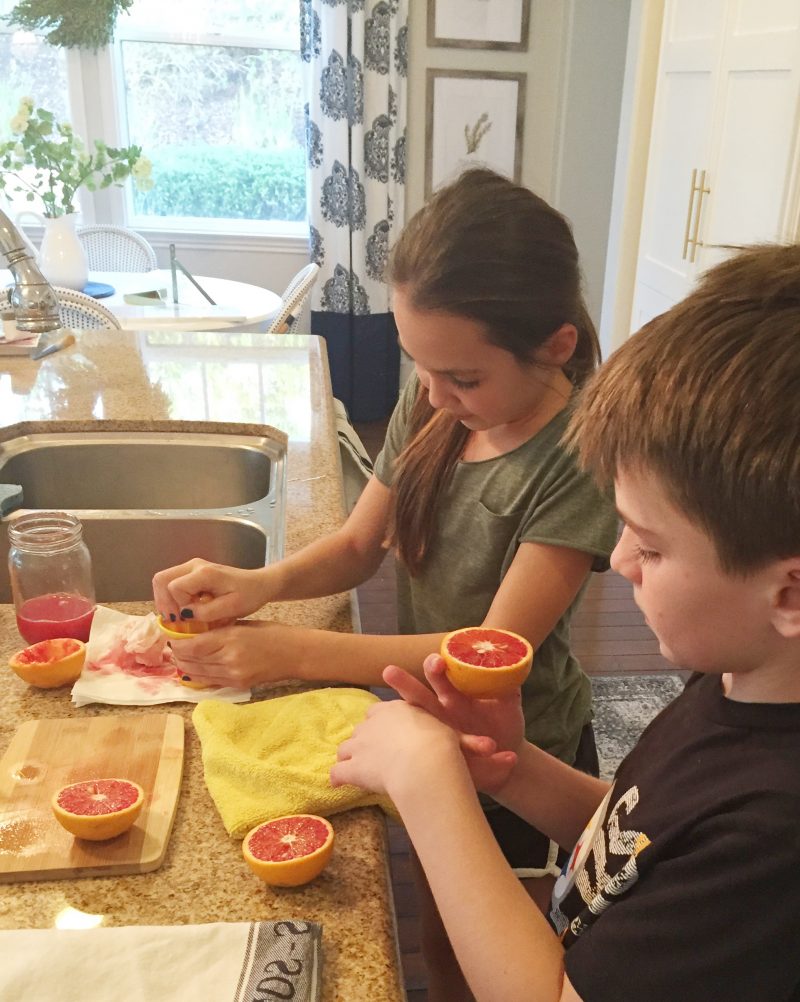 These cuties picked some oranges in the nearby orange groves. Blood red oranges galore. They spent . . . are you ready for this . . . over an hour and a half squeezing oranges. Their patience astounded us. And they took turns with that tiny juicer we have. Hmmm. Do you think we need to upgrade that or what? But it works!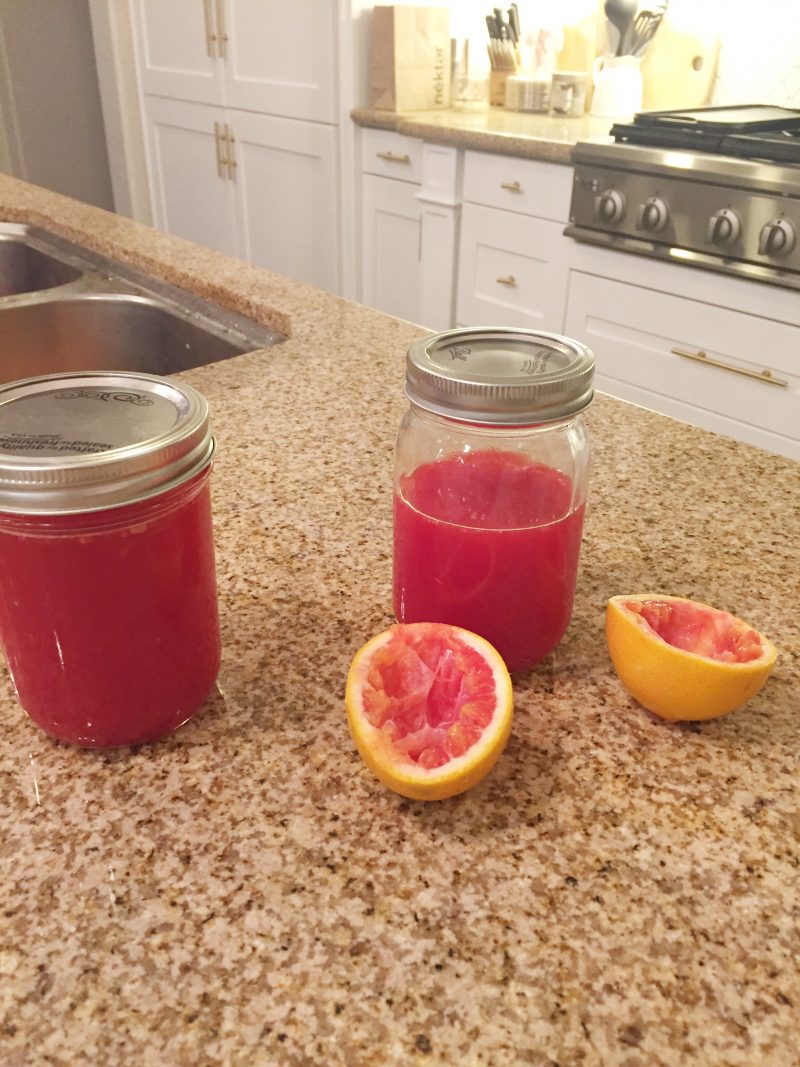 Altogether they made three mason jars of juice and loved every minute of it. Nice way to wrap up the weekend.
Are you ready to tackle Monday?! Let's do this. I am channeling my inner 3 year old. I think all 3 year olds wake up ready to conquer the world. Or at least really excited to see what the day brings. So that's my plan. Wishing you a great day.