Good morning. The final countdown is on. We are so excited to celebrate Christmas in our new home. It's definitely going to feel different without family but we are hoping the new traditions, mixed with old, make it feel special. What are you plans for this week? I will be hitting the wrapping pretty hard as I have yet to do that. But unlike most, it's one of my favorite parts of the season. Here is a look back at our Monday Morning Wrap Up and a few fun discoveries.
GINGERBREAD HOUSES
In keeping with tradition we spent an evening making our gingerbread houses. Remind me to grab the kits from Costco or Trader Joes next year. These were a last minute grocery store grab and let's just say they were a little thin on candy and icing. My dad used to knock this night out of the ball park so I need to step up. Many of you said you save leftover Halloween candy which is a great idea. No matter what, we love cranking up the Christmas music and getting creative together. Once again, the kids' houses turned out much better than ours.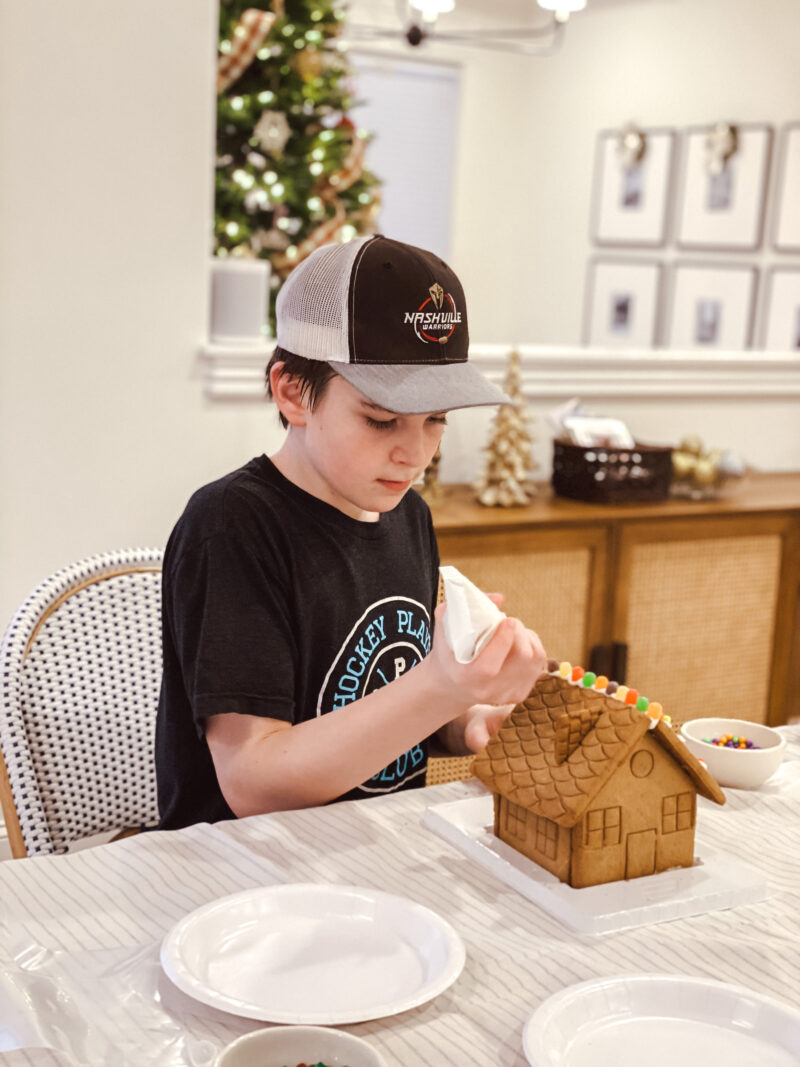 I've been snapping just a couple of photos each time we do this and it's so fun to look back at how much the kids have grown. I still remember the years we had to do most of it for them. I will say that this vacuum is a mom's best friend to quickly clean up all of those tiny bits of candy.
Pro tip: use a hot glue gun to put the house pieces together. Works like a charm. Just use the icing for decorating.
A NIGHT OUT TO CELEBRATE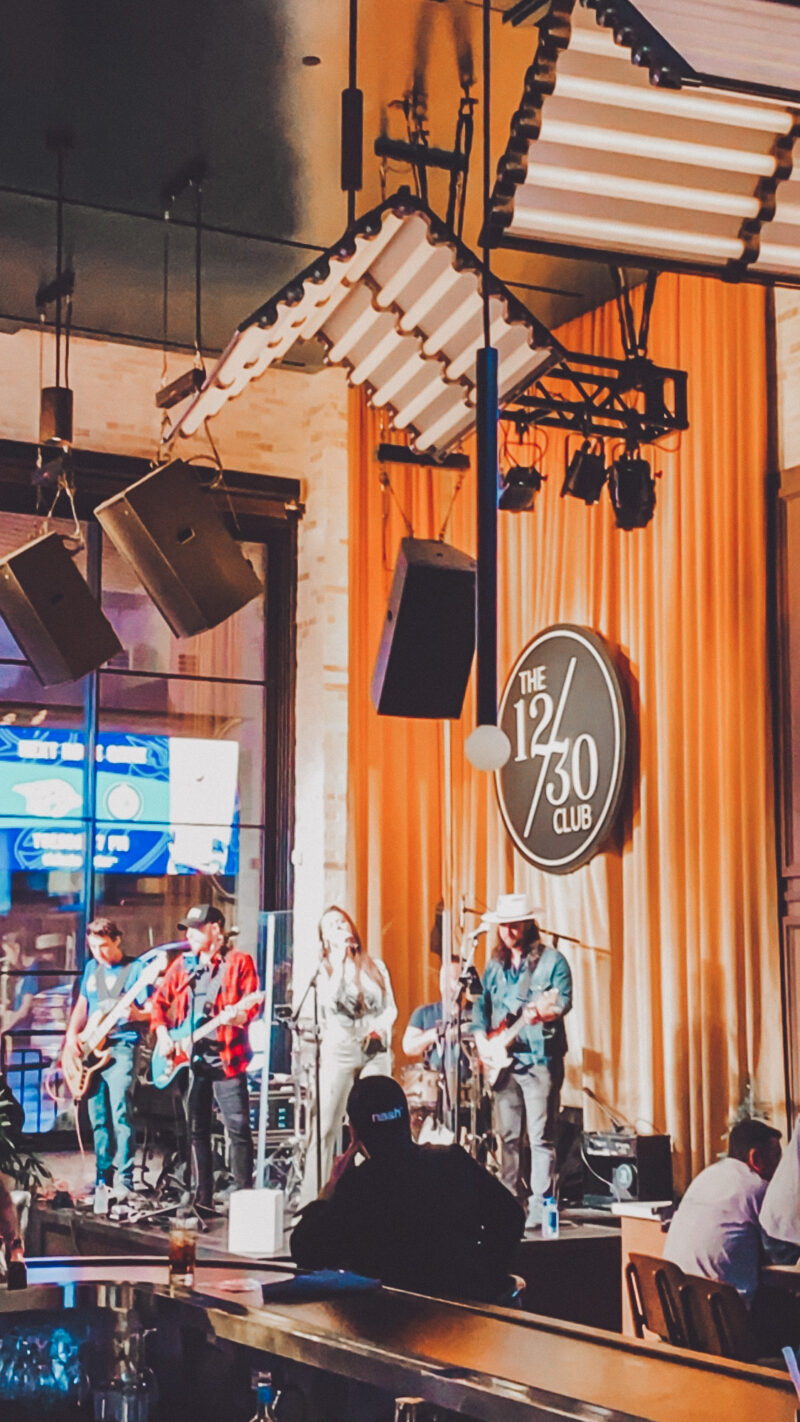 Friday night we took the kids into Nashville to celebrate a successful first semester at their new schools. If you have teens, this is a fun way to be a part of the city excitement without having it get crazy. We took them to the 12/30 Club for a 5:15 dinner. Early, I know but here's why. The crowd is family friendly that early and the first band plays until 5:30 (usually) and then when they are switching bands it's not as loud so you can have great conversation. The food here is fantastic. I always recommend the Brussel sprouts and the pretzel bites. There is also a parking garage directly next to the restaurant so it doesn't get any easier.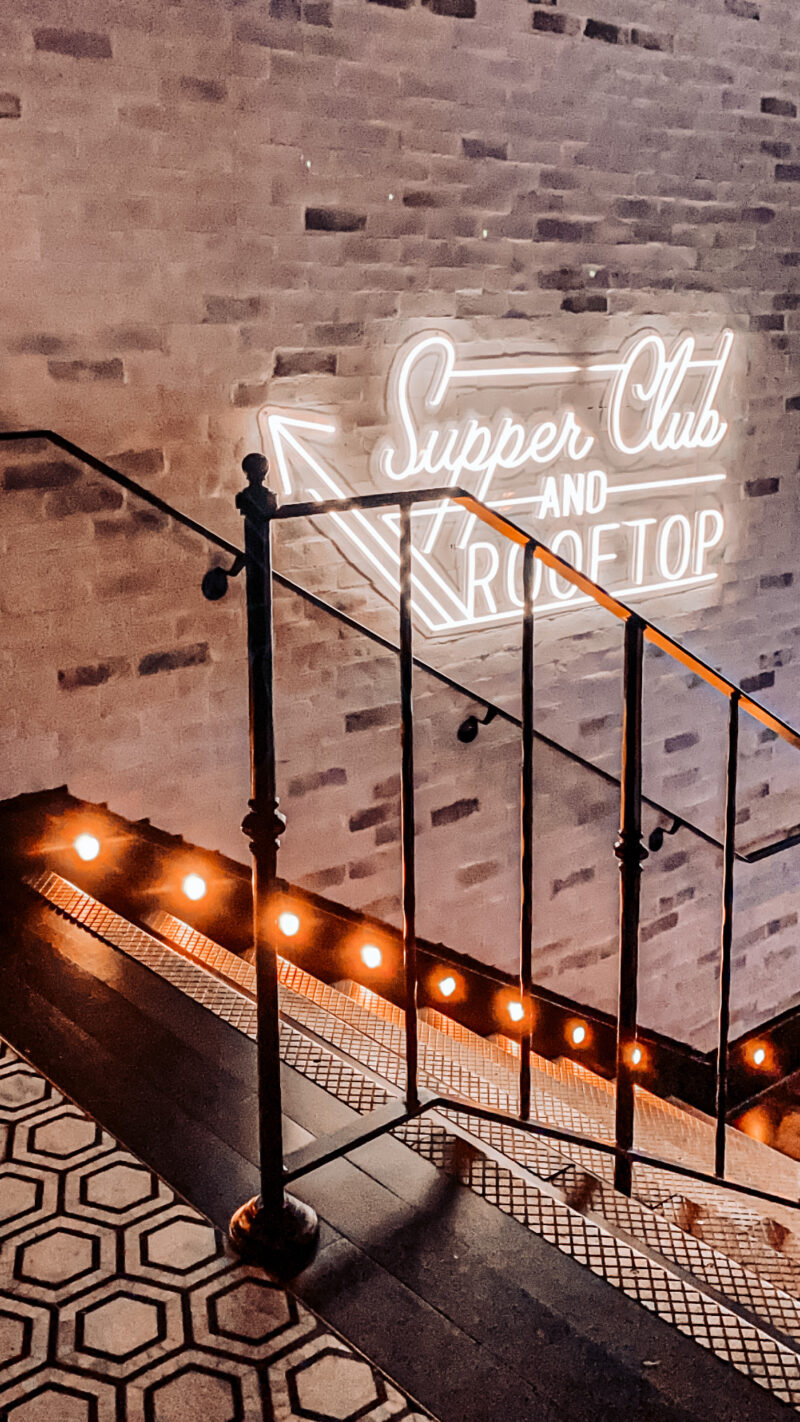 After dinner, it's fun to head upstairs to see the Supper Club and walk out on the patio.
NASHVILLE LIGHTS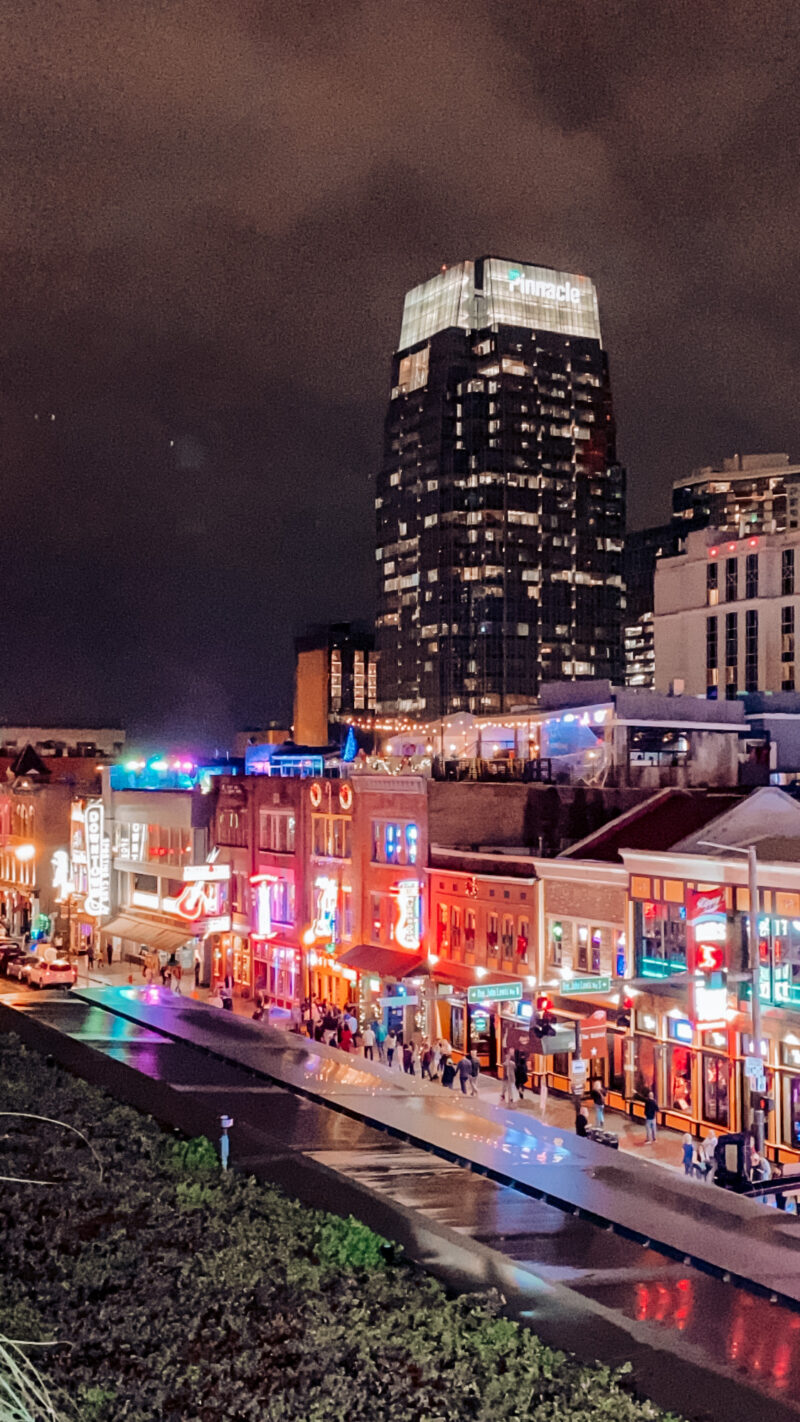 Early in the evening, the rooftop is pretty empty so it's a great way to take in the lights. We were home by 7:30 to watch a Christmas movie together. My kind of night. We are still using our favorite projector for movies.
ANSWERING YOUR QUESTIONS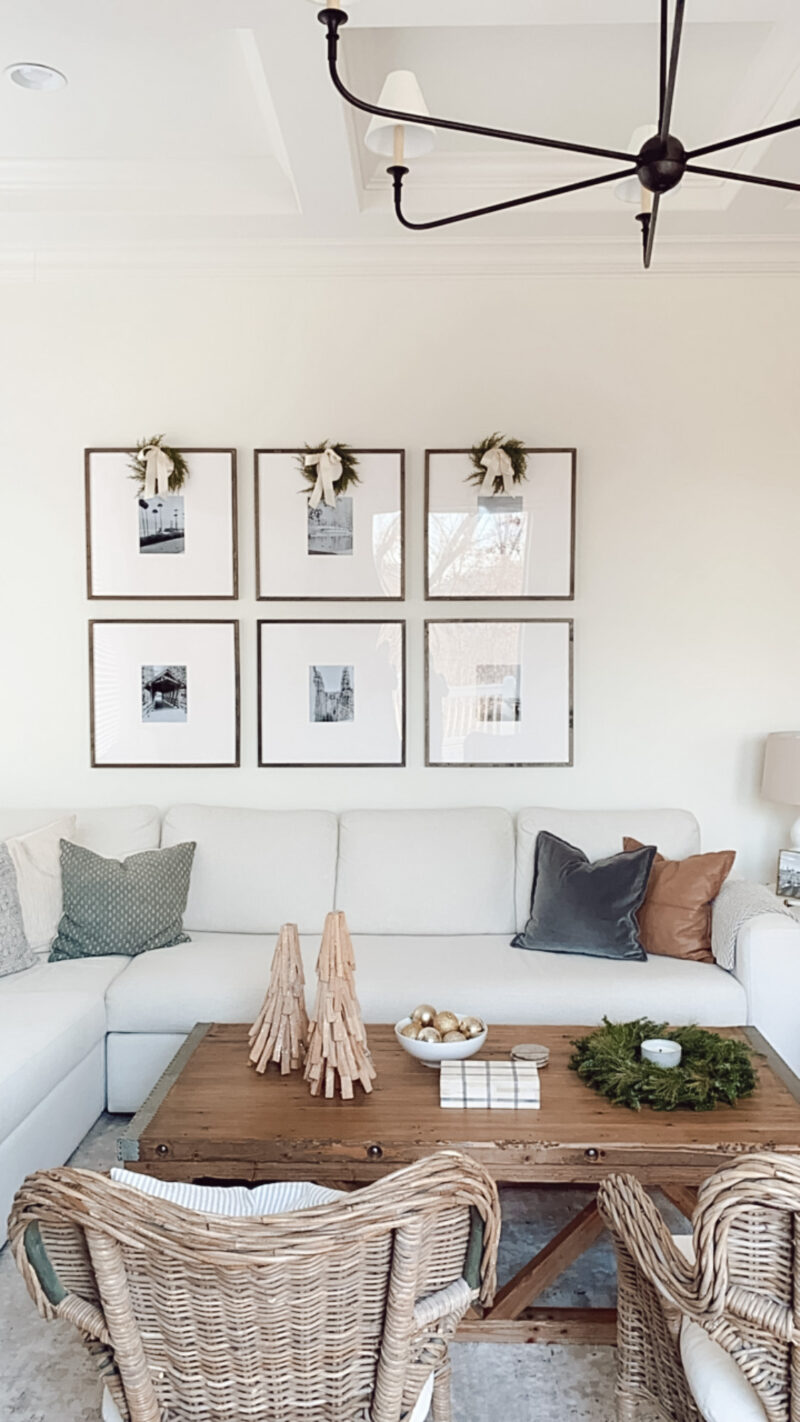 After I posted this photo on Instagram stories the questions came rolling in about sources so I thought it would be easiest to answer those questions in one spot. We brought most of this from our last home but the light and frames are new.
FLAMELESS TAPER CANDLES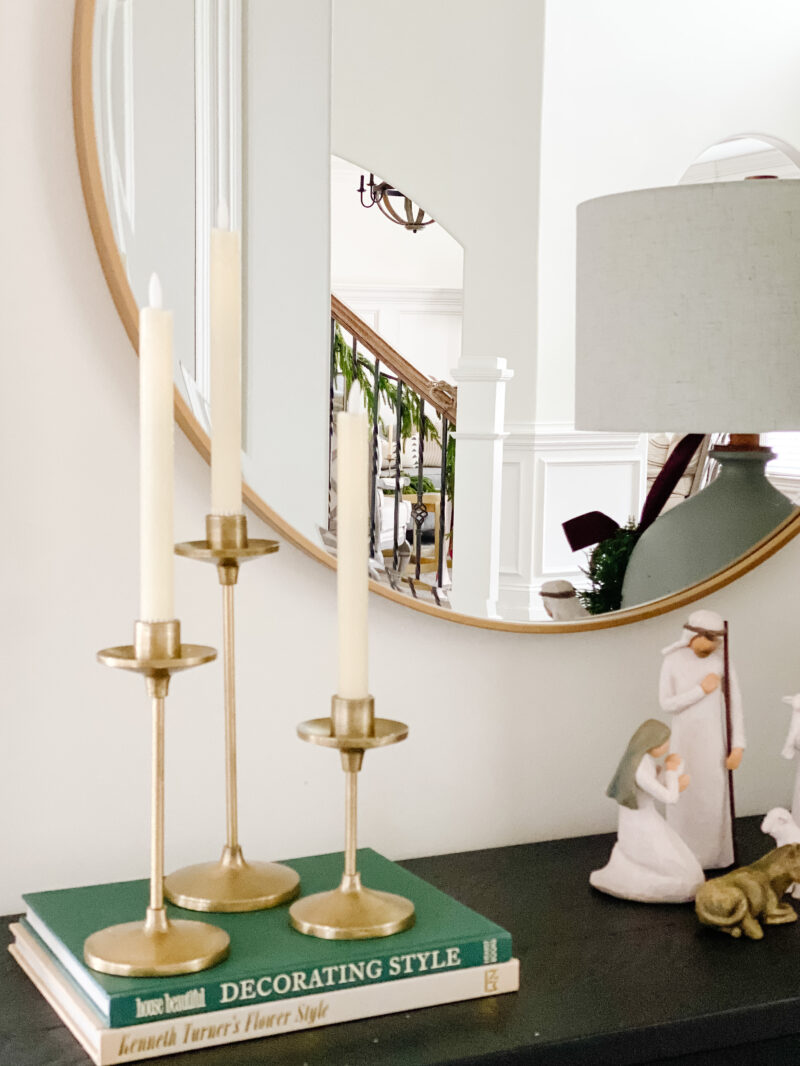 I'm sure you've been seeing these all over. What in the world took me so long to buy these. Not kidding, whatsoever. I LOVE them. My taper candles are always my favorite (I think they look so elegant) and the flameless version allows me to have them on whenever I want. The books belonged to my mom and our nativity figures can be found here.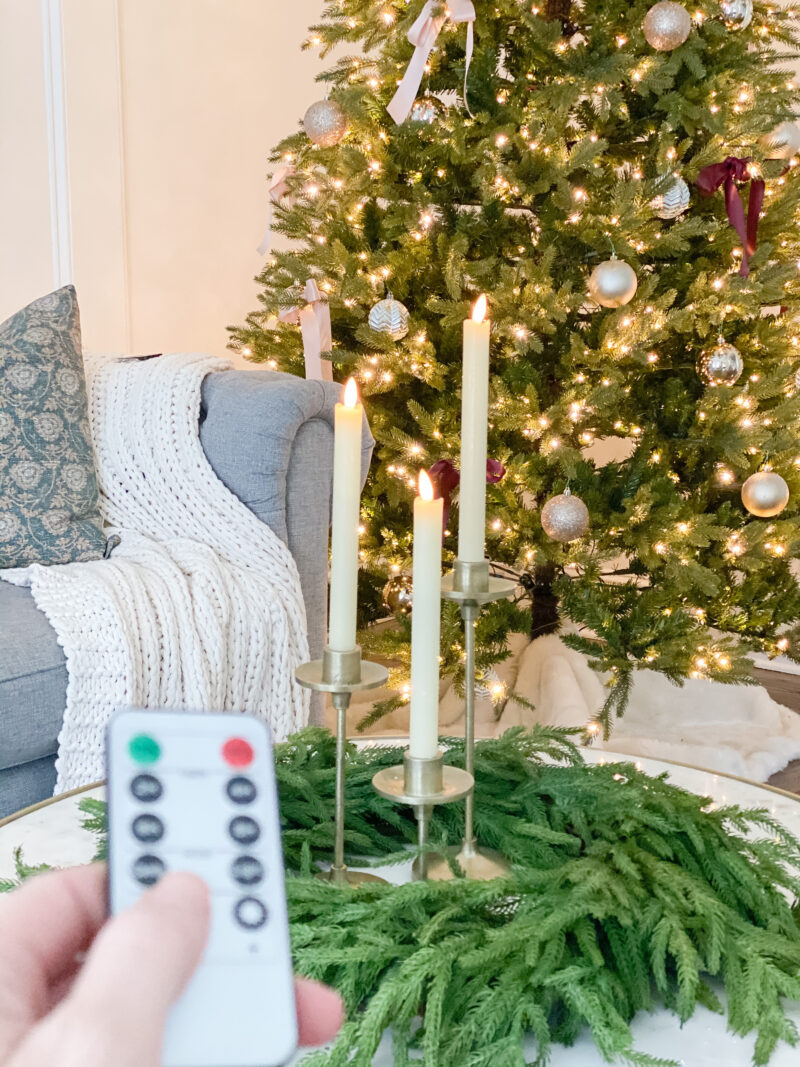 When lit these candles look really realistic and even have a wax base. Plus you can use the remote which is ideal. You can still grab them in time for hosting if you have Prime.
A CLOSER LOOK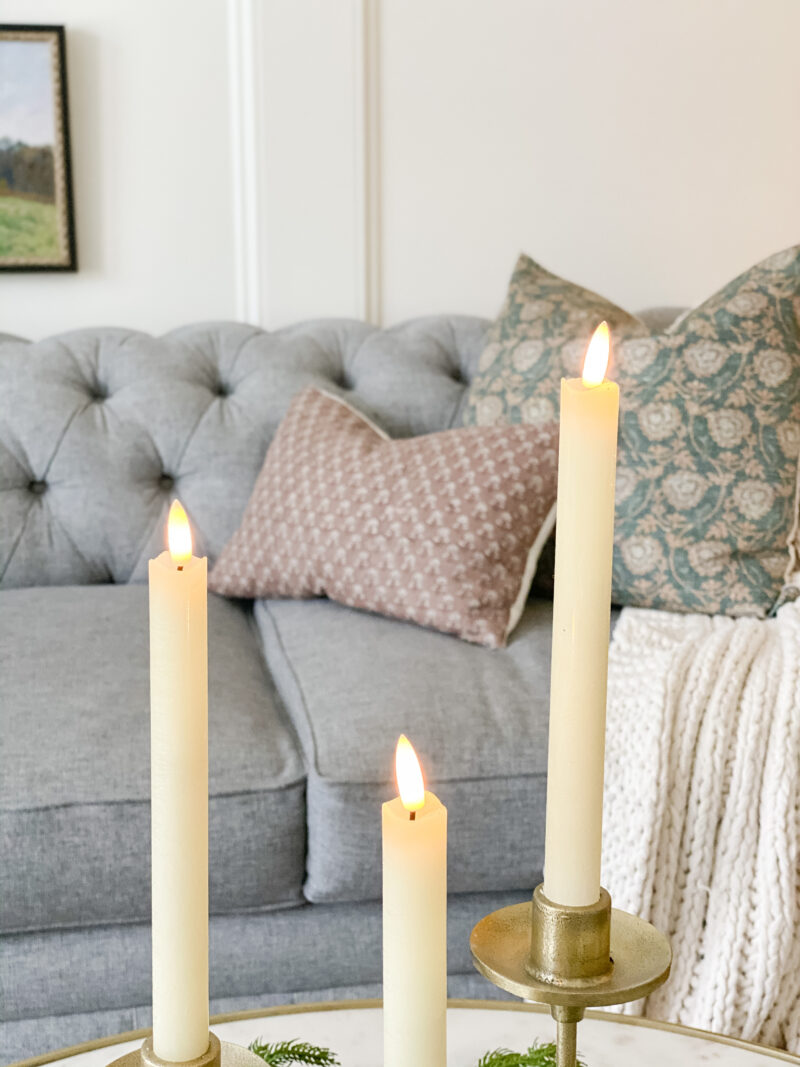 I wanted you to see how they look up close but they sure are tricky to photograph. I ordered two sets and wish I had done it sooner. These are a great find.
MATCHING GIFTS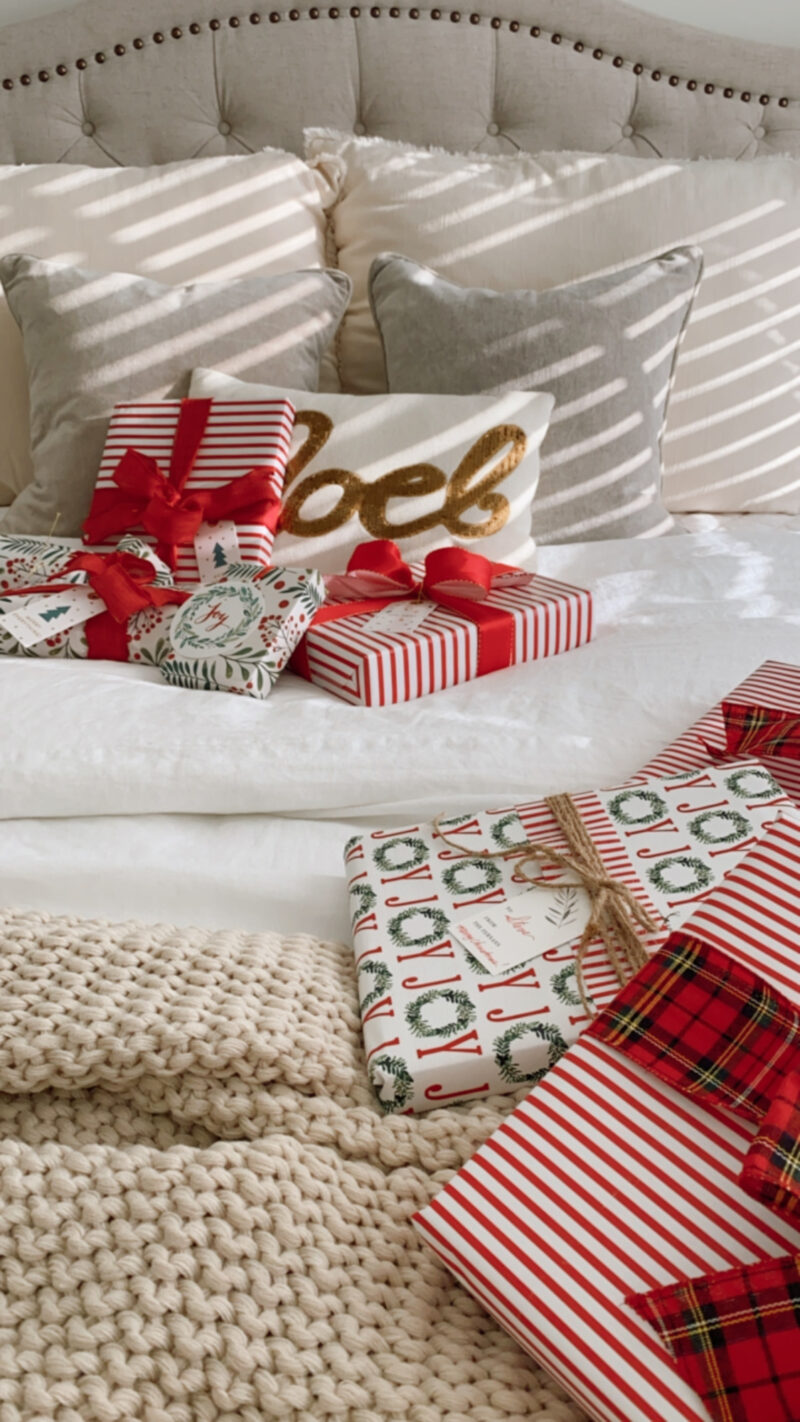 Once again, my sister and I are on the same exact page. We have been doing this for years! She sent our gifts from California and when I opened them I couldn't believe it (although I wasn't surprised). They matched yet again! My set is closest to the camera and was ready to ship off to her. The stripe is the Sugar Paper line from Target and awesome to wrap with. The joy is also from Target but much thinner in case you are on the hunt.
THE BEST SURPRISE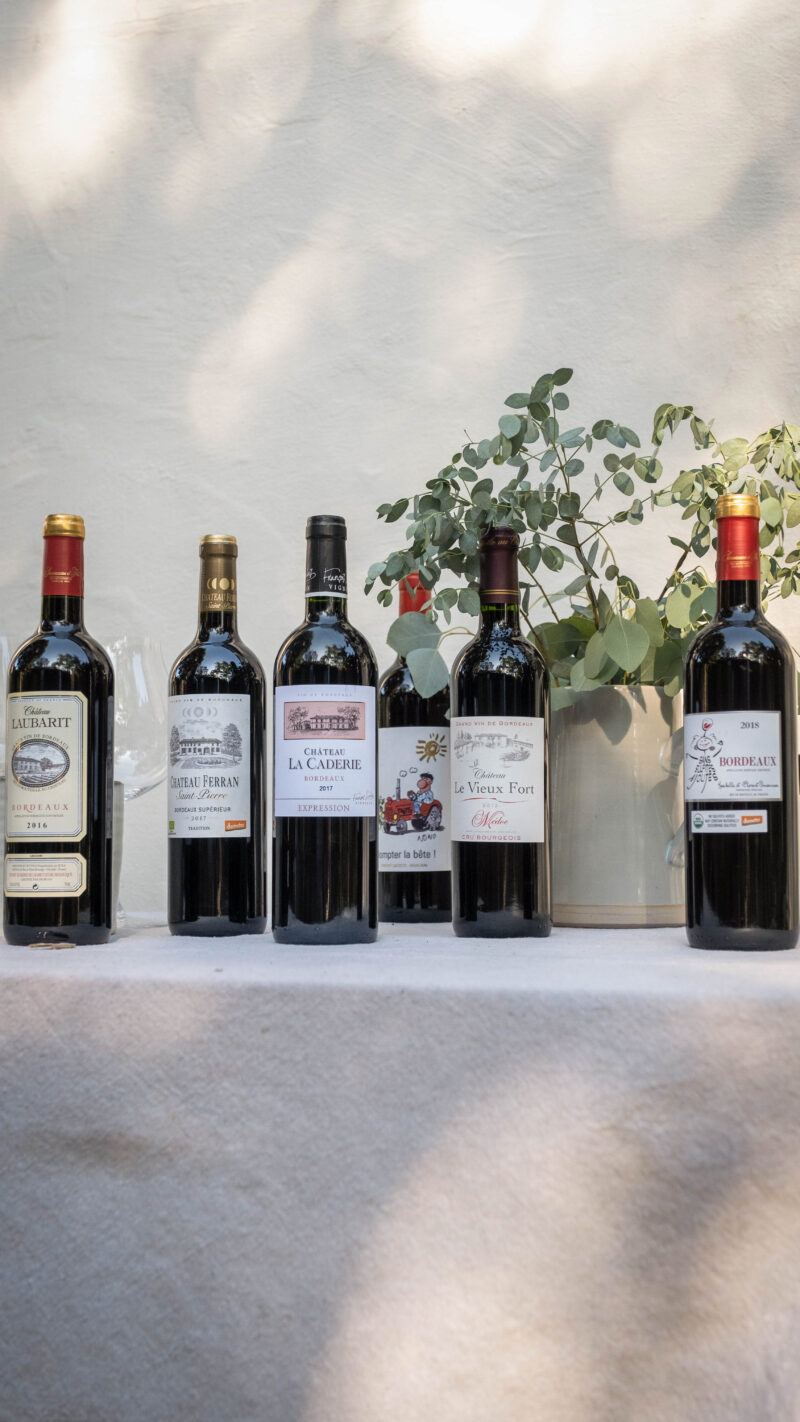 I've been wanting to share this gem with you ever since my sister visited from California. It was so much fun having her here and after she left she sent us a Dry Farm Wines box of wine. Little did she know I had been researching them and wanting to try. I've done a deep dive and I am thrilled that her gift gave me the push I needed. I'm not much of a drinker, but I do love a great glass of wine. Having said that, there are so many harmful components of commercial wines and it's really been bothering me. So many bottles contain mold and there is no requirement to disclose ingredients or additives. Dry Farm Wines is dedicated to natural wine. It has a lower alcohol content and is relatively sugar free (less than .15 grams). Each wine they curate is small batch free of pesticides and herbicides. Plus their practices allow for the wine to feel vibrant and pure (unlike so many on the market now).
Much of what is added to commercial wine leads to feeling horrible the next day (even with one glass) and that is not the case with Dry Farm Wines. We have been working so hard to focus on clean eating and this is an area that people rarely think about. Plus I am happy to support a company that puts family first and has a clear and honest focus. If you check it out and choose to join, they will send you an extra bottle of wine (for one penny) with this link.
Let's do this, ladies. More than anything, let's commit to being in the moment. I really want to embrace this week with the kids and focus on the true meaning of Christmas. Wishing you all a wonderful start to this week.