Good morning. I hope you all had a really wonderful Christmas. Is anyone else exhausted? I don't even have young children and I feel wiped out. Our first Tennessee Christmas was a success. While it wasn't the same without my sister's family, we tried hard to focus on enjoying both new and old traditions and being in the moment. My only complaint is that it all went by too quickly. Here is a Christmas wrap up and a bit of what we have been up to.
VINCE GILL AND AMY GRANT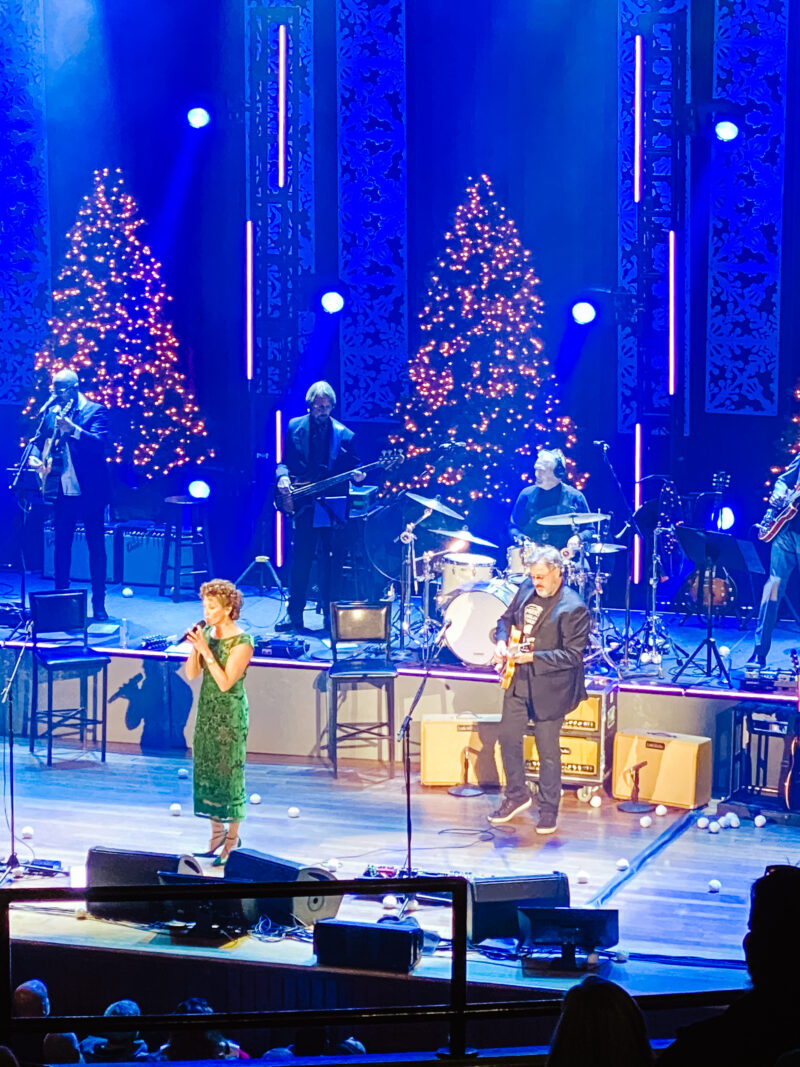 Every year, Vince Gill and Amy Grant put on a Christmas concert. They play two shows a day at the Ryman Auditorium over the course of two weeks. We bought tickets for the Wednesday before Christmas and it was so much fun. It really got us in the Christmas spirit and brought back so many childhood memories of listening to Amy Grant. It's two hours of wonderful Christmas music and they both put on an incredible show.
CHRISTMAS EVE TABLE
For Christmas eve we went to an early evening church service and the back to our home for dinner and games. I layered fresh eucalyptus on our garland (which surprisingly lasted all season) and added in candles and our gold Christmas trees. These battery operated candles (on a remote and on sale) are the best thing ever. They cast a beautiful glow and they flames dance around.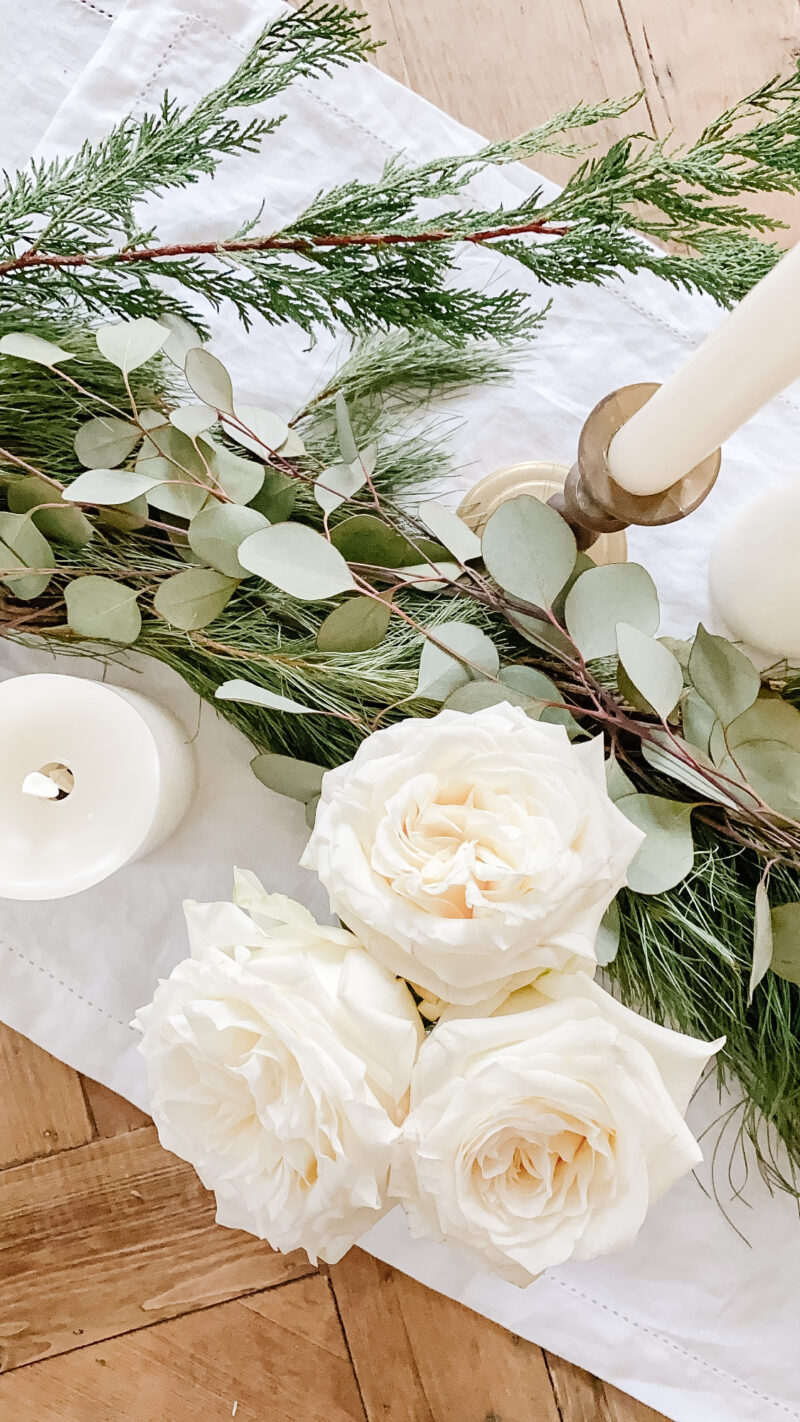 I snapped this two days later because I couldn't get over how beautifully these roses opened up. They always remind me of my mom and they smell amazing. Thank you, Trader Joe's! And my little trick is to just buy one bunch but separate them into three small glasses. Stemless wine glasses work great. It allowed me to have three little arrangements down the table and it keeps the height close to that of the garland which works well.
A FAVORITE GIFT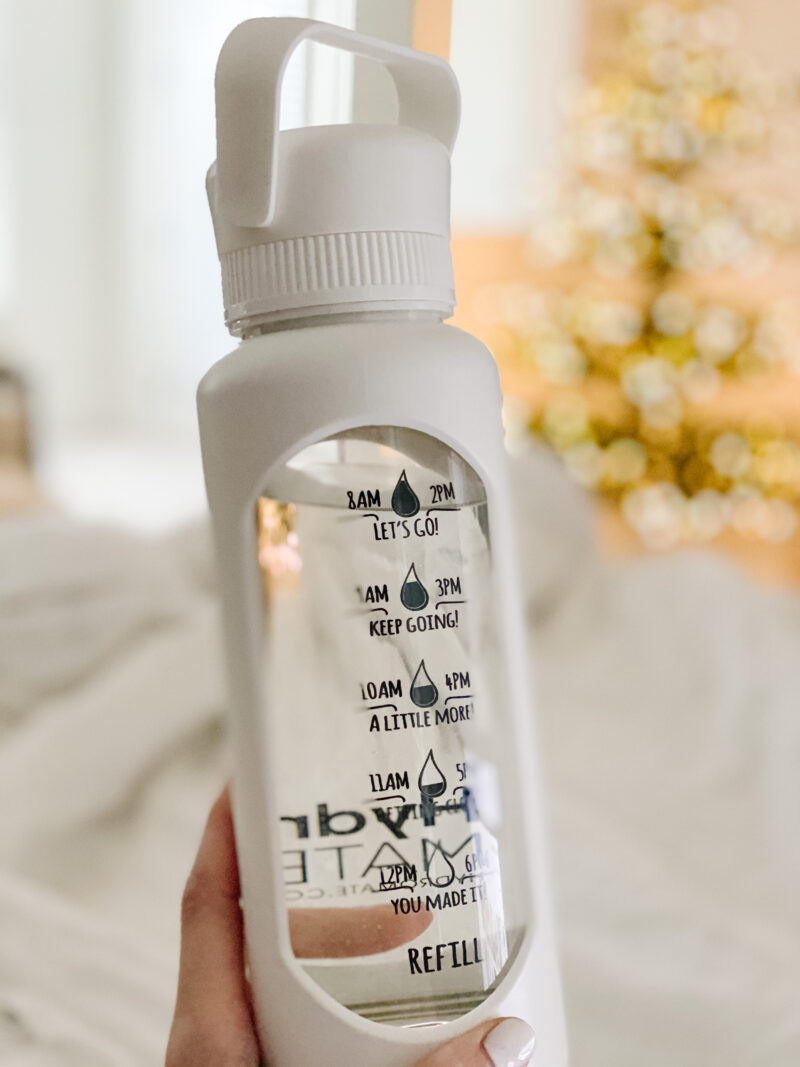 Without question, one of my favorite gifts was from my son. He always shops ahead of time and spends his own money. He gives the most thoughtful gifts. I LOVE this water bottle. My family can attest to the fact that not only do I not drink enough water, but I can't stand using a water bottle. This one changed that. I carried it around with me all day yesterday and filled it up three times.
The recommendation is 64 oz so this one is designed to only refill once. I like that it holds 32 oz because it's not as huge or heavy to carry around. It's shatterproof and can go in the dishwasher. Plus there are marks to keep you on track. I am absolutely dedicated to drinking more water and this make it's so much easier. It comes in a few colors but I am a fan of the white that my son chose for me. Highly recommend.
HOW ABOUT THAT FIRE?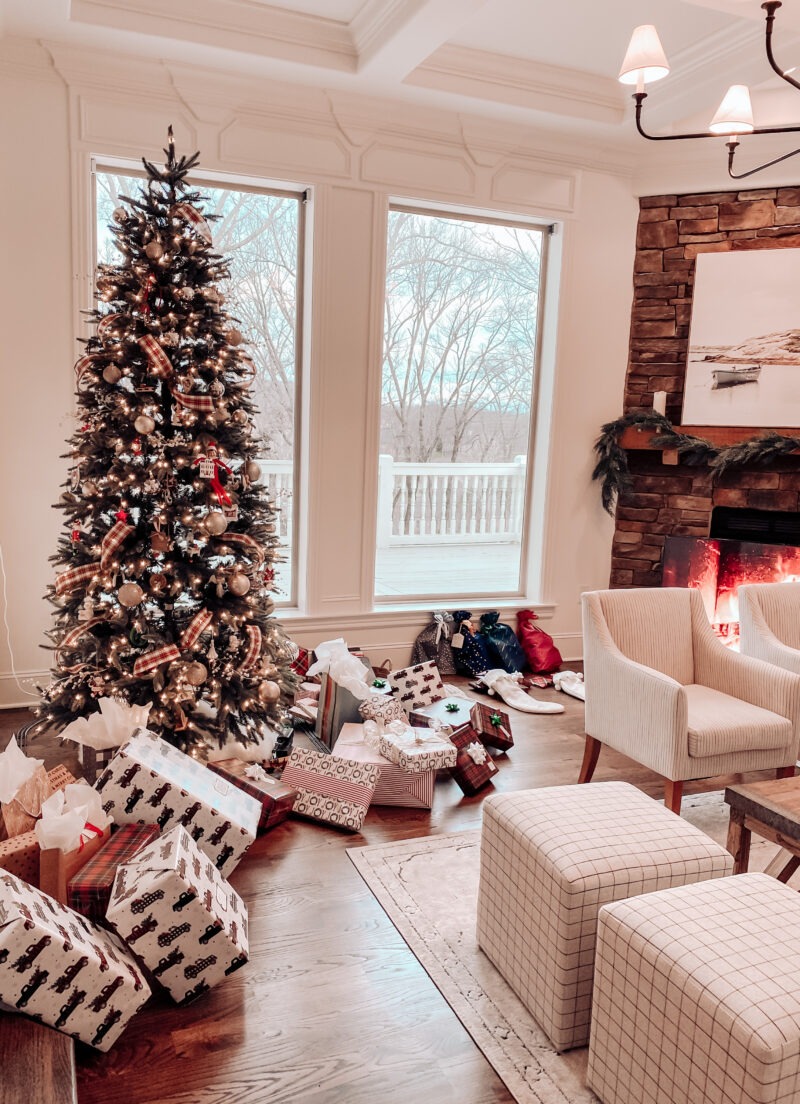 I failed in taking pictures this past weekend but I snapped this and had to laugh. Do you see our fireplace? Our TV was delivered but hasn't been installed yet. It's literally on the floor blocking our fireplace so we set the TV to look like a fireplace. Of course I am the mom who kept telling people not to get too close to it. Ummm. . . it's not even real but it had me fooled all weekend.
BEST BUDS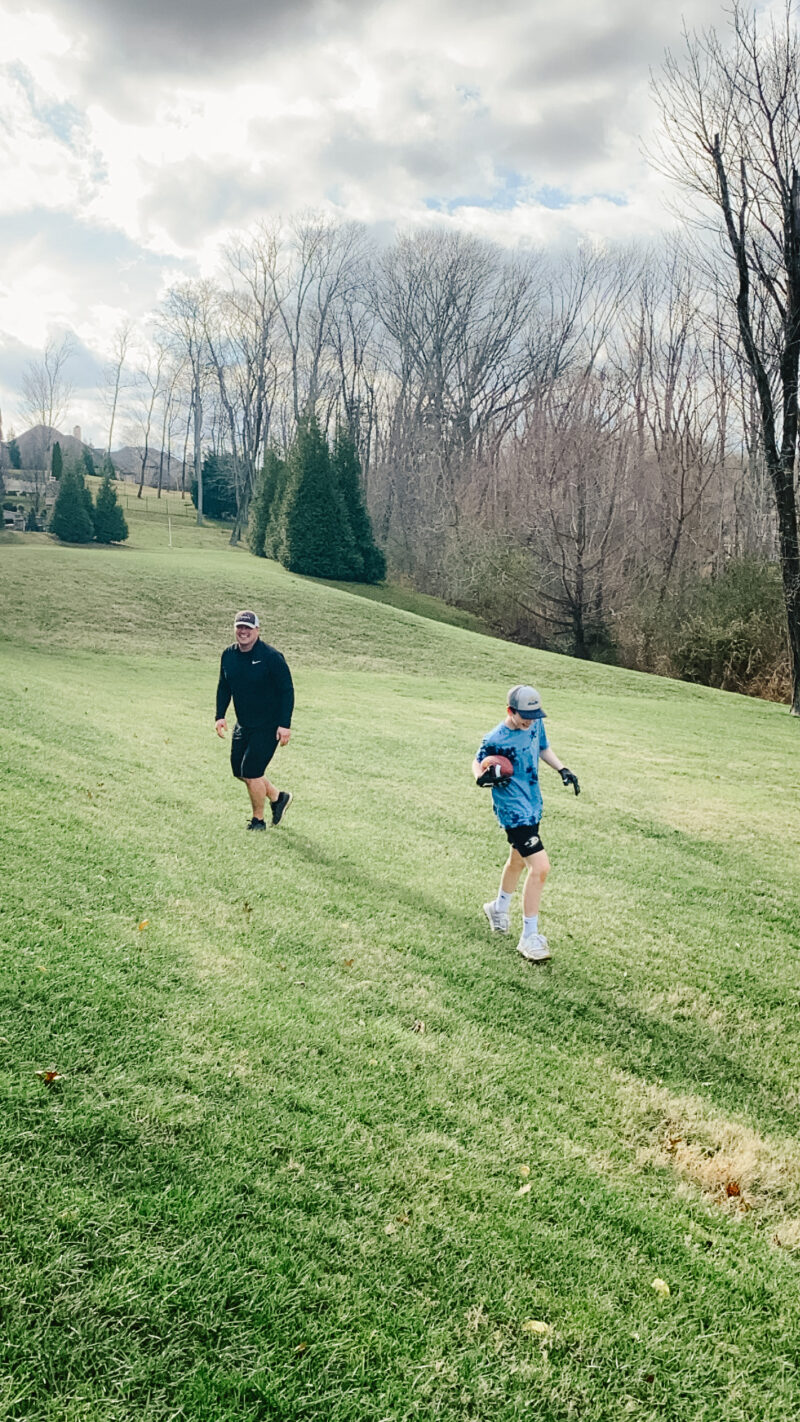 Our weather was mild and beautiful so these boys were able to enjoy throwing the football around. And of course cracking up which is pretty typical for this duo.
AND TO ALL A GOODNIGHT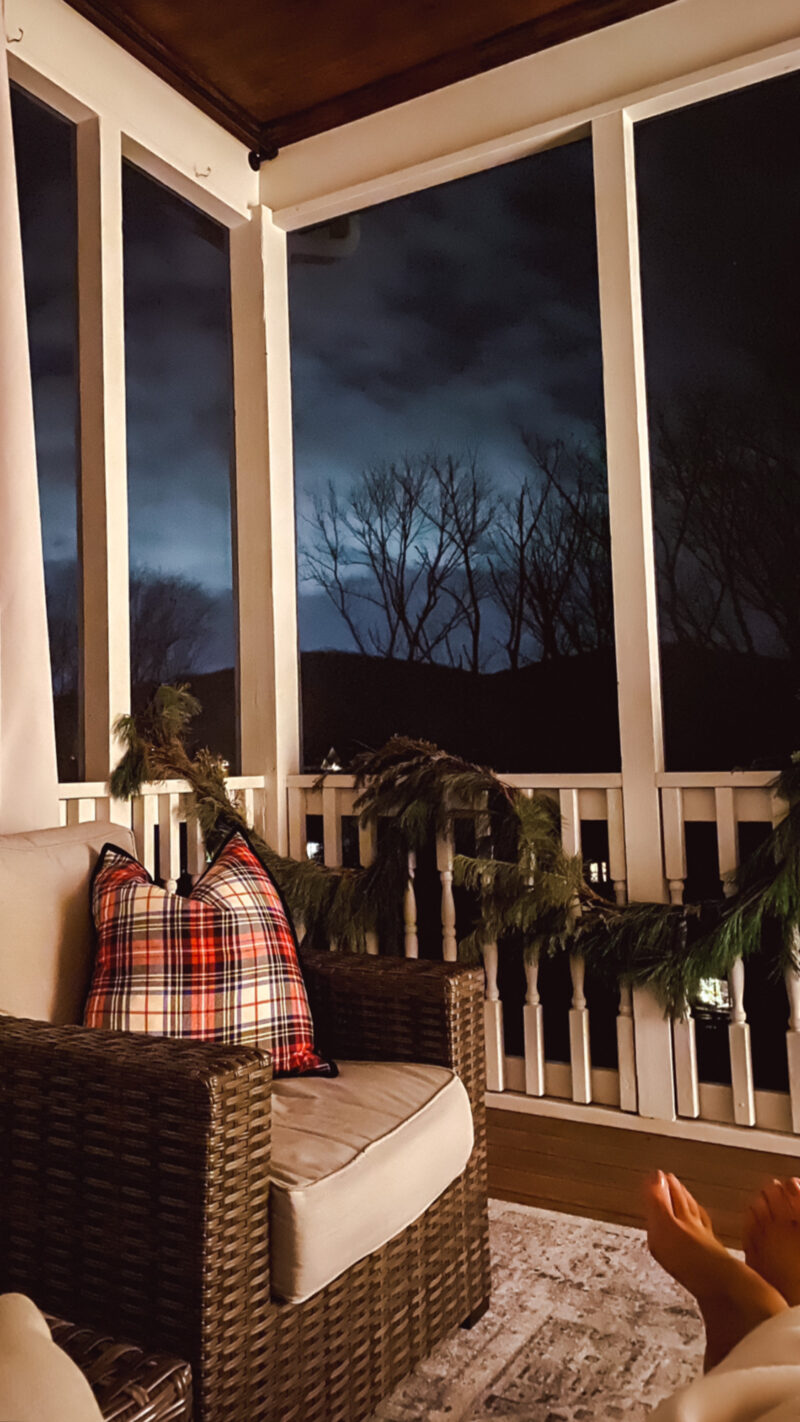 We were so grateful to be invited to a friend's house for Christmas dinner. We first met when we moved out here but it seems like we've known each other so much longer. Their family was so gracious and welcoming and we loved every minute of it. I wore this top (beyond soft) which is a great one, girls.
We capped the evening by enjoying the back porch and the pretty sky. And I have to say that the $20 we spent at Costco for this real garland was the best money we spent all season. I will absolutely be looking for this next year. I did spray it once with water but other than that it thrived. It helped that it was on this screened in porch which allowed it fresh air and cooler temps.
STOREHOUSE NO. 9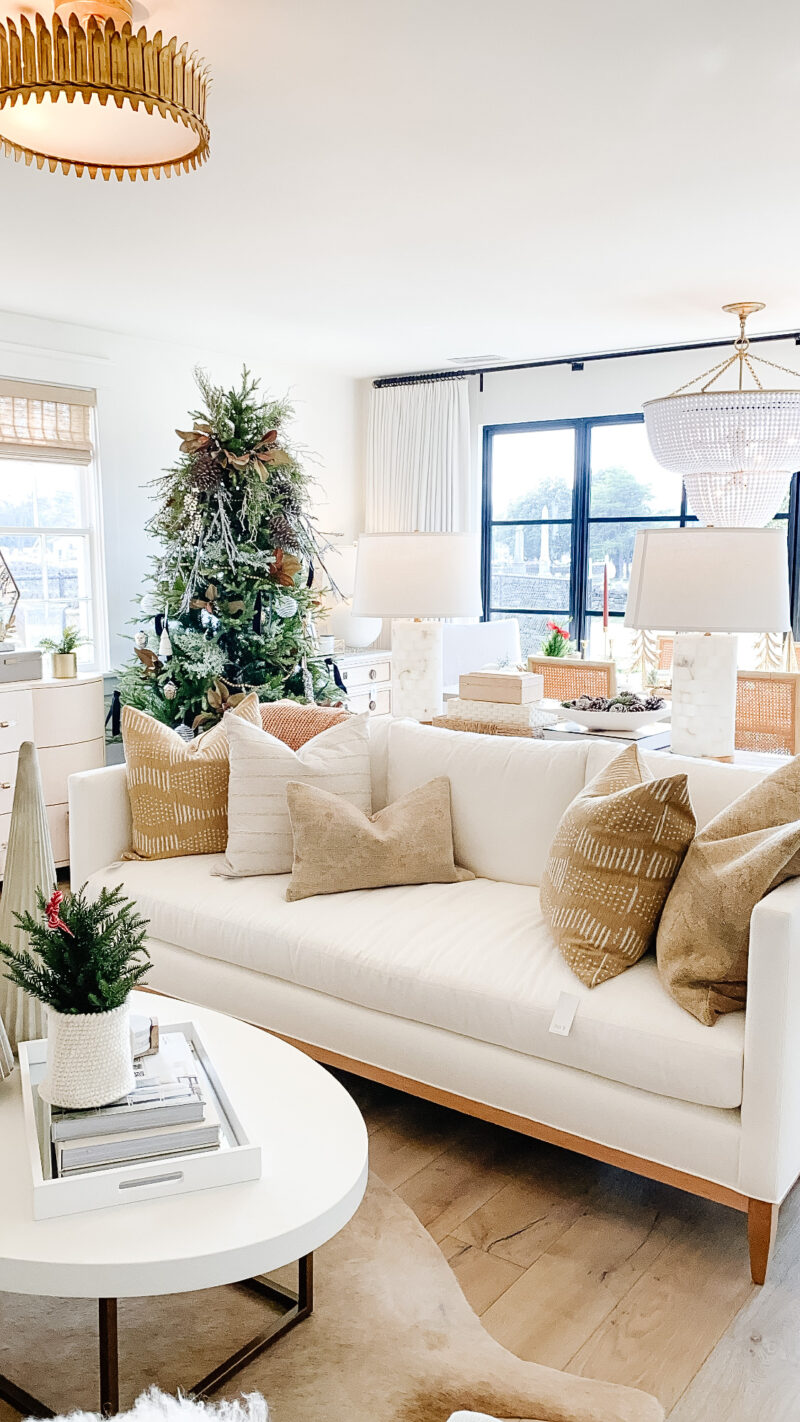 Local friends, Storehouse No. 9 is an absolute dream. Have you been? It's tiny but full of the most gorgeous items. I want to just move in. It reminds me of a mix of Serena & Lily and McGee and Co. I wish that pretty gold flush mount light would magically appear in my daughter's room.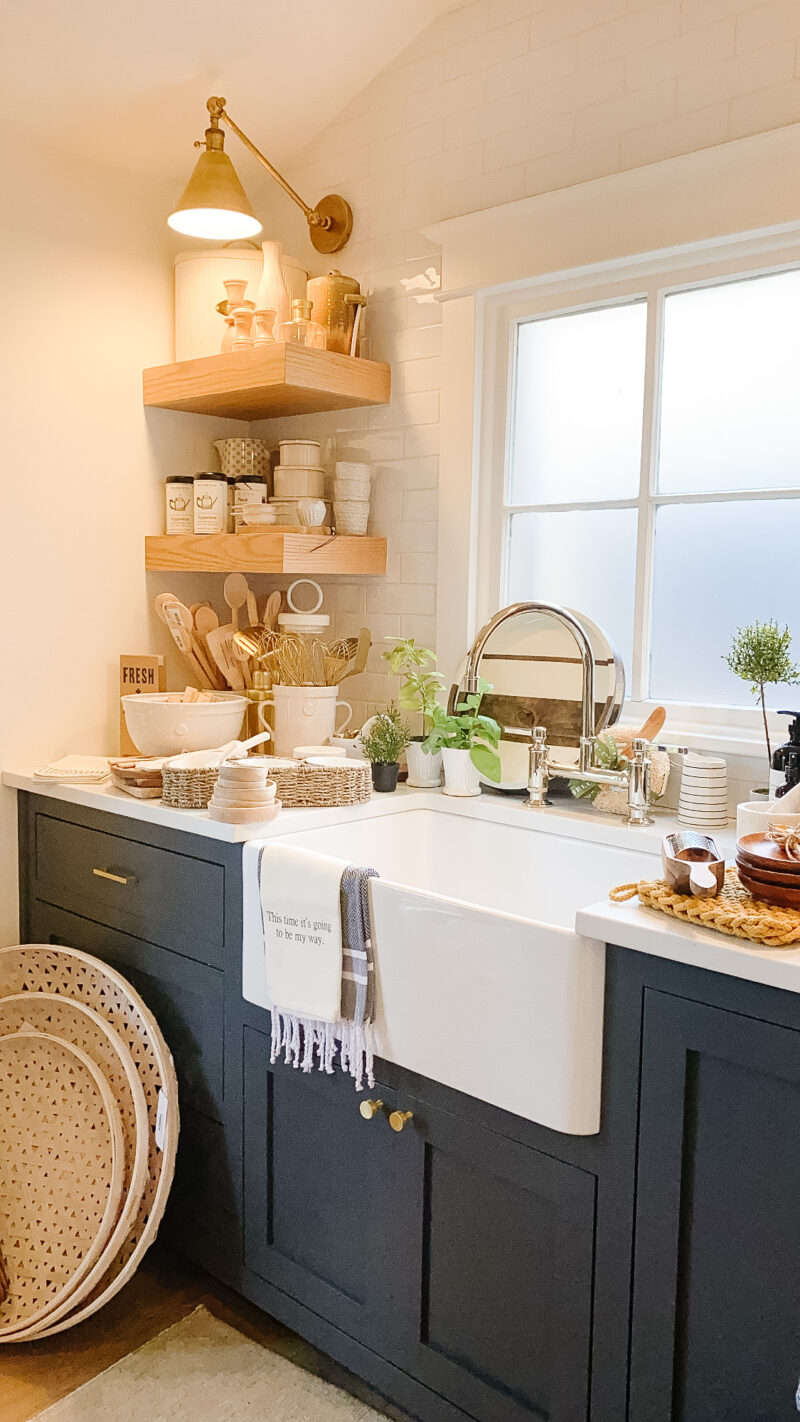 I must have spent forever in just this kitchen nook because everything they have is so well curated and beautiful. A great place to go for gifts, too.
THE SALES ARE IN FULL SWING
Of course the after Christmas sales are in full force. Did you all hit up any stores in person after the holiday. We didn't but I hear there are some great deals. Here are a few things I found: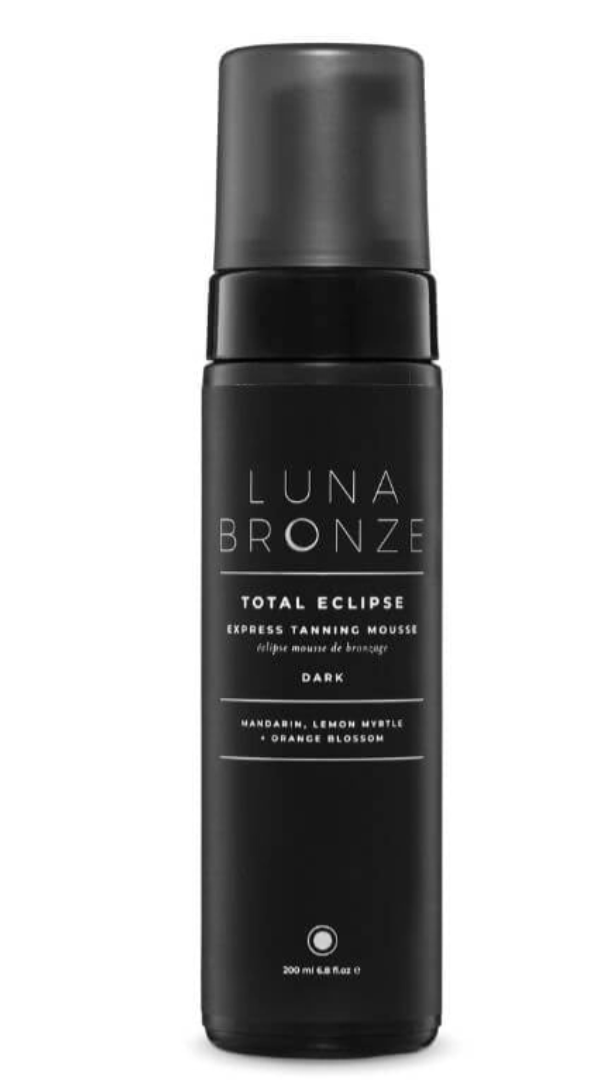 What are your plans this week? We wanted to take the kids somewhere but they opted to stay put. I think they are enjoying their first winter break right here at home. There will be a whole lot of lounging going on over here. Plus a little bit of organizing if the motivation strikes. Wishing you all a great start to your week.