First and foremost I want to acknowledge the families and friends who are grieving. The events in Orlando are unfathomable and I continue to struggle with how so much hate can exist in this world. To all of the lives that are forever changed, may grace and faith see you through this.
And in light of these events, it's more and more evident that we need to appreciate each day and that the ordinary things truly are the extraordinary. Here is our Monday Morning Wrap-Up.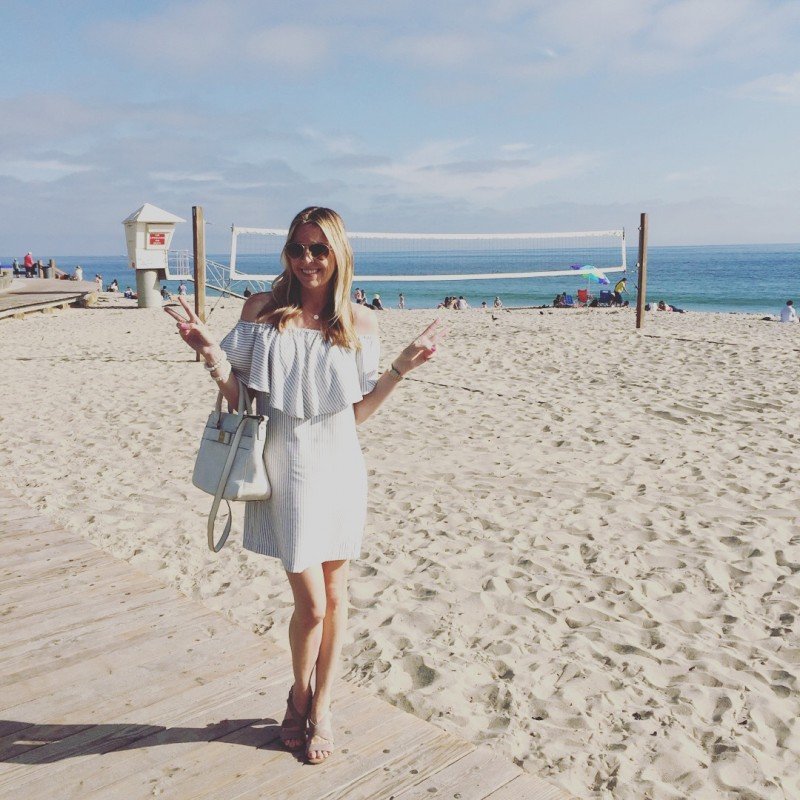 We snuck in a date night in Laguna Beach which was a nice way to greet summer. If you are local, we checked out Sky Loft which was a really fun spot to catch sunset and a cocktail. Those of you that have been reading for quite some time know that we firmly believe in regular date nights. Even if that means we don't have the money to spend and we sit on the front porch together. It doesn't matter where you go, it just matters that you carve out that time. When we feel strong and connected, we see that our children feel that way, too.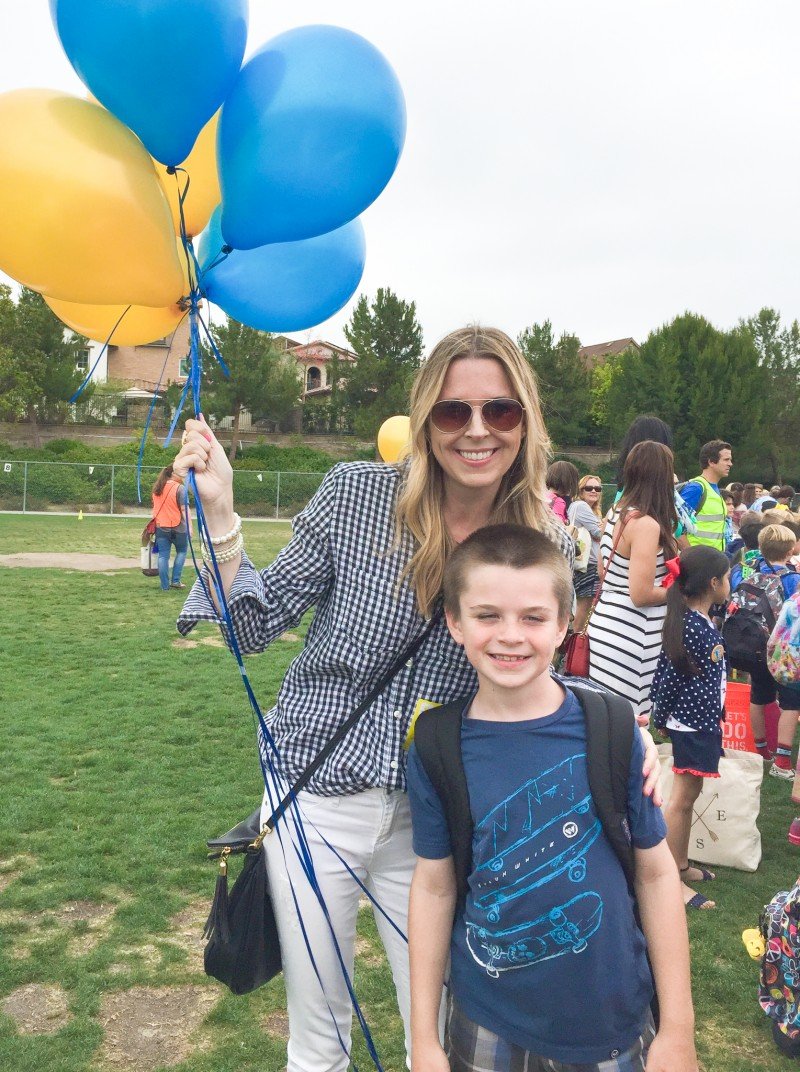 We kicked off the weekend with the last day of school. I officially have a third and fifth grader. We were lucky to have a great year for both kiddos and are so ready to kick off summer. Lazy days and no schedules is something we all need right now. I just can't believe they are growing up so quickly. (Thanks for the balloons, Steph).
My girlfriend and I helped with the end of the year activities and we had a small window of time in between events so we went to a local spot called Lola's Cafe. It's phenomenal. The avocado toast is legit. Highly recommend! I make something similar (although not as yummy) almost every morning at home.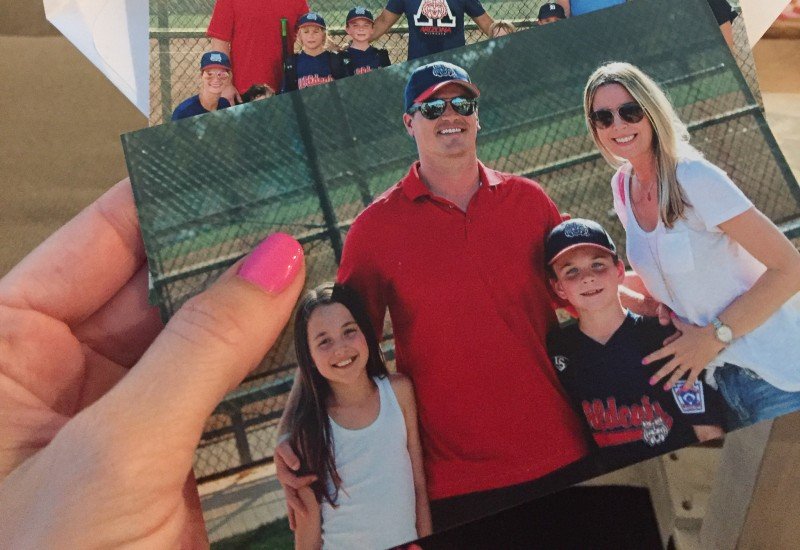 Very thankful to our baseball team mom and our coach. Thought this was a cute idea to pass along. Not only did she frame fantastic photos of our son playing, she also handed me an envelope at our last game that had this team photo and family photo. Meant so much to us. So if you are in the stage of life where you may find yourself in the position of team mom, this idea was so well received by everyone on the team. And congrats to our hard-working Wildcats who came in third place!
Without a doubt the highlight of our weekend was watching our son and daughter in Peter Pan. Words can't express how proud of them we were. All of the children did such an amazing job. Our daughter lit up the stage as a beautiful fairy and our son had the time of his life flying as Peter Pan. So thankful that both children had this experience. It's one of those events in life they will remember forever. I think we are all a bit sad it's all over.
We were all wiped out on Sunday after such late nights at the play so I spent a little time just adding a few more coats to this table. I mentioned in Saturday Shopping that I am swooning over a kitchen that used a similar table. This is the before of our table up in our playroom. It's one of the first pieces my husband and I bought together after we got married. We stumbled upon it at an antique store over 12 years ago. A pedestal table never goes out of style. It now has many coats of fresh white paint and I can't wait to show you. Clear Moon by Behr is my favorite white paint for furniture and walls, by the way. I'll blog the process soon!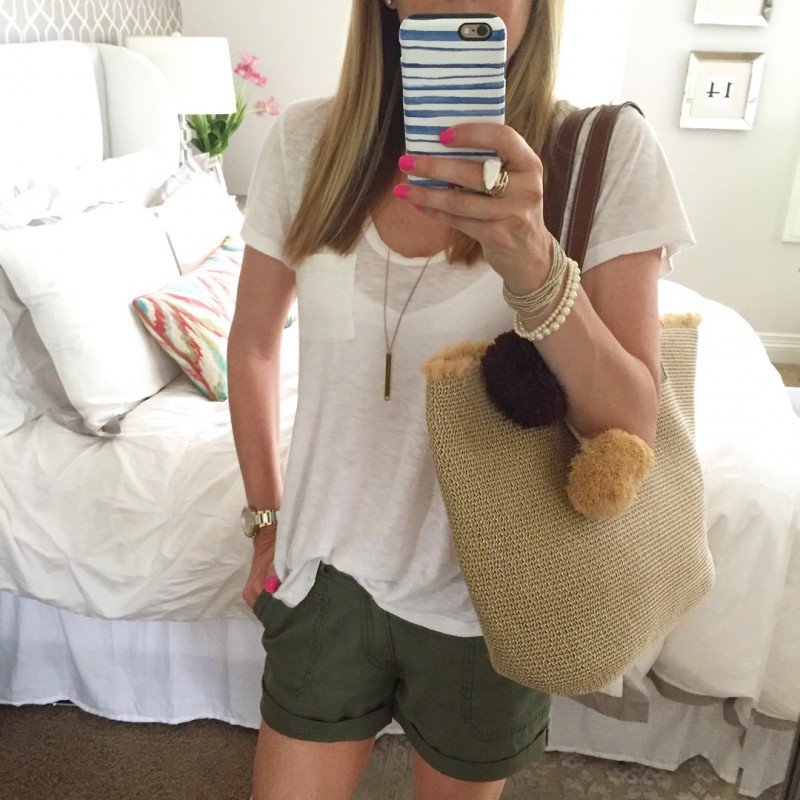 Shop This Look

You may have seen this snap if you are on Instagram. Loving the comfy white t and shorts lately. And if you like wearing bralettes, this one has a darling back and is $20. Also worth mentioning that my watch is on sale, too.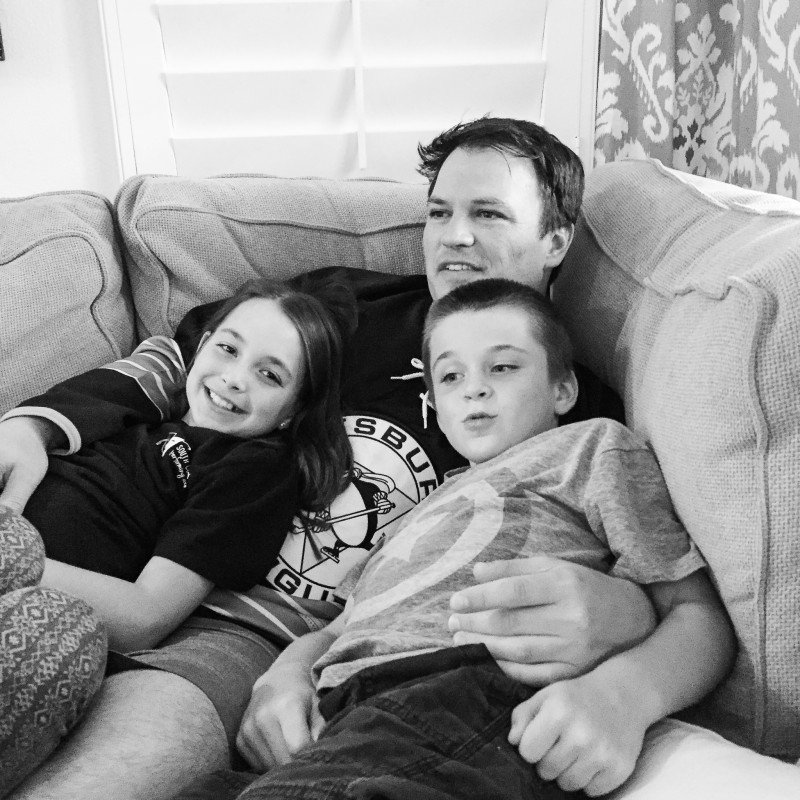 And this is how our weekend ended. Cuddle up watching the Stanley Cup Playoffs. And I sincerely apologize to our neighbors for the screaming that came from this house. Let's just say my husband was thrilled to see his Penguins win the cup. And any excuse to cuddle with these two is ok in his book!
Wishing you all a good start to your week. And if you affected directly by current events, you are in my thoughts.