Good morning. How are you feeling about the week starting? I know I would like to freeze time with the beautiful fall trees and mild temperatures. Fall is officially here and I am appreciating every minute of it. This past weekend was such a treat because one of my best friends from college came to town. She and her daughter came for a quick visit and because my boys were traveling for hockey, it was the perfect girls' weekend. Here is a recap with the Monday Morning Wrap Up.
FALL TABLE IDEAS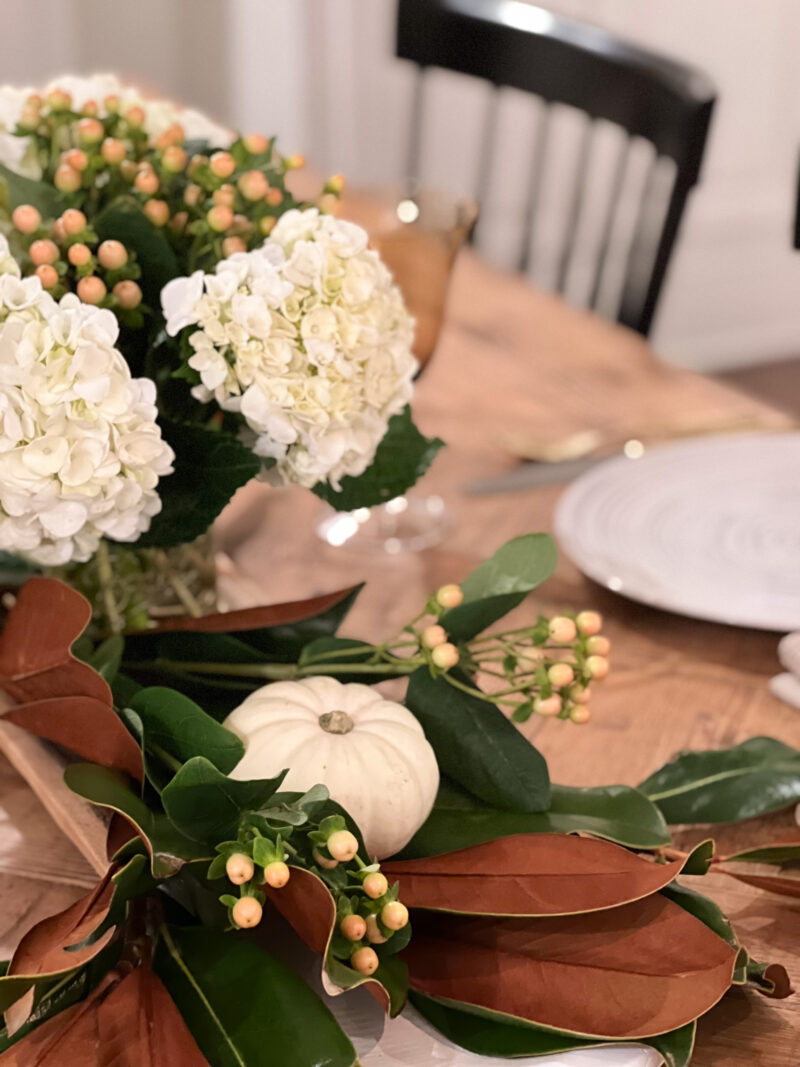 I wanted to create a fall centerpiece to host our friends. This was an easy look to pull together thanks to Trader Joe's. Magnolia leaves always remind me of my grandparents and they are so pretty this time of the year. I picked up two bunches, hydrangeas and the pretty berry looking stems (no idea what they are called).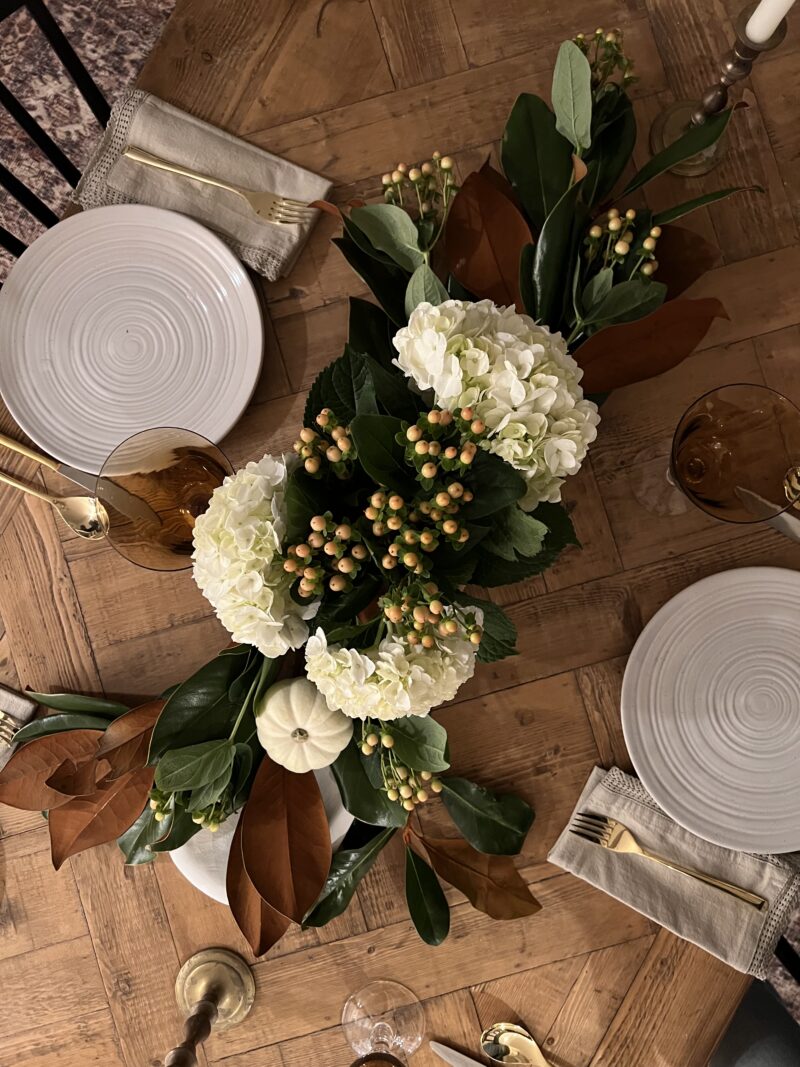 I placed one mason jar in the center to hold the hydrangeas and the berry stems. Then I layered the magnolia leaves, two pumpkins and more berry stems on each side. If you are hosting Thanksgiving, this is a nice low profile centerpiece. Just keep the stems in water until it's time to host.
FOREVER FRIENDS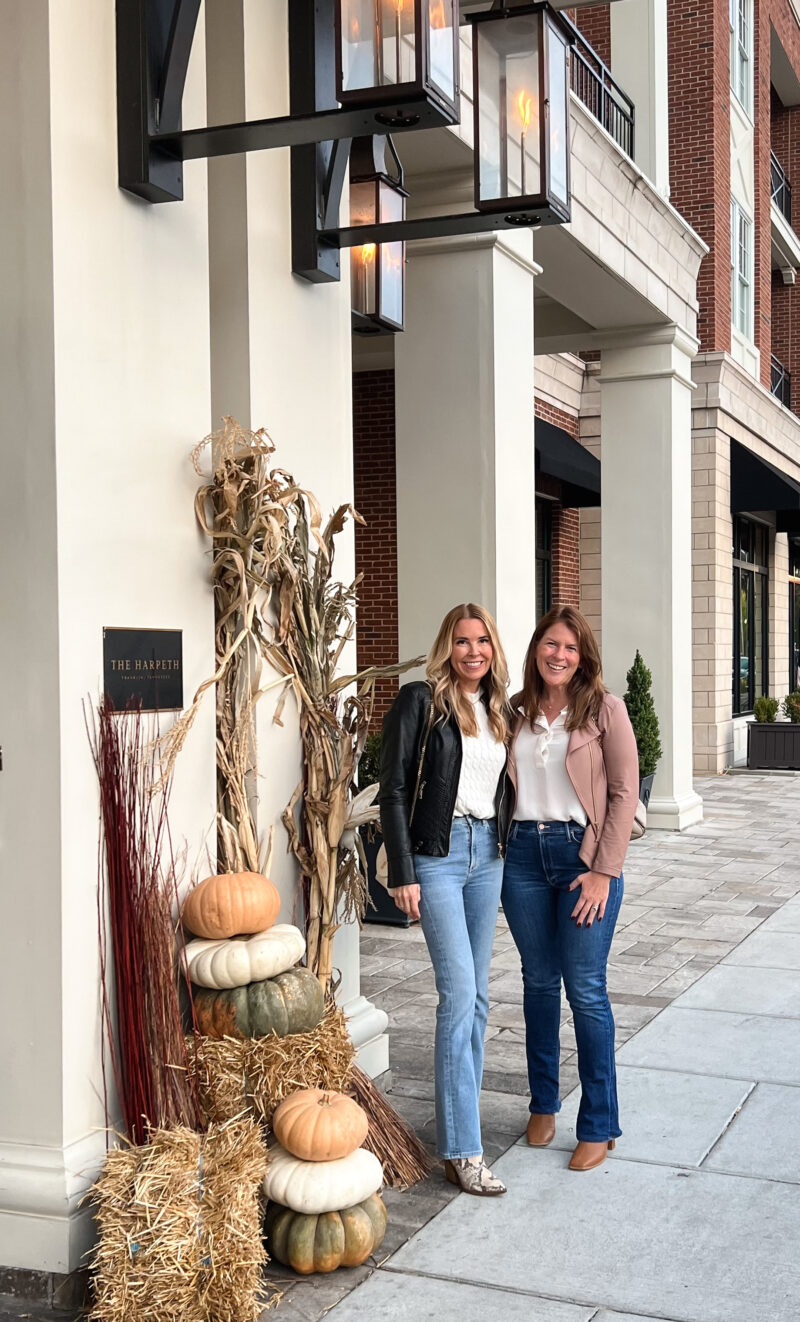 Tina and I met freshman year of college and have been dear friends ever since. We were so fortunate to have a group of 14 girls who bonded immediately. We have done well keeping in touch over the years and supporting each others' families and endeavors. Our girls are the same age which made it fun to get them together, too. We hit up the Harpeth Hotel in Franklin one of the nights and talked the night away. Always a good spot if you are coming to town. It has a cozy vibe and the live music is wonderful.
*My faux leather jacket is on sale – I wear it all the time.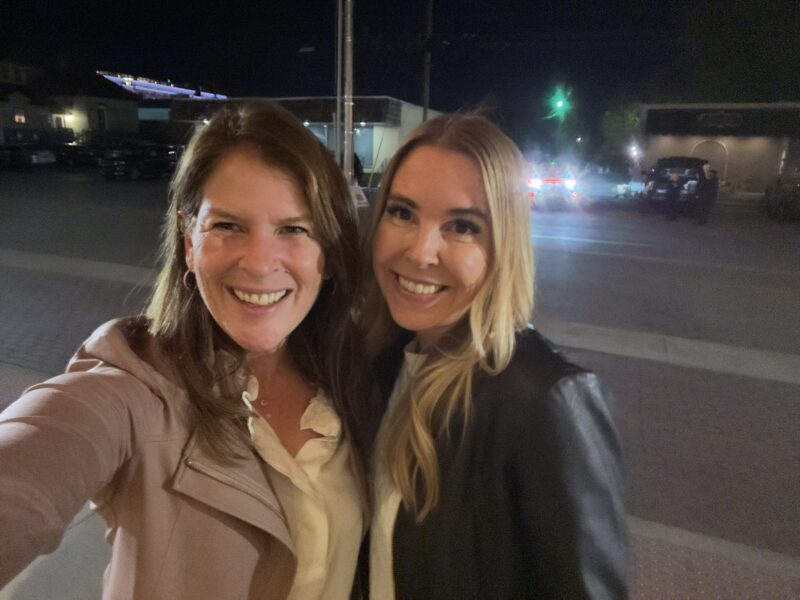 Wouldn't be a reunion without a selfie, right? So thankful for this friendship. Tina is a bright light in this world and I so admire the family she and her husband have created.
BEAUTIFUL FALL WALK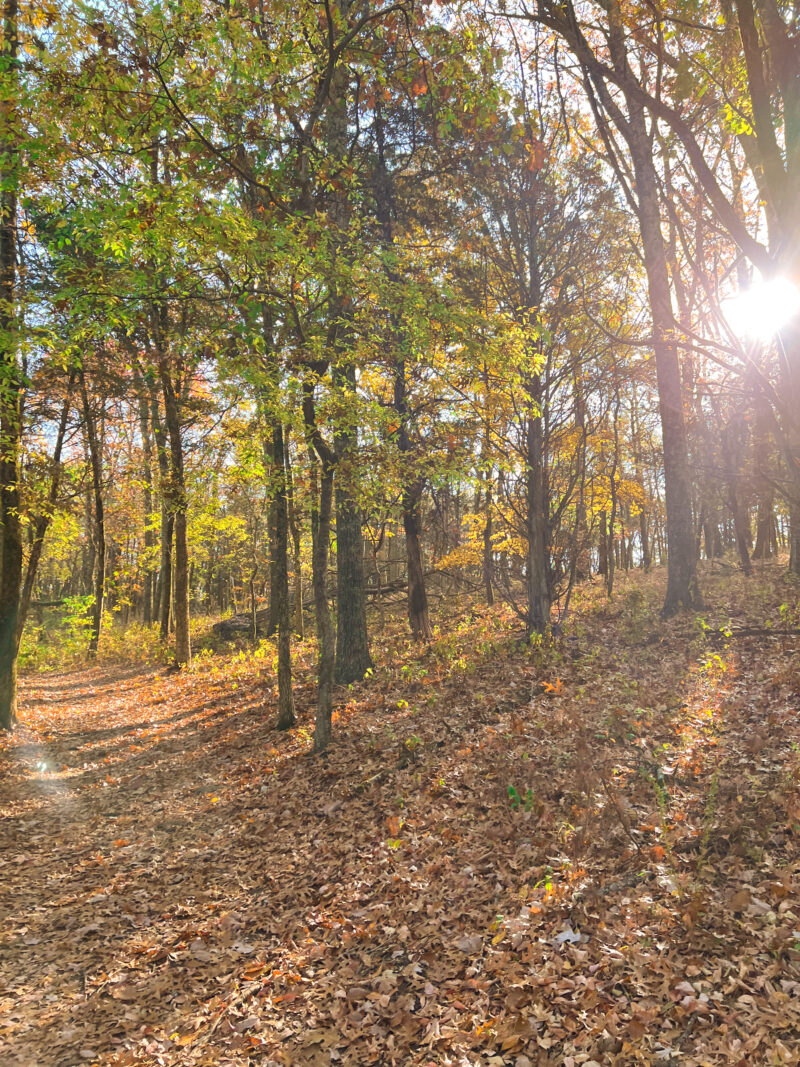 We were able to sneak in a short hike one of the mornings. Nothing like walking through the crunchy leaves of fall. So good.
PRETTY NEW RUG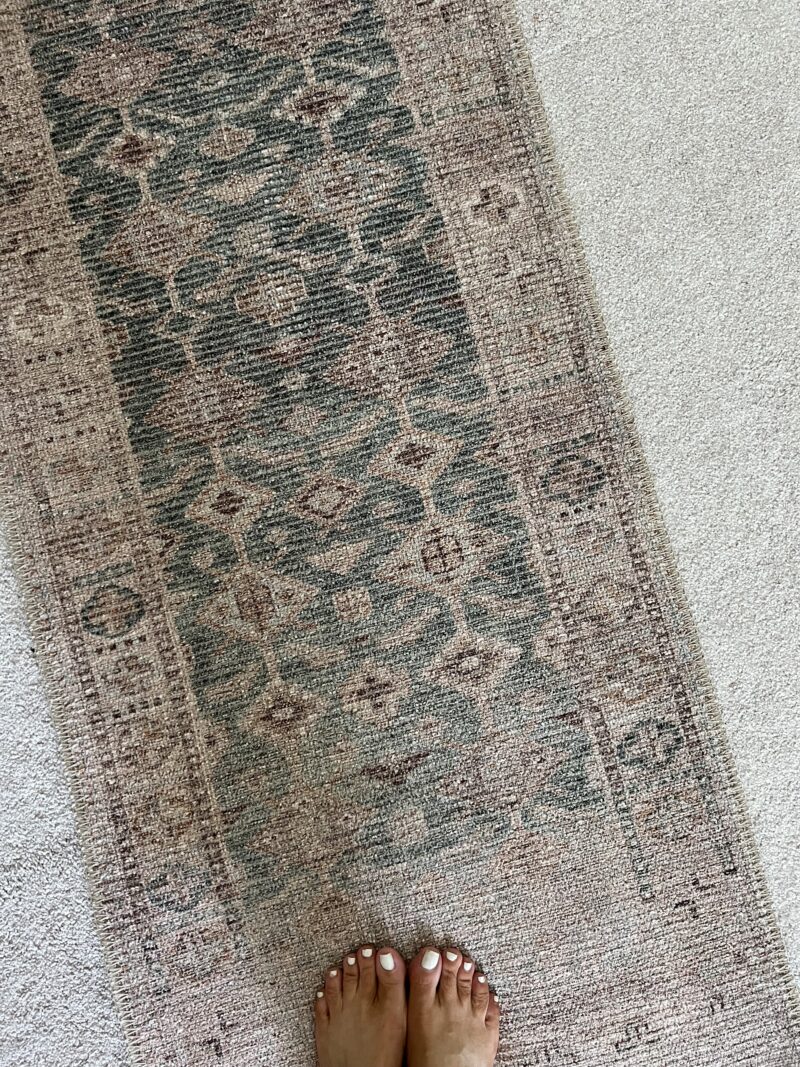 I ordered this rug for our daughter's space and am so happy with the colors. It's the Aqua/Sand color and it reads pink and green (with taupe). It's a thin rug with a nice vintage look. It works so well in her room. (Photos is straight from the camera with no edits for you to see the colors).
MCGEE AND CO.
Just a heads up that holiday and bedding qualify for free shipping through today. McGee and Co. has such beautiful pieces so it's a great time to place an order if you have had your eye on something. We bought this tree last year and love it.
LIQUID COLLAGEN SALE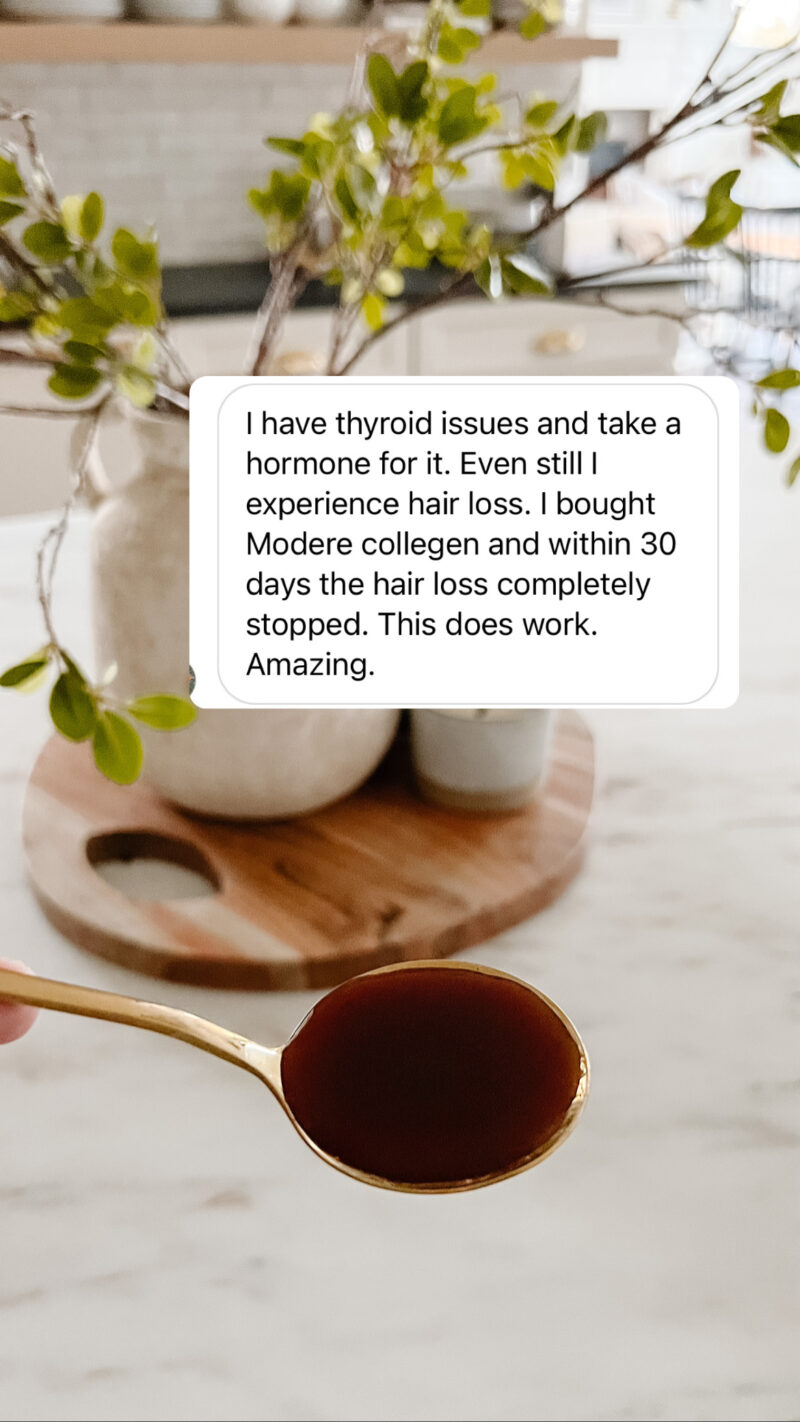 Yesterday I shared that if you are a new customer, you can save $20 on liquid collagen. It's always so awesome to then to receive success stories from so many readers. I can share my own stories of how it has helped my joints, hair and skin, but it's hearing from you that makes me so happy. My husband and I never skip a day (hydration from the inside out) and because you lose collagen beginning in your 20s, the sooner you start the better. If you are giving it a try, be sure to take before photos. You will be shocked at the difference in your skin. This is the best order ($20 off embedded in this link) to begin with. A few of you asked about the taste. I actually like it. The Liquid Biocell Life that we order tastes like tarte berry.
Time to wrap my head around the week which means meal planning, getting a handle on the calendar and mapping out my blog week. Let's do this, ladies. Happy Monday.