Good morning. I hope you had a beautiful Easter celebration with your loved ones. We enjoyed the blue skies and sunshine and rejoice in the hope. We definitely missed being with my sister and her family but enjoyed the day with our crew. This week we hope to see significant progress with our backyard which will be exciting. The weather looks great so we won't need to stop for rain delays. And here is a snippet of life lately with the Monday Morning Wrap Up.
OUR EASTER TABLE & SOURCES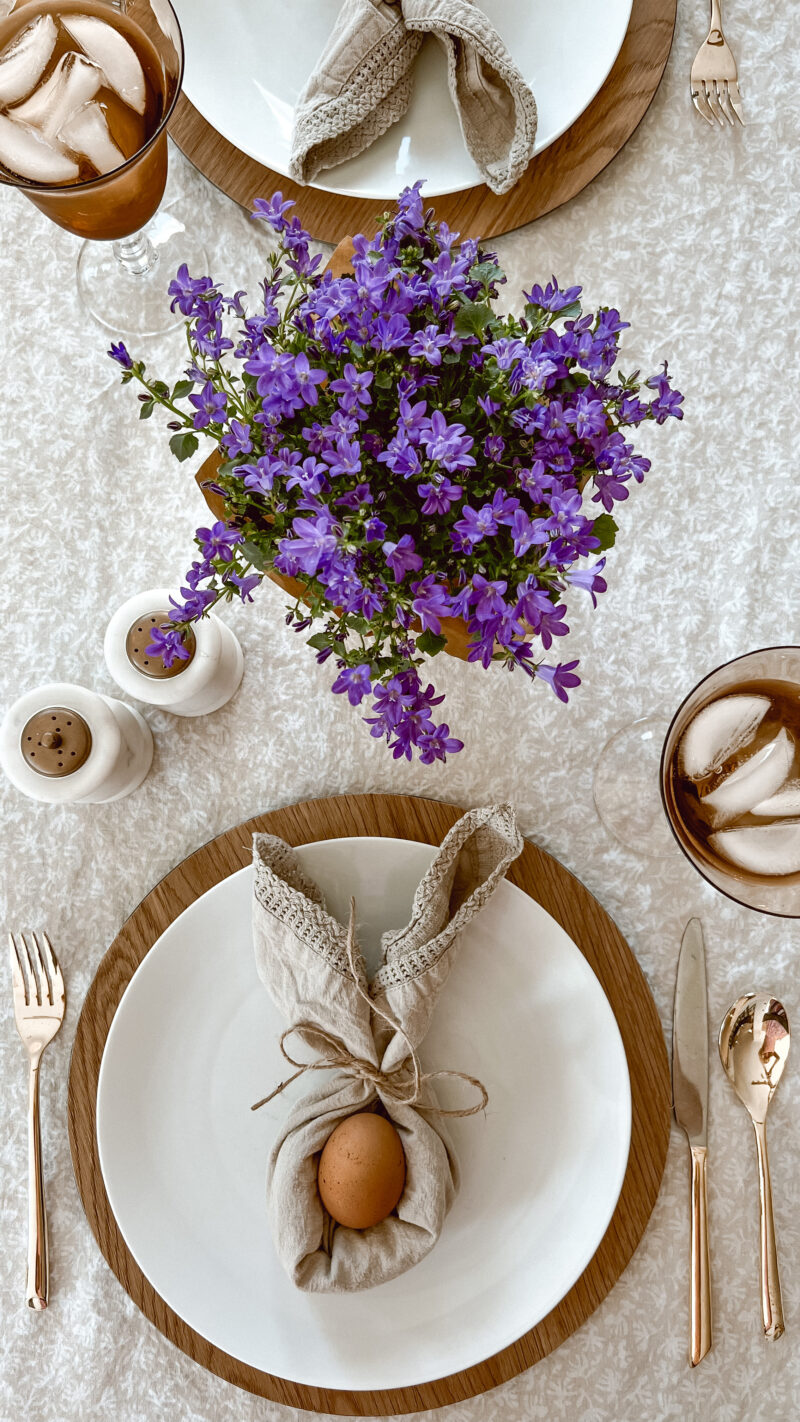 Growing up, my mom always set a beautiful table. She and me dad loved to host and every holiday was really special. It's fun to continue the tradition and keep her memory alive. Whenever I set out table I feel her with me. I have to say, though, she was much more of a planner. I tend to be very last minute. In fact, I went so late to Trader Joe's that I told myself whatever flowers were left would be my color scheme. The cut flowers were in fact gone, but these beautiful purple plants were there and they worked out so well. In fact, I intend to plant them in the backyard which will be fun. They came wrapped in paper so I just added some twine.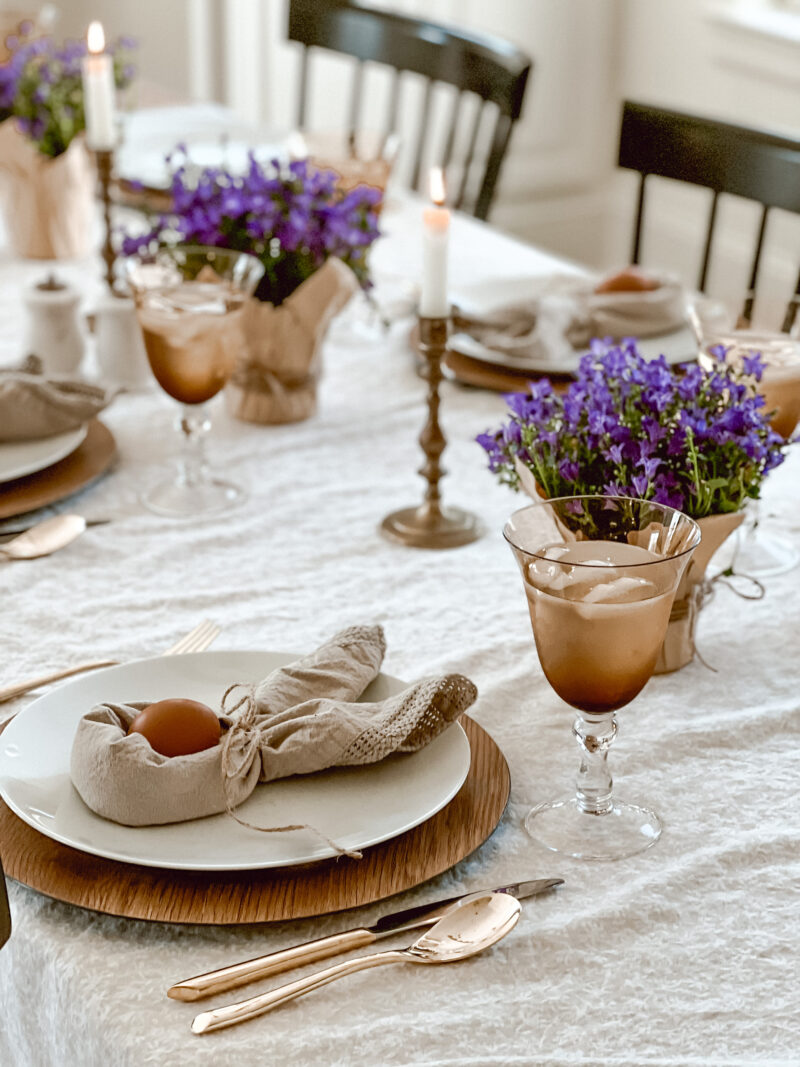 I hang onto things for quite some time so the amber glasses are from years ago and the brass candlesticks belonged to my parents (amazon version). Invest or hold onto good classic pieces. All I bought for this table was $15 worth of flowers.
My stemmed glasses are from Williams Sonoma years and years ago. I spotted these which are really pretty.
EASTER SUNDAY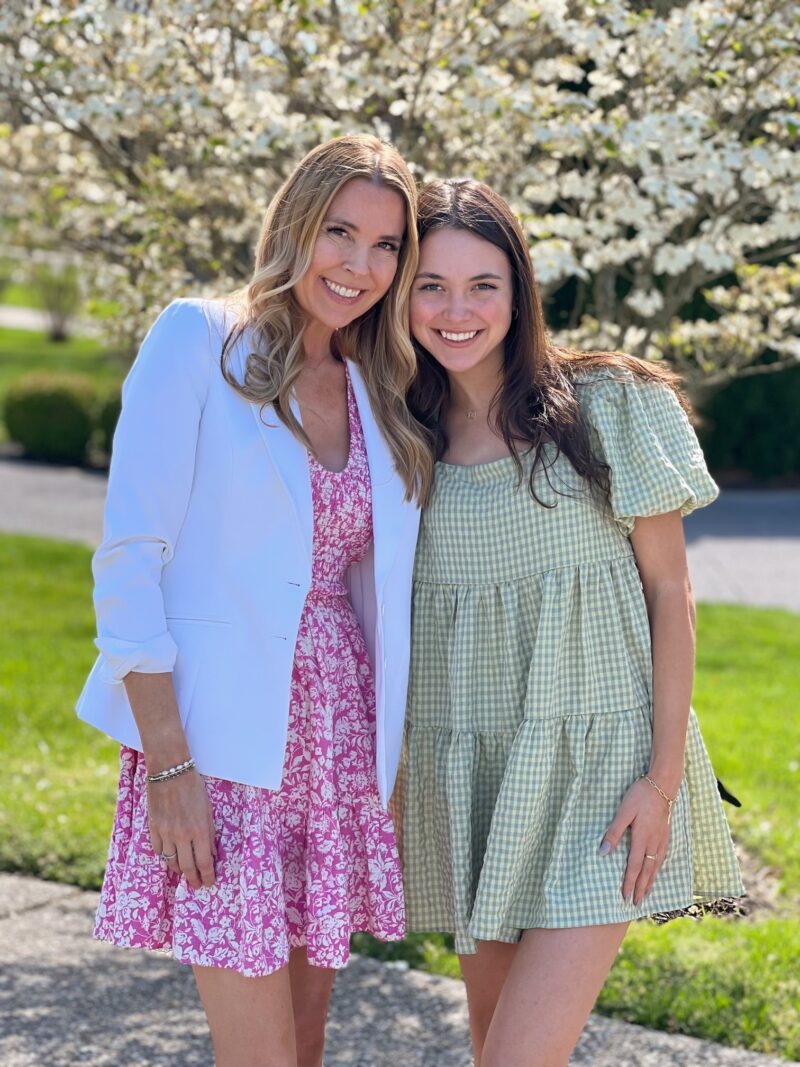 Love this sweet girl. This was the first year we didn't set up a tripod for a family photo and I am so bummed. My advice. . . take the photo! It's getting so hard with teens. Especially teen boys. We snapped one family selfie but it wasn't teen approved so the two girls it is. Our daughter turns 17 in two weeks. How is that even possible?
My dress is from Target and the blazer is from Loft. The pink dress is so easy to dress up or down and looks darling with a light denim jacket. The gingham dress is no longer sold but this one is so similar.
FARM FRESH EGGS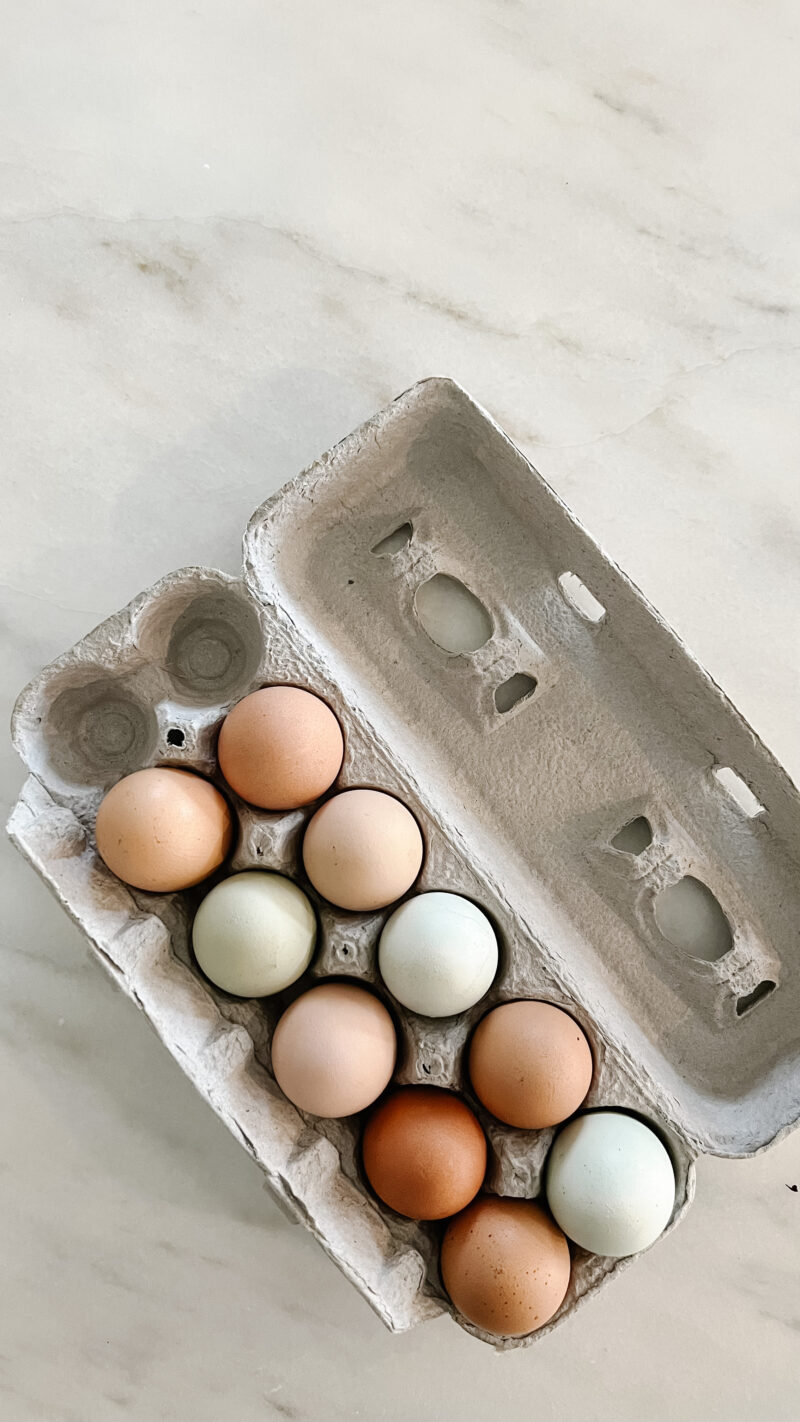 We have been getting our eggs from a local farmer and wanted to share something interesting. We were commenting about how gorgeous the blue ones are. Every time I open one of the cartons I am struck by the combination of these gorgeous hues.
CLEAN TREATS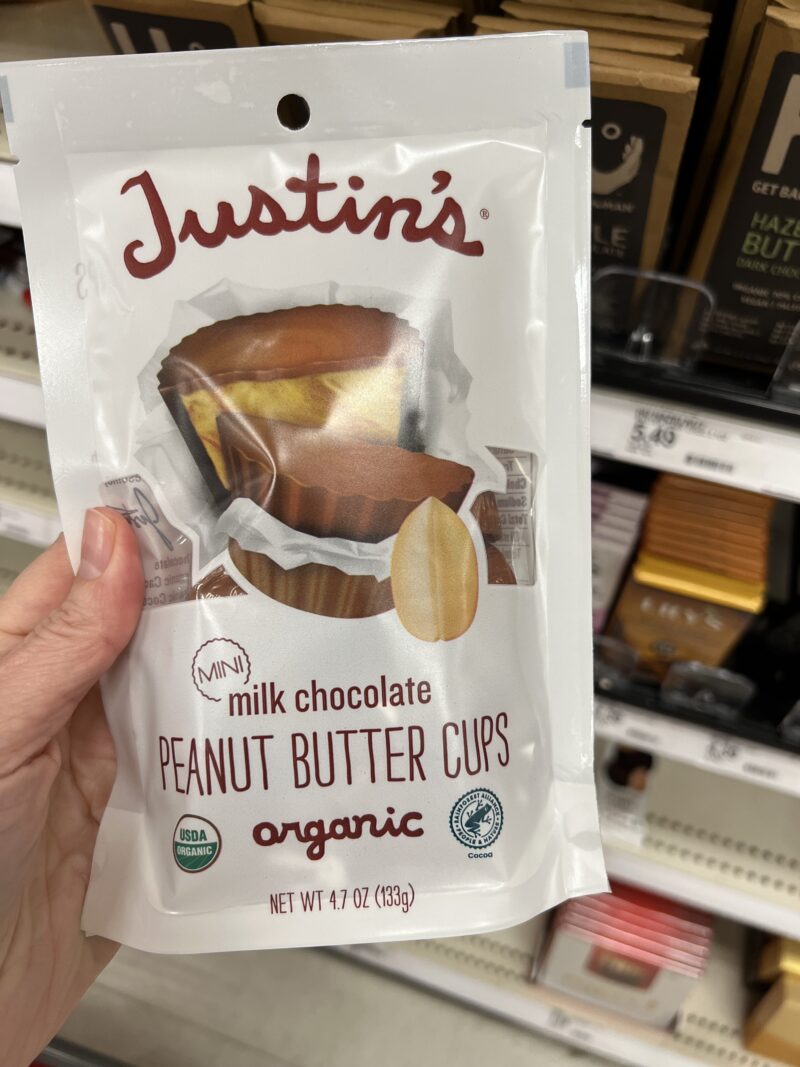 If you are looking for clean treats, these are great. None of the junk and really scrumptious. They are more expensive, but we only buy them once in a while (put them in my daughter's Easter basket).
HOW DO YOU HANG YOUR WREATH?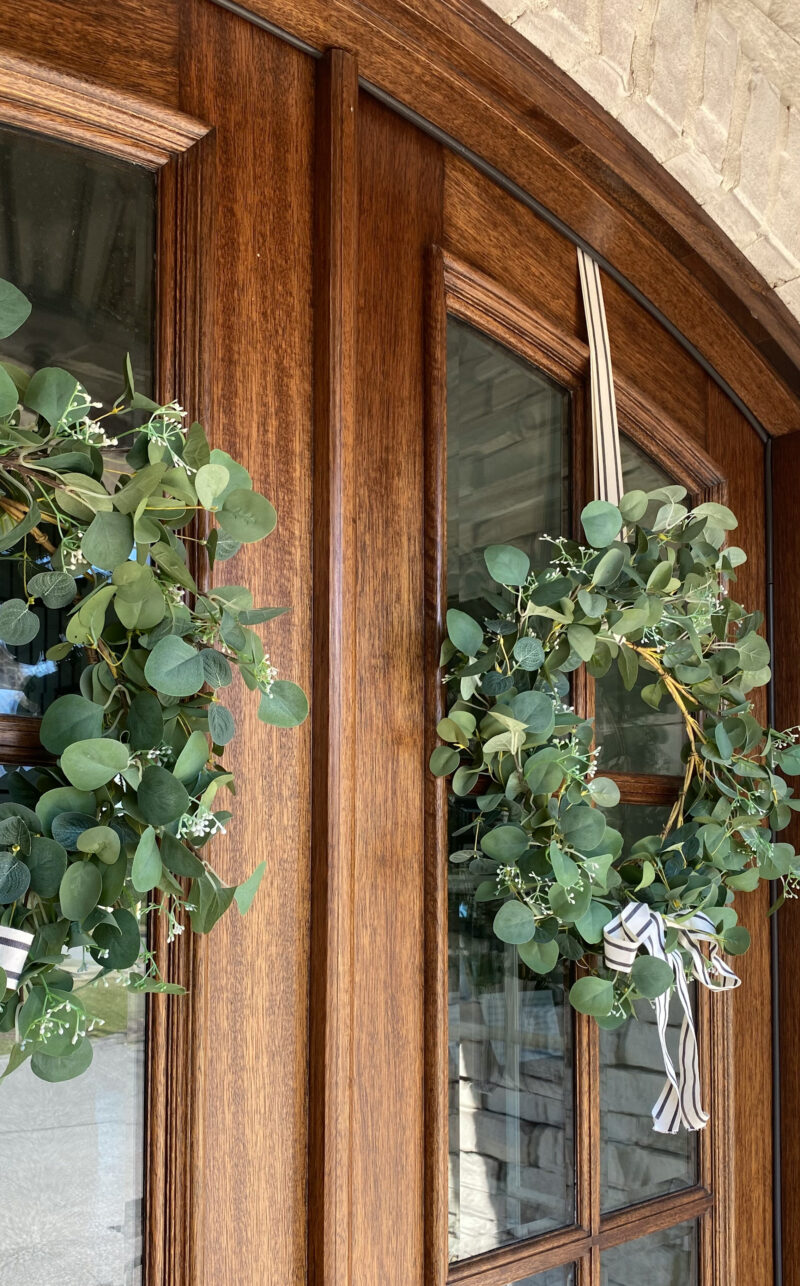 I get this question in my Instastories quite often so I wanted to share that I just go for it. I put a small tac in through the ribbon and hammer it into the top of our door. I have a wreath year round so whenever I swap out the wreath or the ribbon, I just climb on my ladder and use the same spot every time. I hope this is helpful. I know some people don't like to put a hole in the door but I figure why not? It's the top and no one will ever know. The wreaths and ribbon can be found here.
BRELAND & FRIENDS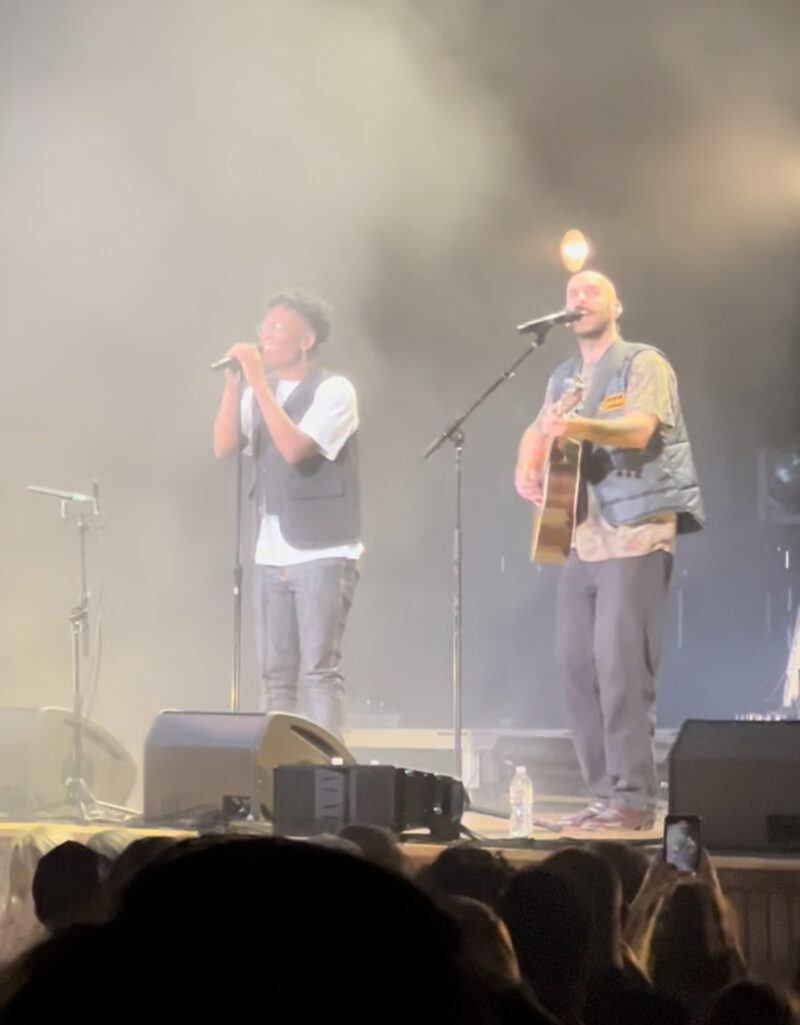 If you are ever planning to visit the Nashville area in April, be sure to look up the Breland & Friends charity concert. It's a fantastic night and amazing way to see so many great artists on one stage. Breland has an infectious energy and literally smiles as he sings. Amazing concert to take the family to. This year X Ambassadors joined him to sing Unsteady and there wasn't a dry eye on this house (song hits home to everyone right about now). Sam Hunt, Keith Urban, Tyler Hubbard, Ingrid Andress, Nate Smith and more took the stage with him. And it was over by 9:15 PM which is icing on the cake.
I hope this Monday Morning finds you off to a nice start. To be perfectly honest, we weren't quite ready for the week and scrambled to put food together for school lunches. Time to meal plan and get my ducks in a row. Be sure to stop in tomorrow as I am sharing my friend's Spring health program that will get us all back on track.