Morning. How was your weekend? We are still pinching ourselves after a really wonderful week celebrating 20 years of marriage. While we hope to sneak away for an extended vacation one of these days, we loved celebrating up in Nashville and feel so grateful for the time together. Today I am sharing a recap as well as a favorite outfit and a product that brings tired and faded wood products back to life. Let's get to it on this beautiful Monday morning.
PERCY WARNER PARK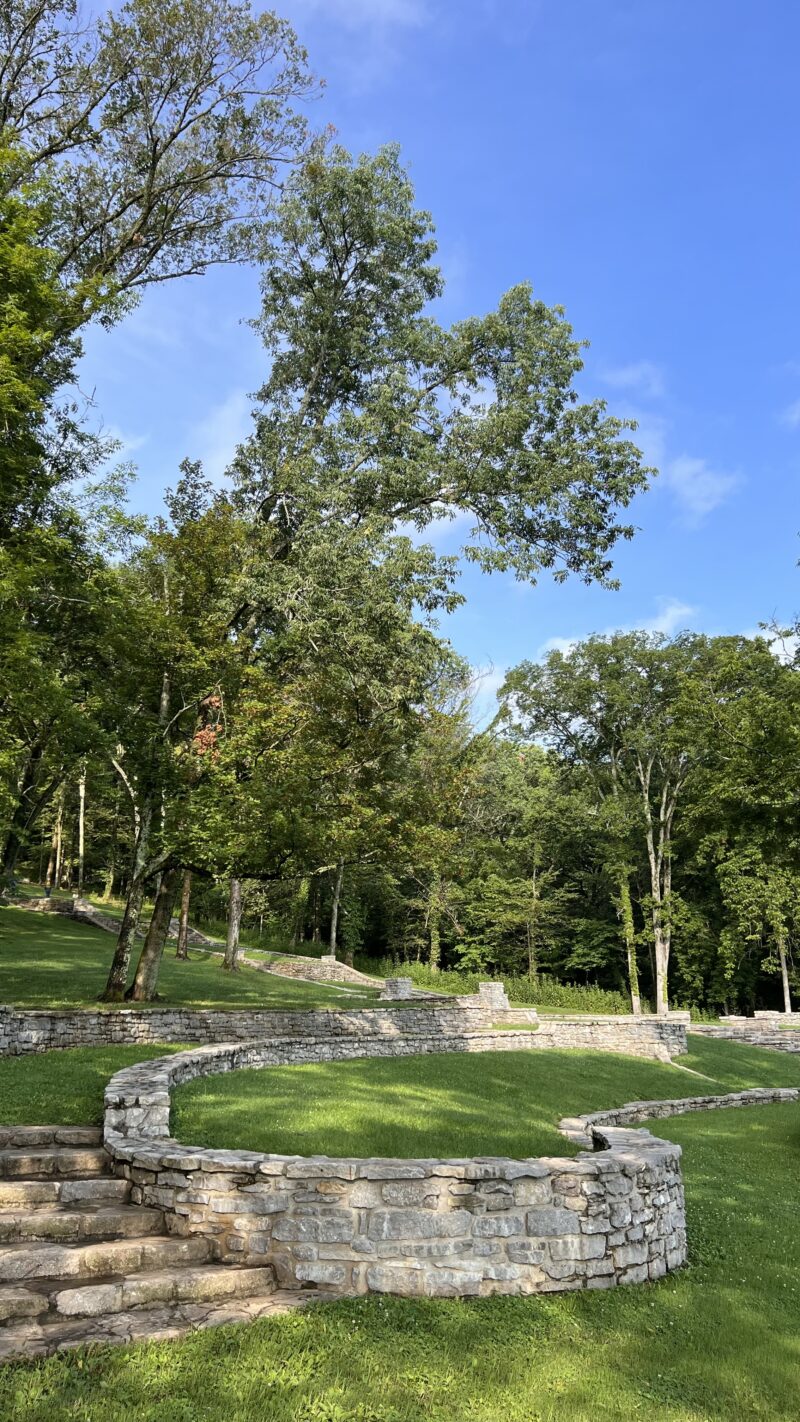 If you are local or visiting, Percy Warner Park is a beautiful spot to spend time. Even the road leading up to this area is gorgeous. My son has been doing early morning workouts with his team on these steps. It's great because it gets us out the door bright and early and an outdoor workout checked off. There are walking paths, hiking trails, horse trails and a ton of steps so there is something for everyone. It really is a peaceful spot.
THE JOSEPH HOTEL
For our 20th we spent time up in Nashville and stayed at The Joseph. Highly recommend the hotel. It's beautiful and the service was fantastic. It's about a 5-10 minute walk to the heart of Broadway so a really nice location. It had been raining all morning but as soon as we drove to Nashville the sun came out and it was a gorgeous day.
TWELVE THIRTY ROOFTOP
If you are ever on Broadway (which can be nuts . . but so fun) be sure to head up to the rooftop of The Twelve Thirty Club. It has the best view and is a lovely spot for cocktails and appetizers. That is the Ryman Auditorium you see in the background. One of the best spots to see live music because of the amazing acoustics and intimate seating arrangement.
SINATRA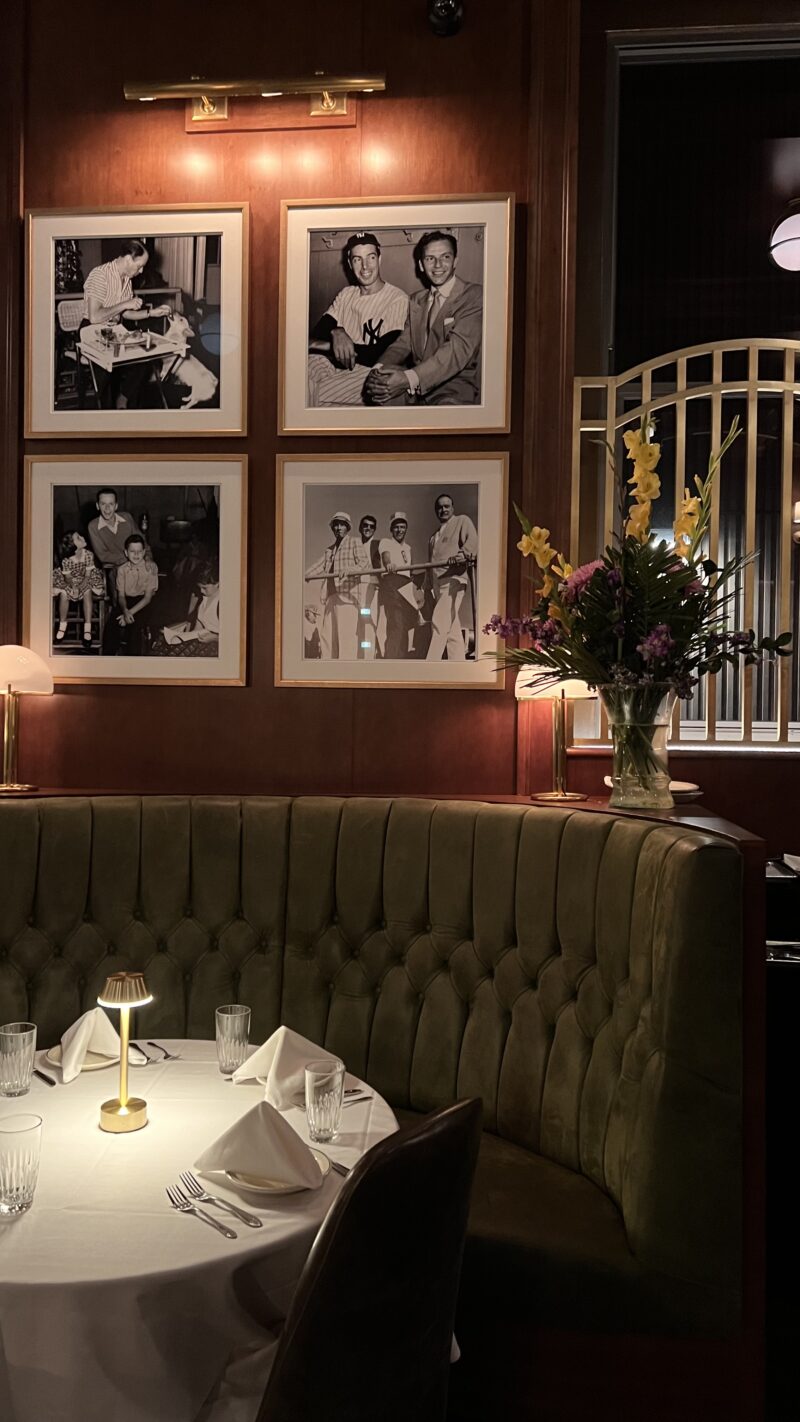 Walking back from dinner we passed by Sinatra (new spot in town). As we were walking in a couple got up from the bar so we were lucky enough to grab a spot. The restaurant is cozy and small with a wonderful vibe. Live music and delicious cocktails make it a popular place. We met some really lovely people and enjoyed chatting the night away.
JUMPSUIT LOVE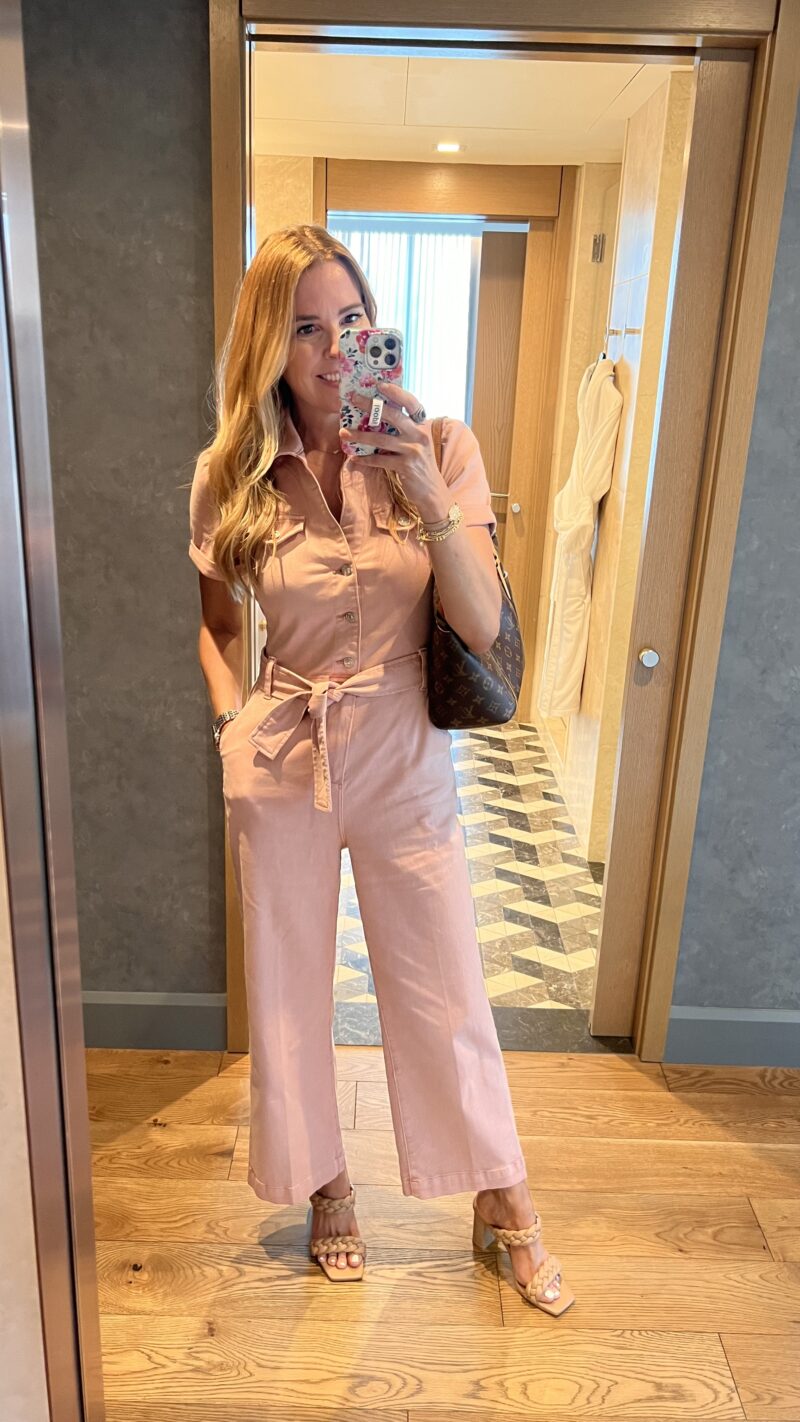 I wore this pink (dusty rose) jumpsuit and had so many people ask where it was from. It was a bit of a splurge for me and I don't regret it. It's incredibly soft and comfortable. Highly recommend. It comes in couple more colors and is by far my favorite closet addition in quite some time. Definitely size down one. I am wearing the 2 but would usually be a 4 in something like this. I noticed the denim version is on sale here. I'm so tempted!!!!
The braided heels (cafe) are still a favorite and on sale.
ED SHEERAN CONCERT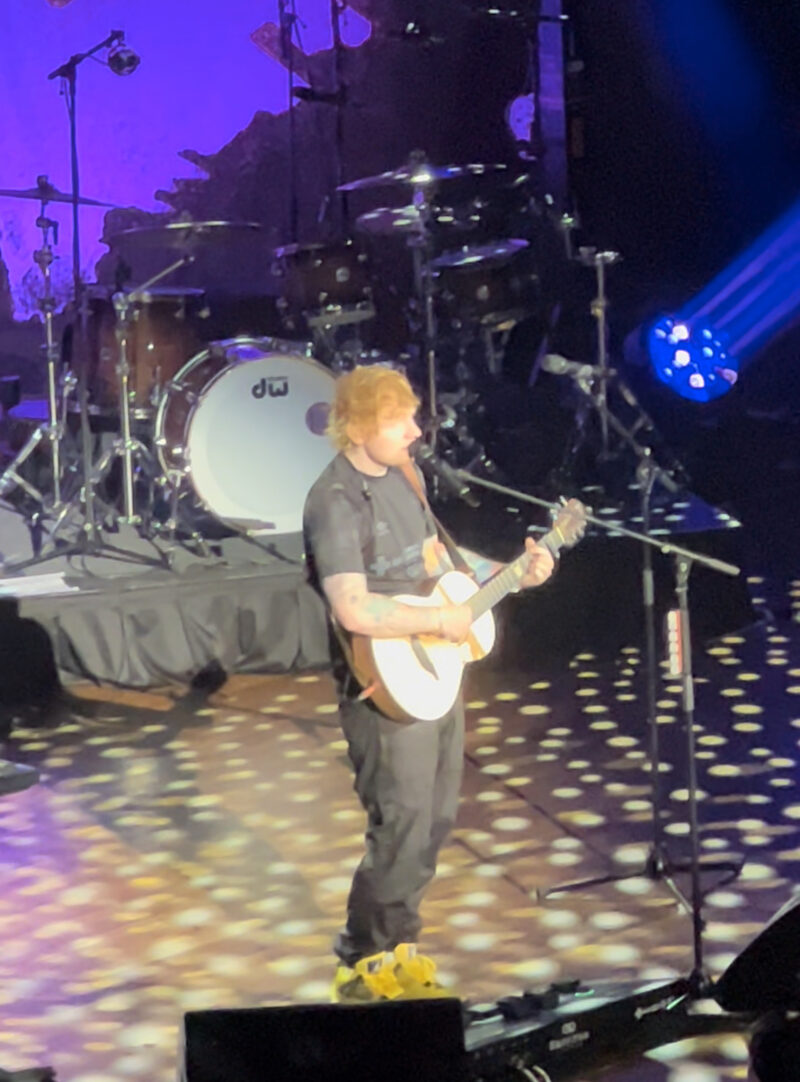 We kept the anniversary celebration going with the most incredible Ed Sheeran concert at The Ryman. He played the following night at Nissan Stadium but to be in this venue with only 2000 people was pretty spectacular. He played his Subtract album (plus the most loved songs from over the years) and relayed the story of why each song was written. His stories brought me to tears and I could relate to much of his grief. What a talent, he is. This was such a special night and I am so very grateful. If he is touring in your area, definitely look into it.
BRINGING OUR DOORS BACK TO LIFE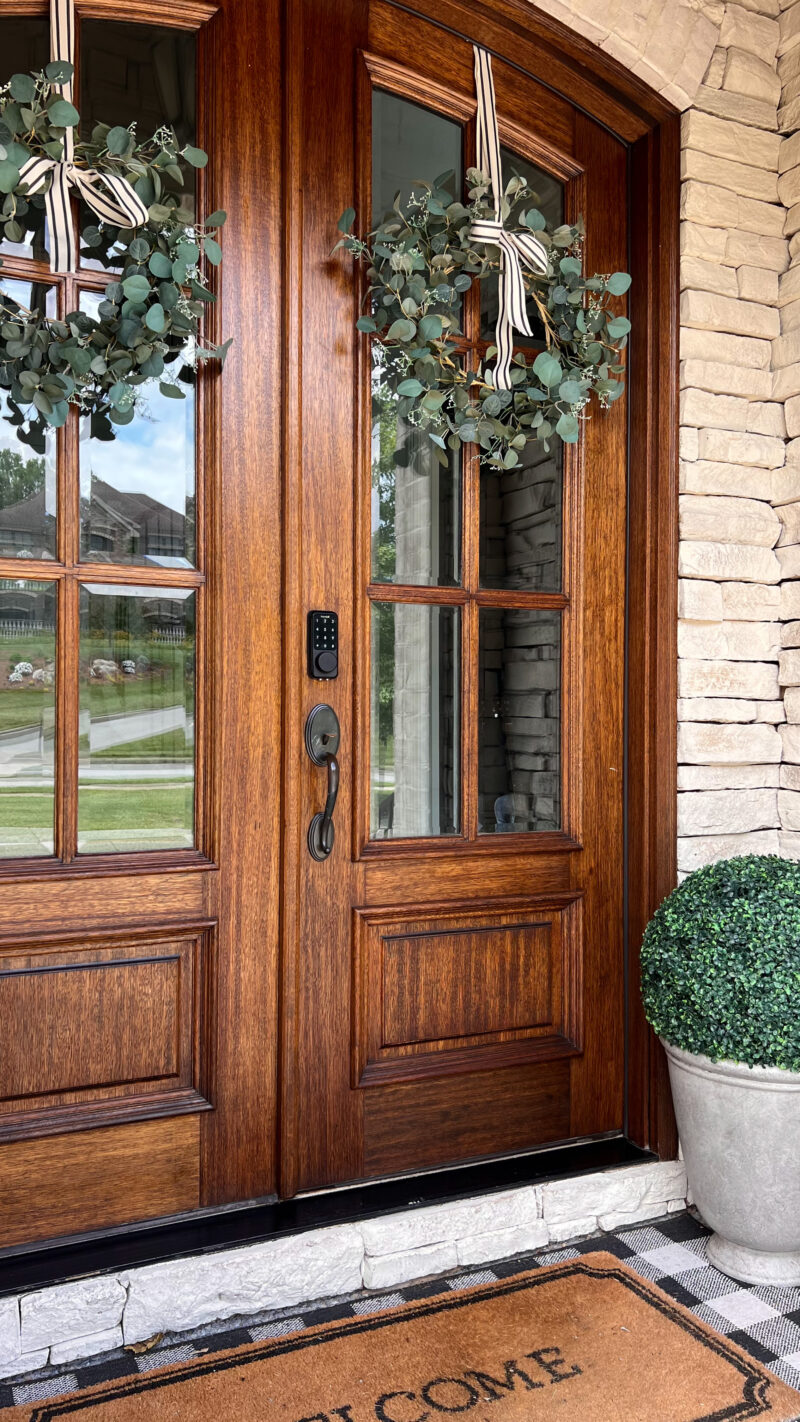 planters | topiaries | 22″ wreath | ribbon
Last but not least, a little home improvement project that took ten minutes. Out of the blue, our front doors suddenly looked terrible. The bottom third had taken too much sun and looked faded and dry. I did a ton of research and found this sun shield product. It worked like a charm! I was so worried we would have to sand and stain the doors, but this brought them back to life. Just be sure to wash the wood with a warm towel to remove any dust and dirt. We followed the directions on the bottle and are thrilled with the results. I've heard it works great on outdoor wood furniture, too.
We have less than two weeks of summer left which is mind boggling. We are squeezing in the dentist appointments and all of the rest before we get back into the swing of things. That and a little bit of school shopping. I will also tackle a couple of organization projects which I will share.
I hope your week starts off really well. Thanks for stopping in.