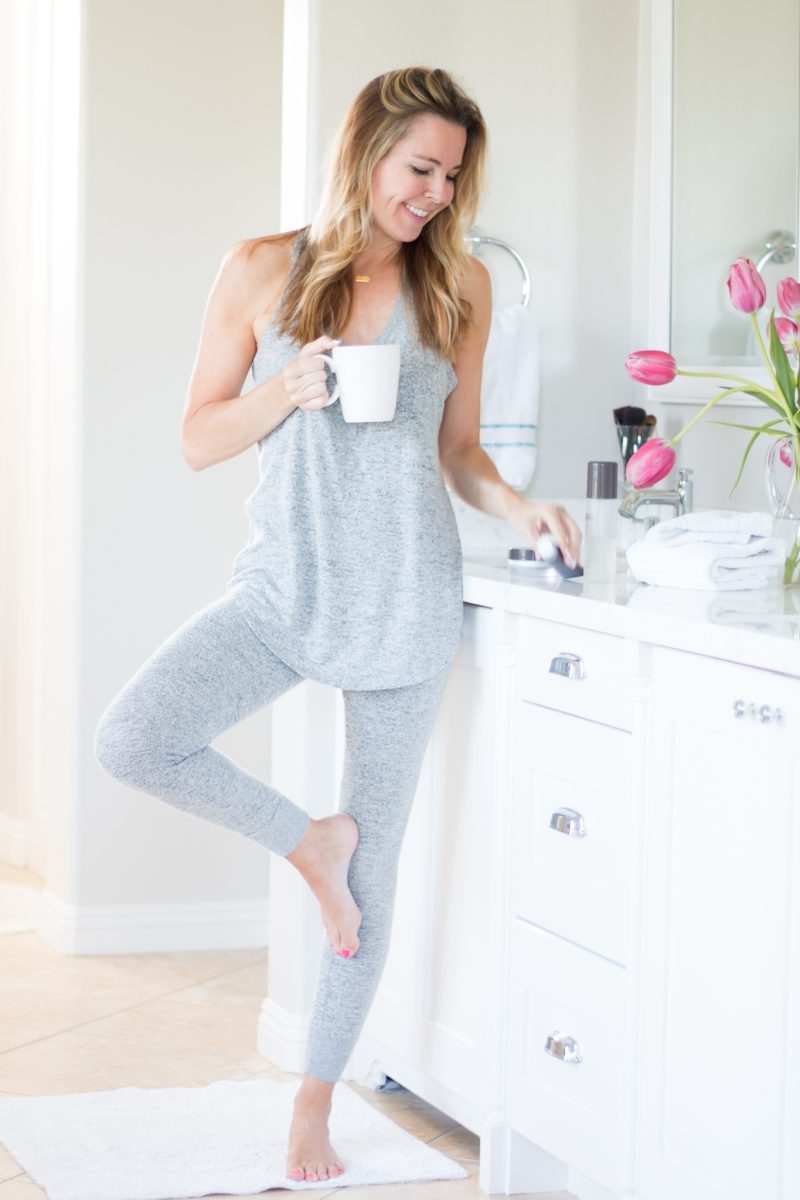 Ok! We're all friends, right?! Because I am stripping it down and showing you the just out of bed, no make-up version of me. Not my comfort zone but want to keep it real with how I take care of my skin and a little bit of my beauty routine. No joke, I grabbed a cup of coffee and let the hubs snap away which was awkward to say the least. I have been using Colleen Rothschild products for quite some time now and definitely have my favorites. It's also their Friends & Family event so it's a good time to share what work for me.
By they way . . .the secret to keeping my white bathroom towels white is down below!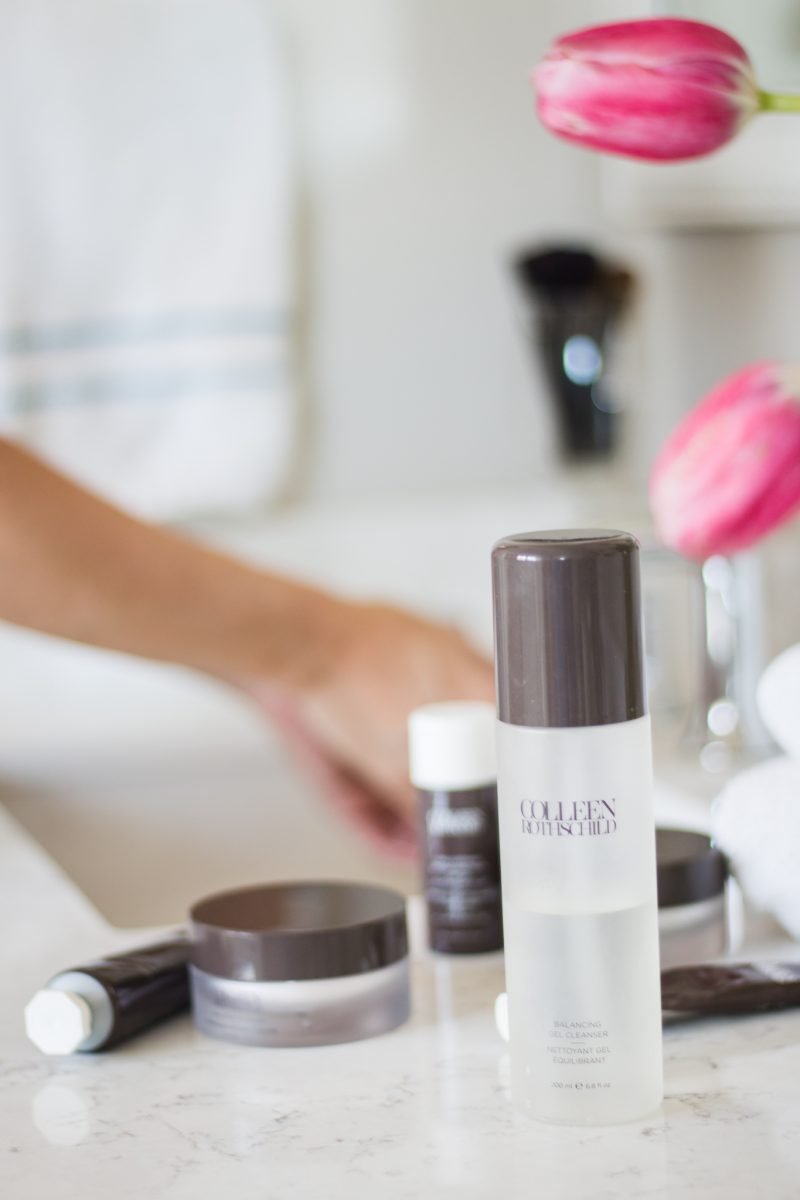 (putting on my favorite retinol treatment. . . usually put it on at night!)
I've blogged about my skin troubles before. I don't have perfect skin and have always struggled with both acne and rosacea. You can see that my cheeks look a bit pink. I just thought I had rosy cheeks. LOL. My dermatologist let me know otherwise! Ha. It's been a process, but finding good skin care products coupled with makeup that works for me and my skin has really improved. On top of taking care of my skin, exercise and drinking water really do make an impact. When I stop doing either of those things I start to see more break-outs. If you head to Colleen Rothschild site, you can actually shop products based on your own skin needs which makes it nice.
MY FAVORITES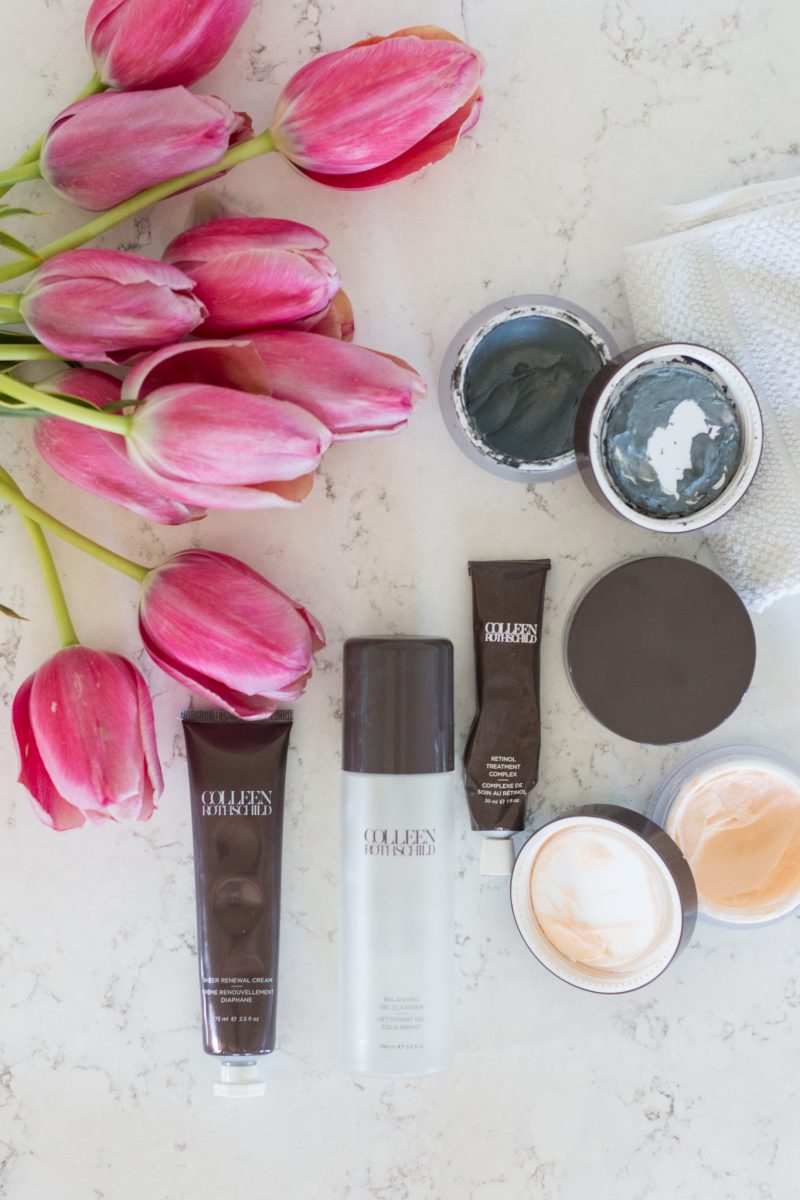 Ok. Let's talk about my favorites. There are products I use daily and some I use weekly. The Radiant Cleansing Balm is the peach one. So good. Helps to clear pores and removes all of my makeup. I use it with the cleansing cloths which are awesome.  I definitely have my favorites and I am breaking it all down for you below.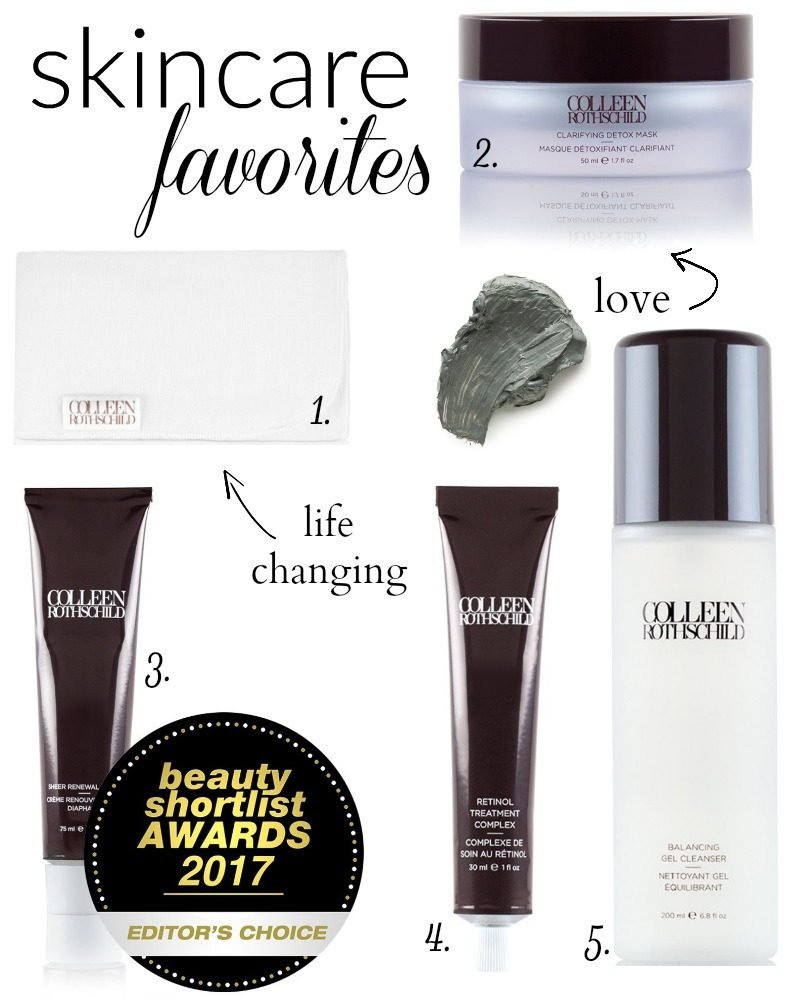 ONE –  Muslin Cleansing Cloths: These!! These seriously rock. They have single-handedly saved my pretty white bathroom towels from being stained from makeup. I only use these while removing makeup with the Radiant Cleansing Balm (it melts makeup away). They are thin enough to let you get rid of any traces of makeup under your eyes and the makeup and balm rinse right through them. They hold up beautifully in the wash. Once you try them you'll never stop using them.
TWO – Clarifying Detox Mask:  This is the mask I use once a week to remove toxins and to help with inflammation. It leaves my skin so so soft.
THREE – Sheer Renewal Cream:  Really like this because it is oil free. It helps with cell turnover and I usually put it on at night before bed.
FOUR – Retinol Treatment Complex: Yes to this!! This is what I apply around my eyes at night before bed. You can apply a thin layer on your entire face. It's great for minimizing fine lines and helping with cell turnover which is key to having your skin look fresh and bright.
FIVE – Balancing Gel Cleanser:  This is the cleanser I use in the morning. I prefer to use this when I haven't had any makeup on. (I use this at night to remove makeup). It's leaves my skin so smooth and ready for the day. I also use it after I work out since I workout without any makeup.
I always feel like there are so many products out there and I don't know what they do. What I appreciate about Colleen's approach is that she breaks it down so you know exactly how to use the product and how it will help your skin. Each item comes with a cheat sheet card which I reference often until the routine becomes second nature.
WHAT I AM TRYING
I just recently ordered the Mandelic Acid Radiance Serum. It is supposed to help with skin tone and texture, cell turnover and acne. I will let you know what I think after I use it for a bit. So far so good but I have only used it for about a week.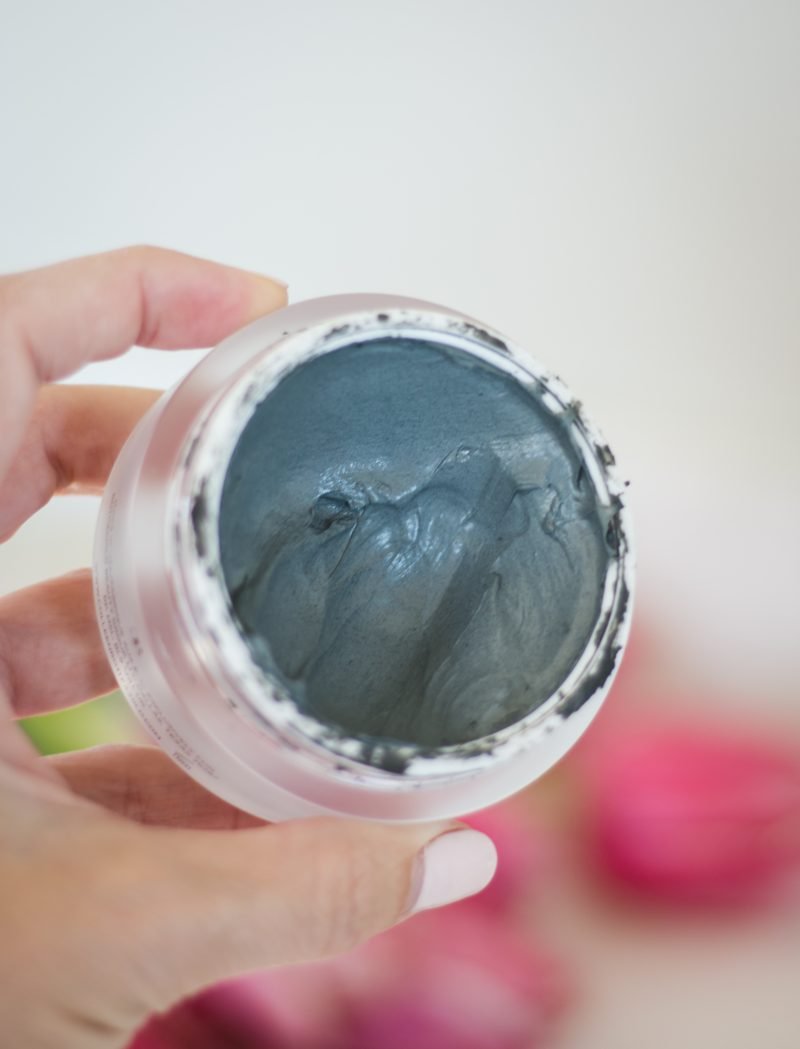 This is for sure my favorite. I LOVE this mask. I have been using it for a couple of years now and it is fantastic for my skin.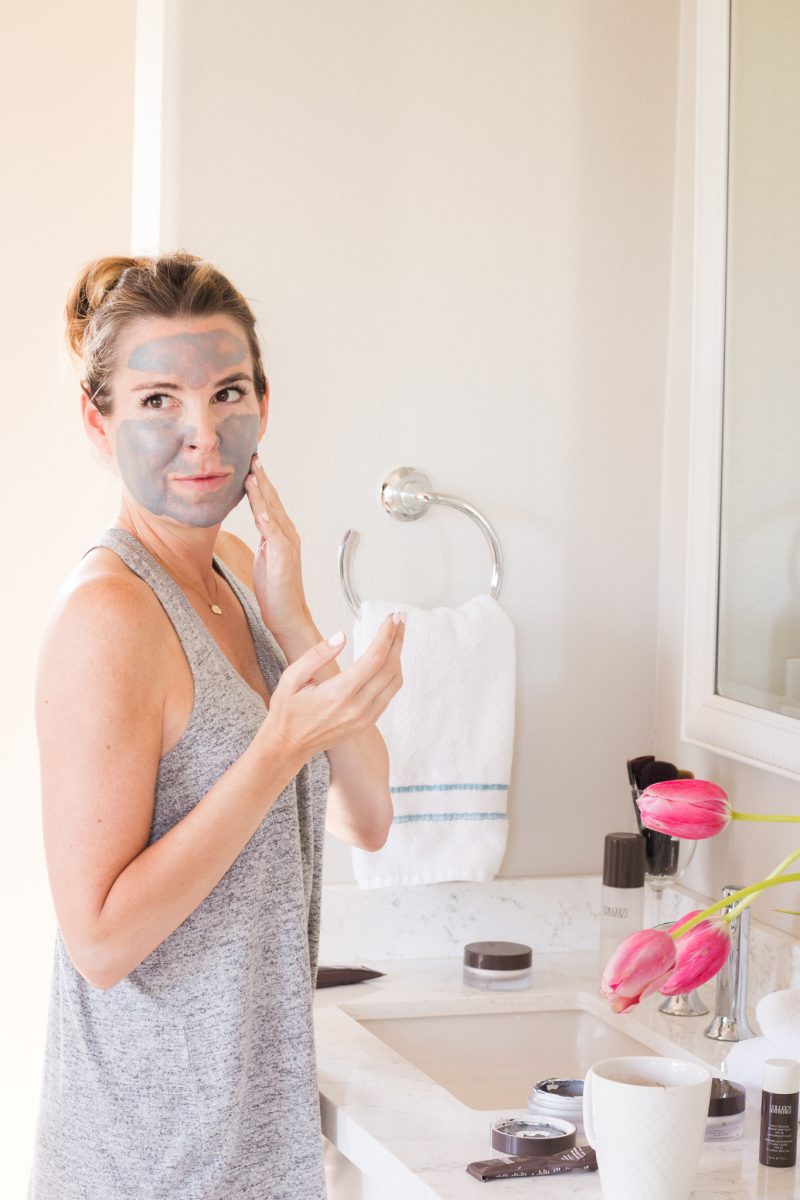 I'm not getting any younger and taking the time to take care of my skin has become a major priority. I always try to remove my makeup and cleanse my face before we relax for the evening. I find that if I wait until I can barely keep my eyes open I wash off the makeup and call it a night. This mask is one that I put on once a week. It feels incredible and I actually look forward to the one night a week that I put it on. Plus my kids think it's hilarious. I usually put it on and then read a story with my son. He's gotten so used to it that it's normal now!

The great thing is that you can get 25% off right now.  The sale goes through SUNDAY. Awesome time to give something a try. I just bought my sister a set of the cleansing cloths because I am dying for her to try them. They seriously saved my white towels.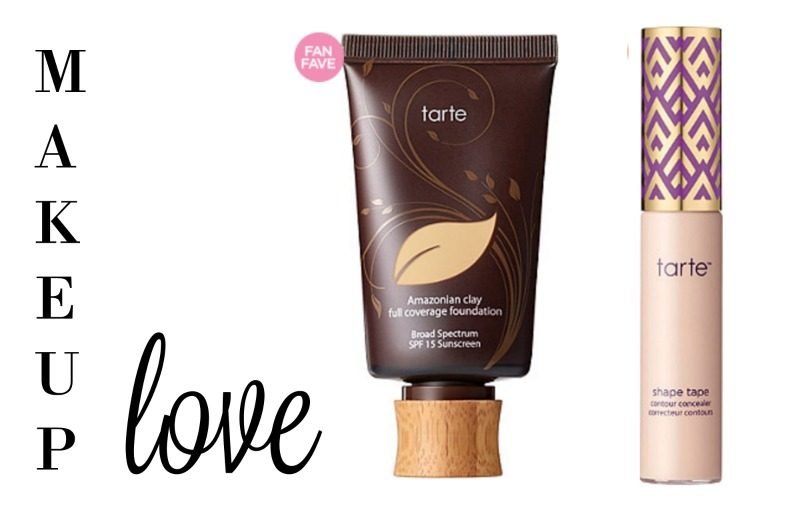 Switching up my makeup routine has been a game-changer, too. I am head over heels for this line and am so thankful to have found a light-weight foundation that stays looking good all day. If I am just running some errands I will keep my face make-up free and just add a the shape tape under my eyes and on any blemishes. But serious love for both of these and my face has been so much clearer since using these. I've mentioned before that my skin tends to be a bit oily.
As far as the colors go, I use Medium Sand when I am tan and Light Neutral when I am more pale.
So there you have it, my friends. I bit of how I take care of my skin and the products that have helped me. Have you tried any of these? Now I think I'll go put on some makeup!
Have a great day. Off to spend time with my sweet mom.
*Affiliate links used. Proud to partner with  Colleen Rothschild on this post because I truly am thankful for her products.