I'm excited to share a bit about my skincare routine today. I will be the first to admit that I ignored my skin for far too long. I have always been a low-maintenance kind of girl but as I am aging, I am realizing that I can't ignore my skin and it really needs to be a priority. With age comes the dreaded fine lines, uneven texture and drying. Not what I want to sign up for. A while back I shared that I have been using a product from Colleen Rothschild for almost a year and really love it.  Well, when I was in Dallas, I was able to sit down with Colleen (whose skin glows) and learn more about not only her line but what it can do for my skin. I have been using her products ever since and I can't wait to share.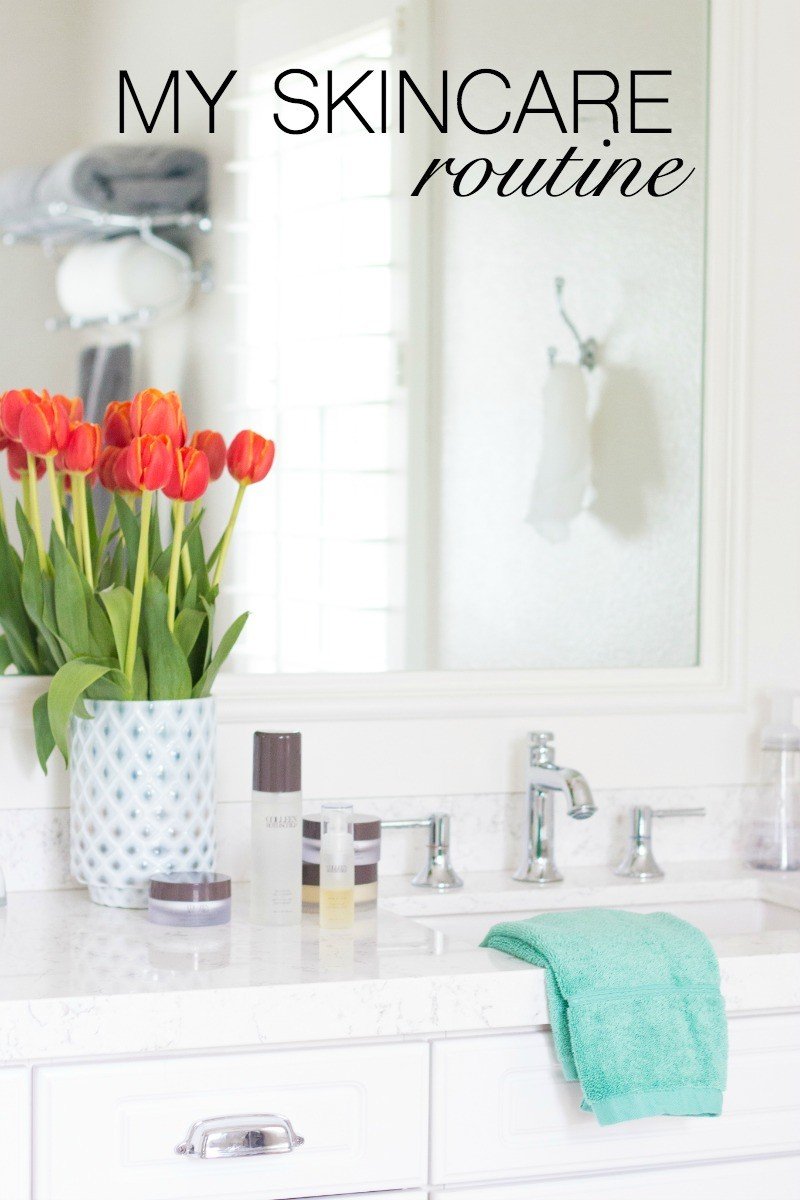 For the record, my skin tends to be oily and I am prone to breakouts. I also battle some mild rosacea so most products I have tried have been too harsh for my sensitive skin. And by the way, I have been approached by many lines in the past and have tried quite a few. I have never loved any of the results so you know that if I am sharing, I really do love what this is doing for my skin. Overall I see that my face looks brighter and less dull. The breakouts have stopped and I am finding that I go without makeup much more often. The most noticeable difference is when I wake up in the morning. My skin just looks more awake and less tired. While my complexion is not perfect, I do see major changes which for me is very exciting.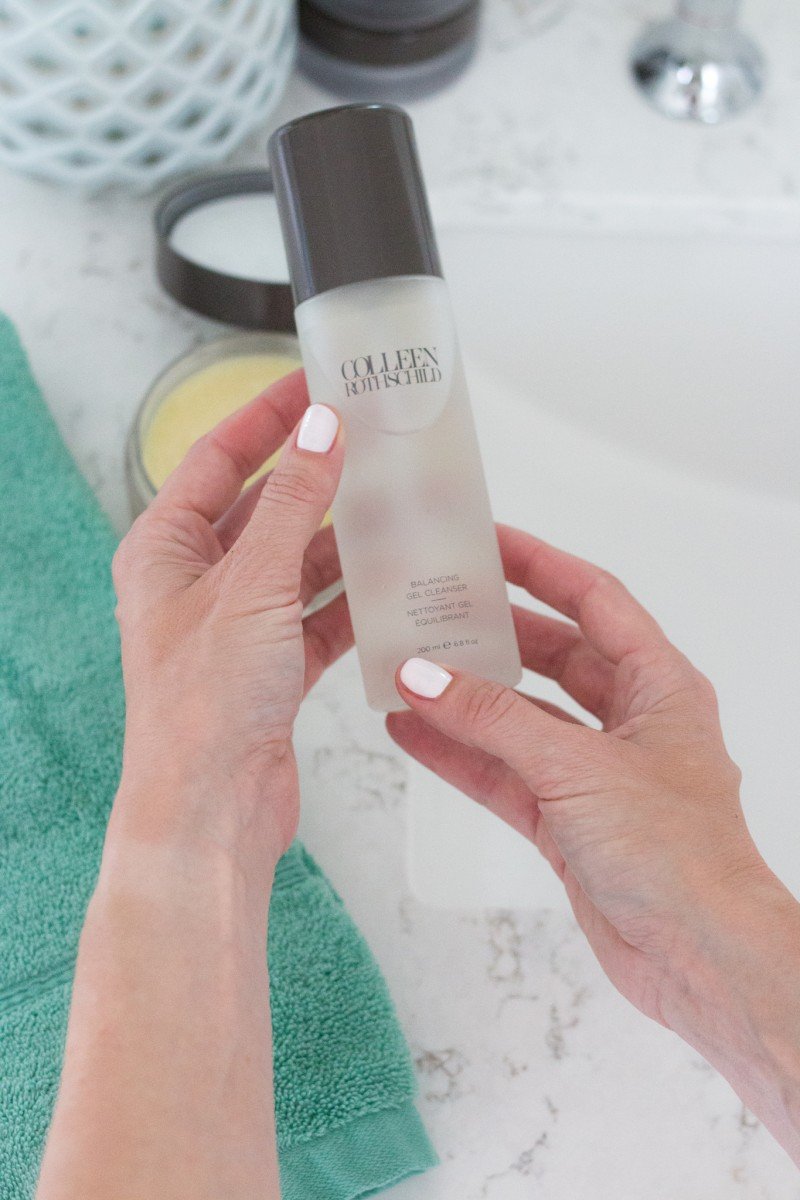 So let's jump in to what I am using. Morning and night, I have been using this Balancing Gel Cleanser. It leaves my face feeling really really clean. And because I am so sensitive, I love that it is mild on my complexion.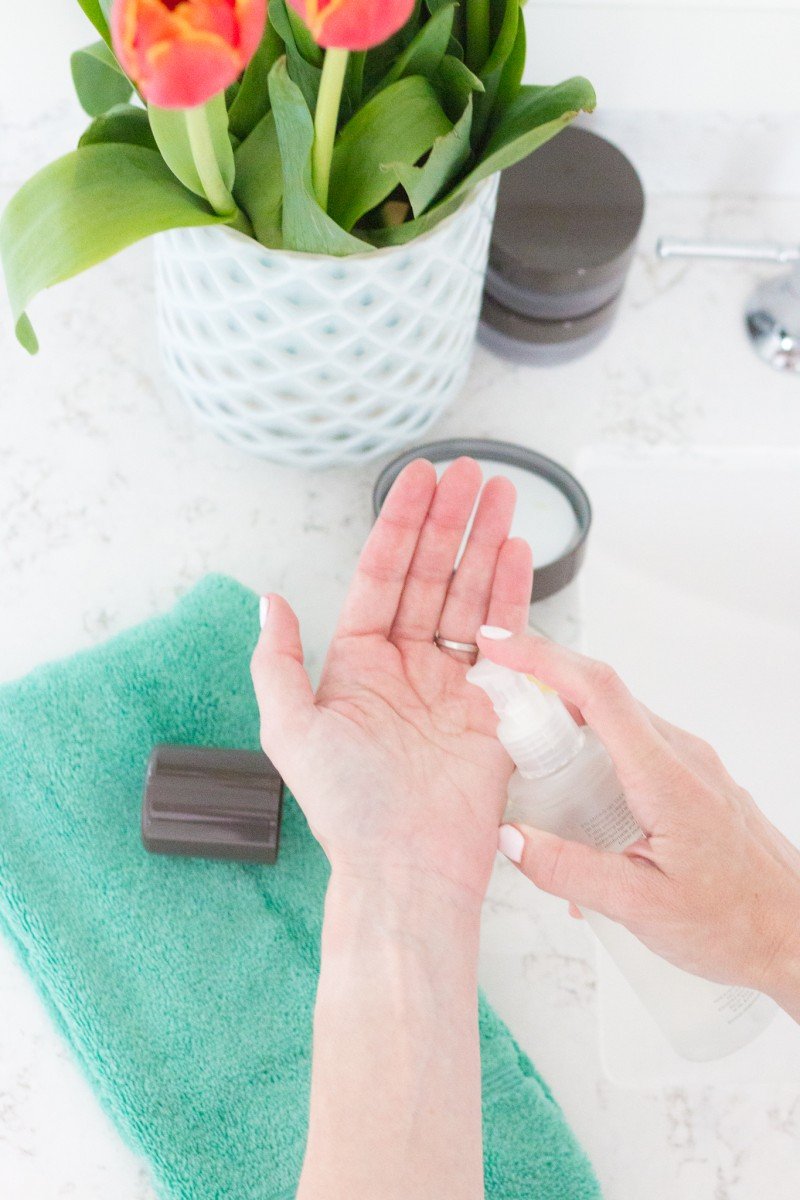 You only need a small amount to cleanse your face so it will last quite a while. I use this before any mask or exfoliator.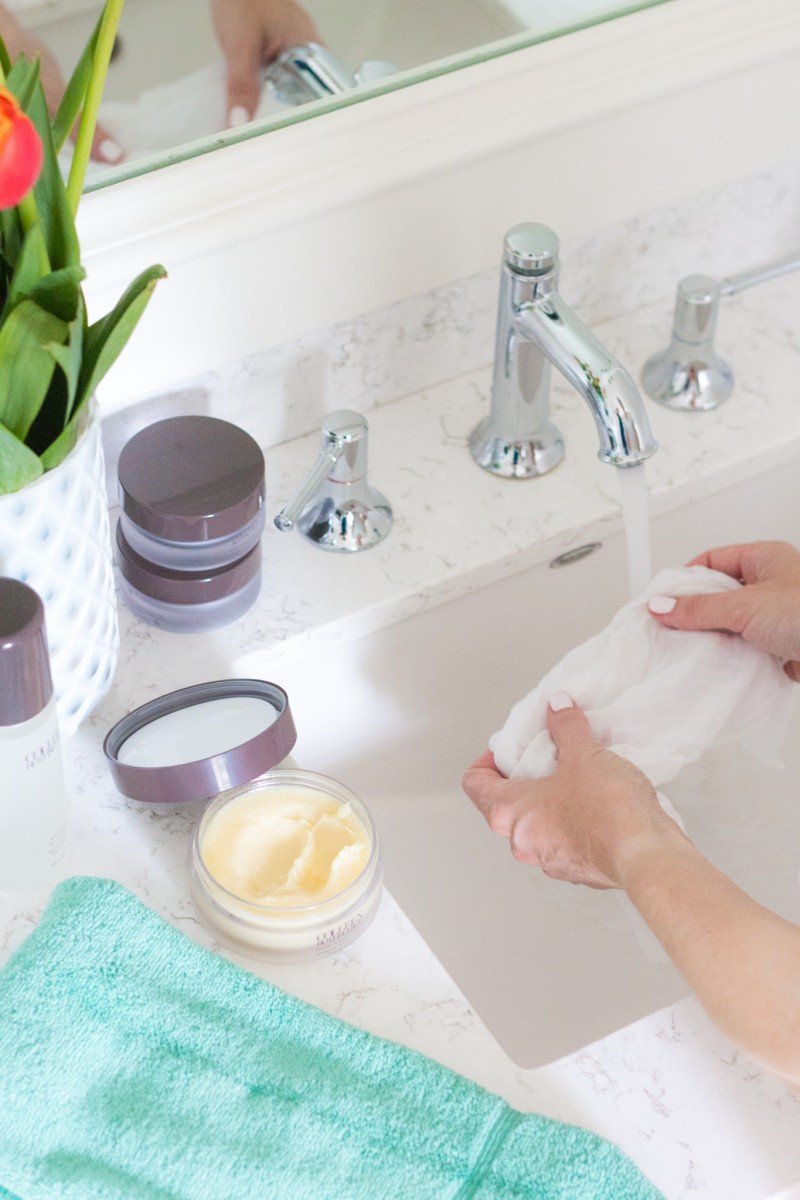 In the evening, I use this Radiant Cleansing Balm. When I sat down with Colleen in Dallas, she told me about this and how it would work to just effortlessly dissolve my makeup. I honestly thought there was no way that could magically happen. But it does. So I use a small amount on my dry, clean hands. It warms in the hands and then when gently rubbed on the face it begins to remove makeup. Then I soak my muslin cloth in hot water, ring it out and lay on my face. It's like a mini facial. After that you just wipe away the makeup and balm. It's awesome.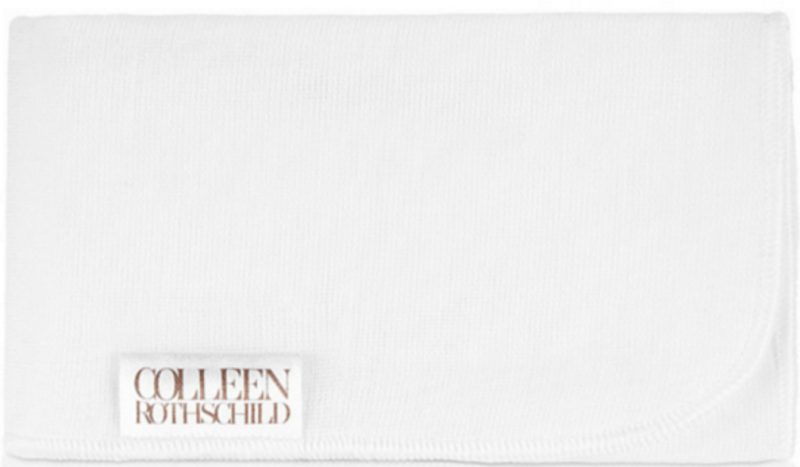 Ok. Why didn't anyone tell me about these until now? These have been life changing for me. I received one with the cleansing balm and I will never use anything else. These are thin, white muslin cloths and they remove makeup and any of the CR products so well. I have always used white wash cloths for my face and inevitably they look horrible after a short amount of time because of the makeup coming off when I wash my face. These are thin enough to give yourself a mini facial and then the makeup just washes away while gently exfoliating the skin. The makeup washes completely out of these cloths. The one I am holding above has already been used for days and it just rinses clean. They also dry so quickly. These would be an awesome gift for any gal in your life. Thinking of giving them to my sister and nieces. Highly recommend.
I don't know about you but I feel like a fish out of water when it comes to using new products. I get nervous I will do it wrong or not know how to use them. I don't think I am alone in that because each product comes with an amazing instruction card. Hello! Genius. The card covers the ingredients, what the product does, how to use it and tips from Colleen. Could not be easier. I think this is so key as we often order or try things but have no idea what to do with them so they sit. This solves that problem.
The Clarifying Detox Mask is awesome. Otherwise I wouldn't be showing you a photo of me with a gray face straight out of bed. It's worth it, though. The activated charcoal works to detox the pores. Once you put on a thin layer of the mask, allow it to dry for 10 minutes and then gently wash away with tepid water. You can read more about the mask below but I have seen immediate results.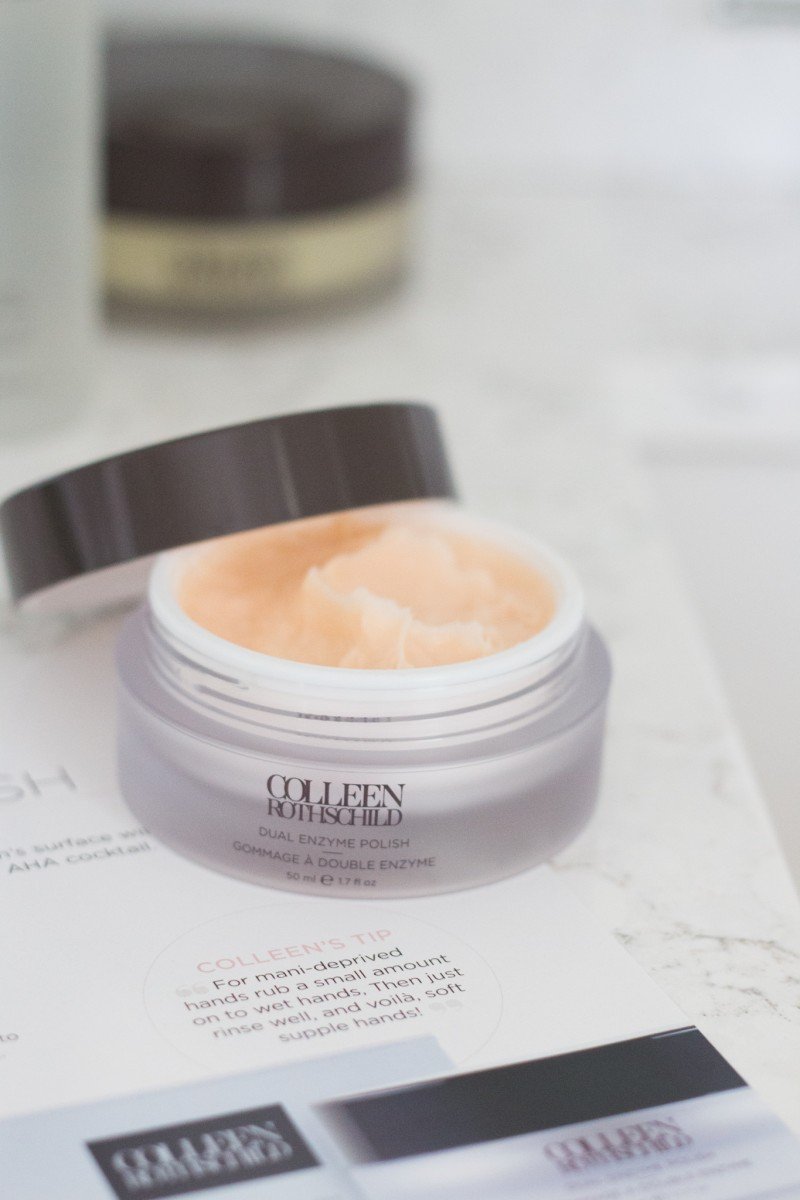 First of all, the Dual Enzyme Polish smells amazing and I love the color. There's that. But it's fantastic exfoliator that leaves your skin feeling so fresh and smooth. I leave it on for ten minutes and then gently scrub my face to activate the exfoliants. I look forward to doing this twice a week now.
You can actually get the mask and this enzyme polish in a set. And it's on sale right now which is key. I will use these 1-2 times a week.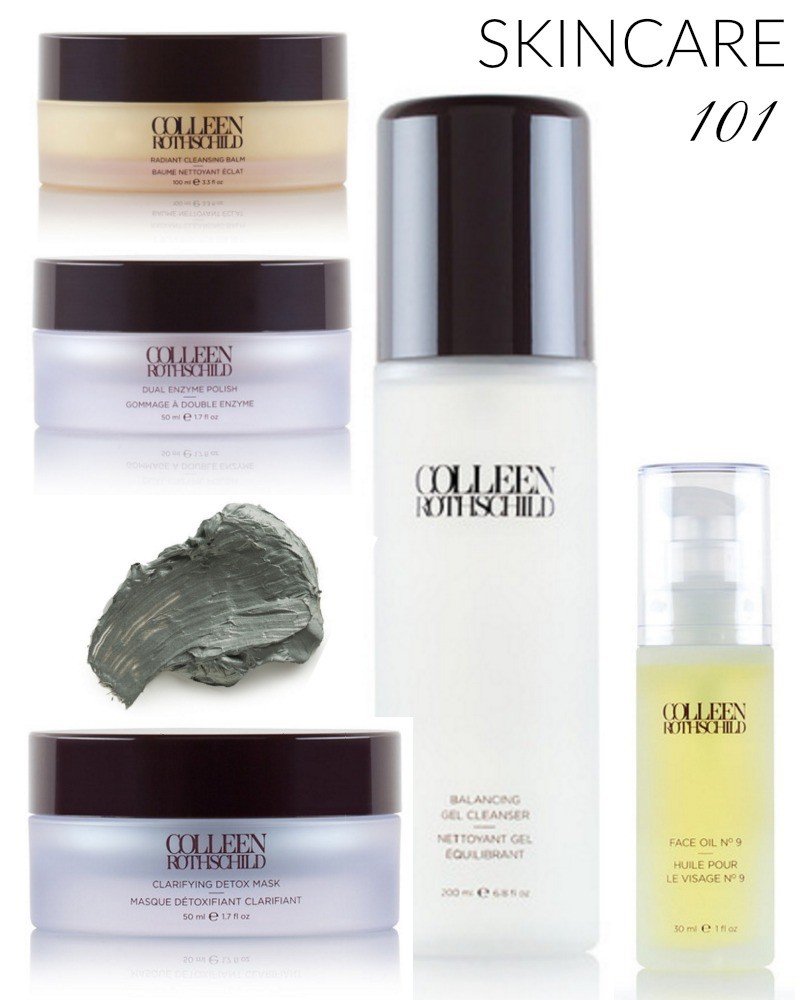 SKINCARE 101 | MY FAVORITES
F
Balancing Gel Cleanser gently yet thoroughly cleanses skin, leaving it ultra-smooth and revitalized, while protecting epidermal pH and the hydro-lipid barrier.
Comprehensive Radiant Cleansing Balm effortlessly dissolves all traces of eye and face makeup.
It clears congested pores, and removes impurities, leaving skin balanced, soft and radiant. With continued daily use, skin becomes velvety smooth and more luminous.
Dual Enzyme Polish efficiently sloughs dull cells from the skin's surface. Microspheres blended with a fruit enzyme and AHA cocktail provide deep exfoliation. Skin is left refined and radiant.
The ultimate in skin luxury, Face Oil N°9 combines nine transformative oils that provide an intense moisture boost, deeply nourish thirsty skin and leave your complexion radiant after the first application.
Skin breathes a sigh of relief as the Clarifying Detox Mask removes trapped dirt and debris. Activated charcoal and French Kaolin Clay go straight to work, detoxing pores and leaving behind a more balanced complexion, while pure Micronized Silver helps keep bacteria at bay.
Shop These Favorites

Now that I am hooked I am wanting to try other products. The Retinol Treatment Complex would be great for my fine lines and pores. The product has received rave reviews. I will keep you posted on the results once I try it. I also like the sound of the Sheer Renewal Cream because it is oil free and promotes new cell turnover (and listen. . . I need that at my age! Fine lines be gone!)
Best Sellers

I rounded up some of Colleen's best selling products so you can check them out yourself. Please shoot me an email and let me know if you give something a try. I hope you love the products as much as I do.
And because Colleen rocks, she is offering a discount code to A Thoughtful Place readers! You can receive 20% off your order (even on sale items) from now through June 17, 2016.
DISCOUNT CODE: ATP20
t
I am feeling so much better about my skincare routine. Even my husband has noticed a difference in my skin and complexion. And here is my greatest tip. . . don't wait until right before bed to take care of your face. That is what I have learned. After we put the kids to bed, I go up and wash my face and do a treatment ( a few days a week). I feel so fresh and great afterwards and then hang out with my hubby. I've learned that if I wait until I am exhausted and it's bedtime then I don't want to take the extra time to take care of my face.
Changing gears, I receive so many questions about our bathroom countertops so if you are interested in our thoughts on them I wrote a post comparing marble vs. quartz here. 
Enjoy your day, my friends. I am off to help in my son's classroom. I just can't believe the school year is already winding down. Didn't it just begin?
*Proud to partner with Colleen Rothschild on this post. Affiliate links used.