First and foremost, how are we already to the Nordstrom Anniversary Sale? Weren't we just shopping together for the last one? I love this time of year. There is something about the hustle and bustle and shopping the great deals. I hit up the store before our trip to try on the pieces that stood out the most. Nordies switched up their card this year with a new point system. I am still getting acquainted with it myself but I do know that Icon and Ambassador levels can shop online today. Enough about that, let's get to it girls. And in keeping with tradition, I am kicking off early access of the Nordstrom Anniversary Sale with favorites under $100!
FAVORITE OUTFIT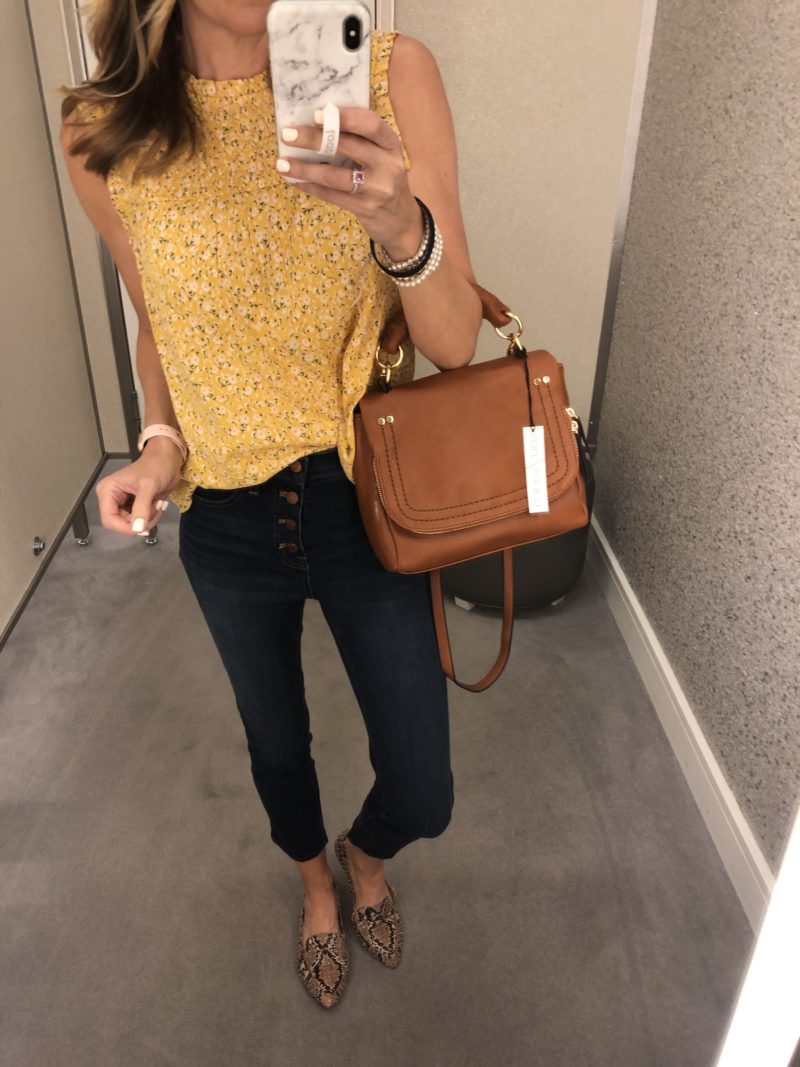 There always seems to be an outfit that I fall in love with. This is this year's. It's crazy comfortable, darling and great basic pieces. I normally don't like high-waisted jeans but really do love these. The buttons add a great detail and the top is sooooo cute. Girls, it will go quickly. It comes in four colors and I bought two of them.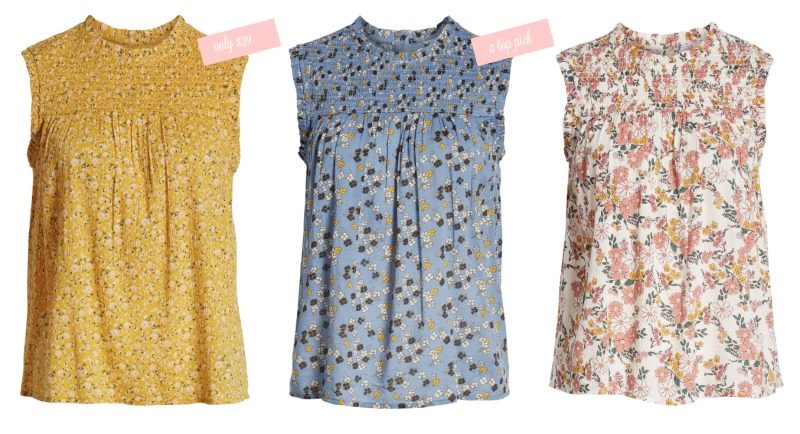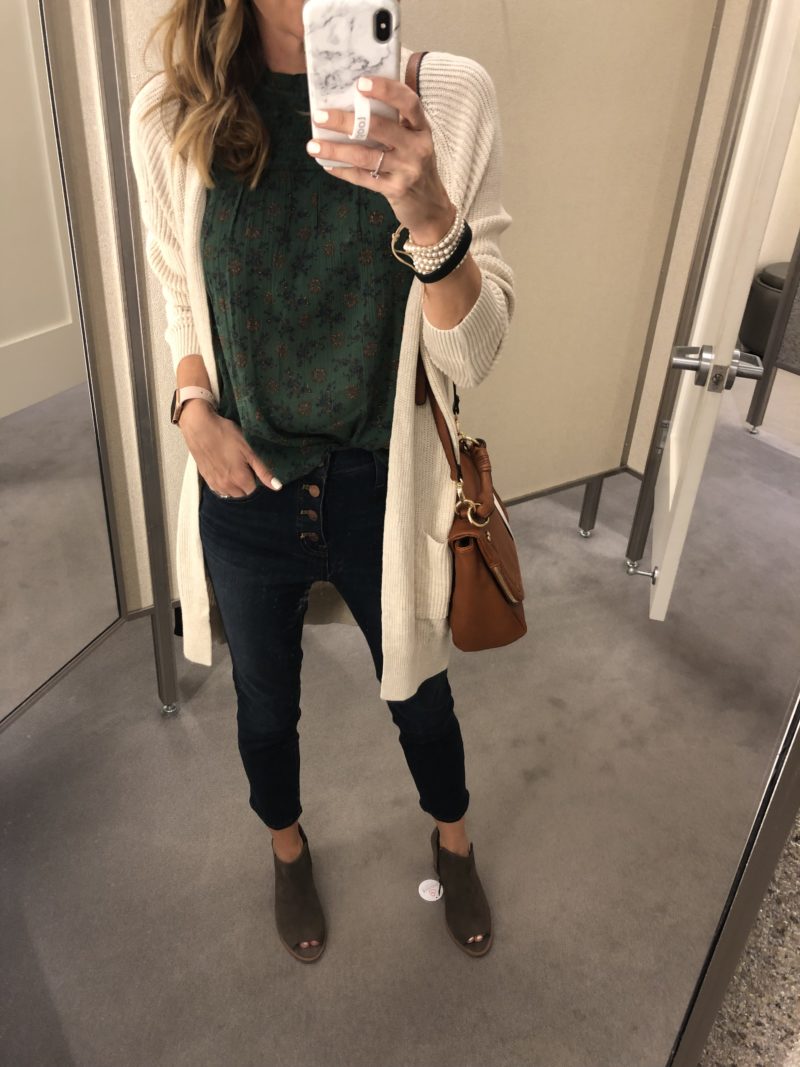 jeans | top | cardigan | booties | handbag
Here I paired that same top in green with the jeans and awesome booties. They are fully weatherproof. Nothing stains them and they are so comfy. Highly recommend. I tried hard to stray from my usually taupe pick and went with the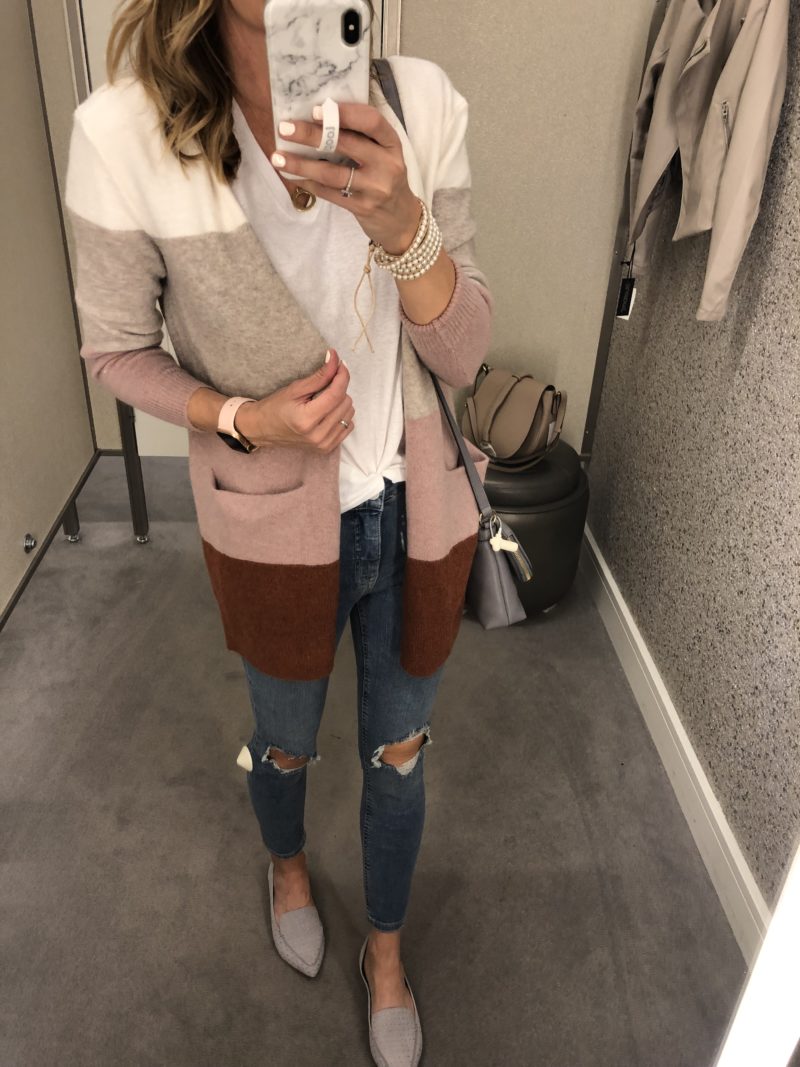 Another favorite look by a landslide. This cardigan is so soft and just straight up darling. The flats are one of my very top picks from the sale. More on those below. The jeans are also really cute.
Yes to this whole look. This skirt also comes in a leopard print. It's silky and falls so nicely. I love the idea of dressing it up or down. It could work with a plain white t-shirt for a summer date night and also look great in the winter with a warm sweater like this one. The booties are SO CUTE. I recommend going down one size in the shoe. This skirt is also part of the sale and very cute.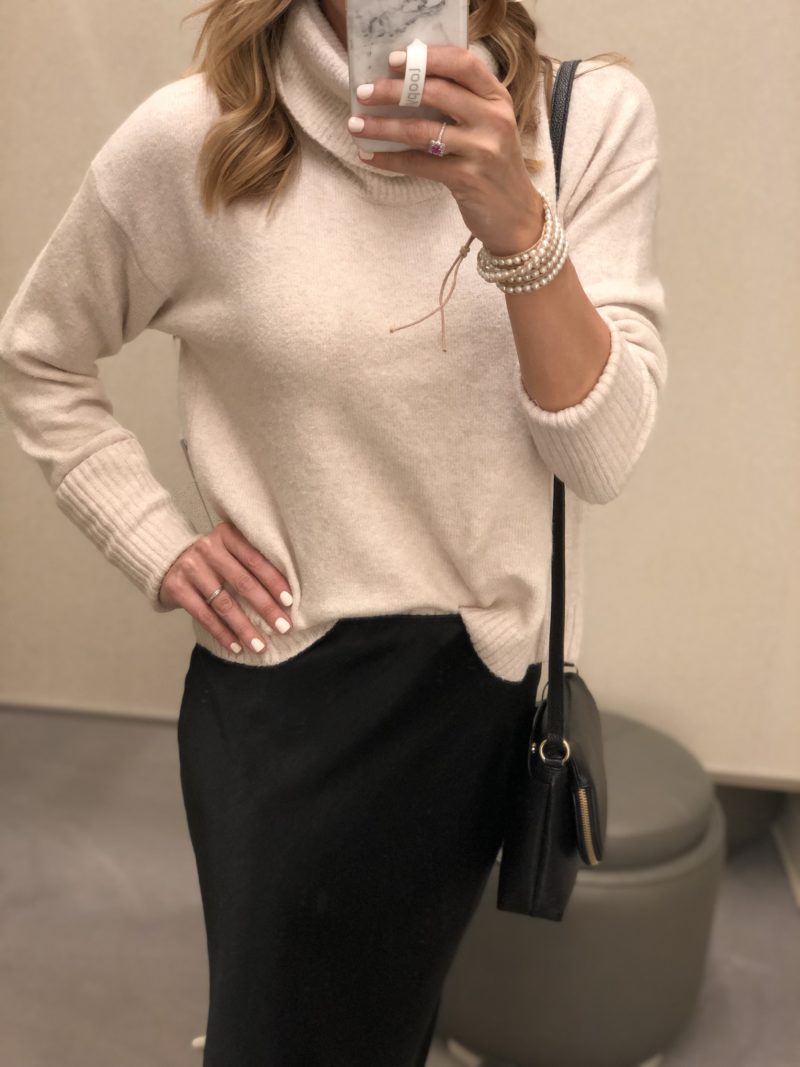 The skirt is an XS and the sweater is an XXS. I usually wear a small in a sweater but went two sizes down in this one. I love it and these pieces are now in my closet. Can't recommend the sweater enough. It feels so good on. The black handbag is a nice staple if you don't already have one. Nice quality and the perfect size.

Such a great crossbody bag. My favorite color is the black. The gray seemed to have a bit of a purple undertone.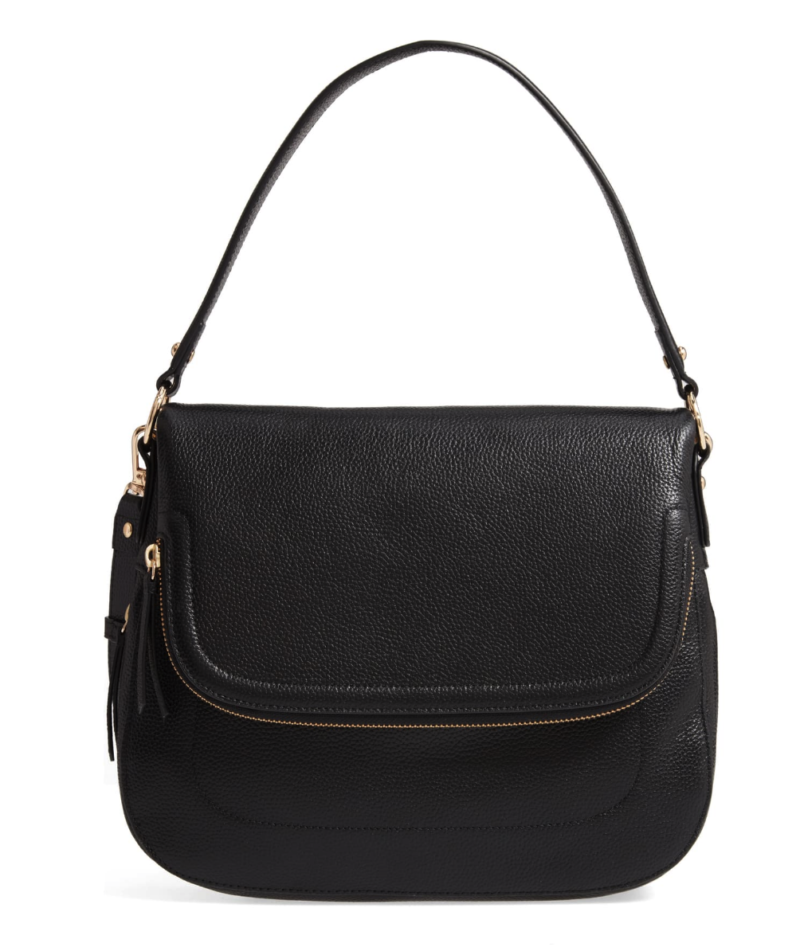 This bag is larger and really pretty. It also comes in a couple of different colors.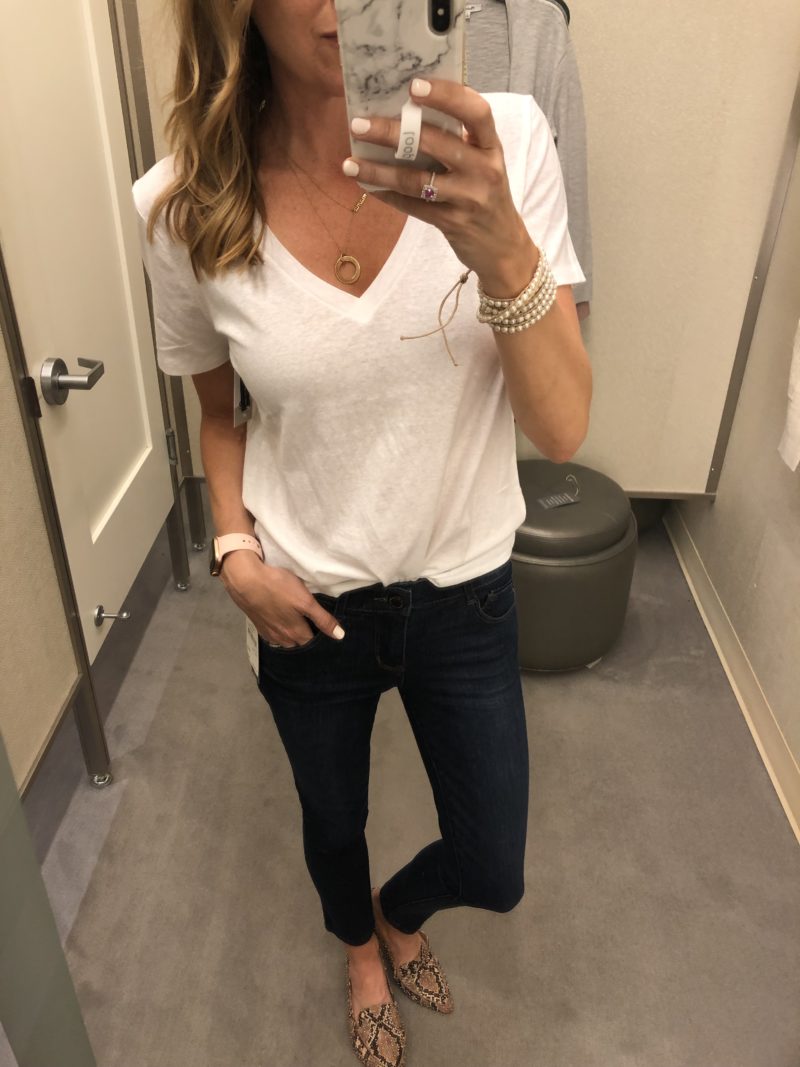 The #Nsale is the perfect time to stock up on basics. This v-neck is under $12 and comes in so many colors. I like that it isn't too long. I also stock up on this one during the sale. It'a an all time favorite and great layering piece.
Now let's talk about the jeans. THEY ARE AWESOME. They look like jeans but feel more like a jegging. The technology gives you a boost in all the right places and the waistband does not slip down.
Sizing: I went with a 0 in these. I am usually a 25 for reference.
CARDIGANS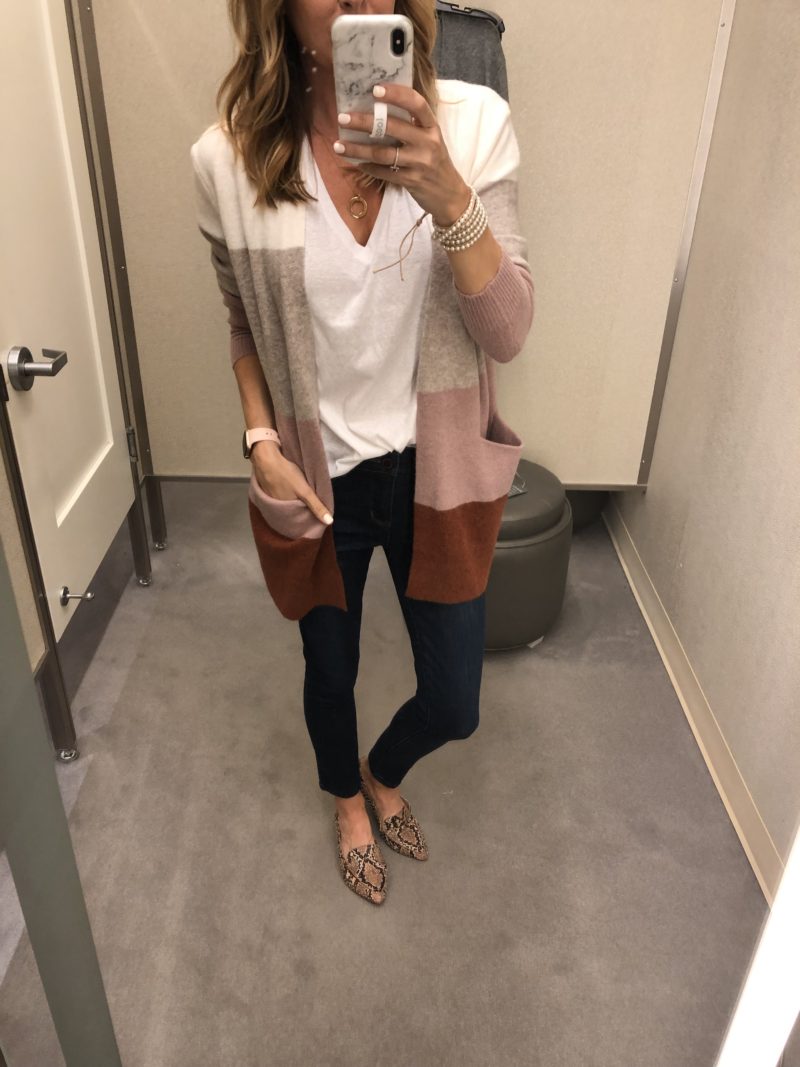 Here I paired the striped cardigan with the jeans and the cutest flats. Paired with these awesome jeans.
leopard cardigan | jeans | flats | t-shirt
The leopard cardigan is a bold and fun statement. Not sure I can pull it off but I was told it's one of the hot ticket items. And this is a similar one ( I prefer).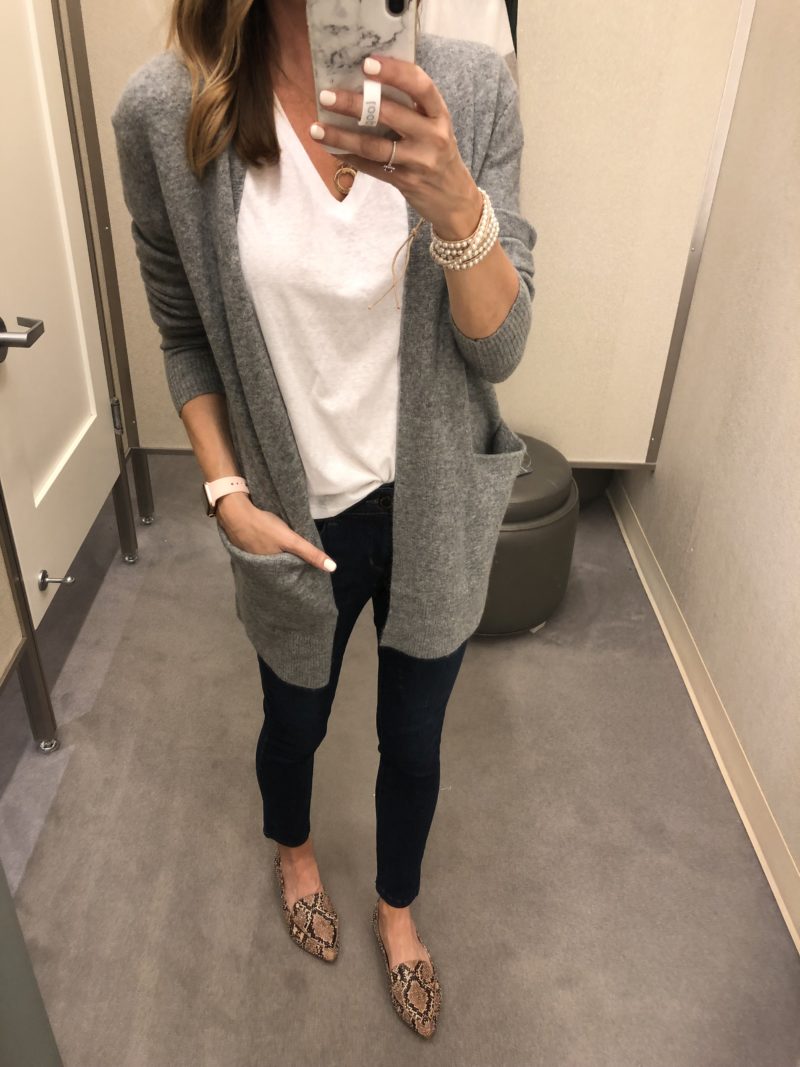 Love this gray cardigan. It has more of a boxy feel. To be honest it reminds me of my grandpa's cardigans. Made me feel good to have it on.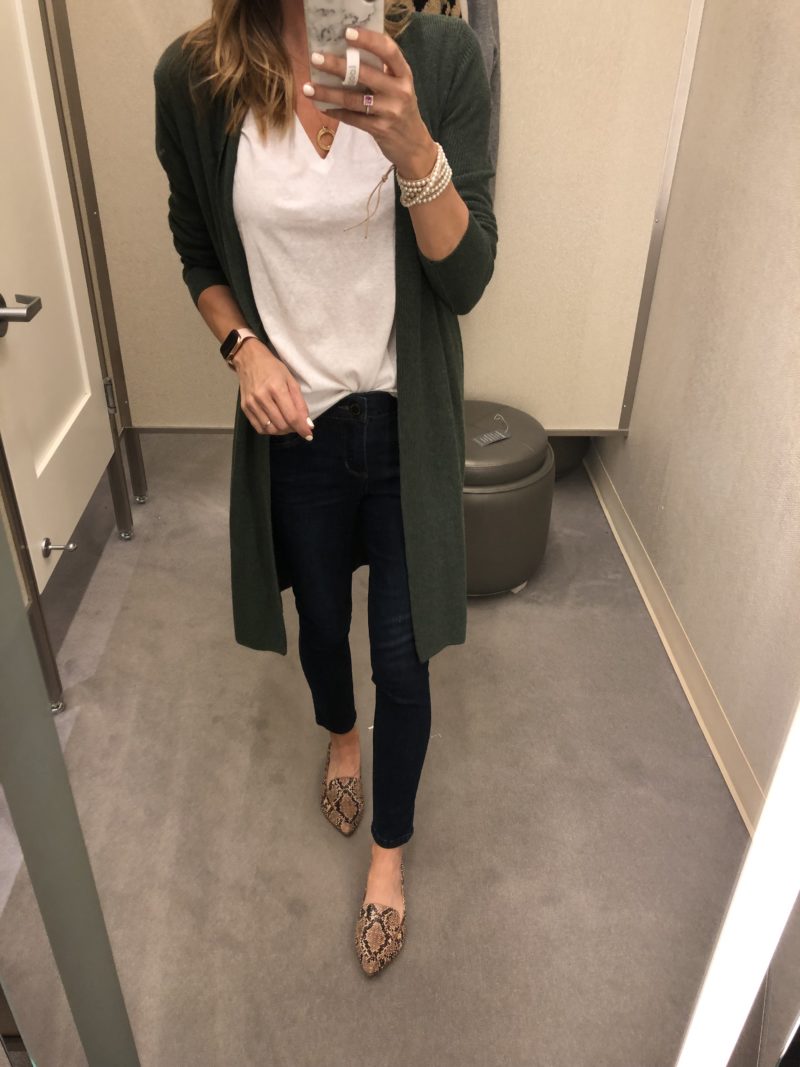 This long cardi gets two thumbs up. It has a really cute slit near the bottom on each side. I also appreciate that it is a slim fit and doesn't add bulk. Great basic and looks so good with dresses, too.
Ahhhh! Barefoot Dreams. Give me all of the Barefoot Dreams. I have this one which is on sale, but wanted to try something different this year. The drape front is so pretty and there is no softer material in all the land. These go so fast. Did you know the Barefoot Dreams blanket is also on sale. Wonderful gift idea.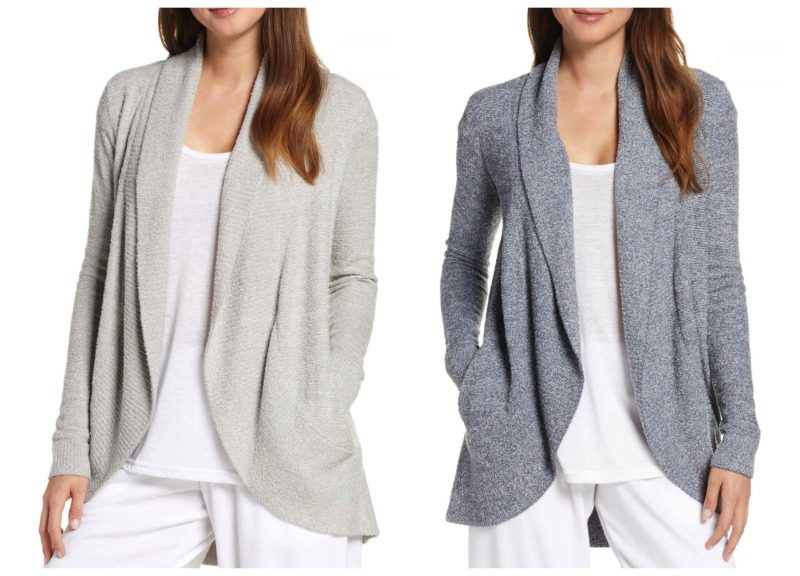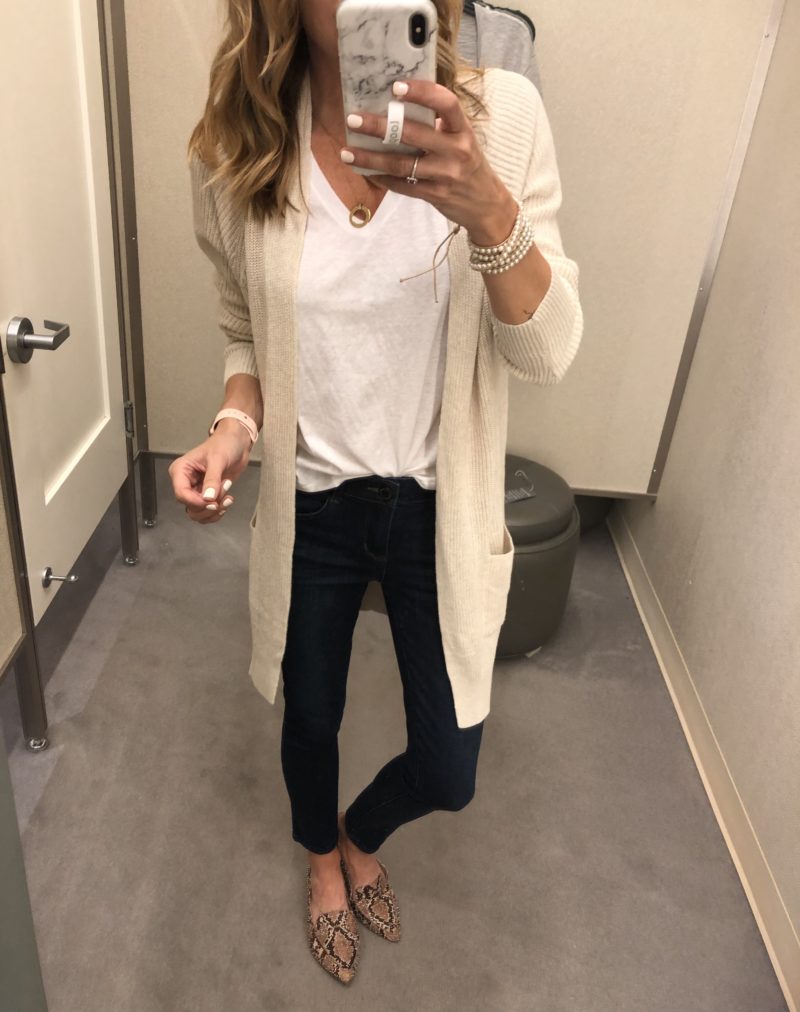 Grab this while you can. It's the basic oatmeal cardigan. It does come in more colors but I swear by this one. It's such a nice weight and easy to grab when heading out the door. I wear it with shorts, jeans, and dresses. Always a fan favorite and you can't beat the price.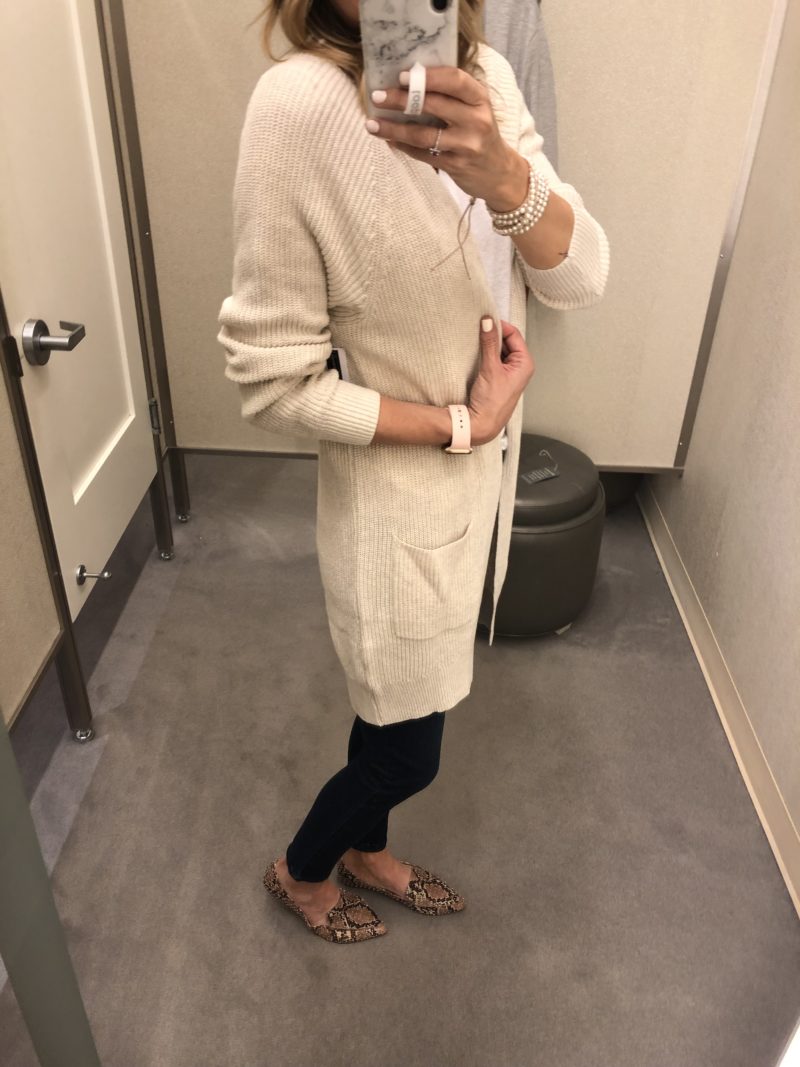 Just a side view so you can see that it has a slim profile. Great cardigan.
JACKET FINDS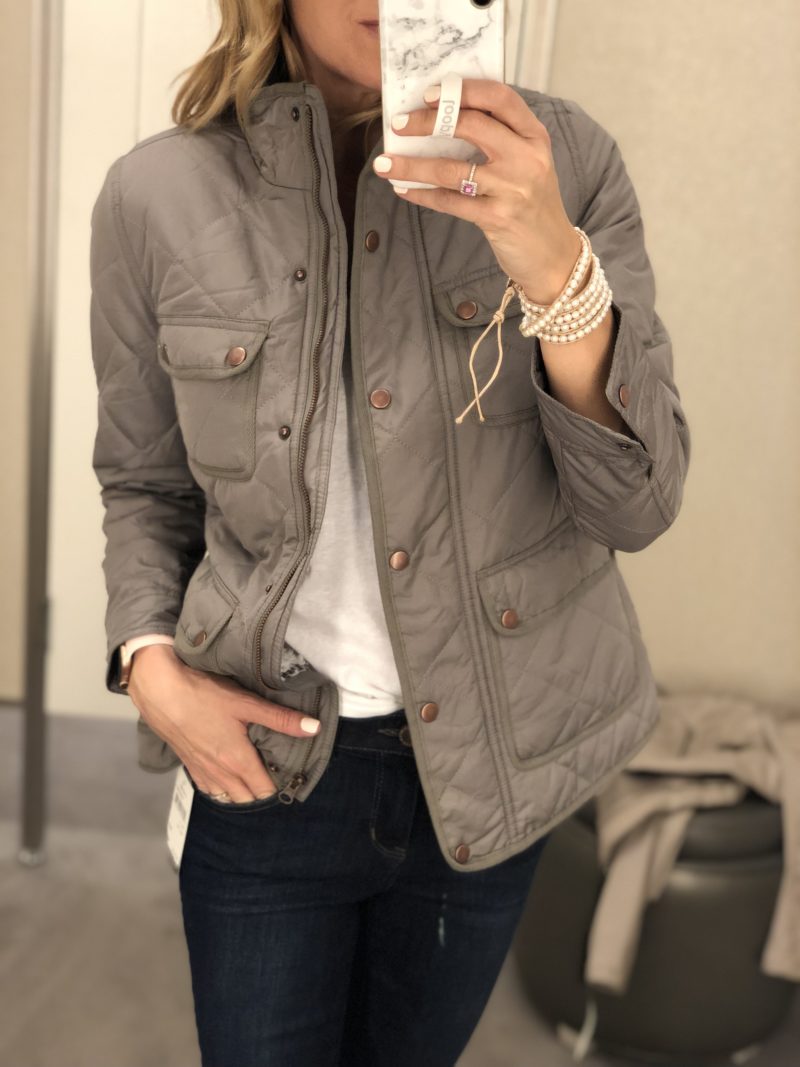 I want to shout about a couple of jackets from the rooftops. This one made me so happy because it's the style of jacket my mom always looked so cute in. While it's darling just as is, I had no idea the inside would be life changing. . .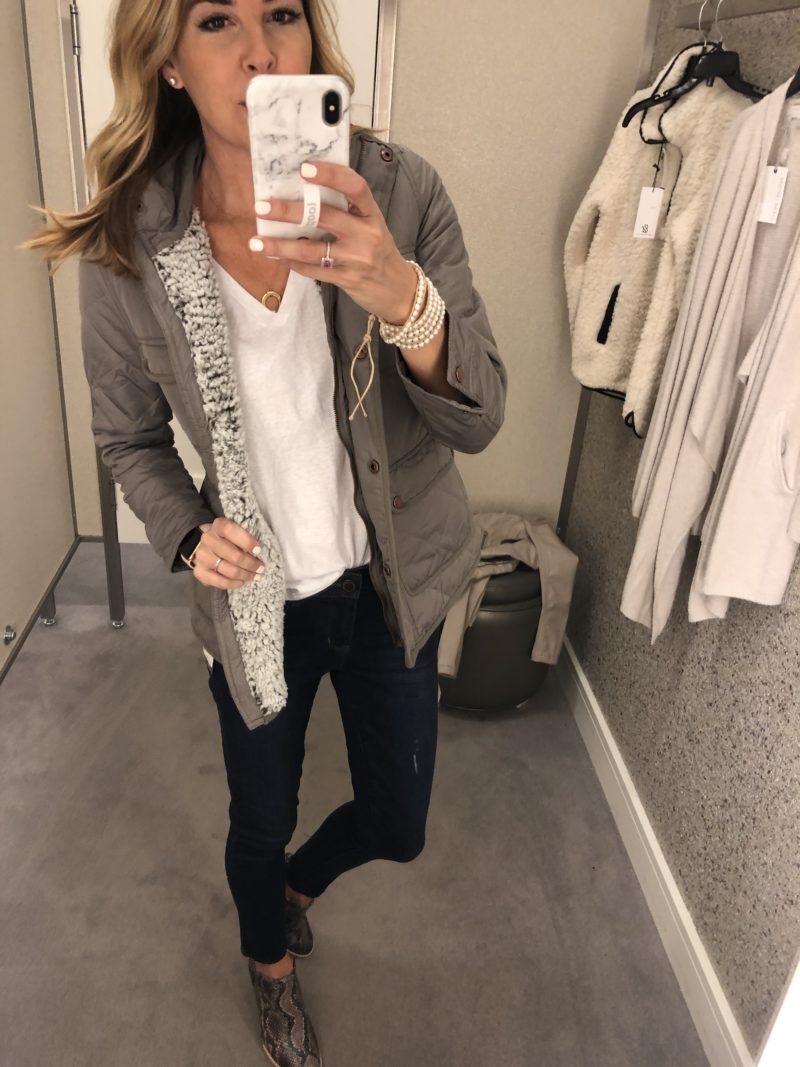 YES!!!! It's that crazy soft material from last year's famous Thread & Supply pullover. Girls! It's so comfortable I can't stand it. And very very warm. A great jacket if you are in cold weather.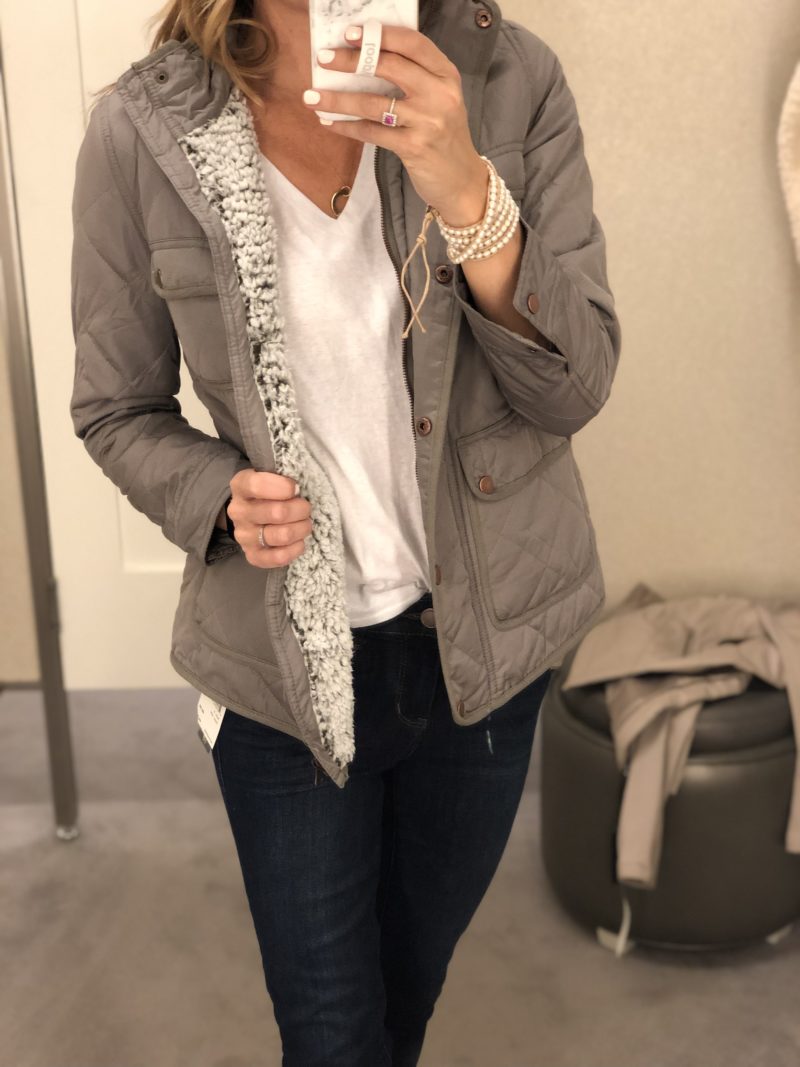 cozy jacket – also comes in blush
DREAMY COAT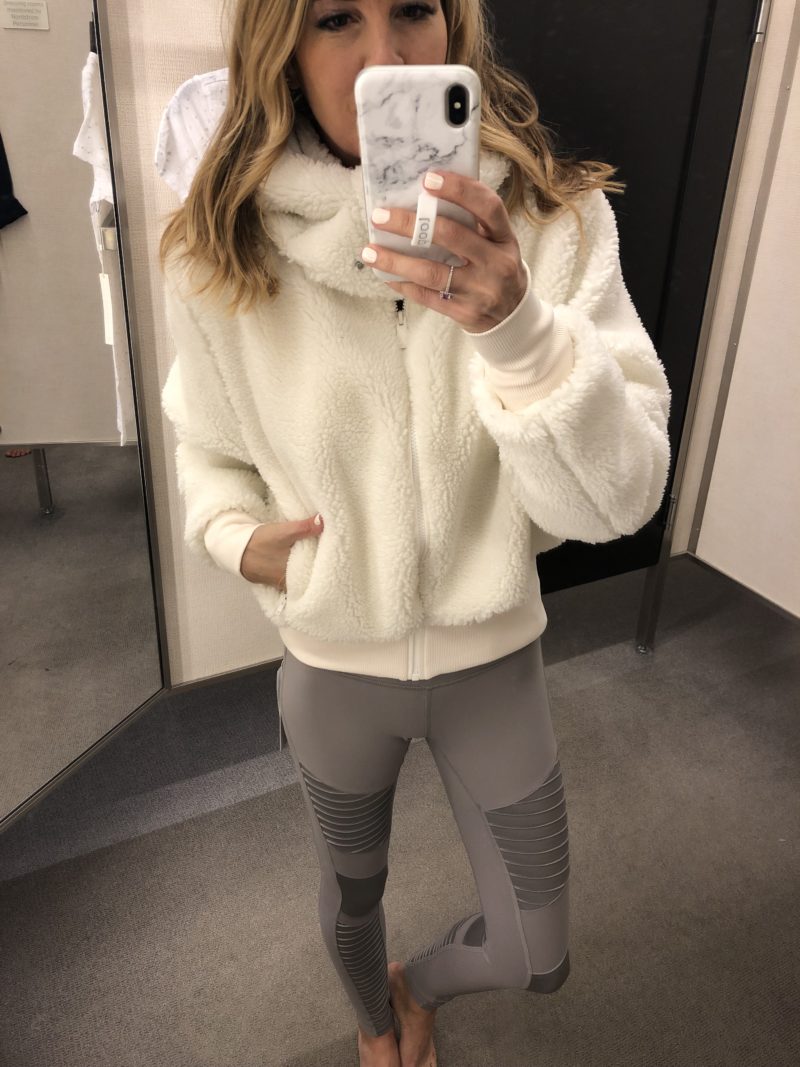 I 100% fell in love with this baby. I can't wait to wear it. This may be my new ice rink coat, too. It's so cozy and soft and I wanted to curl up and take a nap in this. It's incredible warm and so cute.
These are some of my go-to leggings. The colors for this year's sale are fantastic. Really pretty in person and look great with the ivory coat.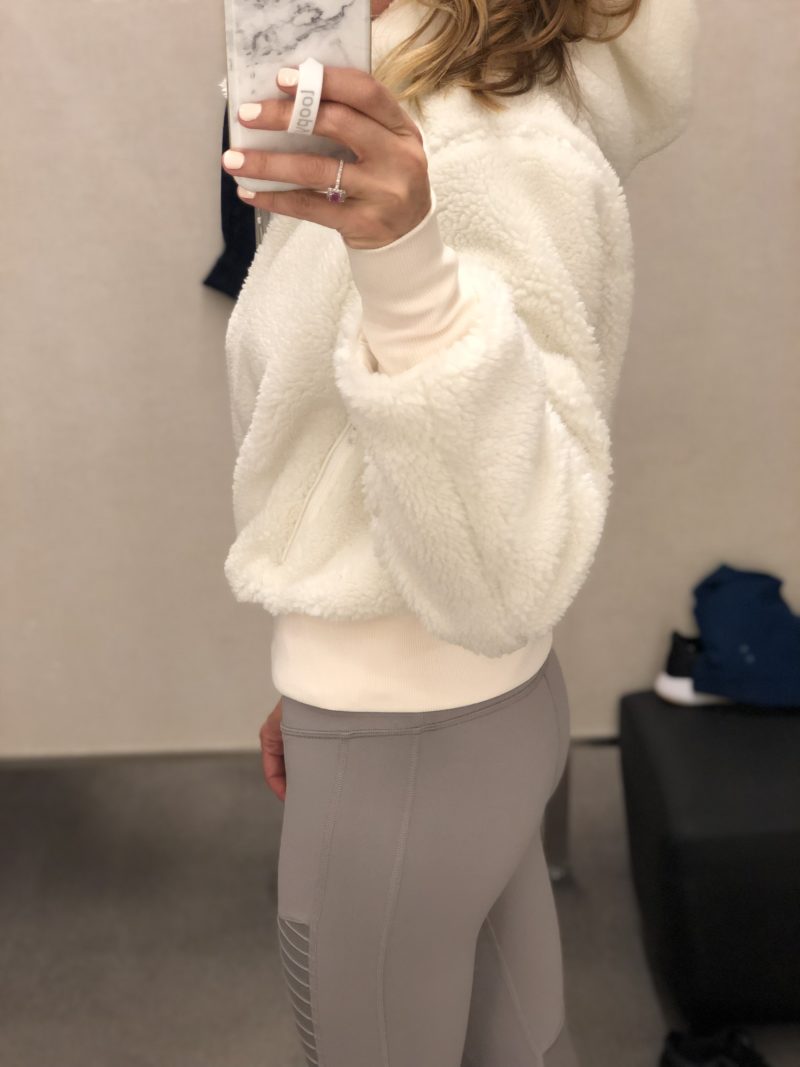 Showing you from the side so you can see the fitted waistband. So while it's definitely bulky, it's still a flattering cut. This is over $100 so I did break my rule but it was my one splurge.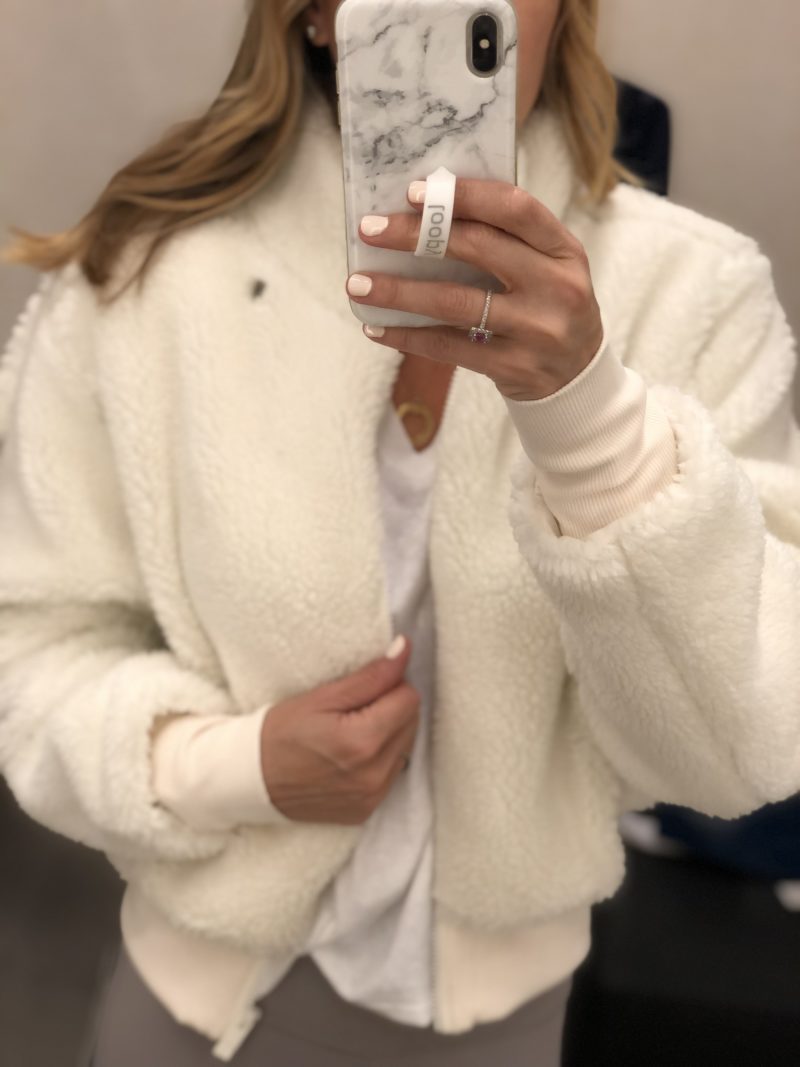 The hood is removable so I wanted you to see how it looks when you wear it without, too.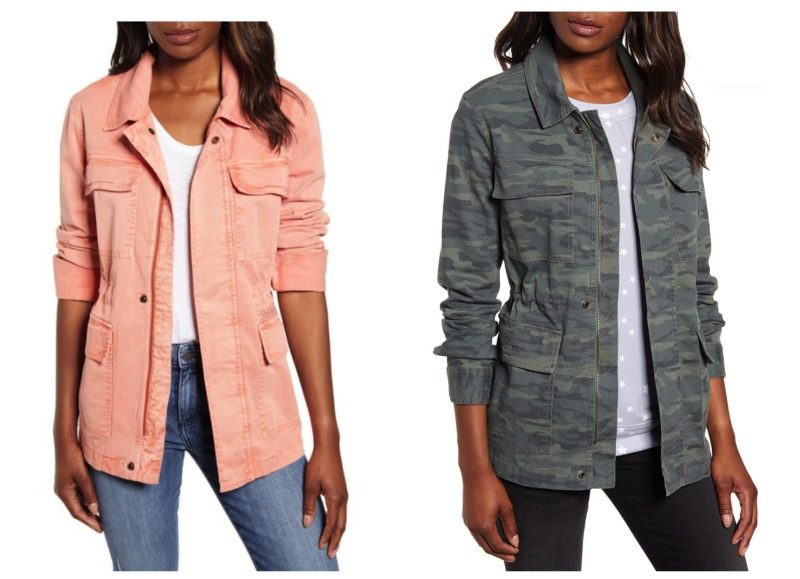 SOFTEST JACKET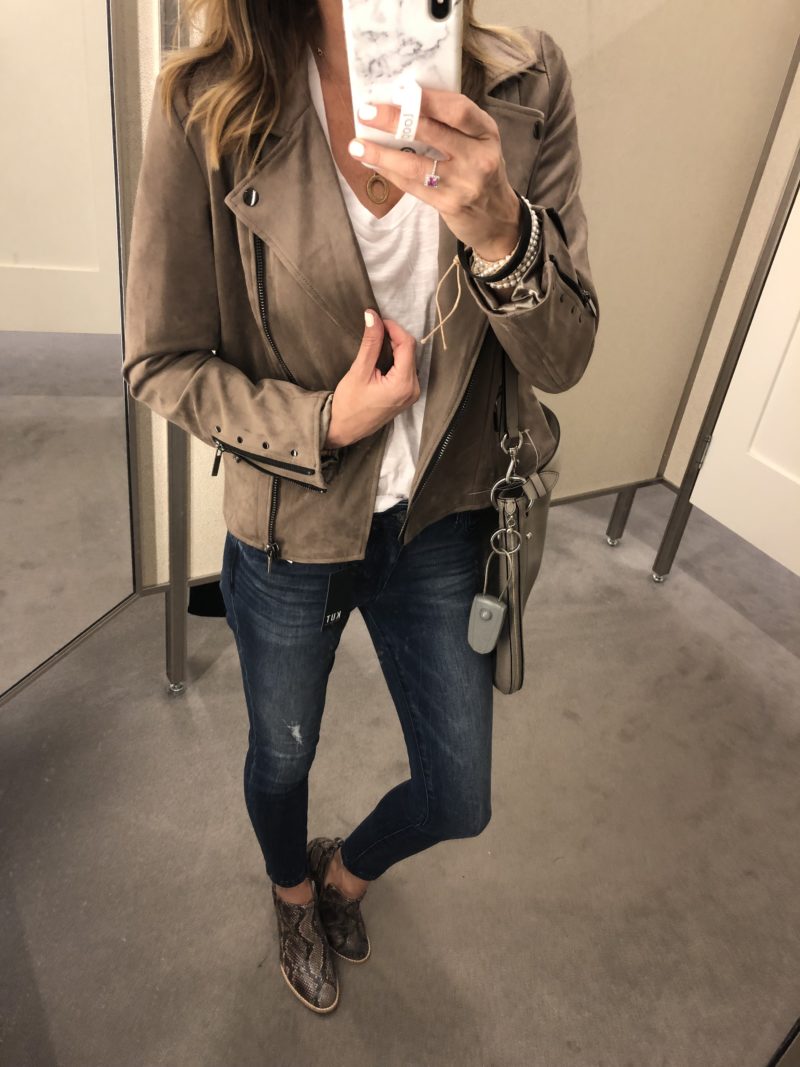 This jacket is really cute. I saw it from afar and knew I liked it, but then when I felt it, I had to buy it. It's incredibly soft. The unique detailing on it gives it something special. Highly recommend. I am wearing a size small.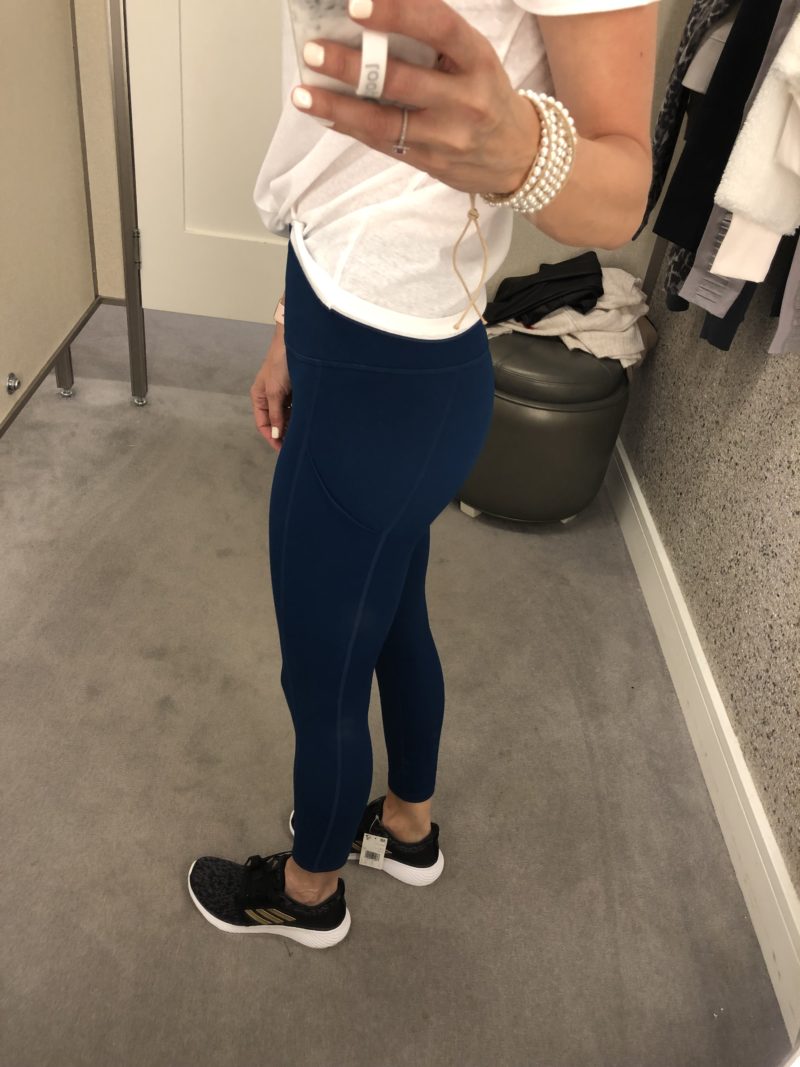 Score on these leggings. I didn't love them on the hanger but they fit so well. This color is super off in the photos. I tried every dressing room and they still look more royal blue. In person, they have more of a green tint. The side pocket is really convenient. I bought them in black as well. You can't beat the price and the fit. These will also go quickly.
HOT TICKET ITEM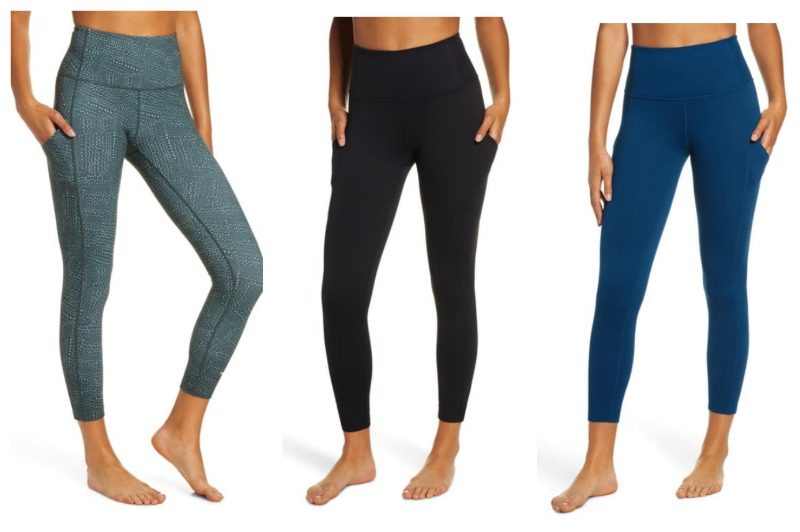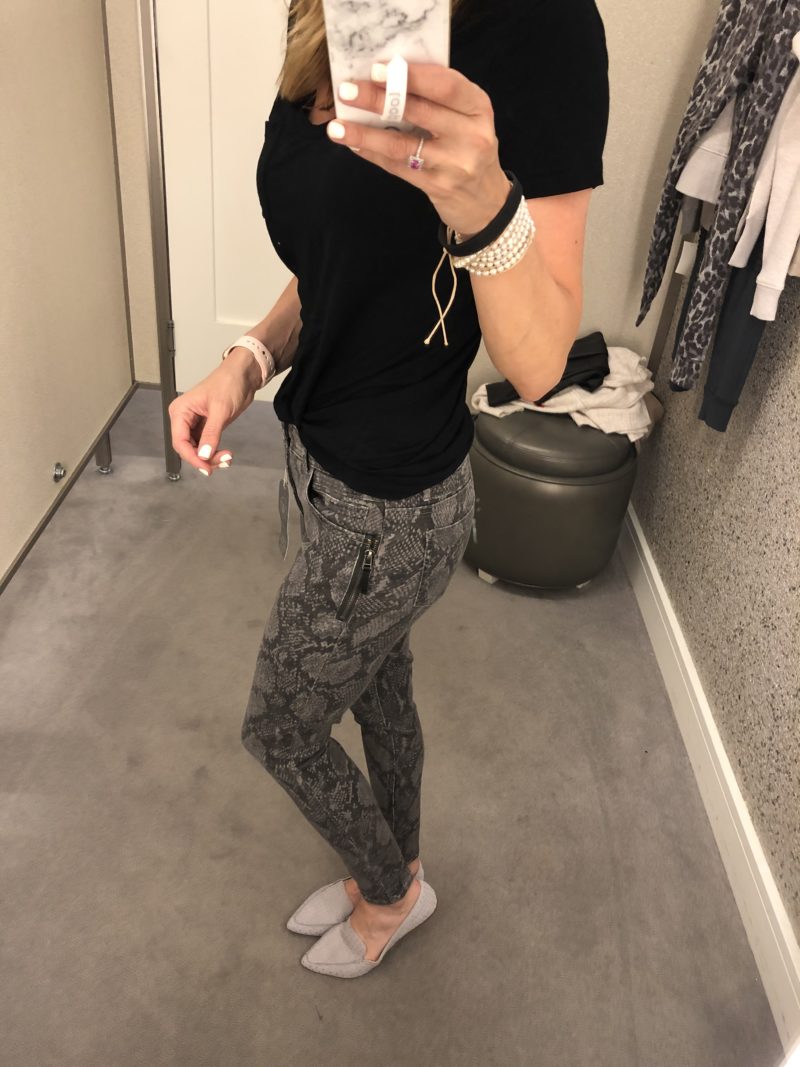 These cutie pie animal print pants are flattering and a nice fit. True to size. I like the side zipper.
LOUNGEWEAR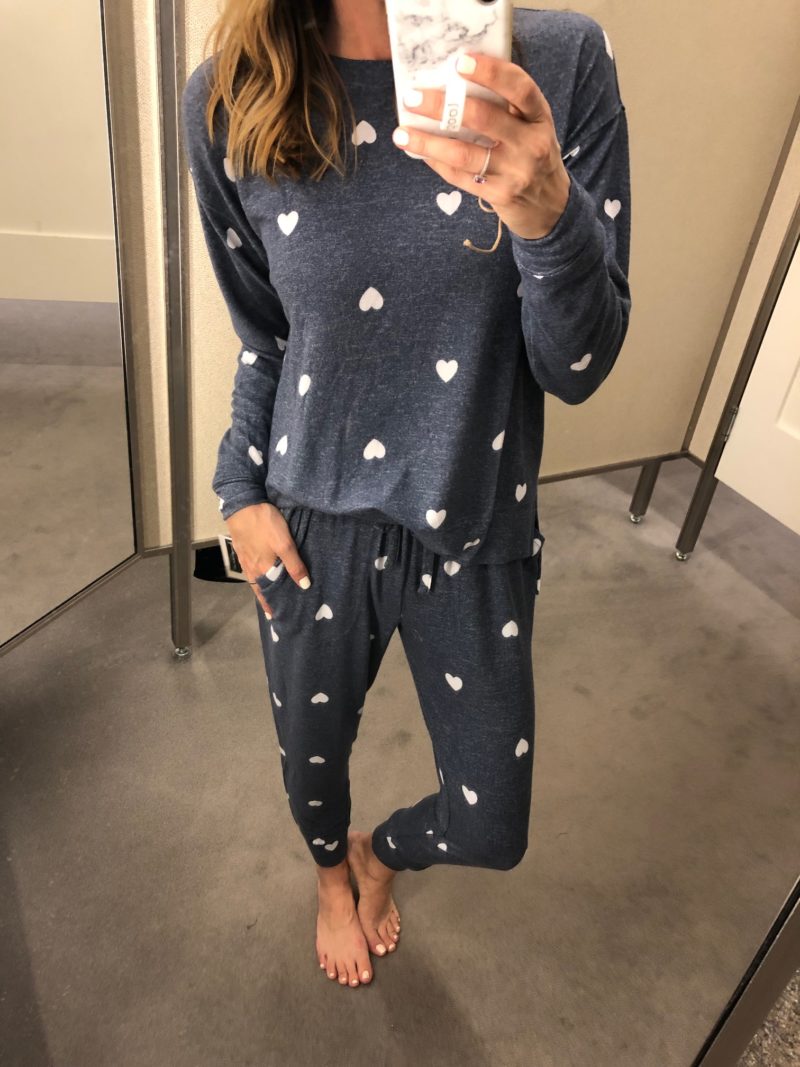 Well, hello darling pajamas. Soft, cute and well-priced. I bought an XS. They come in a few different prints. Great gift idea, too.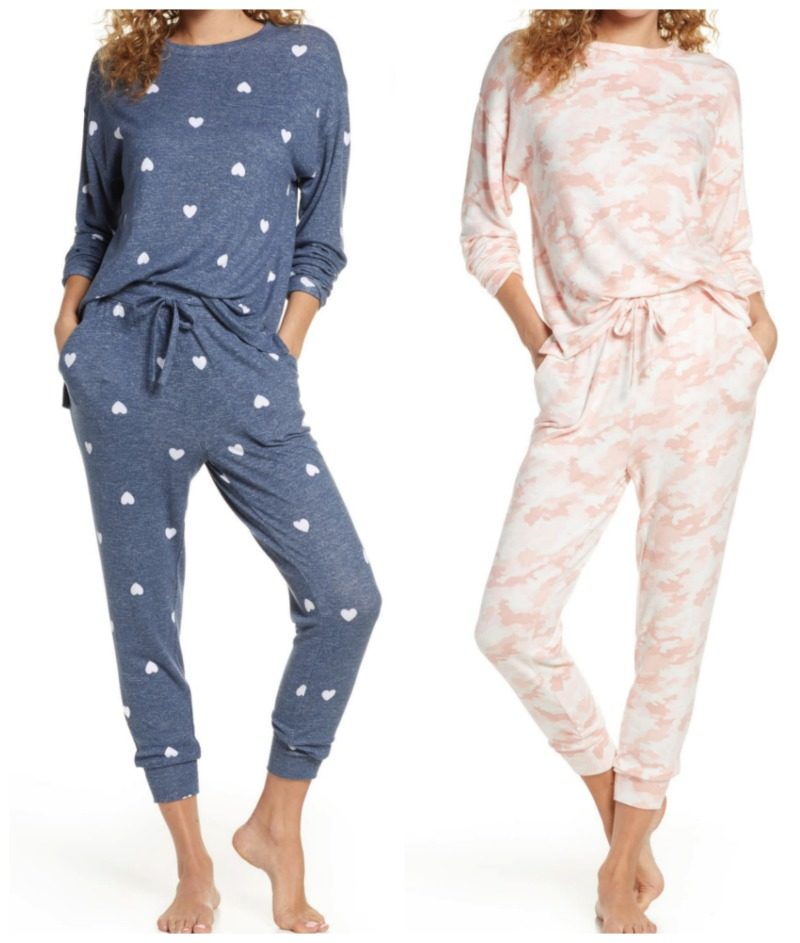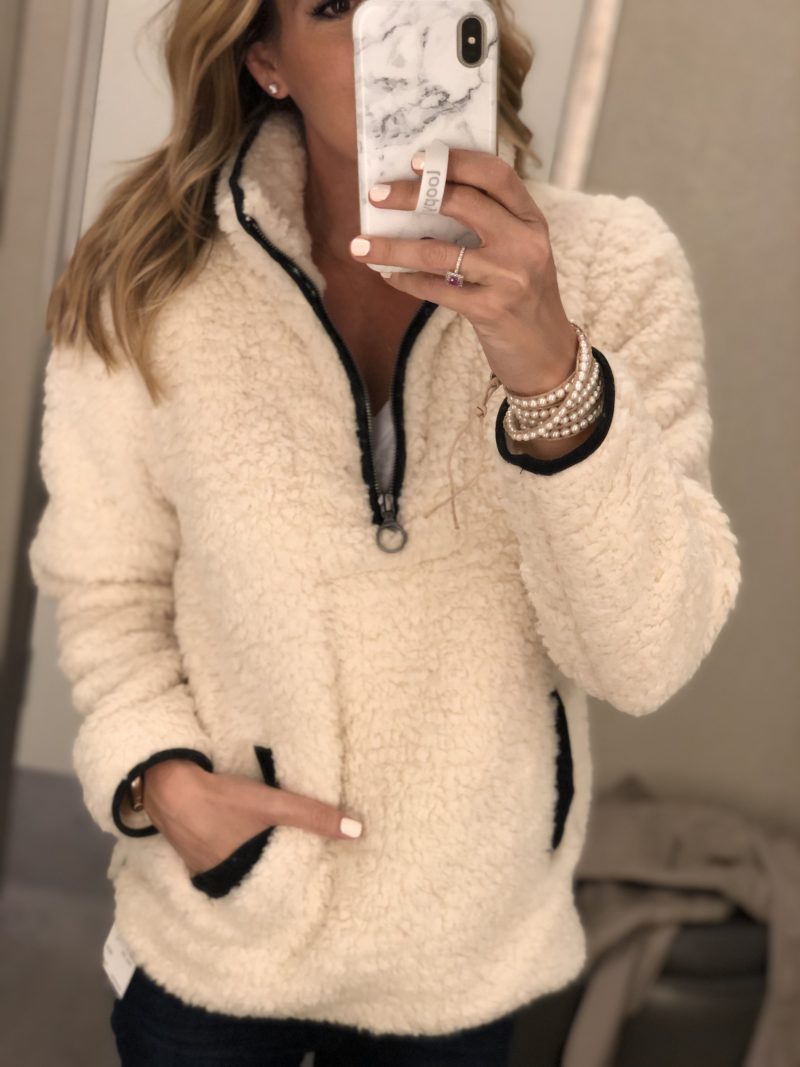 THIS!!!! Get this! Do you remember the pullover from last season? Well it's back but this black and cream is so fun. Wearing an XS.
FUN WITH COLOR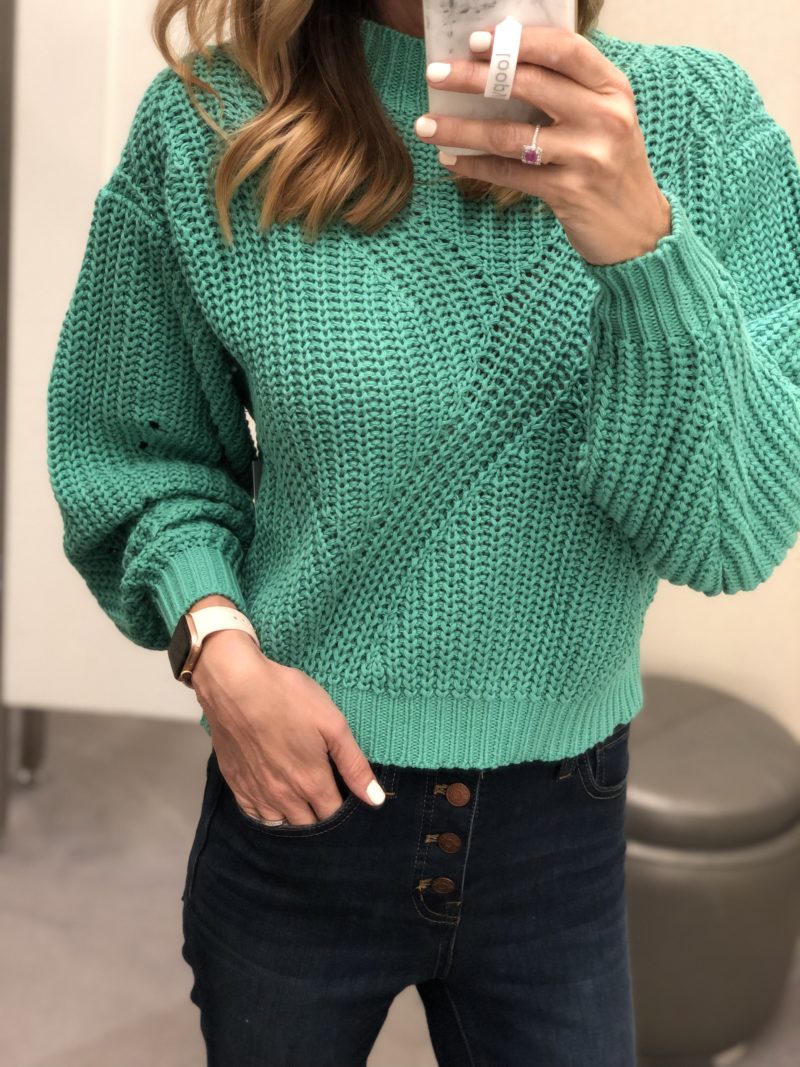 This was another sweater that I really liked. It'a bit more of a kelly green in person. Great fit and a cute cut. Wearing a size small. It also comes in a pretty violet color.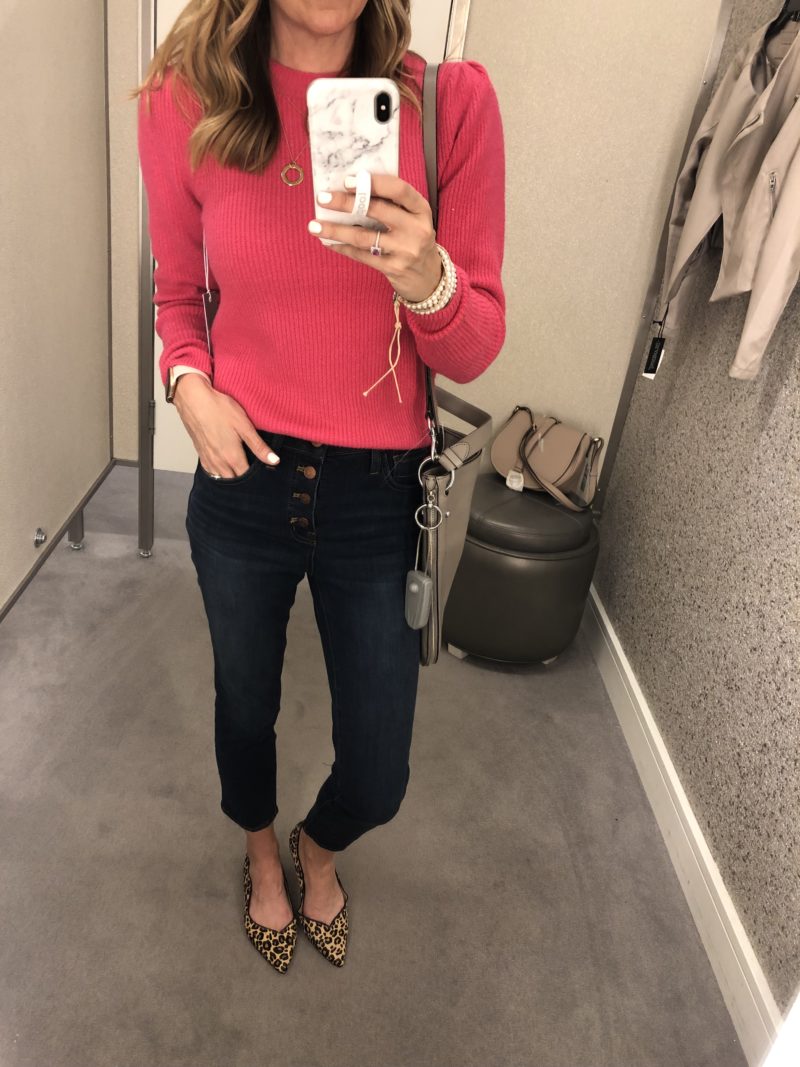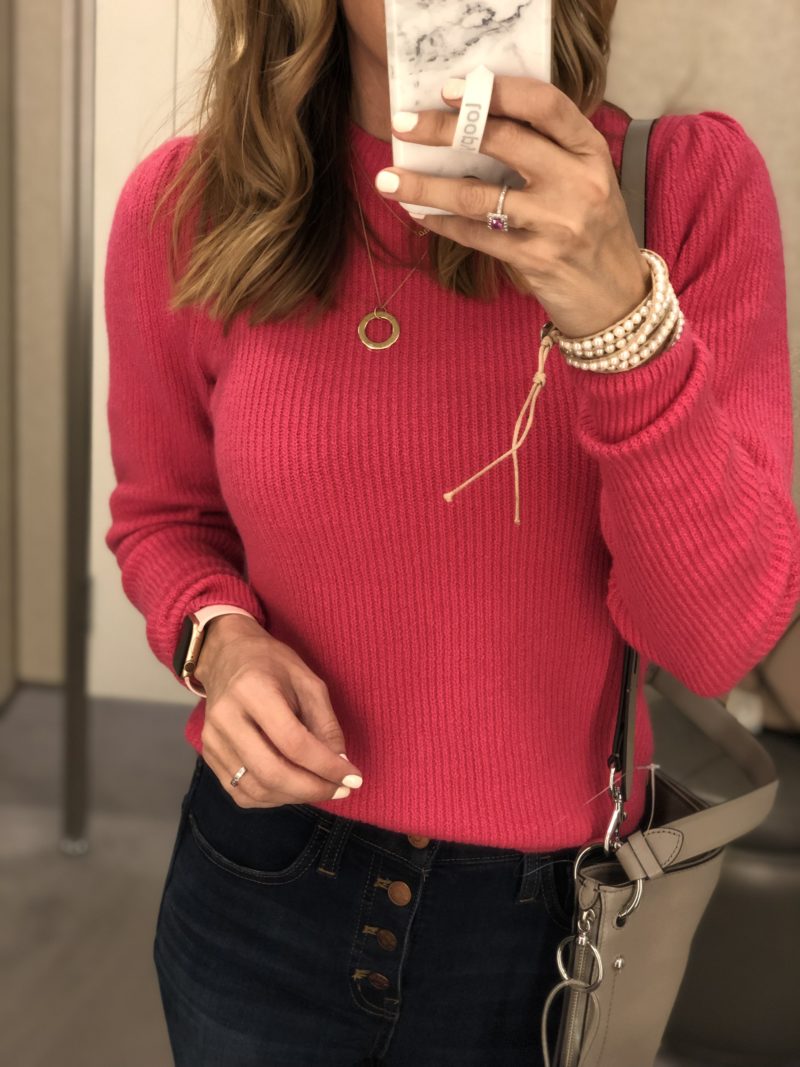 This darling sweater comes in black as well. Love the feminine shoulders.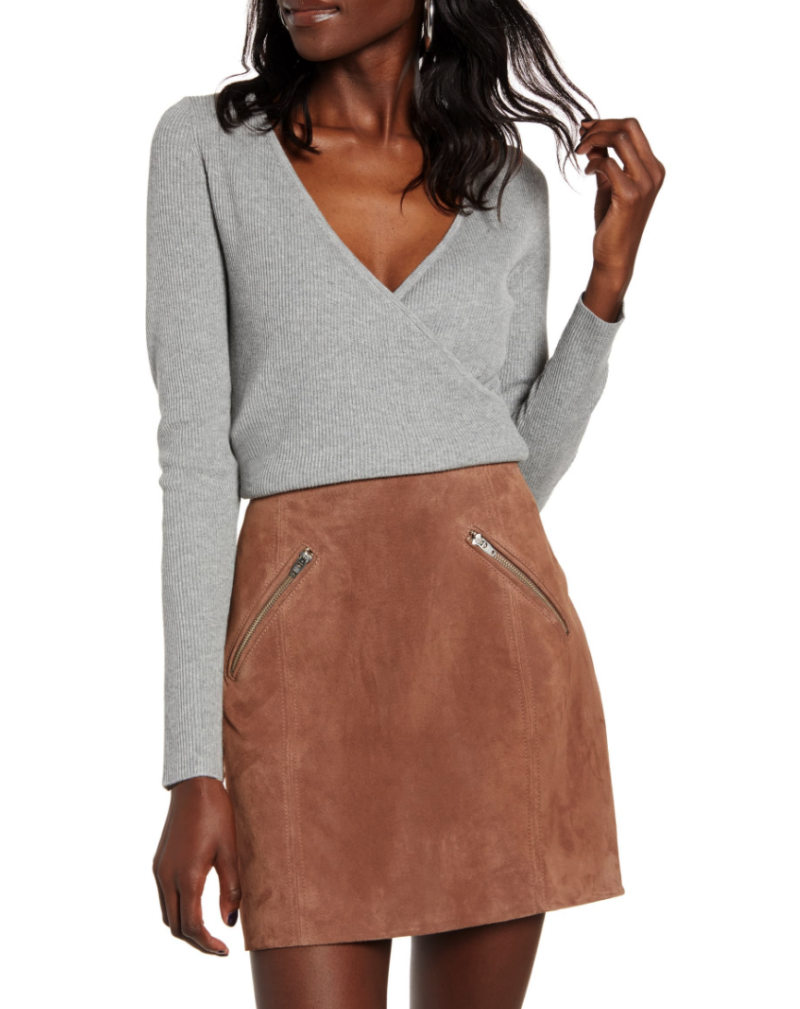 Adore this top. It's sexy and a great piece denim or skirts.
BEVY OF STRIPES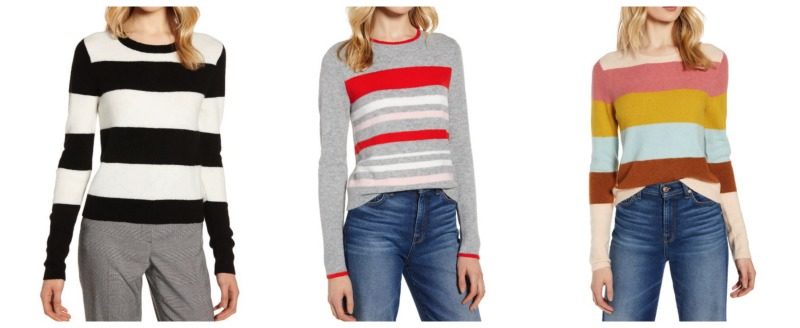 This crewneck is so darn cute. Love all of the color options.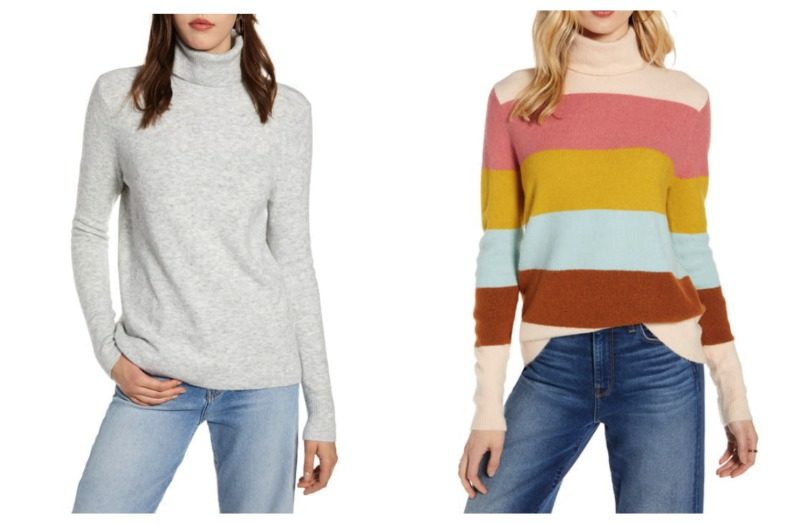 It also comes in this turtleneck style which I am a huge fan of.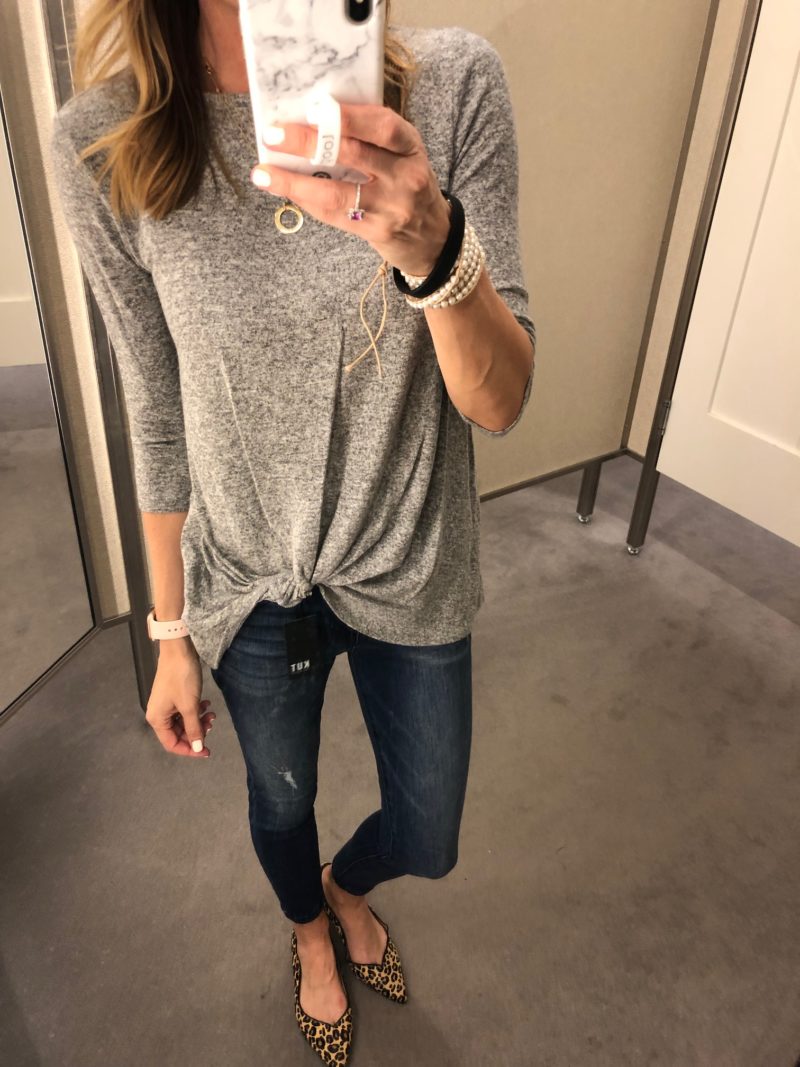 The leopard flats are another big pick of mine. At first I didn't think they were super comfortable but after wearing them for about five minutes I was sold. Leopard flats are a great neutral for any time of the year. The top is a great neutral and covers the booty in the back.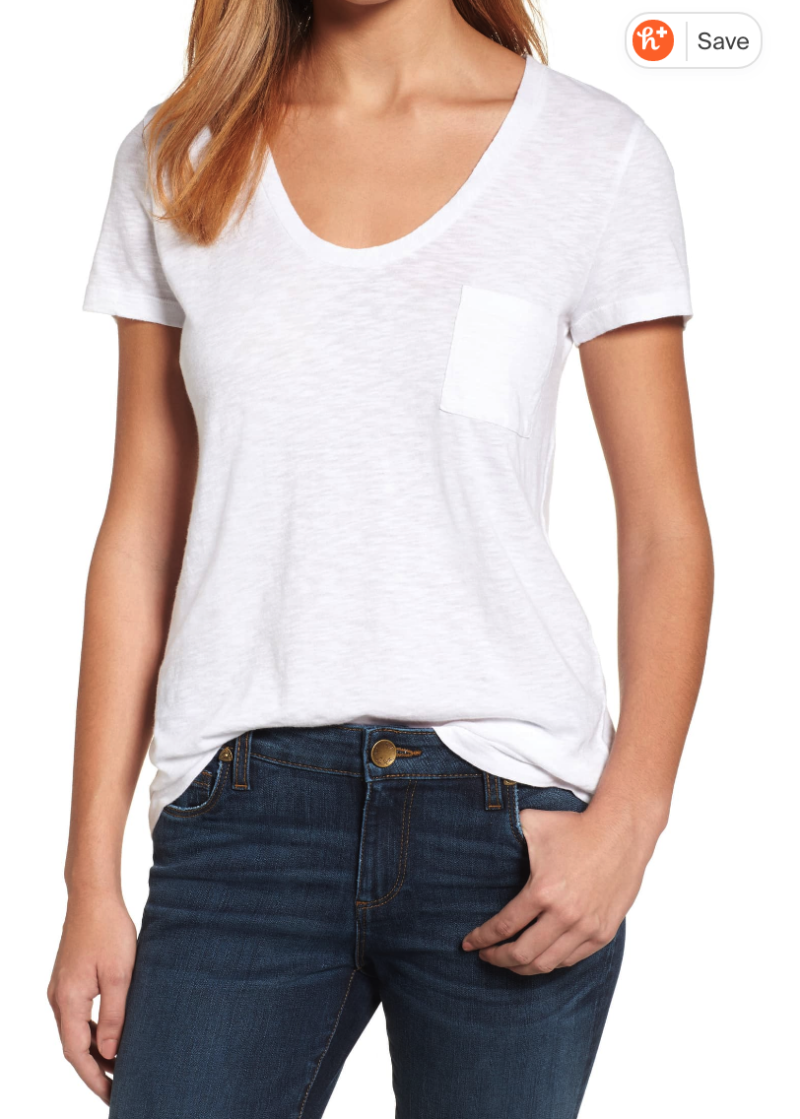 I aways stock up on this t-shirt, too. I love the rounded neck and the weight. The stripe is also really cute.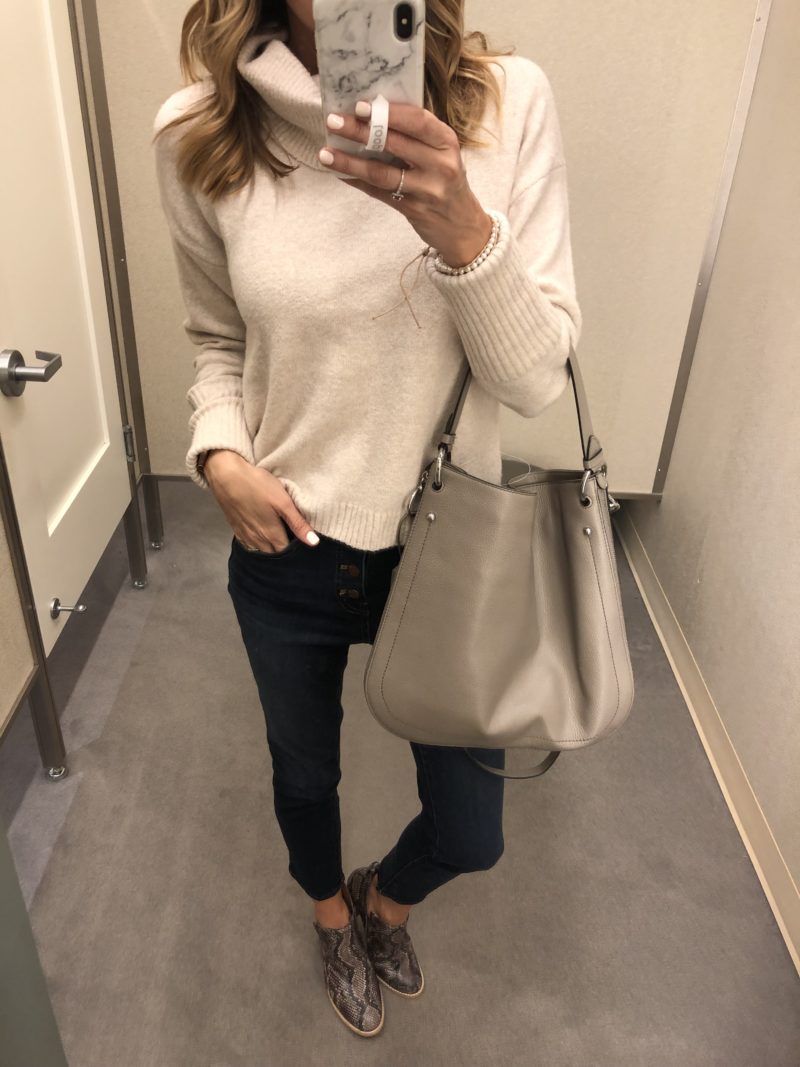 jeans | sweater | booties | handbag
This is another outfit I didn't want to take off. I showed you this sweater with the satin skirt, but it's so good with jeans, too. The booties had me at hello. More on those below.
HANDBAGS TO CHECK OUT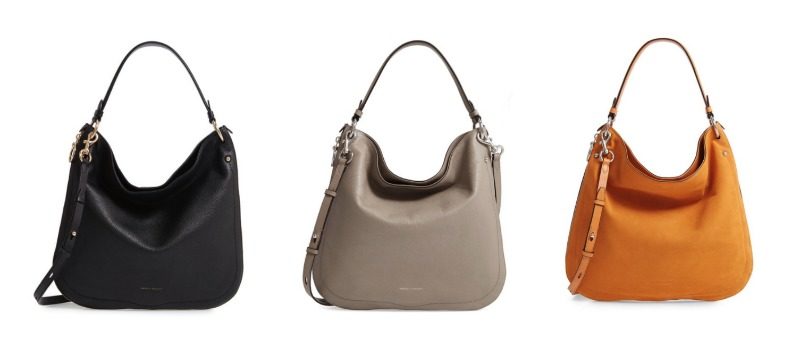 Rebecca Minkoff bag (not under $100)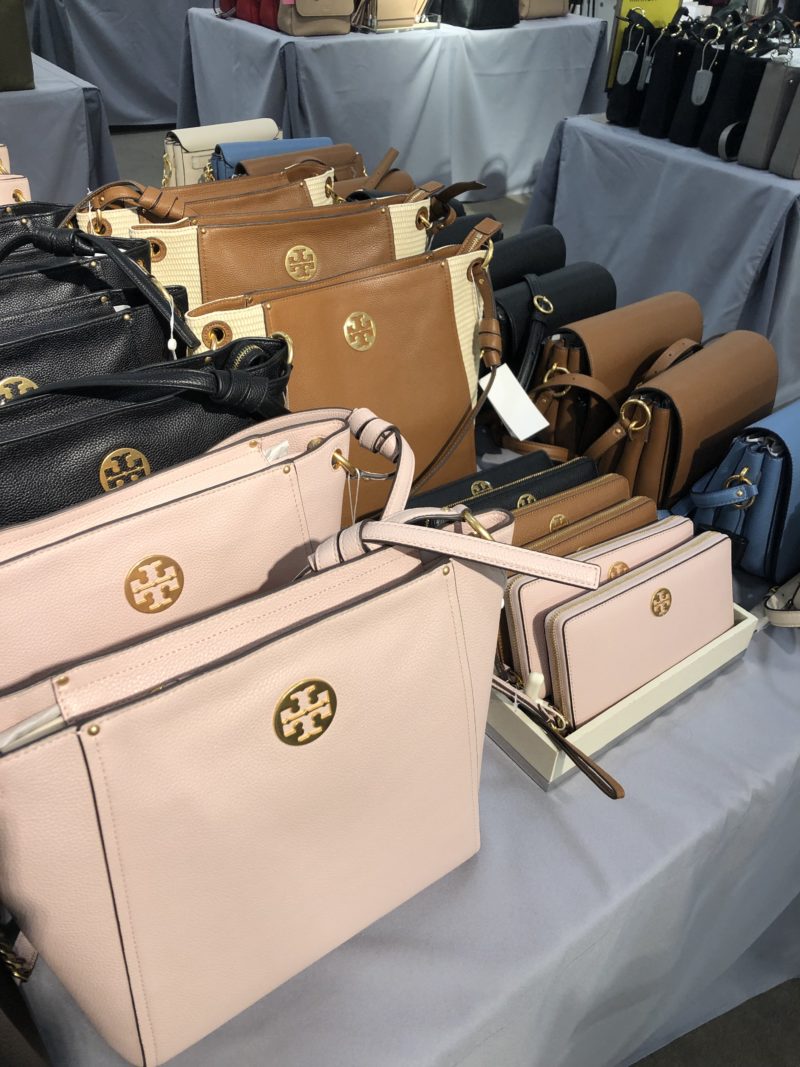 A great selection of Tory Burch handbags this year. Much better selection than last year. I am considering the wallet because I've had my Kate Spade one for 10 years and love the idea of being able to zip my wallet.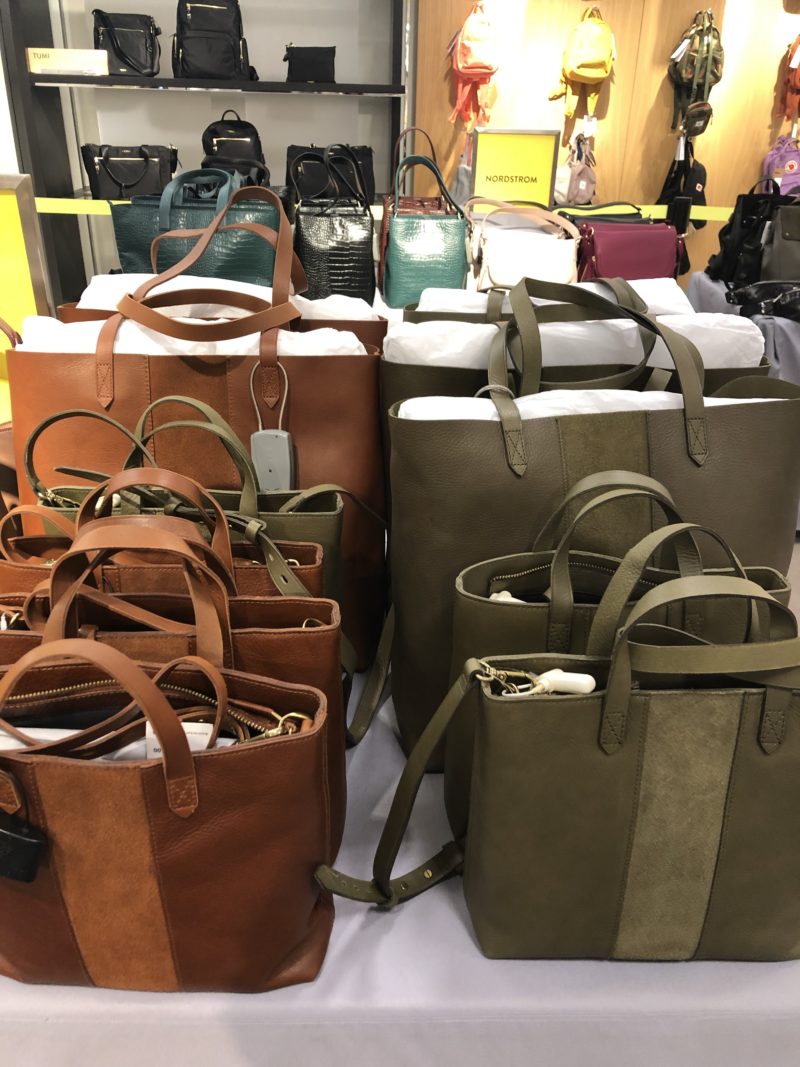 Madewell also has a really fun handbag collection in this year's sale. I like the size of that smaller tote.
GREAT BAG | GREAT PRICE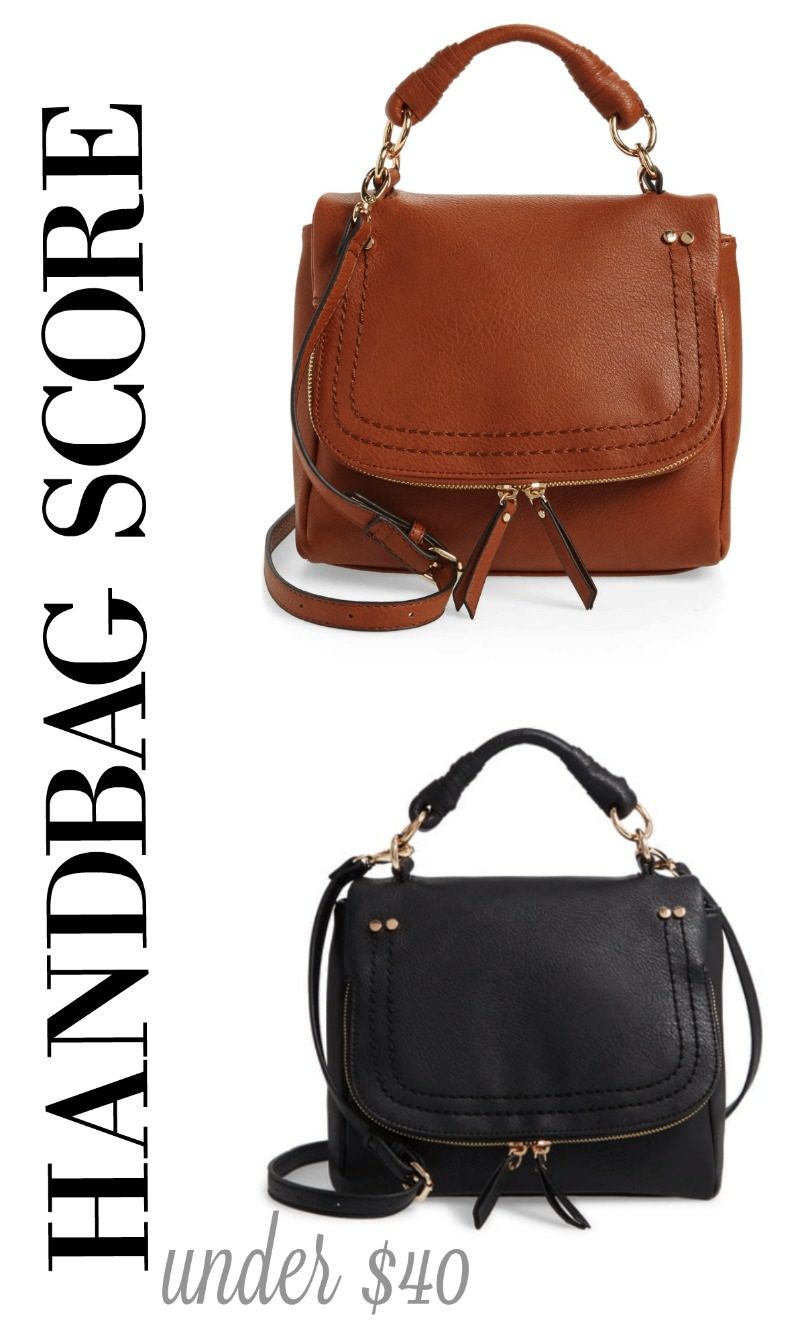 Adore this bag. I bought the cognac one. Great price and a great little handbag.
TRAVEL TIME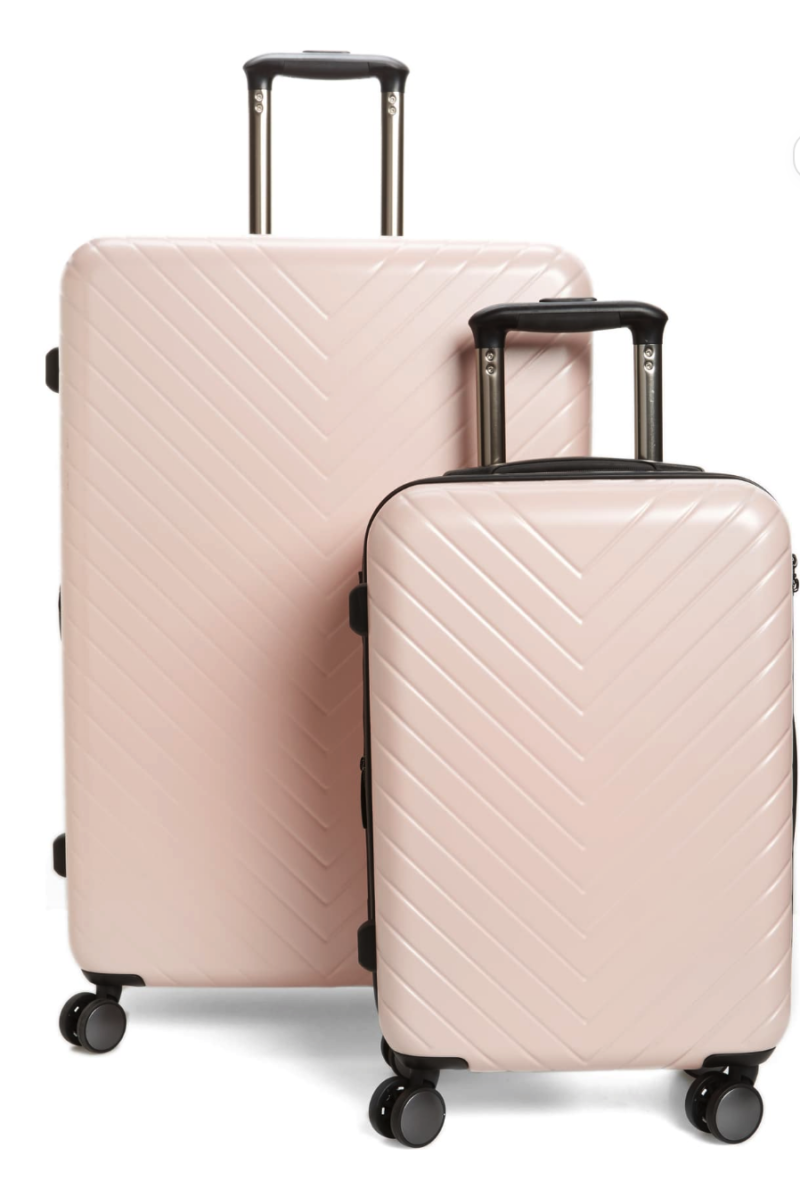 In travel news, the small carry on is under $100 during the sale and receives great reviews. I have a similar one and adore it.
I saw these booties from a mile away. Actually very proud of myself for stepping outside of my comfort zone. Almost every shoe in my closet is taupe so this was a new direction and the second I put them on I had to have them. I am wearing them in the photos above.
Sizing: True to size, comfortable and not too high of a heel.
OBSESSED WITH THESE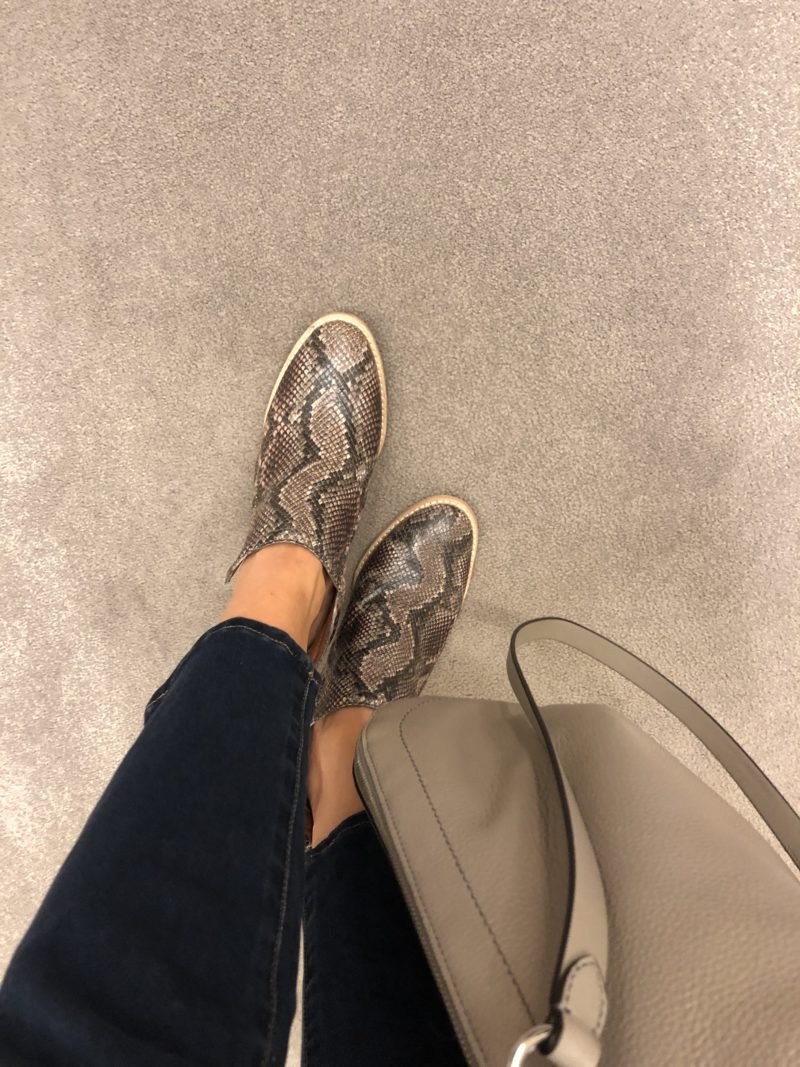 The handbag is a Rebecca Minkoff so not under $100. I actually didn't realize until I was done with photos which bag I had grabbed.
DEAL OF THE WEEK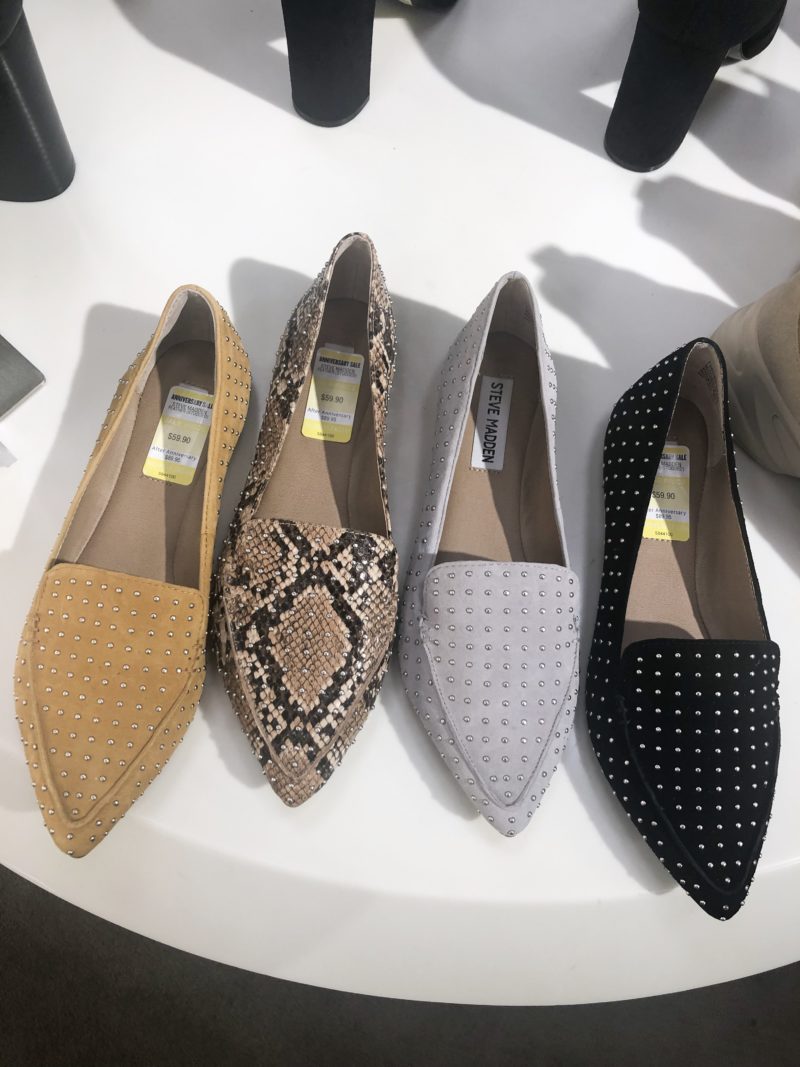 Ladies!!!!! Total score. I bought two colors and wish I could have all four. I adore these flats. Everything about them, but especially the price. They are true to size.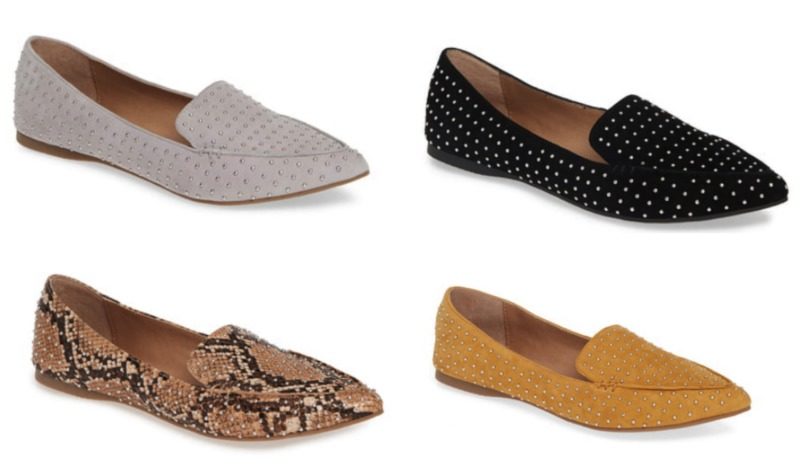 flats $59.90
SHOE PICKS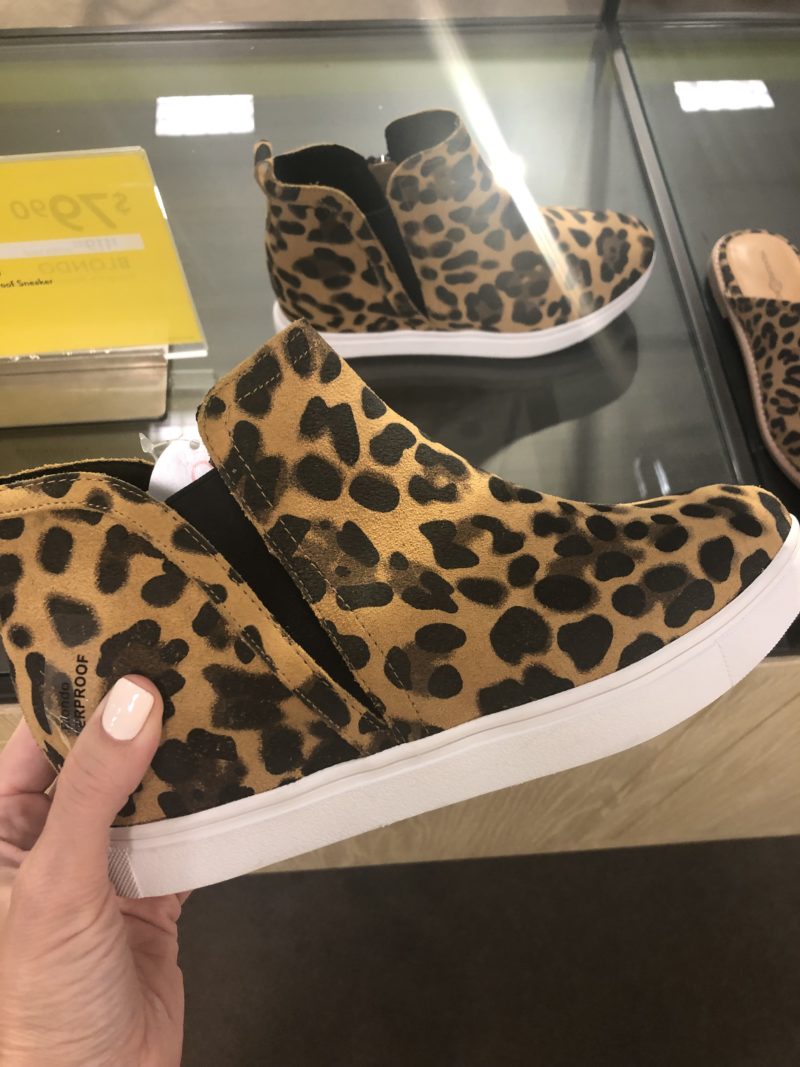 Thought these were really fun. Plus they are waterproof. Bam!
ADORE THESE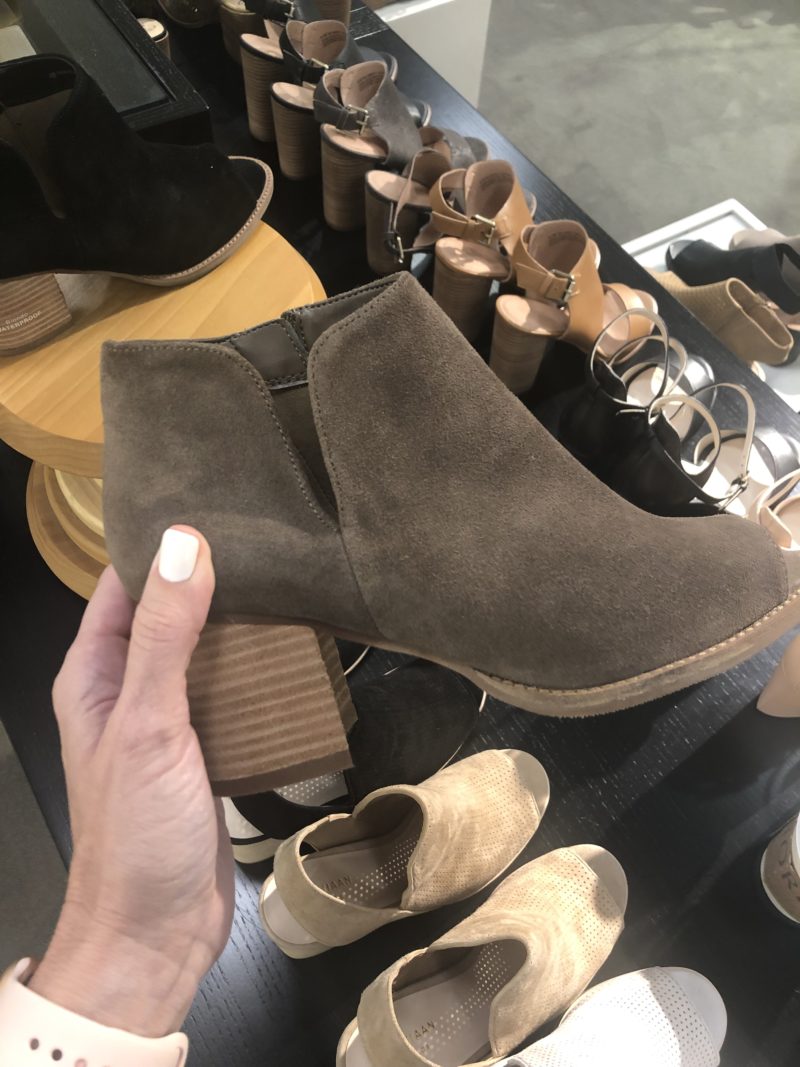 Another all-weather, waterproof choice. I bought this bootie! It's very comfortable and pretty much indestructable.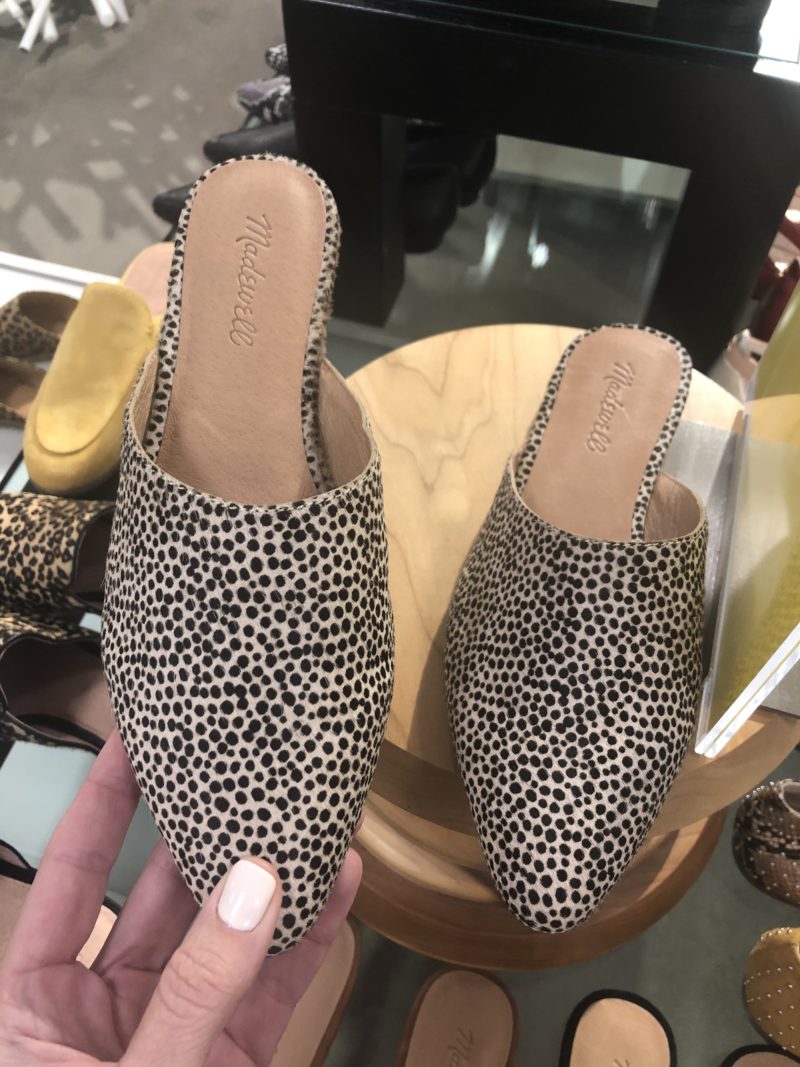 These Madewell mules are darn cute. Great print that will go with pretty much everything.
COMFY & COZY
Are you an Ugg girl? I have yet to buy a pair but I really like the sporty look of these. A bit of a departure from the norm and I really like them. These Ugg sneakers are also darling.
DRESS IT UP
Louise et Cie makes some of the best heels in all of the land if you ask me. Always comfortable and fantastic quality. Every girl needs a pair of black patent leather heels.
ALL UNDER $100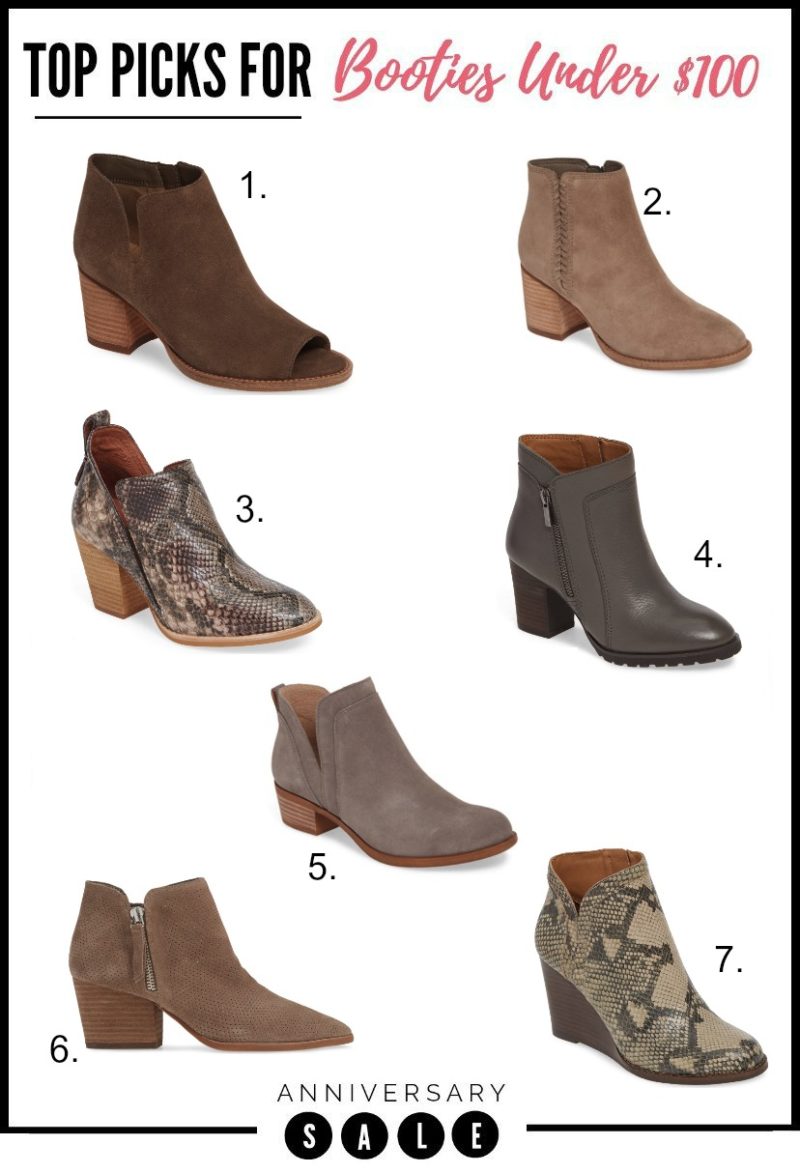 Wearing these in Vail, Colorado as I type. Adore these. they come in white which is gorgeous but scares me so I went with the black and gold. They are true to size and super comfy. Plus they don't add bulk to your feet like some of the sneakers can.
No-show socks are my jam and these are my favorite. They actually stay in place. Grab them while they are on sale. No sense spending more down the road. I like to stock up twice a year.
SHOE LOVE
This is just the tip of the iceberg, gals, but I wanted to kick things off with the pieces I think are really darling and worth it. These shoes all came home with me. Fives star reviews on all of them from me.

You may notice dresses are missing. Do you know I didn't like a single one I tried on. I do have this one and love it. But I will take a another crack at it when I go back into the store. There are tons included in the sale but I struck out.
I will be back with my picks for men, children and home soon. My husband is a big fan of Travis Matthew so I rounded up some of those finds below.

Ok, girls. I hope that is enough to get you started! Enjoy shopping. Wish we could grab a coffee and head out together.