Ladies, let's do this! Time to pop the champagne because the Nordstrom Anniversary Sale is live for cardholders. Of course it's more like a giant cup of coffee for me after staying up way too late to bring you all of my favorites. It's safe to say I am not a night owl. I've left no stone unturned and am bringing you all of the stand out pieces today. Over the course of the next couple of weeks I plan to bring you all the best deals for women, men, children and home. If you have shopped this sale before you know that things go quickly. There is a tab at the top of my blog with a drop down menu to make navigating the sale as easy as possible. I will continue to update it. Enough of my rambling, grab a cup of coffee and let's get shopping. It's so much more fun to do this together so let's step into the dressing room! Oh, and did I mention everything I fell in love with is under $100 (most under $50)!
SWEATERS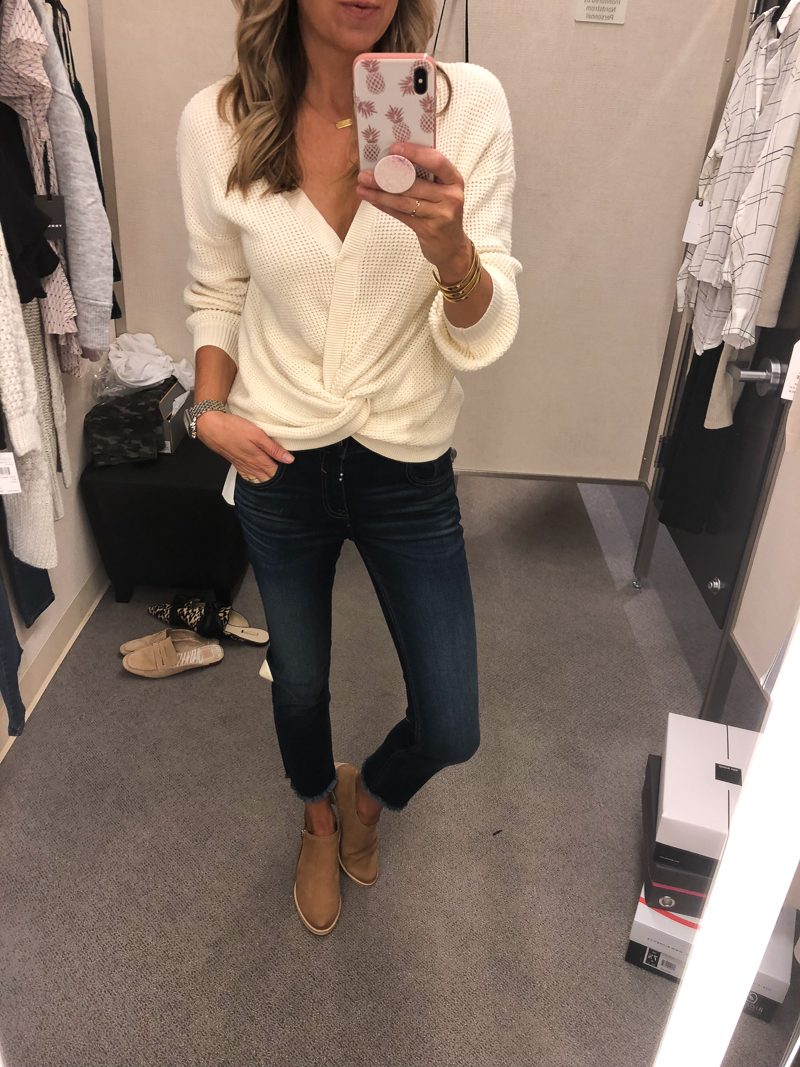 sweater $31.90 $49.00 | jeans $44.90 $68.00 | booties | similar booties
Yessssss to this sweater! I knew I loved it as soon as I saw it. It's slightly cropped but hits right above the button on my jeans. More on these jeans later but they are a must have. I didn't want to take them off the entire time I was trying on clothes. This sweater has just enough detail to make it different and a good buy.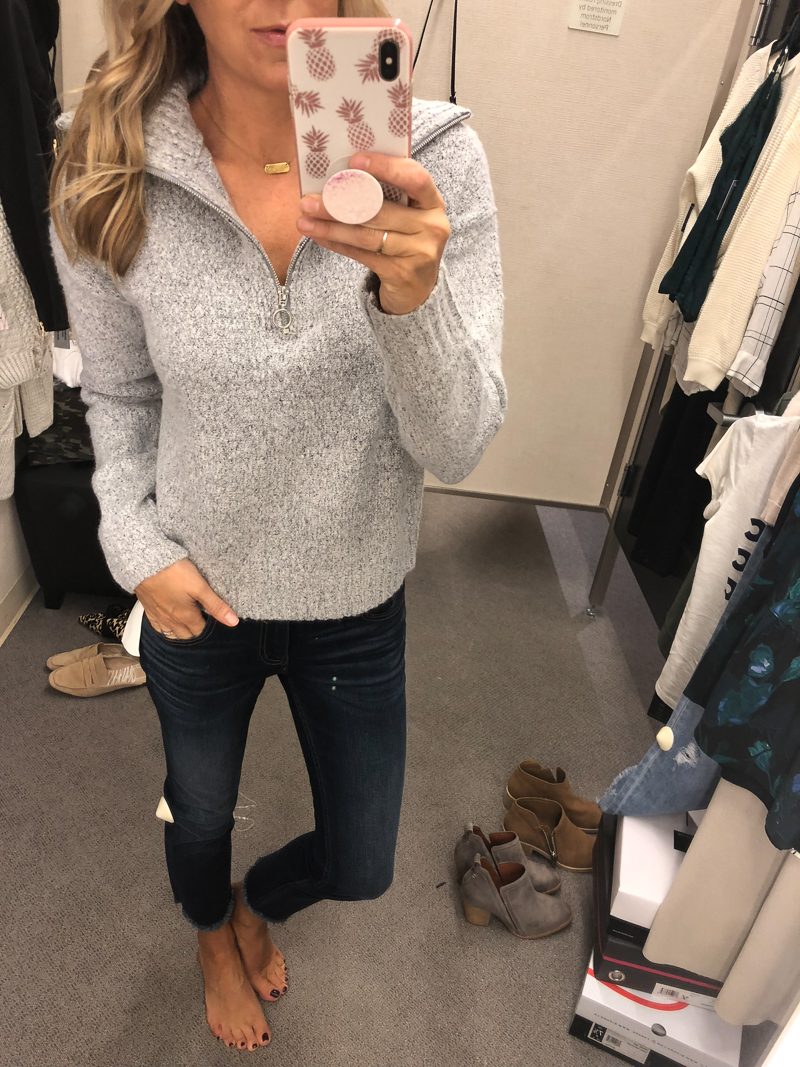 zipper sweater $35.90 $55.00
On the hanger this zipper sweater did nothing for me but on it's adorable. Incredibly soft. Already picturing wearing this when we head to the mountains over Christmas vacation. A great sweater and I really like the zipper detail.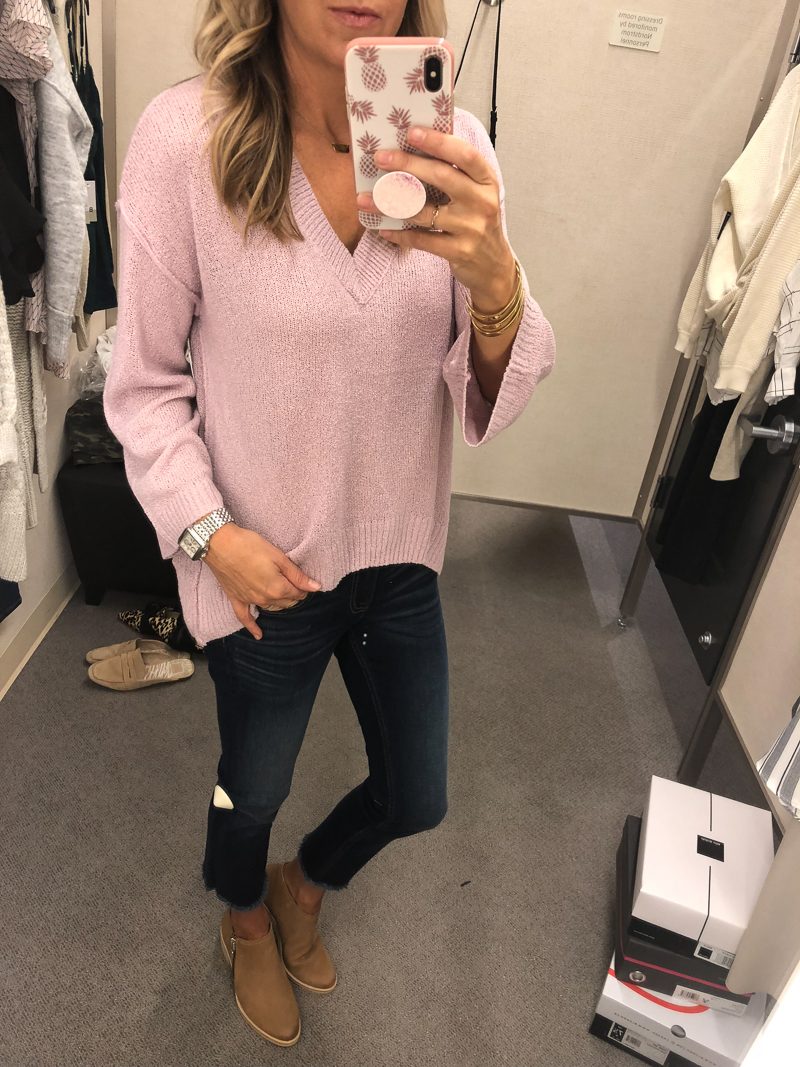 v-neck sweater $31.90 $49.00
This is a sweet little sweater, too. It also comes in a light sand color. It's very lightweight. And are you seeing those booties! Snatch them up before they go. Adore the light wood heel and they are so comfortable. They run true to size. You'll see more on my favorite round-up of booties below. Great selection.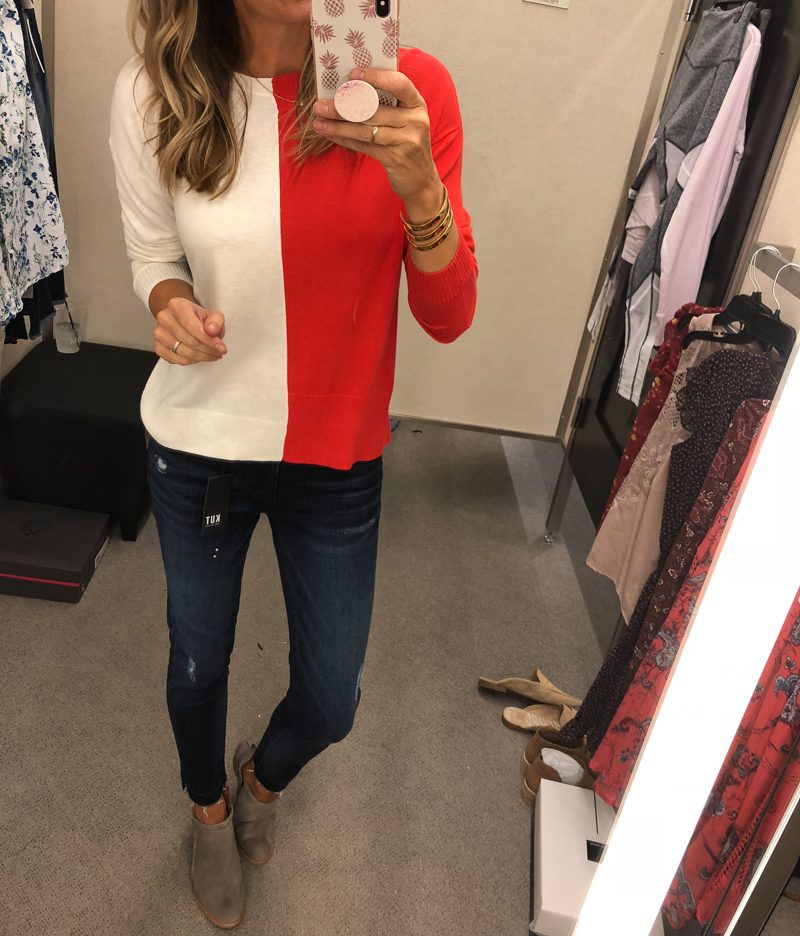 colorblock sweater $45.90 $69.00 |  jeans | booties
I usually stay in such a safe lane with my sweaters but this one caught my eye and it's SO SOFT. Fun and different. It comes in a couple of color combinations.
DENIM
I tried on so many pairs of jeans. Like every single one under $100.  I will go back another day for the designer brands. But to be honest, I am not the girl who spends a fortune on jeans. I found two that are 100% home runs. Five starts for both. They are a great wash, cut,  and fit. I've realized that high-waisted jeans are not my thing. They hurt my stomach and I am just not comfortable in them. These felt great and I bought both pairs. Must haves for sure and you can't beat the price point. I wanted to like these but the fit was a hot mess on me.
kut from the cloth $59.90 $89.50 | vigoss $44.90 $68.00
CARDIGANS
I always grab my cardigans for the year during this sale. I found three that I love. Let me show you.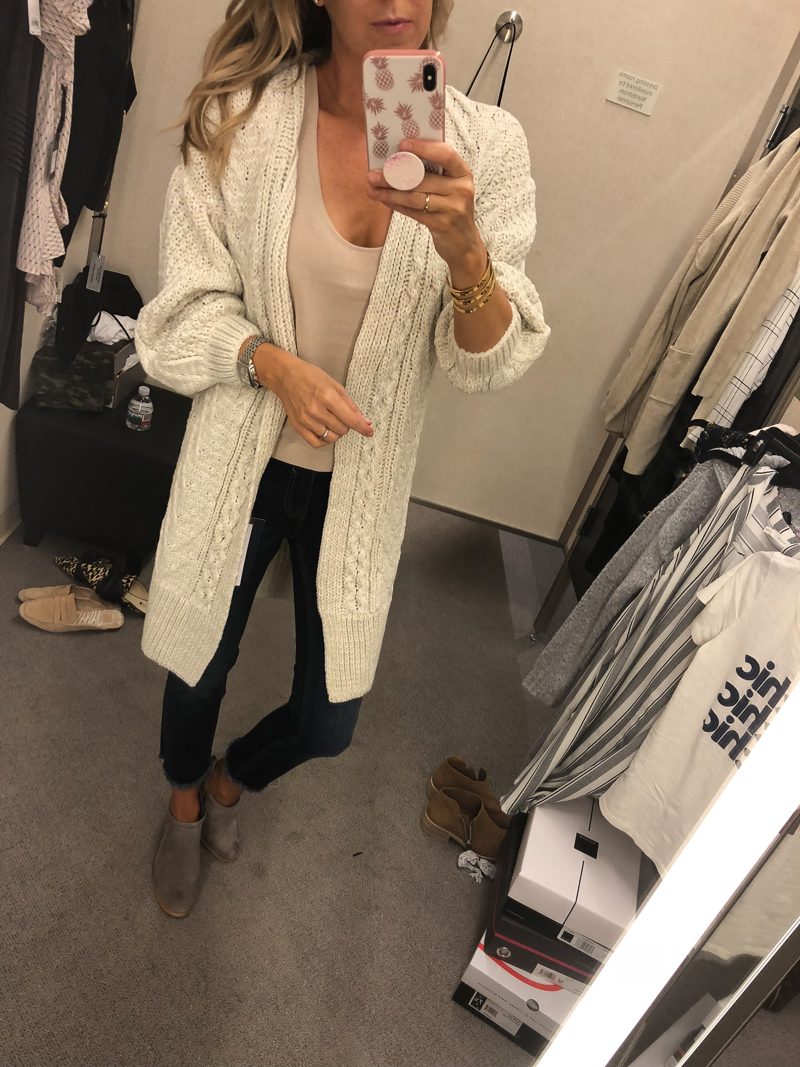 cable knit cardigan $49.90 $75.00 | tank $22.90 $45.00 | jeans | booties
I'll be sharing more fit tips over on my Instastories. I was hoping this cardi would work but it just felt too messy and sloppy on me. This cable knit one is fantastic. Don't get me wrong, it's bulky but still slim enough that it works really well. It adds awesome texture and I love it over this slim sweater tank (a favorite layering piece I found). It will sell out quickly.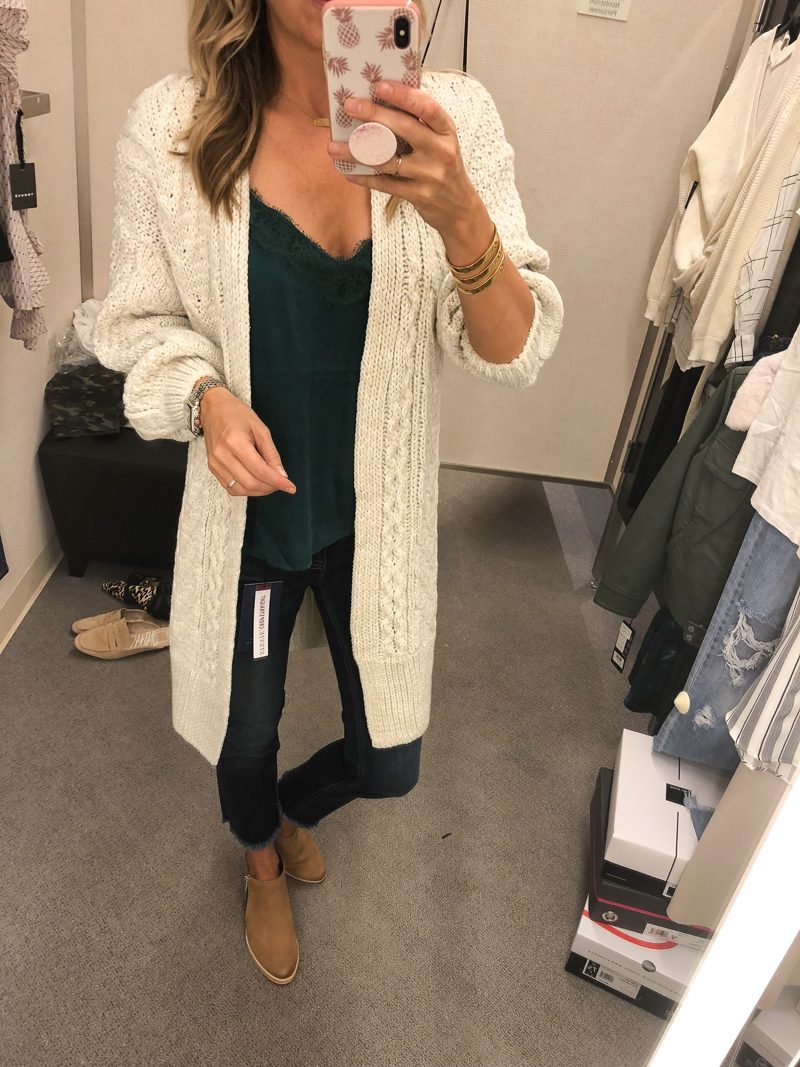 cable knit cardigan $49.90 $75.00 | lace camisole  $22.90 $35.00 | jeans | booties
Just another look at this beauty over a pretty camisole. The hunter green lace is a really pretty find and works so well under these light sweaters.
cardigan $31.90 $49.00 | tank $22.90 $45.00
This cardigan is another 100% home run. Great color, cut, weight and price. It's darling with jeans and over all of the dresses. You can't go wrong with this one. It's the one I bought last year and lost so this is the replacement. Very excited that had this as part of the sale again.
barefoot dreams cardi $76.90 $116.00 | moto leggings $72.90 $110.00
Don't wait on this!!! Barefoot Dreams has two cardigans marked down for the sale. Both are very cute but my heart lies with this one. I bought the smallest size. It's ridiculously soft. These make really lovely gifts, too. Everyone loves these Barefoot Dreams cardis. They don't last long. The hooded one can be found here. Equally as soft!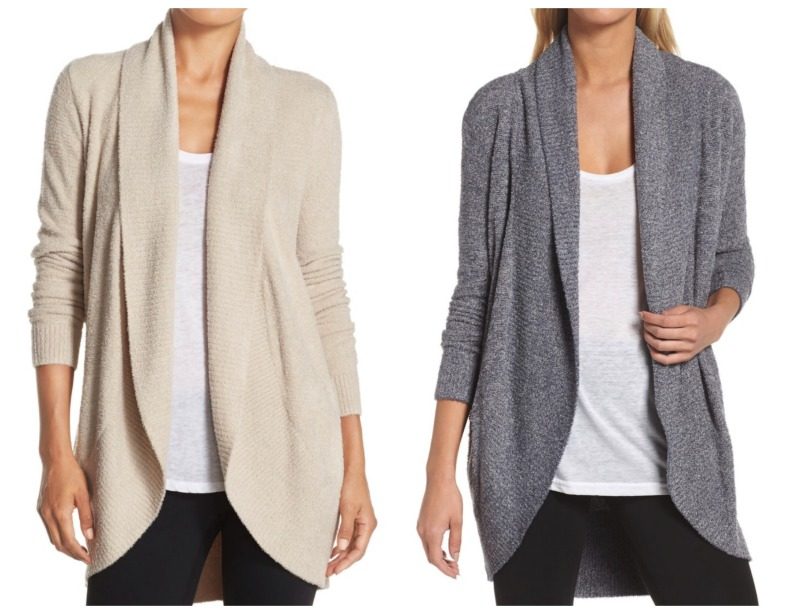 two more great colors in this softer than soft cardigan
And can we talk about the Spanx. Ummmmm. Who knew? I had never tried these on before. Well, hello, new favorite legging. They come in an incredible camo color, too. I am sold on these. I plan to pair them with an oversized light colored sweater or a tee and blazer for date night. They feel amazing and suck you right in. True to size ( I am in a small).
DRESSES
I am really picky with dresses. I have to love it at first sight or it's never going to work. These were all hits. I loved them then moment I put them on. Highly recommend all six (and I tried on a ton).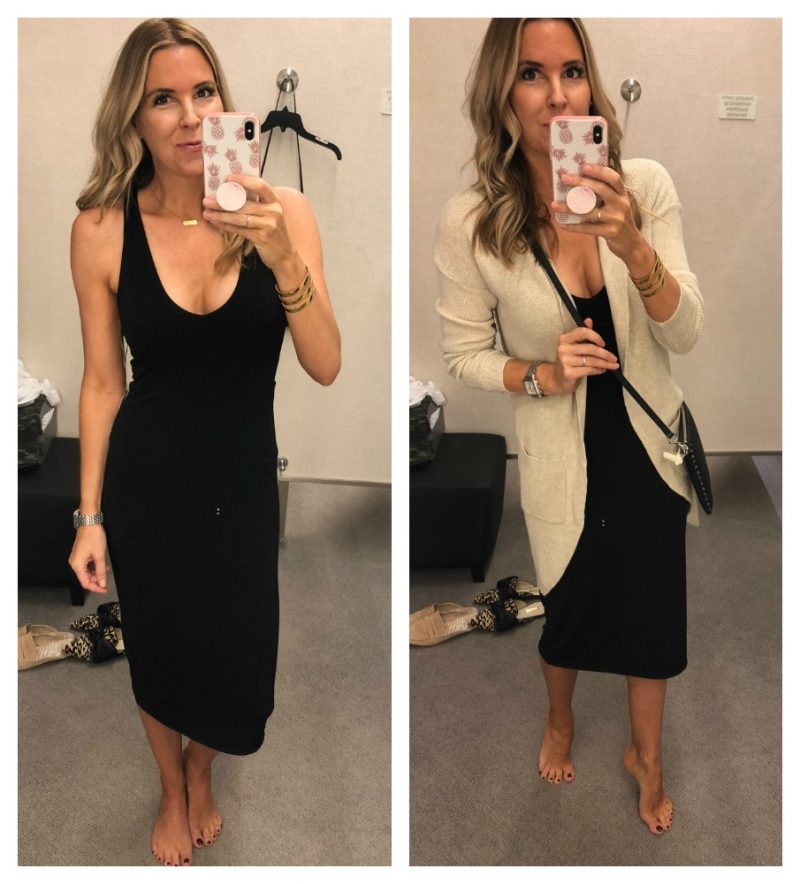 dress $42.90 $55.00 | crossbody | cardigan
My number one dress pick!!!!! I'm in love with this. It reminds me so much of a dress I had from a couple of years ago and still get asked about all the time. This is racerback and a bit low-cut. It would look darling with this bralette. It's much prettier in person and is incredibly soft. It also comes in a beautiful lilac color. I wanted to wear it out of the store. It's super cute paired with this cardigan and this studded crossbody bag.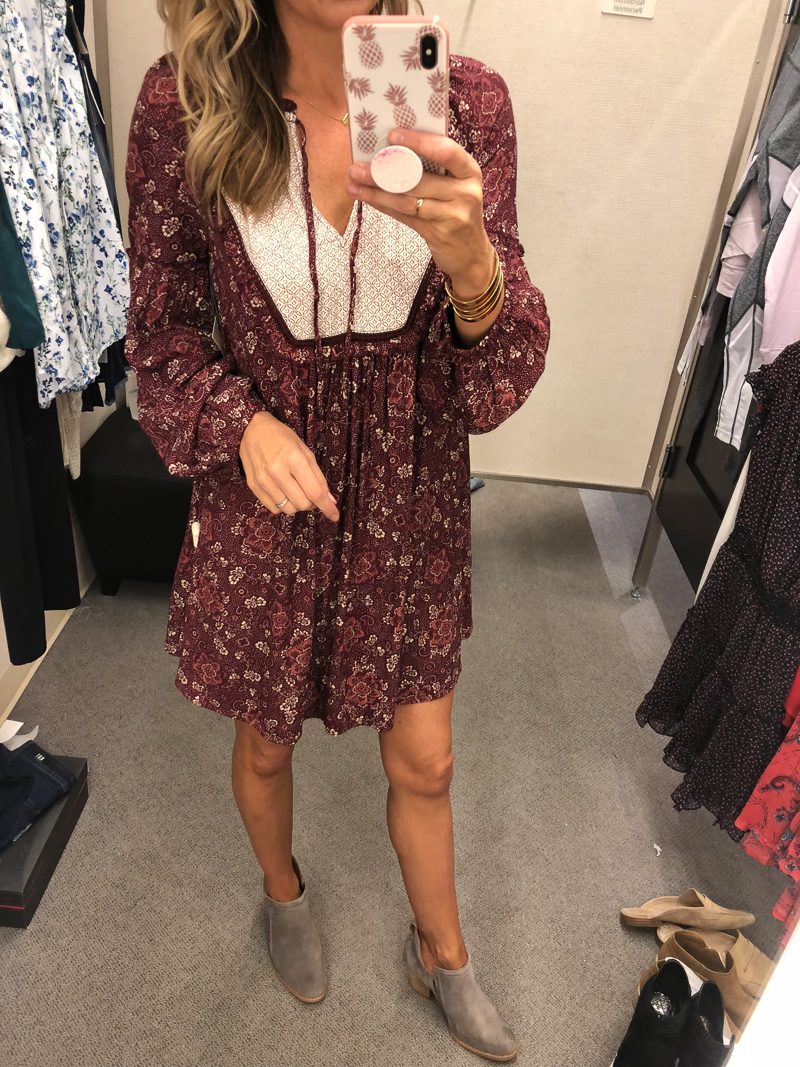 dress $52.90 $79.00 |  booties $92.90   $135.95
Comfortable, cute, and so feminine. This dress is great with booties. And so much cuter than the online photo. Speaking of bootie, these are back in two colors. They are slightly different than last years and AWESOME. They are by far my favorite bootie with a small heel (these are also pretty great). I bought the taupe suede but the snake print is sooooo cute.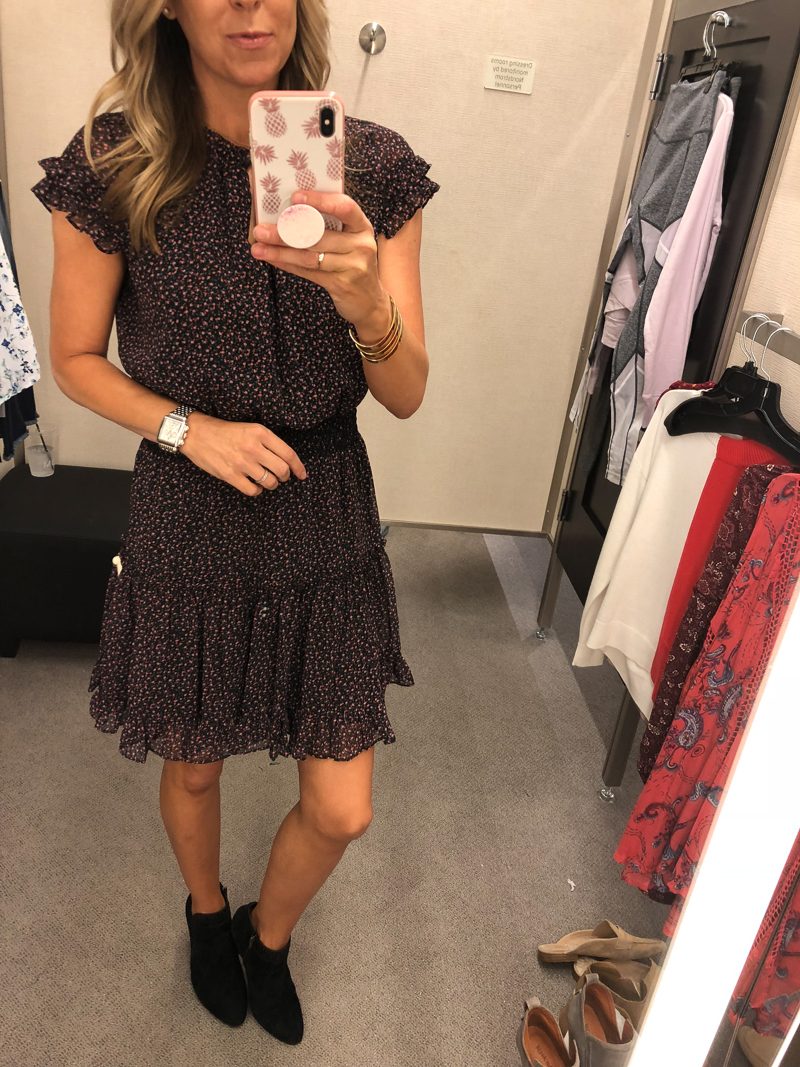 rebecca minkoff dress $125.90 $188.00 | vince camuto booties
This is the only piece that is over $100. But I had to show you because it's so flattering and pretty. You'll be able to see how nicely it flows over on my stories. Two thumbs up for this pretty number. Looks great with these booties.
babydoll dress $85.90 $122.00 | booties
This babydoll dress had me at hello. The color is so unique and pretty and it's just a very feminine, sweet dress.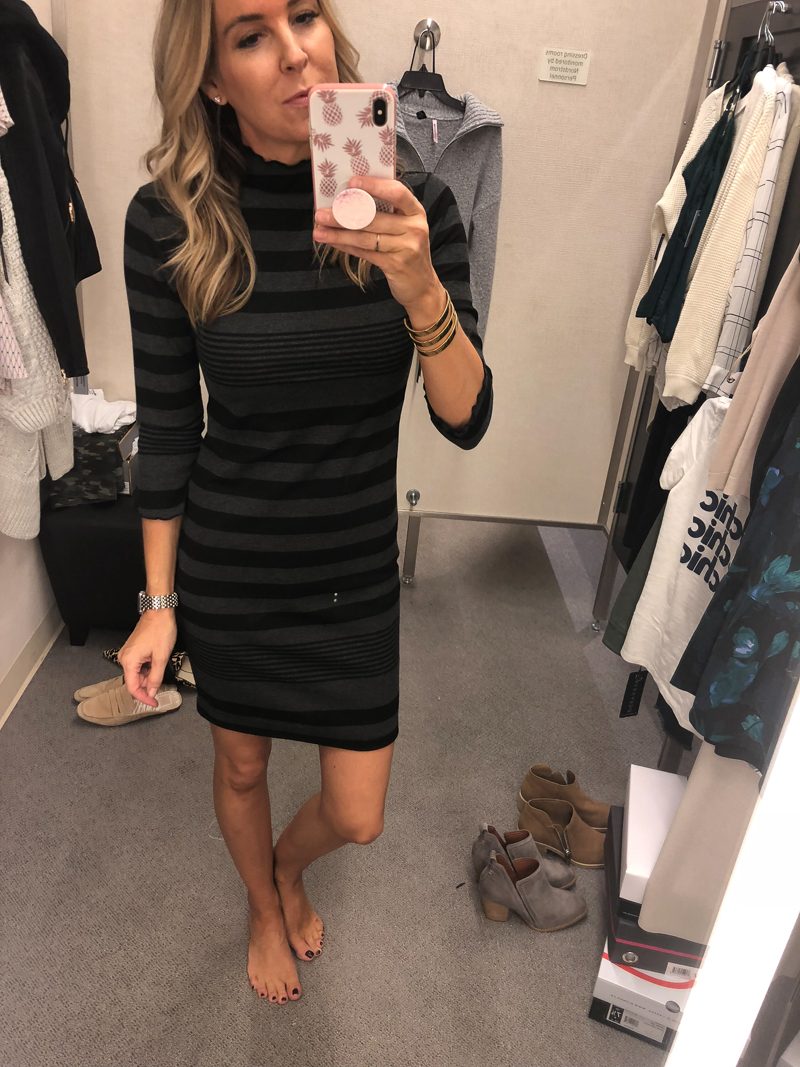 socialite striped dress $29.90 $45.00
Cue up date night! This body con dress was made for going out. It's very comfortable and a steal ($29.90). I am wearing the size small. You could always go up one size if you didn't want it to be too fitted. I was so hoping this would work but it was way too clingy on me. It showed every darn thing!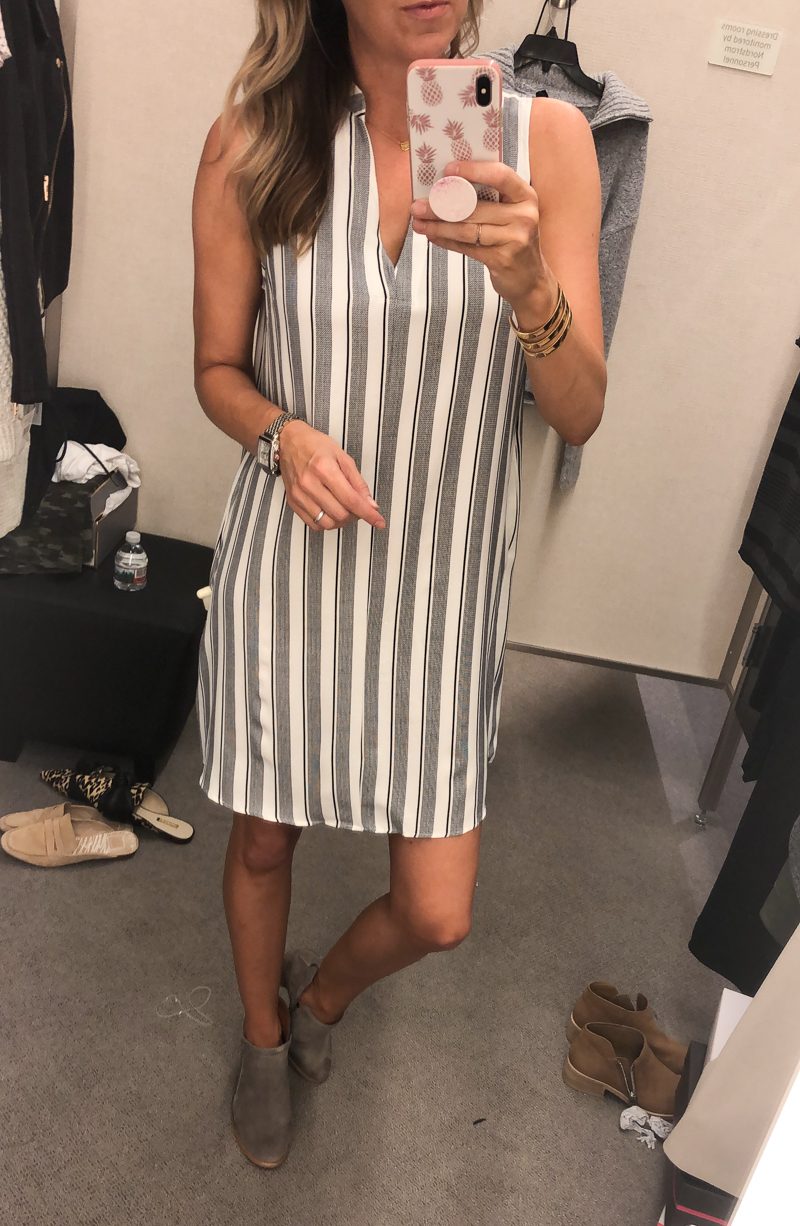 striped sleeveless lush dress $31.90 $49.00  | booties
Finally the striped winner. This is a fabulous dress. Slightly longer in back and a great cut. It's lightweight and only $31.90!! You can't beat that. So good.
This dress is so pretty. I can't wait to show you!
TEES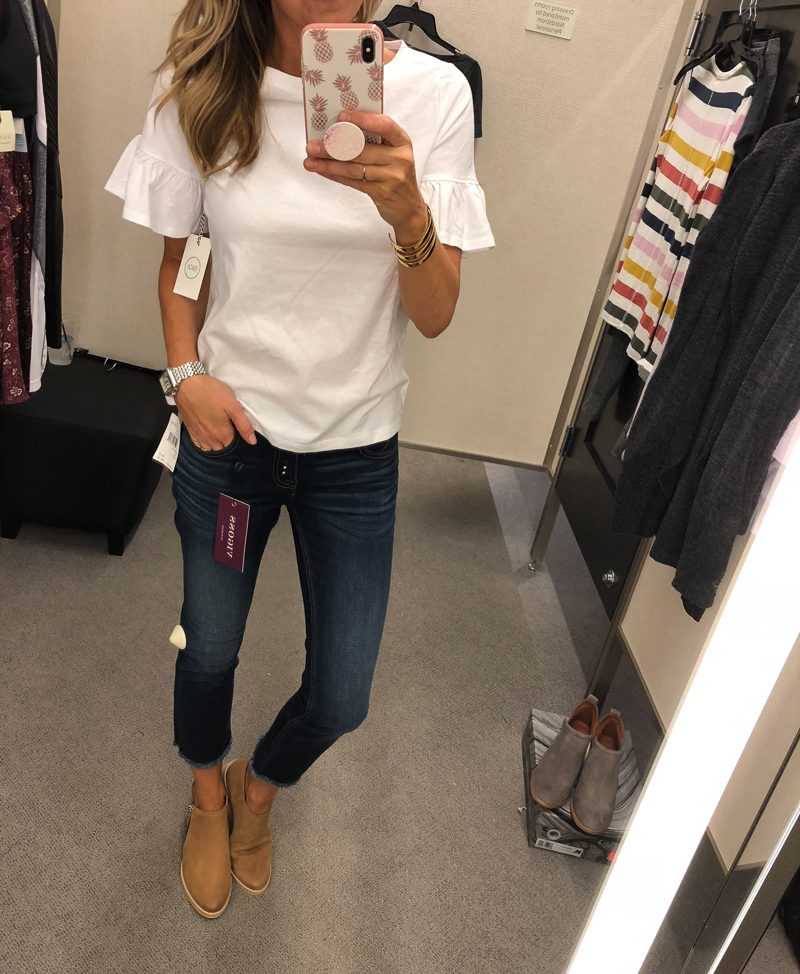 ruffle t-shirt $29.90 $45.00
Such a great, basic tee with a little something extra. The ruffles are sweet and it comes in a few different colors. It's a nice weight and very soft, not too flimsy.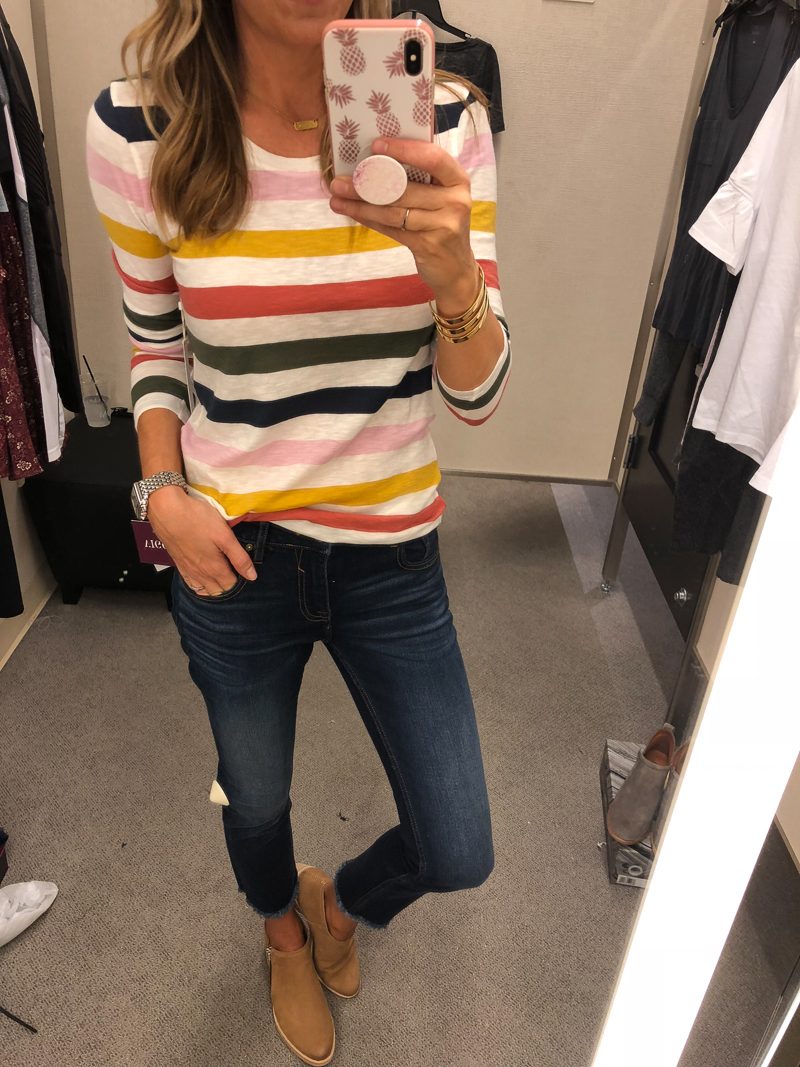 striped t-shirt $19.90 $29.00
There is something about this tee I just love. In real life, the rainbow colors are more of a vintage feel. Really cute and fun. It comes in many different basic colors but I thought this was out of the box.  The plain colors make for fantastic layering pieces.
basic t-shirt $17.90 | $25.00
Favortie basic tee. I wear them all the time!!! Soft and perfect. If you don't already have it in white I highly recommend.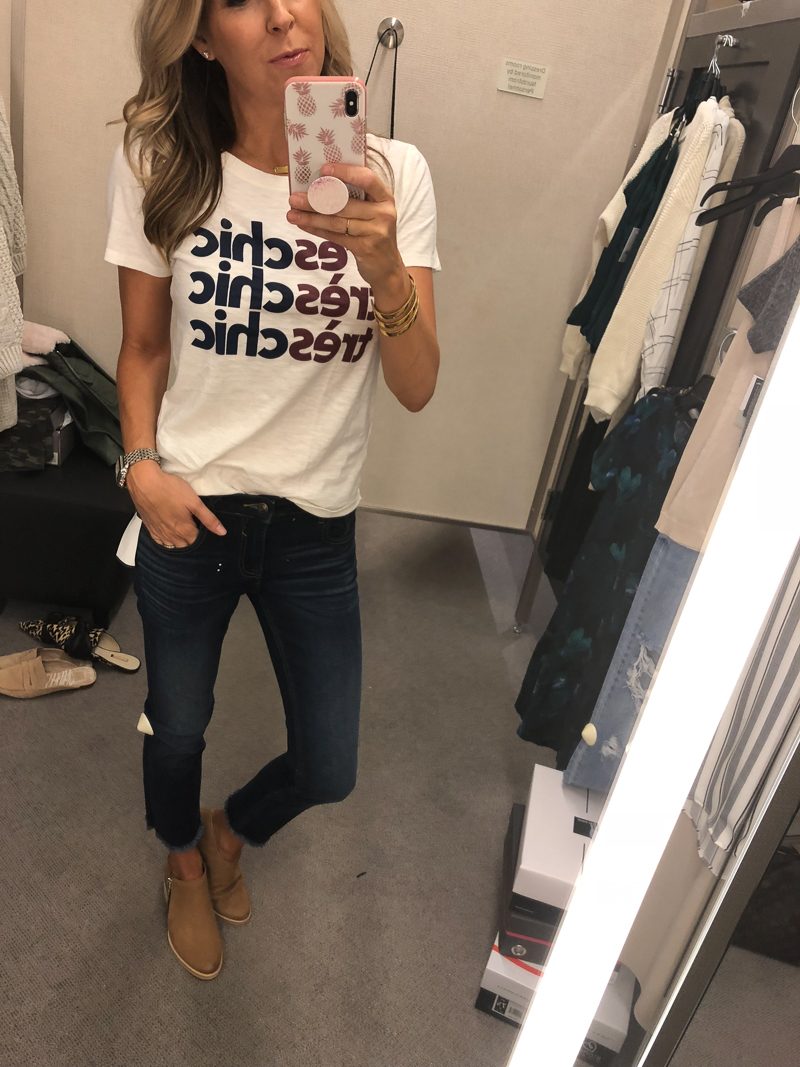 Trés chic for sure. Just a fun graphic t-shirt with a very flattering cut. Looks great with a faux leather jacket.
TOPS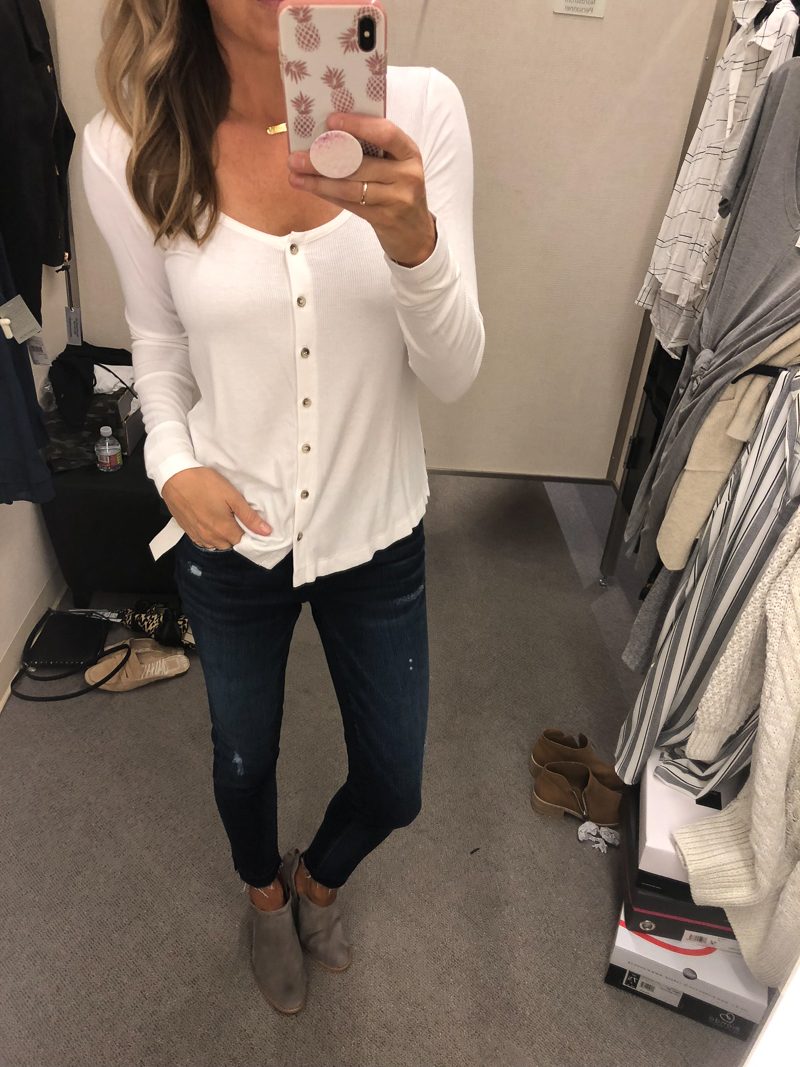 button tee $24.90 $38.00
This top looked pretty unflattering on the hanger but it ended up being a favorite of mine. It drapes really nicely and is a nice spin on the basic white tee.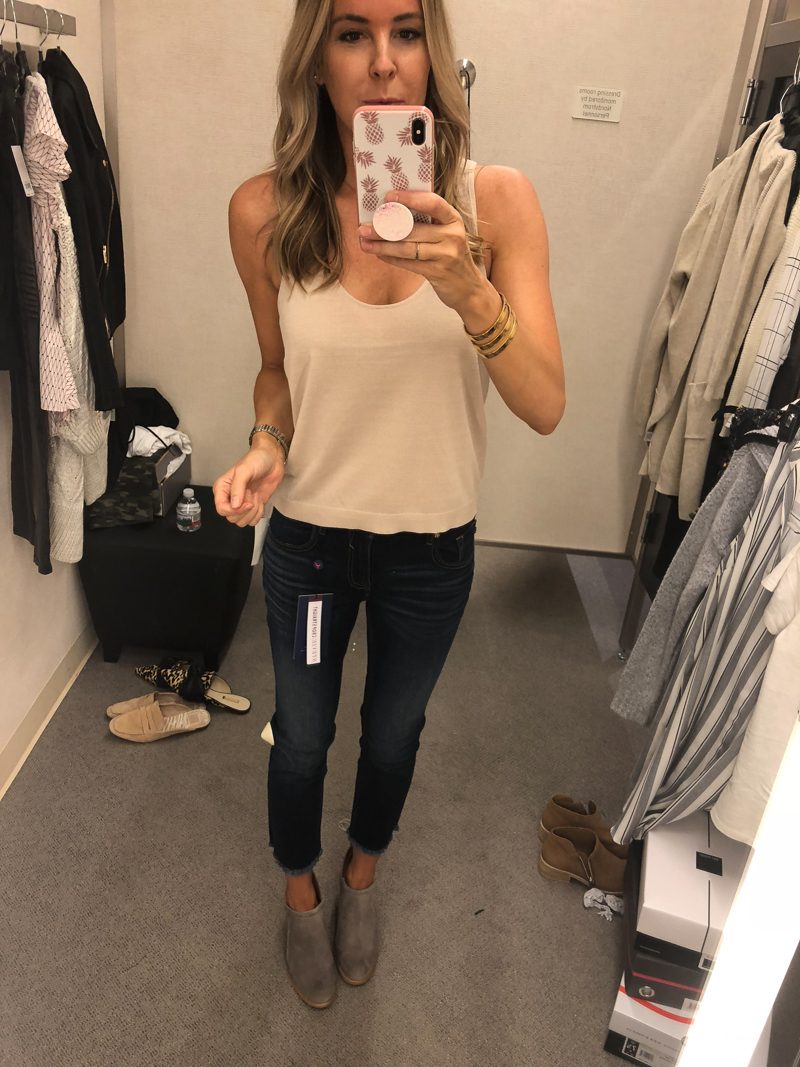 This very thin sweater tank  is another must have. I adore the feel and fit. It's such a pretty color and looks incredible with a cardi or blazer. Highly recommend.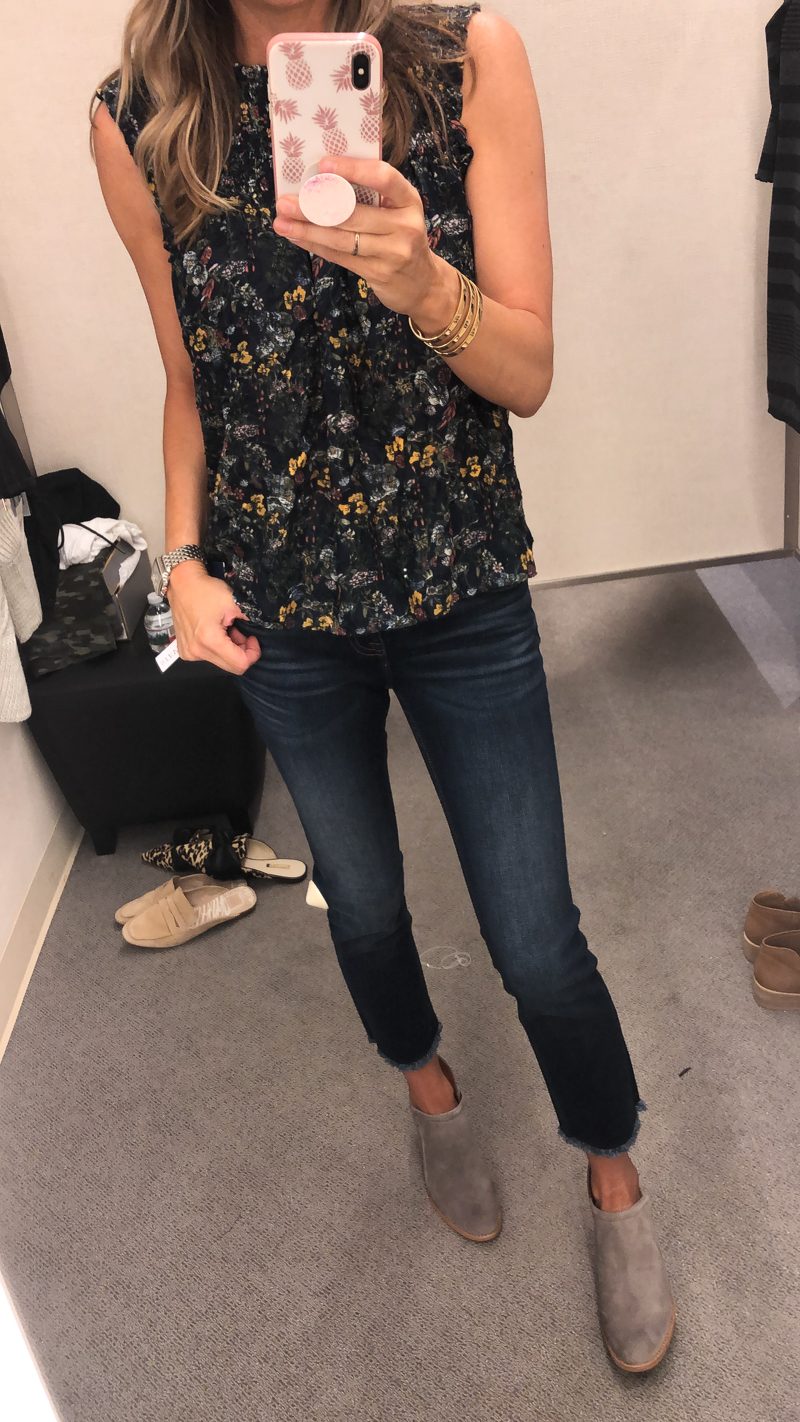 floral top $42.90 $65.00 | booties
I always love a good floral print. This top is even prettier in person. The top button in the back is a bit hard to button but other than that it's a five-star rating from me. It definitely came home with me.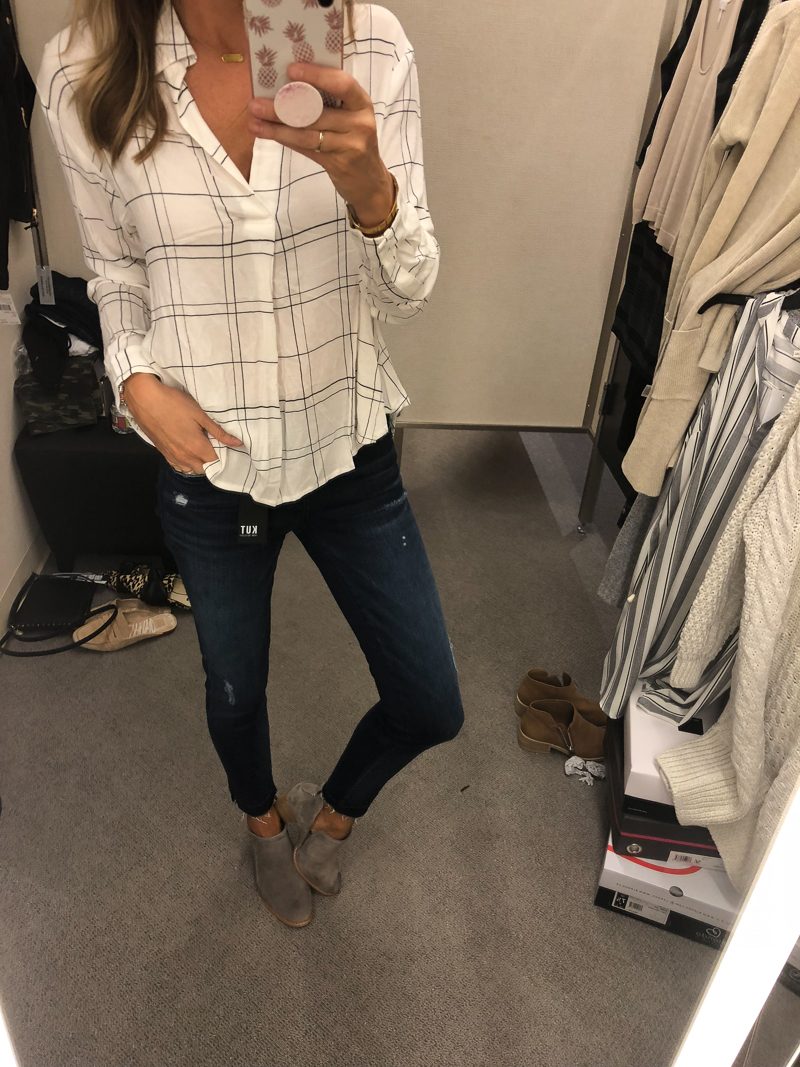 plaid top $45.90 $65.00 | jeans
Wishing you could see this top in person. It has a really pretty detail on the back and just falls so nicely. It reminds of the Rails shirts but for far less money. Score.
JACKETS
I was thrilled to find two beautiful jackets at awesome price points. Can't wait for you to see.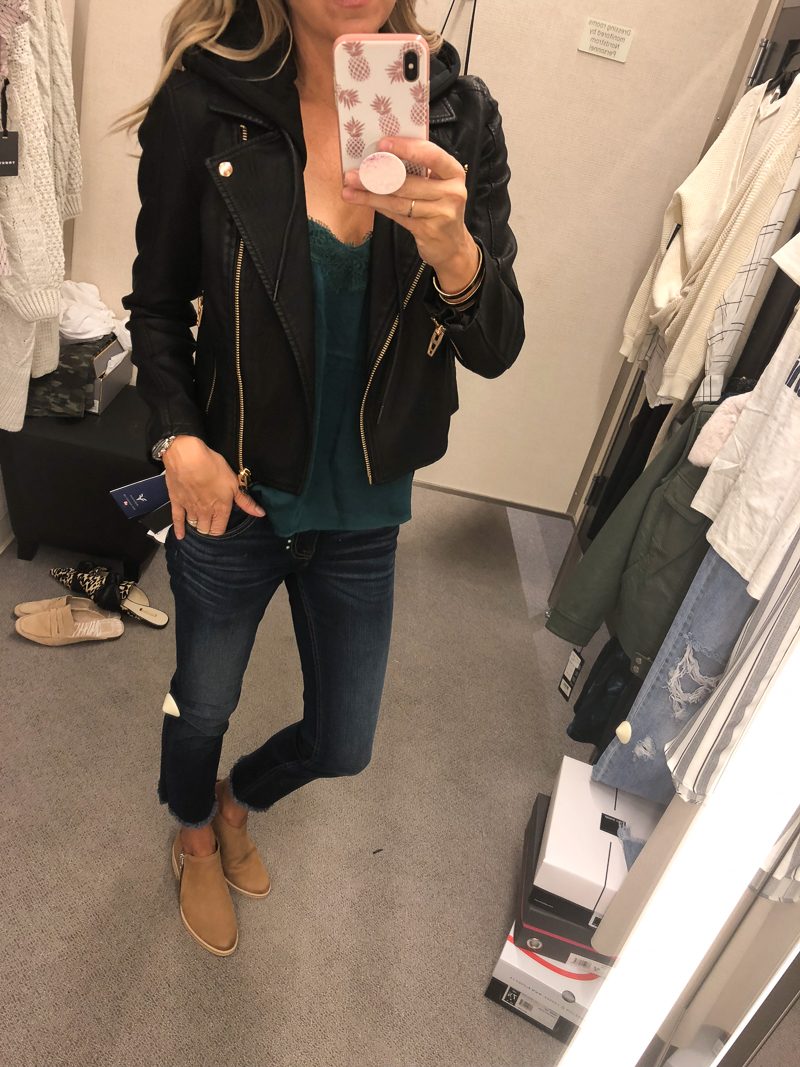 black moto jacket $64.90 $98.00
First up is this faux leather moto jacket. It's soooooo good! It has a detachable hood so you can keep that on for a super casual look or remove it for more of an edgy, date night look.
Here it is without the hood and over this dress. It's so soft and fits really well. I am wearing a size small. The gold detailing makes it really fun.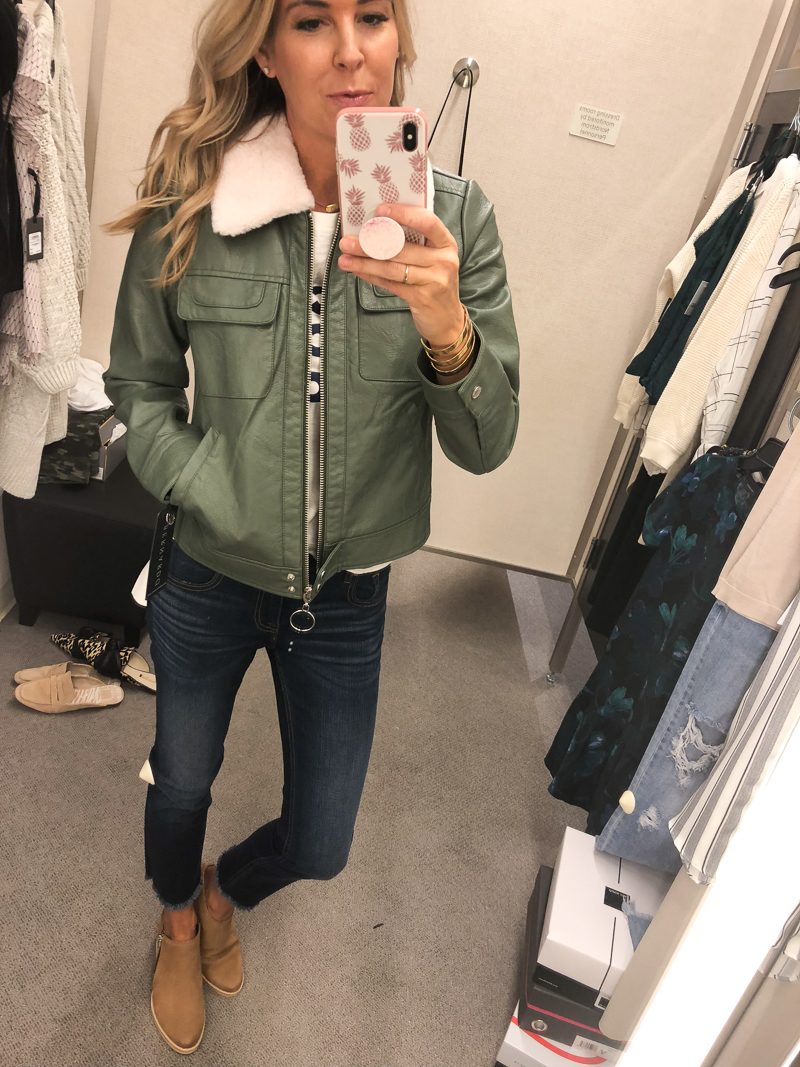 faux leather sage green jacket $64.90 $98.00
My girl, Chantal, who helped me with this shopping trip, spotted this. I had to have it. The sage color is incredibly. Slightly softer than an olive-green with an ivory/blush faux fur collar. I don't know what it is about this jacket but it's one of my favorite pieces of the sale. So so soft.
FAVORITE OUTFIT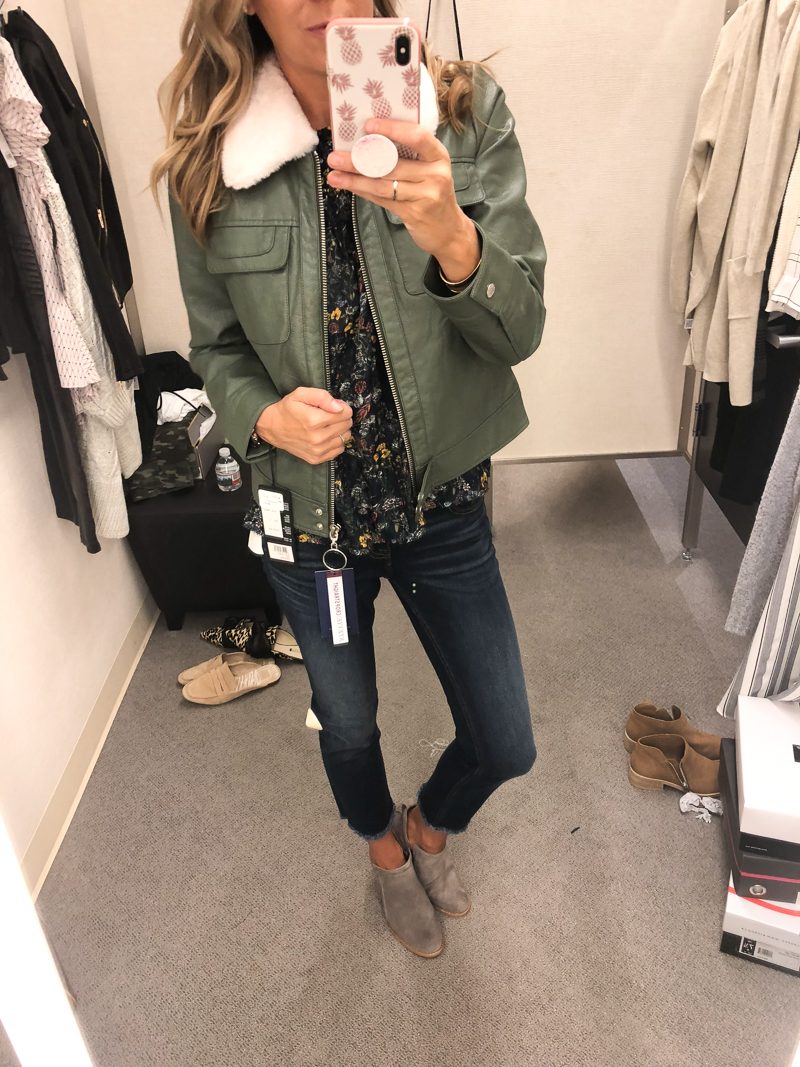 faux leather sage green jacket | floral top | vigoss jeans $44.90 $68.00 | booties
This might be one of my favorite looks of the sale. The jeans, booties, top and jacket all work so well together. Let me know if you have any questions about any of the things I tried on.
WORKOUT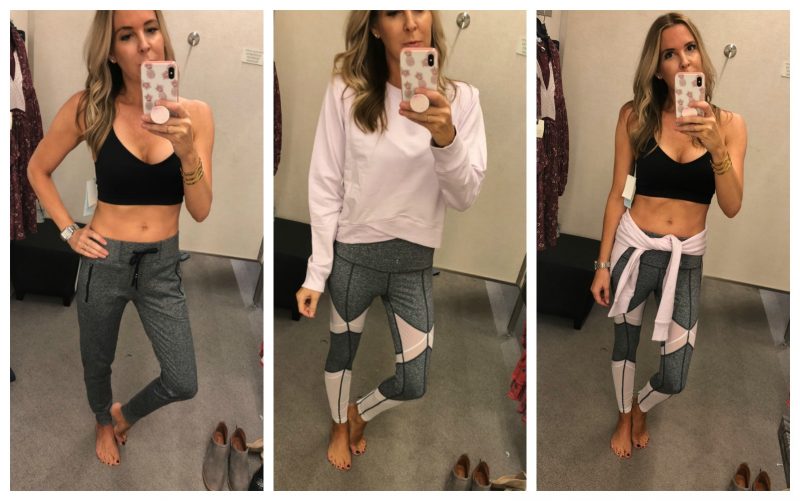 sports bra $31.90 $49.00 |  joggers $49.90 $75.00 | pullover $49.90 $75.00 | leggings $42.90 $65.00
Last but not least, workout wear! I still want to try on more but these are the pieces I was really impressed with (and bought). These joggers are incredibly comfortable (wearing xs). Love that they have pockets. Can't say enough about this sports bra (wearing a medium). A definite must if you need more workout gear. And these leggings are AWESOME (wearing size small). You can't see but the lighter areas are dotted mesh. So dang cute. Two thumbs up, for sure. The cropped pullover is also really soft and comfy for going to and from your classes or for running errands after your workout (wearing medium). Looking forward to trying on this sports bra and these leggings. The floral ones (from the catalog) are also darling but my store did not have them yet.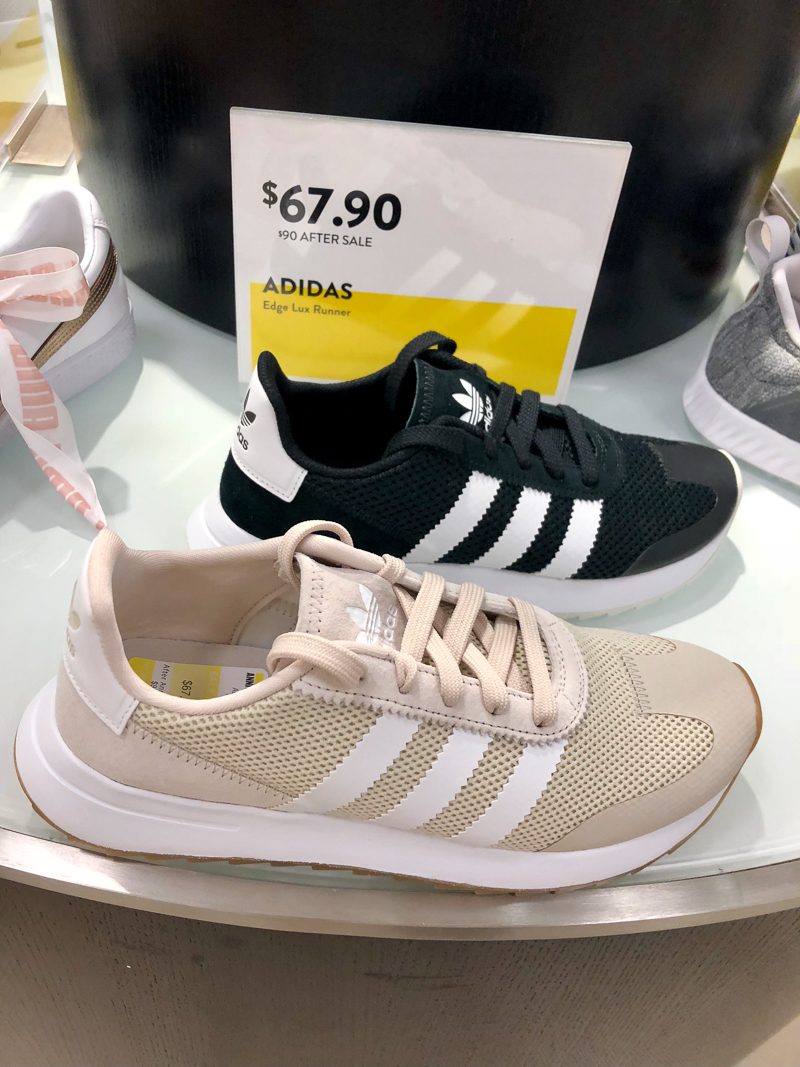 These Adidas Flashback Sneaker are an awesome deal at $67.90. The hard part is deciding between the two colors. These Adidas running shoes won't last long either.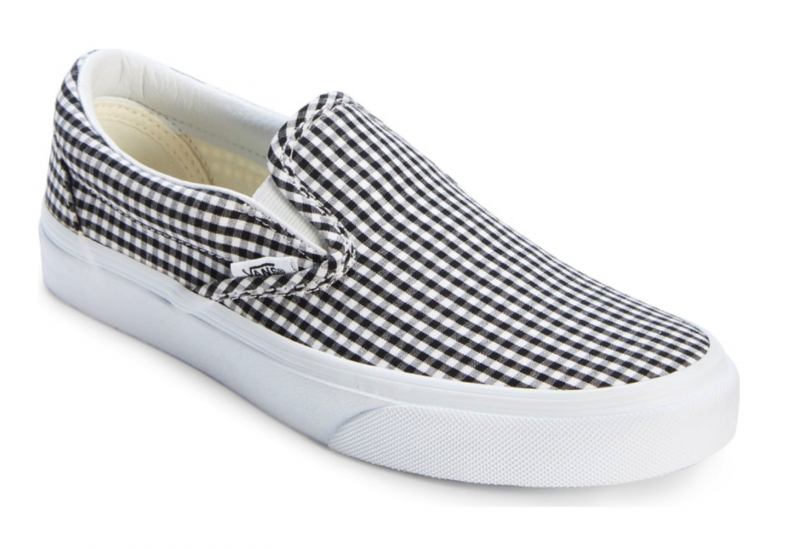 These are also absolutely adorable. My daughter has put in a request for these Vans Classic Slip-On Sneaker.
THAT HANDBAG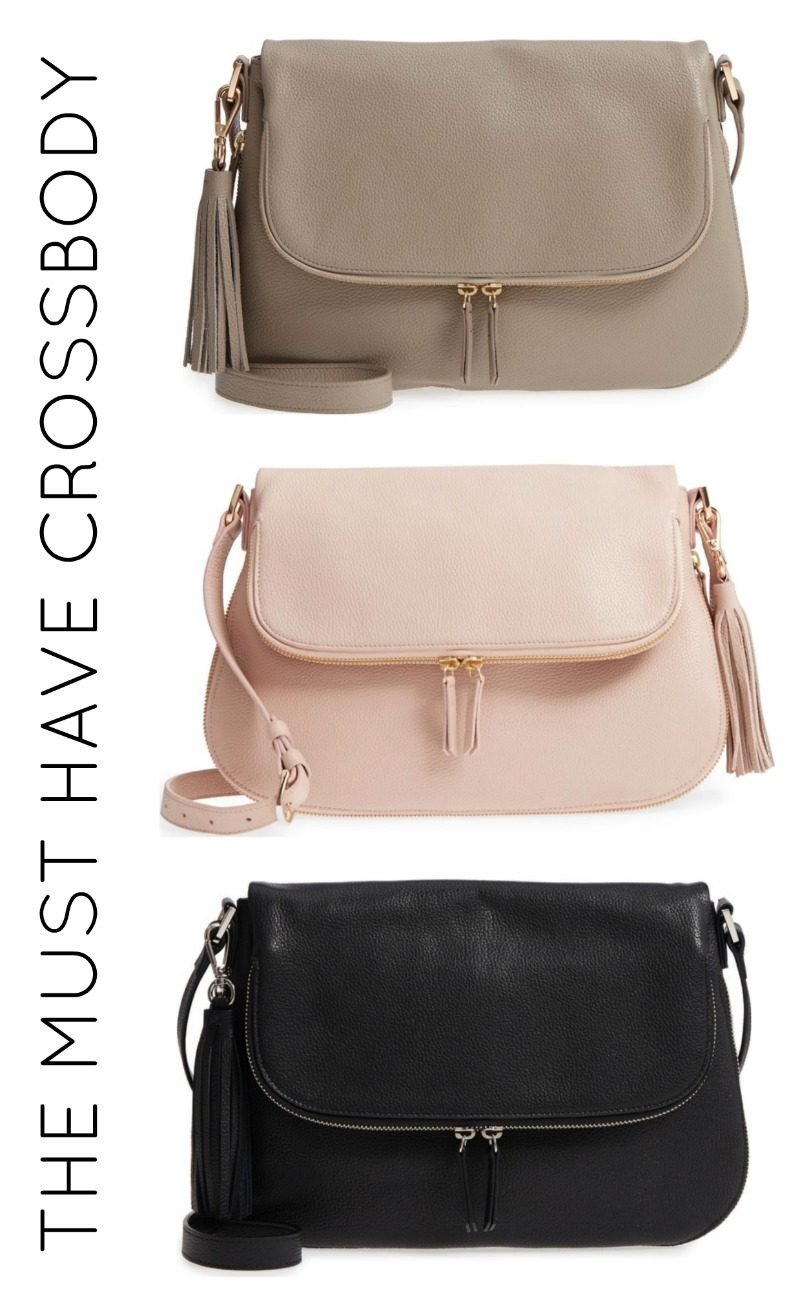 Kara Leather Expandable Crossbody Bag
This cutie pie crossbody bag had me at hello. The leather is so pretty and it feels much more expensive than it is. The nice thing is that the bottom is expandable. So great for travel days or times where you are out and about with the children all day and need to bring a long a few more goodies. All three colors are beautiful. It also has an outside pocket in the back for your phone. I chose the taupe color. It's really good, girls!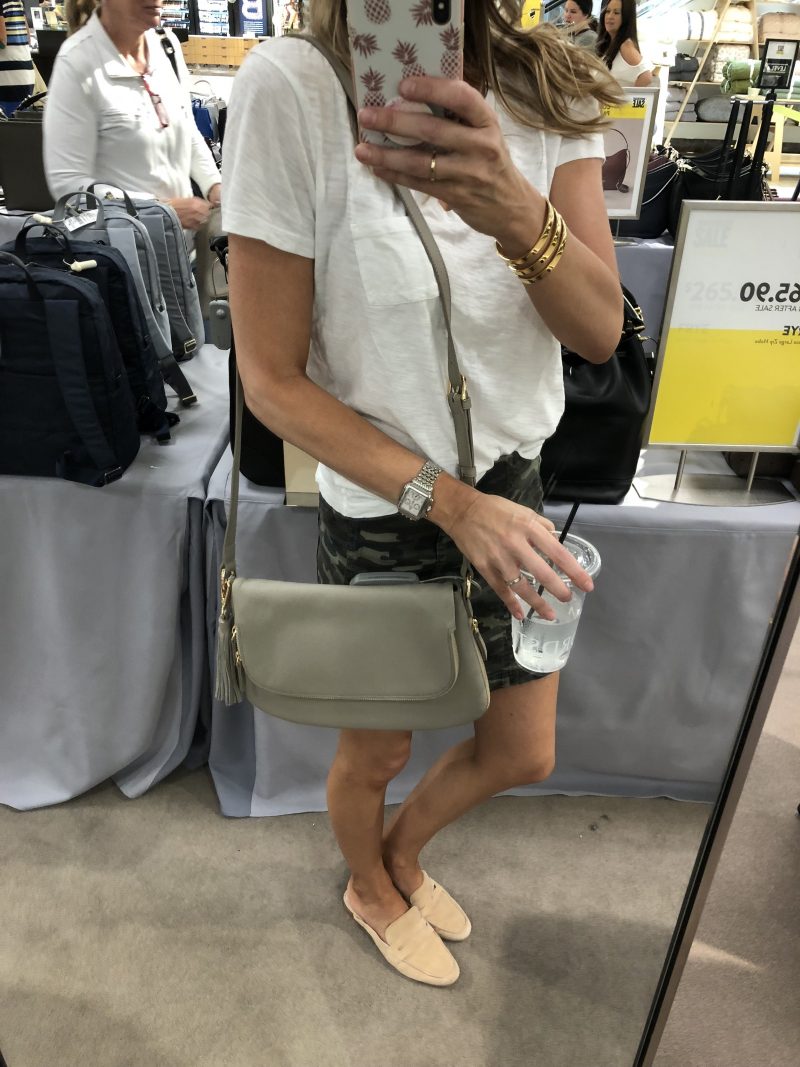 Such a nice neutral bag that works year-round. I love the black and blush, too. Just figured I would get the most use out of this one.
HEEL TO HAVE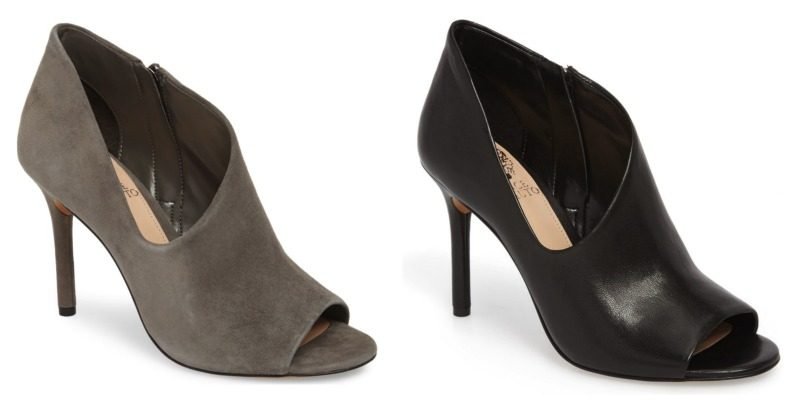 vince camuto pump $89.90 $135.95
I was jumping up and down when I saw this heel. No joke. I had one almost exactly like it years ago and I still get asked about them. I just ordered a pair for myself because my store didn't get them in. They look so sexy on the foot. Insanely great shoe for a great price! It looks so pretty with any dress as well as with jeans for going out. Major score.
Bootie Time
The bootie selection is strong, my friends. A little too strong considering I bought more than my fair share. Most of my favorites are all under $100. The top-selling bootie from last year is back in a slightly different cut and it's so good!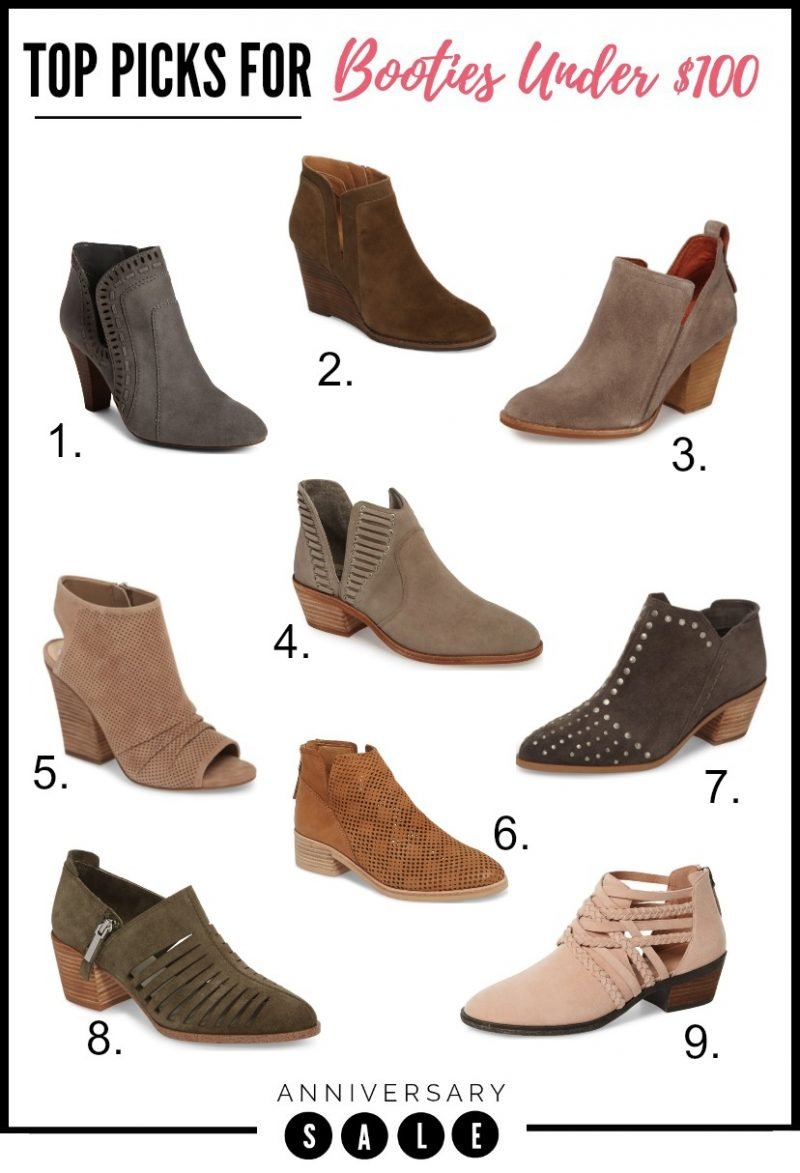 1 | Vince Camuto Reeista Bootie 
4 | Vince Camuto Pevista Bootie
5 | Vince Camuto Open Toe Bootie
8 | Slate Arnet Bootie 
TWO FAVES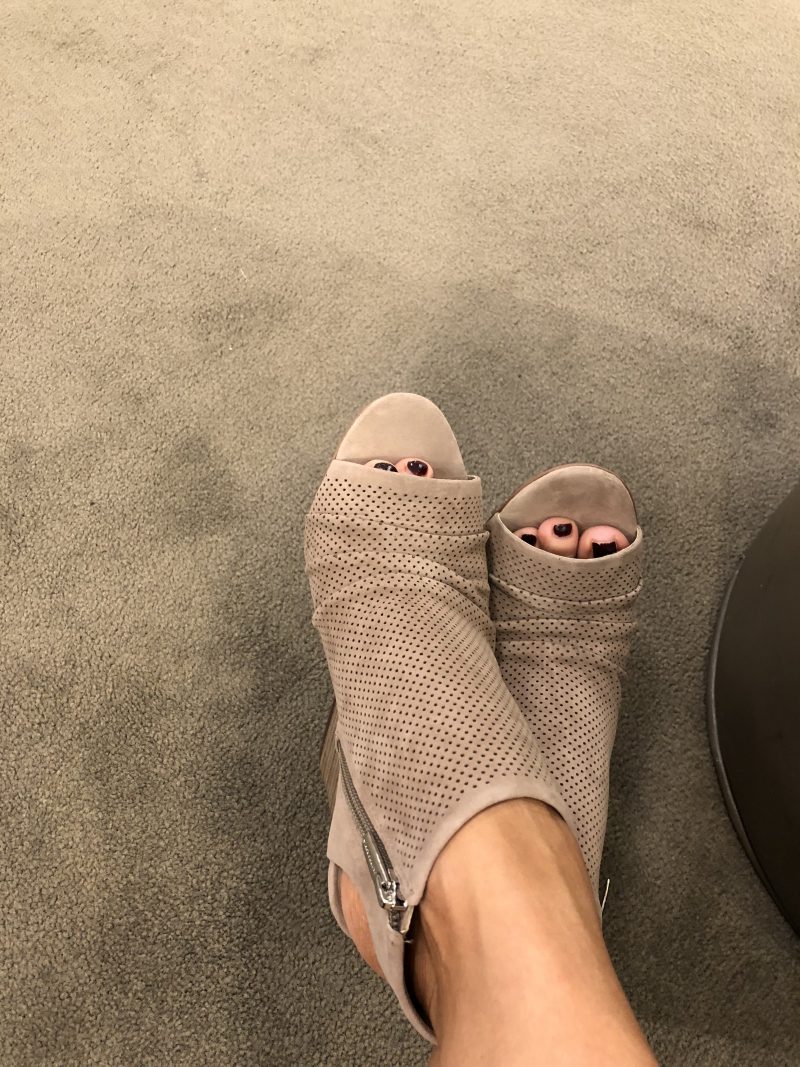 The best open-toed bootie out there right now. So darn cute. I bought these and can't wait to wear them! These are true to size.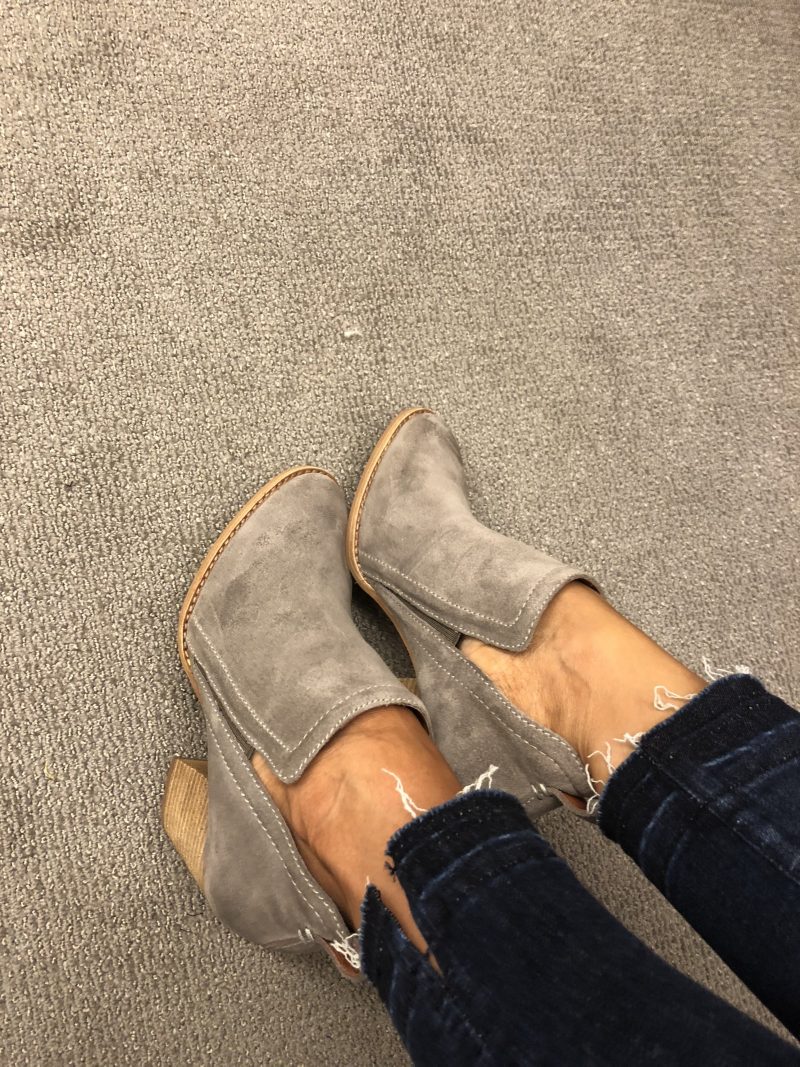 An up close look at the bootie to buy. I love the white stitching. Plus they come in these amazing colors, too. True to size. Can't go wrong and they will sell out quickly. FYI: There is some confusion with the stitching. Mine are called Vanhook and yet some are receiving them without the white stitching. This pair is not on sale but for sure has the white if that is what you are looking for. I've spoken to Nordstrom and they said the Vanhook photo is wrong but readers have said otherwise. If I find out anymore I will let you know. How's that for confusing! LOL.
Did you know Hunter Boots are on sale for $99. They never last long so act quickly if you need want them.
Do you feel like we went shopping together? I hope so! SO many great deals. And I will always only show you things I truly bought or want to buy. Not everything is a great deal or my style so I will stick to things I love. This is all brand new merchandise and the prices go back up after the sale. Just remember that items sell out quickly. I will be back with part two of my Early Access post tomorrow which includes these must have boots. Let me know if you have any questions.
UPDATE: If you are having trouble checking out, not to worry. Your items will stay in your cart. Just try again in a bit. It happened to me, too. They are working to catch up! xoxo
Even better news. I just heard that Nordstrom is granting us all 10 points for our shopping today due to the mishaps. Yahoo!
 *affiliate links used.