It's here!!!! Time to get our shopping on. With the onset of the Nordstrom Anniversary sale, all I can think about is how different life seems now. I've shared with you that my mom was the biggest Nordies fan there is. She loved shopping and you could often find my parents sitting just outside the store at the café together. The sale is kicking off and I know that many of you might not be up for it, but for those of you who are still looking forward to it, I've done some deep digging for you. Let's just say I've SCOURED the sale and have chosen what I think are the great finds in each category. Sticking to the basics and almost everything is well under $100. You'll find lots of loungewear, jammies, classic accessories and staple pieces. I hope you find this helpful.
COZY AT HOME

click on the small item photos for details
While most of the home finds I can take or leave, these are the ones I think you should know about. That chunky throw is amazing. What a beautiful house warming gift it would make. It reminds me so much of the one I have in our family room. I bought this cutting board during last year's sale and have it out on our island every single day. I'm planning on buying this for our playroom. Let's just say that when the boys play up there, we could use a little diffuser action (my daughter is begging me to get this).
Oh, and the Barefoot Dreams throw is the softest thing you will cuddle up with.
We have a bathroom renovation coming up (just a small one) and this shower curtain is a steal. Love the stripes and tassels. Great style and it won't break the budget.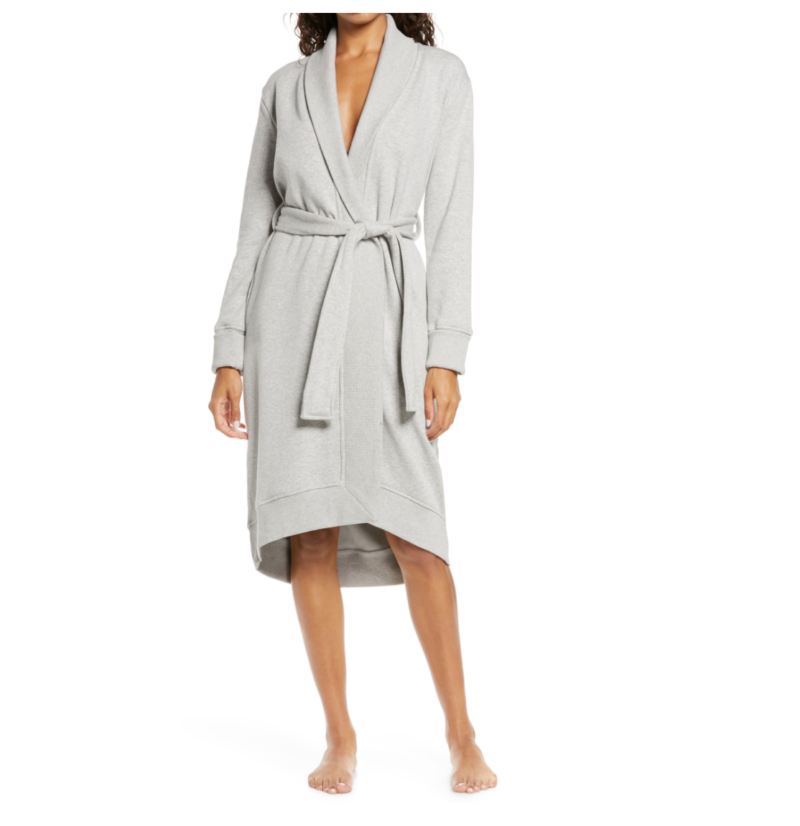 While I don't have this robe myself, I was struck by how comfy it looks and it receives fantastic reviews. Can't wait to check it out in person.
BAREFOOT DREAMS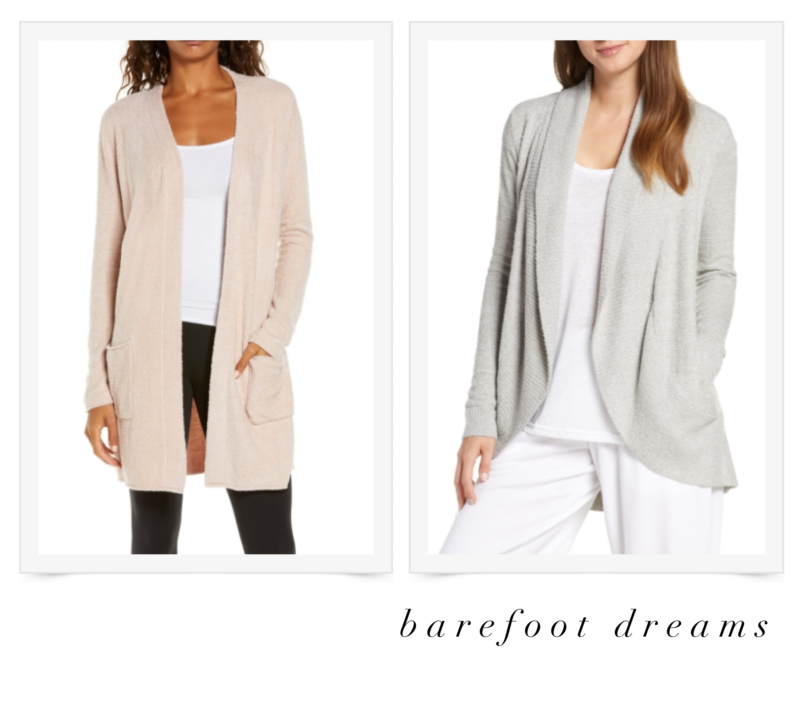 long cardigan | circle cardigan
Ladies, this is hands down one of the very best buys of the Nordstrom sale. I've had mine for over two or three years and it still looks great. It's softer than soft and so perfect for cozy days teaching those kiddos from home.
MY FAVORITE BRA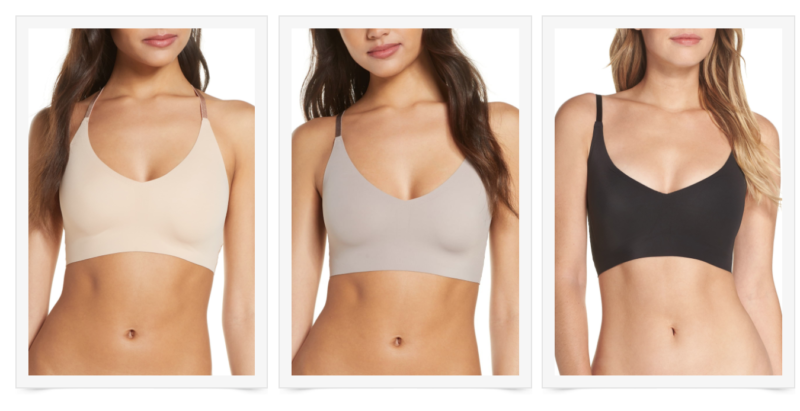 one | two and three are the same
My dear friend turned me on to these bras almost a year ago and I've never looked back. Beyond comfortable. I feel like I'm not even wearing one. All three are on sale, but this is the one I have and love. It can be worn as a tank or racerback which is great. I am absolutely grabbing a couple more.
While not super sexy, this bra is UNBELIEVABLY comfortable. I was shocked when I tried it on. If you are a fan, now is the time to grab one. Great if you are working all day and need to be comfy.
In beauty, the self tanner is on sale!!!! This is big, ladies. I just bought one at full price last week. Kind of bummed. It's my go-to favorite.
READY FOR BED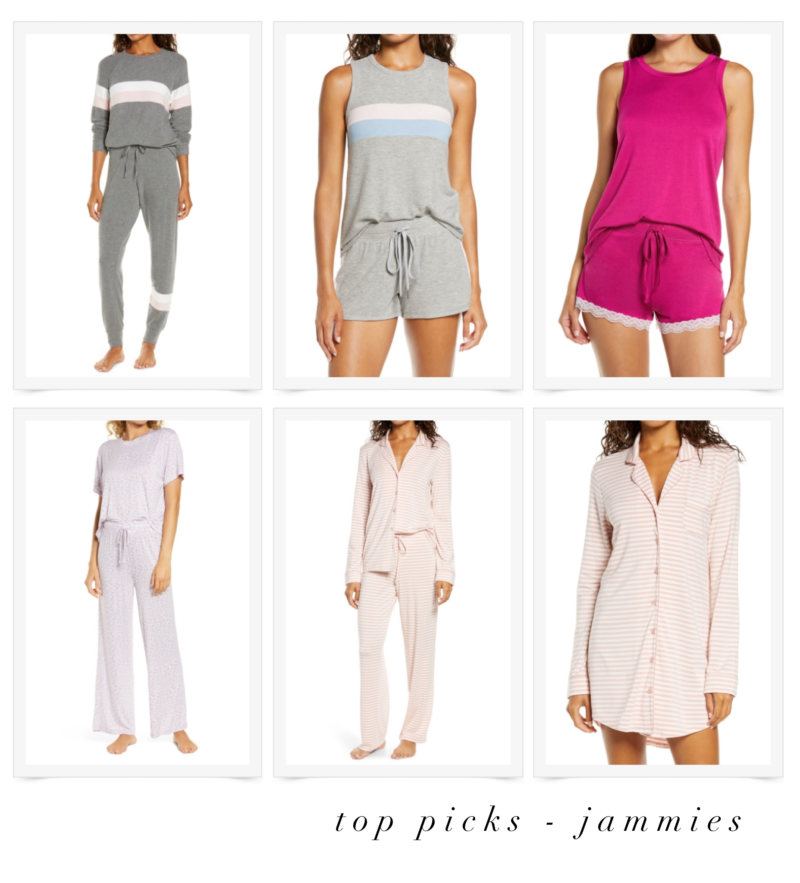 One of each, please. Can you tell my my frame of mind is when I am kicking off the clothing portion of this preview with jammies!? This nightshirt is under $30 and comes in three colors. I am. partial the pink stripes. The Moonlight pajamas are $65 after the sale, but you can get them for $39 during the sale. The receive incredible reviews.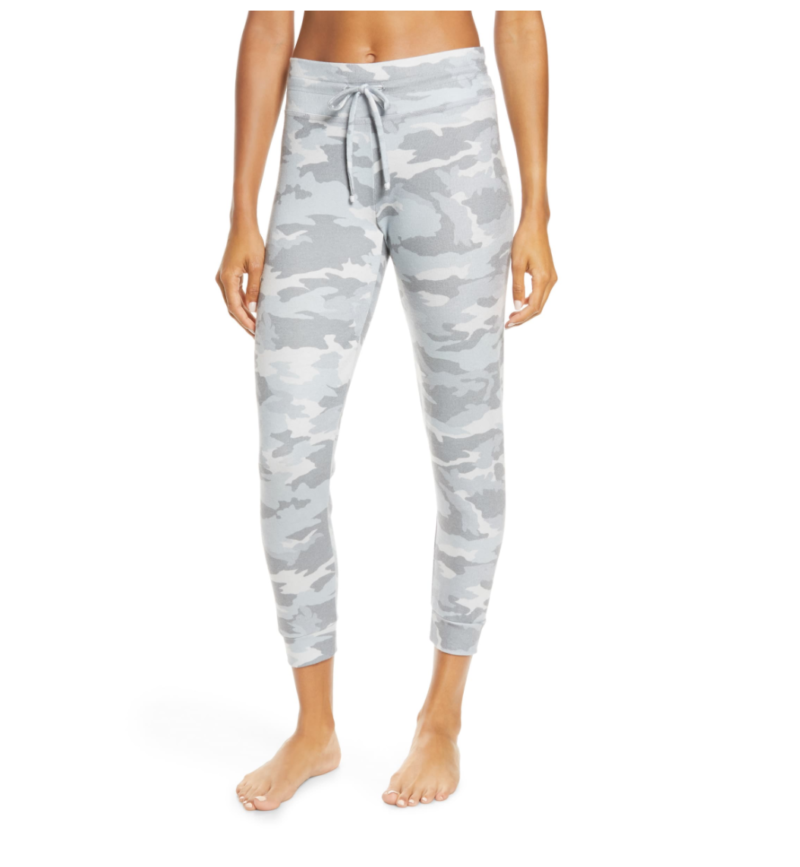 These are $40 off the original price during the anniversary sale. Super cute and comfy.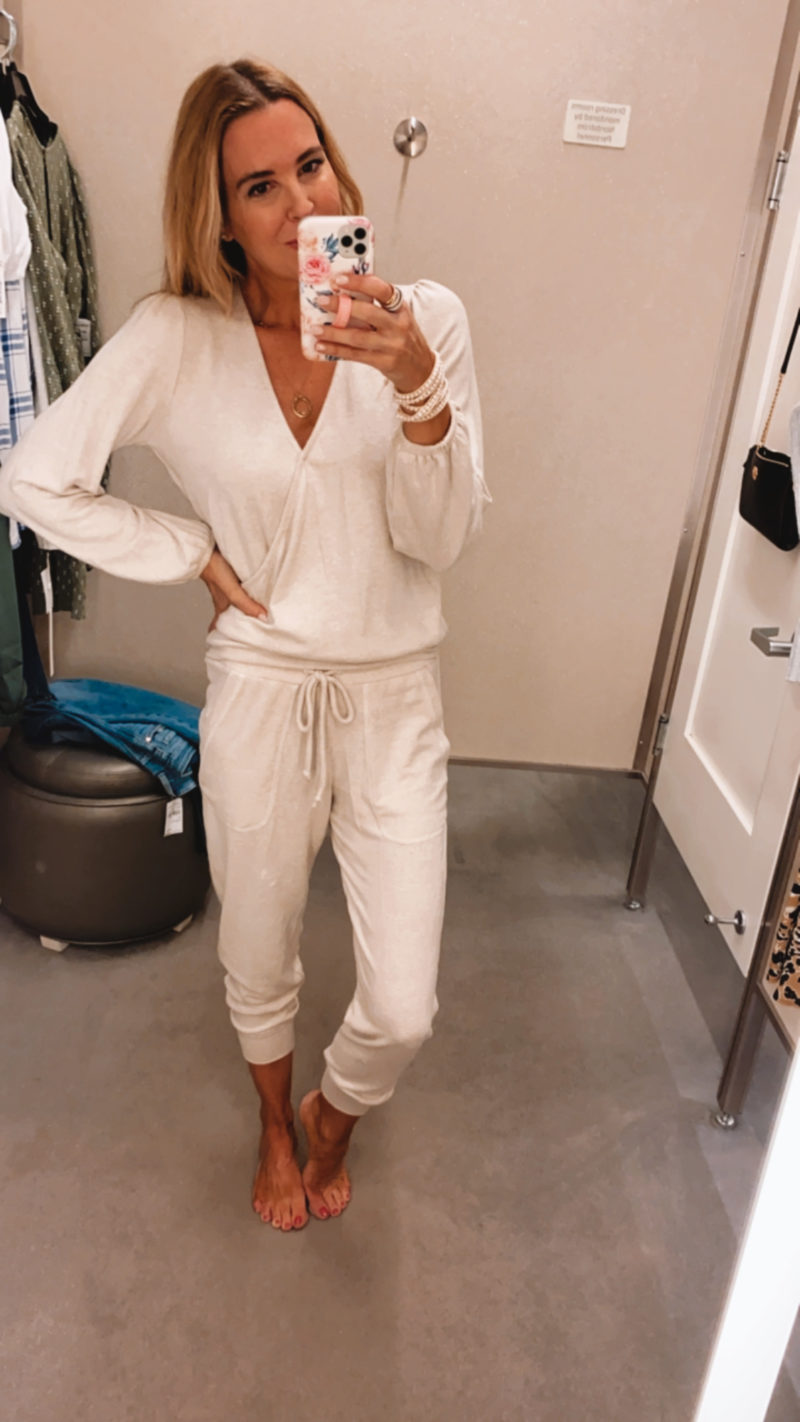 Girls!!! So incredibly soft and comfy. I went with an XS in both pieces (one size down from my normal size small). This takes loungewear to the next level because you don't feel frumpy at all. Love this set so much.
TIME FOR COMFORT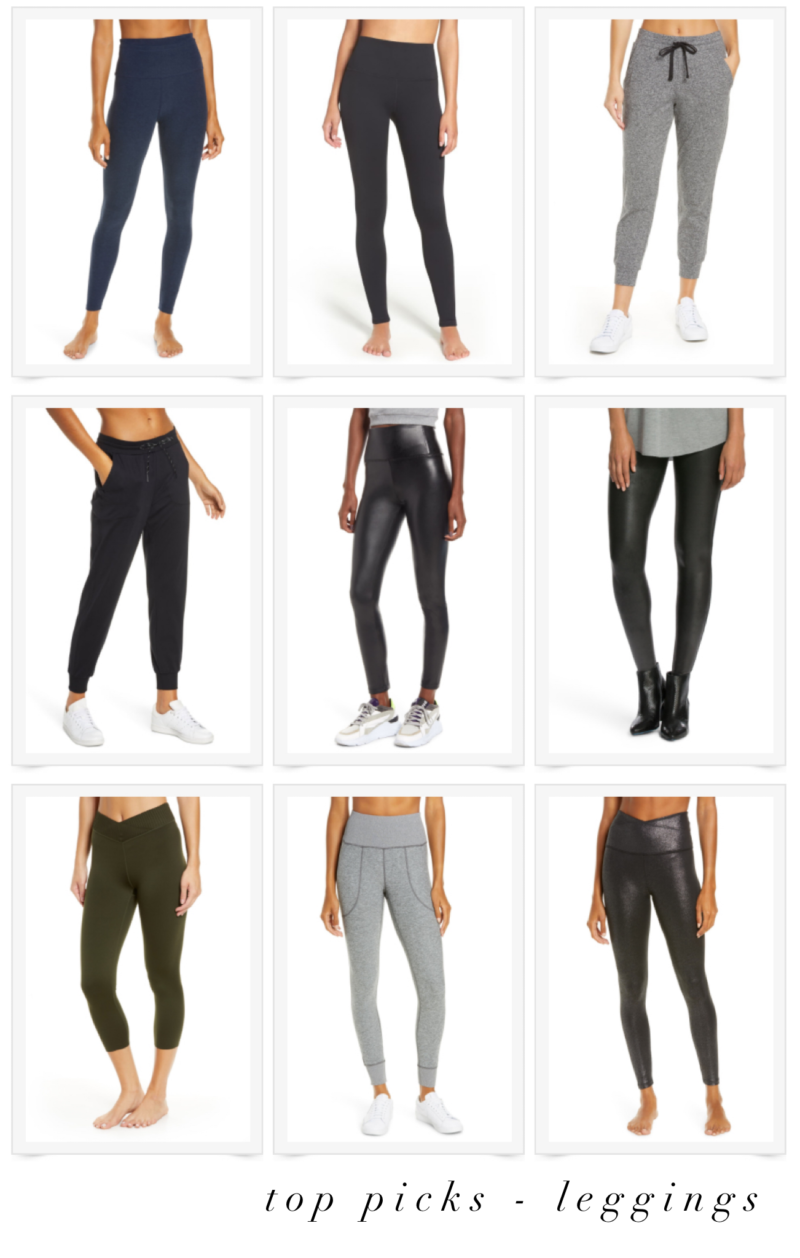 There's no doubt I will be in leggings most of Fall. These faux leather leggings have been a favorite of mine for years. I dress them up or down. But these are looking pretty darn cozy for distance learning this year.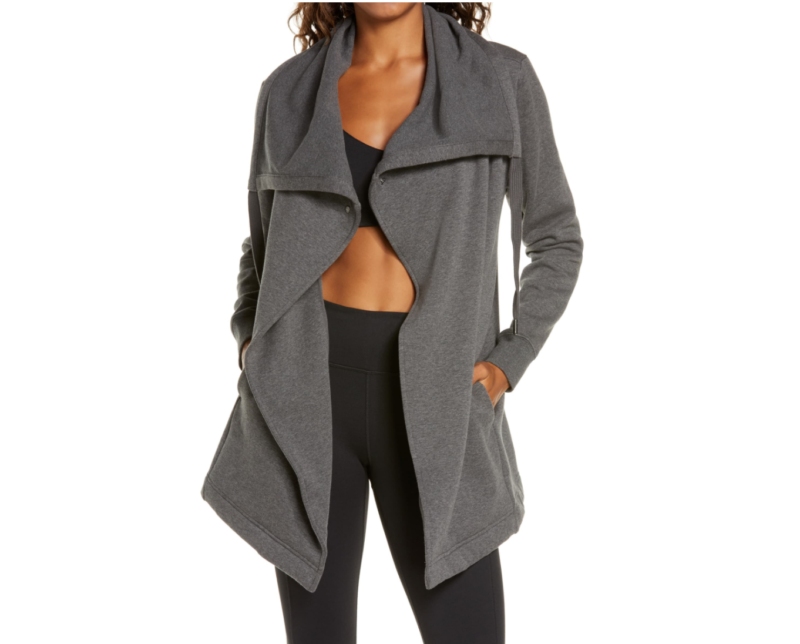 This is one of the pieces I wish I had bought last year. So cozy and cute and you save $30 during the Anniversary Sale.
If you are in the market for a new, warm coat, I love this brand and and highly recommend. In fact, this is my go-to brand for keeping warm in the hockey rink when I watch my son play. What I love about this brand is that they try to create a puffy coat that still has a flattering shape. This one comes in navy and black.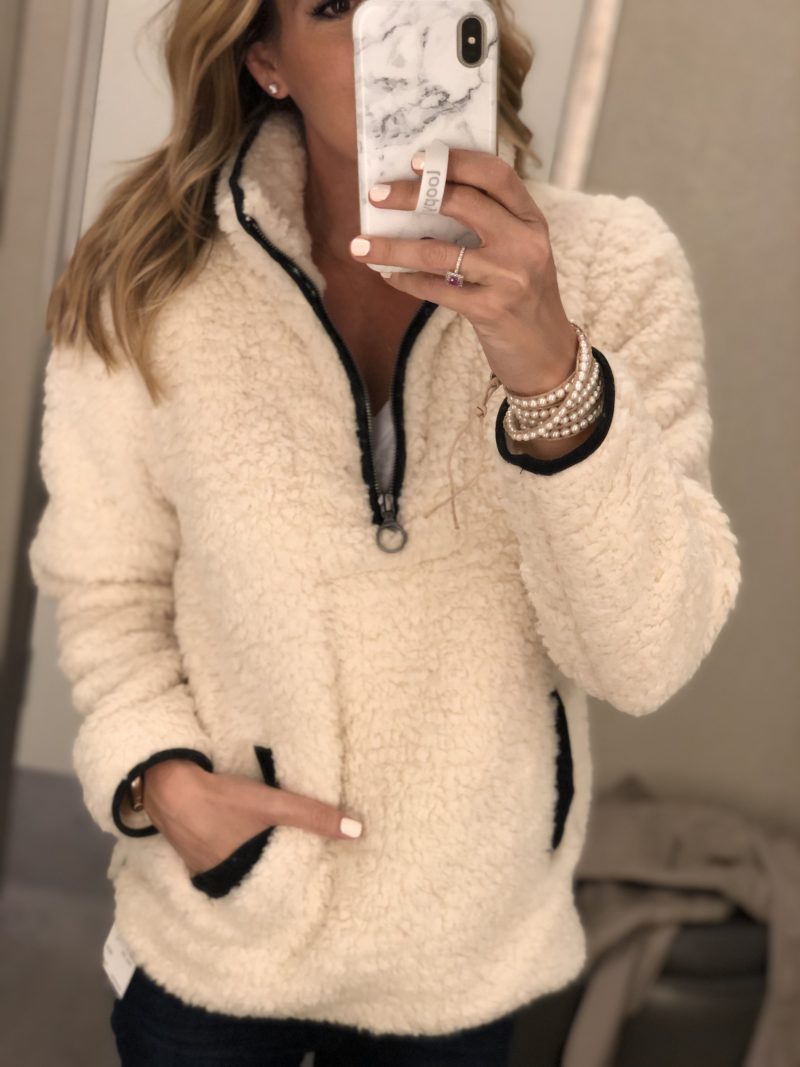 This was one of my very favorite items from last year. I even bought one for my daughter. This year the fleece pullover is back in three different colors and I am loving the ivory.
SWEATER LOVE

The cardigans and sweaters tend to be some of my favorite finds. I think this striped number might need to come home with me. I foresee wearing this cute sweater while working from home and trying to keep the kids motivated. Toss on with some comfy leggings and you will feel pulled together.
Did you grab this sweater last year? It was by far one of my favorite purchases and it's back. It comes in a few colors but I am partial to the ivory.
CUTE TOPS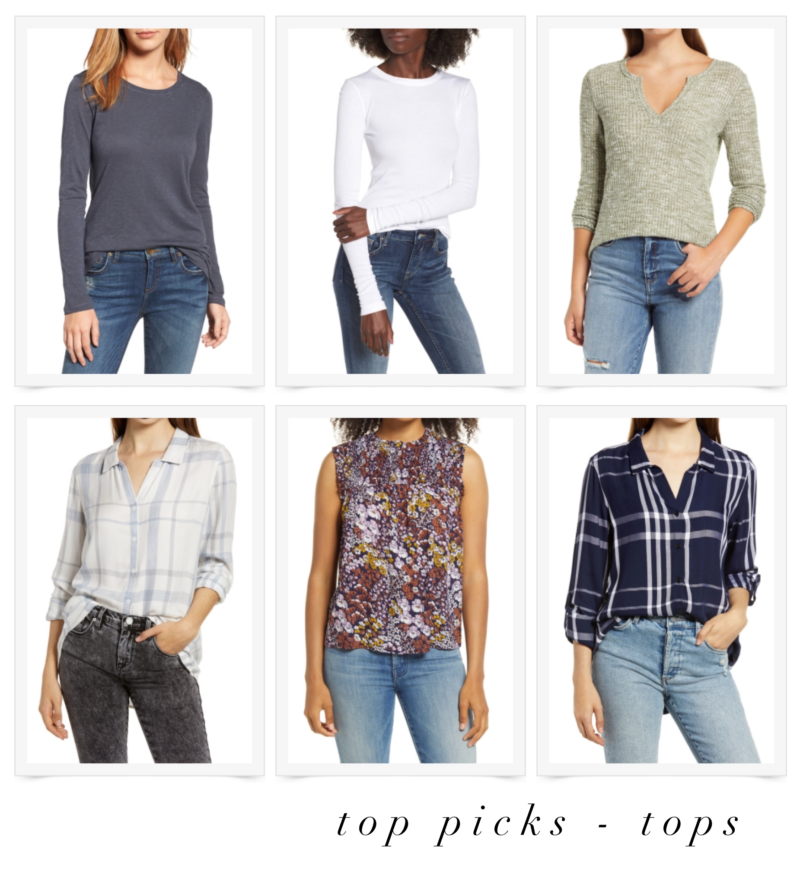 Always a nice time to stock up on basics for Fall. Long sleeve t-shirts and plaid button downs always work. I also really like the floral sleevleess top.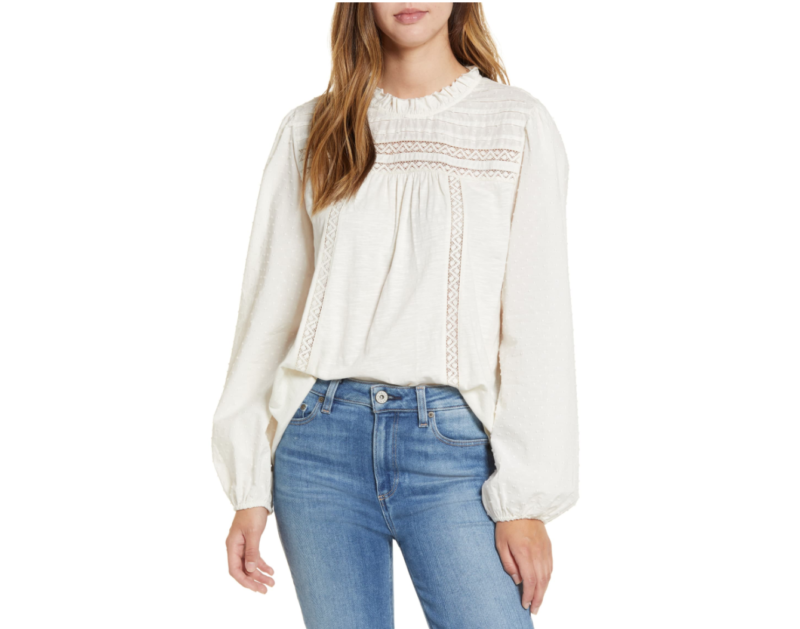 This top will definitely go quickly. It's absolutely darling in person. This is a must be for me. You can see a photo in my stories with this top and these jeans.
DENIM NOT TO MISS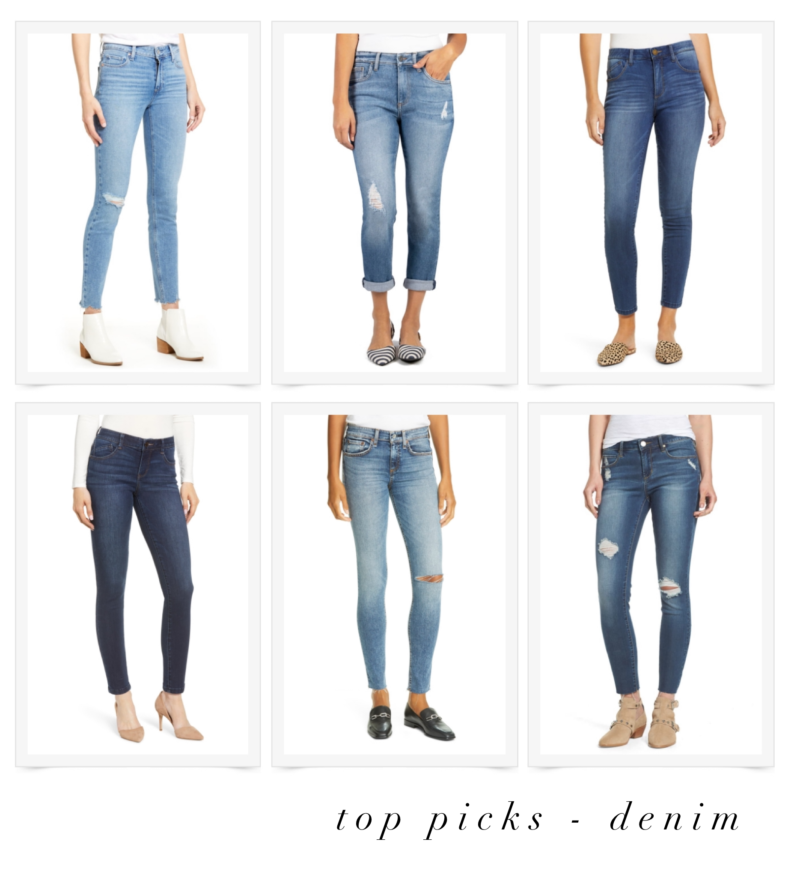 All well priced denim. I wear this pair all the time. I really do only buy my jeans during this sale.
CHIC ACCESSORIES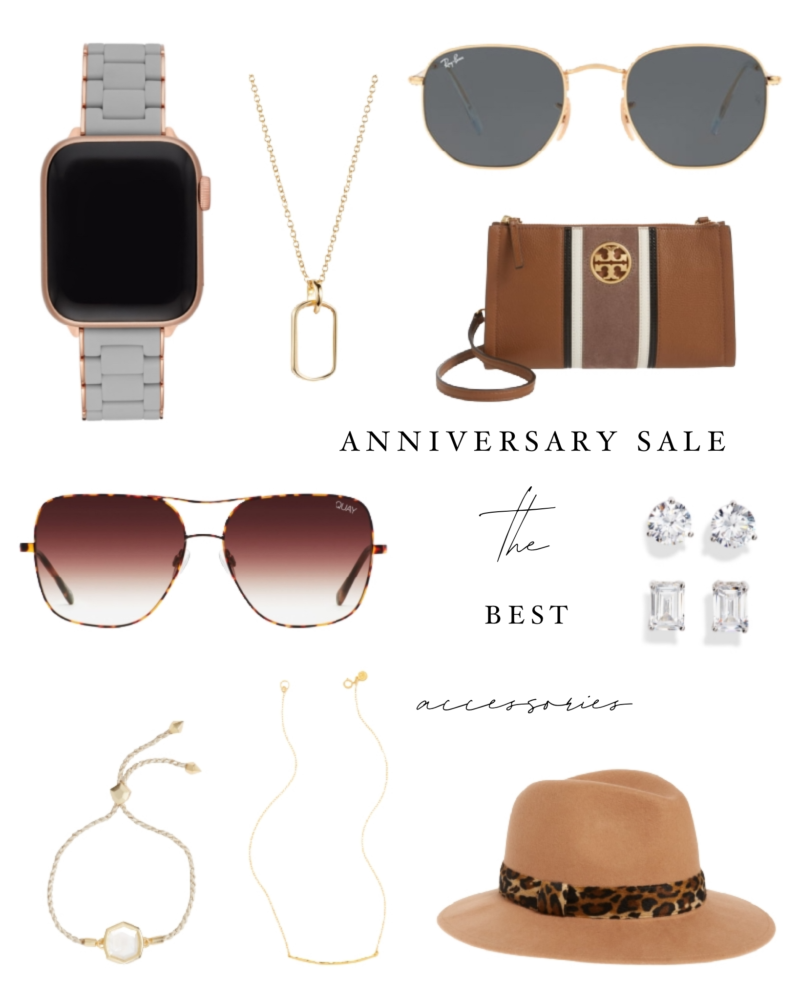 I'm not one to usually be impressed by the accessories on sale, but this year is different. So many great, classic choices. I love my Quay sunglasses and this pair is beautiful. Gorjana is known for her gorgeous dainty pieces and this necklace is no exception. A dear friend of mine gifted me a very similar Kendra Scott bracelet and I wear it daily.
I have my eye on the Apple watch bracelet band. It's so darn pretty and lately I haven't been wearing mine as much because of the casual band. This takes it to the next level.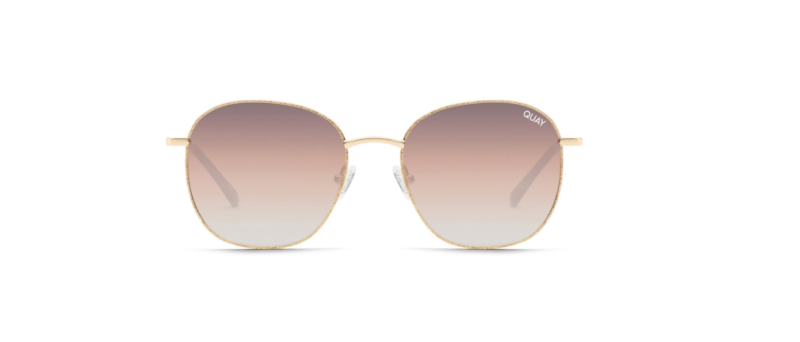 These are Quay and $42 right now. I love the classic aviator style. Very pretty
BEST IN BOOTIES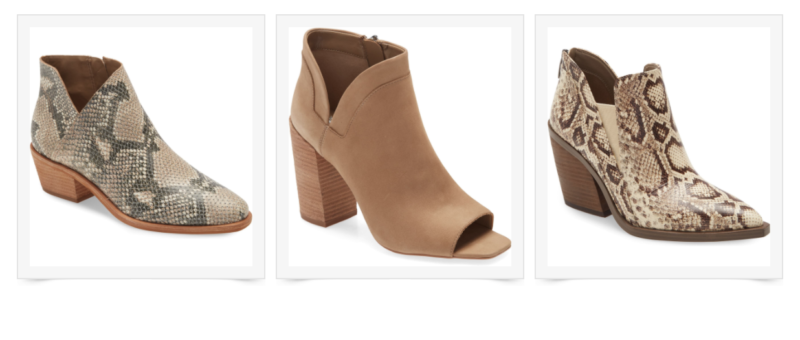 arendara bootie | open toe bootie | gardina bootie
You know I love a good bootie and the sale always comes through with a couple of great ones. I steered clear of the taller boots this year. Just don't see wearing them anytime soon.
COMFY SNEAKERS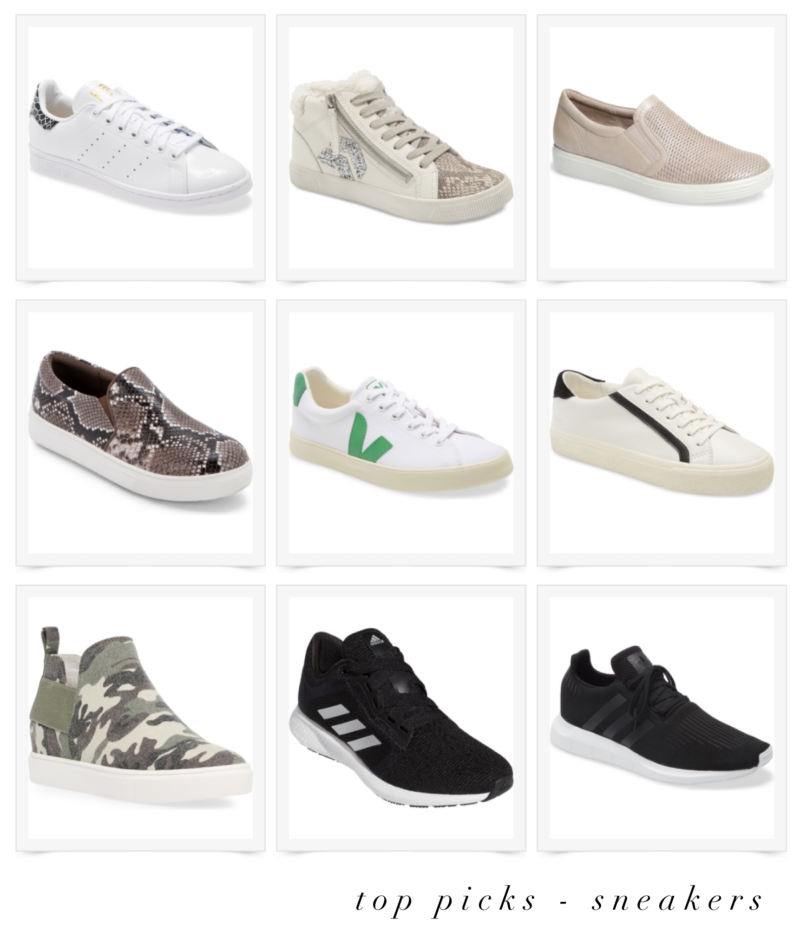 Because so many of us are home and will be for quite some time, it makes sense to focus on athletic wear, cozy clothes and sneakers. These are all darling. I actually am thinking about the camo high tops. I think they would be great with an oversized sweatshirt and faux leather leggings.
LET'S TALK FLATS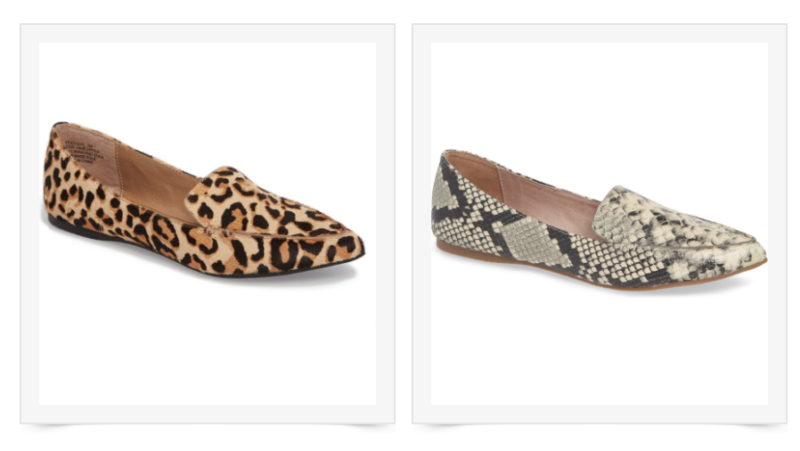 leopard loafer | feather loafer
These flats are $39 and I adore them. They are very comfy and pretty much the only flat I wear.
DARLING DRESSES

Dresses won't be high on my list to try on when I hit up the sale, but if you have an event coming up, these caught my eye. I especially love this one. Such a flattering cut.
I really hope that this was helpful and done in a way that made it easy to follow. Looking forward to sharing a dressing room try on with you soon. If there is something specific you are looking for, please let me know. Also, I haven't forgotten about the men and kids, but it's the women's items that tend to sell out so quickly.
The sale officially opens on the 13th but if you are a card holder you may be able to shop as early as today. Hope you find something you have your eye on and can take advantage of the lower prices. Wishing you all a great day.