Hi, my friends. How is your week so far? Thank  you for the kind feedback on our Easter table. It will be here before we know it! Today I am sharing one dress styled three ways. This comfy dress is only $59 and has been a staple in my wardrobe lately. I like it so much I ordered the black one, too. Here are some ideas of how to keep it casual as well as dress it up.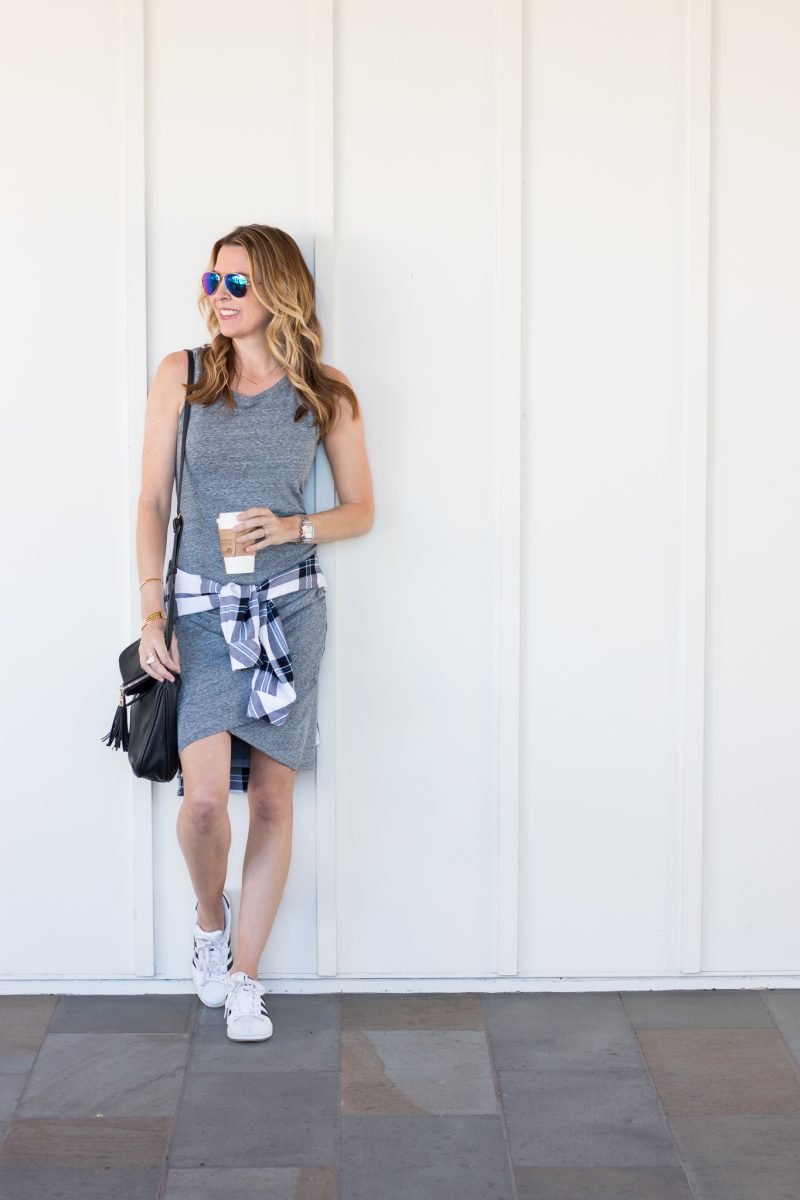 Firm believer that every wardrobe needs a plaid shirt. Pretty much any plaid shirt works for giving this dress a casual vibe. I gravitate towards the buttons down that have black and white in them. Spotted this plaid one by one of my favorite brands. Adding a handbag and comfy shoes makes you ready to roll out the door for the day. I also find that a dress like this works for almost any daytime activity. Whether it's errands or meeting friends, you'll feel comfortable and cute.
More Great Button Downs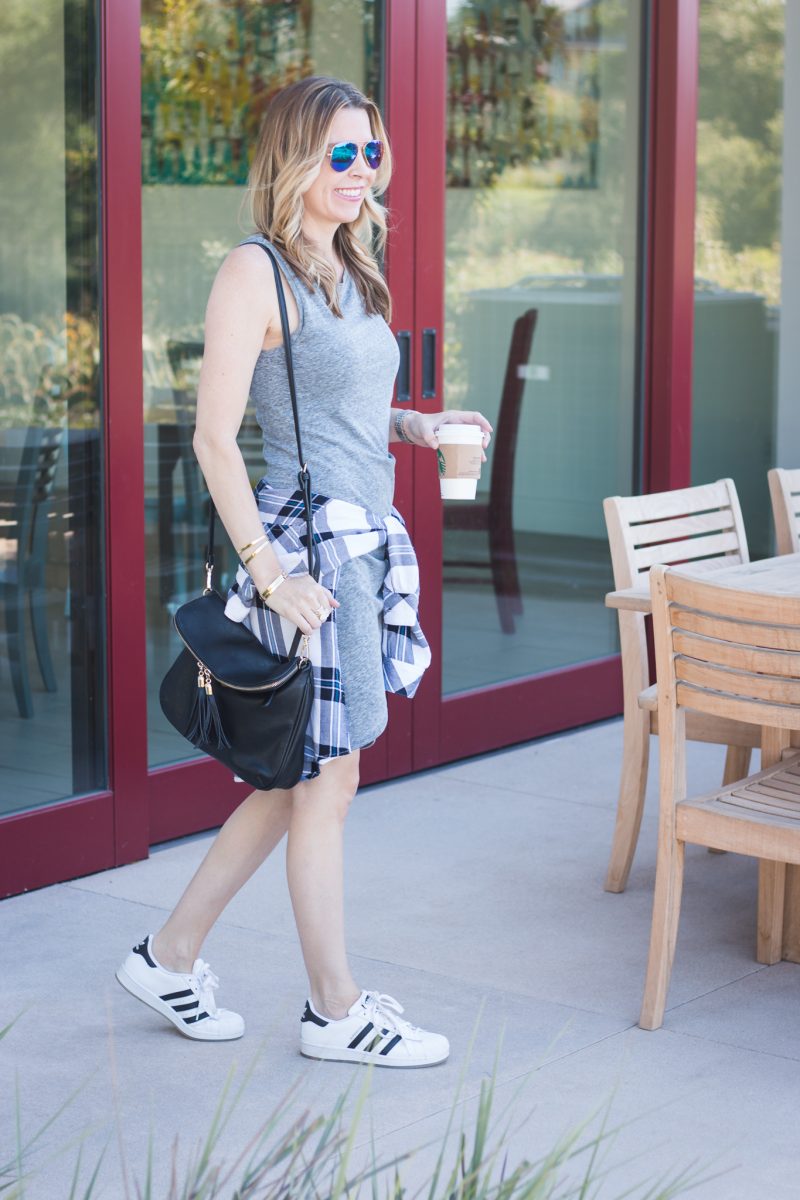 dress | adidas | button down | sunglasses | handbag $39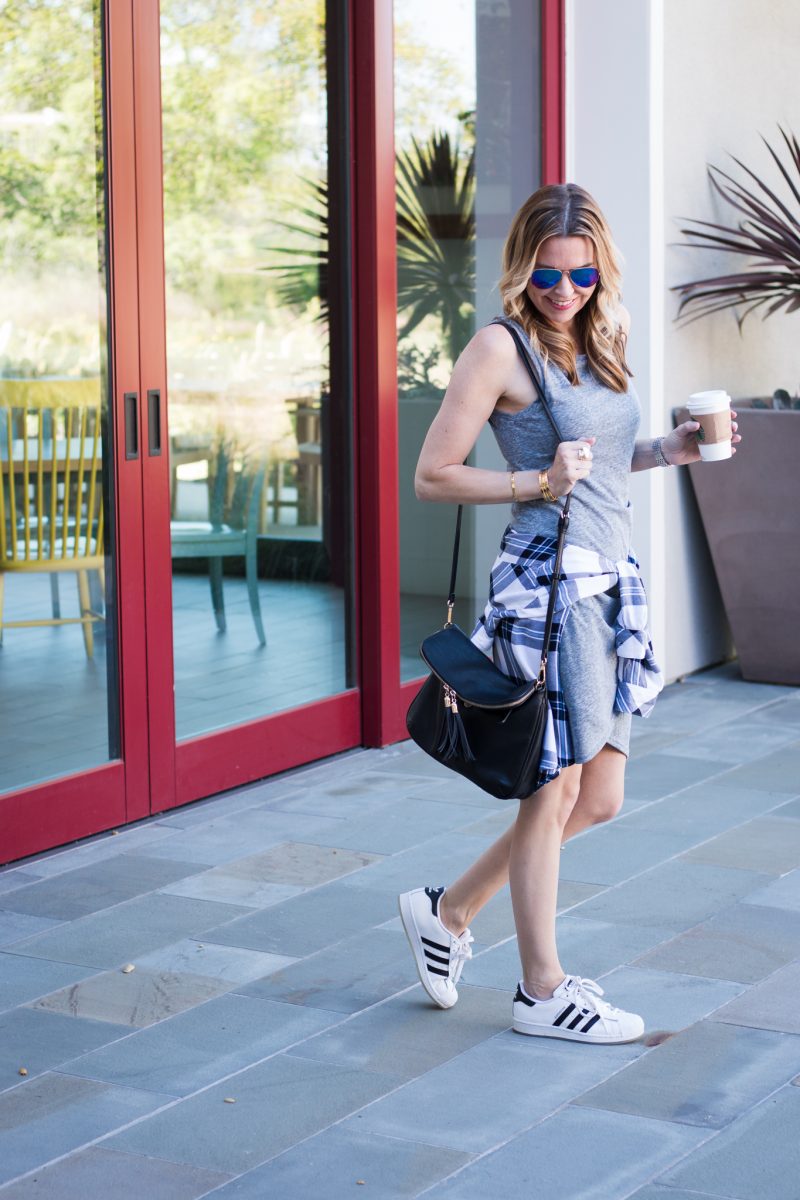 A BIT OF EDGE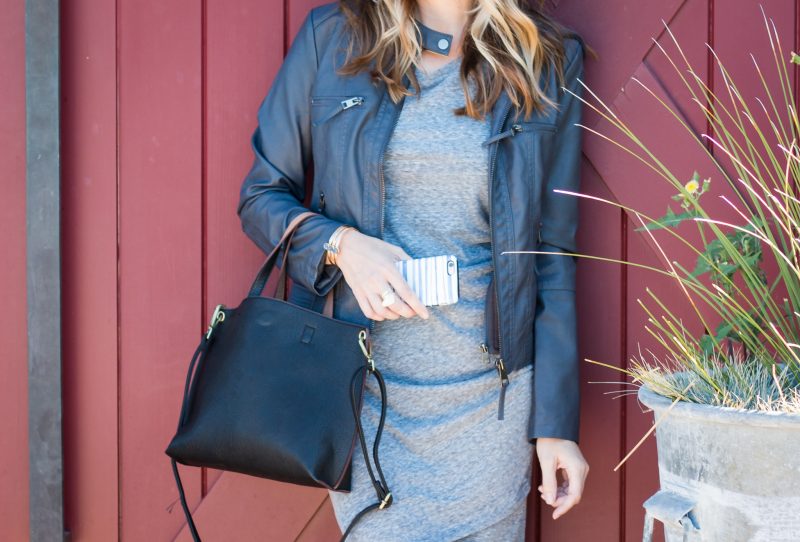 If you want to add a bit of edge to this dress, toss on a leather jacket. My dear friend gave me this one for Christmas. This one is almost identical and on sale. It's lined with sweatshirt material and a hood so it's super soft and comfy. I wear this jacket all the time. This is another favorite jacket of mine and the black one would look awesome with the light gray dress.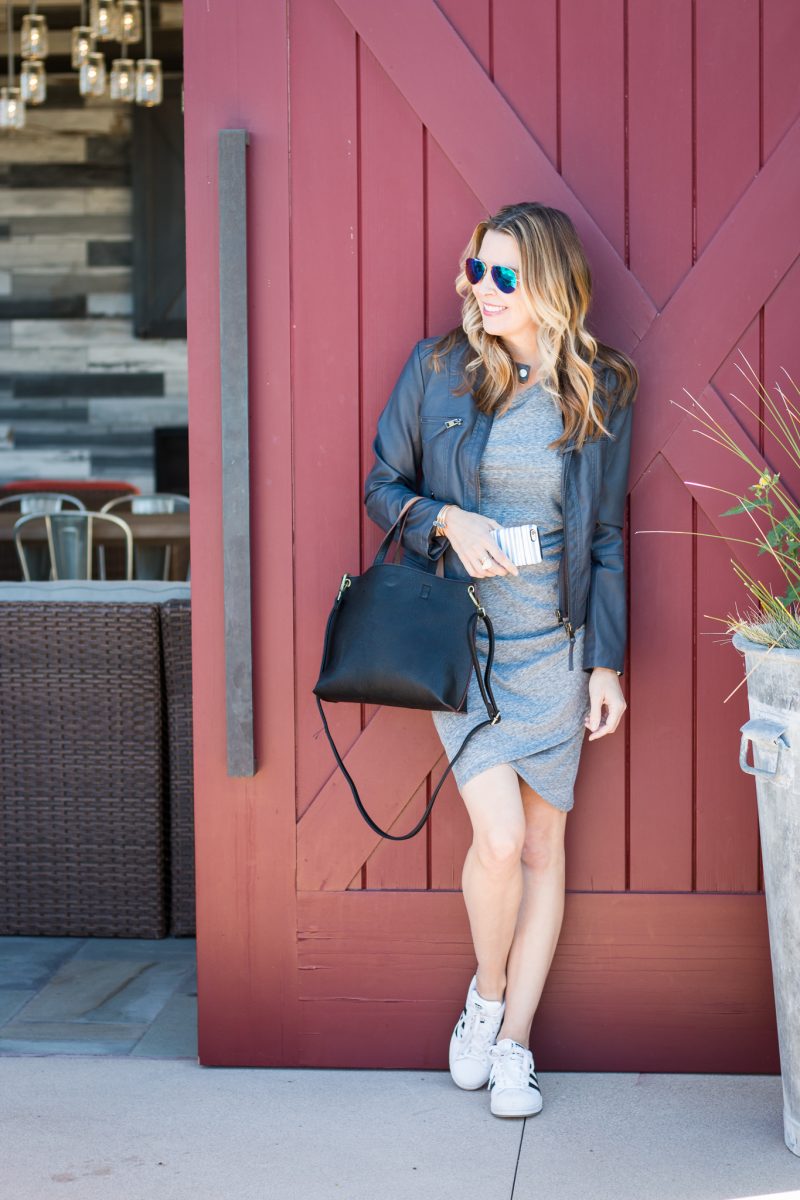 dress | adidas | jacket | handbag | sunglasses
DATE NIGHT LOOK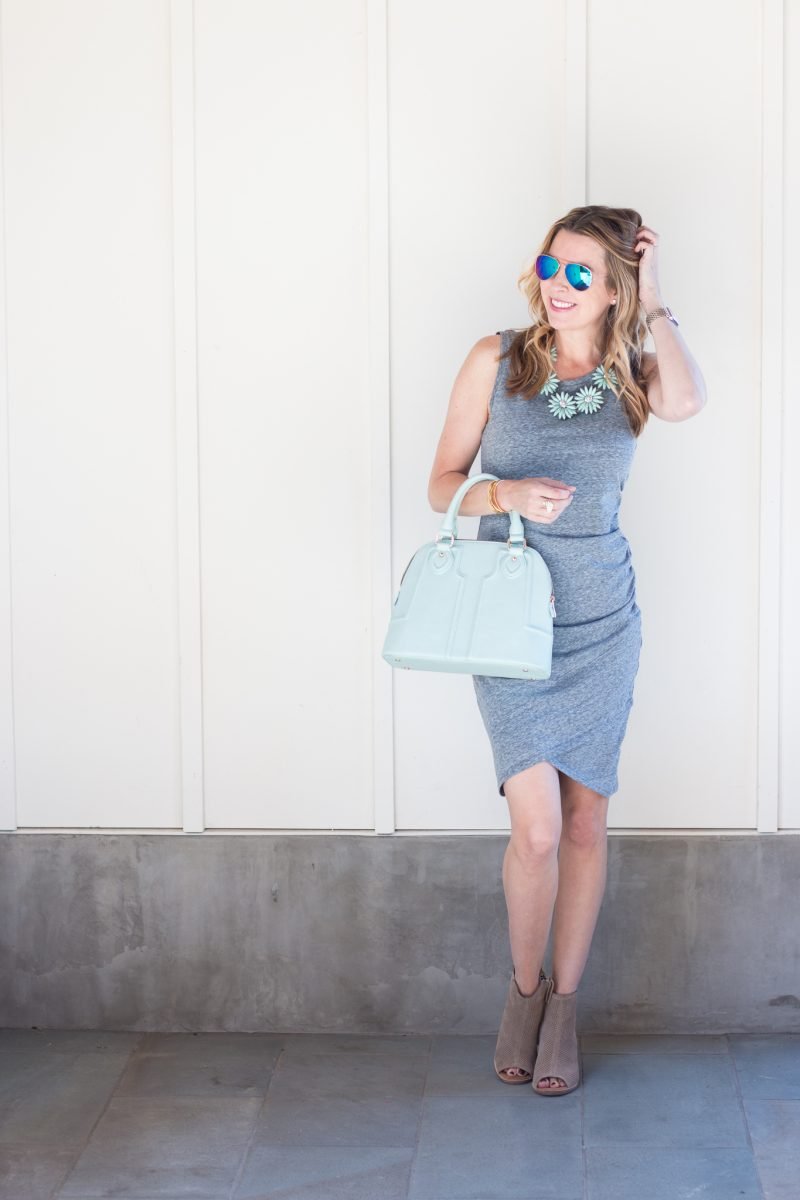 To dress it up, just add booties and a cute necklace. These booties are on sale and so similar to mine ( same brand and style). They are the most comfortable booties I own. Toms are definitely five-star in my book. This look would be great for date night, an evening out with the girls, or even a work meeting. I also spotted these booties and they have bows. Be still my heart. So so cute. This dress would also be darling with these heels. 
one | two | three | four | five | six
These are all great for Spring. I love a block heel because they are so comfortable and easy to walk in. Six comes in navy which is really striking in person. Beautiful shoe. I have these and I am totally in love with them. They are light weight and gorgeous on the foot. I get so many compliments on them. They were also just restocked.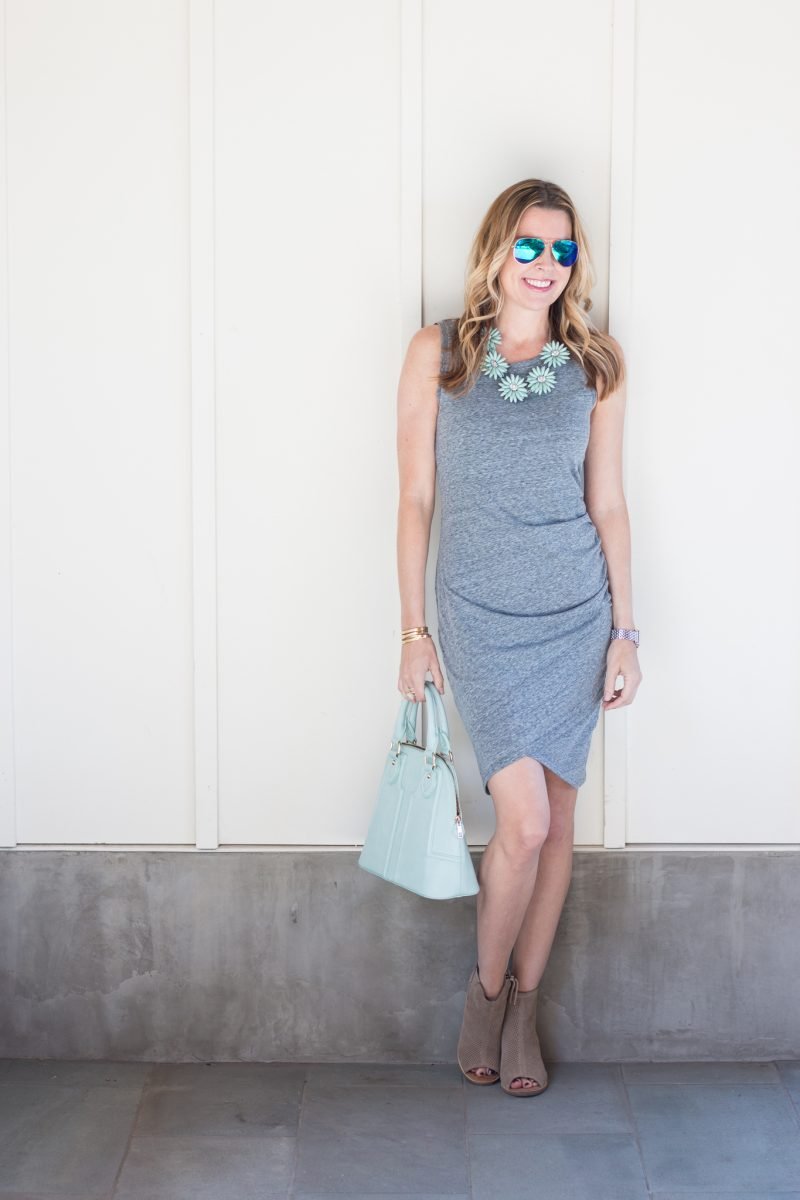 similar necklace | handbag | booties | dress | sunglasses
Now that Spring is here, I am all about these rainbow aviators. They are only $12 and add a great pop of color to any outfit. Because they are so inexpensive, you don't have to worry about losing them. Do you ever find that you lose only the expensive pairs of glasses?
Hope this helps with seeing how versatile a simple cotton dress can be. You really can take things from your closet and mix up a look in no time.
FIT: By the way, I sized up in the dress as I wanted it fitted by not skin-tight (wearing a medium).
In case you missed it, I  recently shared how I took 14 pieces from my wardrobe and created 11 different casual outfits. 
Hope you have a great day. Sending love out to Grandma Sue today. Happy Birthday!!!! xoxo
*affiliate links used