I thought it would be fun to share a bit about our plans for our deck. When we tackle projects, we start with thinking through how a space can be used. Sometimes our idea of how things should be used are different than the reality. In order to really get this space right, we've been testing out furniture and ideas in this space.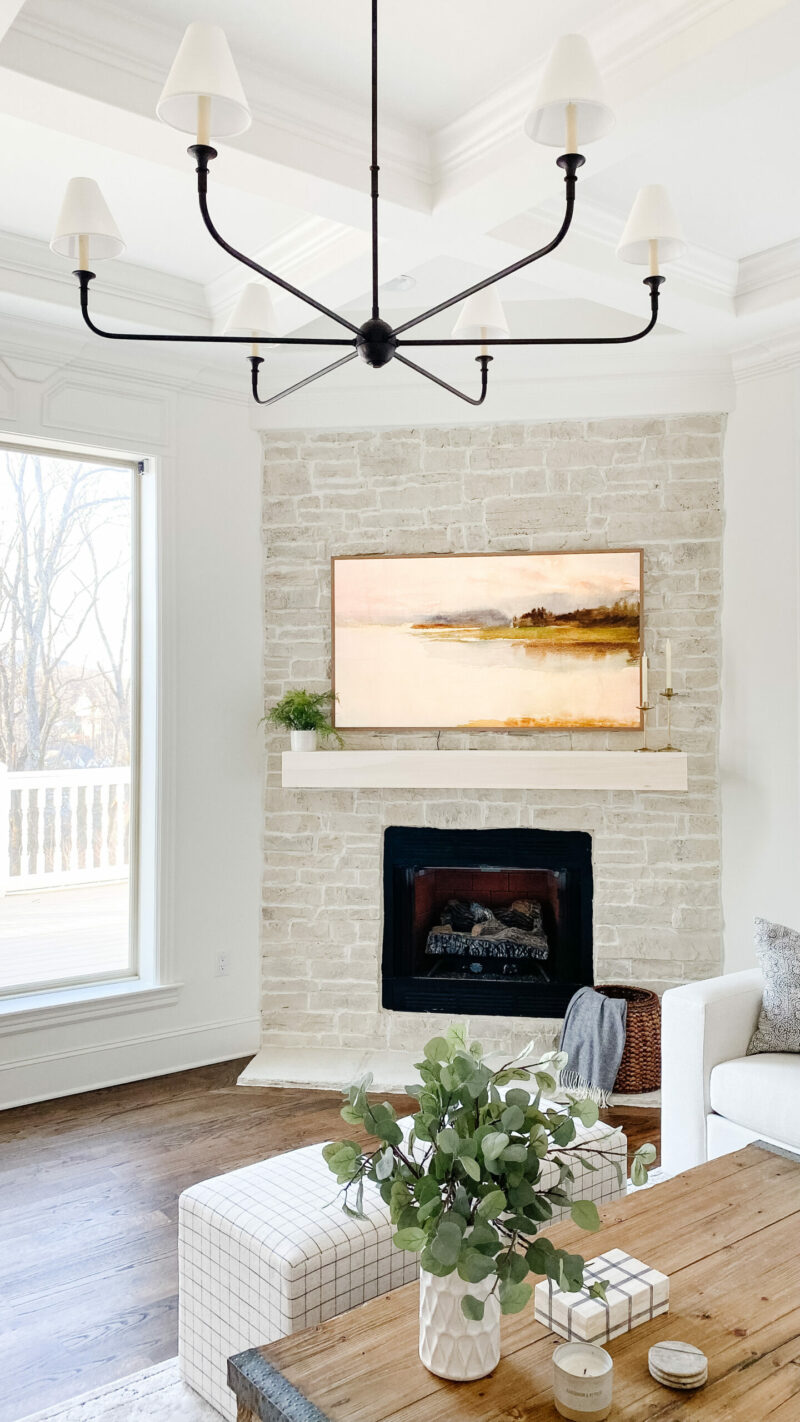 One of the things we really loved about this house is that it has a screened in porch as well as a deck. You can get a peek of the deck through these family room windows. It's tricky, however, because the weather here is no joke. But when the temps are mild, I dream about opening the door to the deck and using it as an extension of our home. I can envision our friends enjoying dinner out here. We LOVE eating outdoors and have done it for much of the summer in our backyard. Yes, some nights are too warm, but most have been lovely. So our wheels are turning.
Unfortunately, many of the boards on the current deck have seen better days and the space will need to be rebuilt. We are toying with going composite for obvious reasons. It's more of an investment, but I think it makes more sense. If you have used a composite decking I would love to hear your experience. We will most likely design a railing that is less ornate and allows you to see more of the view.
OUR DECK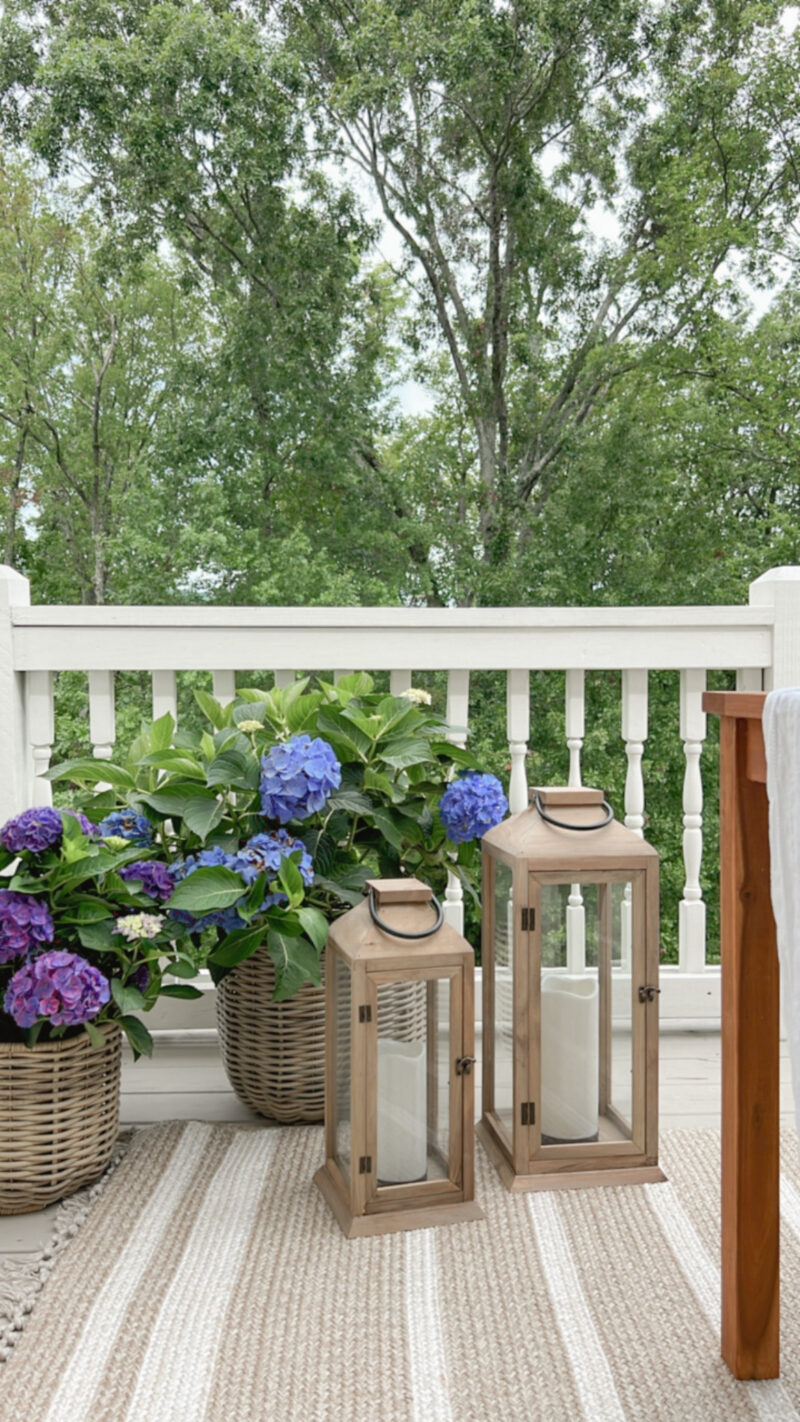 For fun, I moved much of our outdoor decor and table to this space so we could start to envision it. I want to make sure that we like seeing a table out here before we go to great lengths to make it happen. Well, it's official. I can't wait to use this space. It opens up the house and really creates a nice spot for hosting. Plus it's right off of our dining room which is fun for overflow seating.
This rug is quite soft underfoot. It would be better suited, however, for a covered porch. I don't think rain would go over well with it. It would be wonderful as in indoor rug, too. So cozy. The lanterns are a great deal (on sale now). I bought the large and medium. We love them on our screened in porch and will bring them out here when we host. The candles are so pretty in the evening. I've shared these resin planters before. I bought the set of two and have been so happy with them. They add so much warmth and charm.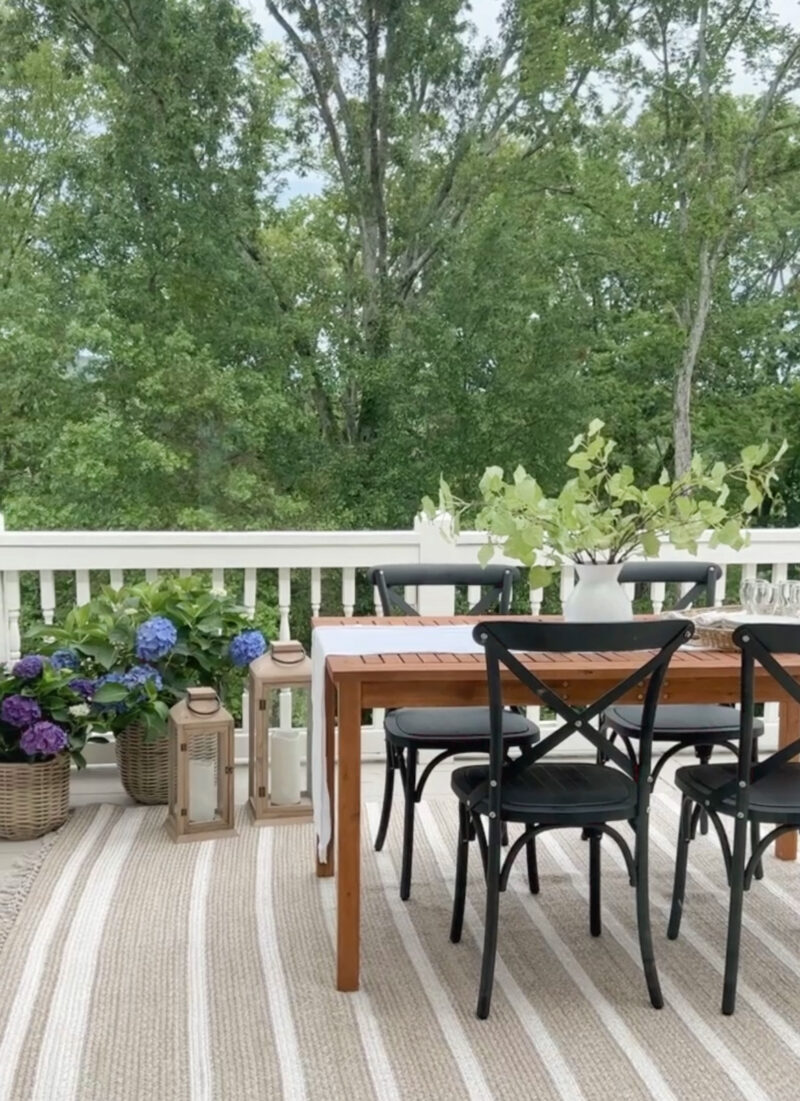 It's the view from this space that makes me so happy. I feel like I'm in a mountain home. We will be on the hunt for an outdoor table that can truly withstand the elements. We have been loving this table down in our backyard. I would love something like this, but I think it needs to be more weather proof. If you have a covered area, this table is on sale and gorgeous. Really like the lines on this.
A dear friend suggested we use a retractable awning out here which I think is brilliant. No one would see it and it would be wonderful for hot summer days or if the rain were coming down. I've never used anything like that so now the hunt begins.
Wishing my dad were still here. He would be able to design and engineer this for us. He was so gifted when it came to things like that. I'll have to channel his skills to get us where we want to be. I think the biggest task is keeping this well within budget. Stay tuned as this all unfolds and here's hoping it doesn't take us forever to find someone we trust and like to help us with the new deck.