It's the time of year when we bake more than ever. I have to say that cranking up the music and baking with my girl is top of my list for things to do. This recipe is one that our entire family loves. My son isn't a fan of chocolate so these are always a great go-to. I even have to hide them so that they don't all disappear in ten minutes. We actually started making them so he would have something he liked and unfortunately for him, all of us love them. These oatmeal raisin cookies are easy to make and definitely a crowd pleaser. And to note . . .I don't necessarily like raisins, but I can't stop eating these.
A CROWD PLEASER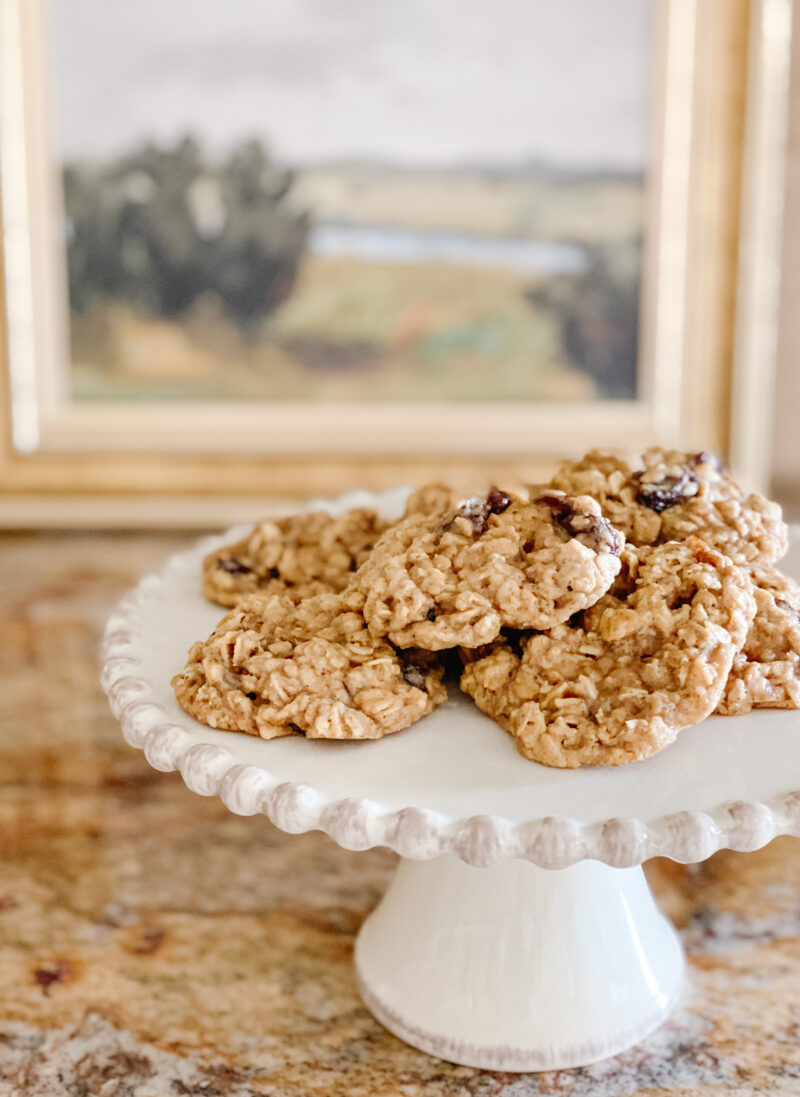 Our Favorite Oatmeal Raisin Cookies
Chewy and delicious with just the right amount of cinnamon. They keep well for 5-6 days (although they never last that long around our home).
Ingredients
1

cup

unsalted butter, room temperature is best

1/3

cup

sugar

1

cup

brown sugar (packed)

2

large

eggs

1

tbsp

vanilla extract

1 1/2

cups

flour

3/4

tsp

sea salt

1

tsp

baking soda

1

tsp

cinnamon (don't skip this)

3

cups

rolled oats

1

cup

raisins (soak for 15 minutes, drain, pat with paper towel)
Instructions
Preheat oven to 350°. Line cookie sheet with parchment paper.

Using a standing mixer (or hand mixer) beat butter until creamy. Add the sugars. Beat for two minutes until fluffy.

Beat in eggs and vanilla.

In a separate bowl, combine the dry ingredients and stir together (flour, salt, baking soda, and cinnamon).

While on low, slowly add in the dry ingredients until combined. You may need to stop and use a spatula to scrape the sides of the bowl back into the mixture.

Mix in the oats and raisins.

Use a cookie scoop or tablespoon to drop round portions onto the cookie sheet. Bake for 10-12 minutes. Look for the edges to be brown and remove from the oven. The center will firm up as they rest out of the oven. Transfer to a cooling rack once firm.
Recipe Notes
I make one cookie sheet at a time and place the rest of the dough in the fridge (last two more days when wrapped tightly). They are just so good baked prior to serving. Store in an air tight container on the counter once cool.  You can also scoop out cookie sized portions and freeze them to bake later. Enjoy!
THEY WON'T LAST LONG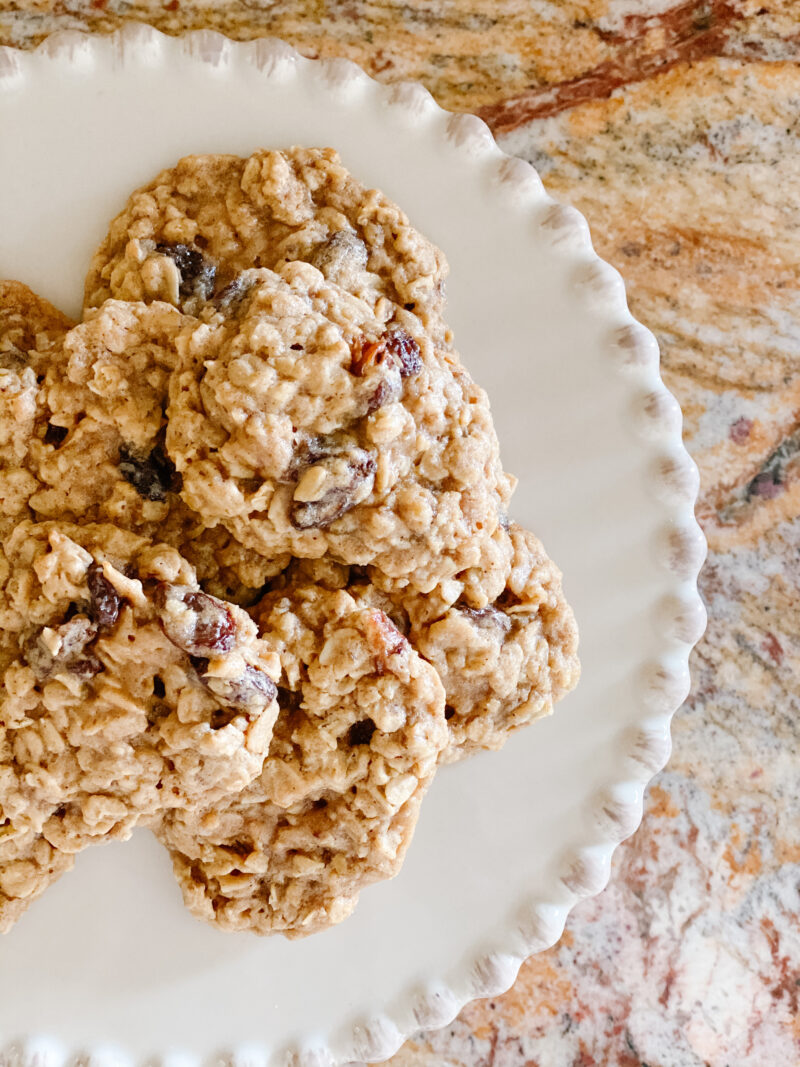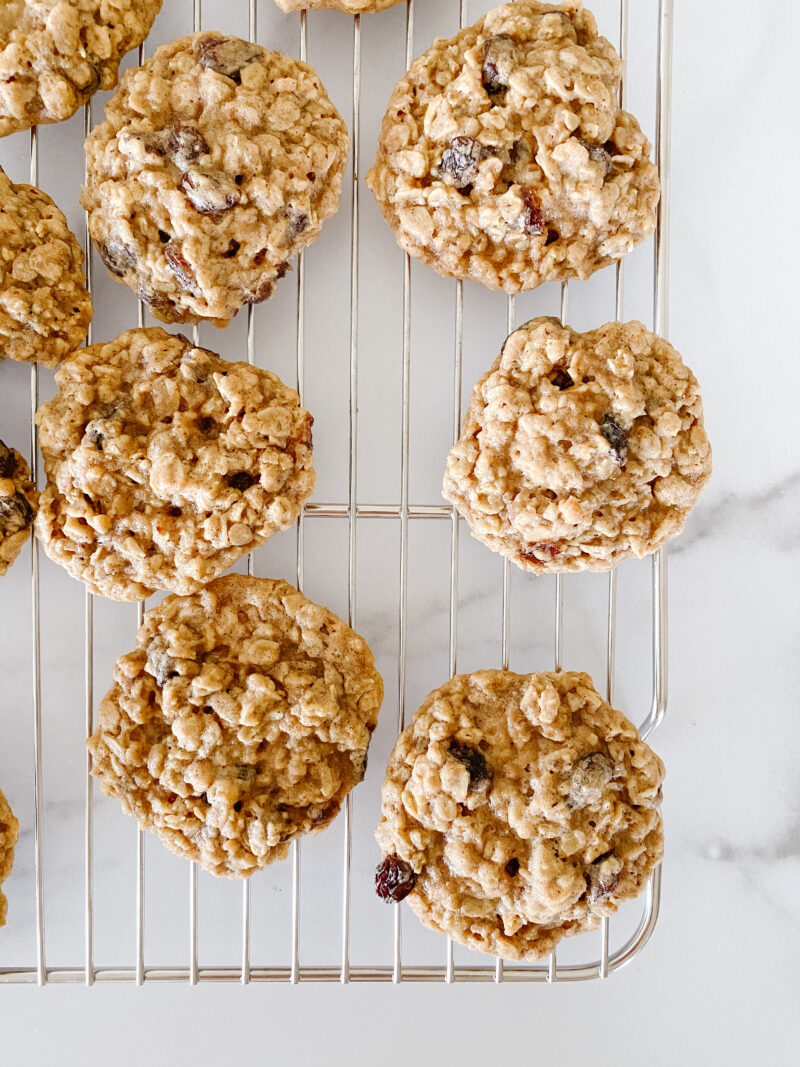 Let me know if you give them a try. I'm sure they would be delicious with chocolate chips, too. Enjoy!
Off to my son's school Christmas party and thinking good thoughts as my daughter tackles her last day of final exams. Wishing you all a great day.