We love college football season. There is something about the fall weather + game day that makes me happy. I've played around with my chili recipe for years and finally discovered the winning combination. This turkey chili is scrumptious and a huge hit with everyone in our family. Believe me when I say I've triedd so many different recipes. This one is here to stay. And if you are hosting a game watch it's so easy to prep this in the morning so you can enjoy the game, too.
*Thank you to Walmart for partnering with me on this post.
GAME DAY CHILI
Usually we don't have any leftovers, but when we do, it's great in the kids lunches (we use this thermos to keep it hot). This chili definitely saves us on nights when we have a crazy schedule.
THE REAL HERO
The convenience of a slow cooker (currently on sale) is next level. This is the time of year that I use it the most. In fact, we always have chili on Halloween night so no matter what the plans are, there is something scrumptious to eat. I like that this slow cooker has a place to rest the lid and a spot for the cord to store when not in use. And she's just pretty.
SMELLS AMAZING WHILE COOKING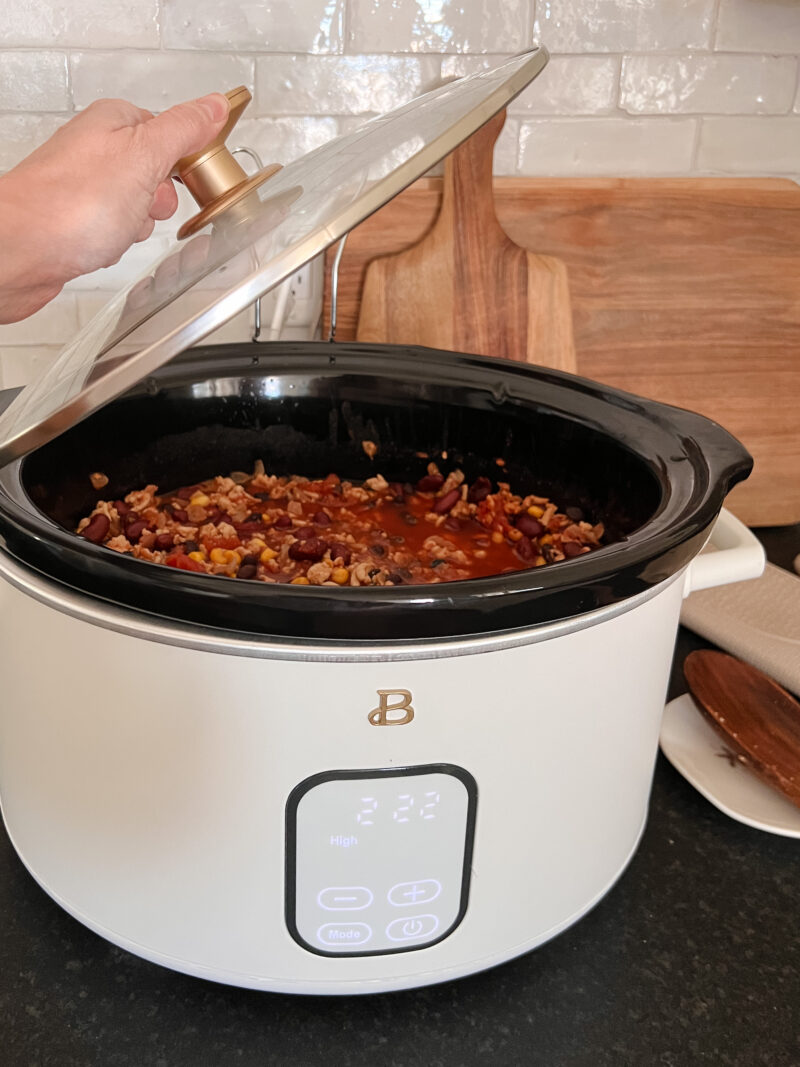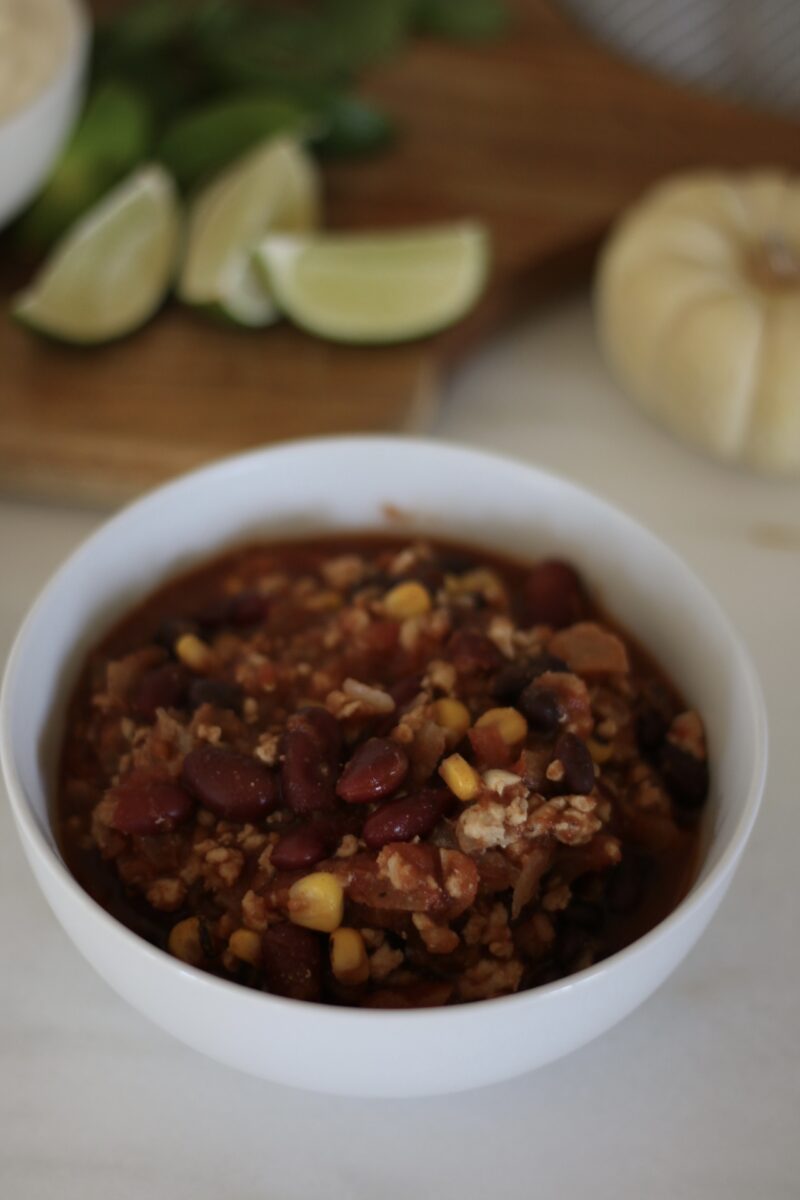 QUICK AND EASY RECIPE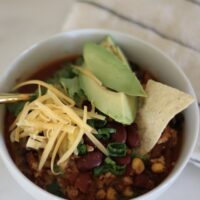 Our Go-To Turkey Chili
perfect for a busy sports night or game watch party
Ingredients
1

lb

turkey meat

1

small

onion, chopped

3

cloves

garlic, minced

1

tbsp

olive oil

2

cans

red kidney beans

1

can

black beans

1

cup

chicken bone broth (or chicken broth)

1

28 oz can

tomatoes, if whole be sure to chop

1

cup

corn

3

tbsp

chili powder

t

tbsp

cumin

t

tbsp

brown sugar

1

tsp

dried oregano

1/4

tsp

red pepper flakes

1/2

tsp

salt

1/4

tsp

pepper
Instructions
In a pan, heat olive oil over medium high heat, add onion and cook for about 3 minutes (until fragrant and they begin to soften)

add turkey meat to the pan and cook until no longer pink

add minced garlic and stir for one minute

place meat and onion mixture in the crockpot

stir in all other ingredients, cook on high for 3-4 hours (low 6-7)

serve with your favorite toppings
Recipe Notes
*You can also make this right on the stove. Just make the onion, turkey and garlic combo in a large pot. Add ingredients and simmer for 45 minutes.
ADD YOUR FAVORITE TOPPINGS
Set up a toppings bar and you are good to go. I like to put out small and medium bowls so that people can help themselves. If it's a game watch party, many times people have filled up on appetizers and don't need a ton of chili.
JUST SO YUMMY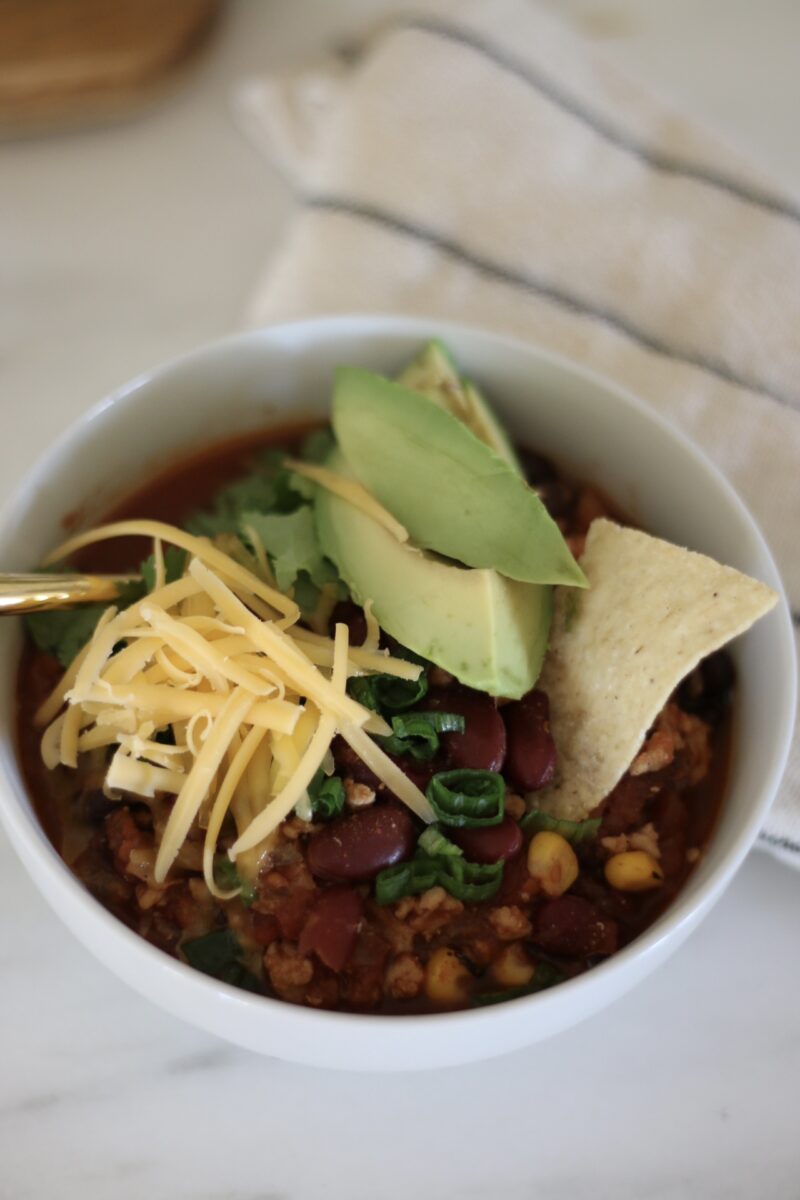 My mouth is watering and I'm already wanting to make this again soon. The chili is rich in nutrients and not heavy tasting like so many. I hope you'll give it a try.
BEAUTIES
And Walmart is killing it with the cute appliances lately. Have you seen these? So good. I've been happy with all of the ones we've purchased. These make great gift ideas, too. I just read an article about how healthy popcorn is for you (rich in fiber) when you make it yourself. This popcorn maker is darling.
Here's to football season and hosting game watch parties . . . but keeping it easy!
Shop the Post