This is an exciting day. For various reasons, our powder room makeover took well over a year. So many delays and a few things that I should have done differently, but we are thrilled with the transformation. There are still a couple of things I would like to add, but it is high time I share this space with you. Welcome to our moody powder room reveal.
AT LONG LAST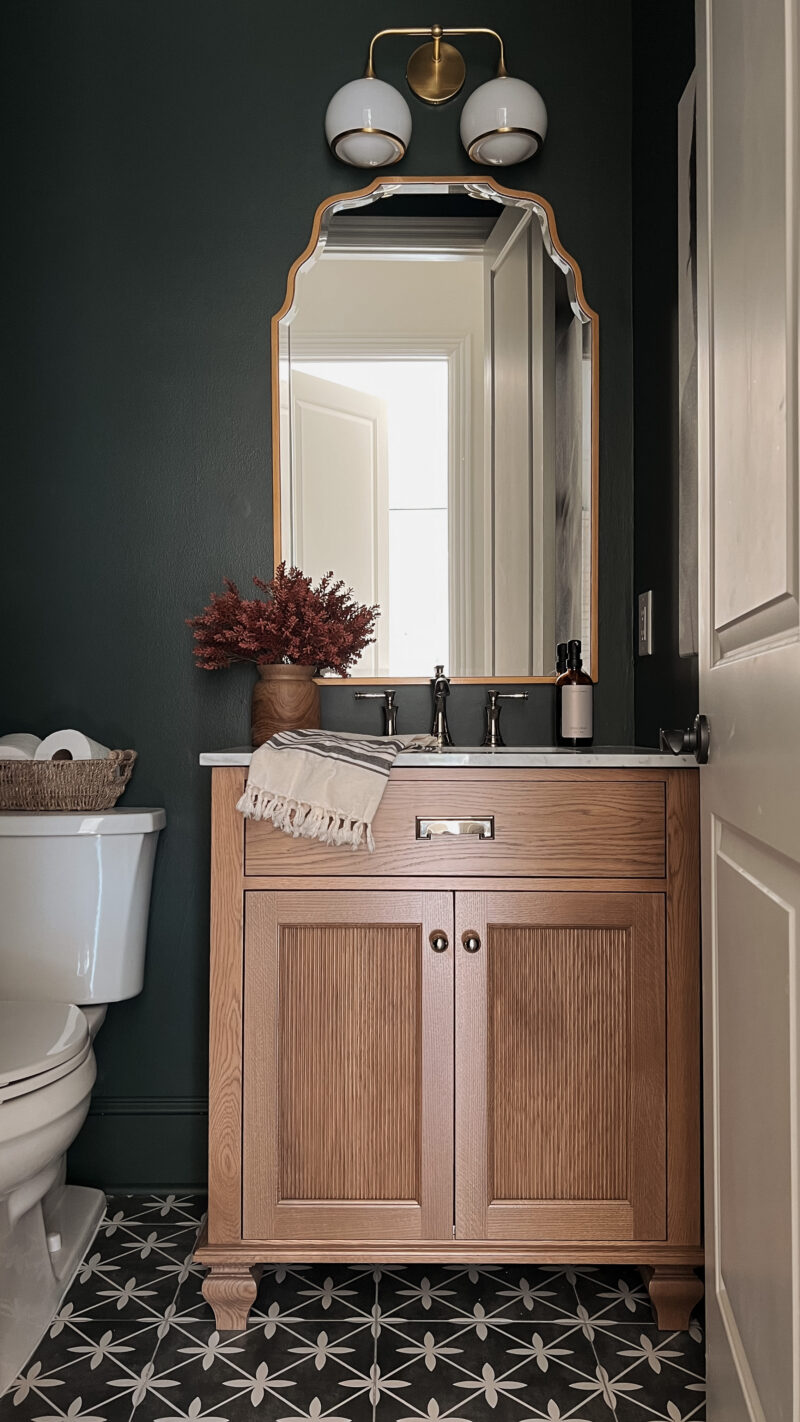 This room was definitely a labor of love. The walls are painted Alpine Trail by Behr. It's a deep and moody dark green. Having said that, if a room gets a ton of natural light it would read much lighter.
THE BEFORE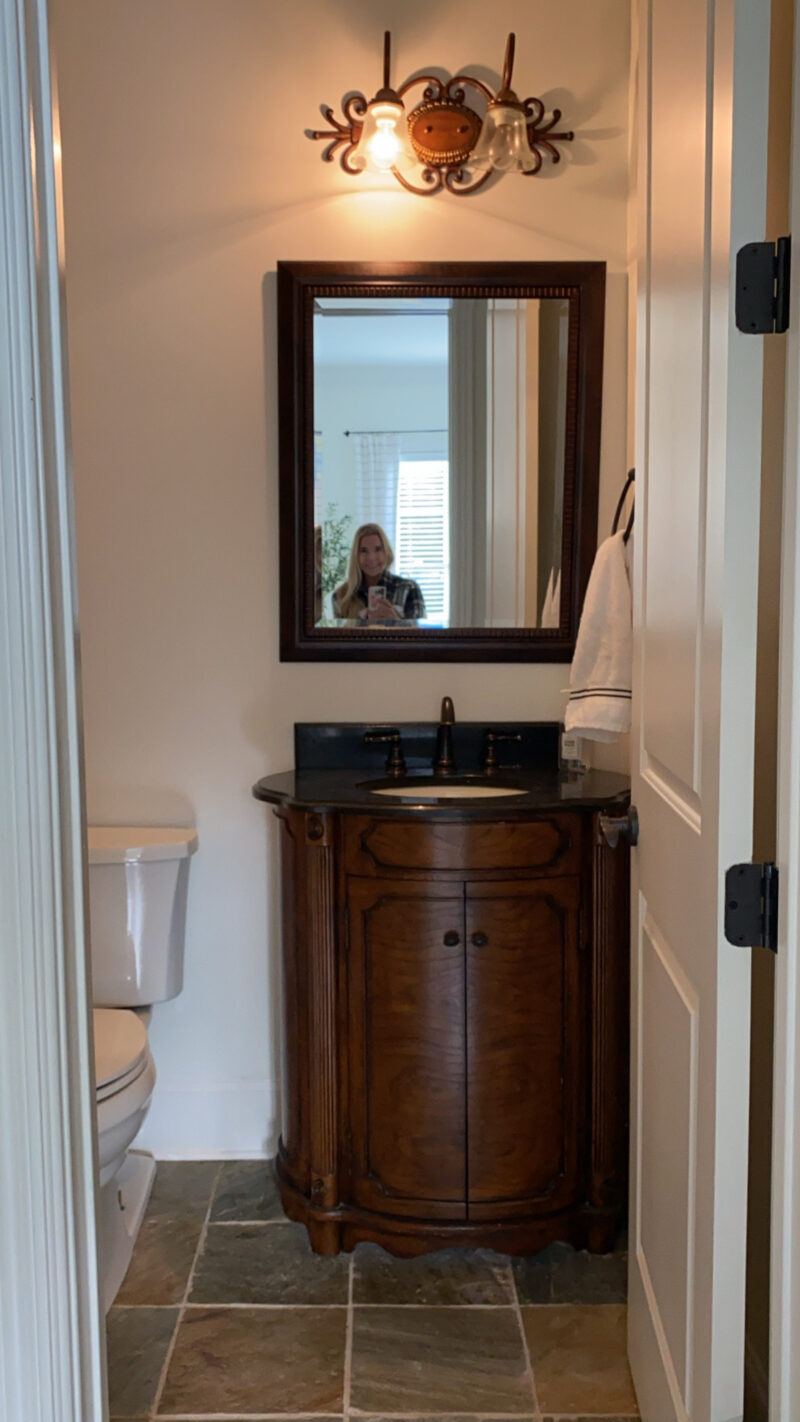 Here is a look at the powder room right after we moved in. Like most powder rooms, it's not very large and does not have a window. Instead of trying to make it light and bright I decided to go with it being dark and play off of that with the new design.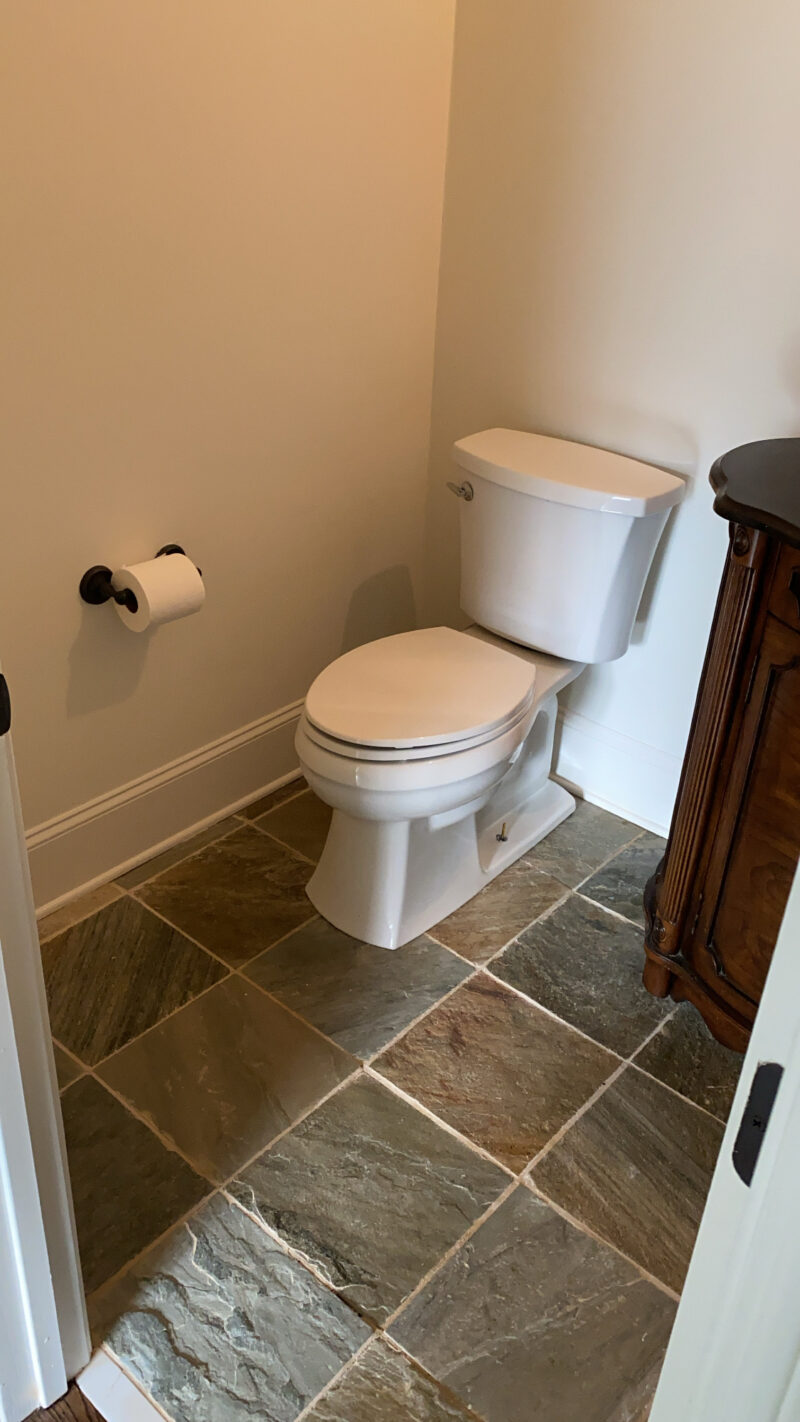 The original tile had so much texture to it which made it very difficult to mop or clean. The first people we had do work in here did not patch the walls properly. Because of that, the first time it was painted was a complete loss. We had someone come out to fix the walls and they ended up having to do so much that the entire room was primed again. That meant a second round of painting the walls green. But that is what you get with home projects sometimes. We've done this long enough to know it's not always smooth sailing. We learn a little bit (or a lot) from every space we tackle.
THE POWDER ROOM PLAN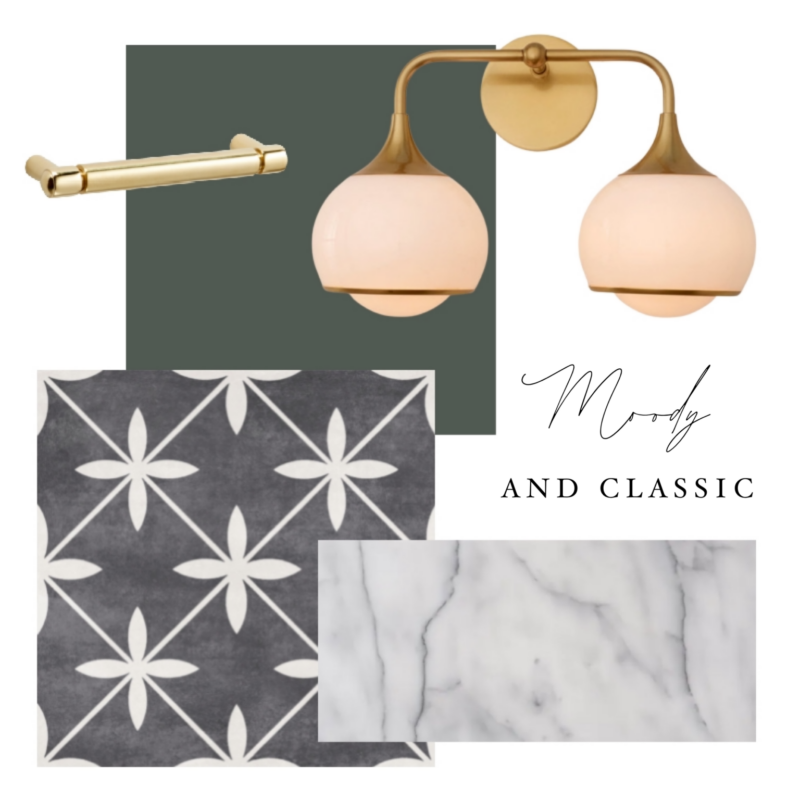 This was my original design board. I pretty much stuck to it with the exception of the gold hardware. There were enough gold accents in the space, so polished nickel won out. The patterned tile is from The Tile Shop and the light can be found here.
A MOODY VIBE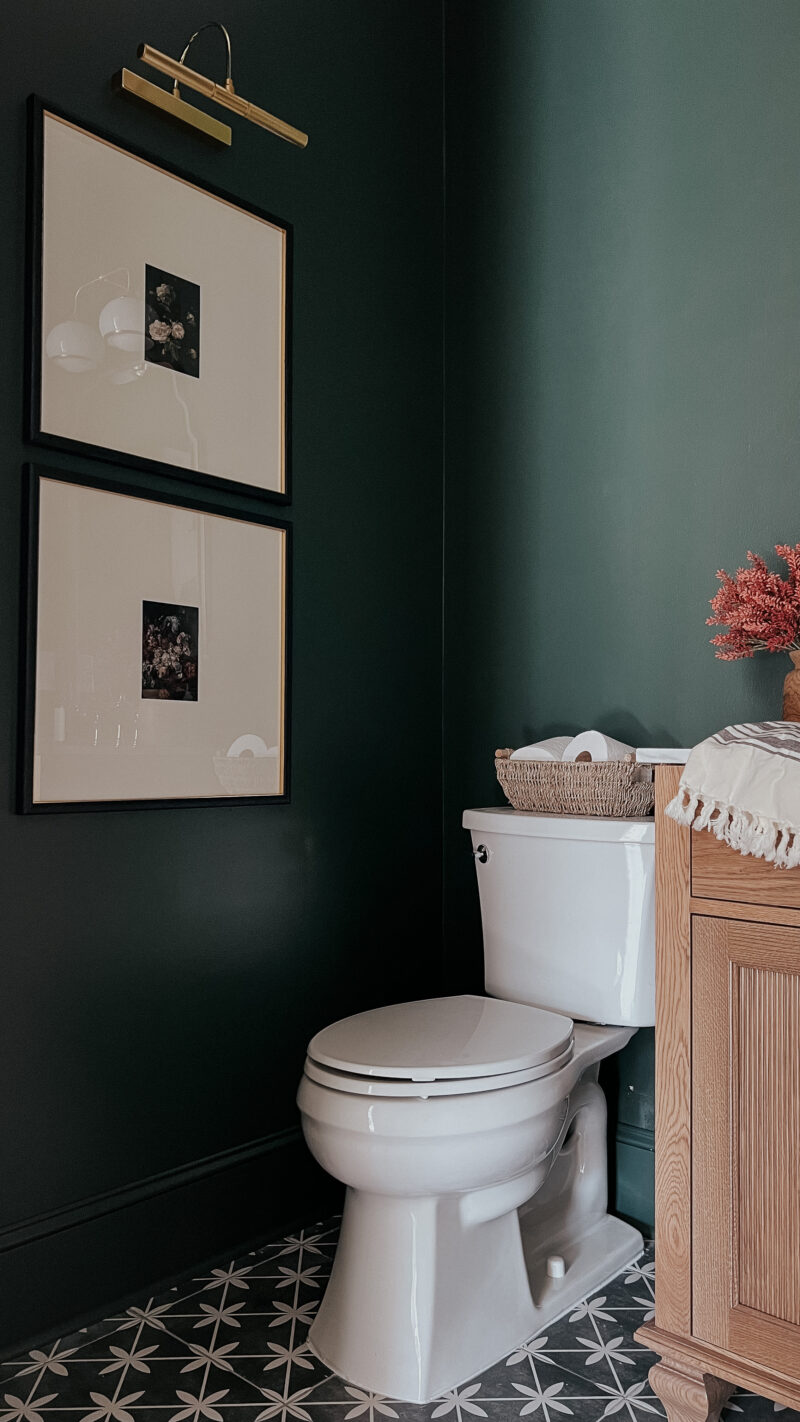 LOVE THIS ART LIGHT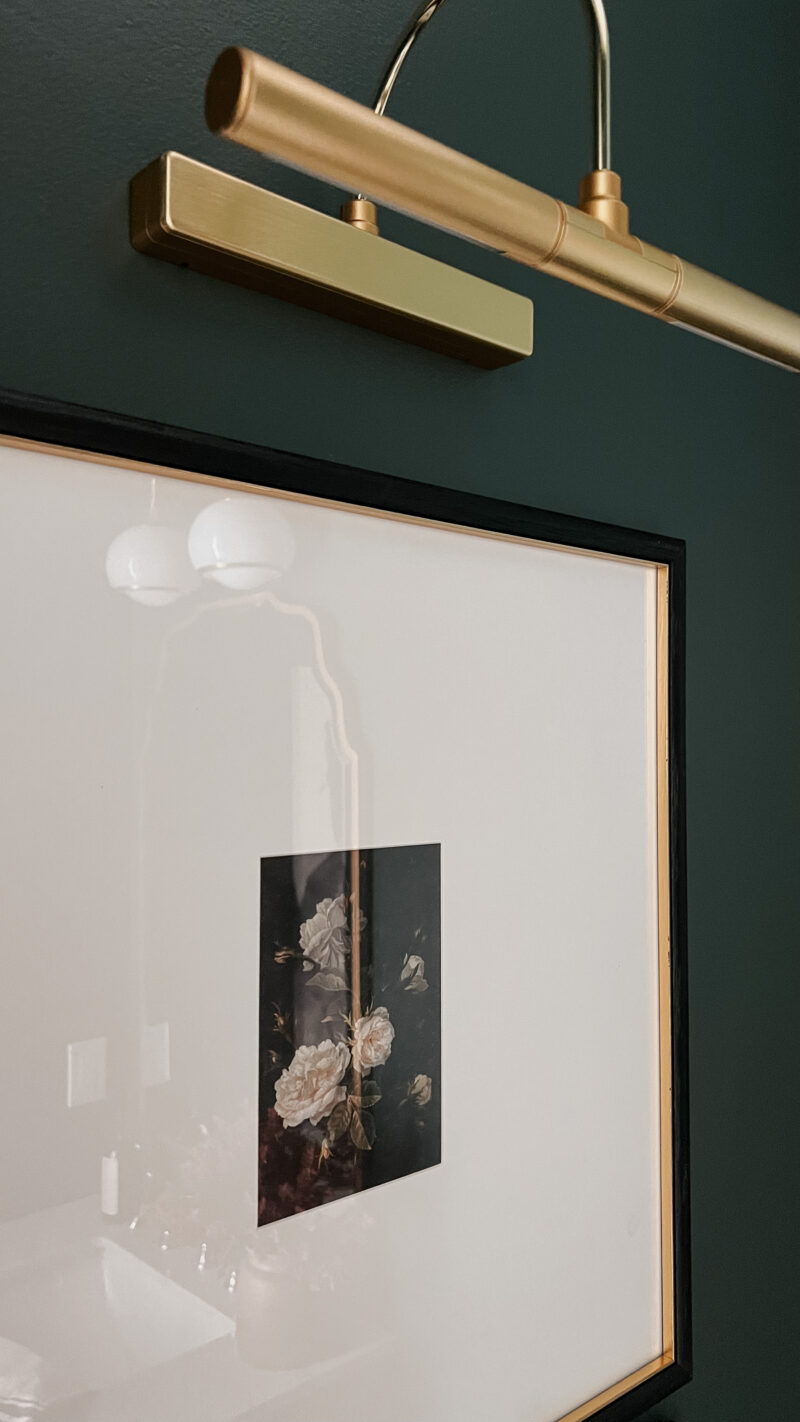 These wireless art lights are awesome. When we entertain, we have this on and it adds such a warm and cozy feel to the room. It's beyond easy to hang and just takes a couple of batteries. You can set it on a timer or just use the remote to turn it on and off. Highly recommend. The frames are a favorite of mine. They are 20 x 20 with a 5 x 7 opening. The artwork are free pieces I found online and had printed at FedEx.
AN UNEXPECTED TOUCH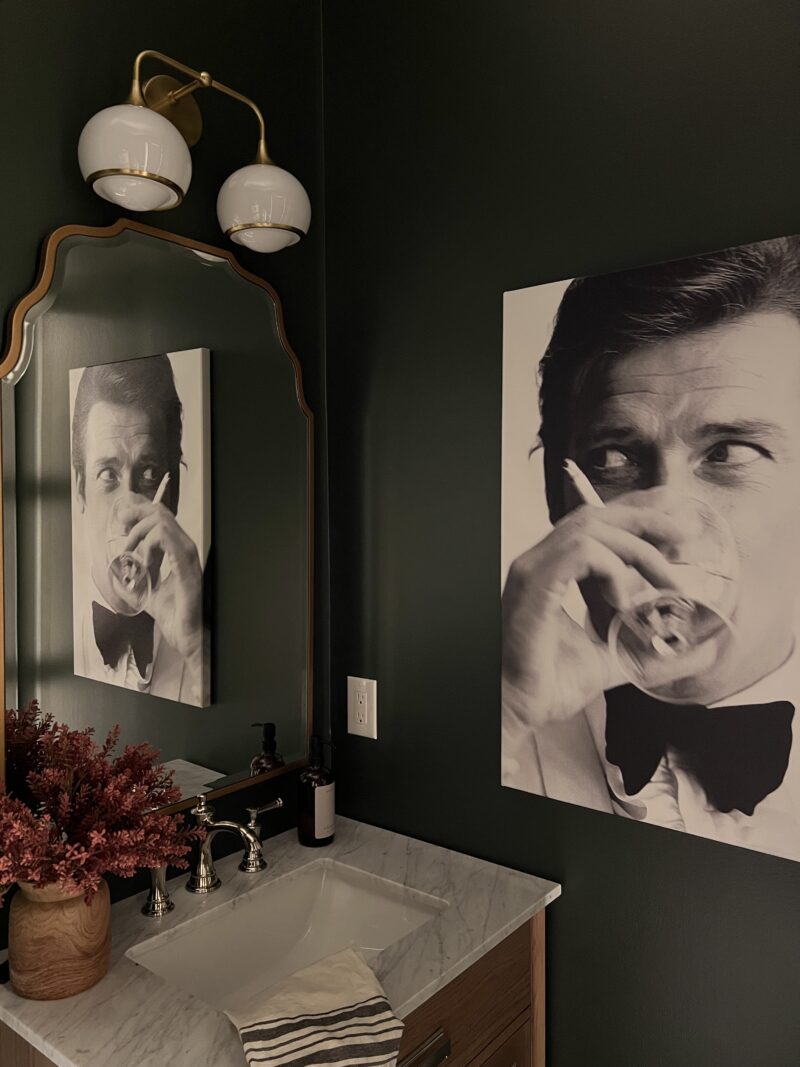 That's right, we added a very bold piece of artwork. An iconic Roger Moore (Shaken, Not Stirred) print to remind us not to take life too seriously and to add an unexpected touch. It's also a nod to my dad who loved all things James Bond and always ordered a martini. The black and white canvas plays well off the black and white tile. You can't see the print until you are in the room with the door shut, so it's the perfect spot for something bold and fun.
OUR FAVORITE FAUCET
We love this faucet. We used it in our primary bathroom but because nobody sees that space, I wanted to use it in here as well. It's just so pretty. This is the polished nickel finish so it has a very warm look and feel.
POLISHED NICKEL HARDWARE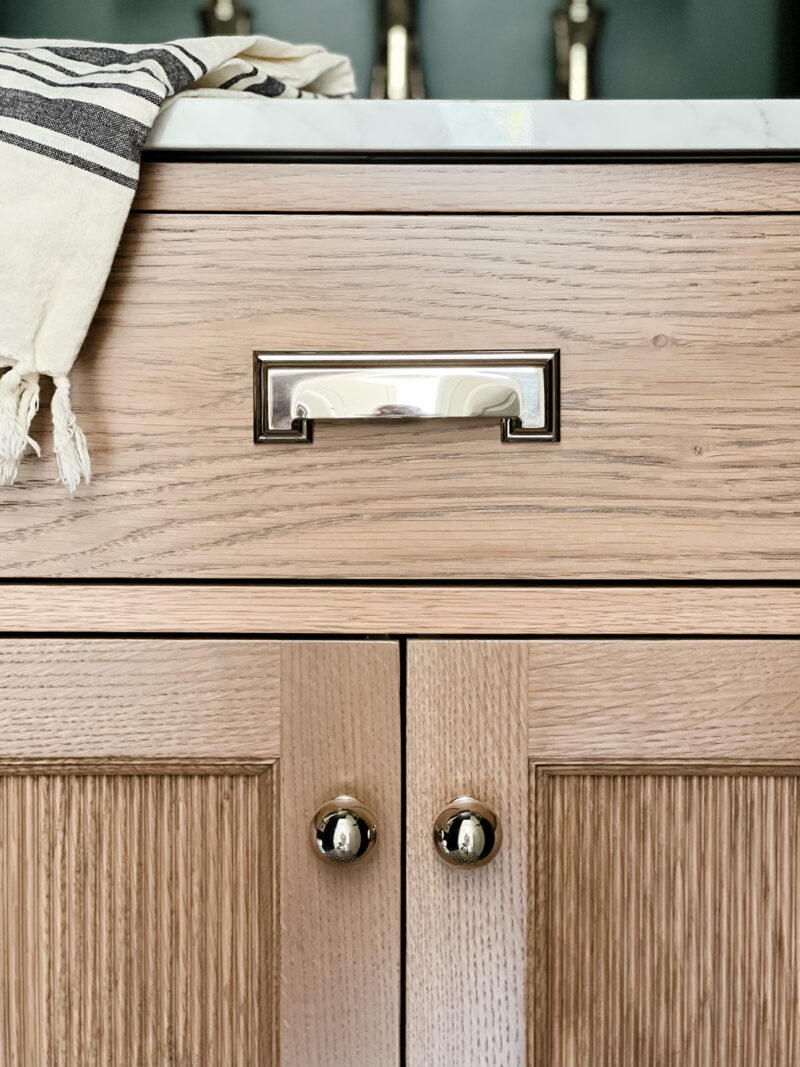 I carried the polished nickel finish down to the hardware. The knobs are clean and simple. I knew I wanted a classic bin pull style for the drawer but with clean lines so this one was perfect.
The vanity is a custom piece. The same person that made our kitchen cabinets made this. While it's absolutely beautiful, I am not sure I would go that route again. It cost far more than a ready made vanity and that was a hard pill to swallow. It also was one of the main reasons our bathroom took so long. We couldn't finish this space until our kitchen was done because they made the vanity at the same time they made our other cabinets. There are so many pretty options out there. In our previous home, we used this vanity and loved it.
ONE LAST LOOK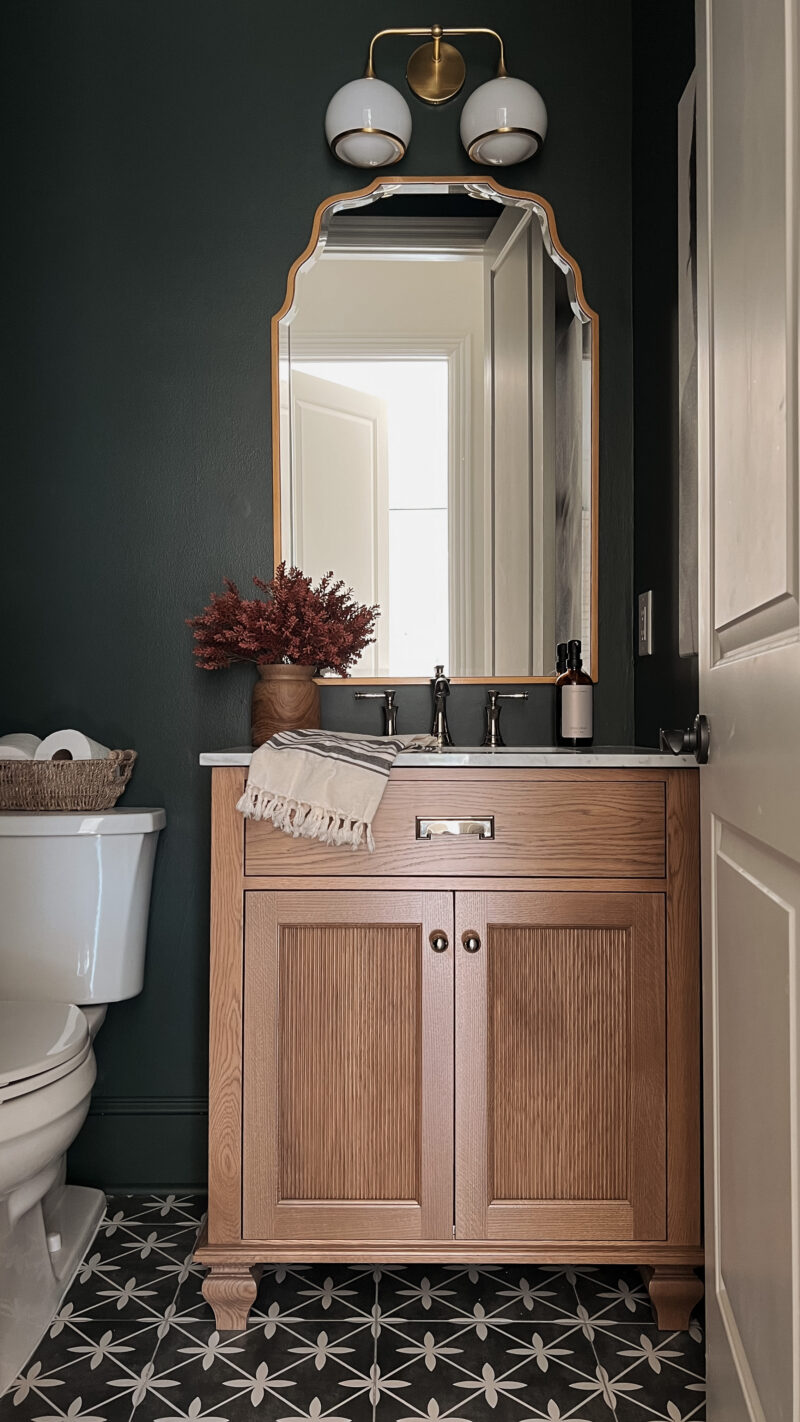 I do have a couple more things I would love to do in here. I plan to swap the outlet for a paintable one. It arrived, but I have yet to paint it. I would also love to add picture frame molding to the walls. But for now we are over the moon to say our powder room is complete. Bring on the guests!