Good morning. Today I wanted to have an honest chat about our new bedroom bedding. When we moved in we purchased Boll and Branch bedding for our guest room. With rave reviews from our guests, I actually slept in there to test the sheets myself. They are extremely soft and get softer with each wash. Plus they are 100% organic and sustainably made. Even my husband questioned why the guests had the best bedding in the house. He had a valid point. The true test was sleeping on them every night and testing out the blankets, too. Here is an honest review of our new bedding.
FRESH BEDDING IN OUR BEDROOM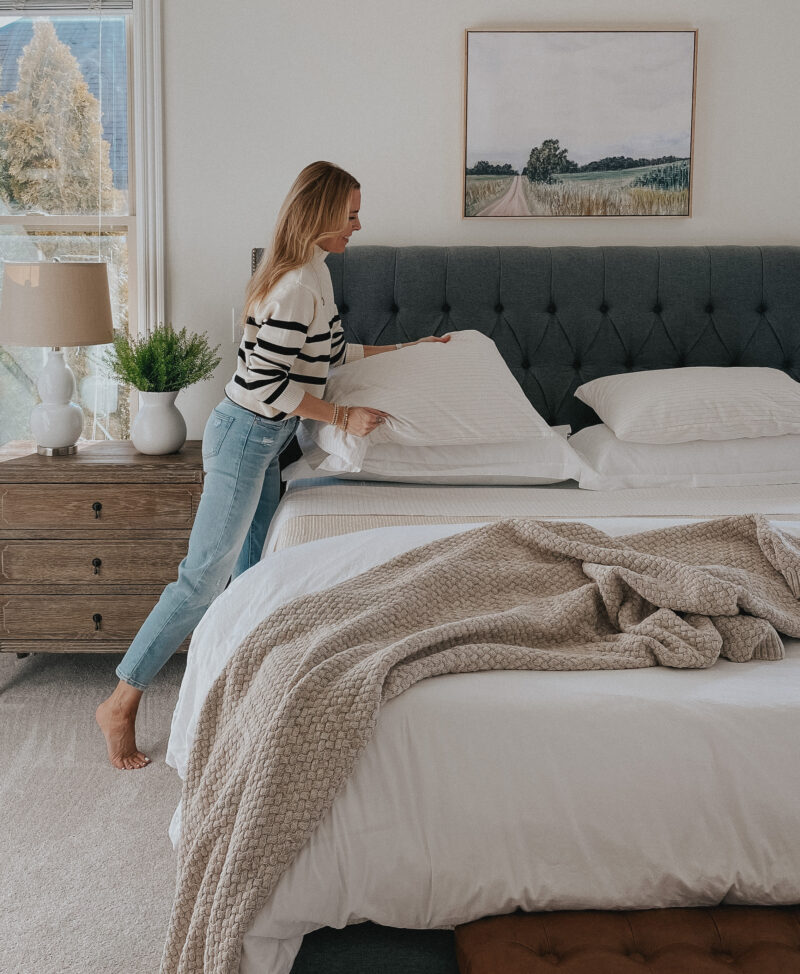 top | jeans | gold bracelets | $10 vase
We went for a layered, neutral look. I am not sure if I will bring back many decorative pillows. There is something about the hotel vibe we are loving. Just very clean. Maybe one pretty printed pillow? These would be pretty options:

Our nightstands are from Restoration Hardware and we moved them from our California home.
BEAUTIFUL QUALITY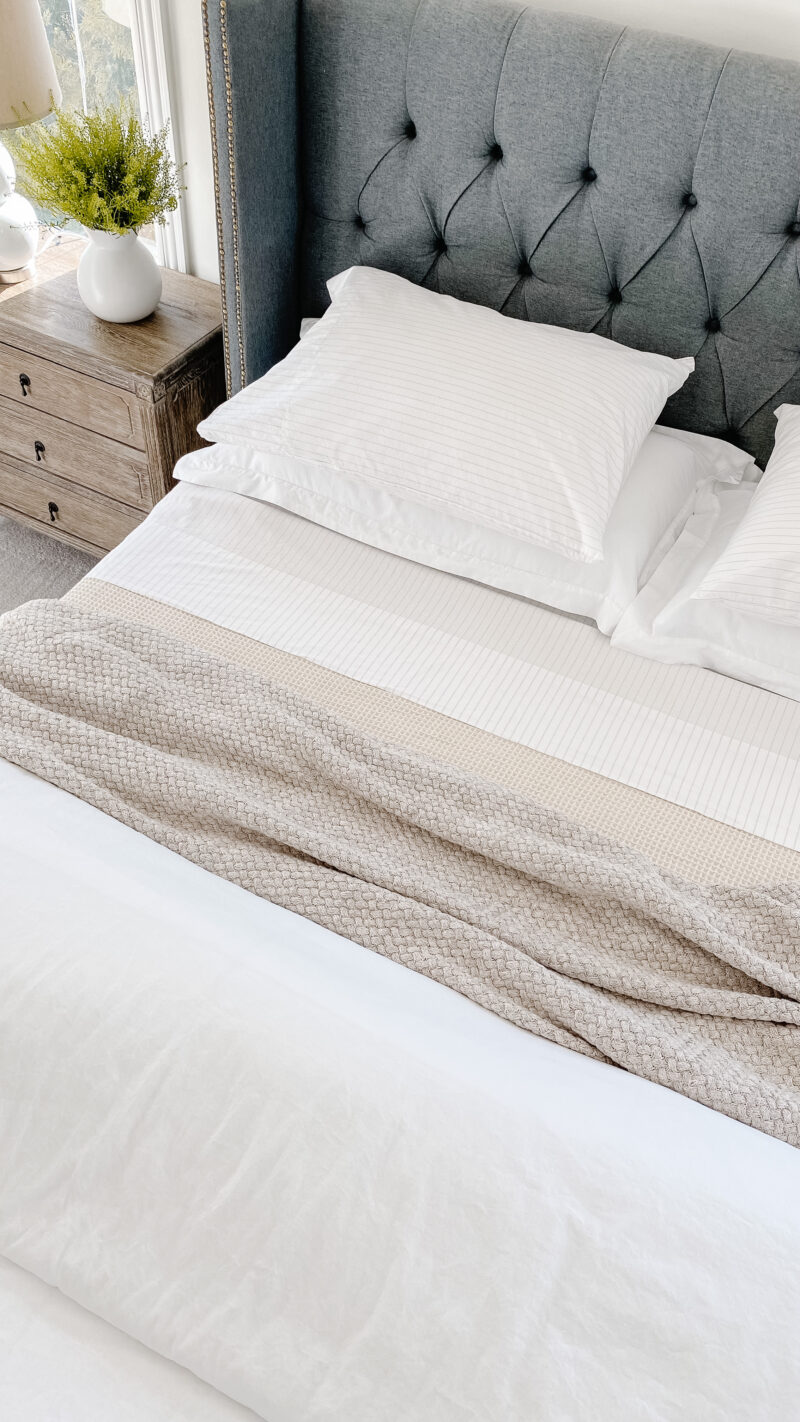 simple stripe sheets | waffle blanket | duvet | throw
This is the softest duvet we've owned right out of the gates. And it will get softer. I do think the Signature Sheets and Duvet are the softest to begin with. They also remain cool which I know is important to a lot of us. They are more on the thin side which helps with that. I love our Percale Striped Sheets but they take a little longer to soften up. The awesome thing is knowing that all of the bedding gets softer with every wash.
I have taken after my parents in that we don't replace our sheets often. I can still see the blue sheet set my mom and dad had for what seemed like most of my life. Investing in quality and non-toxic bedding is important to me. It's not something I will move on from and you can definitely add to your collection over the years. We will likely have these for years and years.
LOVING THESE BLANKETS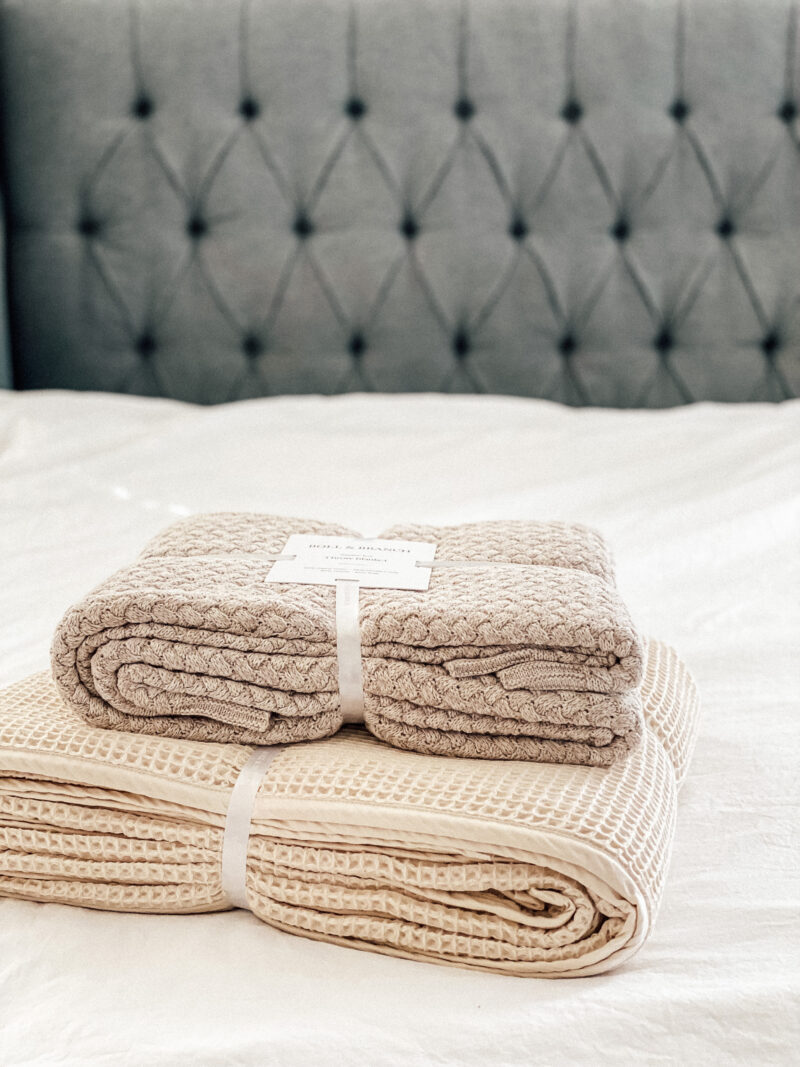 The Waffle Bed Blanket is hands down my favorite addition. In fact, at some point I will order one for the guest room. It's soft and cozy and a perfect weight. Even my husband is ok with it being on the bed (he runs hot). The Sweater Knit Throw is also beautiful quality and really soft. If I had to choose one, I would start with the Waffle Bed Blanket.
THE DETAILS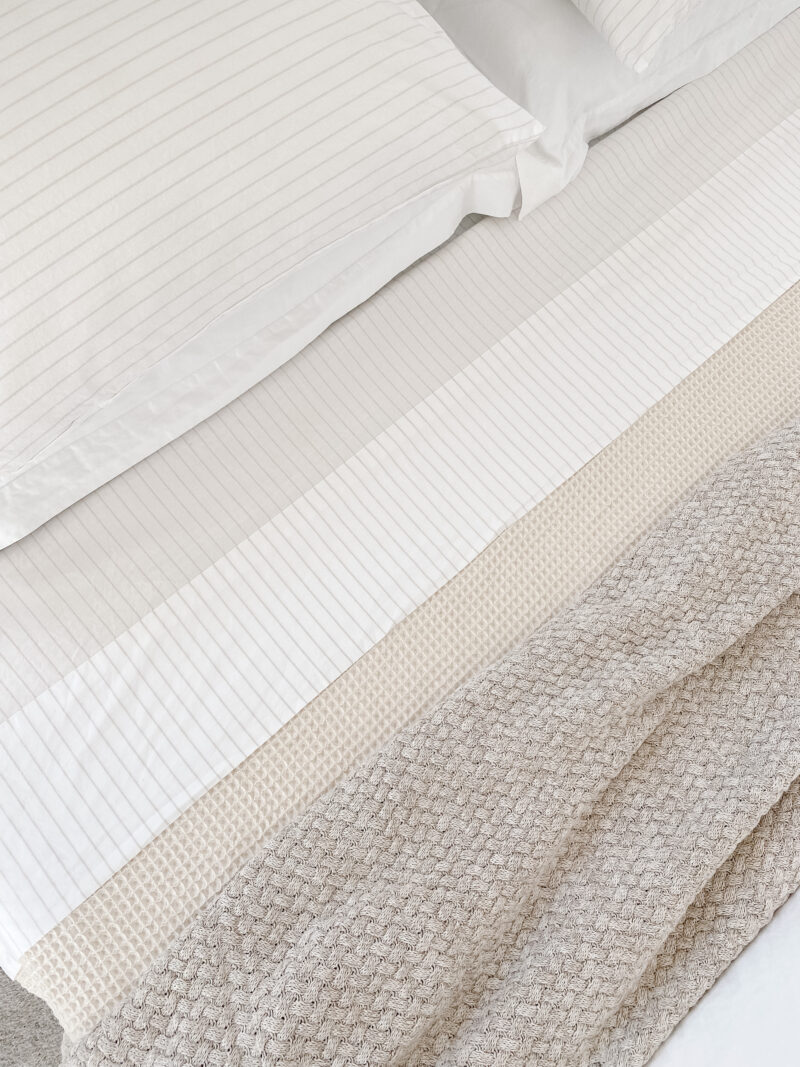 Here is a close up view so you can see how we mixed the patterns and textures.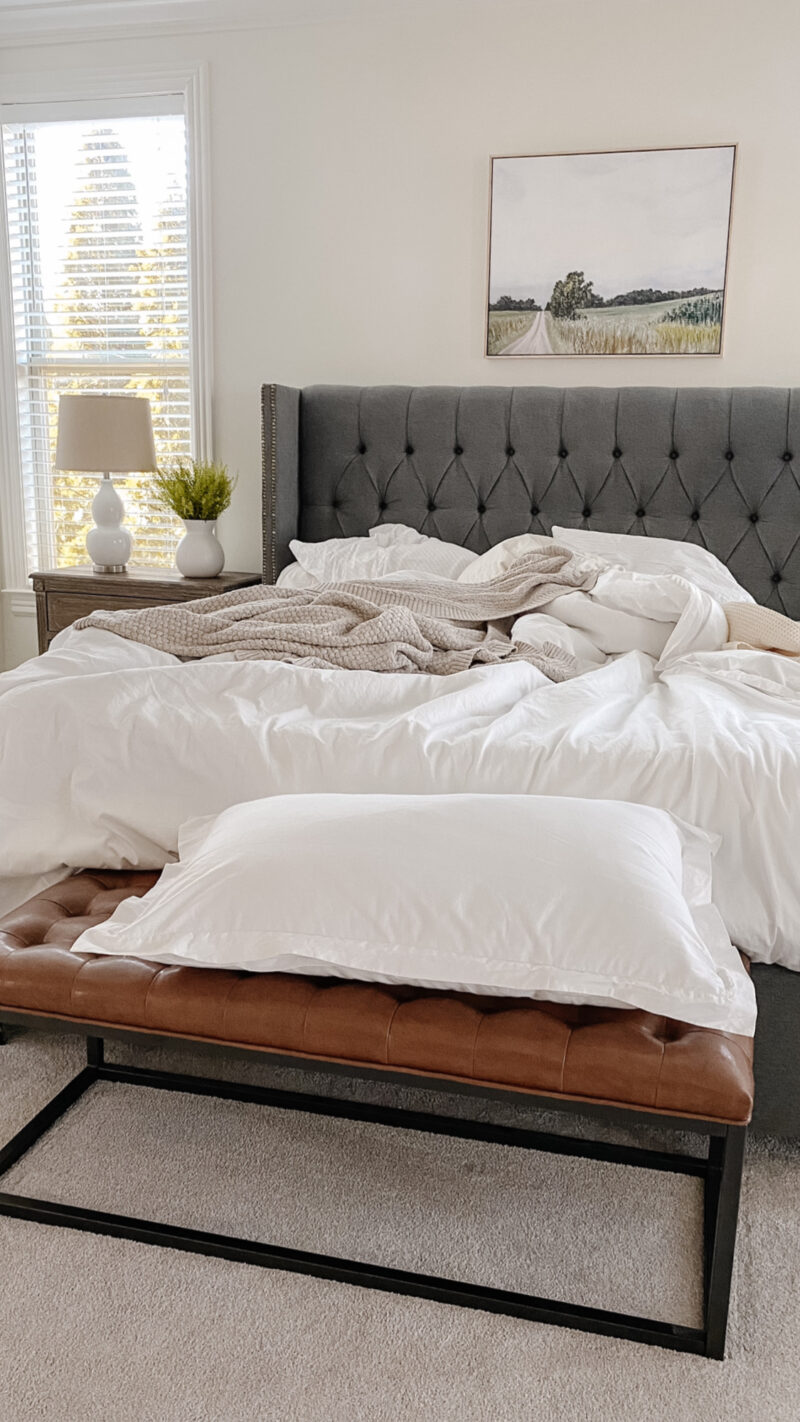 Here is the reality and with the rain coming down I'd like to jump back in. Although I am a bed makers so it doesn't stay like this for long. I would love to find a pretty rug to layer on top of our carpet. Just trying to figure out if I want this room to stay more neutral or bring is something more saturated. Happy to answer any questions you may have. If you use the code: THOUGHTFUL15 you'll receive 15% off your order through the end of February.
All in all, yes, they live up to their hype and I feel like we are sleeping at a hotel every night. And now it's not just our guests who experience the softness.
Please pop back in tomorrow as we will be talking all things college. Some great insights from all of you, a friend who has offered to help us out, and some honest talk with topics people rarely seem to hit upon on. I hope you'll join the conversation.
Lastly, but most importantly, we are praying for everyone in Ukraine. We have friends whose family members are there and it's heart wrenching.
*Post is not sponsored but I am grateful to call Boll and Branch a partner.