Thanksgiving is just a week away. Can you believe it? No matter what your plans are, it's always really fun to create a memorable table. And there is so much to be thankful for, amidst difficult times. My siblings and I grew up with a mom who always knocked it out of the ballpark. She loved to set gorgeous tables and I feel like she is with me each time I create ours. There is no need to go crazy or to spend a fortune. This year I bought an inexpensive scarf (which I can wear) and velvet ribbon. Here is a peek at our Thanksgiving table.
COZY AND WARM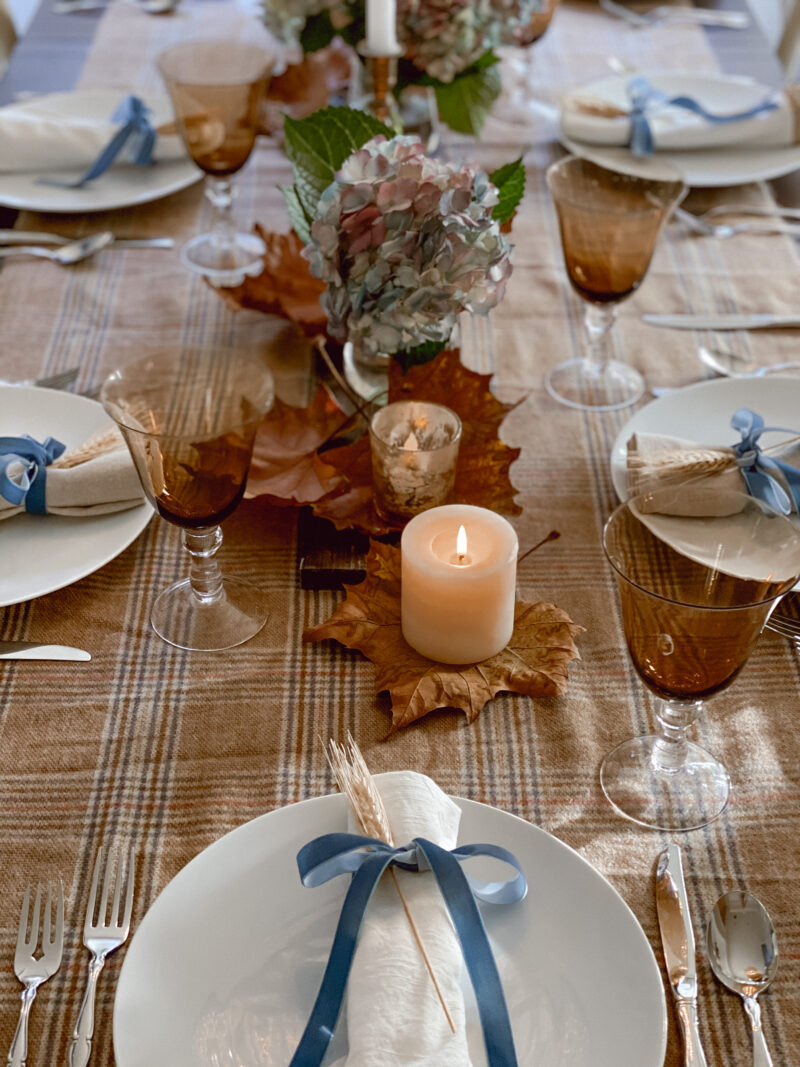 Maybe you even have a blanket scarf tucked in a drawer somewhere. I chose to go a bit non-traditional with the blue and really like how it came out.
CANDLELIGHT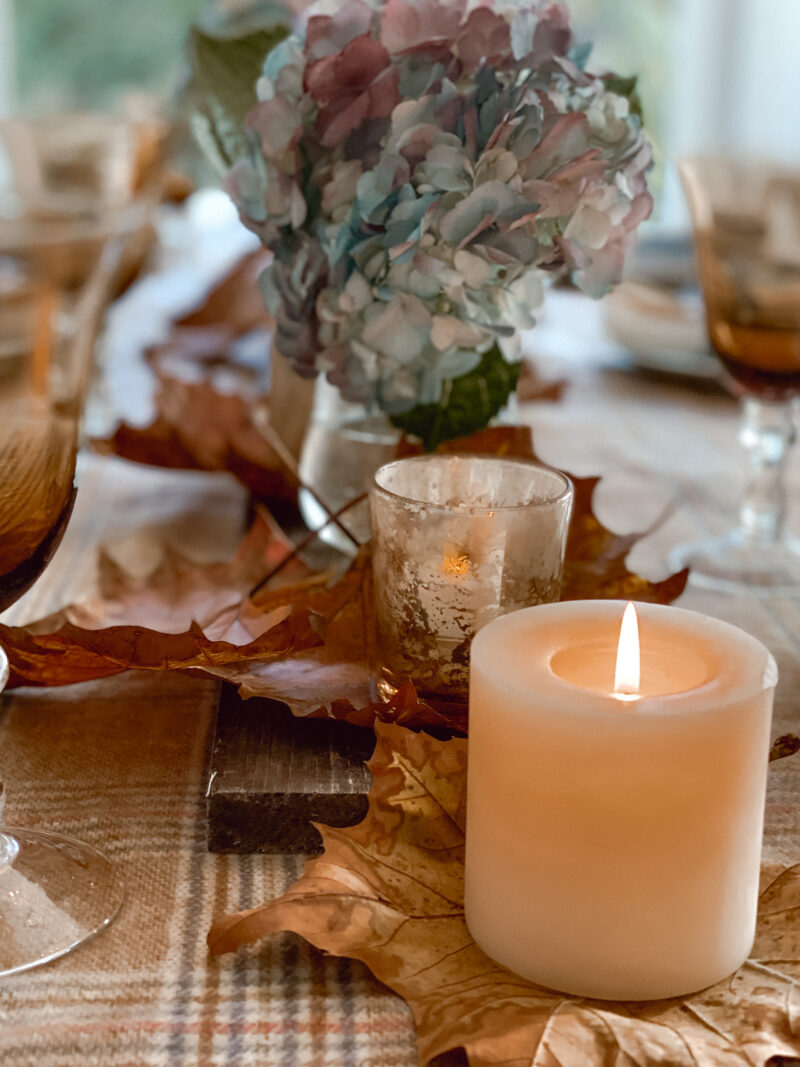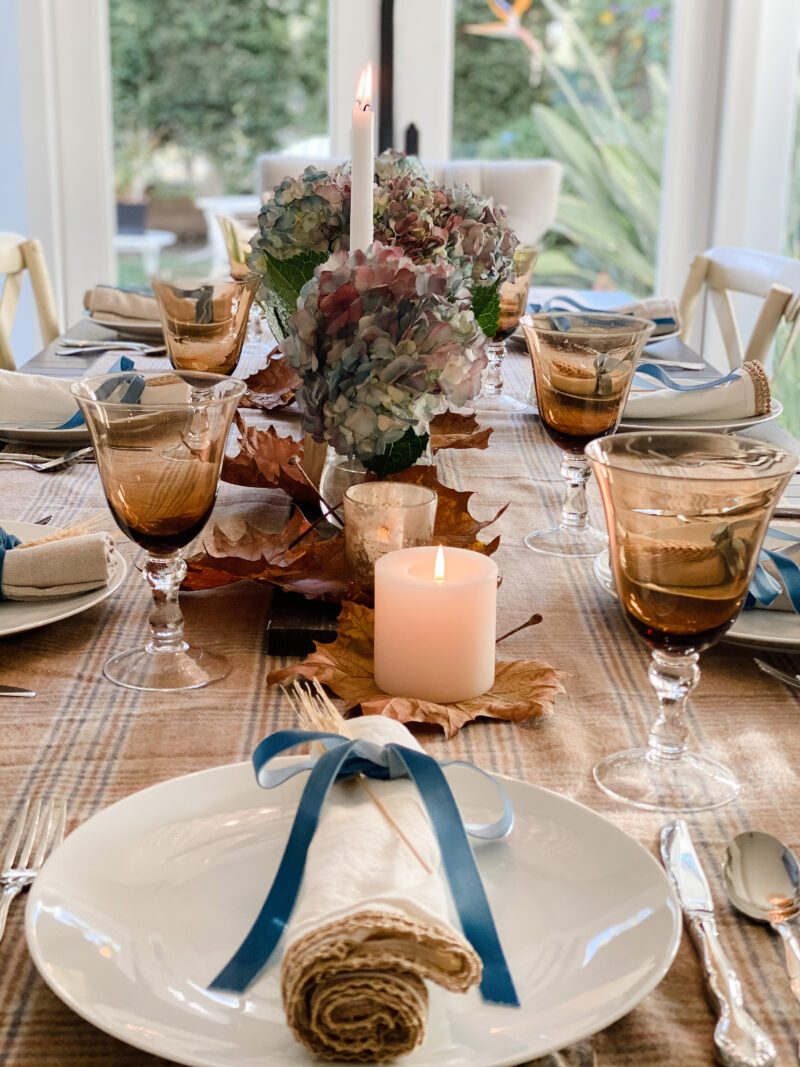 For lighting I have a mix of candles and votives. Only a few of them are real candles and the rest are battery operated tea lights. I incorporated two of my mom's brass candlesticks. The amber glasses are from years ago but I found this set.
SIMPLE FLOWERS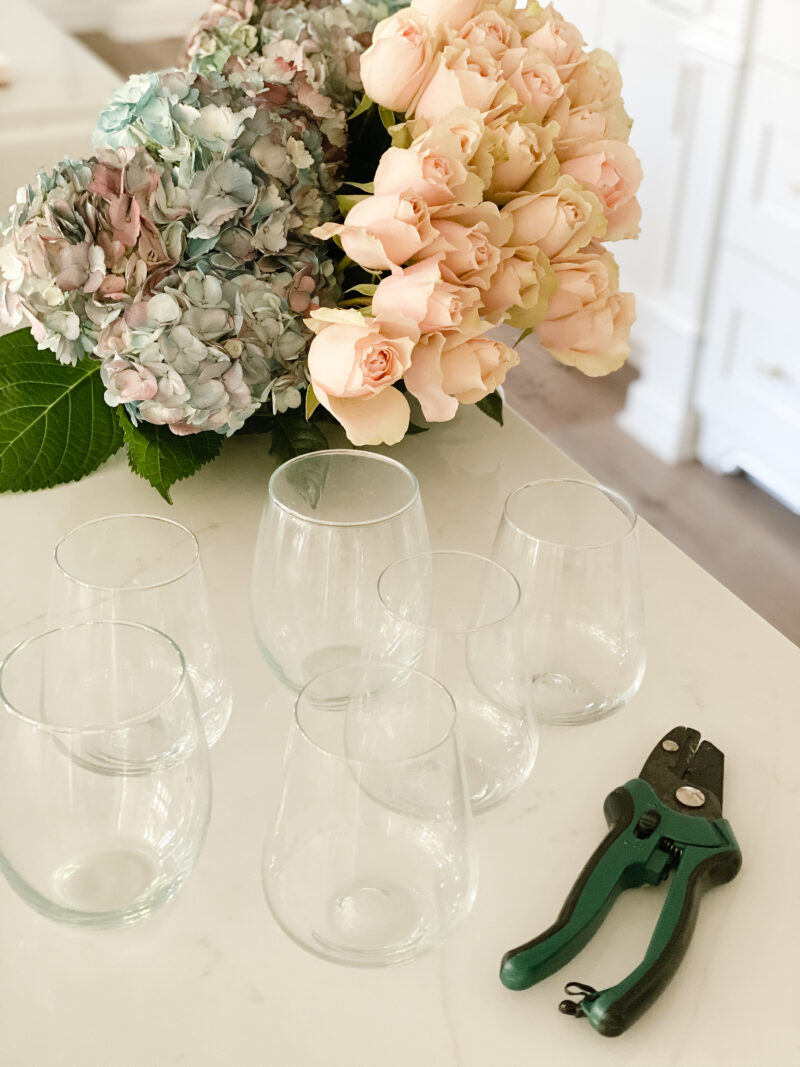 My little secret for creating low arrangements is to use stemless wine glasses. Because they tend to taper in at the top, they keep the stems from spreading too far apart. Plus you just grab them from your cabinet. I like when the flowers look nice and tight. If the flowers are still falling outward, cut them stems even shorter. You would be surprised how short I cut them. I actually ended up only using the hydrangeas on the table so fairly inexpensive to pull off. Three went into the center glass and one or two in each of the end vases. I just loved the variation of color in them and the blue was perfect.
FALL ELEMENTS
The wheatgrass was from Trader Joe's at the beginning of Fall. It's been in a vase in our family room so I just stole a few stems. I cut each one down and gave them a trim.
THE DETAILS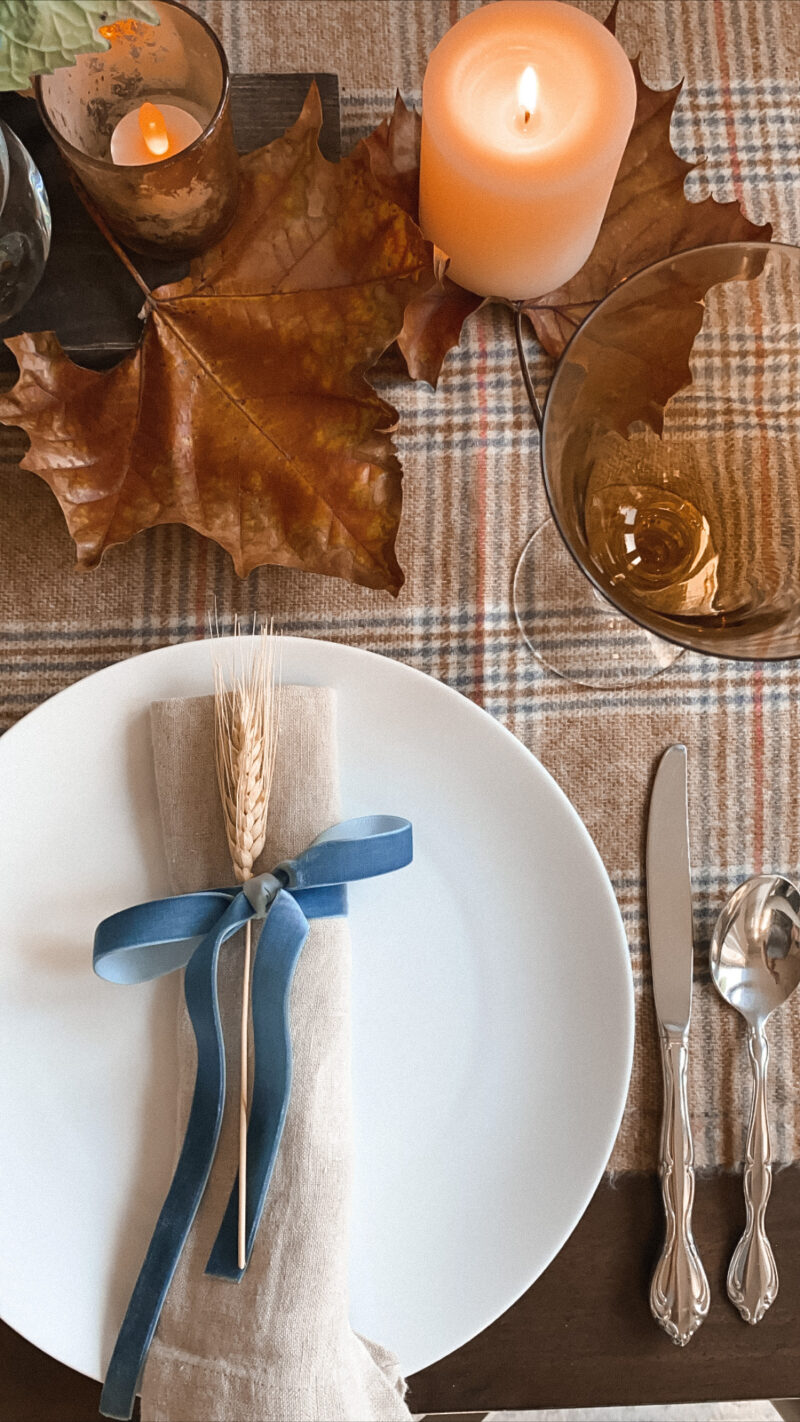 I still don't have twelve of the same napkin so I just mix the linen and white napkins throughout the table. I've grown to like the more collected look.
The brown runner down the center of the table is a piece of scrap wood I picked up from Home Depot one year. I stained it dark brown and have used it so many times. It's an easy way to elevate all of the candles and florals while keeping it looking cohesive.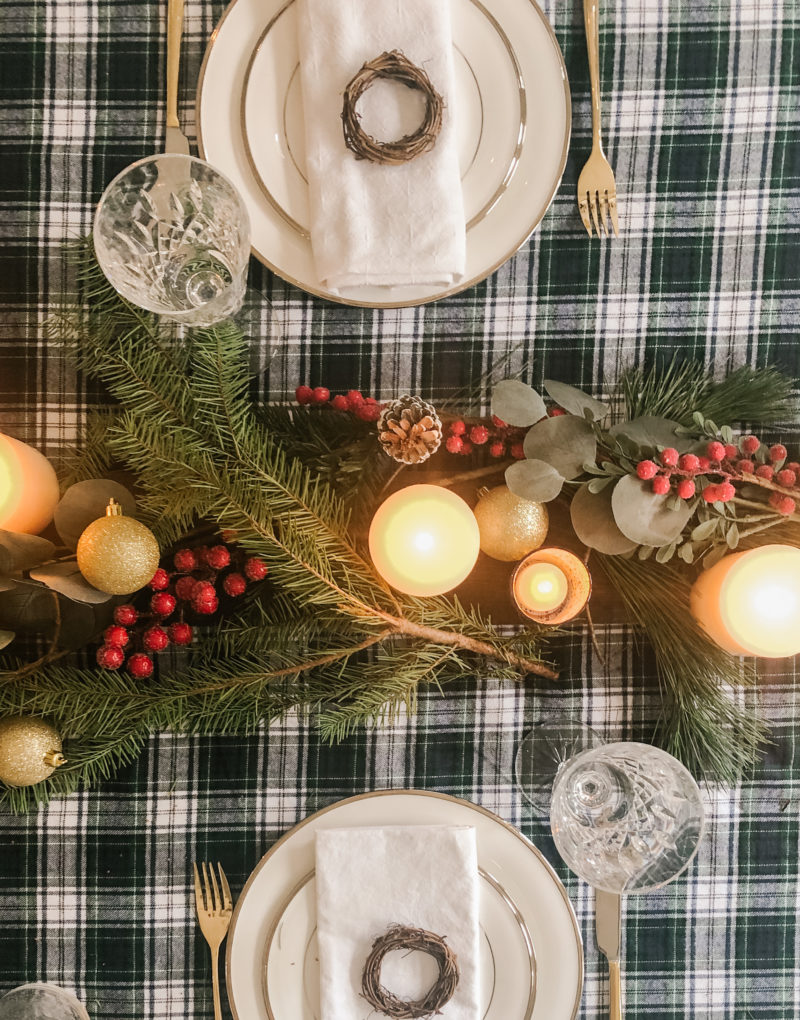 Here is how we used it for Christmas dinner last year. The plaid flannel tablecloth is a couple yards of fabric from the fabric store. That is one of my favorite ways to cover a table.
PRETTY VELVET RIBBON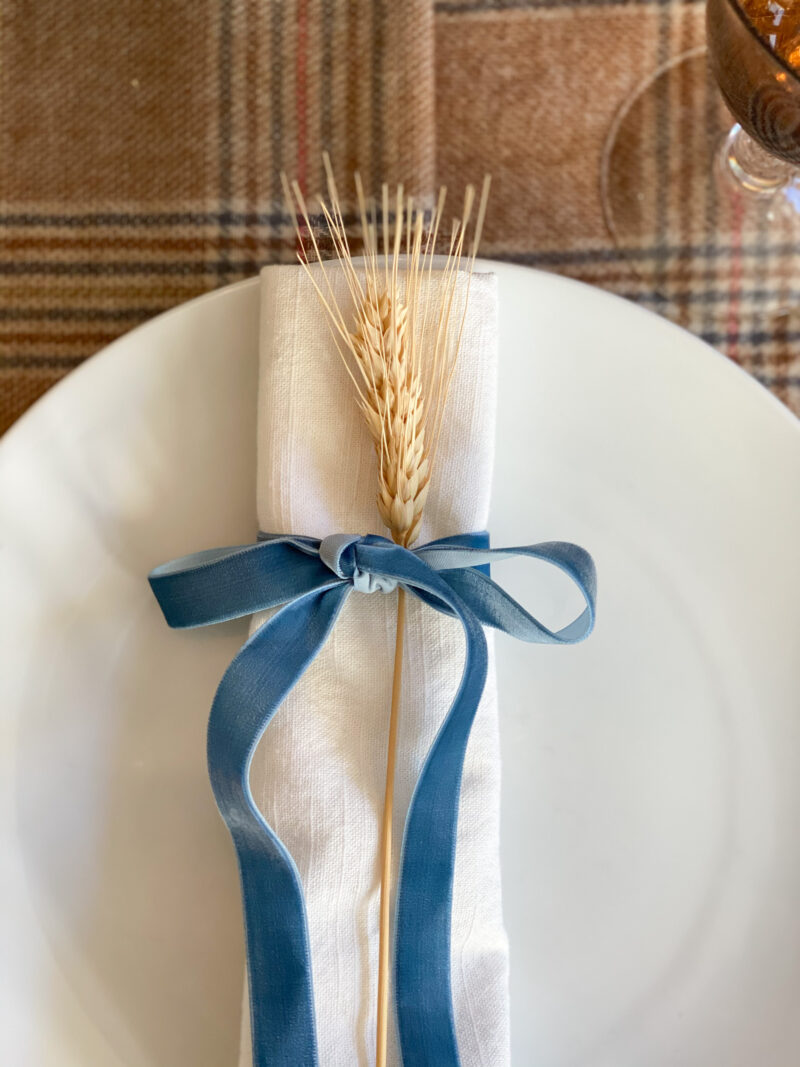 This pretty antique blue velvet ribbon adds just enough color and picks up on the blue in the scarf. The nice things is that it comes in a bolt of 25 yards you will have plenty. I plan to use it on some of my packages this year. This the 5/8″ size despite it looking larger on the website.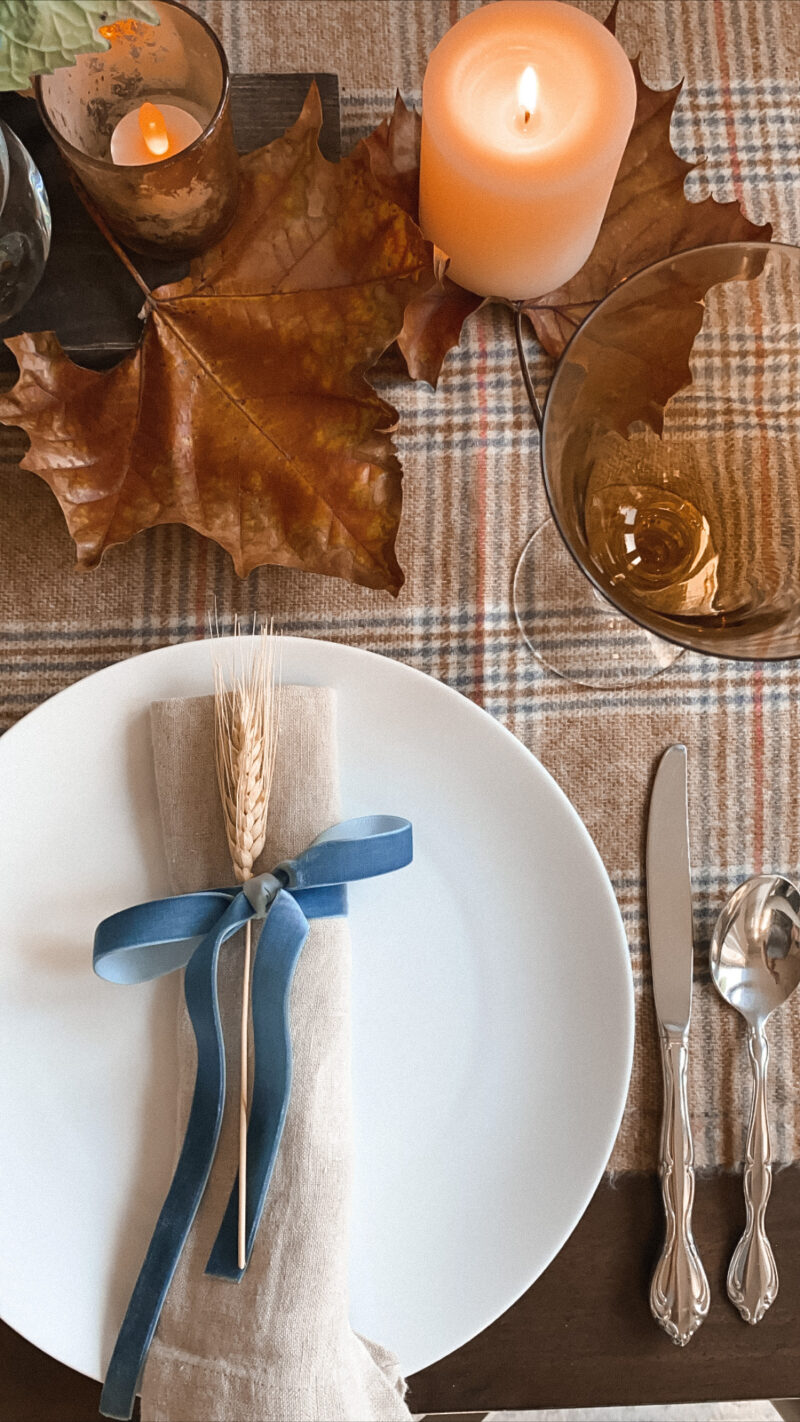 The fall leaves are just from our front lawn. Always a fan of foraging from nature. Adds such a pretty element and it won't cost a dime.
LINEN NAPKINS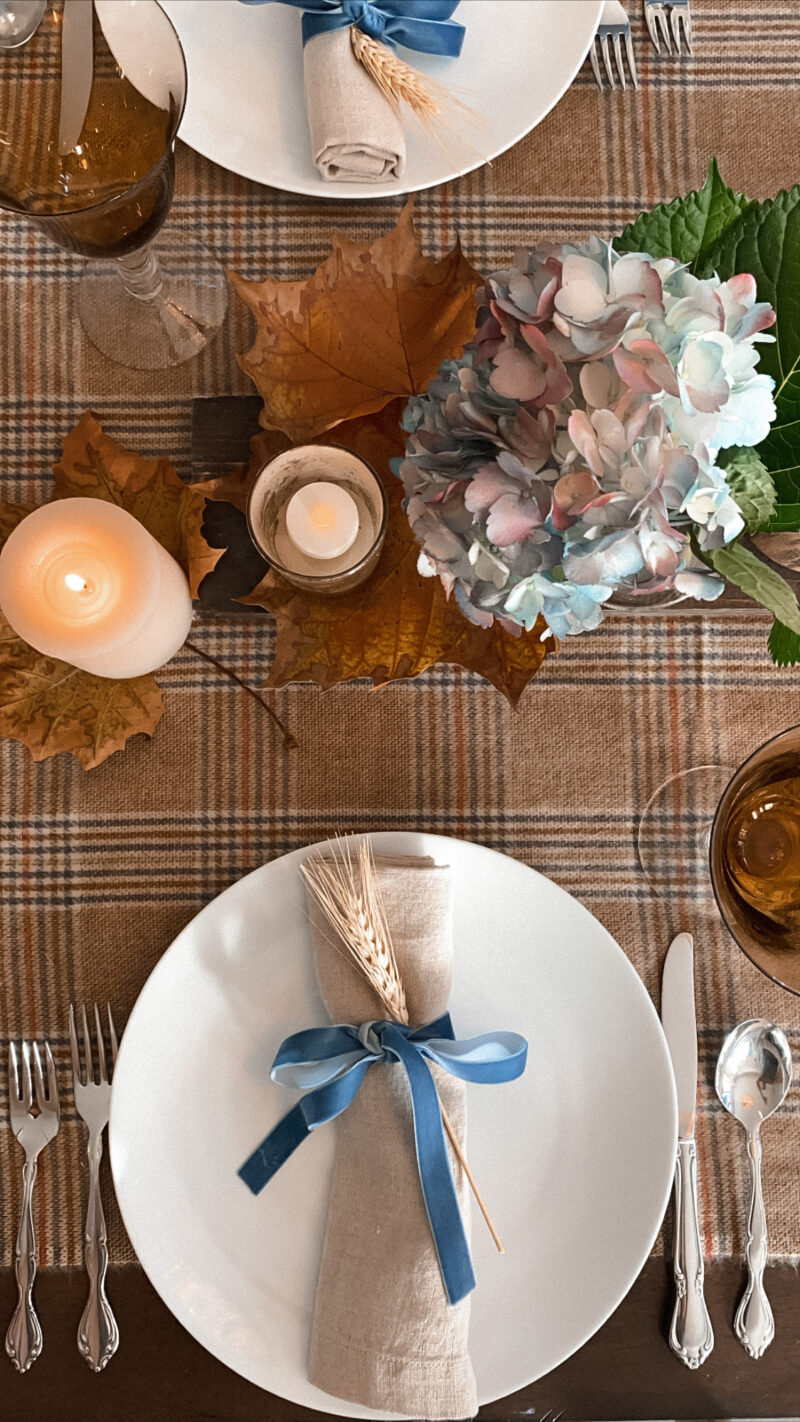 linen napkins | dishes | ribbon (antique blue) | similar scarf
While my exact scarf is sold out, this plaid blanket scarf blue/khaki color would be beautiful. Plus it's Prime if you need it quickly. I would pair it with the same velvet ribbon in the taupe color and use white napkins.
And thank you to Jenna Sue for the plaid scarf recommendation. She used it and I knew I had to have it. If you don't already follow, you will fall in love! She is beyond talented.
I hope and pray that we can all enjoy Thanksgiving and give thanks for all that is good.