Good morning. Not too long ago I had the opportunity to walk through the Parade of Homes in our area. They were nothing short of spectacular. While these homes are quite large and well out of a realistic price range, it's so fun to walk through and gather ideas. If I see a space I love, I look at the textures used or the combination of colors. I hope that these images are not only beautiful to look at, but potentially give you new and unique ideas to implement in your own home. Welcome to the tour.
COME ON IN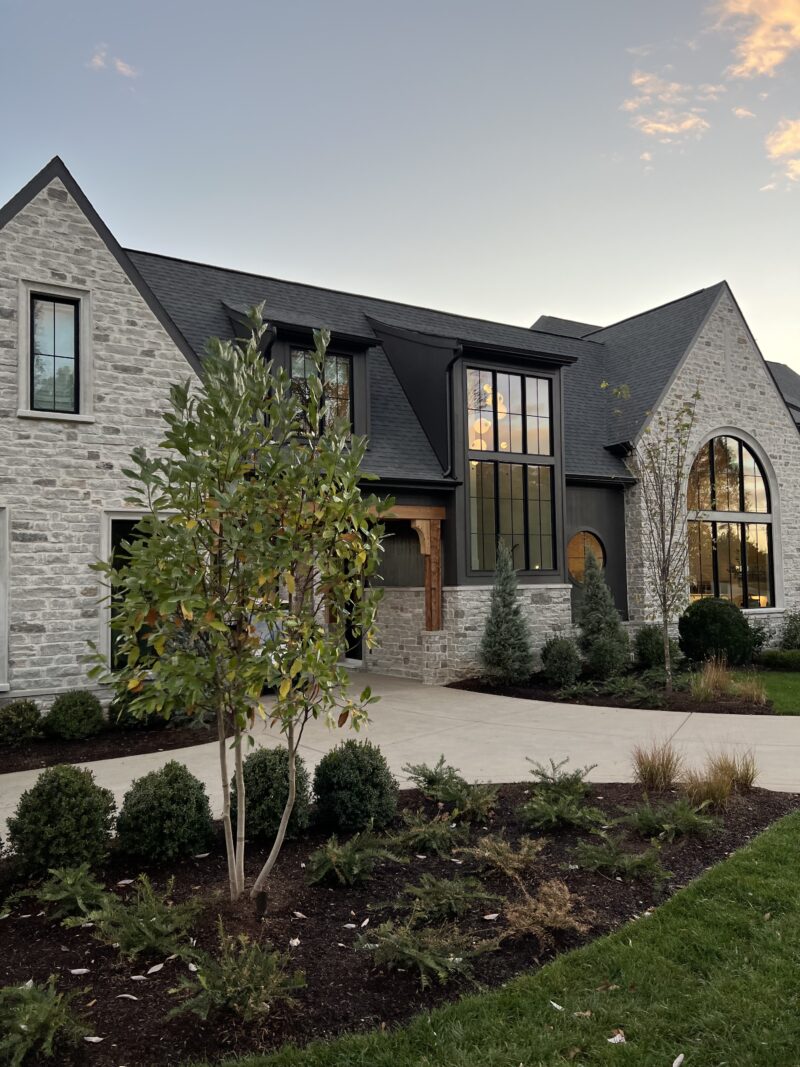 Just so beautiful. And wait until you see the kitchen.
*Builder Legend Homes and the design is by Studio 36 Design ( so talented)
WARM AND INVITING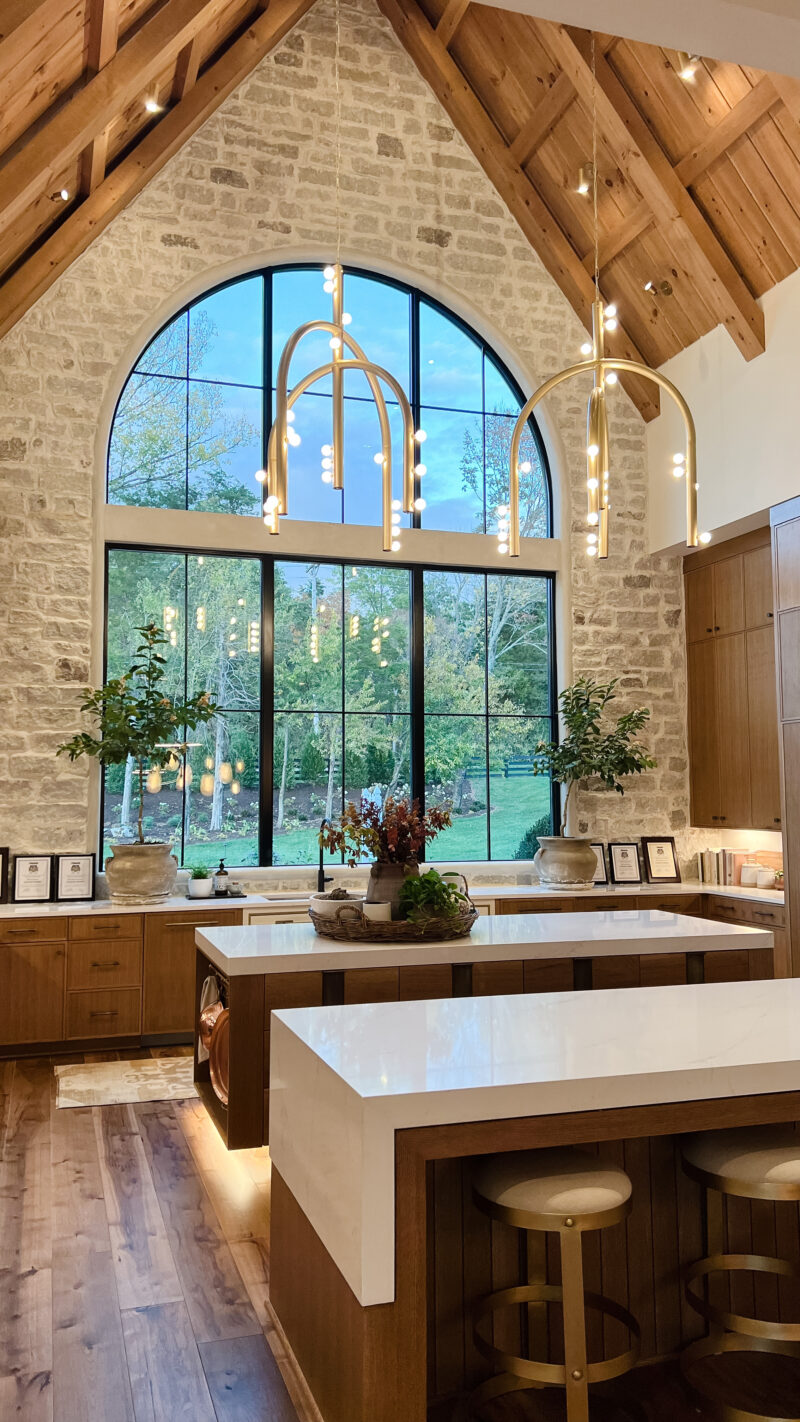 This kitchen was a complete show stopper. It literally took my breath away. The moment you walk in it felt warm and inviting. It begs to be filled with friends and family all gathered around the islands. The use of stone and wood tones in this kitchen is so beautiful.
*Walls color Dift of Mist Sherwin Williams
A GREAT ROOM BEAUTY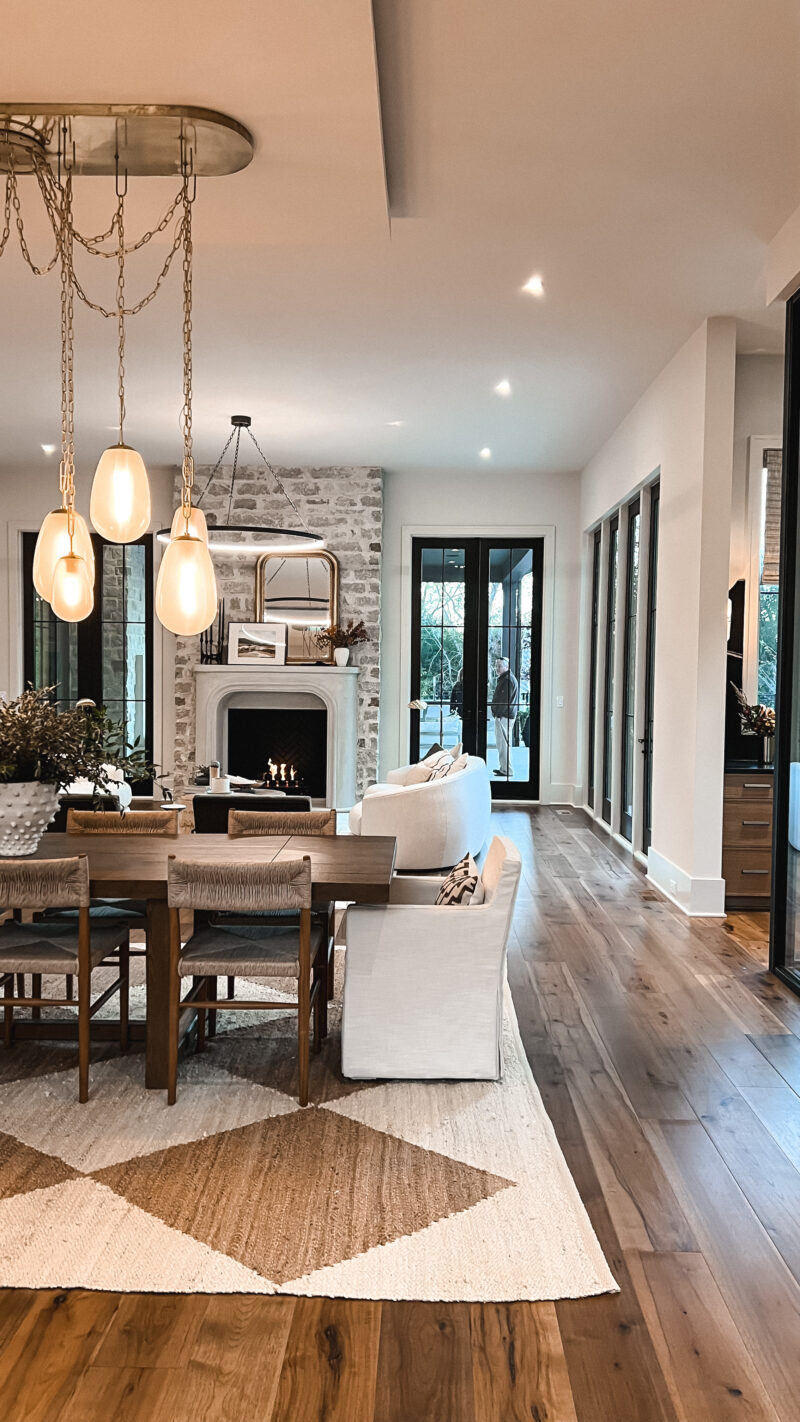 The kitchen opened up to this pretty space. What a great rug. And definitely eyeing how the mantel is styled. Really well done.
DREAMY BATHROOM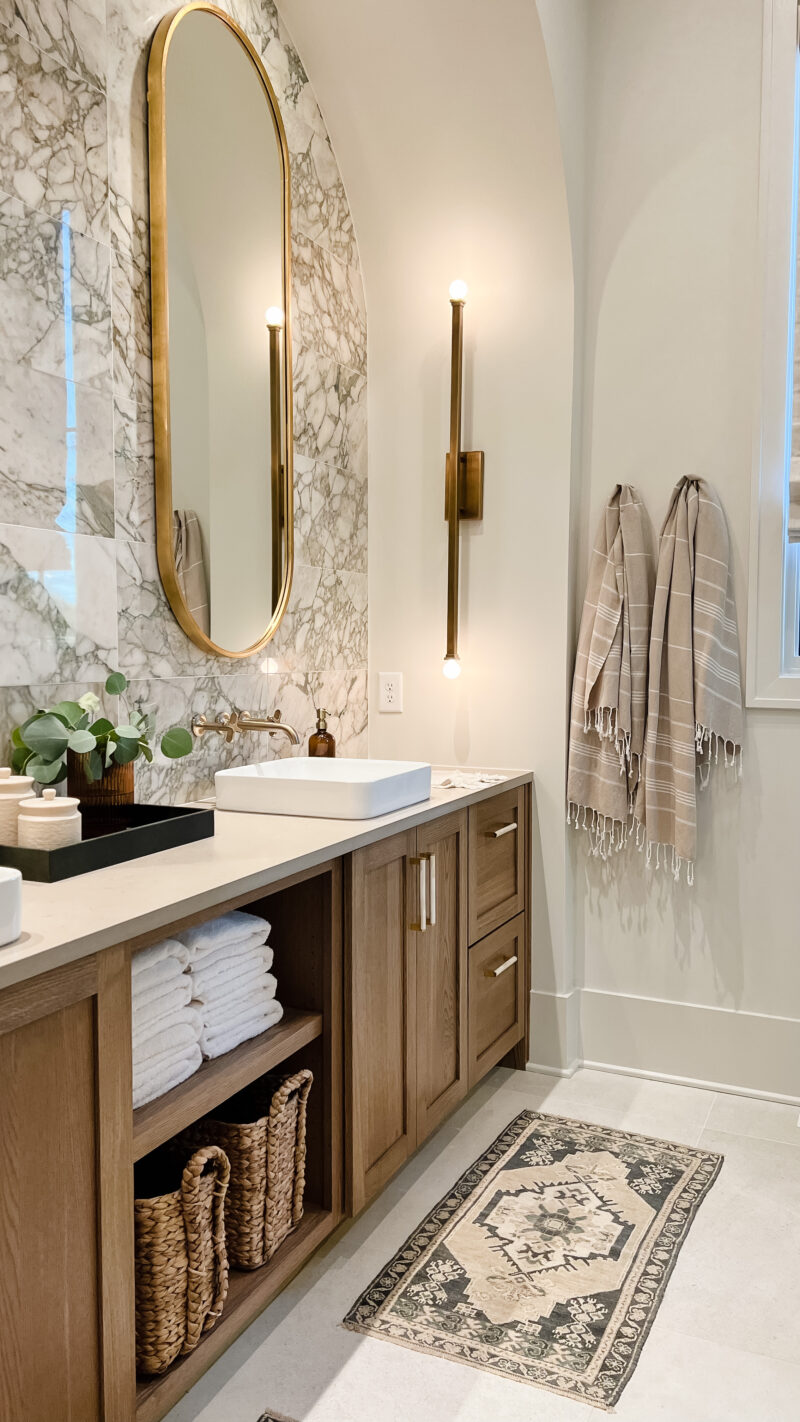 Head over heels for this bathroom. I LOVE that they used tile on the back wall versus a slab. Great takeaway as that is much more cost effective. And those sconces are incredible. Grab the towels here. This sconce is a similar style for less.
*Wall color Drift of Mist Sherwin Williams
SMALL SPACE INSPIRATION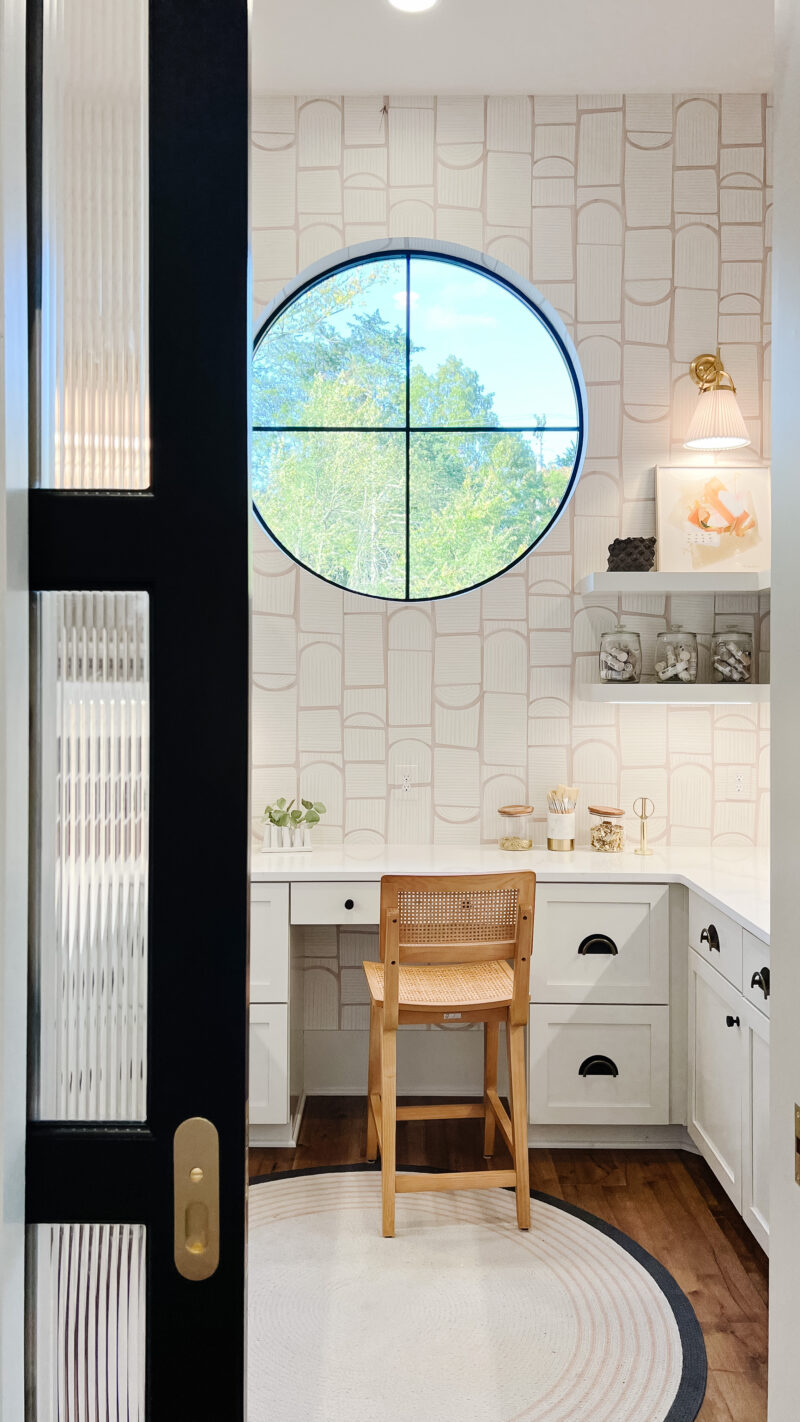 *Home built by Legend Homes, interior designer Stephanie Handley Studio 36 Design
Some of my favorite spaces in these homes are the small ones. This is incredibly well done. From the door to the round window. The sconces are such a pretty choice. I also like the use of the round rug. I don't think I have ever used a round rug before. Now I am looking around my home for a spot where I can do that.
*wall color and trim Drift of Mist Sherwin Williams, door color Tricorn Black Sherwin Williams
BEAUTIFUL HOME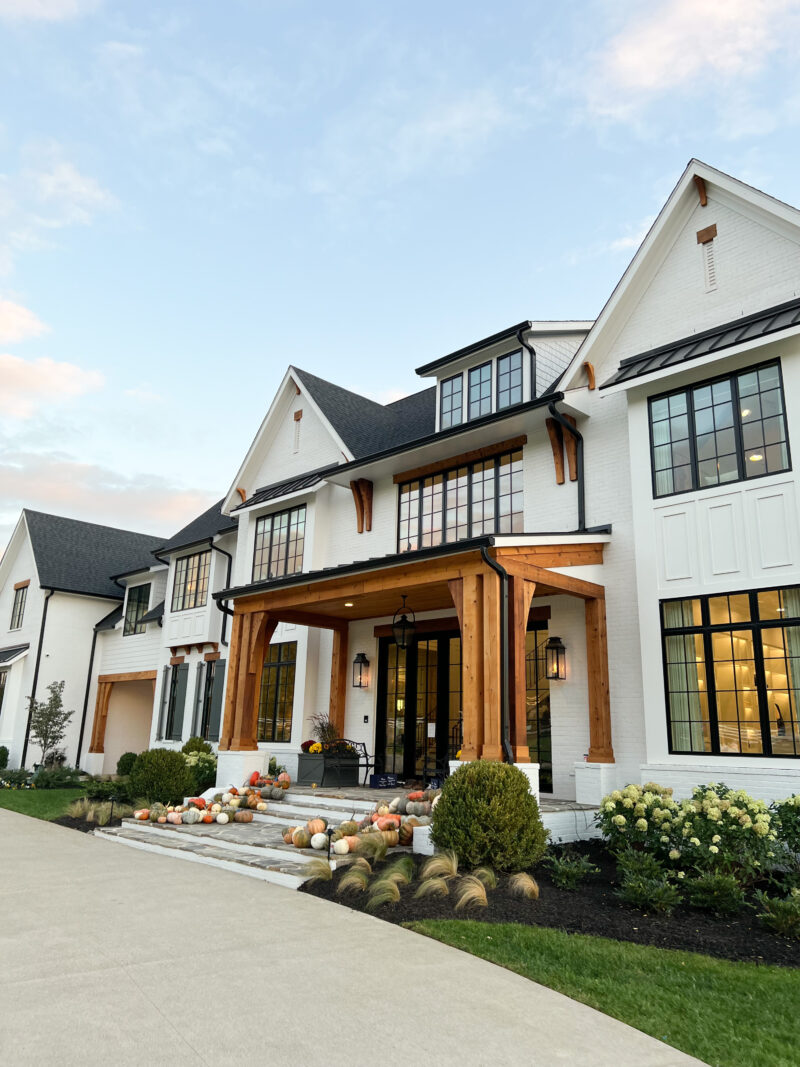 There were six home altogether and this was one of my favorite exteriors.
*Builder Stonegate Homes
SHOW STOPPER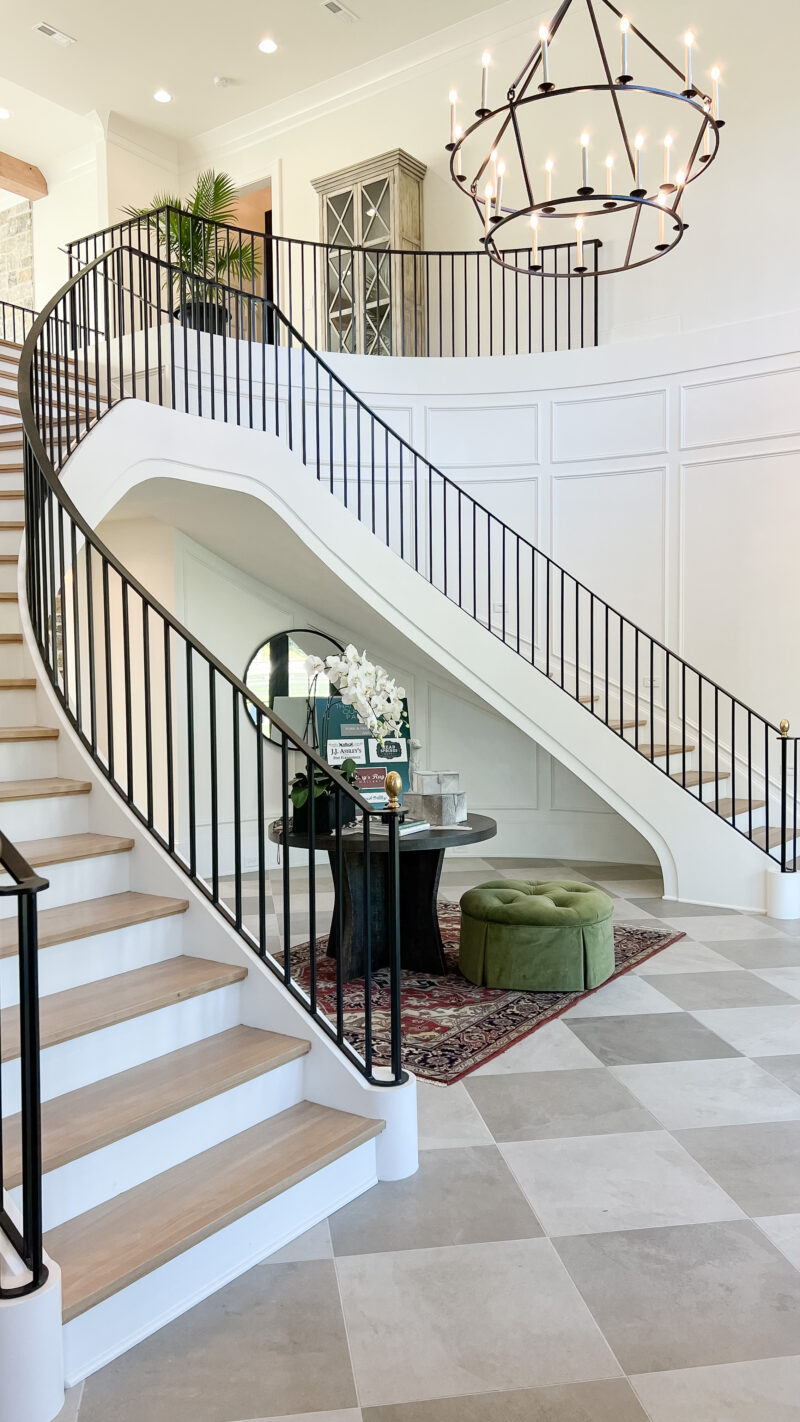 The most beautiful entry. I can see so many elements transferring over to a pretty laundry room. A checkered floor (love the neutrals) with a dark and moody rug. Such a pretty combination. That green ottoman is also so lovely.
*Builder Stonegate Homes, Interior design by Julie McCoy Interiors
*Wall color White Sand Sherwin Williams
STUNNING HALLWAY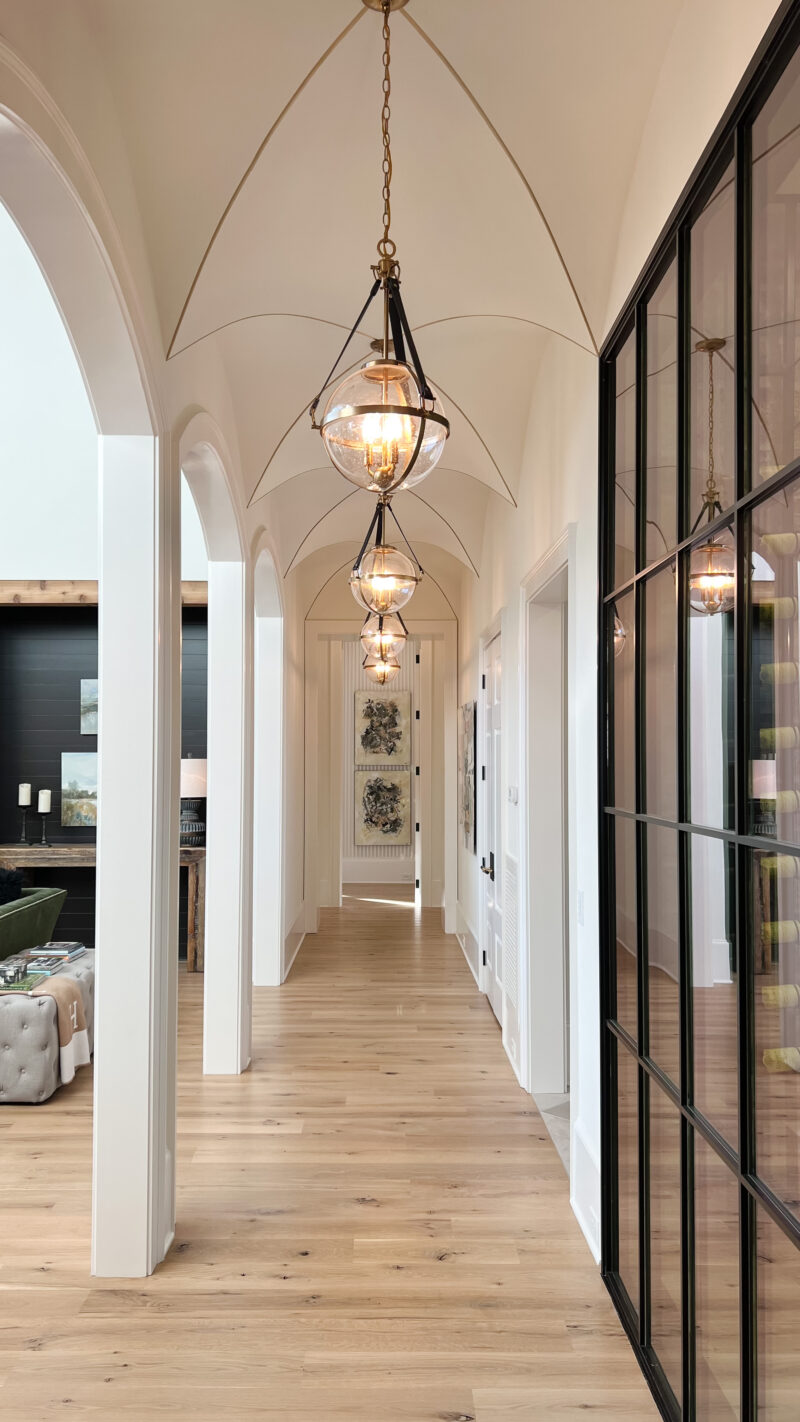 Gasp. This groin vault series in the main hall is gorgeous. Repeating the same light fixture down the hallway is such a beautiful design choice.
*Wall color White Sand Sherwin Williams
LOVELY FAMILY ROOM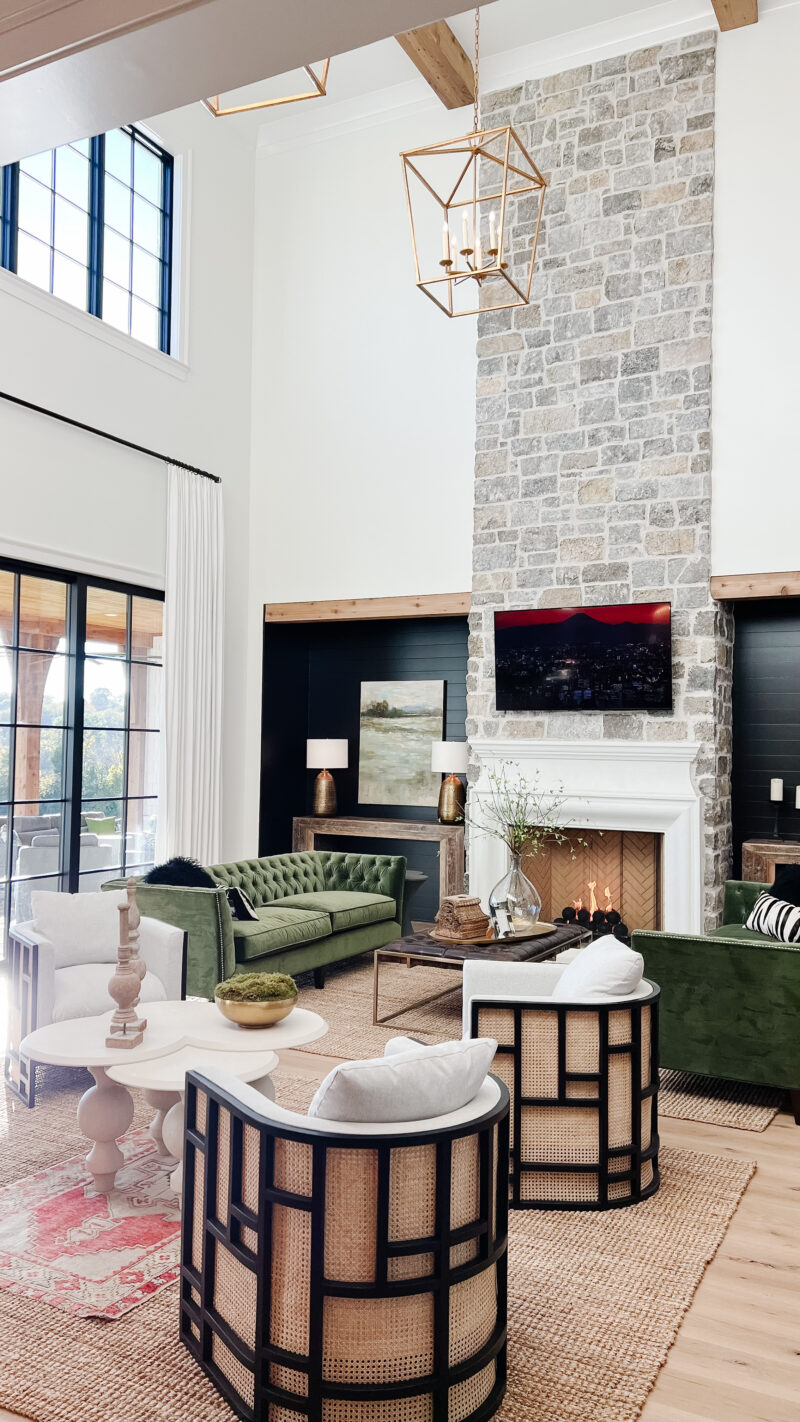 In this large family room, I love that they created two separate seating areas. What a great use of space. And those green sofas! So pretty. I also love the idea of two tables on either side of the fireplace. You don't always need to do built ins or spend the money for custom cabinets. The dark paint with the tables is really quite pretty and a great idea.
*wall color White Sand Sherwin Williams, shiplap Black Magic Sherwin Williams
BOY'S ROOM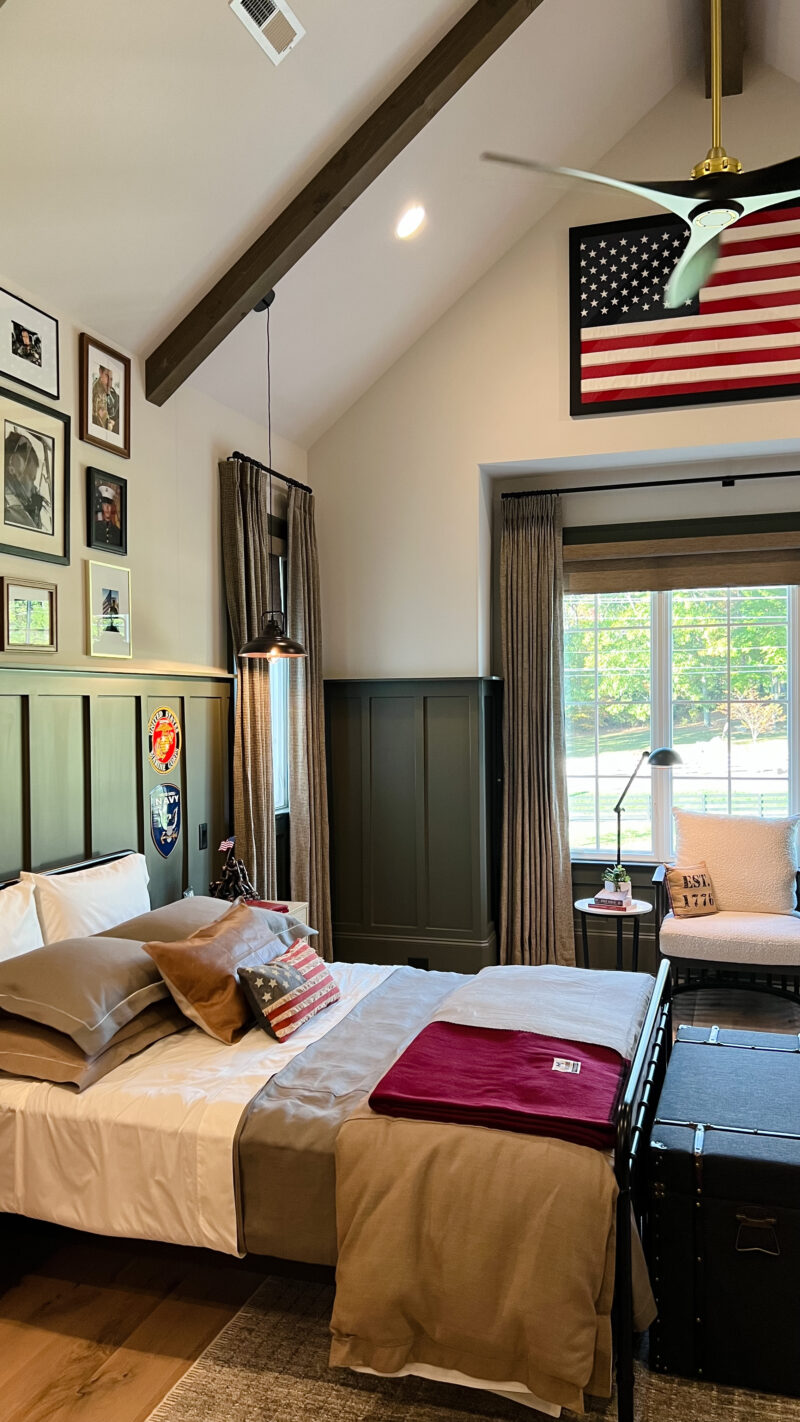 What a striking boys room. The framed flag mixed with the brown and greens was just so good. Taking notes for my son's room. I love so many elements in this room.
WELL DESIGNED BUNK ROOM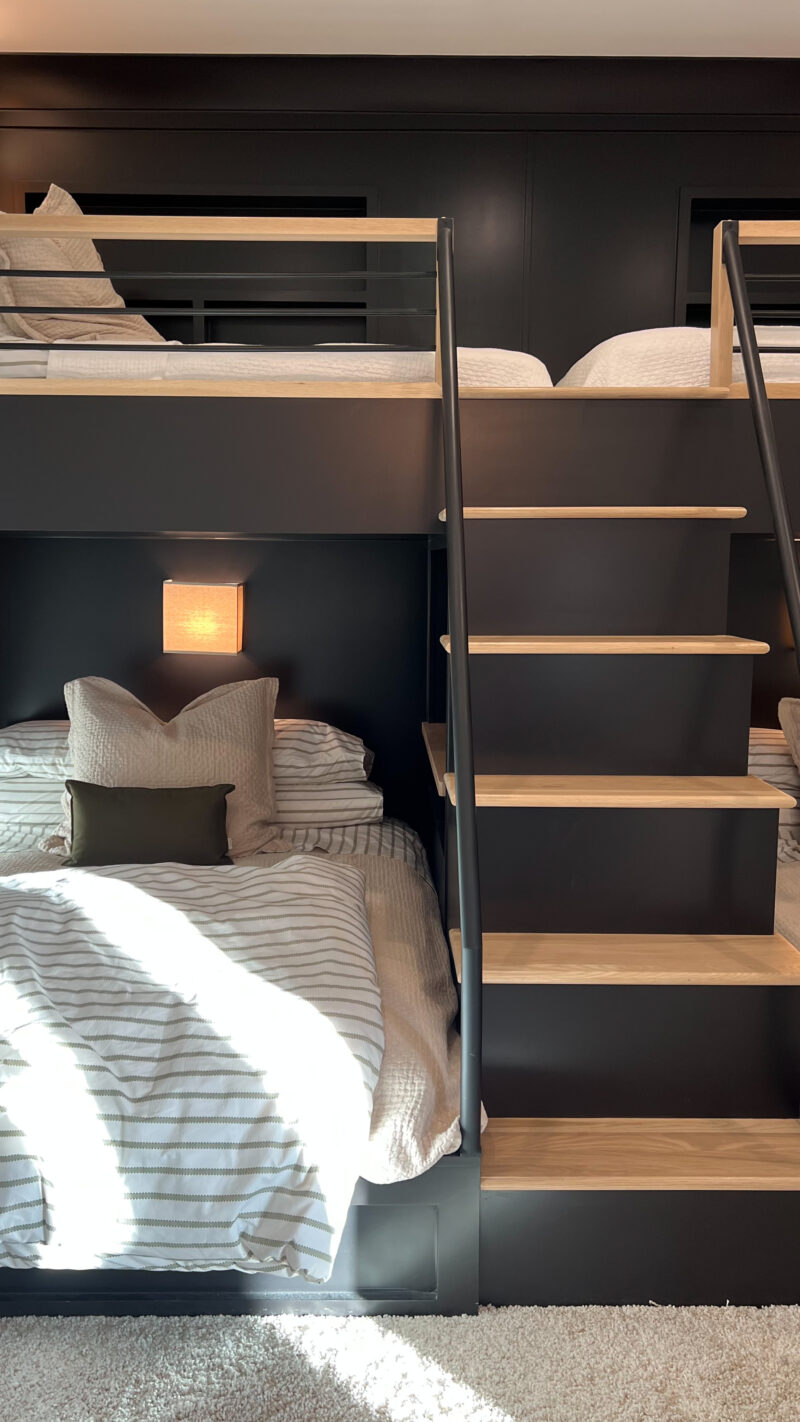 This built in bunk space was so well done. The full size beds are turned facing forward which I thought was a really great idea. And the stairs lining up with that is also so striking.
ANOTHER STUNNER
*Builder Sipple Homes, photo by Reed Brown Photo
GORGEOUS KITCHEN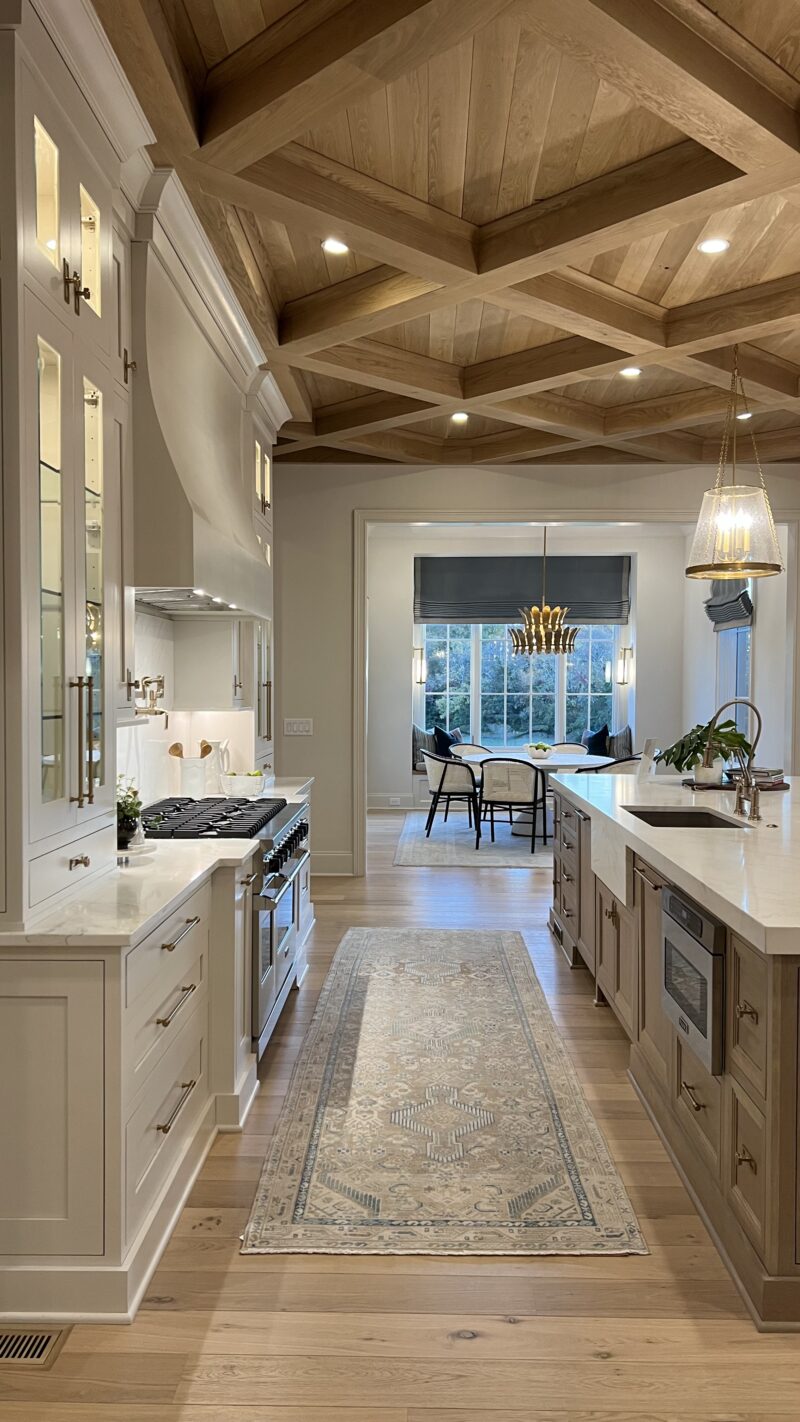 This is one of the most gorgeous kitchens I have ever seen. That ceiling. The craftsmanship is truly remarkable. And what an interesting idea to have the slab create the apron on the sink but still use an under mount. Great idea to consider if you are embarking on a kitchen remodel.
*Builder Sipple Homes, Interior designers Julie Brown and Amber Thomas
*Wall color City Loft Sherwin Williams
BEAUTIFUL BATHROOM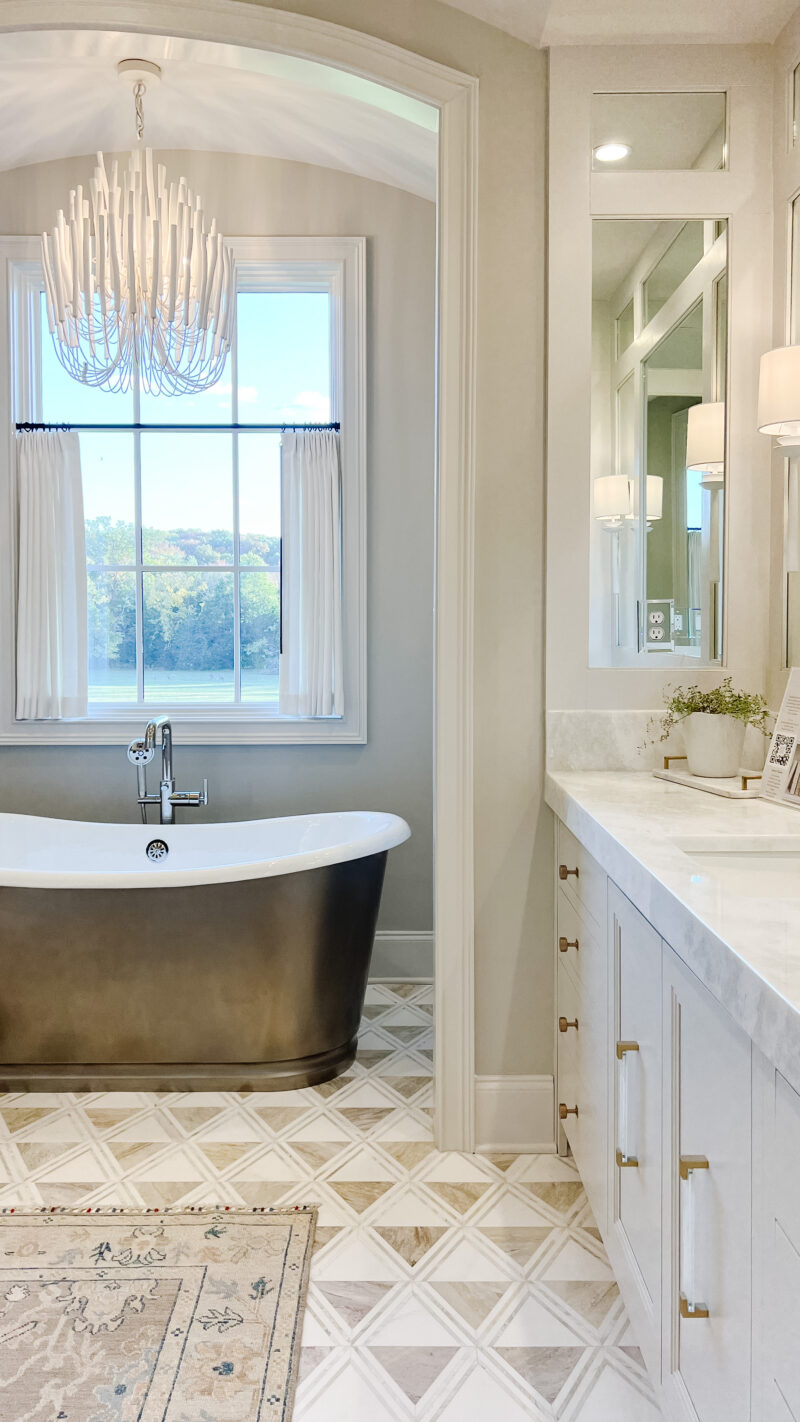 I wouldn't mind walking into this bathroom every morning. Wow. Just wow. The views and that tub. Such a pretty combination of that tile and the vintage rug. I love the soft color palette in this bathroom. The dark tub helps ground the space.
*Paint color is Worldy Gray by Sherwin Williams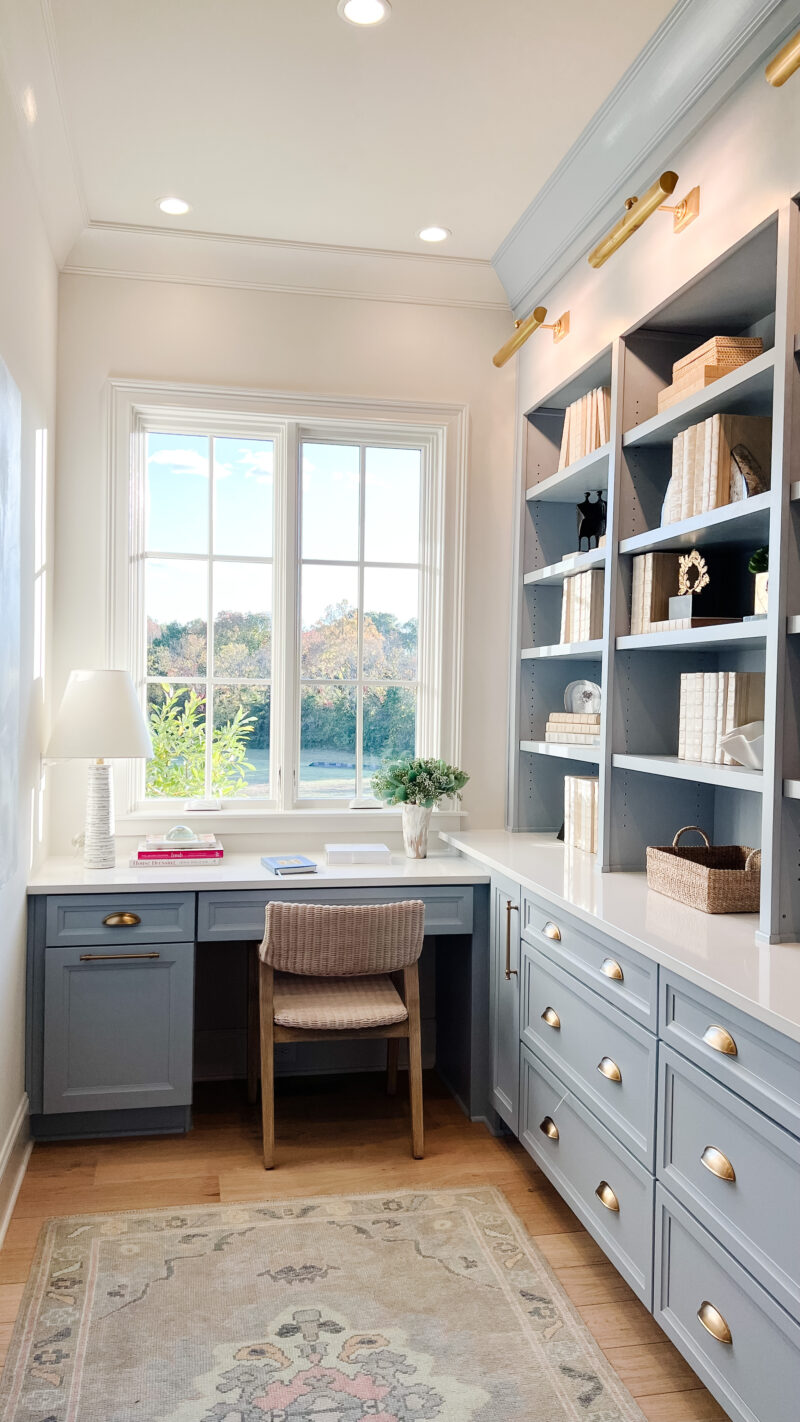 Happy to move A Thoughtful Place headquarters to this spot!
*Wall color City Loft Sherwin Williams, Trim Blue Heather Benjamin Moore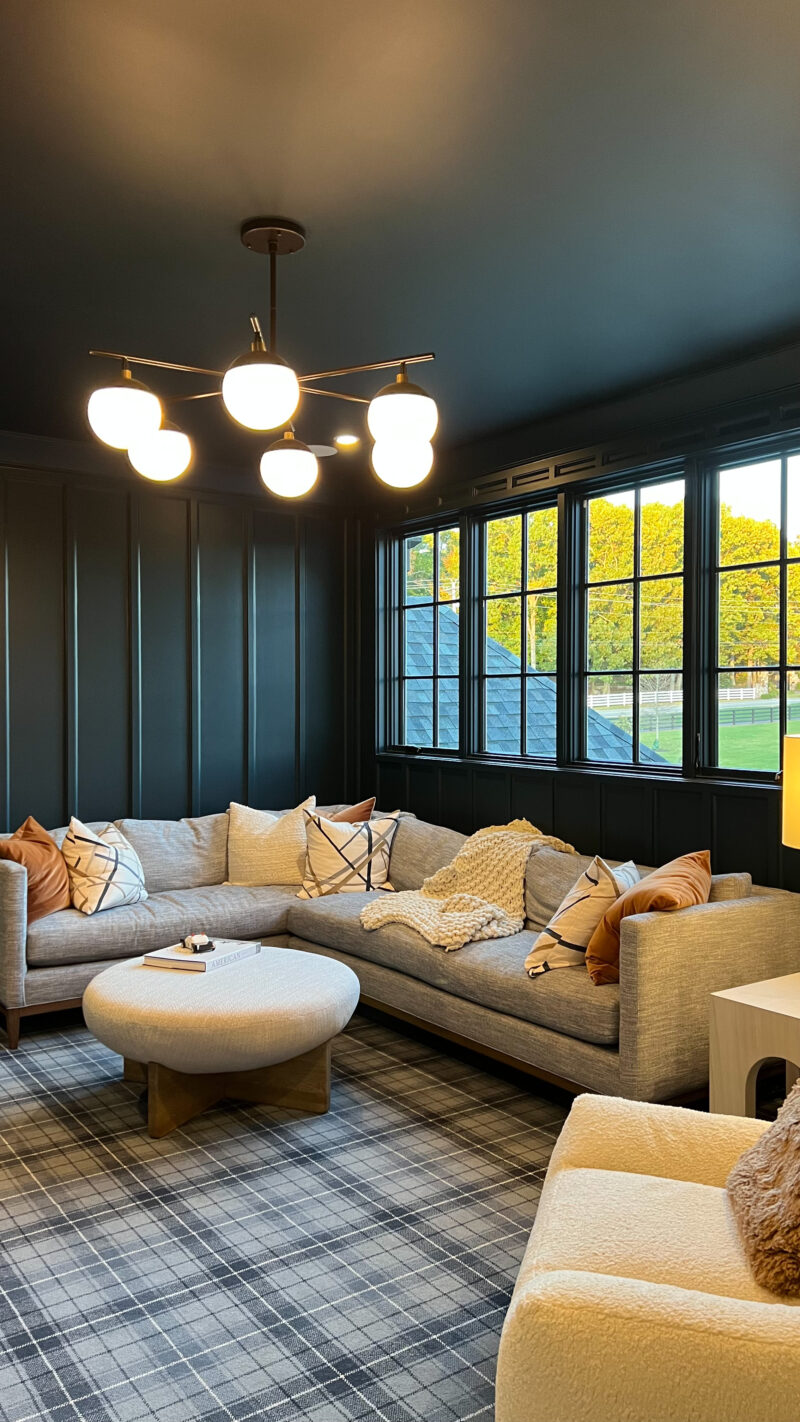 In love with this plaid carpet.
*Wall color Dark Knight Sherwin Williams
OUTDOOR OASIS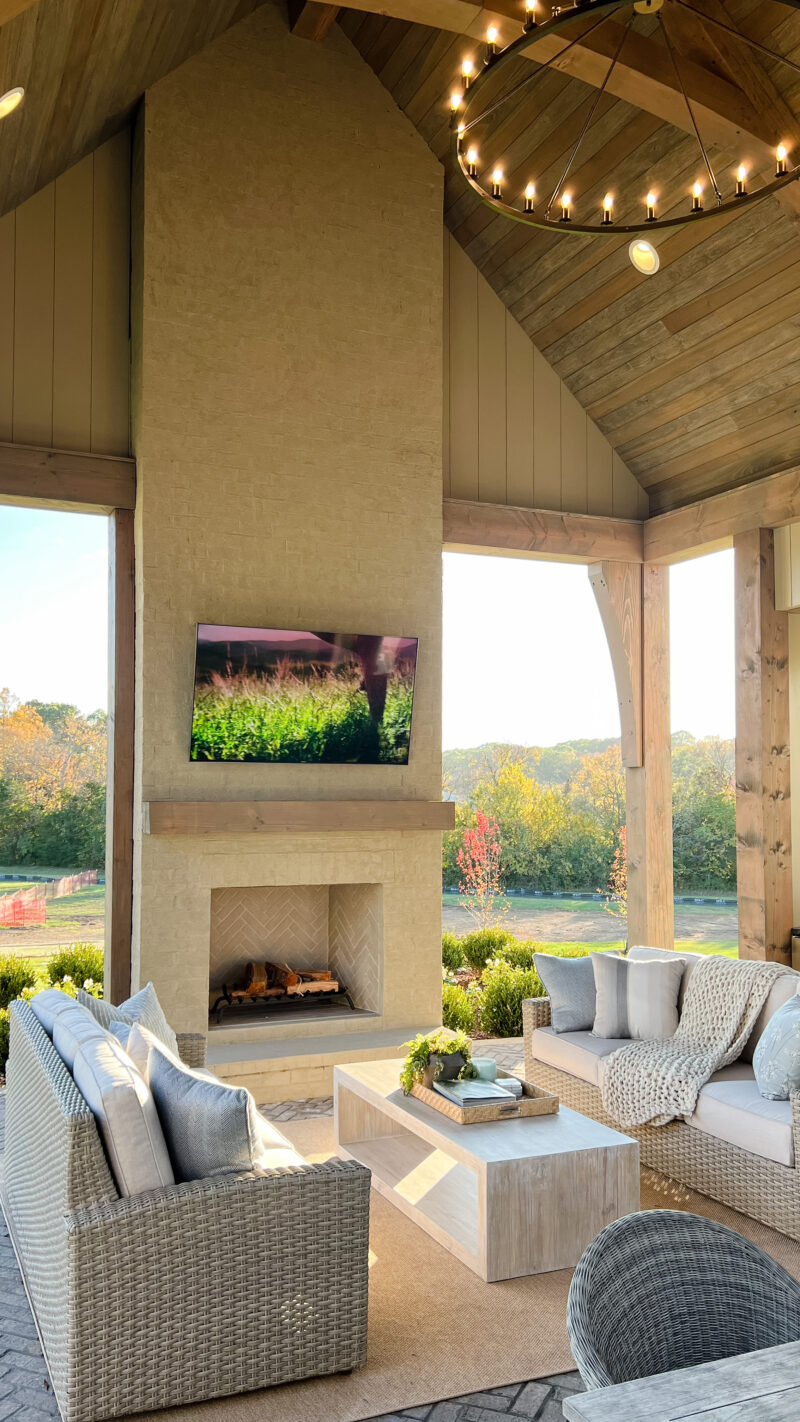 If you need me, I'll be right here. What a glorious outdoor space.
*Builder Sipple Homes
I must have taken 70 photos so it was definitely hard to pair it down. I hope you enjoyed walking through this with me and that you can take away little design ideas that are hidden within each of these photos. It's not about replicating these grand spaces, but gathering inspiration for little vignettes and spaces in our own homes.
*Parade of Homes Rosebrooke
WAY DAY
Speaking of our own homes, Wayfair is having a huge sale. As always, it's only worth shopping the sale if you are actively looking for something. These are a few deals I wanted to share: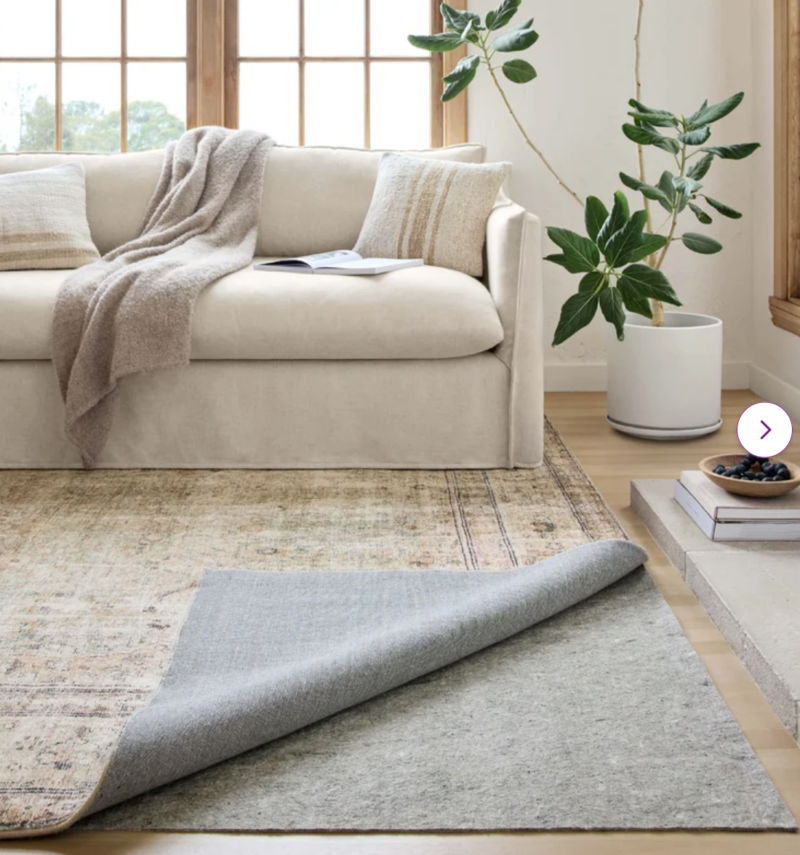 If you need a rug pad, this one is on sale. I just bought two.
The vanity we used in our California powder room we loved.
Wishing you a wonderful day. Off to enjoy the pretty fall weather (although it's really chilly) and get things done.