The other morning I woke up motivated and inspired to tackle our daughter's bathroom. You will recognize it as it looks very similar to our guest bathroom. Most of the bathrooms in the home have the same lights and mirrors so it's a process of swapping things out and bringing in our own style. Today I am answering a few questions I received in stories as well as a rough plan for this space.
OUR DAUGHTER'S BATHROOM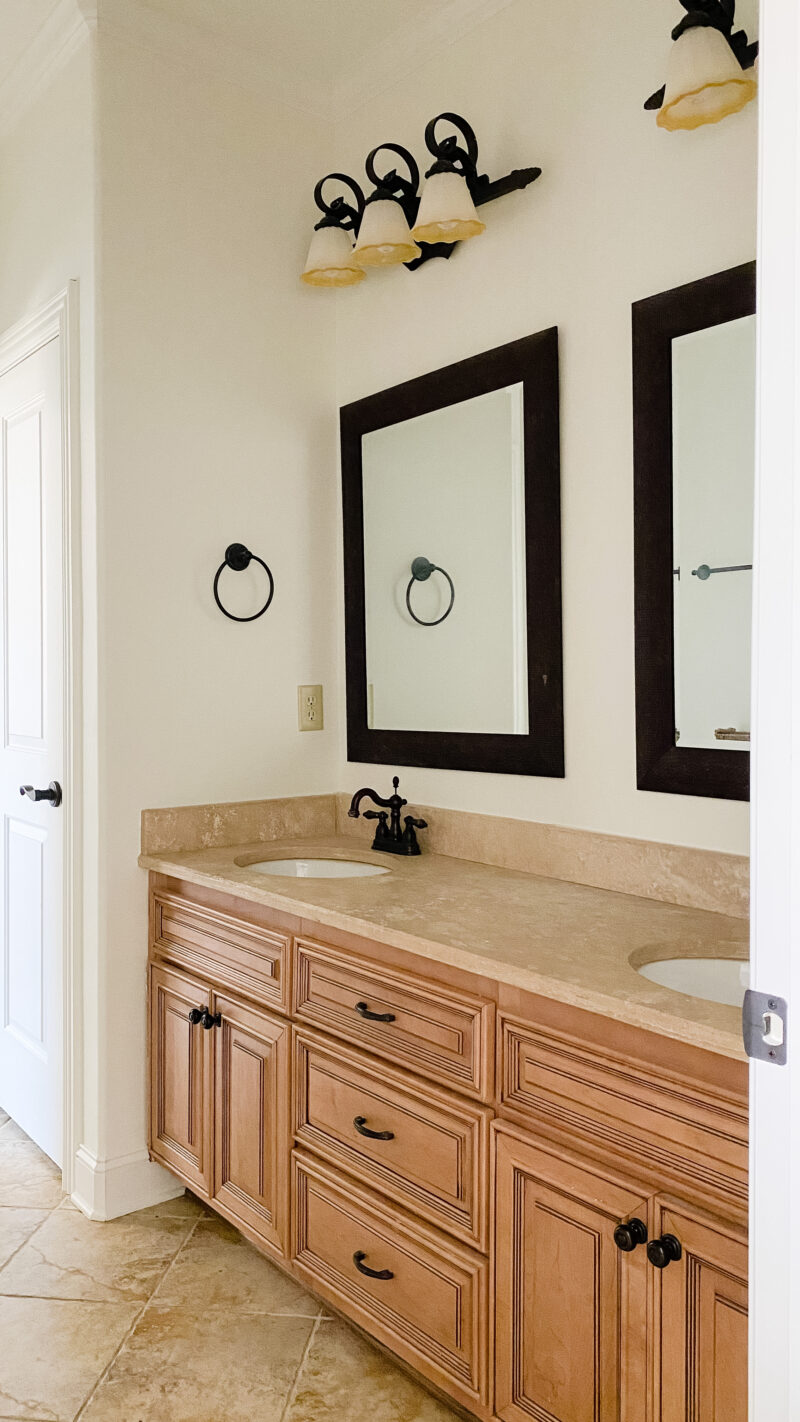 I always like to start with the positives. To be fair, it's a lovely bathroom. It's spacious with high ceilings and is in wonderful condition. If we were designing a bathroom from the ground up, would these be our current selections? Well, probably not but that's largely in part to when the home was built.
Q: Are you painting the cabinets?
A: That is the plan. We left them alone in the guest bathroom and I love the look. They are well made and I actually like the color. Having said that, in this space they just don't have the same appeal. This bathroom connects two rooms with very soft, feminine colors. While I am a bit scared to jump in and paint them, I think a warm white will be beautiful. We will most likely go with Alabaster which is what is on the walls. I just don't want to go too bright of a white. That won't look great with the countertops.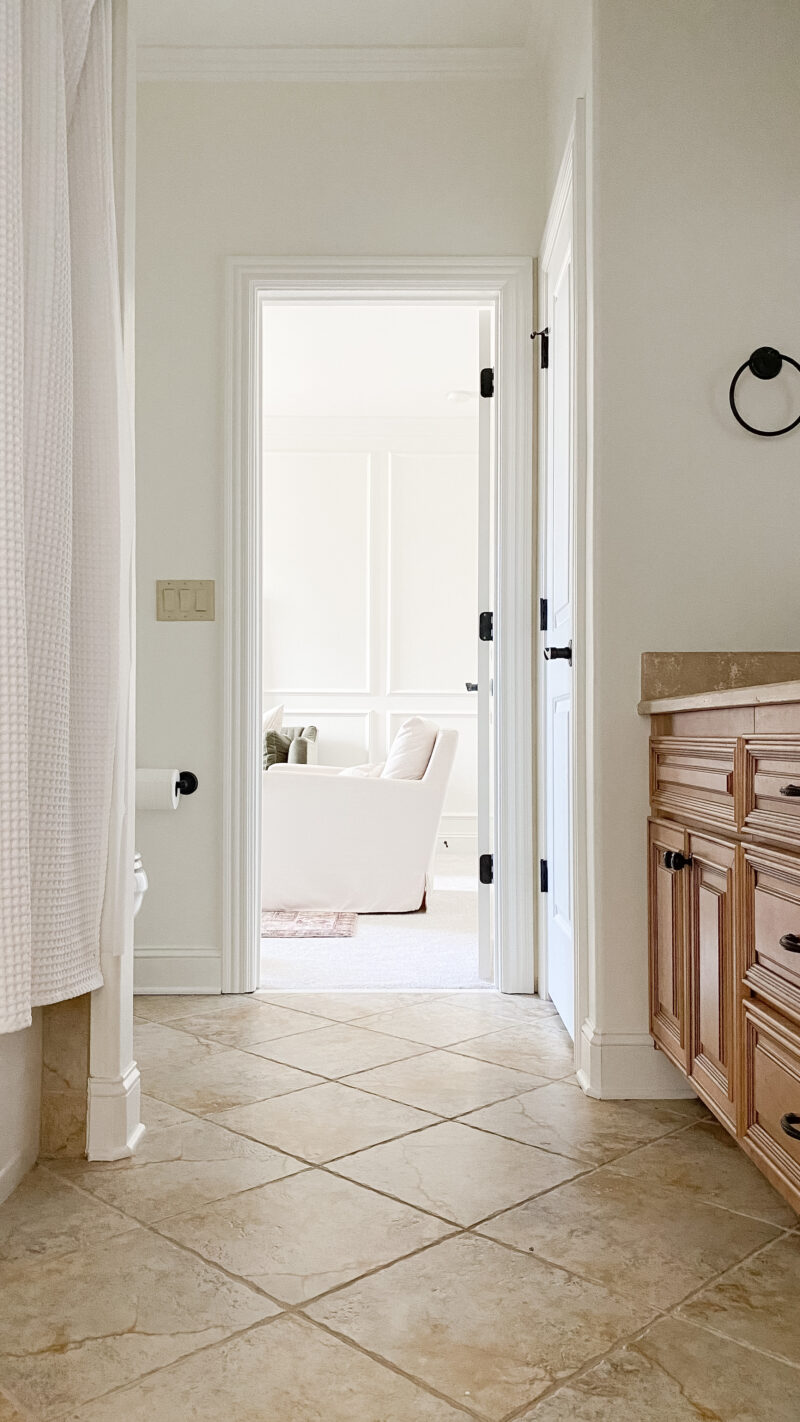 Q: Are you replacing the floor?
A: Definitely not. While it would be fun to do that, it's not on our short list. We are knee deep in designing our kitchen and the majority of our home renovation budget is going to that. Plus the idea of demolition makes me weak. The dust, the mess . . . all of it. You have to really be up for that. The floor is in good shape so we will work with it. Plus the same tile is in the shower surround so it's a bit of the, "If you give a pig a pancake" effect. One thing leads to another.
Q: Are you painting the floor?
A: This is the question I received the most. Not sure. It's a option but not one that I am leaning towards. I don't know. I definitely go back and forth on that one. Yes, so many people have done that and it looks incredible. There is something about not being able to come back from that which scares me. There are also stickers you can apply but those won't work in here as the tile edges are quite jagged. I might save the floor for last. Right now the plan is to use a very long runner which will incorporate colors from both adjoining rooms. To be continued.
THE ART OF DISTRACTION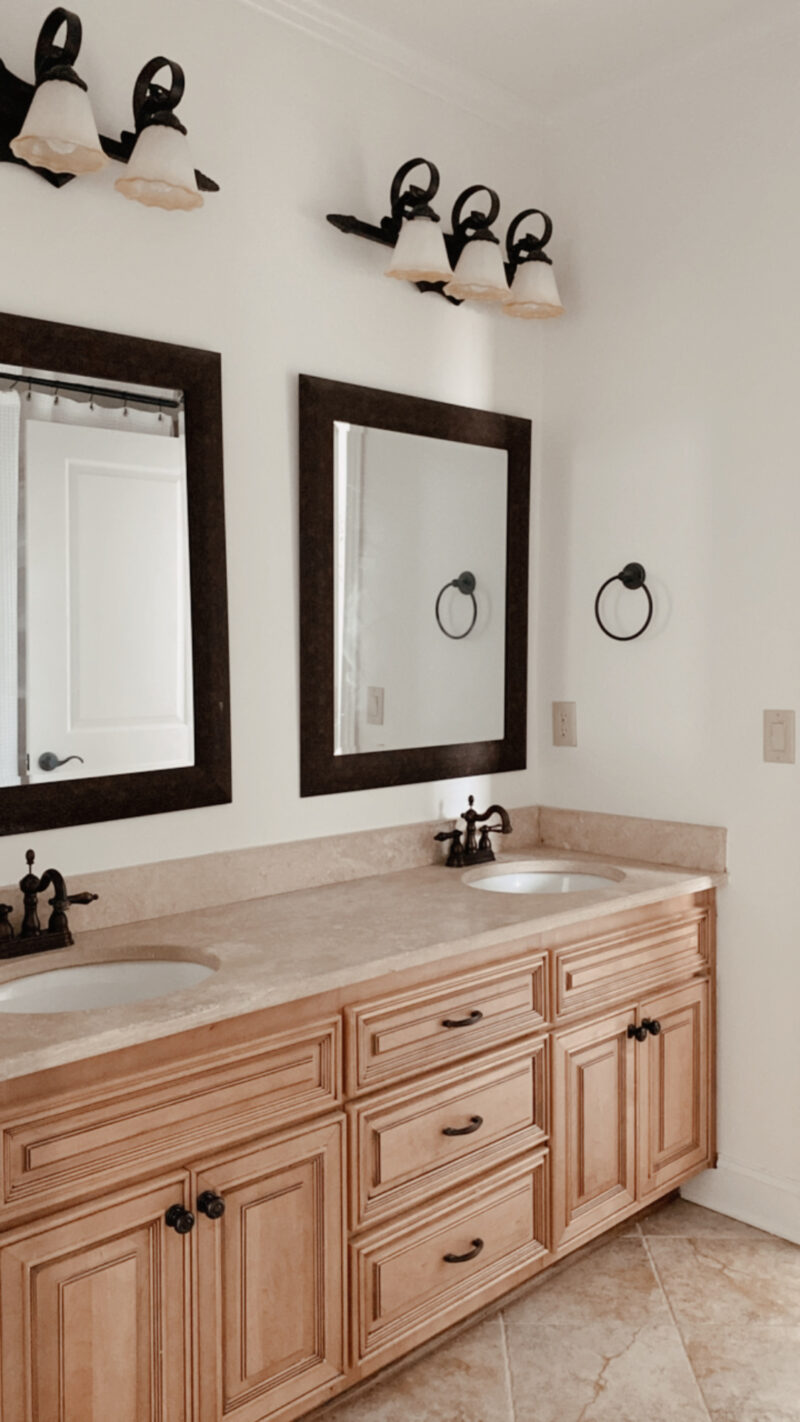 If I were leaving the cabinets in their current wood state, I would be more open to painting the floors. I think in this room it should be one or the other. So let's talk about the art of distraction. If the floors remain as is (and they are not awful) I do want to draw the eye up. My plan is to create a pretty focal wall where the mirrors are. I am going to add some woodwork, new lighting, pretty curved mirrors and a splash of color. My plan also helps with hiding any patchwork that may need to be done.
*To see how we took a similar bathroom and gave it new life, head here to check out our guest bathroom.
PIECES WE'VE CHOSEN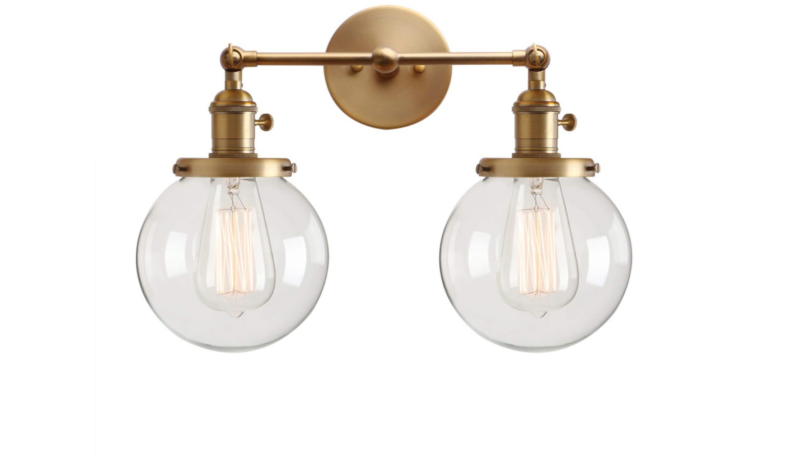 While the plan isn't totally nailed down, we have chosen some of the pretty elements. Riley loves these lights and so do I. The three bulbs in her current lights look a bit busy to me so we scaled it back to a double sconce. It's still more than enough light for each sink and will look a bit cleaner.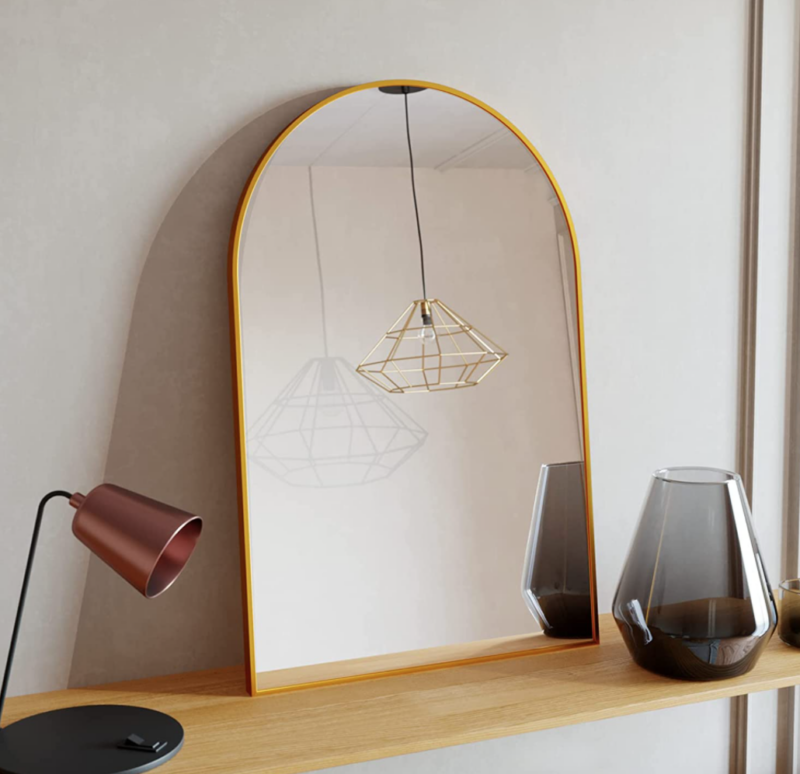 Bring on the curves. While we wanted very clean lines, the rectangular shape looked a bit too modern for this room. I love the rounded top on these mirrors. Two of them are on their way.
ADDING A TOUCH OF GREEN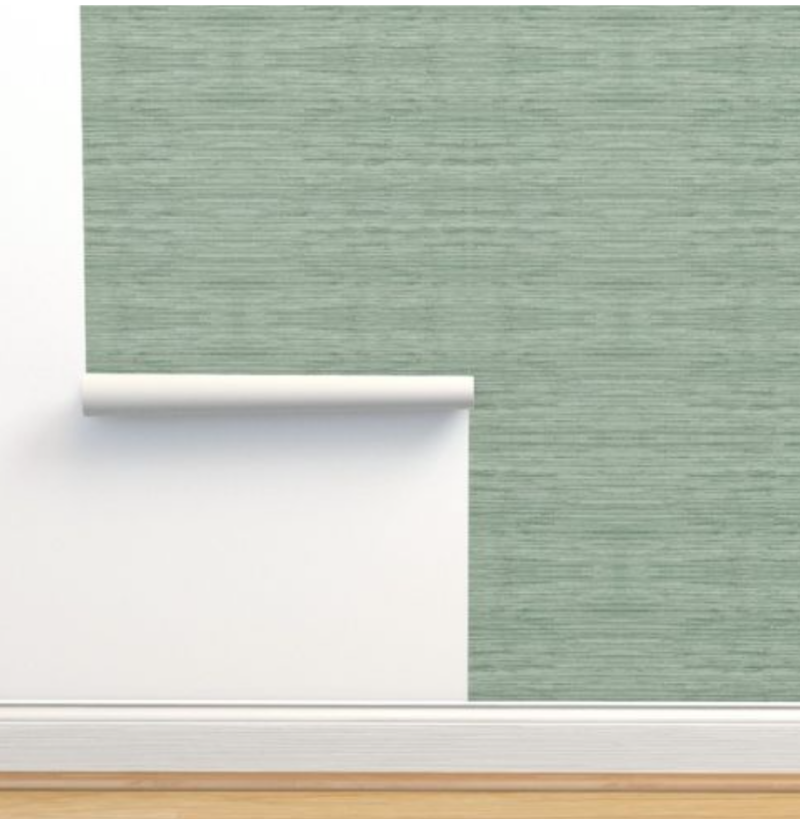 Sage green grasscloth! This little element is what we are most excited about. Riley's room has touches of blush and green as does the other adjoining room. We are using this in a small area but I think it will be just what the room needs.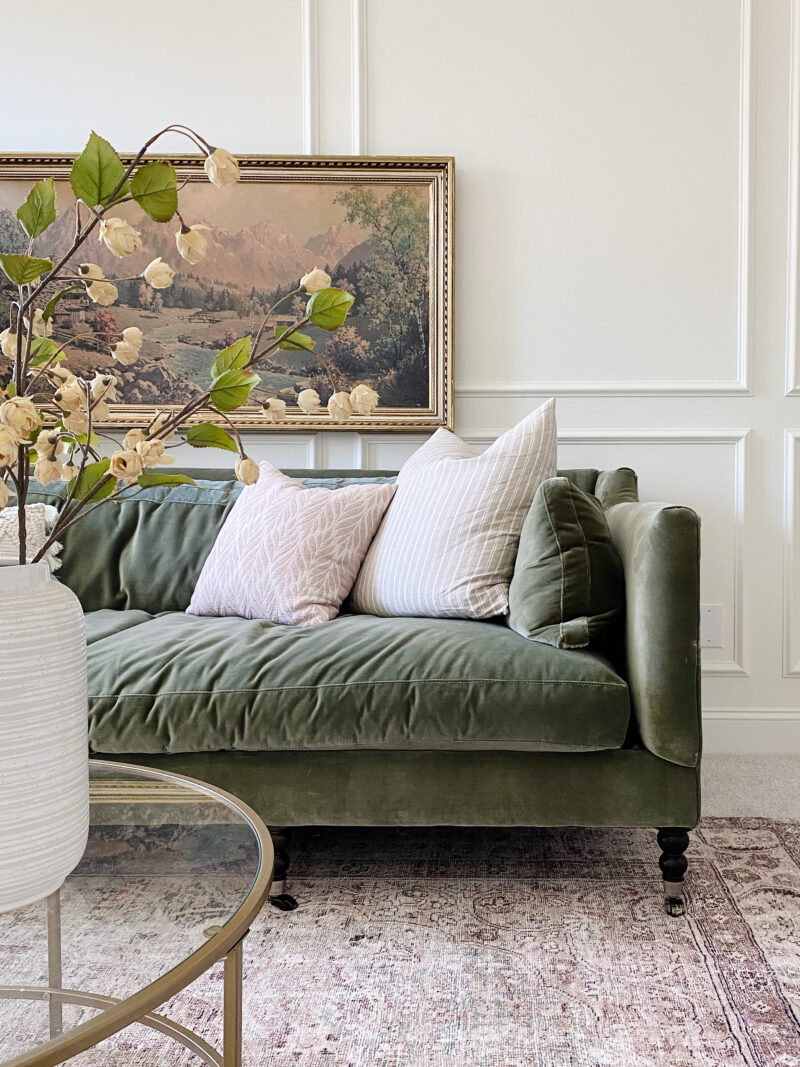 This room is on one side of the bathroom. It will be fun to incorporate not only the green but the brass elements, too.
So there you have it. It's definitely an evolving plan but at least we have started! I'm excited for this room to take on a more feminine and soft look for our daughter. We will keep you posted with the progress and be sure to follow along over on Instagram.
MAJOR BATHROOM RENOVATION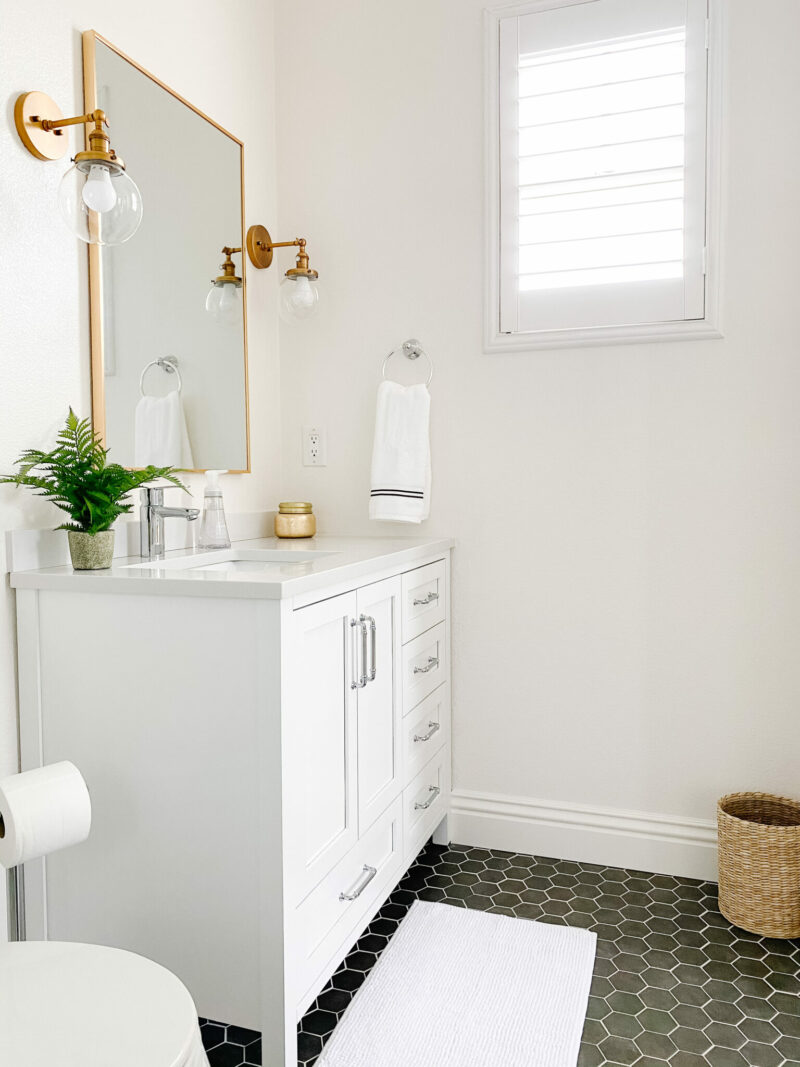 The poor thing did say, "Mom! We're not going to move are we?" In our last home as soon as we remodeled her bathroom, we decided to move. I can understand her concern. But no, we aren't moving!
Can't wait to share more of this project with you. Have a great day.